WHAT TO VISIT IN HAKUBA BESIDES THE SKI RESORTS? BEST DAY TRIPS FROM HAKUBA? IS IT WORTH STAYING IN HAKUBA?
We went to Hakuba for the first time in 2020 to ride the famous Japanese Alps with our snowboards. We instantly fell in love with this region of Japan and not only for the Japow!
The Hakuba Valley is located northeast of the Nagano department, in the heart of the Japanese Alps. The peaks, covered in snow for much of the year, dominate the surroundings. The mountains are magnificient and majestic.
Hakuba is actually an all year round vacation and leisure destination. For winter sports until May, with guaranteed quality snow. In spring and summer, hikes are in the spotlight, to climb the slopes among alpine flowers and rediscover the invigorating freshness of the peaks. Finally, in autumn, the beautiful colors of the trees that transform the entire forest will delight you.
We highly recommend renting a car while in Hakuba to easily and freely discover the area and enjoy most of the ski slopes as well! If you are there mostly for skiing and snowboarding then shuttle buses run around the valley and will drop you in most popular places.
There are many things to do outside the resorts though. You can visit the famous Snow Monkey, Ninja Museum, beautiful temples, the beautiful town of Obuse and so much more.
Check out some beautiful impressions of Hakuba region with the video below:
So here is our top 10 things to do in Hakuba:
---
1. Ride some Japow (obviously)
Hakuba, known as the Alps of Japan, is a great place to find lots of powder snow, tree runs, backcountry rides as well as steep terrains. There are many different resorts with a wide range of terrains from beginners to advanced. The valley with more than 11 meters of snowfall per year, is the main ski resort in the region, with more than 200 slopes. Hakuba was also the main host station for the 1998 Winter Olympics.
​Happo-One
Happo-One is the biggest and most popular resort. It has more steep terrain which is ideal for advances skiers but overall the resort cater for all levels.
​Goryu and Hakuba 47
Both resorts are linked and can be accessed with the same ski pass. There you can find wide courses ideal for beautiful carving and also popular among snowboarders for it's high quality park. We spent most of our time in Goryu and Hakuba 47 while we stayed in Hakuba.
Cortina
Cortina is one of the powder capital of Japan.The station is facing North hence gets more snow than the other resorts. Ideal for backcountry and tree runs. Absolute pleasure!
​Iwatake
Iwatake is famous for it's park and halfpipe and also great runs. Worth exploring and for many their favorite resort.
There are many other places, such as Tsugaike, Norikura, Kashimayari. Just let your instinct guide you. If you have a car it will be easy to explore the most popular ones. Otherwise you can explore the ones which are closer to where you stay.
If you want to explore more powder paradises in Japan, check out our articles about Niseko and Furano.
READ: 6 BEST SKI RESORTS IN HOKKAIDO
---
2. Admire Togakushi Shrines and Forest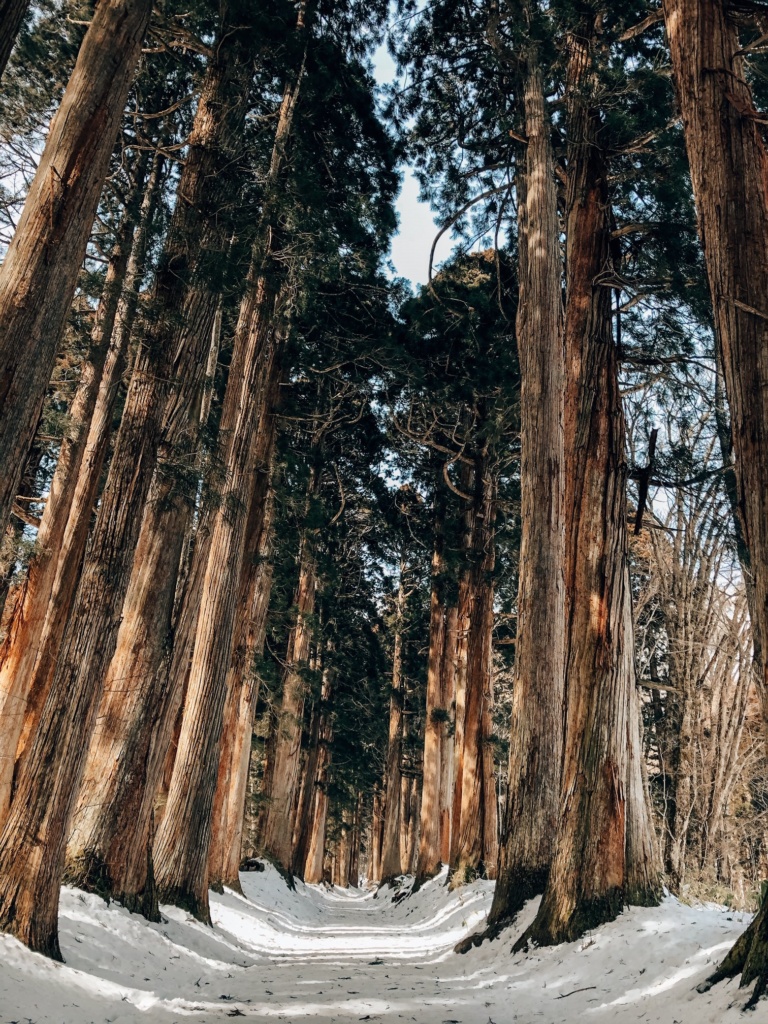 If you want to take a break from riding slopes, we highly recommend to rent a car and go on a day trip in this picturesque area of Japan. First take a very scenic road to Togakushi, It's about 1.5h from Hakuba. Togakushi is hidden in the mountains of Nagano prefecture. The path which lead there is an ode to nature and meditation, we loved it !
On the way to Togakushi Shrines and Forest you will drive through Togakushi village. It's a traditional village with great restaurants and nice temples. We recommend to make a stop there to feel how the traditional Japanese vibe.
Then continue to Togakushi Shrines and Forest. The forest has some very big trees. After a 30min walk through one of the most beautiful forest in Japan, you will reach a Japanese Shrine. It's all worth it! You will find yourself in a peaceful state surrounded by nature and spiritual life. It's a great place to take absolutely amazing pictures.
Just before the Togakushi Forest and Shrine, we recommend a fantastic Soba Noodles restaurant, nestled in the tree called Sobanomi. It's less than a minute drive from Togakushi Forest. Super yummy and such a beautiful and serene place.
After a trip to Togakushi, we understood why so many people felt in love with Hakuba.
Location: here
---
3. Become a Ninja at Togakushi Ninja Museum
We recommend to experience the life of a Ninja (yes NINJA!!), at the Ninja Museum located near the Togakushi Shrines and Forest.
The museum has various buildings which showcase tools, weapons, tricks used by the Ninjas. You can discover some of the techniques they used in the past to fight their ennemies. There are many photos of the Togakure Ninjas in action.
You can also practice throwing a Shuriken (Ninja star). Absolutely great experience! We highly recommend this fun and somewhat cultural place.
Location: here
Website: here
---
4. Hike to Kagami Ike (Mirror Pond)
Next to Sobami, the soba noodle place which we highly recommend, there is a path to hike to the Kagami Ike, also known as Mirror Pond. The water reflects the Mountains which makes it a beautiful scene.
In Autumn with the red, yellow, orange trees, this place is a must-go on your trip to Yogakushi. In Winter is it highly recommended to wear adequate shoes or snow shoes as the path to the pond gets a lot of snow.
Location: here
---
5. Check out the cheeky Snow Monkeys
A trip to Hakuba isn't complete without seeing the Snow Monkeys. About 1.5hours from Hakuba and 1h from Togakushi you can see those tricky Japanese Monkeys enjoying their life in a natural onsen. This is a unique experience in Japanese (you can see similar monkeys in Hakodate, in Hokkaido).
Hundreds of Japanese monkey reside in the Japanese Alps and the Nagano region, and more particularly in the Jigokudani Park. This natural park, which is specially dedicated to them, is an opportunity for a beautiful winter stroll through a forest punctuated by hot springs. It is also here that you will encounter these funny looking monkeys. Winter is the ideal season to visit as they will bath in the onsen surrounded by snow. What a moment!
While the snow monkeys are a must-see in Japan, we fell that this place is a bit too touristic and somewhat disturbing the Monkeys' life… but still worth a visit for this unique experience. Just be aware that you are in the Monkeys' natural habitat, hence be quiet and don't go too close.
Location: here
Website: here
---
6. Go to Nagano to see Zenko-ji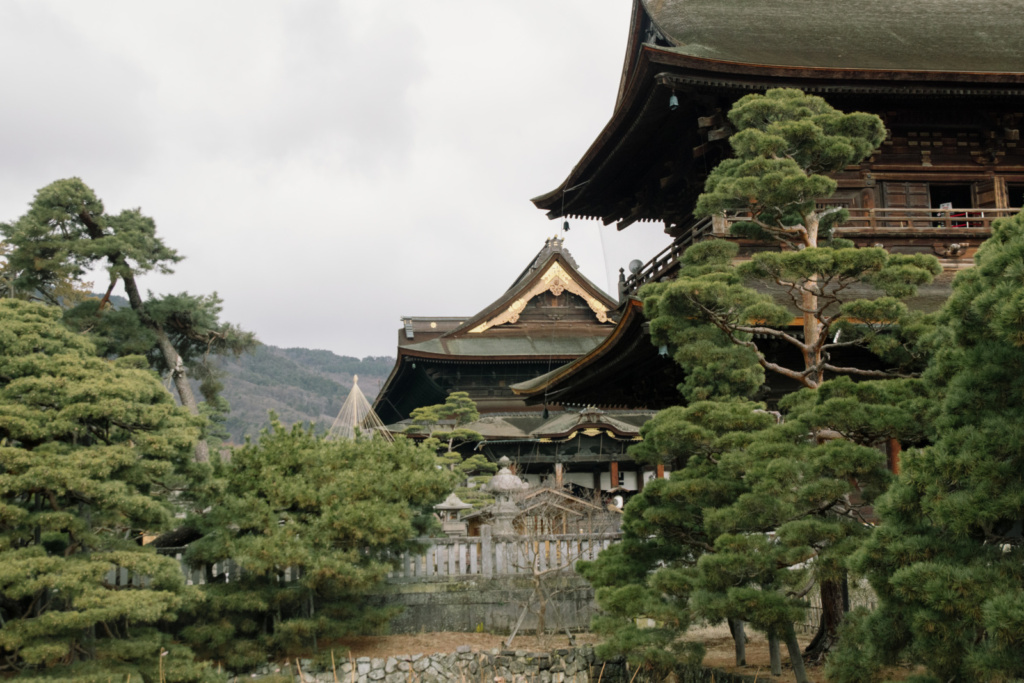 The city of Nagano is known to most non-Japanese as the site of the 1998 Winter Olympics. However, for the Japanese, Nagano is most famous for its great pilgrimage sanctuary, the Zenko-ji temple, visited by millions of pilgrims each year.
According to the Zenko-ji Engi, one of the first stories of the Zenko-ji temple, the first Buddha image in Japan was imported at 522AD from the kingdom of Kudara in Korea. Called Ikko Sanzon, or the statue of Amida Tathagata, it is the most revered object of the temple. We recommend to visit the temple for a cultural moment and learn more about the Japanese history.
Location: here
You can join a tour group to visit Zenzo-ji temple and Snow Monkey. Check it out here.
---
7. Visit the traditional and beautiful village of Obuse
Do you like temples, traditional houses, gardens, apples and chestnut? Then the city of Obuse is made for you!
Nestled in the heart of the Japanese Alps in the Nagano prefecture, often forgotten by tourist guides, Obuse is a very welcoming and charming stopover. Obuse was recommended to us by our host in our lodge in Hakuba. We never heard of it before. And WOW ! We absolutely loved this place. We wrote a full post about Obuse, here.
Here are some of the highlight:
​Wander through the old town:
Walk around the town to see traditional houses and unique streets made out of chestnuts trees. Obuse is famous for its chestnut, apples and other fruits, you will see many gardens and beautiful plantations around the village
​Discover the famous painter Hokusai
Visit the museum of the famous painter Hokusaï in Obuse. Hokusaï came to Obuse several times from 1760 to 1849. It was in this village that he produced some of his most important works, notably the phoenix from the ceiling of the Ganshô-in temple.
Jokoji Temple
Visit the the ancient Jokoji temple hidden in the wood: Ten minutes walk from the Ganshô-in temple is the Jokoji temple which can be reached by climbing steps that have seen the passing of time. This place is very peaceful, it was one of our favorite temple in Japan.
For more info on Obuse, click here, we wrote a full post about it.
---
8. Enjoy the view at the best scenery spot in Hakuba: Oide Park
From Oide Park you can enjoy one of the best view of the Japanese Alps. There is a suspended bridge with an old picturesque village and a river flowing through the park. In spring you can also enjoy the Sakurai lined up besides the river. A stunning view and most "instagramable" moment in Hakuba.
This place is near most the ski resorts in Hakuba. So it's easily accesible.
Location: here
---
9. Get your WOW moment at Matsumoto Castle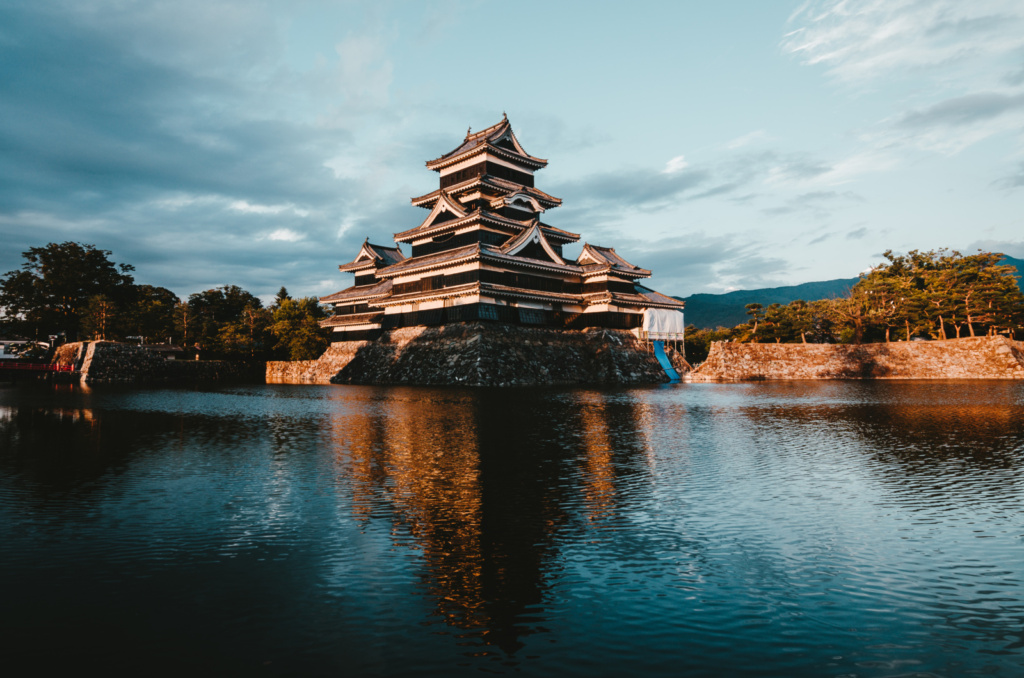 Overlooked by nine peaks of more than 3,000 meters, Matsumoto and its castle have all of the natural strength for a perfect visit. The landscape is breathtaking. It is easy to get lost in contemplating the reflection of the Japanese Alps in the lake. You can also admire the mountain mist, or the cherry blossoms. Matsumoto is definitely the pearl of the Japanese Alps.
But what stands out most when you visit Matsumoto is the imposing Matsumoto-jō Castle also nicknamed by the Japanese "the crow" because of its black color. It offers an imressive view in any season. It is the oldest of its kind in Japan and its architecture is typical of Sengoku (1477-1573), an era troubled by civil wars and marked by the construction of numerous castles in Japan.
Location: here
READ: 10 BEST THINGS TO SEE IN MATSUMOTO
---
10. Finally, relax in an Onsen
If you need a break from skiing or snowboarding nothing better than going in an onsen in Japan. Hakuba has many onsen around the valley with various sources.
Each onsen has some specific benefits for your body. Some of the most popular places are Hakuba Happo Onsen, Shionomichi Onsen, Katakuri Onsen, and Himekawa Onsen. There are also free onsen for your feet in the middle of the village which is a great way to end a day on the slopes with a refreshing beer from Lawson 🙂
---
Where to stay in Hakuba?
In Hakuba we recommend to stay near one of the ski resort for more convenience and enjoy the fresh snow early morning. Staying either near Goryu or Happo-one would be a good decision. The area of Misorano, Echoland and Wadano are all great and convenient.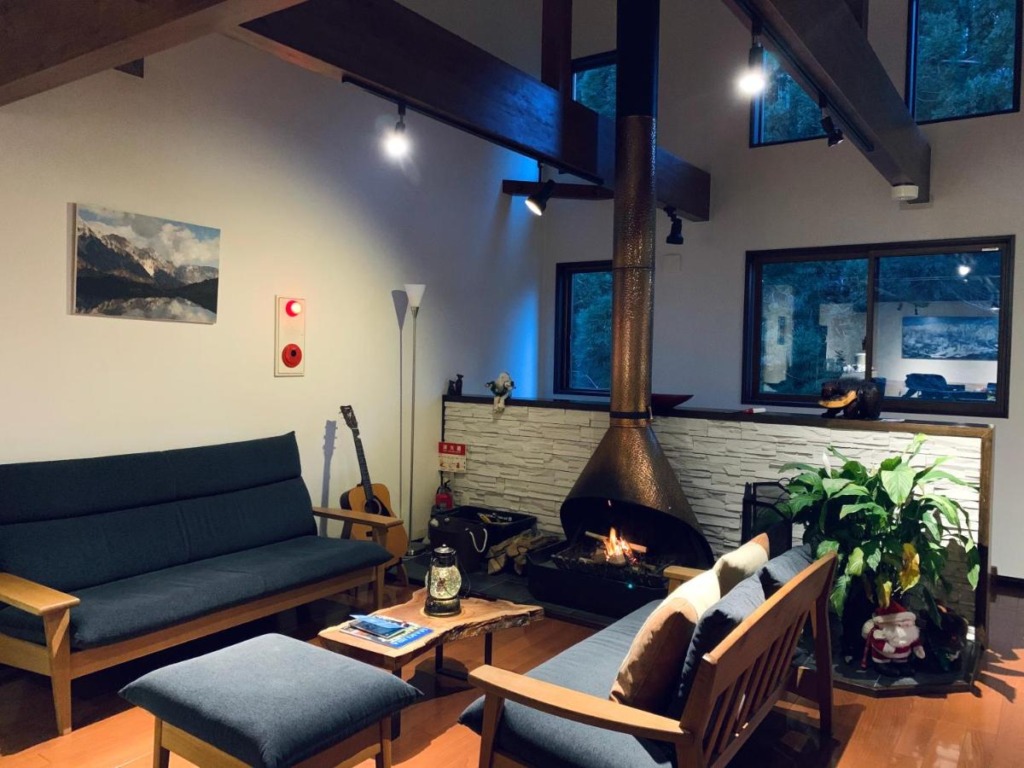 During our stay in Hakuba we loved our hotel so much at Bears Den Mountain Lodge. It is located less than 10 minutes walk to Goryu via a beautiful path through the forest. If there is enough snow, you can even ride all the way down via the same path. So it's practically a ski-in hotel 🙂
The owner Lesley, is really nice and helpful with many awesome recommendations. She will even pick you up at the train or bus station when you arrive in Hakuba and book restaurants and other things for you.
Don't look any further, you can book directly here.
BOOK: if you intend to visit more places in Japan, traveling by train is the easiest way. You can purchase your JR PASS at cheaper price here. The JR Pass allows you to take all trains in Japan as a multi-use ticket. Buying a JR Pass offers the best value for money!
---
IN CONCLUSION ABOUT THE BEST THINGS TO DO IN HAKUBA
Hakuba means "white horse" because it is said that the shape of a horse appears in the snow on the side of the mountain in spring. If you like sports and mountain, as well as lovers of Japanese tradition and culture, Hakuba is here for you. The valley, with more than 11 meters of snowfall per year, is one of the main ski resort in the region, with more than 200 slopes. Those who do not like skiing are not left out, since Hakuba station also allows hiking, climbing and many more activities.
If you are looking for more Japow head to Niseko from Hakuba. There is a direct flight from Matsumoto airport to Sapporo (more info here). Check out our post about Niseko here.
In Hokkaido make sure to check out Furano, one of our favorite spot in Japan. Check out our post here.
---
Links to related articles
DISCOVER FURANO, ANOTHER GREAT SKI RESORTS IN JAPAN: here
20 BEST THINGS TO SEE IN OTARU, HOKKAIDO, JAPAN: here
10 BEST THINGS TO SEE IN MATSUMOTO: here
30 BEST THINGS TO SEE IN SAPPORO: here
18 AWESOME THINGS TO DO IN NOBORIBETSU: here
12 AWESOME THINGS TO DO IN LAKE TOYA: here
20 GREAT THINGS TO SEE IN OTARU: here
20 INCREDIBLE THINGS TO SEE IN HAKODATE: here
16 BEST THINGS TO SEE IN JOZANKEI ONSEN: here
OBUSE, A BEAUTIFUL TOWN IN JAPAN WORTH A VISIT: here
6 BEST SKI RESORTS IN HOKKAIDO: here