Are you planning a trip to Jeju and want to eat healthy! Well, you've come to the right place then. If you are Vegan, then Jeju is probably the best place to be in South Korea. In this post we've listed the 10 best vegan restaurants in Jeju.
Bon appetit!
We also wrote a full post about the best vegan places in Seoul here. Check it out!
---
1. JEJU 901
Jeju 901 is one of our favorite Vegan restaurants in Jeju. The food is so good, so healthy and nicely presented. The restaurants is surrounded by nature, making it such a peaceful place to relax.
The beauty of Jeju 901, is that it is not only a restaurant but also a retreat offering fitness class such as yoga and beautiful bedroom for your stay in Jeju. Check out their website here.
Location: here
---
2. And Yu Cafe
And Yu Cafe, is one of the most well known vegan restaurants in Jeju. They are most famous for their delicious vegan burgers. If you are really hungry, head to And Yu Cafe right now! You'll love it.
Here is their website: www.andyucafe.net
Location: here
---
3. Dasoni
Dasoni serves Korean Vegan food in a beautiful traditional setting. This place is located near Jeju city. You can make it your first stop after landing in Jeju. The restaurant is very cute and feels super cozy.
Location: here
---
4. Tropical Hideaway
Tropical Hideaway is not 100% Vegan, but they do have amazing vegan options, such as Hummus or Mushroom Sandwich. This place doesn't only serve amazing food, but for us it is one of the most stunning place in Jeju. Directly facing the sea, we could spend hours there just chilling. Make sure to check it out if you visit Jeju, you won't regret it!
Tropical Hideaway is also a resort, you can check out their website here.
Location: here
---
5. Tacomassim (vegan option)
If you are craving for delicious mexican food, search no longer, head to Woljeongri and look out for Tacomassim. They have 1 vegan option for what is for us the best tacos in whole of South Korea. Yes sir, we mean it! Their tacos are so good and so fresh. It's unbelievable.
Tacomassim is located in one of our favorite area of Jeju, in Woljeongri. Check out our full post about the best things to do in Woljeongri here.
Location: here
---
6. Sunshine Walk Jeju
If you want fresh and locally produce meal, head to Sunshine Walk vegan restaurant in the southern part of Jeju. There you can enjoy vegan cheese, organic jam and dairy-free coffee in such a gorgeous setting. This would be perfect to feed your instagram with new content 🙂
Location: here
---
7. Vegan Small Kitchen
In Vegan Small Kitchen in Jeju, you will see some of the most beautiful vegan plate full of flowers. Small kitchen specialized in Korean vegan food such as Bimbimbap with wild flowers, stir-fried cake or vegan sushi. It's simply delicious but also gorgeous!
Location: here
---
8. Puleunsol Malgeunhyang (Temple food)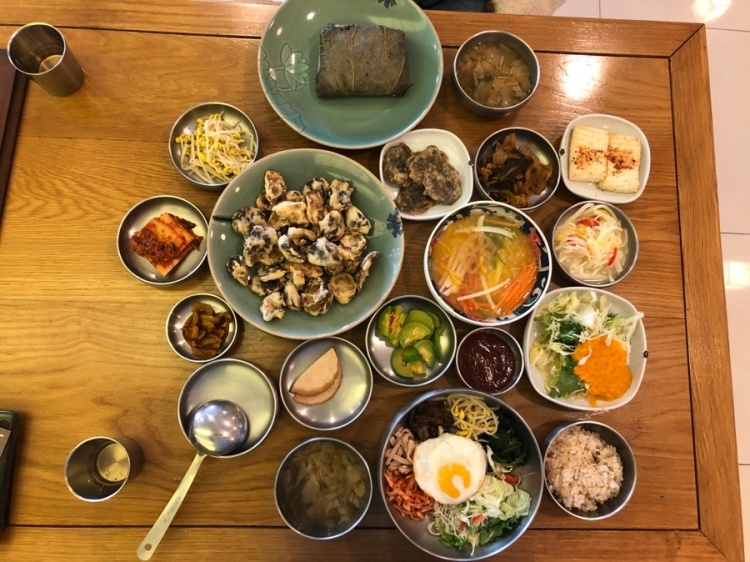 If you've never tried temple food in Korea, this is the perfect place. This vegetarian (not vegan) restaurant serves traditional temple food such as steamed rice wrapped in Lotus Leaf, fried mushroom, seed noodle soup. More info on their website here.
Location: here
---
9. GITTNN
If you are craving for a nice veggie curry, then head to Gittnn, they will serve you a beautiful indian vegetarian curry with samosa. It's delicious, healthy and you can enjoy a beautiful view of Jeju emerald sea.
Location: here
---
10. Danda Handicraft
This very cute boutique also serves delicious food. Not everything is vegan, but they do offer vegan cake and soymilk options. They also have a few vegetarian dishes. We simply love this place and all the decorations. Besides, the owner is so nice!
Location: here (be aware that it is not easy to find the place)
---
We hope that you enjoyed our list of best vegan restaurants in Jeju. As new restaurants and cafes constantly open up, we will keep updating this post. You can subscribe to our newsletter below to get the latest update. For more posts about South Korea, check out this link.
If you are preparing your trip to Jeju, check out the best things to do on the island here.
---
RELATED POSTS
JEJU ISLAND: most awesome things to do: here
MOST INCREDIBLE Cafes in Korea: here
BEST VEGAN places in Seoul: here
BEST BRUNCH in Seoul: here
HALLASAN MOUNTAIN, full guide for hikers: here
HALLIM PARK a gorgeous subtropical park in Jeju: here
HAMDEOK Beach our favorite beach in Jeju: here
CAMELLIA HILL a beautiful park in Jeju: here
OLLE GIL TRAIL your ultimate guide: here
WOLJEONGRI a beautiful beach in Jeju: here