WHAT ARE THE BEST THINGS TO SEE IN MATSUMOTO? IS MATSUMOTO WORTH VISITING? WHAT IS MATSUMOTO KNOWN FOR?
Matsumoto is one of Japan's prettiest cities. It is a charming place especially famous for its unique castle! But Matsumoto is also full of cute streets, nice galleries, delicious cafes and beautiful surrounding scenery. Indeed Matsumoto offers amazing views to the Japanese Alps.
Matsumoto castle, one of the best things to see in Matsumoto, is Japan's oldest wooden castle and one of four castles designated as National Treasures. The castle is often nicknamed the Crow's Castle due to its black color.
There are also things to see around Matsumoto such as the Daio Wasabi Farm, the largest in the country!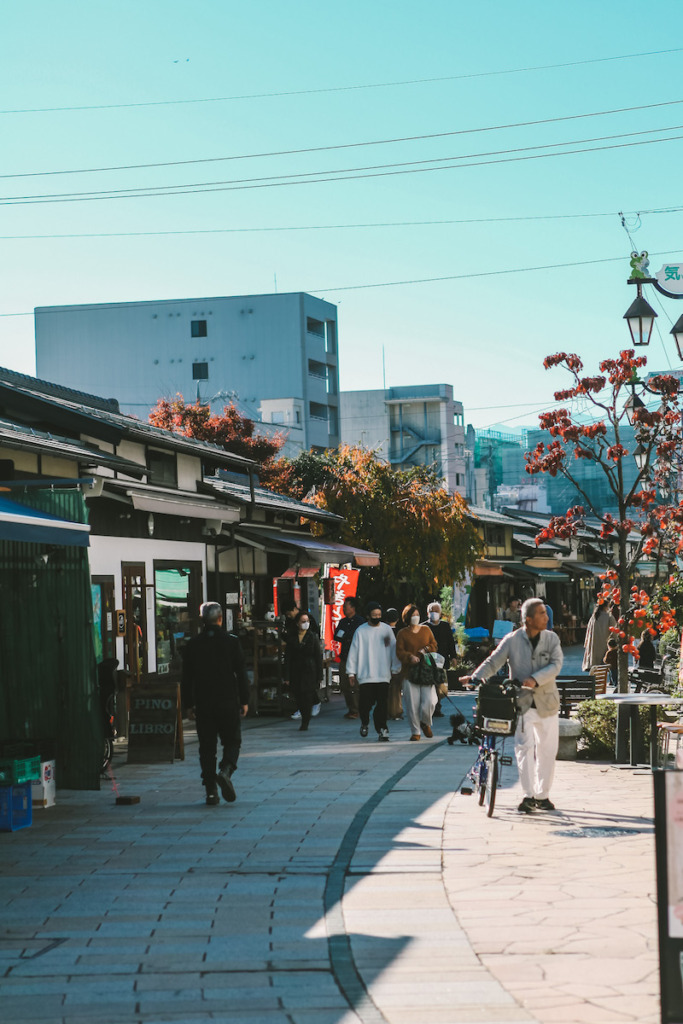 Easily accessible by train, by car or by plane (Matsumoto has its own airpot), it is nevertheless not a place with many tourists! Which is sometimes quite enjoyable!
We actually really like Matsumoto. It is also a pleasant place to live in Japan. It is a cute and fun city with beautiful natures all around!
Here is a glimpse of what Matsumoto looks like:
---
1. Start your visit by exploring Nawate-dori, the cutest street in Matsumoto
Nawate-dori street is lined up with many small Japanese pastry shops, florists, bakeries, and cute little shops. It is an important historical place in the city.
The frog is the symbol of the street, so it is normal to find several representations of the little frog everywhere!
Simply wander through Nawate-dori to feel the great vibe of Matsumoto. If you fancy a great coffee, head to the Storyhouse Cafe & Bar, one of the best coffee shops in town! The owner is from Portland, a city with a rich history of coffee culture in the US!
Nawate-dori street is one of the best things to see in Matsumoto.
---
2. Stop at the beautiful Yohashira Shrine
Yohashira Shrine is located and the start of the Nawate-dori street. You can't miss it!
This lovely shrine is very popular amongst locals in Matsumoto. It is in fact the main Shrine in the area! It's very peaceful and very well maintained.
At night the shrine is even more beautiful when it's completely illuminated! Yohashira Shrine is one of the best things to see in Matsumoto!
Location of Yohashira Shrine
---
3. Head to the Castle, one of the best things to see in Matsumoto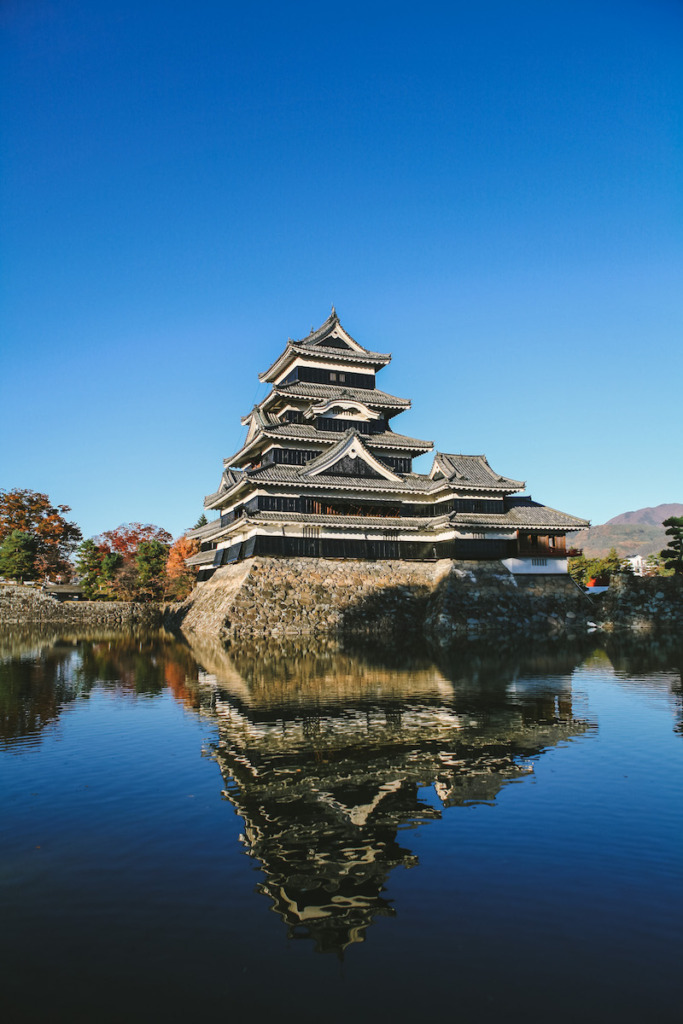 Visit the Crow Castle in Matsumoto
The castle is located in the heart of Matsumoto. Majestic and very well preserved, you can observe the castle at any time of the day and night from the park that surrounds. The access is free!
In good weather the view is magnificent. You can take stunning photos of the castle and the beautiful red bridge which once led to the entrance.
At night, the castle is fully illuminated. The scene becomes truly magical.
A bit of background about Matsumoto Castle
Built at the beginning of the 16th century by the Ogasawara clan, this building is the oldest wooden castle in Japan!
It is also one of the four castles in the country classified as national treasures.
The real interest of Matsumoto Castle compared to other castles in the archipelago is that it has not been destroyed or burned by recent history.
The castle is also nicknamed the "crow" due to it's unique black color!
Important information about Matsumoto Castle
It is possible to visit the interior of the castle. Cost: 600 yen.
We recommend to head to the guide office first. They offer free guided tour of the castle in English! It makes a big difference when you understand more about what you actually see inside the castle!
Website: here
Location: here
You can also visit the castle as part of a walking tour of Matsumoto. A great occasion to learn more about the history of the castle and listen to many great anecdotes about Matsumoto. BOOK HERE
---
4. Check out Takasago Dori, another historical street of Matsumoto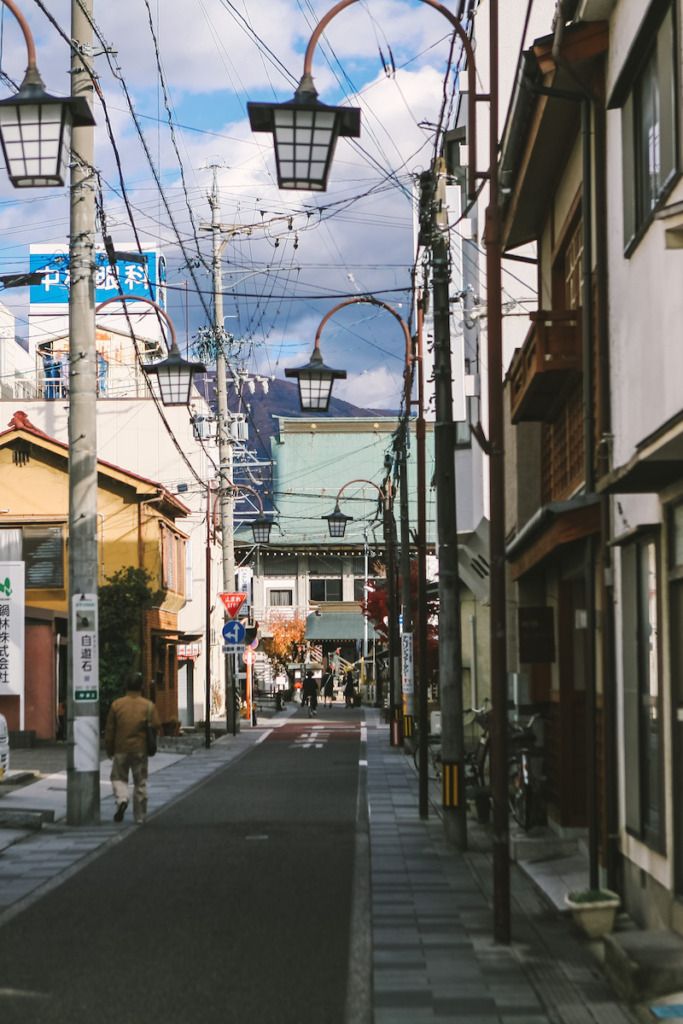 Takasago-dori, also known as Ningyo-machi-dori (Doll Town Street), is one of our favorite streets to wander while in Matsumoto. The streets is famous for its many doll shops. But we actually quite like the vibe at Takasago-dori, You can find other great shops and nice cafes.
Eat at Moi Moi (スープカレー・コーヒースタンド モイモイ-ハイファイブ), one of our favorite restaurants in Matsumoto. They have amazing curry and nice roasted coffee! (Location)
Beans & Coffee Laura is another great shop selling their own roasted coffee (location)
---
5. Visit a Miso Brewery, one of the best things to do in Matsumoto
One of the best things to do in Matsumoto is to visit the Ishii Miso Brewery! We loved our visit and the fact that we could taste freshly brewed Miso Soup!
The visit is in English. No need to reserve. It's not very long but very informative. You'll learn how miso is made step by step. Ishii Miso Brewery exists for more than 100 years! .
They also offer a nice set lunch at their restaurant!
Location of Ishii Miso Brewery
Website: here
---
6. Visit Nakamachi Street, famous for selling Kimono and its sacred water spring!
This former merchant district is home to namako-kabe kura or latticed warehouses from the Edo period that have now been transformed into restaurants, cafes or galleries. You can visit one of the preserved warehouse here.
There are also a few local craft shops specializing in wood, glass, fabric or ceramics.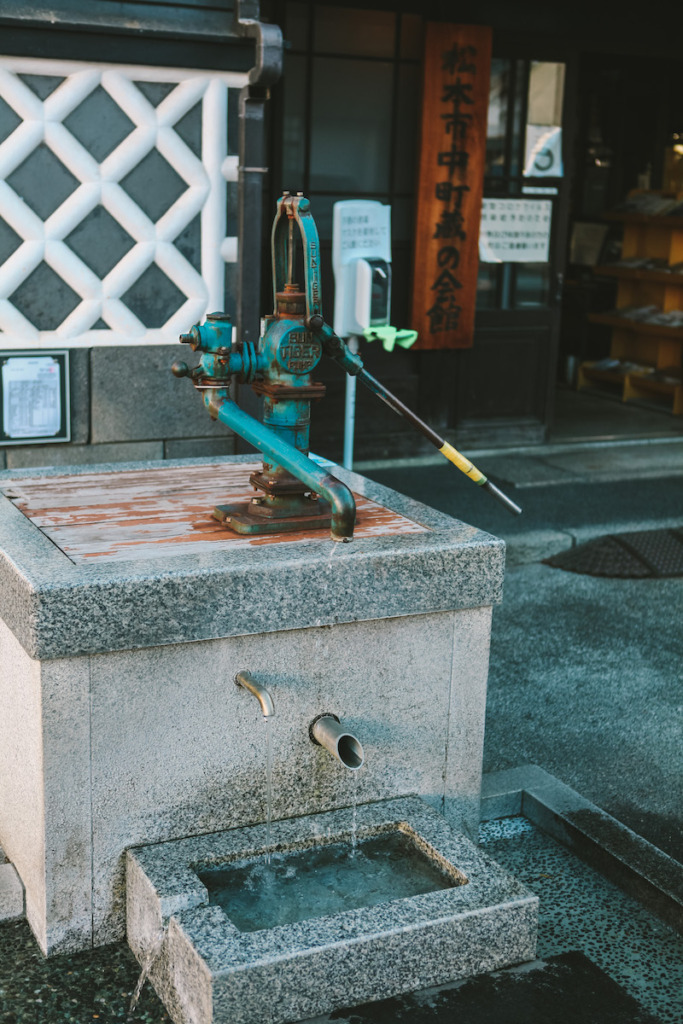 Along the houses, you will see a small canal flowing and from time to time, you will come across fountains and wells. The water from this source is supposed to be sacred, it is not impossible that you will come across Japanese people filling bottles there.
Do not hesitate to drink a little in the palm of your hand!
This is one of our favorite streets to visit and one of the best things to see in Matsumoto!
---
7. Visit the beautiful Matsumoto City Art Museum
Just a little further towards the Nakamachi district, you will come across this great museum with a nice design. The museum brings together the works of artists native to Matsumoto or related to the city or its surroundings.
And it turns out that the very famous artist Yayoi Kusuma is from Matsumoto! You've probably seen her art before!
You'll be greeted by "Maboroshi no Hana" (Flower of Illusion), one of the artist's best works.
Admission: ¥400
Opening hours: Tuesday to Sunday from 9 a.m. to 5 p.m.
Location: here
Website: here
---
8. Visit Tenjin Fukashi Shrine in Matsumoto
This temple is slightly hidden between the houses in the neighbourhood. But once you get there, you won't regret.
Tenjin Fukashi is one of the most beautiful shrines in Matsumoto. It is a very bright and colorful shrine.
It's a nice temple to visit in the area. You can get a shrine stamp if you are collecting them.
Location here
---
9. Go to Daio Wasabi Farm just outside Matsumoto
This farm is located near Matsumoto in Azumino to be precise. But this one is only a few minutes by train or by car from Matsumoto.
A visit to Daio Wasabi Farm is a unique experience.
By now you should know what is Wasabi, right?! This green paste we usually served with sushi and which gives it such a particular flavor. Well imagine that Wasabi, before being this famous green paste, is a vegetable that grows in the fields.
Little known to the general public, the town of Azumino has made the culture of wasabi a key attraction in the region. Everyone can come all year round to visit this farm. Here you can enjoy a walk around the huge farm, they also offer wasabi paste-making workshops, barge rides on the river or tasting Wasabi ice cream or Wasabi beer! Sounds fun isn't it!
You can also choose to eat amongst one of their 3 restaurants!
You can easily spend an entire afternoon at the farm!
Location: here
Website: here
---
10. Relax at an onsen in Matsumoto
Like in many places in Japan, after a full day of visit, nothing better than relaxing at a onsen. Matsumoto has great onsen, some are part of hotel, but some can be visited just for the day.
Norikura Kogen Onsen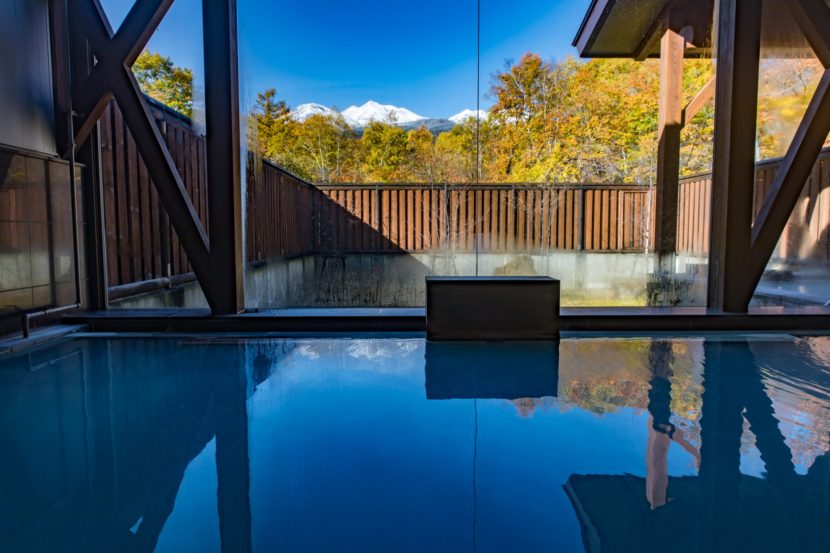 Norikura is one of the our favorite onsen in Matsumoto. They have indoor and outdoor baths, looking at the surrounding nature. Norikura also has a restaurant and a place to simply relax!
Website: here
Location: here
---
Yuyuan Biwanoyu
Yuyuan is another amazing day spa onsen in a beautiful historical building. Here you can enjoy a relaxing moment not far from downtown Matsumoto.
Website: here
Location: here
---
Best hotels in Matsumoto
Here are our recommendations of best places to stay in Matsumoto:
SHOHO – the most beautiful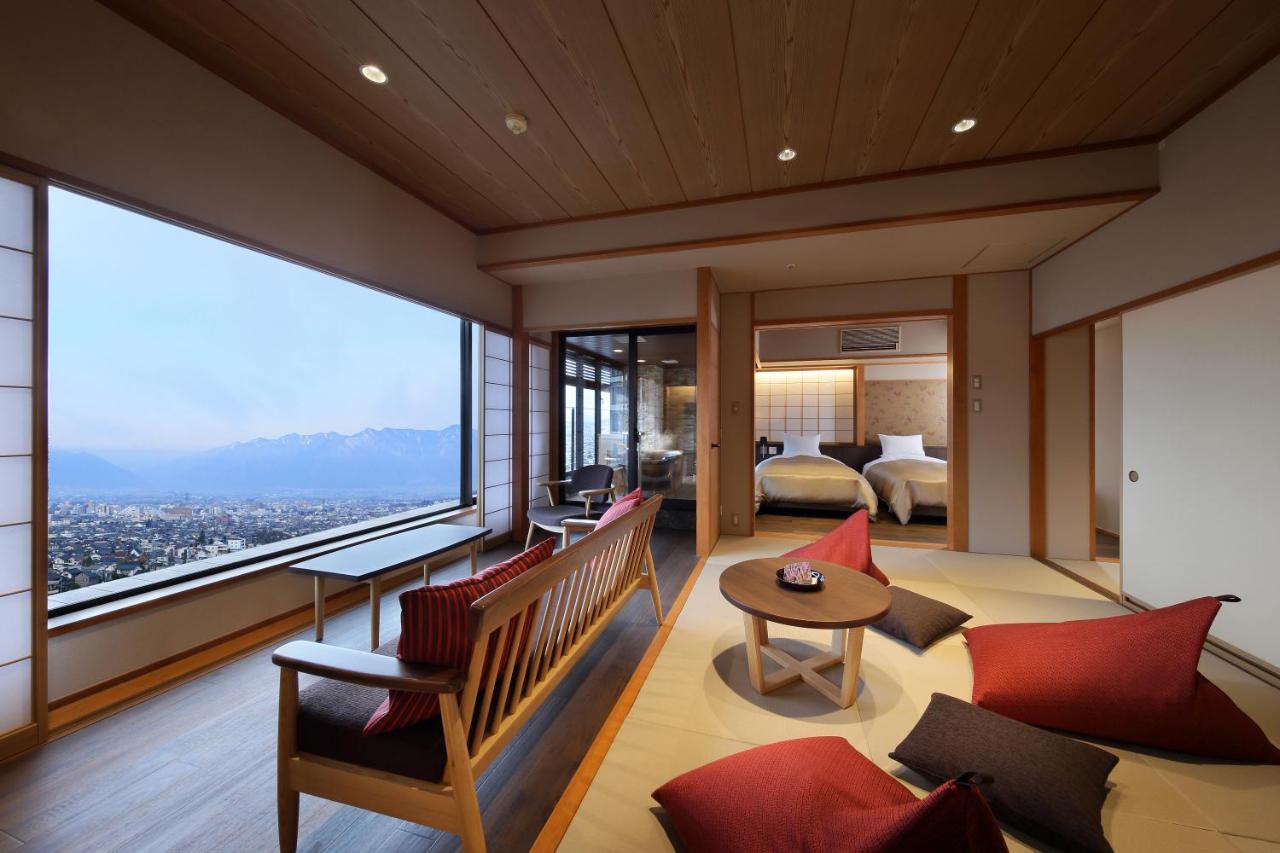 For us, one of the most beautiful hotel in Matsumoto is Shoho! The gorgeous property is very well designed, offers a stunning view to the surrounding mountains and has its own onsen baths! Besides Shoho is relatively close to the center of Matsumoto! BOOK HERE.
---
Onyado Nono – the best value for money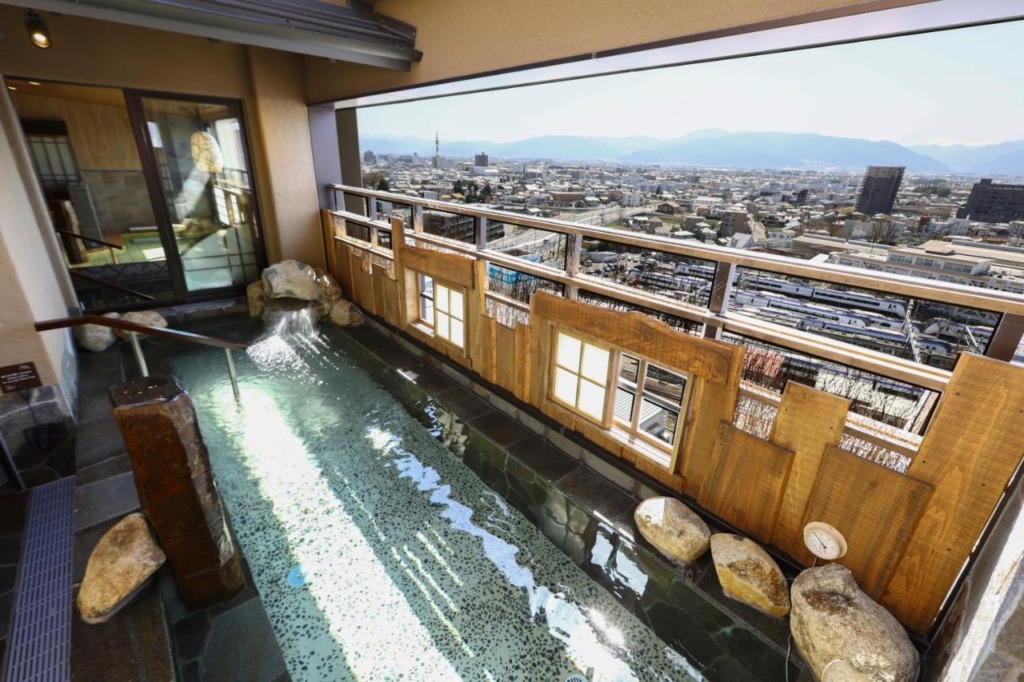 The Fuji Marriott Hotel is one of the most luxurious hotels in the area. It's absolutely gorgeous (although not directly by Lake Yamanaka). Here it's all about comfort and being pampered during your trip to Lake Yamanaka. MORE INFORMATION HERE>
---
SOUTHERN CROSS INN – the cheapest option centrally located
If you are traveling on a budget in Japan, then Southern Cross Inn would be the best option in Matsumoto! It's relatively cheap, clean and centrally located. Don't expect anything fancy, but you will have a comfortable bed and FREE bicycle rental! CHECK IT OUT
---
How to get to Matsumoto from Tokyo?
From Shinjuku, simply take the Azusa 25 Limited Express to Matsumoto! It takes 3h! Remember to buy your JR PASS when traveling by train to Japan, you will save lots of money! BUY IT HERE.
You can also drive from Tokyo, it will take around the same time. If you rent a car in Japan, we highly recommend Nippon-Rent-A-Car in Japan. We always use them, their service is top notch!
---
How many days to visit Matsumoto?
To cover everything, 2 days would be the ideal time to visit Matsumoto.
---
Best time to visit Matsumoto?
In the spring of course, around mid-April when the cherry trees are in bloom all over the city. However we also strongly recommend to visit Matsumoto in the fall to be able to enjoy the magnificent red and orange colors all over the city!
---
How to get around in Matsumoto?
Most of Matsumoto's main attractions are within walking distance of each other.
To reach more remote sites, you can take the Town Sneaker Bus in front of the train station. The shuttle leaves every 30 minutes and makes a loop through the local tourist sites.
Another convenient mode of transportation are bicycles. You can rent them fo free from 8:30 a.m. to 5 p.m. from the Matsumoto City Museum near the castle.
---
Other things to see near Matsumoto? Discover the Japanese Alps
KAMIKOCHI
Prepare your backpack, exciting adventures await you around Matsumoto! Less than an hour's drive away, the Kamikochi Valley is a one of the most amazing places we visited during our trip to Japan. Kamikochi is classified as a cultural heritage of Japan!
No cars are allowed in this area in order to preserve the nature. Hence you will need to get a shuttle to enter the valley!
You can also take direct bus from Matsumoto! Make sure to check out Kamikochi! It is one of the most scenic places in the Japanese Alsp!
READ: FULL GUIDE TO TRAVEL TO KAMIKOCHI
---
EXPLORE THE NAGANO REGION
The Nagano area is a beautiful region of Japan. There are many things to explore such as the ski resort of Hakuba, Togakushi Shrines and Forest, the Snow Monkey, the Zenko-ji temple and the beautiful village of Obuse!
READ: FULL GUIDE FOR VISITING THE NAGANO REGION AROUND HAKUBA
---
Final thoughts – Is Matsumoto worth visiting?
Although not so well known, Matsumoto is a really lovely town in Japan. If it's worth visiting? Yes absolutely!
Besides, the area around Matsumoto is stunning right by the Japanese Alps. The Nagano region or Kamikochi are fantastic places to discover during a trip to Japan!
We hope that you found this post useful to help you prepare for your trip to Japan. We wrote many other posts about Japan here.
---
Related posts
FULL GUIDE FOR A VISIT OF TSUMAGO ALONG NAKASENDO: here
HIKE ALONG NAKASENDO: here
15 BEST THINGS TO SEE IN HAKONE NEAR MT. FUJI: here
15 INCREDIBLE THINGS TO SEE AT LAKE KAWAGUCHI: here
OBUSE, A BEAUTIFUL TOWN IN JAPAN WORTH A VISIT: here
VISIT NARAI-JUKU ALONG NAKASENDO: here
TRAVEL TO MAGOME: here
FULL GUIDE FOR VISITING HAKUBA IN JAPAN: here
DISCOVER LAKE YAMANAKA NEAR MT. FUJI: here
30 AWESOME THINGS TO DO IN SAPPORO: here
10 BEST THINGS TO SEE IN MONZEN-NAKACHO IN TOKYO: here
EXPLORE KAGURAZAKA, THE THE LITTLE PARIS OF TOKYO: here
DISCOVER JOZANKEI ONSEN IN HOKKAIDO: here
BEST THINGS TO SEE IN KYOTO: here