WHAT TO SEE IN INSADONG? WHERE TO EAT IN INSADONG? WHAT IS INSADONG FAMOUS FOR?
Insadong is one of our favorite neighborhoods in Seoul, South Korea. If you travel to Seoul, visiting Insadong is a must.
Nestled in the heart of Seoul, Insadong is a vibrant and culturally rich neighborhood that offers visitors a delightful blend of tradition, art, and culinary delights.
"Insadong is one of the most charming areas of Seoul"
With its charming streets lined with traditional hanok houses, bustling markets, art galleries, and tea houses, Insadong is a must-visit destination for travelers seeking to immerse themselves in the beauty of Korean culture.
In this blog post, we will take you on a journey through Insadong, showcasing the best activities and experiences that will make your visit truly memorable.
Insa-dong (인사동), located in the heart of Seoul, is an important place where old traditional and precious objects are exposed.
The district is composed of a main street, Insadong-gil, which connects many alleys with Hanok (traditional Korean houses), where many galleries, restaurants, cafes, and traditional tea rooms are located.
The galleries are the heart of Insa-dong. There are approximately 100 galleries exhibiting all types of art ranging from traditional paintings to sculptures.
Insadong is also the ideal place to buy souvenirs and discover local craft shops such as pottery, calligraphy, brushes, traditional fans etc.
To access it by metro, take either line 1 JongGak station (exit 3), line 5 Jongno-samga (exit 5) or line 3 AnGuk station (exit 6)
Here is a teaser about Insadong:
---
WHAT ARE THE BEST THINGS TO DO IN INSADONG?
1. Explore Insadong-oil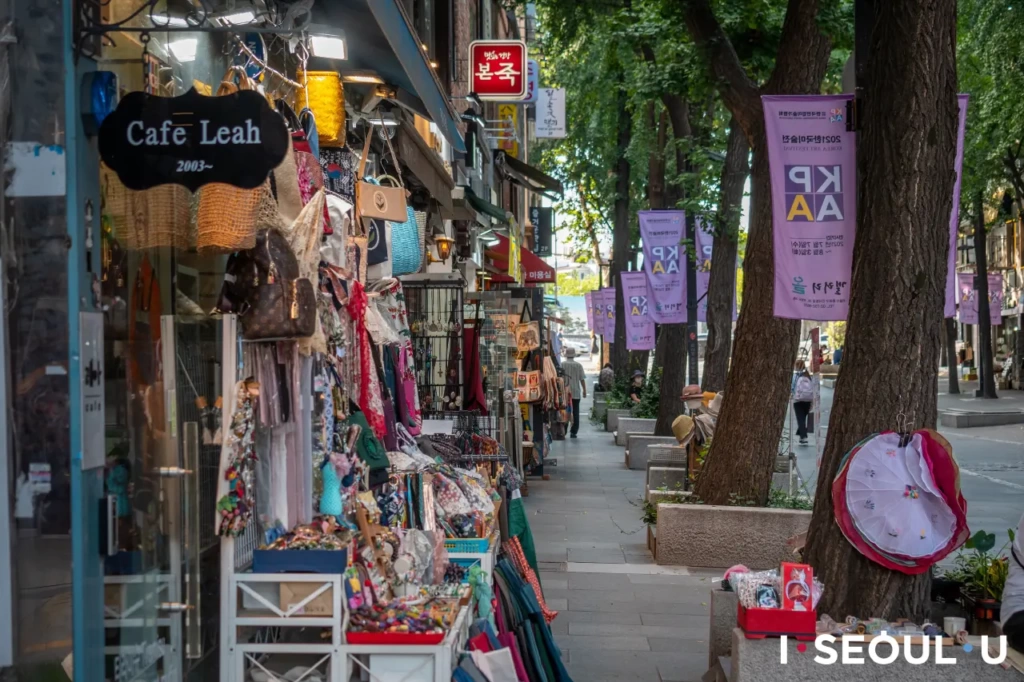 The Insadong district is characterized by a large pedestrian street and a maze of small side streets. The main street, Insadong-gil, is lined with craft and antique shops. Even if these tend to disappear in favor of more tourist souvenir stalls, you will always find something unique to buy.
As you wander through its narrow lanes, you'll encounter a myriad of traditional craft shops, art galleries, antique stores, and tea houses.
Take the time to stop by the Tong-In Store, which is described as the country's oldest traditional craft shopping center. Created in 1924, the latter promotes Korean know-how, both ancient and modern, as well as emerging artists.
Browse through the exquisite Korean ceramics, calligraphy brushes, hanboks (traditional Korean clothing), and other handicrafts, each showcasing the meticulous craftsmanship of Korean artisans.
The street also offers a myriad of street food stalls where you can savor authentic Korean snacks like hotteok (sweet pancakes), bindaetteok (mung bean pancakes), and gimbap (rice rolls).
---
2. Shop at Ssamzie-gil Market
Ssamzie-gil Market is a unique open-air shopping area where you can enjoy over 70 craft shops offering jewelry, original clothes, decorative items, stationery, etc. It is has fantastic place to hand out and check out cool and trendy items from local artists.
Walk all the way to the rooftop, to enjoy a great cup of coffee and nice view overlooking Insadong. You can check out their website here.
As you explore the complex, don't forget to venture into the hidden alleys surrounding Ssamziegil. These narrow lanes are filled with small shops, galleries, and charming cafes, offering a more intimate and authentic experience of Insadong's local culture and creativity.
---
3. Enjoy some delicious food in a Hanok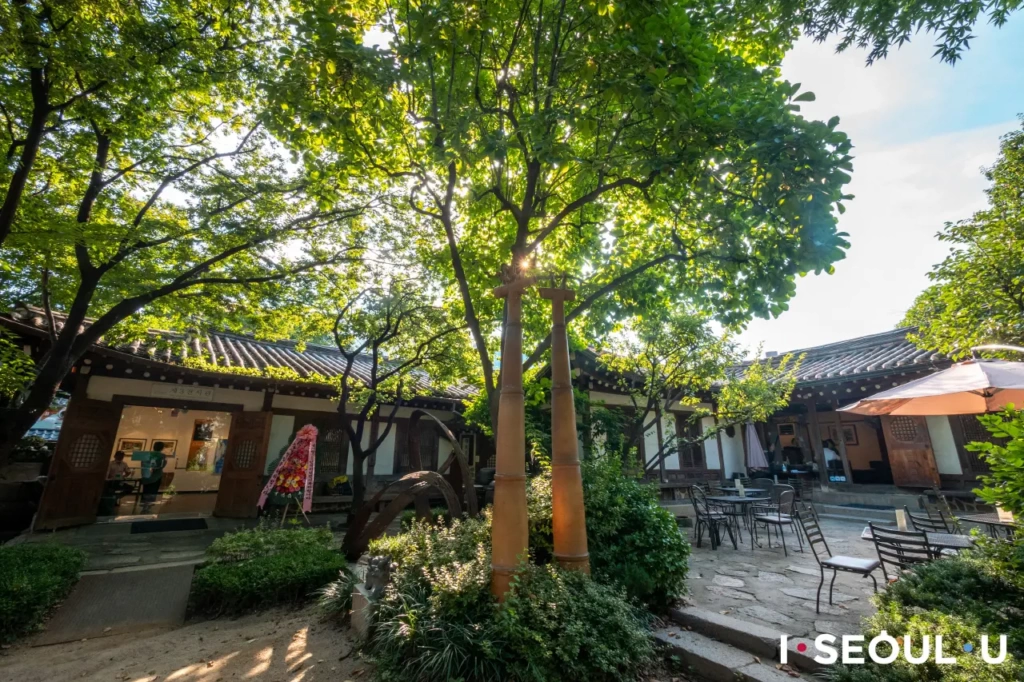 There are many kinds of food available in Insadong.
Are you dreaming of a Korean barbecue? Chya Iyagi and 853 are certainly the most popular places. If you would rather like to discover traditional royal cuisine (and its twenty dishes), JinJin Bara will delight you!
Do you feel like having amazing Mandu, these dumplings from North Korea? We recommend the well-known Gaeseong Mandu Koong whose cuisine and hospitality will warm your body and heart.
Are you a vegetarian or vegan? Sanchon is a very popular place at the end of a traditional alley.
>> READ ALSO: 15 BEST VEGAN RESTAURANTS IN SEOUL & BEST BRUNCH PLACES IN SEOUL
---
4. Enjoy a drink in a unique cafe
The most unique cafe will certainly be the poop cafe, This very cute café has an original concept to say the least: poop. Yes yes, you read that right! There, the cakes and waffles are shaped like excrement – just like the cushions that make up the decoration! Only in Korea… (location: here)
Just a few minutes walk from the Main Street, you will find Onion Cafe (website). One of our favorite cafes in Korea with a great outdoor area. Onion Cafe is set in a traditional Hanok but rebuilt with a lot of modern architecture. Both blend perfectly.
>> READ ALSO: BEST OUTDOOR CAFES IN SEOUL
---
5. Explore Art Galleries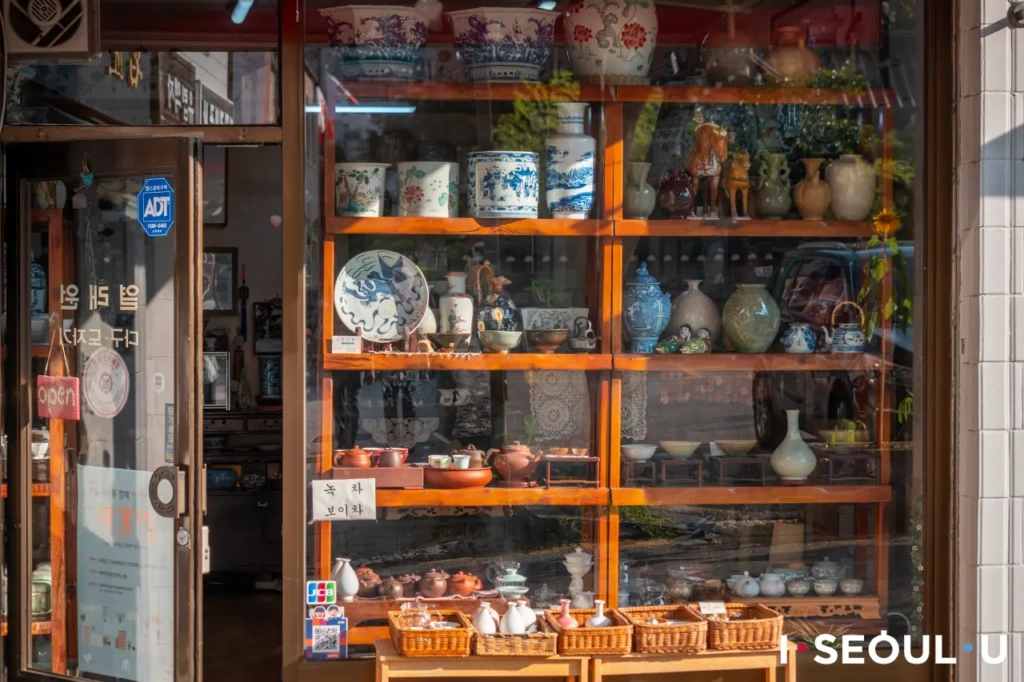 To fully experience the soul of Insadong district, a cultural center of Seoul, you must also explore its art galleries.
One of the best known, the Kyung-In Museum of Fine Arts, will allow you to discover the works of classical and modern Korean artists. Take the time to take a break at the Dawon tea room, in this magnificent setting combining tradition and modernity!
The Korea Craft & Design Foundation (KCDF) and the Gana Insa Art Center are also worth a look, for the setting too, and for the works that you can admire. You may even be able to meet some of the artists there!
---
6. Enjoy a cup of tea and dessert at a traditional tea house
Insadong district is full of traditional tea houses.
One of the best-known is the Shin Old Tea House. To find it, you will have to fight your way through a maze of small streets! Despite its popularity, this peaceful tea house will give you a unique experience.. You can taste excellent teas, from the most classic to the most curious (like a jujube tea), accompanied by injeolmi, these delicate rice cakes.
Banjjak Banjjak Binnaneun is another unique tea house. Located at the heart of Insadong, this place will offer you mugwort tea, a plant grown on Ganghwa Island. You can also drink a smoothie, and enjoy a patbingsu (Korean frozen dessert) and injeolmi.
Finally, the tea room "The Moonbird Only Thinks of the Moon" is a place as curious as its name. We'll let you find out for yourself!
---
7. Explore the beautiful Jogye-sa Buddhist Temple
Jogye-sa Temple is a Buddhist Temple.
Located a little away from the main street, Jogye-sa Temple is the heart of Korean Buddhism. Although very popular – especially during the various events organized there – this temple is a magnificent place to discover! It a must if you visit Insadong.
---
8. Visit Tapgol Park
Once you have walked down the main street, you will see the entrance to Tapgol Park, Seoul's first modern urban park. It was also the starting point for the March 1st movement for independence (against Japanese occupation) in 1919.
In addition to the historic site, you can discover the Wongaksa Pagoda, a magnificent 10-story stone pagoda protected by a glass structure, as well as the Palgakjeong pavilion.
And if you are tired of your day of visiting Insadong, do not hesitate to sit down for a few moments to enjoy the peacefulness of the place!
---
9. Check out Anyoung, the newest shopping center in Insadong!
This newly opened mall in the heart of Insadong hosts museums, shops, cafes, restaurants and even a hotel at the top.
On Sundays, little booths are set up on the ground floor displaying arts and cultural souvenirs.
You can't really miss it, the mall is right on the main pedestrian street at Insadong.
---
10. Have fun at Alive Museum & Dynamic Maze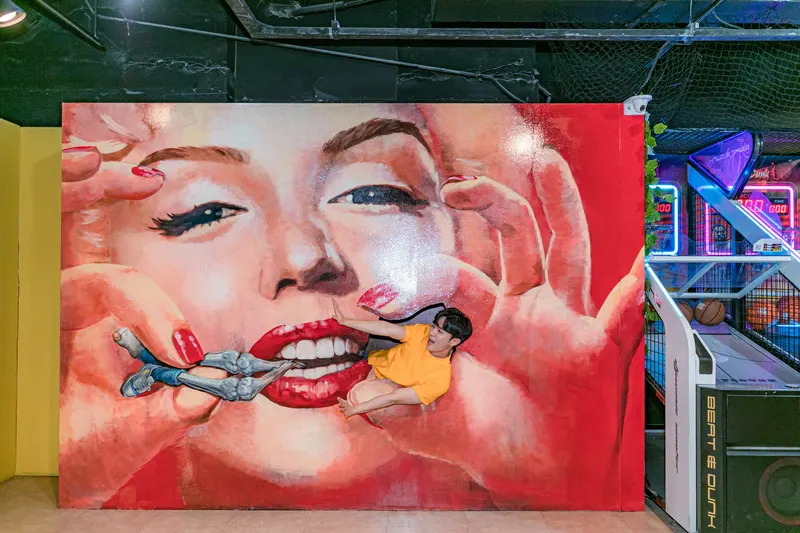 The Alive Museum is a trick-eye place! And this one is extremely fun. Make sure you go with a partner or your kids as some of the photo ops require a second person.
You can combine your ticket with access to Dynamic Maze, another part of the museum. The name says it all, this place is a really cool Indoor maze!
BOOK YOUR TICKET HERE FOR A DISCOUNT
---
Other things to visit around Insadong
1. Ikseon-dong
If you want to continue your exploration after Insadong, we highly recommend visiting Ikseon-dong. It's just a few minutes walk from Insadong. This new up-and-coming neighborhood is by far our favorite area in Seoul. Ikseon-dong became one of the trendiest districts in Seoul, however, it is not as known as other areas like Insadong, Myeongdong, Hongdae etc.
Recently, artists or young entrepreneurs created craft shops and cafes which helped revitalize the neighborhood. It is one of the most "Instagramable" areas of Seoul. More info here.
If you like places like Ikseon-dong, make sure to also check the latest trendy place in Seoul: Mullae Art Village (full post here)
>> READ: FULL GUIDE TO IKSEON-DONG IN SEOUL
---
2. Changdeokgung Palace
Opposite Insadong, you can visit Changdeokgung. It is one of the biggest and most beautiful palaces in Seoul. The palace was thought to be in perfect harmony with its environment and its secret garden, called Huwon, one of a kind.
Each year it attracts the attention of many visitors. Despite several fires, it is the best-preserved palace in the capital. In 1997, it was designated by UNESCO "World Heritage of Humanity".
READ: FULL GUIDE FOR VISITING CHANGDEOKGUNG IN SEOUL
---
In Conclusion about the best things to do in Insadong
Insadong effortlessly weaves together tradition and contemporary creativity, offering visitors an immersive and captivating experience of Korean culture.
From strolling along Insadong Street, exploring art galleries and tea houses, discovering hidden alleys, and indulging in authentic Korean cuisine, every corner of Insadong beckons with its unique charm and rich cultural heritage.
Immerse yourself in this enchanting neighborhood, embrace the beauty of Korean traditions, and let Insadong's vibrant energy leave an indelible mark on your Seoul itinerary.
We lived in Seoul for more than 3 years. Check out all our related blog posts here
Photo copyright: Seoul Metropolitan Government/Penta Press
---
READ ALSO
AWESOME THINGS TO SEE IN HONGDAE
BEST THINGS TO DO IN GANGNAM, SEOUL
EXPLORE IKSEON DONG THE CUTEST PLACE IN SEOUL
MOST INCREDIBLE CAFES IN SOUTH KOREA
BEST DAY TRIPS FROM SOUTH KOREA
CHECK OUT INSADONG, ONE OF OUR FAVORITE AREAS IN SEOUL