Changgyeonggung is our favorite palace in Seoul. It is located in Jongno-gu district, in the heart of Seoul. Changgyeonggung is known to hold the oldest throne room in Korea.
Seoul has 5 Grand Palaces. To know more about them, you can check out our post here.
Changgyeonggung is not as important as the main Palace: Gyeongbokgung Palace. However, we always enjoyed visiting Changgyeonggung at every season, as for us it is the most charming one and has a beautiful garden. It is also the very first palace we visited when moving to South Korea.
Changgyeonggung is different to the others as there is a big a space devoted to the daily life of the family which is much larger than the space devoted to political affairs. The site thus contains many more personal stories about the royal family, love and hatred between the king and the prince or even the tensions between the queen and the servants of the court.
---
Useful information about Changgyeonggung
How to get there?
Address: 185 Changgyeonggung-ro, Jongno-gu, Seoul
By Subway: Hyewa station (line 4, exit 4) then walk 1km / Anguk station (line 3, exit 3) then walk 1km
By Bus: Take the bus n ° 100, 102, 104, 106, 107, 108, 140, 143, 150, 151, 160, 162, 171, 172, 272, 301, 710 or 6011 (this last bus is a limousine bus from the airport) and stop at Changgyeonggung Palace Seoul National Univ. Hospital (창경궁 • 서울 대학교 병원).
Other information
Opening hours: Open from 9 a.m. to 9 p.m. (last admission at 8 p.m.). The palace is closed every Monday. The opening hours of the palace were changed in 2019 so that the public can see the palace at night all year round.
Admission: Adults 1,000 won / Children 500 won
Website: cgg.cha.go.kr
Our recommendations
If you wear a Hanbok (traditional Korean costume) you can enter for free. You can rent a Hanbok at low price here. Besides giving you free access to all palaces, wearing Hanbok is super fun and will give you plenty of photo opportunities.
To make the most of these five palaces, the city of Seoul has implemented a pass. This is a small notebook with tear-off coupons. To purchase it, simply go to the cash desk at one of these five locations and request a Combination ticket for palaces. It is 10,000 won (5,000 won for children). Which is cheaper than paying for each visit. This pass is valid for three months.
Changgyeonggung is also connected to Changdeokgung Palace another main palace of Seoul. Hence we recommend to visit both palaces in 1 go. Once you enter inside Changgyeonggung, there will be another ticket counter at the opposite side of the garden to enter Changdeokgung.
---
A bit of history about Changgyeonggung
Let's go back in time to 1418, during the Joseon period, when King Sejong (1397-1450) had the palace built for his father King Taejong (1367-1422) who had just abdicated. At that time, the palace was called Suganggung (수강 궁). A few years after its construction, during the reign of King Seongjong (1457-1494), the palace was enlarged for three queens. The works ended in 1484 and on this occasion, the palace was renamed Changgyeonggung (창경궁).
The palace underwent several catastrophies thereafter: First, it was destroyed by a fire during the Japanese invasion by the name of Imjinwaeran (1592-1598). It was finally rebuilt in 1616. Changgyeonggung Palace then experienced a few years of respite and many queens resided there.
The palace is unfortunately also known for the tragic story of Prince Sado (1735-1762). His father, King Yeongjo (1694-1776), condemned him and had him locked up in a wooden chest. He died 8 days later. If you want to know more about this story, you can watch the movie called "The Throne".
In 1830, Changgyeonggung experienced another fire. It was rebuilt 4 years later. But the history of the palace does not end there… Indeed, in 1909, when Korea was under Japanese occupation, the palace was transformed into a zoo and a park and was renamed Changgyeongwon (창경원) in 1911.
A few decades later, the government decided to restore the palace to its original state. Work began in 1983 and ended in 1986.
We will now describe the best things to see in Changgyeonggung:
---
1. Honghwamun (홍화문): the meeting place between the king and the people
Let's start the tour of the palace with its main entrance gate called Honghwamun. It was first built in 1484. Following the Japanese invasion "Imjinwaeran" (1592-1598) when the Palace was destroyed, the gate was rebuilt in 1616.
Honghwamun was a meeting place between the king and the people. First, King Yeongjo (1694-1776) met with the people there to get their opinions on a law he wanted to put in place in 1750.
A second landmark event took place in Honghwamun: King Jeongjo (1752-1800) went there to celebrate the 60th birthday of his late mother. On this occasion, he distributes rice to the people.
---
2. Myeongjeongmun (명정문)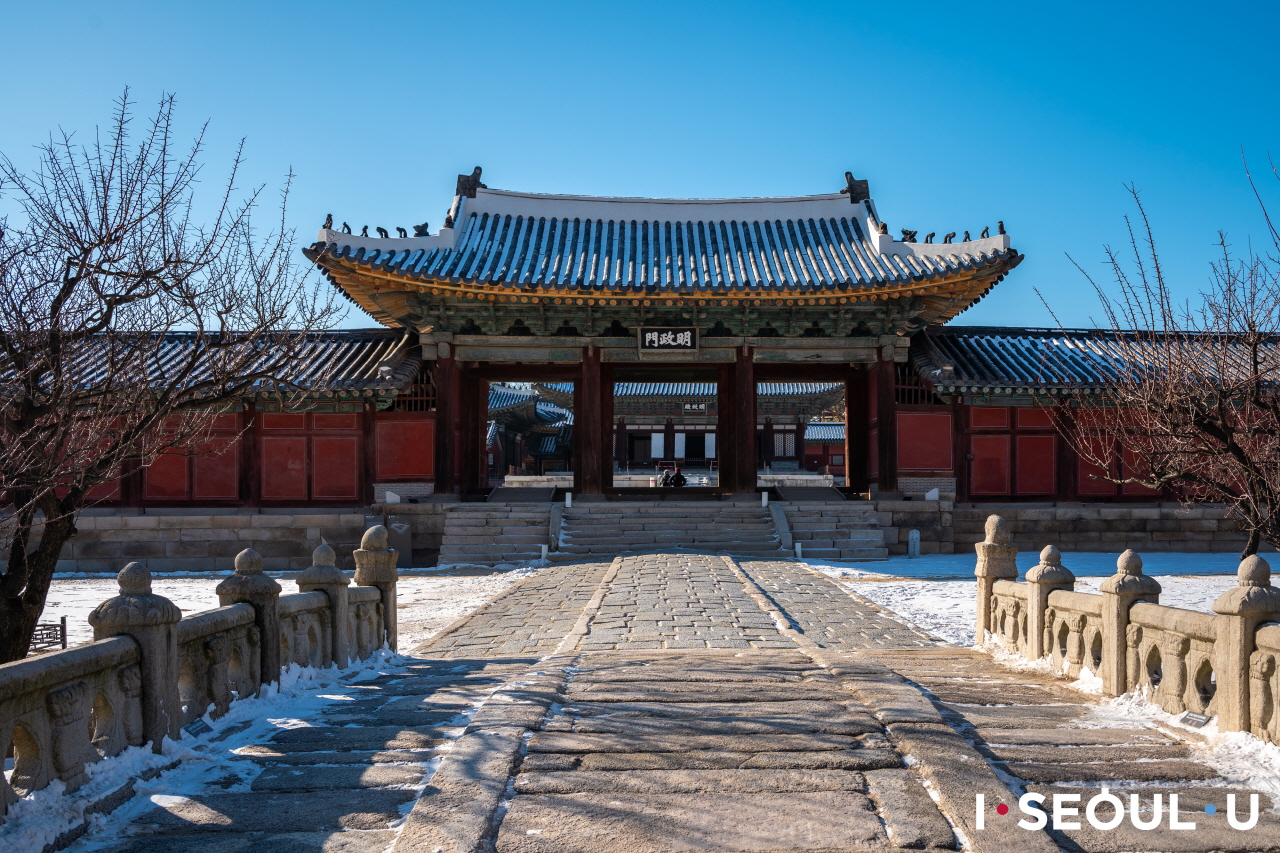 After crossing the Okchongyo Bridge (옥천교), we face a gate called Myeongjeongmun. It suffered the same fate as Honghwamun: it was destroyed during the Japanese invasion (1592-1598) and was subsequently rebuilt.
---
3. Myeongjeongjeon (명정전), the oldest throne room in Korea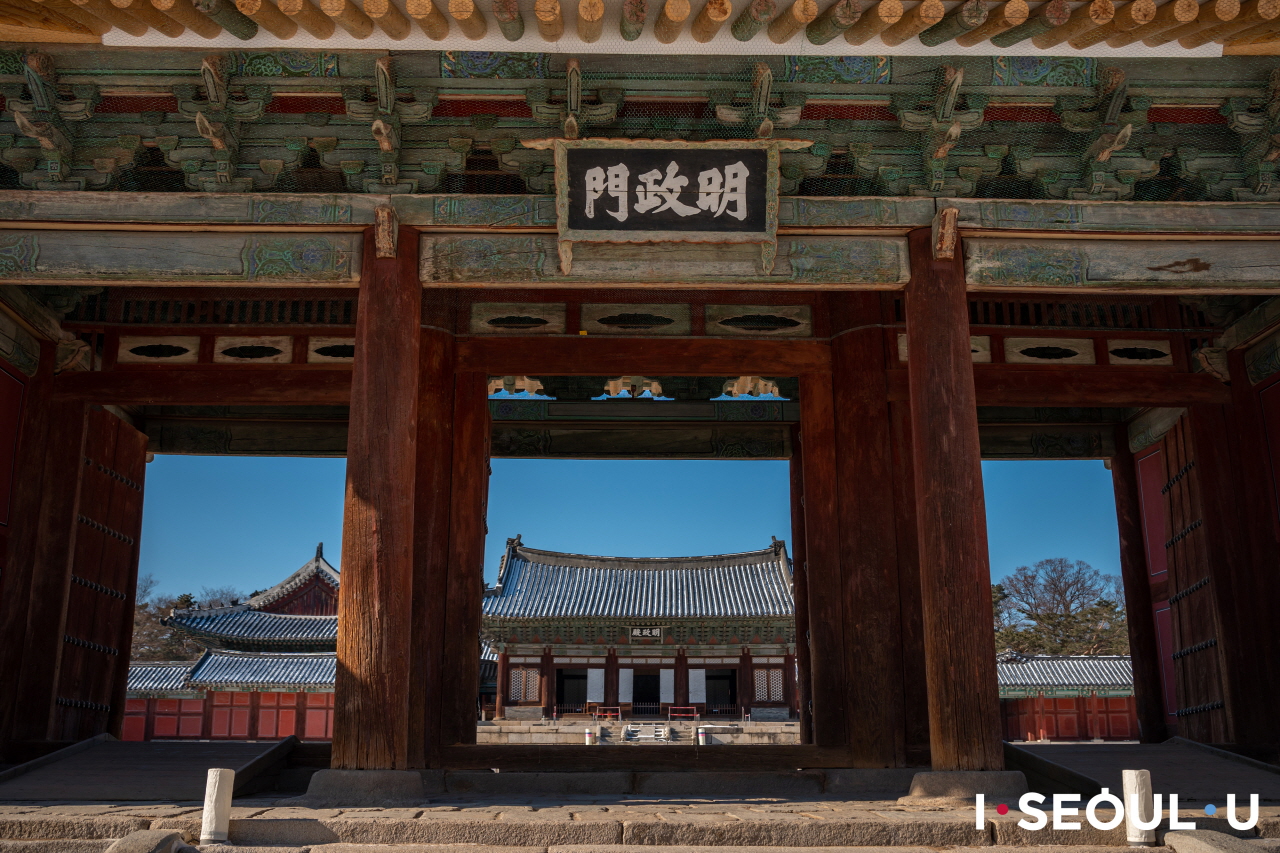 After passing through the two gates, we enter the courtyard and we can see the oldest throne room in Korea. It was built in 1484. This is where major events took place, such as receptions to welcome foreign emissaries.
Like other buidings inside Changgyeonggung, Myeongjeongjeon was also destroyed during Imjinwaeran (1592-1598). It was therefore rebuilt in 1616 and escaped the second palace's fire in 1830.
---
4. Sungmundang (숭문당)
During your stroll, you might come across the Sungmundang building: it was mainly used as a study room by the king and it is also a place where he discussed political affairs with his high officials. Sungmundang was rebuilt in 1834, following the fire of 1830.
---
5. Haminjeong (함인정)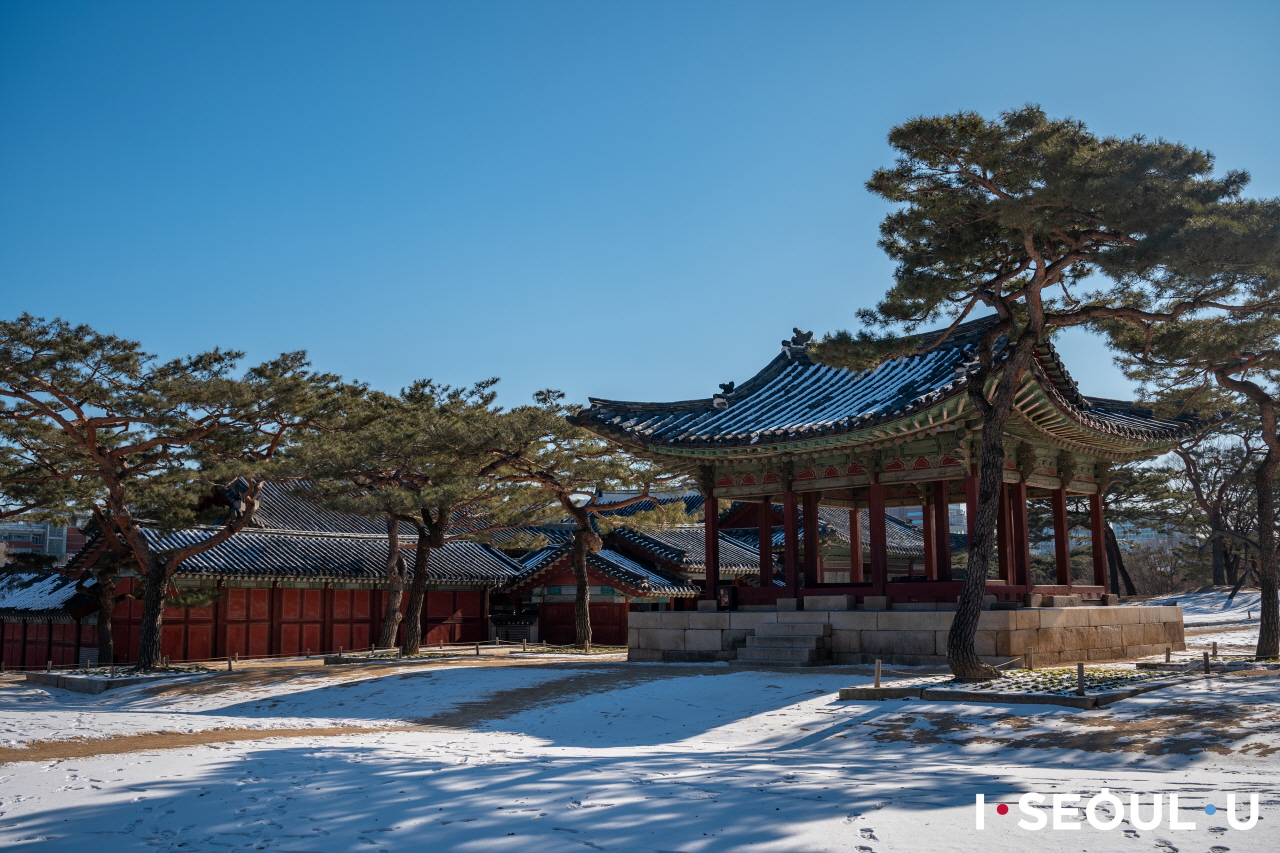 Originally, a building called Inyangjeon (인양 전) was built in 1484, but following the Japanese invasion (1592-1598), it was completely destroyed. Instead, in 1633 they rebuilt a new building called Haminjeong. Unfortunately, he was not spared in a fire that took place in 1830.
---
6. Hwangyeongjeon (환경전)
Hwangyeongjeon was used as a residential area by kings or princes. It was rebuilt in 1834.
---
7. Gyeongchunjeon (경춘전)
This pavilion served as a residential area for the queens. Queen Insoo (1437-1504) is the first woman to live in Gyeongchunjeon. In addition, Kings Jeongjo (1752-1800) and Heonjong (1827-1849) were born here.
---
8. Chundangji (춘당지)
After walking through the forest in a charming trail, you will come across a gorgeous water pond. Originally, the large pond was a place where there was a rice field maintained by kings. However, in 1909, the Japanese built a pond there. Chundangji Pond was restored in 1986 in a traditional Korean style.
Do not hesitate to take a break and sit on the benches near the pond. We love this place.
---
9. Daeonsil (대 온실): a greenhouse within Changgyeonggung
In 1909, the Japanese also built a botanical garden within the palace. Daeonsil has undergone restoration work and reopened to the public in November 2017. You can discover several species and varieties of plants. We love this sight too. It is part of the charm of Changgyeonggung, and one of the reason why it is our favorite palace in Seoul.
---
Other things to see near Gyeongbokgung
5 Grand Palaces of Seoul
If you are interested in visiting other palaces in Seoul we recommend Changdeokgung which is connected to Changgyeonggung. Seoul has 5 Grand Palaces in total, you can discover them in our full post here.
Ikseong-dong, the cutest neighbourhood in Seoul
It's a neighborhood with the cutest little alleys with many Hanoks, trendy boutiques, amazing cafes and great restaurants. Some call Ikseon-Dong the hipster place of Seoul. It is certainly one of the trendiest and most up and coming neighborhood in Seoul. We simply love it! Check out our full post here to discover Ikseon-Dong.
Insadong, to spend a pleasant afternoon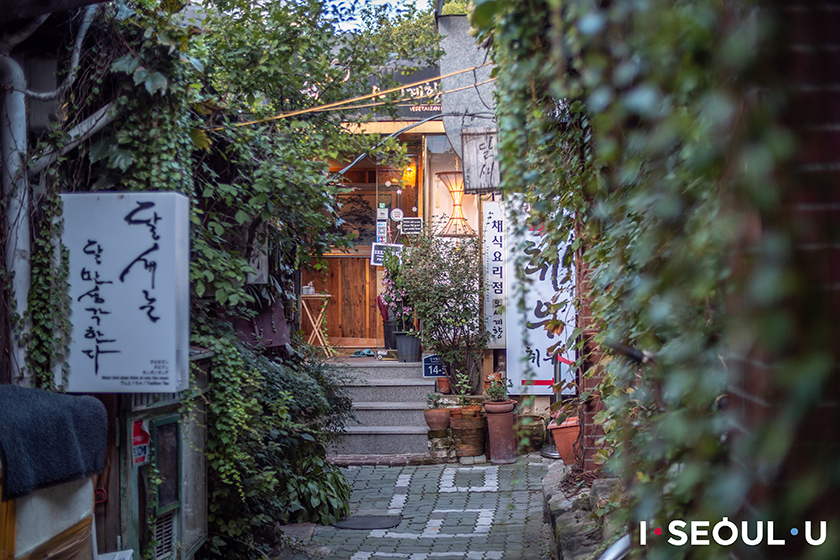 Insa-dong (인사동), located in the middle of the city of Seoul, is an important place where old traditional and precious objects are exposed. The district is composed of a main street called INsadong-gil, which connects many little alleys full of restaurants, cafes, Hanok and many shops.
Here, we've listed 8 recommendations of top things to do in Insadong.
Ihwa Mural Village
Ihwa Mural Village is a unique place in Seoul, completely devoted to Street Art. Located next to Naksan Park and not far from one of the largest art school in Seoul, the walls of Ihwa village have been completely taken over by artists over the years. Street Art in Seoul is filled with joy and color. Everything is fresh, delicate and so cute, a real pleasure for the eyes.
Check out our full post here for a visit of Ihwa Mural Village.
---
In conclusion
Changgyeonggung Palace is our favorite palace in Seoul. It was the first palace we visited and it left a strong impression on us. We strongly advise you to go there if you want to visit a palace in Seoul. You can also easily visit Changdeokgung Palace which is next door.
Compared for example to Gyeongbokgung, the palace has fewer visitors, so it is always more pleasant to walk around. In addition, there is a very nice trail inside the palace leading through a forest towards a stunning pond and green house.
If you have any questions about Changgyeonggung, don't hesitate to ask us! And for people who have visited the palace before, let us know about your experience in the comments!
If you stay in Seoul for a few days, we recommend the visit of the 5 main Grand Palaces. More information about that here.
We lived in Seoul for 3 years and loved exploring all these beautiful places in Korea. There are many posts about Korea in this blog, you can find them all here.
HAPPY TRAVELING !
Photo credit: Photo by Seoul Metropolitan Government/Penta Press
---
Links to related articles
CHANGDEOKGUNG one of the main palace in Seoul: here
DEOKSUGUNG PALACE: here
SOUTH KOREA: some of the most amazing things to do in South Korea: here
JEONJU: the cutest hanok village in Korea: here
WHY visiting South Korea: here
IHWA MURAL VILLAGE: a visit off the beaten path in Seoul: here
KSEON-DONG: the cutest neighborhood of Seoul: here
JEJU: the best island escape from Seoul: here
WOLMIDO: the perfect place to escape the busy Seoul: here
INSADONG: a must-see area of Seoul: here