WHAT TO DO IN IPOH? IS IPOH IN MALAYSIA WORTH VISITING? HOW MANY DAYS TO SPEND IN IPOH?
Ipoh is located halfway between Penang and Kuala Lumpur. It is the capital of the state of Perak in Malaysia.
We spent 3 beautiful days in Ipoh, discovering its heritage, temples, mosques, colorful markets, delicious street food, impressive caves, and a lot more which we invite you to discover in this post.
"We completely fell in love with Ipoh"
Ipoh is probably the most underrated place to visit in Malaysia! For a relaxing or exhilarating vacation, alone or with family, the city of Ipoh is a must-visit during your trip to Malaysia.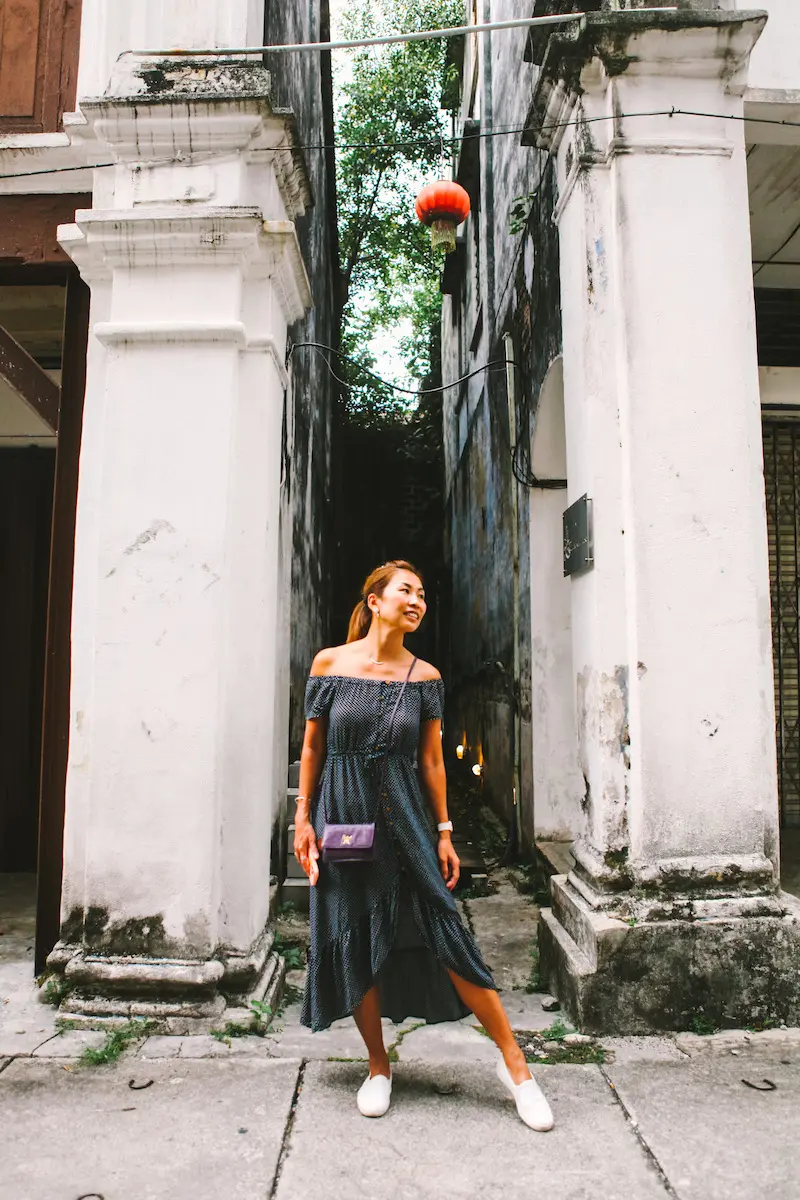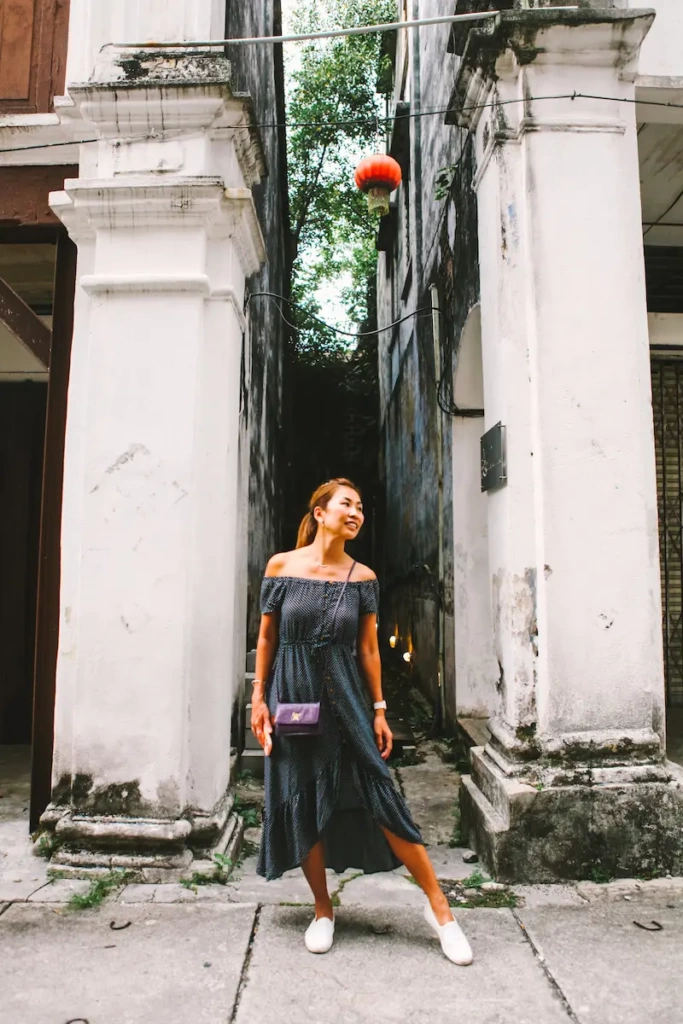 We went to Ipoh without any expectations… When people talk about Malaysia, Ipoh doesn't come often on the list of things to see… We always heard of Penang, Langkawi, Tioman, Kota Kinabalu, but rarely Ipoh… And finally, we had a total crush on Ipoh. It was a very nice surprise as there are so many awesome things to do and see in and around the city!
Here is a teaser about the things to do in Ipoh:
---
WHAT TO DO IN IPOH?
1. Start your visit with Ipoh's old town at Market Lane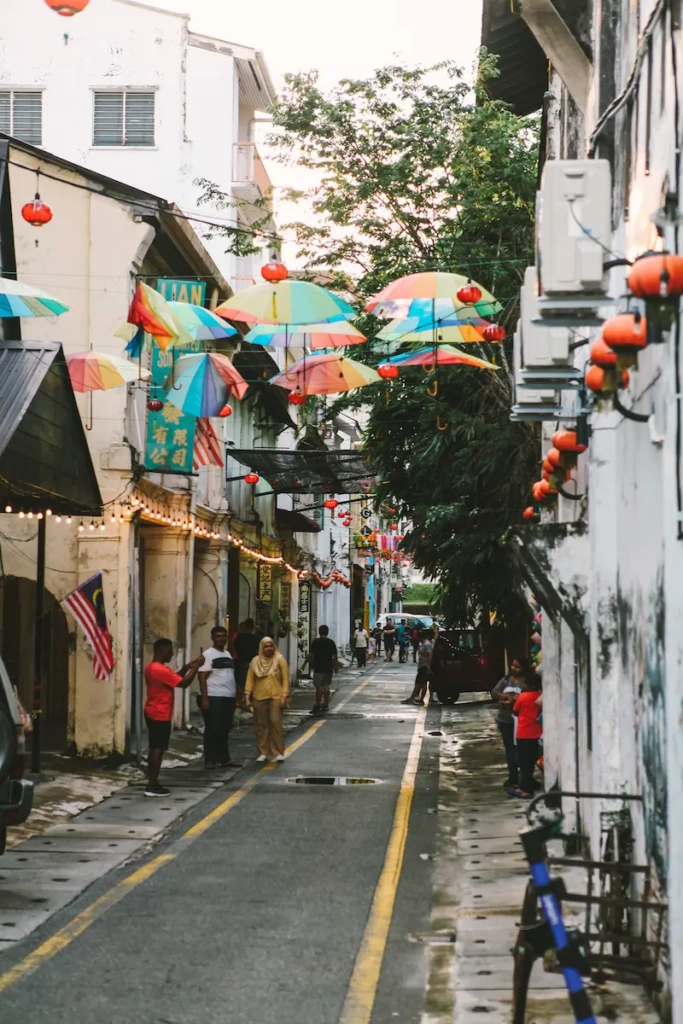 Just like in Penang or part of Chinatown in Kuala Lumpur, we love the heritage shophouses built around Malaysia. In the old town of Ipoh, you will find many of them, turned into trendy cafes, restaurants, craft shops and so much more.
We invite you to wander through Market Lane, one of our favorite streets in Ipoh! There are street arts everywhere as well, which is super cool!
Location: here
---
2. Next, head to the narrow street of Concubine Lane
Concubine Lane is another trendy street in Ipoh and probably the most visited. When we went there it was actually jam-packed!
Nevertheless, we enjoyed taking a walk through this narrow lane, filled with many fun shops. You can also try a lot of different street food. As you know, Malaysia is famous for its great food all over the country!
While Market Lane and Concubine Lane are 2 of the most famous streets in Ipoh's old town, make sure to walk to the other neighboring streets to discover more of Ipoh!
Location: here
---
3. Visit Hong Heng Square
Kong Heng Square is set in an old colonial-style houses with a mix of renovated and old. It's a bit of a hipster zone with small cafes, hip clothes shops, and souvenirs.
This is also where we did some shopping and took the opportunity to have something to eat.
---
4. Nearby, take a look at BookXcess
For some reason, which we still don't know why, bookstores in Malaysia are all super cool! And BookXcess is another one of them.
Located at the end of Concubine Lane, make sure to visit this place. The underground looks like an old huge safe from a bank with steel bars as the door and deposit boxes with books placed around it. Very unique!
They also have a section dedicated to the late Yasmin Ahmad, the famous director of famous TV commercials and movies back in the day. She tackled topics that speak about diversity and the importance of tolerance of one another in a multiracial and multicultural country.
---
5. Check out Tin Alley, one of our favorite places to visit in Ipoh
If like us you love vintage vibes, you are going to adore Tin Alley! This venue showcases vintage furniture and decorations. It's sort of like a museum, a venue (the day we visited there was a cool band playing live music on the 2nd floor), and a restaurant altogether! So hard to describe exactly what it is!
Anyway, the decor and ambiance are really cool and worth a visit. On the top floor, the restaurant called Galleries offers really good pizza! Probably the best in town 🙂
It's also a great place to take fun Instagrammable shots!
Location: here
---
6. Take plenty of shots at Mural Art's Lane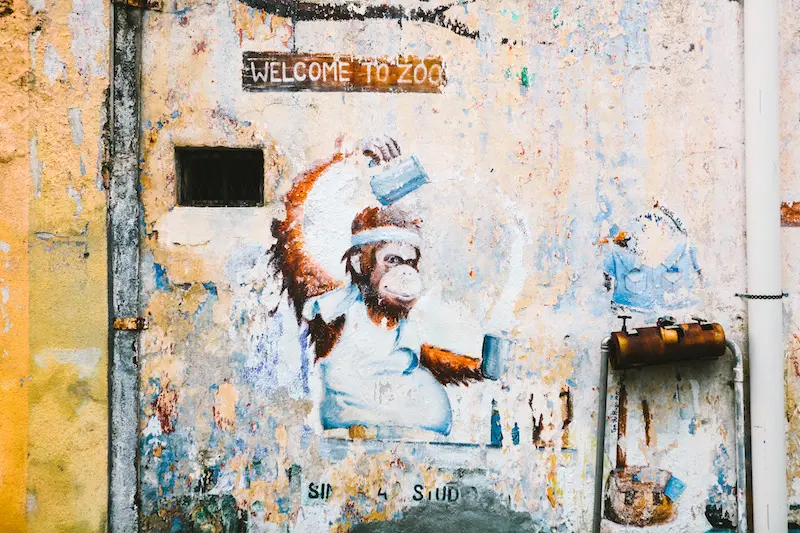 A bit like in Penang, Ipoh is full of awesome street art! They are everywhere. But in particular in Mural Art's Lane!
Although some murals are a bit deteriorated, many of them are really nice to take photos! The Lane is rather long with many different art themes!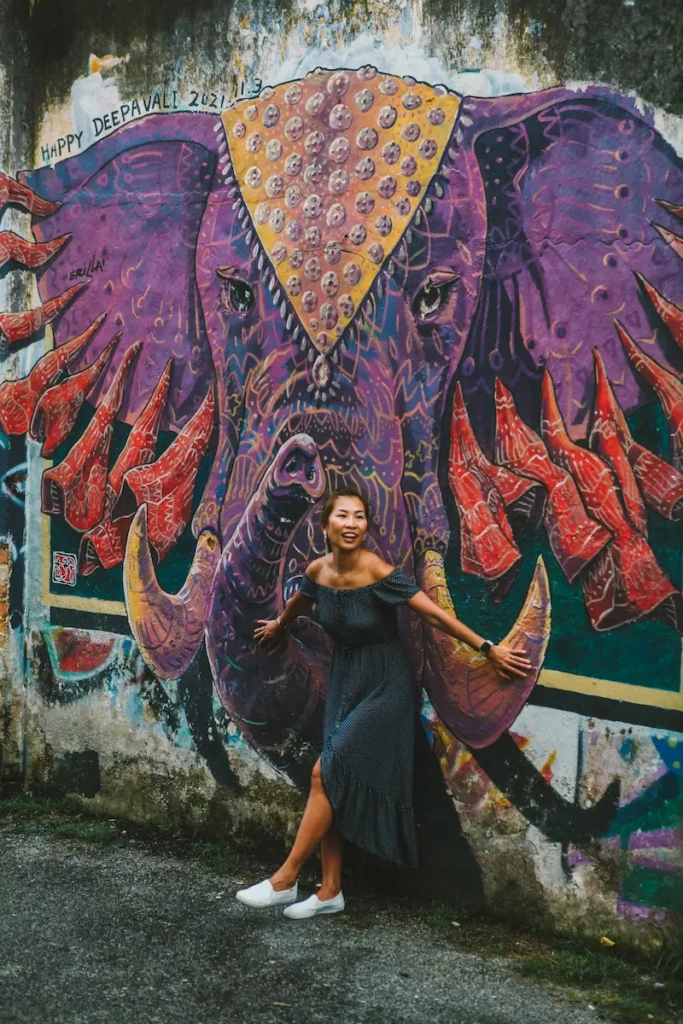 This is exactly what we love about Ipoh! So take your time to stroll through Mural Art's Lane, one of the best things to do in Ipoh…
Location: here
---
7. Visit one of the oldest Mosques in Malaysia: Masjid Panglima Kinta
Just behind Mural Art's Lane is the Masjid Panglima Kinta, one of the oldest Mosques in the country (from 1898 to be precise)! This Mosque is absolutely stunning.
There we met a guide who freely explained to us about the construction of the Mosque, a bit about Islam in Malaysia, and some fun facts about Ipoh!
With its blue dome, Masjid Panglima Kinta almost looks like some places in Santorini, Greece.
With its large marble slabs, tall minarets, and beautiful prayer hall, we highly recommend stopping for a visit at Masjid Panglima Kinta after you finish your walk through the Mural Lane.
Location: here
---
8. Go back in time to Ipoh's Time Tunnel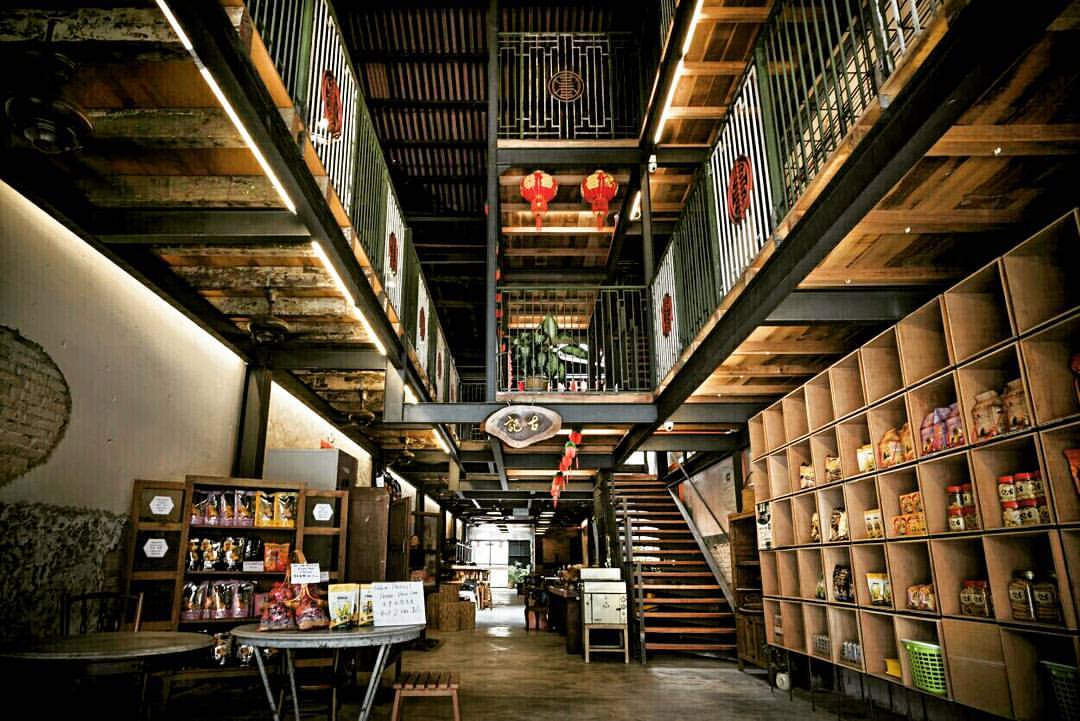 Time Tunnel, is like Ali Baba cave. You can find everything!
In this heritage old Ipoh building, you can see an interesting eclectic collection of objects from pre-war to the 80s, that transports you back in time. We found here many memories and familiar objects from our childhoods. The entrance fee is 8 MYR.
The shop on the ground floor of the Time Tunnel sells various handicrafts made in the region, by local artisans.
Location: here
---
9. Visit 22 Hale Street Heritage Gallery to learn more about Ipoh's history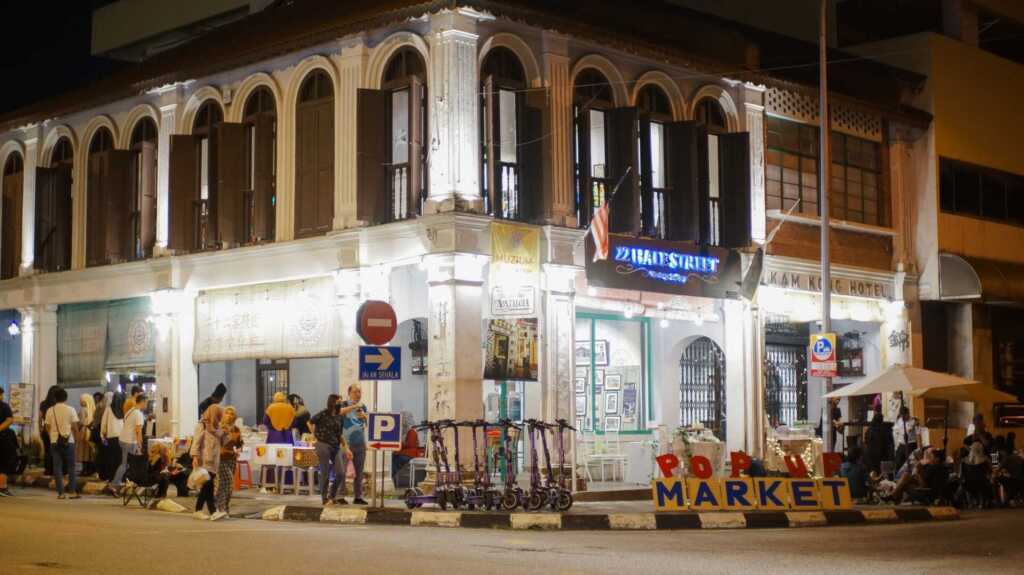 If you are interested in knowing more about Ipoh, its history, and seeing some old photography then we recommend visiting 22 Hale Street Heritage Gallery located near the Time Tunnel.
Here the entrance fee is 10 RM.
They also have art exhibitions and shops for all sorts of handicrafts.
---
10. Check out Gerbang Malam Ipoh Night Market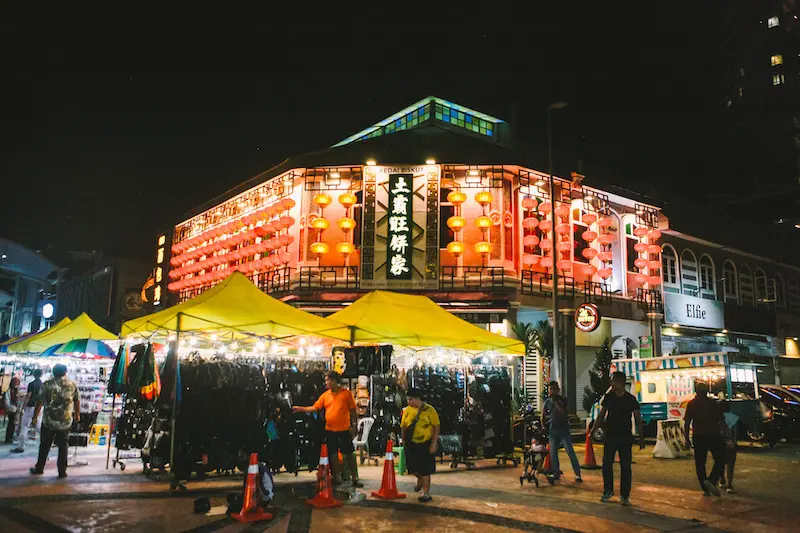 From 6pm until midnight, head to Gerbang Malam Ipoh Night Market. Here you can buy all sorts of things, there are also artists playing music everywhere, and many eateries around.
A fun things to do in Ipoh at night!
Location: here
---
11. Visit the flea market at Memory Lane on Sundays
If you are visiting Ipoh on a Sunday, then make sure to take a look at the flea market on Memory Lane.
This is a fun place to visit, with lots of activities, live bands, great food etc.
The vendors are selling everything you can imagine. If you like antiques, then this is the best time to buy some unique items.
Location: here
---
12. At night, eat local food at Tong Sui Kai, Ipoh's dessert street
If you want to experience the true Ipoh local life, then head to Tong Sui Kai at Jalan Carey Street which is filled with stalls serving all kinds of local dishes! At night this place gets very crowded with locals, especially on weekends.
Tong Sui Kai, is actually known as dessert street since many stalls serve delicious desserts. However, during our visit, we could find all sorts of food. And every single dish we tried was absolutely delicious.
The atmosphere is really awesome, hence this is one of the best things to do in Ipoh.
Location: here
---
13. Follow the heritage trail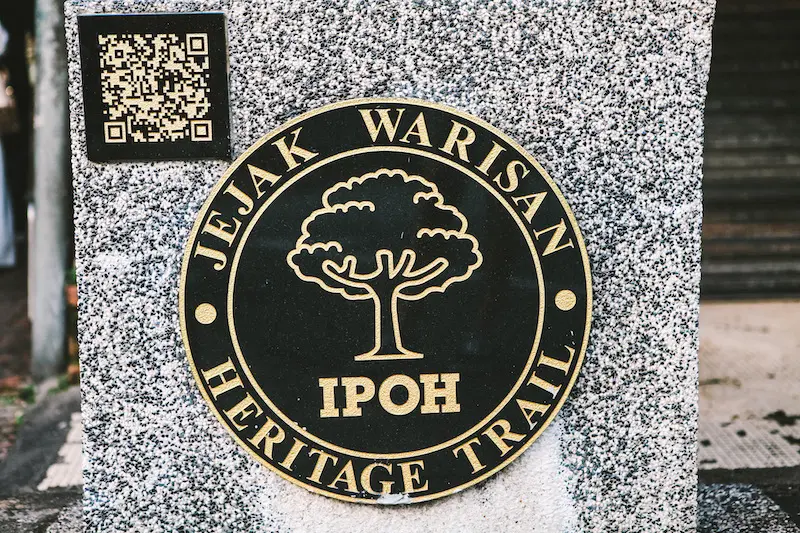 During your walk in Ipoh's old town, you can also follow the Heritage Trail, which will bring you to the most historical places around the city.
Some of the main sights are Ipoh Train Station, The Palace of Justice, and Birch Memorial Clock Tower.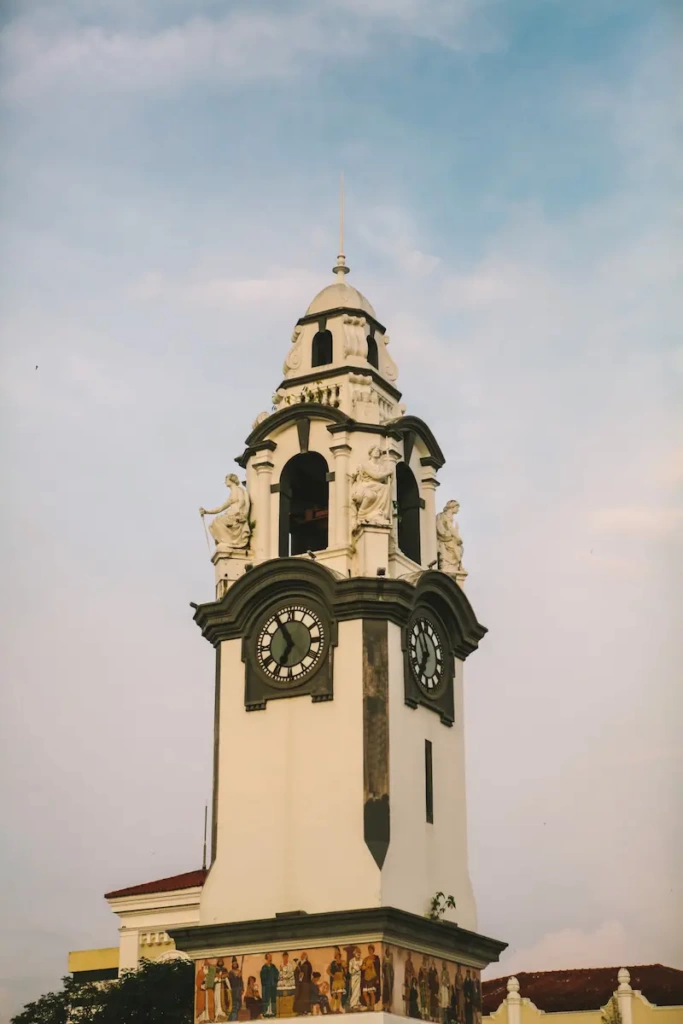 The Birch Memorial Clock Tower is a significant historical landmark in Ipoh, named in honor of J.W.W. Birch, the first British Resident of Perak. This clock tower stands tall as a symbol of Ipoh's colonial past and offers a great spot for taking photographs.
You can collect the map at the Tourist Center or also see the map online here.
---
14. Visit Ipoh's outskirts, starting with Perak Cave Temple
Ipoh is full of amazing Chinese temples nestled in caves. Indeed there are many amazing caves to visit in Ipoh (more on that later).
Perched within a limestone hill, the Perak Cave Temple is a breathtaking religious site adorned with intricate sculptures and colorful murals.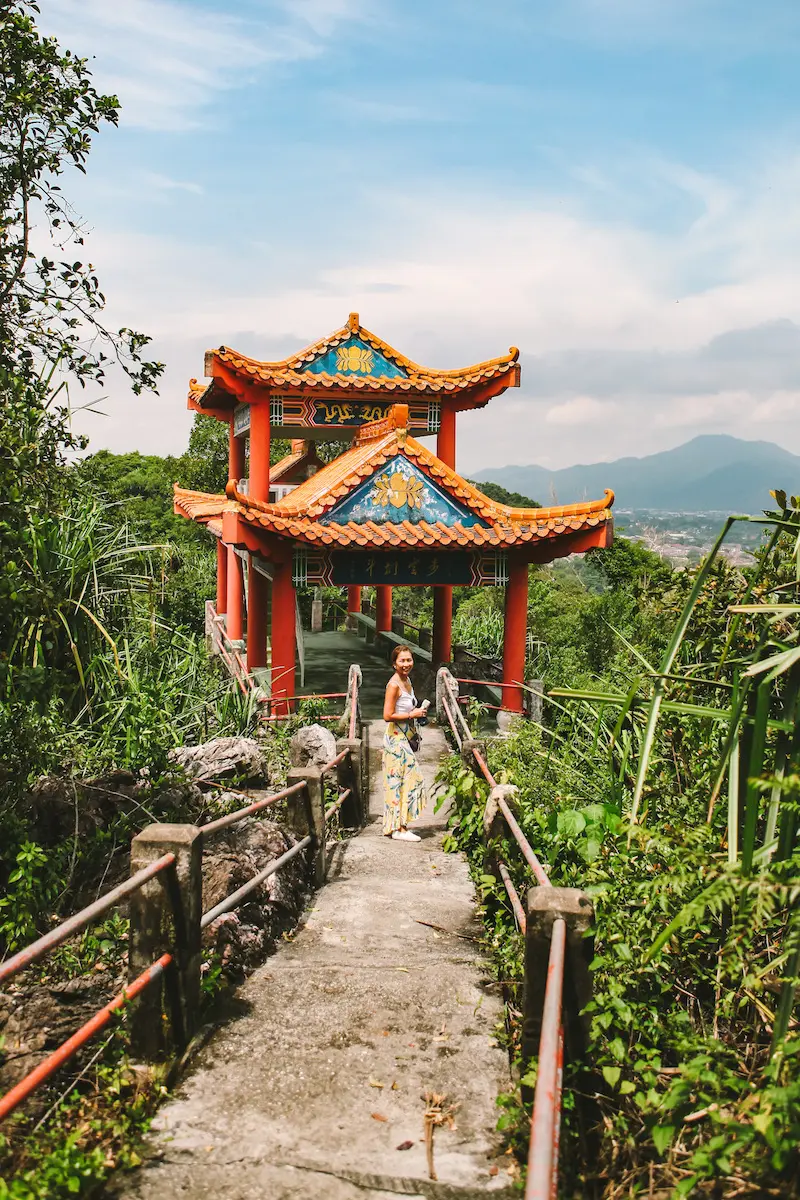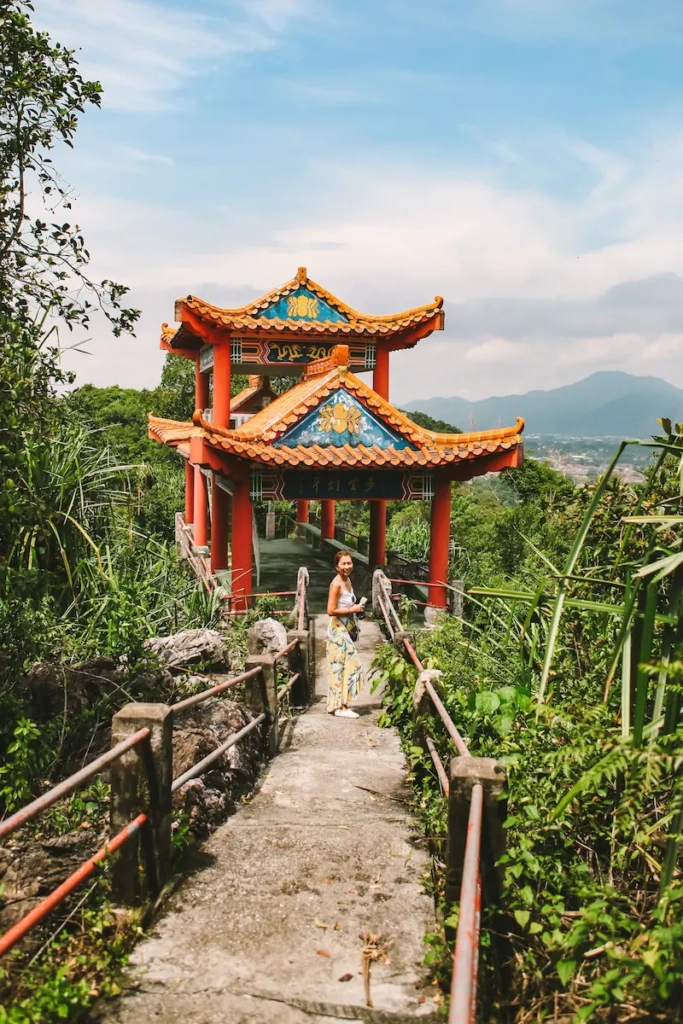 As you ascend the steep stairs leading to top of the cliff, you'll be rewarded with panoramic views of Ipoh and its surrounding countryside. Be aware though that the way. to the top is not very easy with lots and lots of stairs. But the view is rewarding for sure!
Location: here
---
15. Take a boat ride at Gunung Lang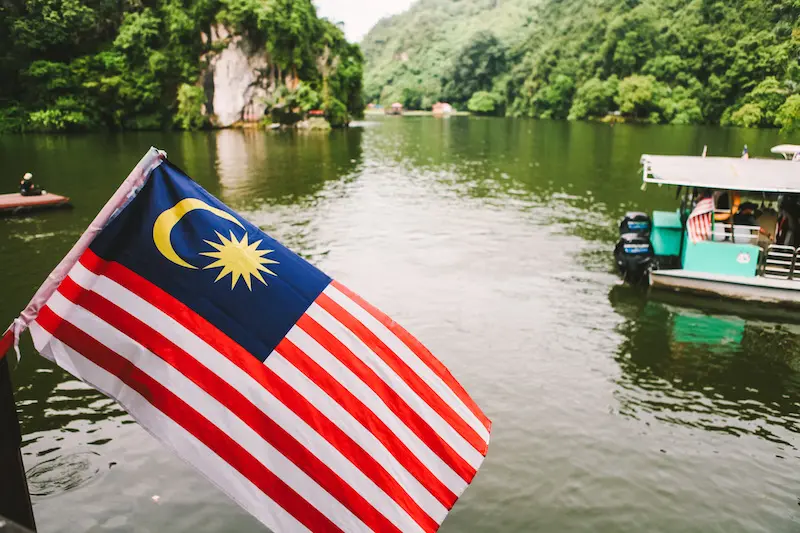 Near Perak Cave Temple, you can visit Gunung Lang.
The highlight of Gunung Lang is undoubtedly its stunning lake. As you approach the area, you'll be greeted by a tranquil lake surrounded by lush greenery and limestone hills.
Here you can take a boat ride to a recreational area, perfect for a family outing over the weekend.
There is also a small zoo attached to Gunung Lang.
Location: here
---
16. Visit Qing Xin Ling, one of the best things to see in Ipoh
Qing Xin Ling, was by far one of our favorite things we visited in Ipoh!
This is a charming cultural village located in the serene countryside near Ipoh. This hidden gem offers a tranquil escape from the hustle and bustle of city life. It's a unique cultural and natural experience.
At Qing Xin Ling, you can walk around the lake and experience life as it used to be in Chinese villages around a beautiful lake. Qing Xin Ling offers cultural activities and workshops, providing an opportunity to learn about Chinese customs and traditions. You might participate in activities like tea ceremonies, Chinese calligraphy, or even traditional games.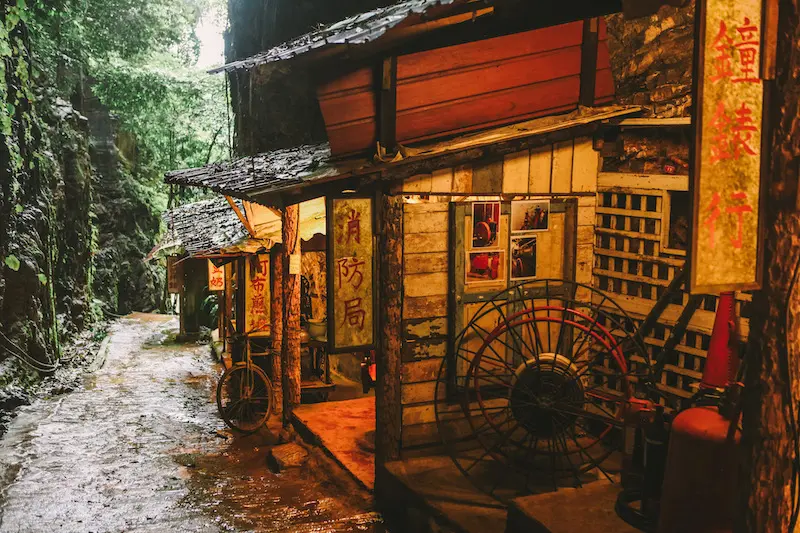 Our favorite part was Memory Lane along a cliff, showcasing old stores.
At the entrance you can also rent free bicycles, to make your visit even more fun!
Make sure to visit this place, it's 100% worth it!
Location: here
---
17. Visit Sam Poh Tong Temple, one of our favorite temples in Ipoh!
Without a doubt, Sam Poh Tong Temple is one of the most interesting temples in Ipoh!
Sam Poh Tong Temple is a renowned Buddhist temple. It is one of the oldest and most significant cave temples in the country, known for its stunning natural surroundings, impressive cave chambers, and intricate Buddhist statues and artwork.
When you visit Sam Poh Tong Temple in Ipoh, you will be in complete awe!
Make sure to visit all the way inside the cave, as this is where lies the most interesting part! A sort of hidden world, with a huge temple surrounded by big cliffs. This place felt so special! An absolute must-see in Ipoh!
On that street there are many other temples such as Nam Thean Tong Temple and Ling Sen Tong Temple, however Sam Poh Tong seems to be the most interesting one!
Location: here
---
18. Explore Tasik Cermin to see the Mirror Lake!
Tasik Cermin, also known as the Mirror Lake, is a hidden gem located in Ipoh near Sam Poh Tong Temple.
This stunning lake is known for its crystal-clear waters and the unique mirror-like reflections it creates, making it a popular destination for both locals and tourists.
The main attraction of Tasik Cermin is, of course, the mirror-like reflection on the lake's surface. The calm and clear waters create a perfect mirror effect, especially in the early morning or late afternoon when the sunlight is just right.
You can choose between 2 different lakes to go on a boat ride and explore various limestone caves.
Location: here
---
19. Kek Lok Tong Temple
In the same area, you can visit another spectacular cave temple in Ipoh, Kek Lok Tong.
Becoming a place of worship in the 1920s, the cave withstood the destruction of the surrounding mining companies, of which the site was part in the 1960s.
Inside, in addition to a few visible stalactites and stalagmites, you can see various statues of Buddhas and Chinese deities. The high walls of this cavity are beautifully sculpted by centuries of erosion.
There is also a beautiful garden to be visited with a fabulous lake at the center.
---
20. Be amazed at Kellie's castle
After discovering Ipoh and its surroundings, we decided to explore the south of the Perak region, starting with the marvelous Kellie's Castle.
A short drive from Ipoh lies this unfinished Castle built by a Scottish planter (William Kellie Smith) in the early 20th century. The castle's Gothic architecture and surrounding gardens make for an intriguing visit, and the tale of its construction is equally captivating.
Some didactic panels explain the eventful life of this engineer and the history of his castle.
We spent quite a lot of time exploring the castle. At the top, there was a nice cooling breeze which was really enjoyable!
Location: here
Website: here
Entrance fee: 10 RM for foreigners
READ: FULL GUIDE FOR A VISIT AT KELLIE'S CASTLE
---
21. Explore HOGA: Gaharu Tea Valley
If you want to see unusual tea plantations, then HOGA Gaharu Tea Valley is for you. Indeed, it is not a classic plantation of Oolong tea or green tea, more classic and growing on kinds of hedge normally not exceeding one meter.
Here, it is Gahuru, a variety growing on types of small trees reaching 2 m high. It is a tea appreciated for its particularly renowned medicinal virtues.
The site can be visited via a van tour. You can taste the famous tea on the terrace of one of the shops and appreciate the very green landscape surrounding the estate.
Overall, a great and informative visit as we knew little about Gahuru tree.
Location: here
Website: here
Price for the Van Tour: 10 RM
---
22. Be amazed at Gua Tempurung, some of the most impressive caves we've ever visited!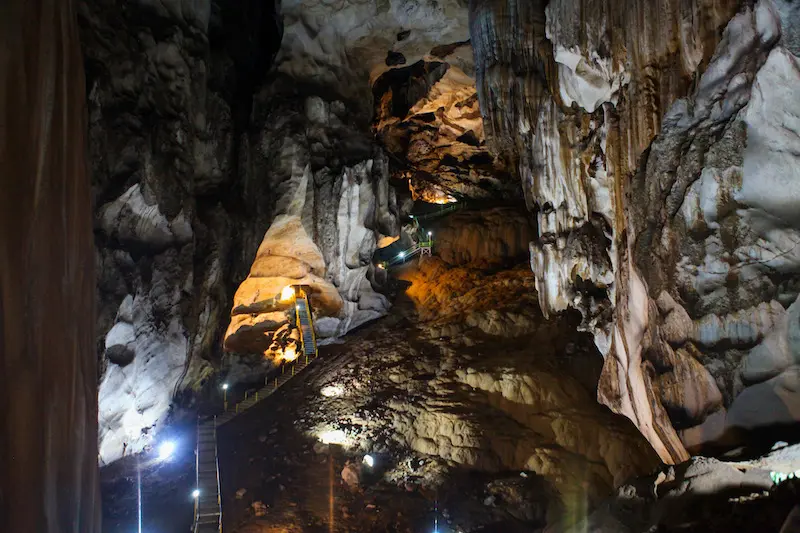 Visiting Gua Tempurung, one of the largest limestone caves in Peninsular Malaysia, near Ipoh is an exciting adventure for nature enthusiasts and those interested in exploring caves.
Here you can choose from 4 different trails (Dry and Wet).
As you enter the cave, you'll immediately be greeted by the grandeur of Gua Tempurung. The cave mouth opens up into a massive chamber, and you'll begin your descent into the depths of the cave. Some chambers are reaching 600m in height.
Inside the cave, you'll also encounter an awe-inspiring array of limestone formations, including stalactites and stalagmites. The cave's interior is adorned with these natural sculptures, each formed over centuries by the slow drip of mineral-rich water.
Honestly, for us, it is one of the most impressive caves we've ever visited! For sure, one of the best things to see near Ipoh!
---
23. Have fun white water rafting in Gopeng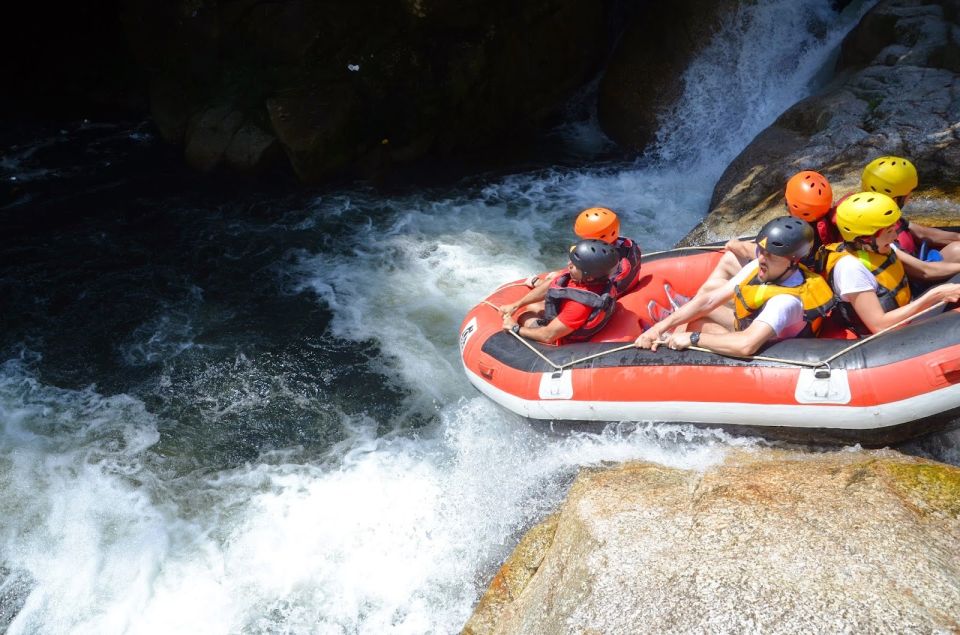 It was only until we drove to this area, that we saw lots of advertising about White Water Rafting in Gopeng.
Gopeng is a small town near Ipoh in Malaysia where HOGA Tea Plantation is located. It is indeed known for its rafting adventure that combines the thrill of navigating through fast-flowing river rapids with the beauty of the lush rainforest scenery.
Most tour operators provide transportation from Ipoh or nearby cities, making it convenient for visitors. Once you arrive at the spot, you'll be provided with essential gear, including a life jacket, a helmet, and a paddle. Make sure to wear appropriate clothing and footwear that can get wet and stay securely on your feet.
And HAVE FUN!
---
24. Lata Kinjang, one of the tallest waterfalls in Malaysia!
Lata Kinjang is a stunning waterfall located in the state of Perak, 30-40 minute drive from Ipoh.
This waterfall is renowned for its majestic beauty and is a popular destination for nature lovers and tourists.
The highlight of Lata Kinjang is, of course, the waterfall itself. It is one of the tallest waterfalls in Malaysia, standing at an impressive height of over 850 feet (260 meters). The sight of water cascading down the limestone cliffs is truly awe-inspiring.
To reach the waterfall's base, you'll need to take a short and relatively easy hike along a well-marked trail. As you progress along the trail, there are several viewing points where you can pause and admire the waterfall from different angles. These points offer fantastic photo opportunities.
Location: here
---
25. For families have fun at Lost World Tambun (amusement park)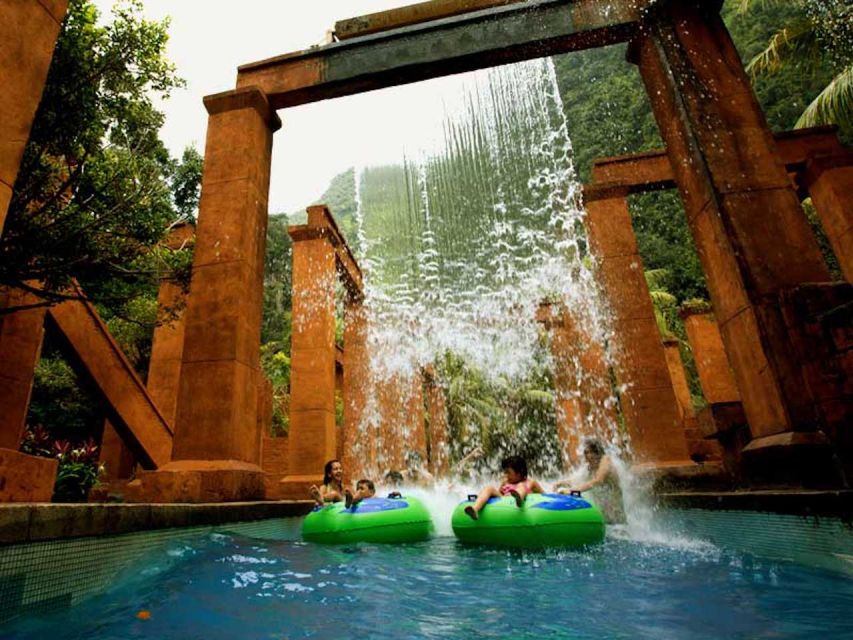 Lost World of Tambun is a popular family-friendly theme park in Ipoh.
It's known for its thrilling rides, water attractions, natural hot springs, and a range of other activities that cater to visitors of all ages.
The water park at Lost World of Tambun is one of its main attractions. It features a variety of water rides and slides, including tube rides, body slides, a wave pool, and a lazy river.
Lost World of Tambun is home to a collection of tigers. You can observe these magnificent creatures from a safe distance and learn more about their conservation efforts.
>> BUY YOUR ADMISSION TICKET HERE
---
BEST RESTAURANTS IN IPOH
Like most places in Malaysia, food is a BIG thing! Ipoh is home to Malaysia's white coffee and offers amazing dishes including great desserts!
As cliché as it sounds, to immerse yourself in its rich past, you have to try the foods that Ipoh is proud of.
Kedai Kopi Sin Yoon Loong
Ipoh is synonymous with white coffee! Head to Kedai Kopi Sin Yoon Loong in Ipoh Old Town to enjoy an authentic, rich and aromatic cup of this popular drink. Locals enjoy theirs with an order of Danzhi (toast topped with a creamy boiled egg)! Founded in 1937, this humble cafe has been around for over 80 years!
Location: here
---
Kedai Makanan Nam Heong
Nam Heong is Ipoh's most popular restaurant! This hawker like place is really unique and worth the experience in Ipoh! Come enjoy delicious, freshly baked Egg Tarts, Chee Cheong Fun, Dim Sum and other famous dishes!
Location: here
---
Kedai Kopi Weng Seng
This place is a hidden gem in Ipoh! Famous for their traditional hotpot with rich aroma served in a unique way! Go there especially for dinner, as they put all the tables on the street making it a very nice atmosphere!
Location: here
---
Morel Restaurant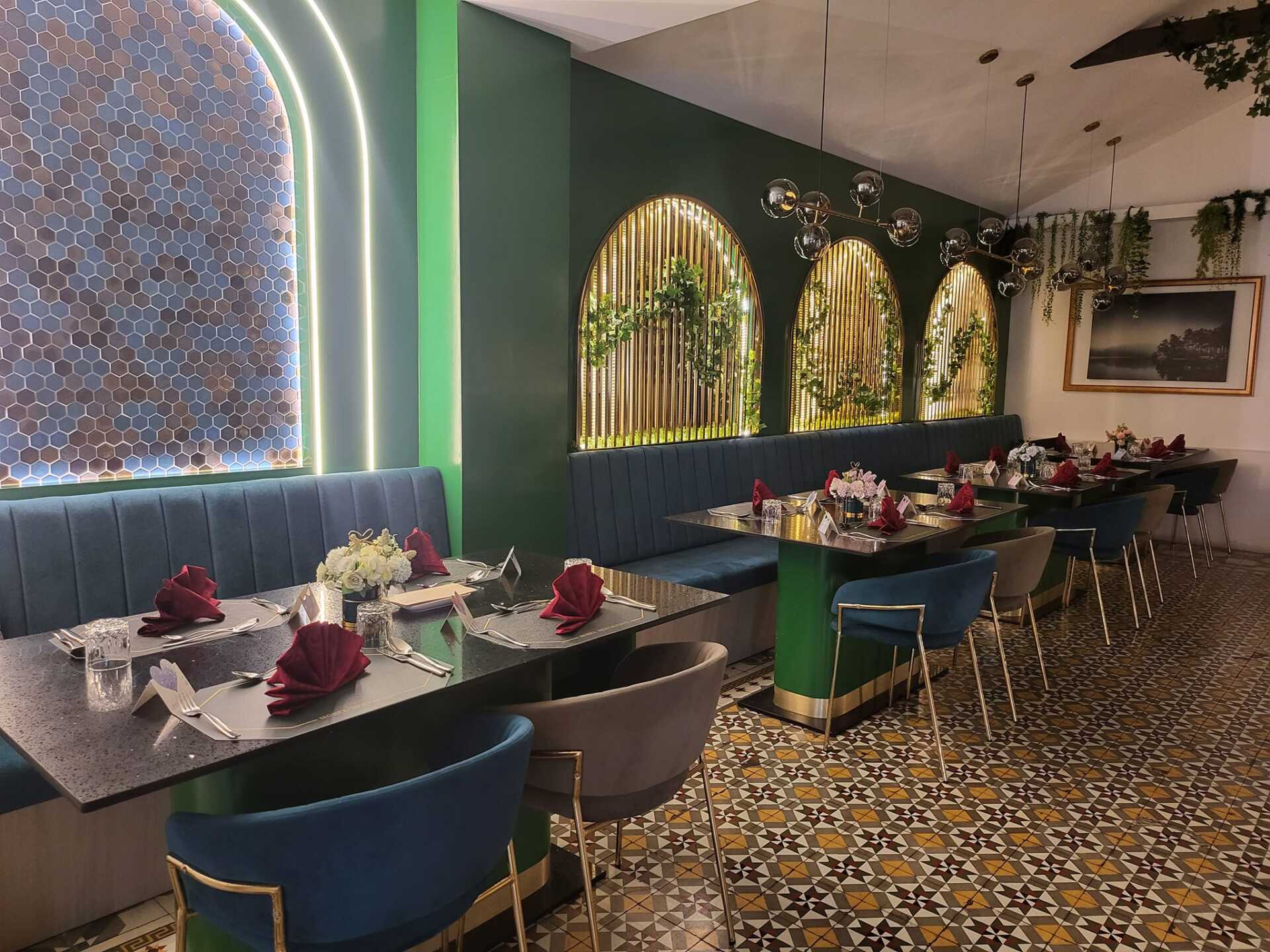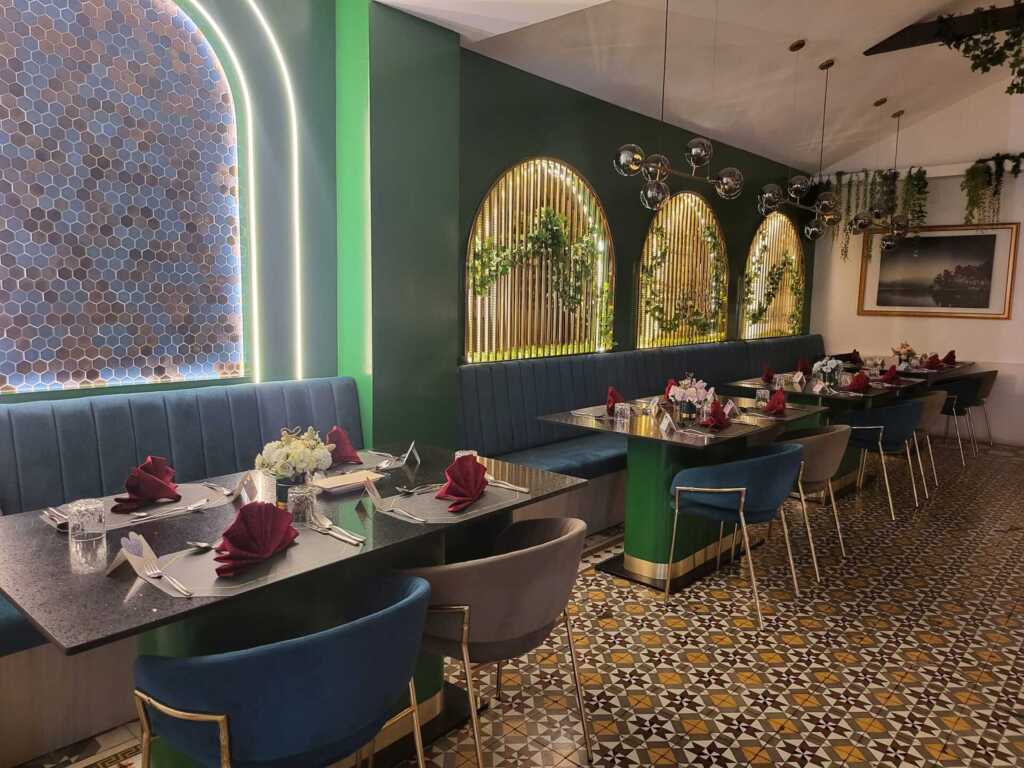 If you are looking for something more modern, then we highly recommend Morel. Here you can expect fancy top-notch food. You should try their dry-aged fish which is absolutely divine!
Location: here
---
WHERE TO STAY IN IPOH?
In the city of Ipoh, you will find accommodation at all prices, in the city center or a little further out. Here are our top recommendations:
---
Weil – the best value for money
Weil is located just outside the old town, but still close enough to walk there. The rooms are very clean, the hotel is fairly well maintained and the breakfast is included. They also have parking spaces.
On top of that, they have an amazing rooftop pool with an incredible view of Ipoh! For us, Weil has the best value for money in Ipoh!
---
Belakang KongHeng – the most charming one!
If you want to stay in the heart of the old town in a heritage building to fully live the Ipoh experience, then we highly recommend Belakang HongHeng.
Located near Concubine Street, you will be in the middle of the action in Ipoh, staying in a beautifully renovated building.
>> CHECK IT OUT
---
The Banjaran Hotsprings Retreat – the most luxurious one
If you want to experience something completely unique and unforgettable, then we recommend The Banjaran Hotsprings Retreat.
Set against limestone hills, this hotel provides a natural hot springs bath, a beautiful cave with a fantastic restaurant, ice baths and so much more. This is the ultimate luxury experience in Ipoh!
>> CHECK IT OUT
---
HOW TO GET TO IPOH?
From Kuala Lumpur:
---
2. From Penang:
By Car: Ipoh is about a 2-hour drive from Penang via the North-South Expressway (E1).
By Bus: Several bus companies operate services between Penang and Ipoh. The journey takes around 2.5 to 3.5 hours, depending on the route and stops. BOOK HERE
By train: Ipoh is also easily accessible by train from Penang. MORE INFO HERE
---
HOW TO GET AROUND IN IPOH?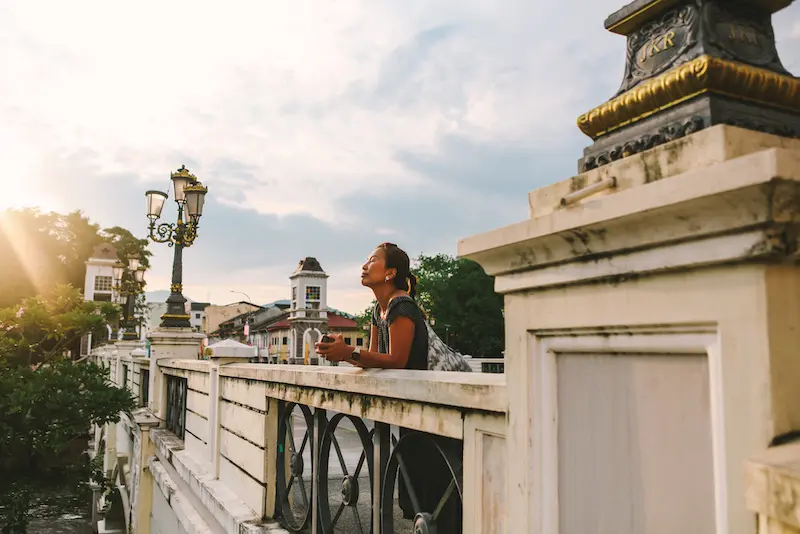 Getting around in Ipoh is really easy. You can take the bus and Grab.
City bus: the cheapest transport, but often with connections, it takes time.
Grab: The app is easy to use and inexpensive. Just download the Grab app and you will always find a driver in Ipoh!
Scooter rental: ONLY if you have your international license and insurance. We didn't try but it must be a fun experience. The traffic in Ipoh is not bad, so it's relatively easy to drive, compared to Kuala Lumpur…
---
HOW MANY DAYS TO VISIT IPOH?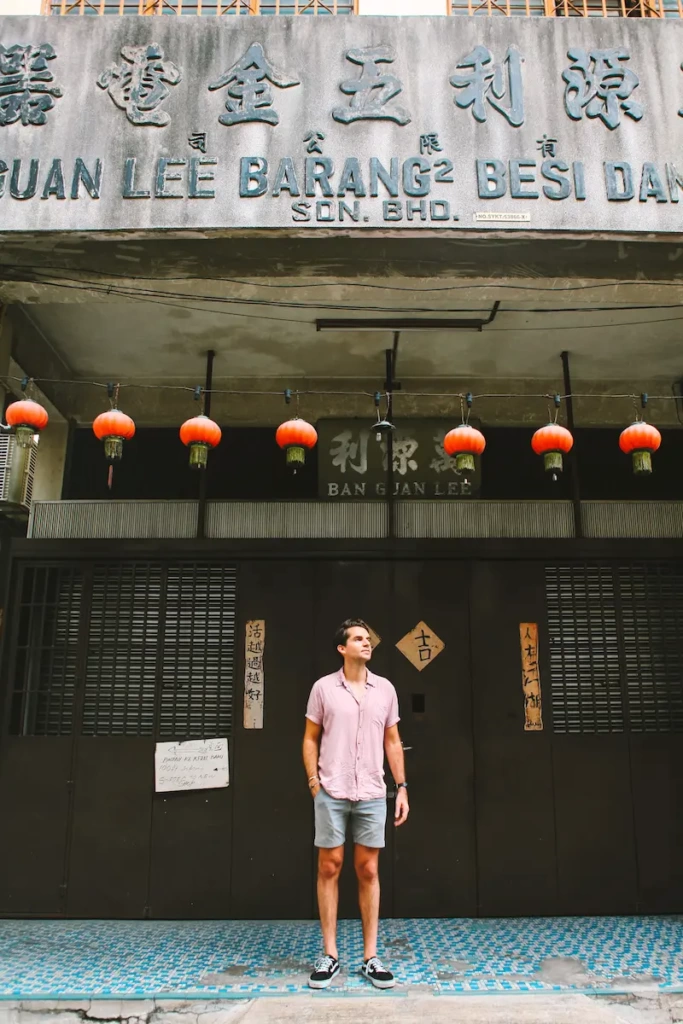 To cover all the best things to do in Ipoh which we listed in this article, you will need at least 3 full days (excluding the Lost World Tambun Amusement Park).
2-3 days, will give you a good amount of time to explore Ipoh's old town as well as the outskirts of the city which has plenty of great places to visit!
So if your intention is to visit Ipoh during a weekend trip, then try to arrive Friday night, so you can start your visit on Saturday morning!
---
IS IPOH WORTH VISITING IN MALAYSIA?
Ipoh, Malaysia, is a city that seamlessly blends history, culture, and culinary delights.
Whether you're exploring its historic streets, marveling at its cave temples, or indulging in its mouthwatering cuisine, Ipoh offers a myriad of experiences that will leave you enchanted. So yes, Ipoh is absolutely worth a visit if you are in Malaysia!
So, pack your bags and embark on an adventure to discover the hidden gems of Ipoh, a city that will undoubtedly capture your heart.
---
RELATED POSTS
MOST AMAZING THINGS TO DO IN PENANG
ULL GUIDE FOR A VISIT TO KELLIE'S CASTLE NEAR IPOH
FULL GUIDE FOR VISITING BATU CAVES NEAR KL