WHAT TO DO IN CAMERON HIGHLANDS? HOW MANY DAYS TO VISIT CAMERON HIGHLANDS IN MALAYSIA?
Cameron Highlands is a picturesque place in Malaysia known for its cool climate, lush tea plantations, and stunning landscapes. This beautiful region is perfect for nature lovers and hikers and should be added to any itinerary of things to do in Malaysia!
We spent 3 days in Cameron Highlands and will share all you need to know to prepare for your visit!
---
KEY TAKEAWAYS FROM A VISIT TO CAMERON HIGHLANDS:
Make sure to visit the BOH Tea Plantations and Cameron Valley Plantations!
Hike at the Mossy Forest, this was the highlight of our trip
Enjoy the cooler climate, it averages 20 degrees Celsius the whole year
For kids, there are many fun activities such as Butterfly farm, strawberry picking, Sheep farm, Cactus Garden, and a lot more (see more in this article)
Avoid getting there during weekends or Public Holiday, as the traffic can get quite bad, and avoid the rainy seasons from November till March
---
WATCH THIS VIDEO FOR SOME IMPRESSIONS OF CAMERON HIGHLANDS IN MALAYSIA:
---
CAMERON HIGHLANDS TRAVEL GUIDE
Best Things to Do in Cameron Highlands
1. Visit BOH Tea Plantations
The BOH Tea Plantations is one of the best things to see in Cameron Highlands.
Founded in 1929, it is the largest tea plantation in all of Southeast Asia. On the estate, you can enjoy some of the most beautiful panoramas and landscapes in the Cameron Highlands.
However, take note that there 2 places where you can visit BOH Tea Plantations in completely different parts of Cameron Highlands…
---
A. Boh Tea Estate Habu, Pahang
Location: HERE
If you drive from KL, this is the first place to see BOH Plantation south of Cameron Highlands! From there you can walk to a beautiful viewpoint, enjoy a cup of tea, and take plenty of great photos!
---
B. BOH Tea Centre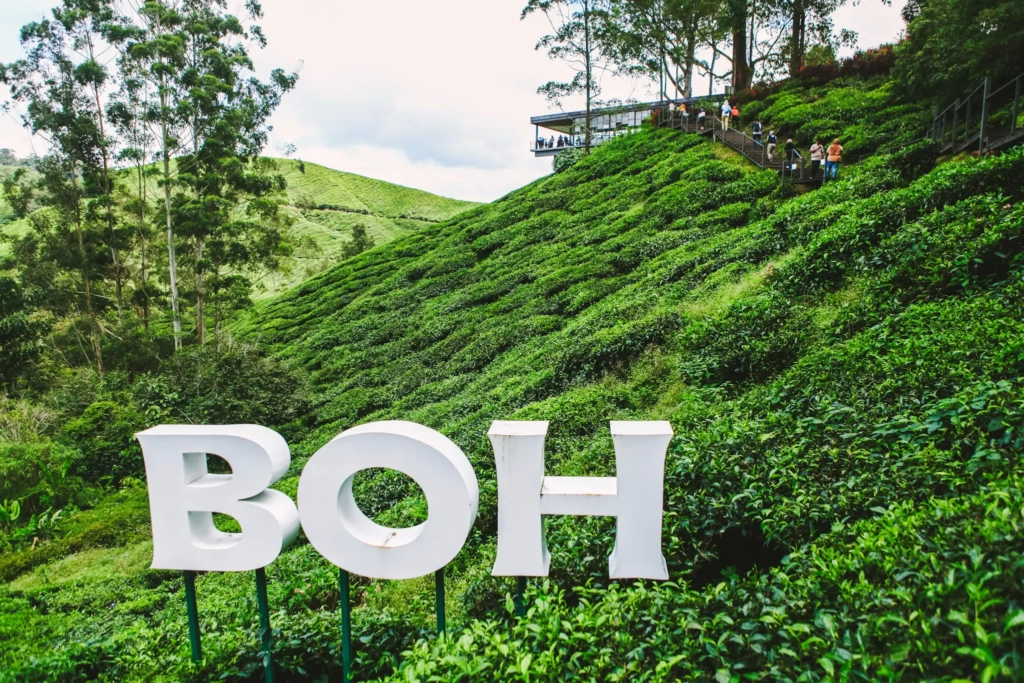 Location: HERE
This is the newest area, where a stunning platform has been built overlooking the tea plantations.
There is a café with a fantastic veranda, a shop, and some information about BOH Tea Plantations. From there you can also join a guided tour to visit the tea plantations and factory with plenty of information from the tour guide!
Website: HERE
---
2. Be amazed at Cameron Valley Tea
Cameron Valley Tea is another gorgeous unmissable tea plantation to visit!
At Cameron Valley Tea, you can stop at either Tea House Number 1 (HERE) or Tea House Number 2 (HERE) just a few hundred meters apart. From there, you can have some snacks and tea and enjoy the stunning views.
But even better you can walk down the valley (or take a shuttle for 15RM).
Here you can take beautiful photos of the tea plantations and walk around the place! It is much smaller than BOH tea plantation, but it's as stunning!
Website: HERE
---
3. Hike the Mossy Forest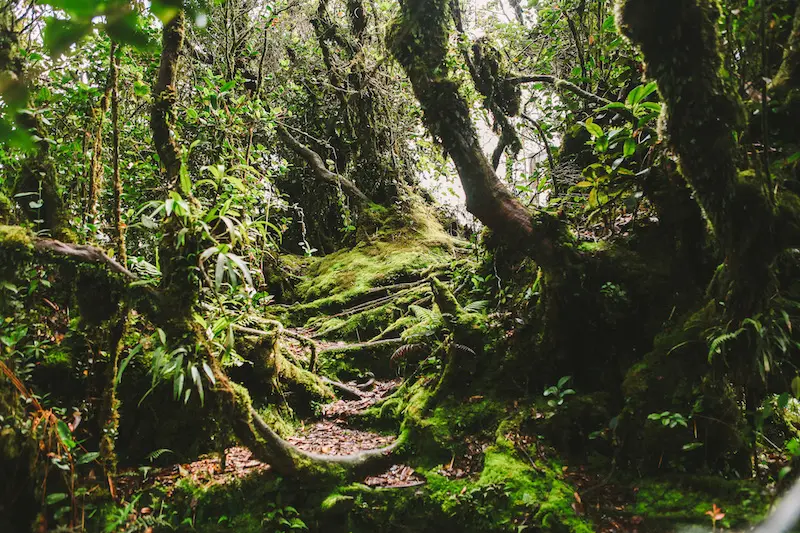 One of the main highlights during our trip to Cameron Highlands is the Mossy Forest!
We highly recommend exploring this enchanting Forest, a mystical place blanketed in thick moss and shrouded in mist. This unique ecosystem is home to numerous exotic flora and fauna species (Location: HERE).
Getting there is not that easy, as it's a long narrow road (with barely enough space for 1 car). But absolutely worth the trouble!
What most people do is take a guided tour when visiting the Mossy Forest. You will be picked up by a Jeep to take you around, which is very convenient too.
LEVEL OF DIFFICULTY: The hike at the Mossy Forest is relatively easy and well-marked.
DURATION: It takes about 1 hour round trip.
ADMISSION FEE: note that there is an entry fee of 30RM per adult.
>> READ: HIKING GUIDE TO THE MOSSY FOREST IN CAMERON HIGHLANDS
---
4. Visit the really cool Time Tunnel Museum
Another awesome thing we enjoyed visiting in Cameron Highlands is the Time Tunnel Museum.
Here you can step back in time as the Time Tunnel Museum showcases the history and heritage of Cameron Highlands through a fascinating collection of memorabilia.
You can also learn more about the mysterious story of Jim Thompson who sadly disappeared in Cameron Highlands.
LOCATION: HERE
ADMISSION FEE: 8RM
---
5. Go on a hike at Gunung Jasar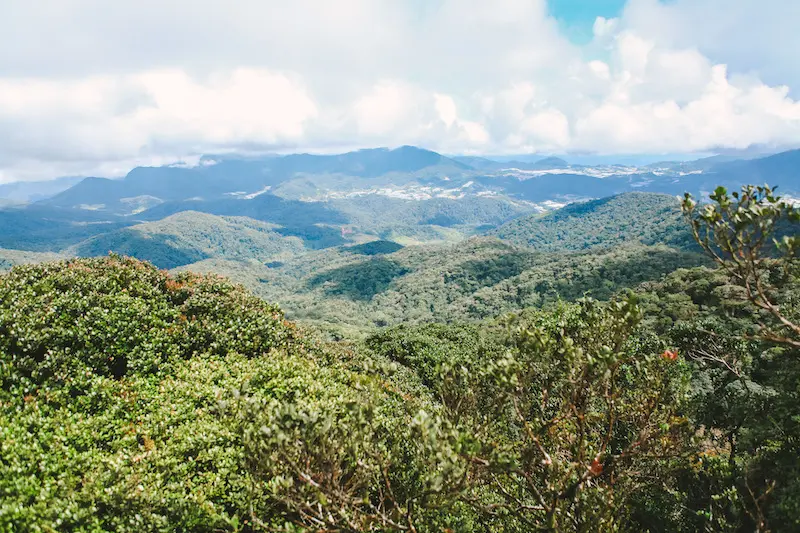 Hike one of the highest points in Cameron Highlands at Gunung Jasar and enjoy breathtaking vistas and cool, fresh air.
However, hikes in Cameron Highlands can sometimes be tricky (with people literally getting lost!). So we highly recommend taking a guide for this one!
LOCATION: HERE
DIFFICUTLY LEVEL Moderate
DURATION: 3 hours for a return trip
---
6. Have an afternoon tea at Jim Thompson Tea Room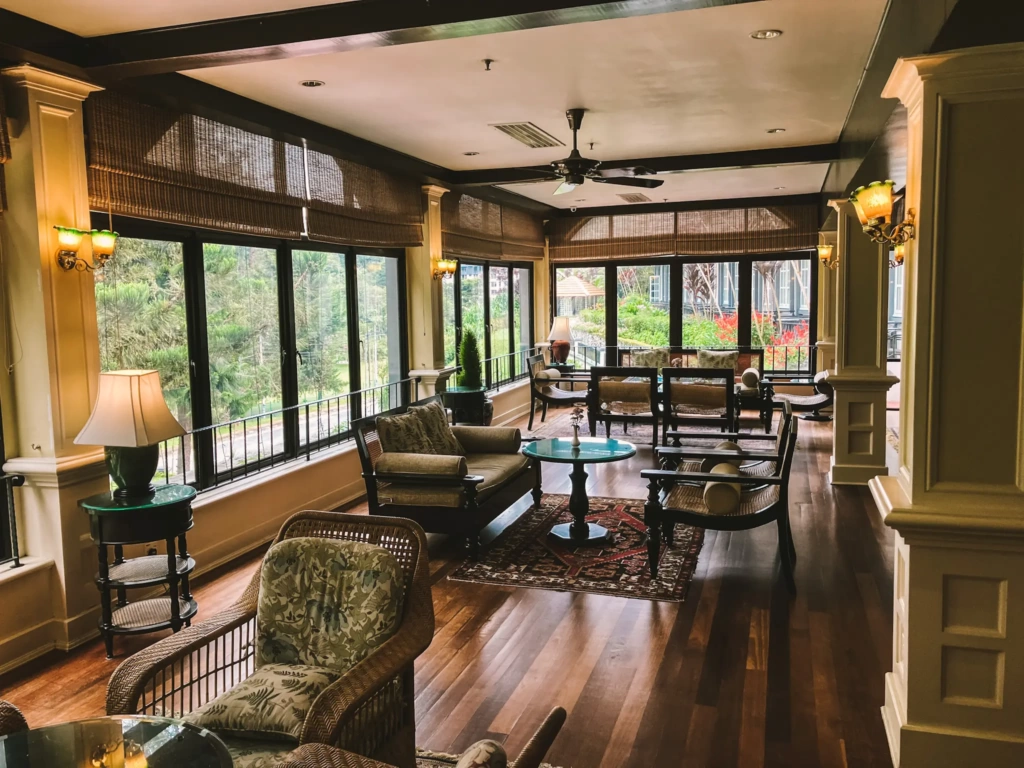 Jim Thompson Tea Room is located in one of the most stunning hotels in the whole of Cameron Highlands: Cameron Highlands Resorts (5 Stars).
We loved our afternoon tea at this place. It's the perfect place to take a break from exploring the region's natural wonders and indulge in a bit of luxury and relaxation.
You'll be presented with a diverse selection of teas and an array of delectable treats. Simply relax and enjoy!
LOCATION: HERE
TIME: The afternoon tea starts at 3 pm
---
7. Have lunch at the Lakehouse!
The Lakehouse is another beautiful British-style mansion in Cameron Highlands overlooking a lake…
We enjoyed a delicious lunch at the Lakehouse, sitting on the terrace and enjoying the cooler weather! The food is Western style.
You can also stay at the Lakehouse, as they have a few rooms in a luxury British setting!
---
8. Have fun at the Sheep Farm (and alpaca)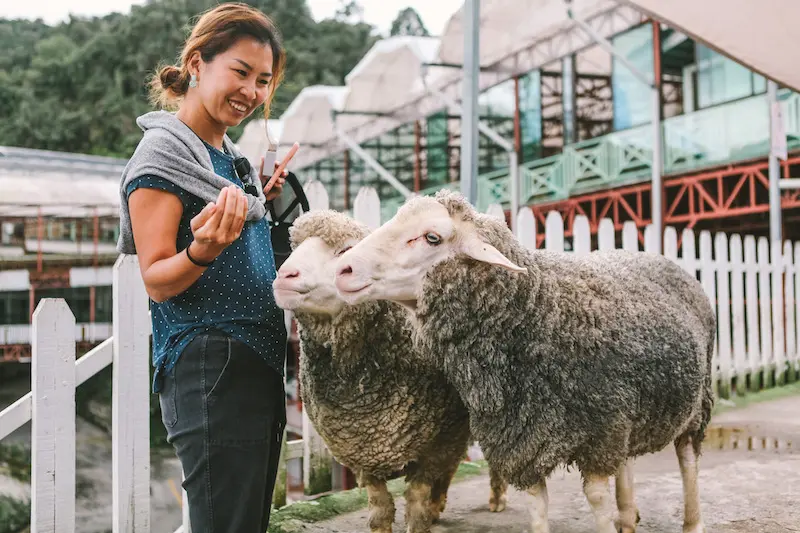 Well no secret anymore, we LOVE Aplacas! So when we heard that the Sheep Farm in Cameron Highlands has Alpacas too, we totally went for it (although it's mostly for kids…).
At the farm, you'll have the opportunity to interact with sheep and alpacas by touching them and feeding them. The place is not very big, but 100% fun!
LOCATION: HERE
ADMISSION FEE: 12RM
---
9. Visit the Lavender Garden
Among the many attractions in Cameron Highlands, the Lavender Garden stands out as one of the best things to do.
The Lavender Garden is adorned with picturesque lavender fields that come alive with vibrant purple blossoms. Just walking through the fields of lavender made us so relaxed and reminded us of the South of France…
After exploring the lavender fields, you can relax at one of the farm's cafes and enjoy lavender-inspired treats, such as lavender tea, ice cream, and cakes. It's a unique and refreshing culinary experience.
LOCATION: HERE
WEBSITE: HERE
ADMISSION FEE: 20RM
---
10. Get your adrenaline pumping with an ATV ride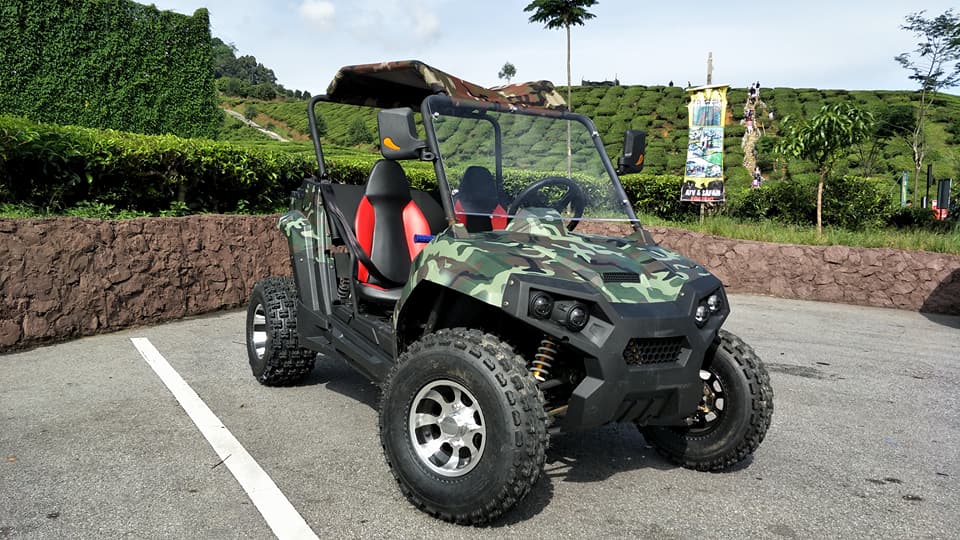 If you've never tried an ATV ride before, trying this activity in Cameron Highlands is a super opportunity! You will be able to ride through the hilly terrain while enjoying the stunning view and cooler weather!
To enjoy this activity head HERE.
WEBSITE: HERE
---
11. Get spiritual at Sam Poh Temple
The Sam Poh Temple is one of the largest Buddhist temples in Southeast Asia and a prominent spiritual center in Cameron Highlands.
The Temple boasts remarkable Chinese architecture and design. It also feature a variety of statues and sculptures that hold cultural and religious significance. The most notable is the towering statue of Kuan Yin, the Goddess of Mercy, which is a prominent and majestic presence at the temple.
A visit to Sam Poh Temple is another great thing to do in Cameron Highlands.
LOCATION: HERE
---
12. Enjoy a visit to the Bee Farm (Ee Feng Gu)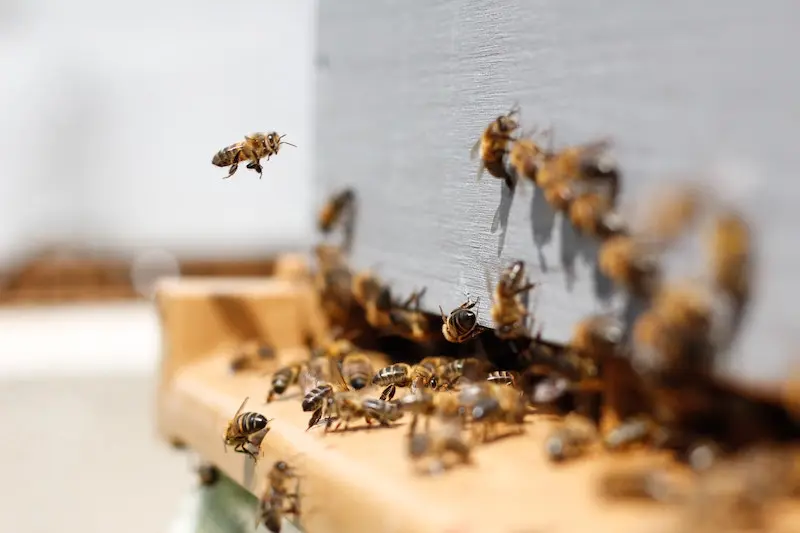 Aside from visiting the Tea Plantations and the beautiful natural environments around Cameron Highlands, you can also visit many different farms.
Another one is the Bee Farm!
A visit to a bee farm provides an educational experience. It's a chance to learn about the role of bees in pollination, the lifecycle of bees, and the importance of beekeeping for a sustainable ecosystem.
They are also honey production centers.
LOCATION: HERE
---
13. Check out the Cactus Valley
The Cactus Valley is another popular attraction at Cameron Highlands. Here you will be able to see many sorts of cactus. You can even buy them if you want!
The visit doesn't take too long, but it's worth taking a look!
LOCATION: HERE
ADMISSION FEE: 4RM for Adults and 2RM for children
---
14. Shop at the night market (Pasar Malam)
Every Friday and Saturday you can experience the local culture at the Pasar Malam night market. You can also indulge in local food with many stalls serving delicious Malay dishes.
LOCATION: HERE
OPENING HOURS: FRI & SAT FROM 5PM TILL 11PM
---
15. Visit the Agro Technology Park MARDI
A visit to The Agro Technology Park MARDI is one of the best things to do in Cameron Highlands.
This rather big park displays beautiful flowers, plants, fruits, and vegetables set in beautiful landscaping! Overall, it's a nice place to take plenty of photos with the whole family!
LOCATION: HERE
WEBSITE: HERE
ADMISSION FEES: RM 6.50 for adults and RM 2.50 for students

---
16. Pick some strawberries
Cameron Highlands is famous for its strawberry farms. There are many of them along the main road, you can just pick one.
At the farm, you can pick your own strawberries, enjoy strawberry-based products, or simply admire the vibrant red fields.
We particularly liked the Big Red Strawberry Farm.
LOCATION: HERE
ADMISSION FEES: no entrance fee

---
17. Take a look at the Butterfly Garden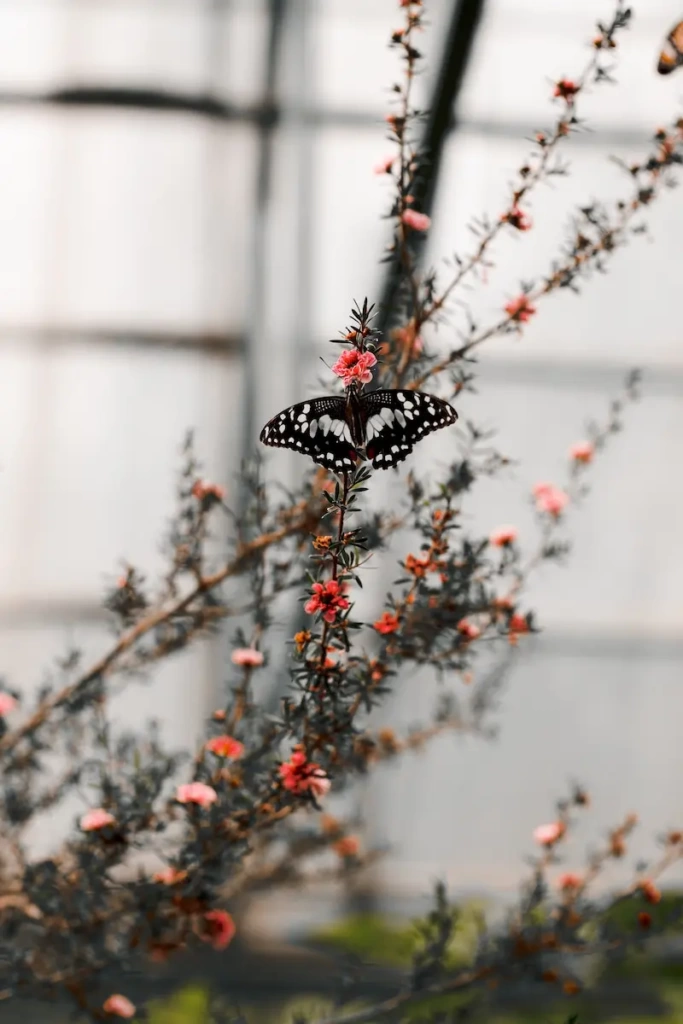 For a fun and educational experience for kids, we recommend a visit to the Butterfly Garden in Cameron Highlands.
In fact, this is one of the most popular activities in Cameron Highlands! You can see a variety of colorful and exotic butterfly species.
LOCATION: HERE
ADMISSION FEE: 10RM per person
---
18. Hike to Robinson Falls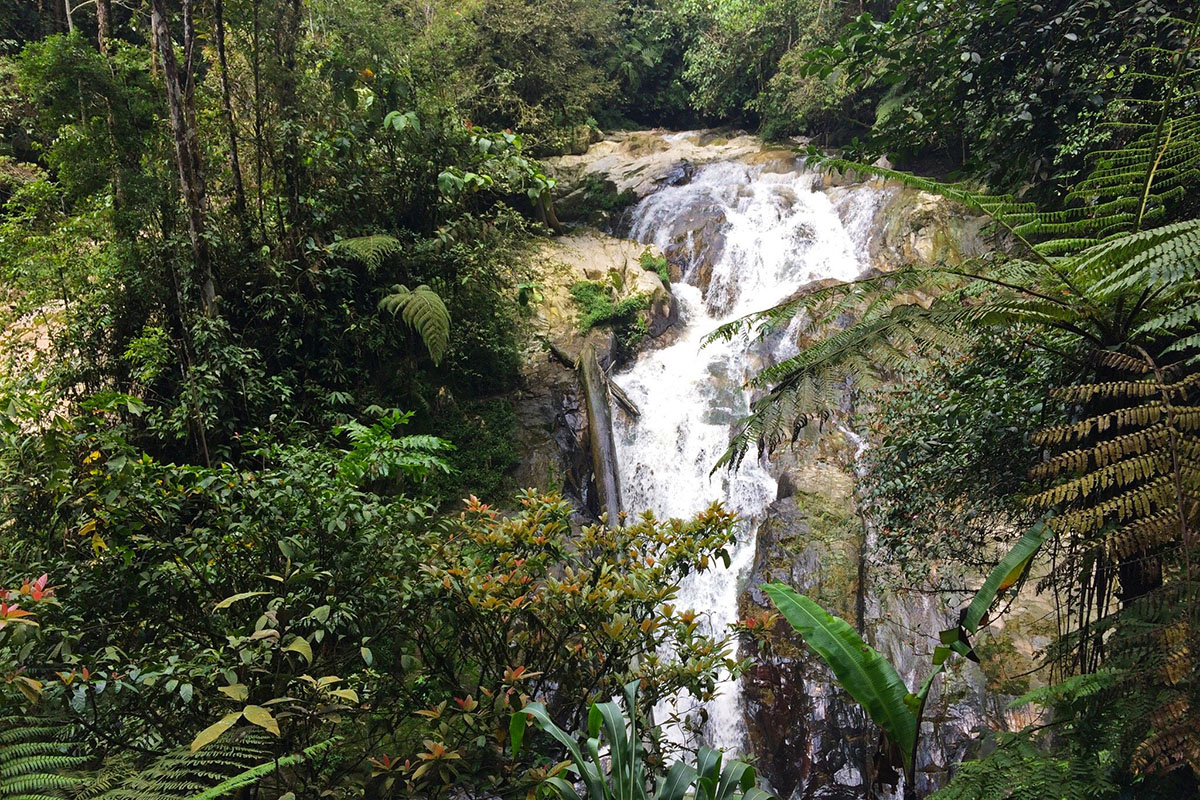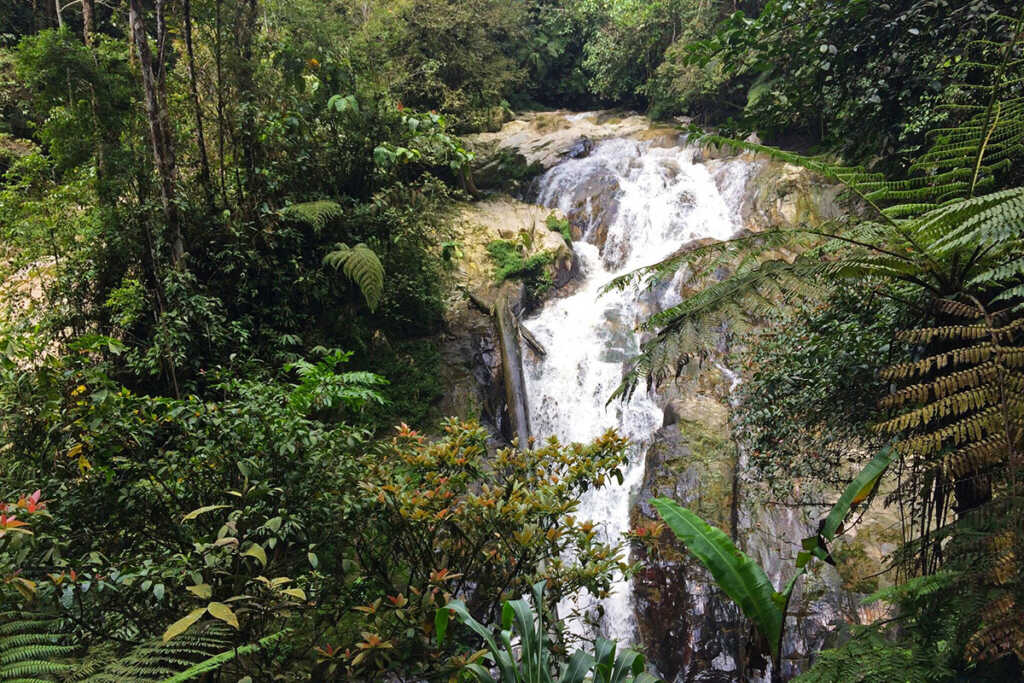 Next on our list of things to do in Cameron Highlands is to hike to Robinson Falls.
However, if you are not very fit, we don't recommend venturing to this hike to see the waterfalls. The trail to Robinson Falls is well-marked, but it can be steep, slippery, and challenging in some parts. If it's wet or raining, better don't go…
The hike usually takes around 30 minutes to an hour, depending on your pace. Along the way, you'll pass through lush, jungle-like scenery.
LOCATION: HERE
ADMISSION FEE: Free
---
19. Visit Lata Iskandar Waterfall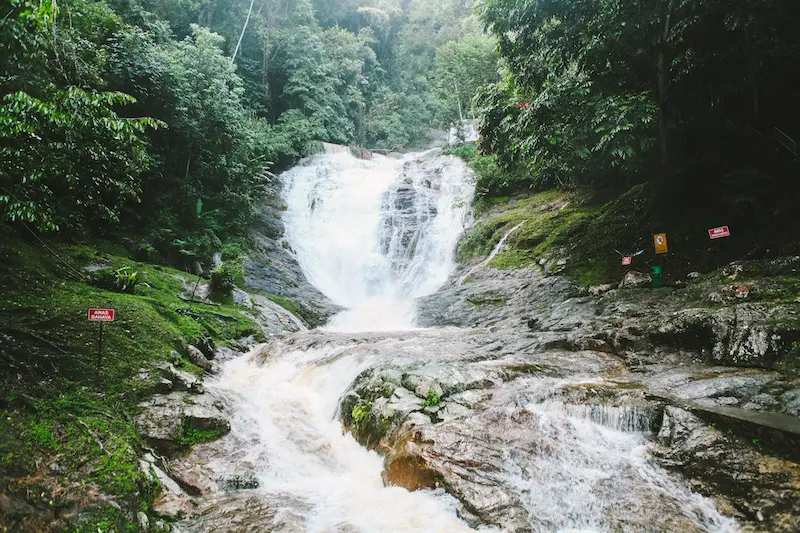 Our last recommendation of the best things to see in Cameron Highlands is the Lata Iskandar Waterfall. We actually had no idea about this place, but drove passed it on our way to Cameron Highlands from KL.
Iskandar Waterfall, contrary to Robinson Falls, is super easy to get to. You can park your car on the side of the road and walk for less than 1 minute to see it!
As we visited Cameron Highlands during the rainy season, the waterfall was huge and powerful. We were super impressed with it!
Note that the waterfall is not directly in Cameron Highlands, it's 1 hour away from the direction of KL.
LOCATION: HERE
ADMISSION FEE: Free
---
Where to stay in Cameron Highlands?
The Cameron Highlands Resort
This luxury resort is known for its colonial architecture, beautiful gardens, and a golf course. It's a great option for those looking for a high-end, pampering experience.
>> BOOK HERE
---
The Old Smokehouse Hotel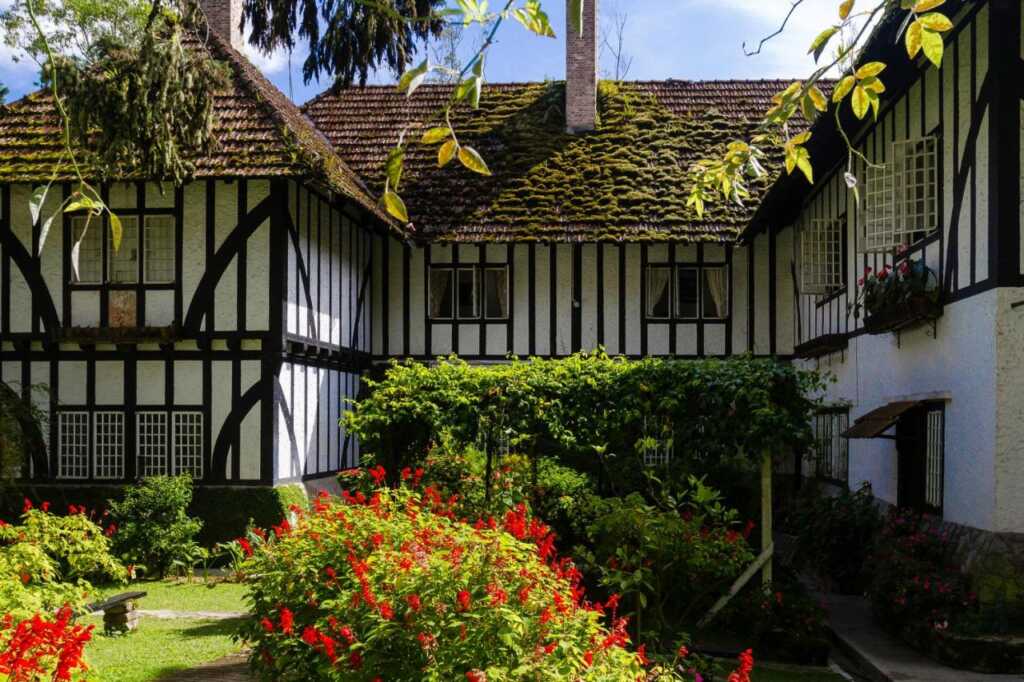 The Old Smokehouse Hotel is a colonial-era boutique hotel that exudes a sense of nostalgia and old-world charm. The hotel's architecture and décor transport guests back to the colonial era, with its English Tudor-style design and vintage furnishings.
>> BOOK NOW
---
The Lakehouse Cameron Highlands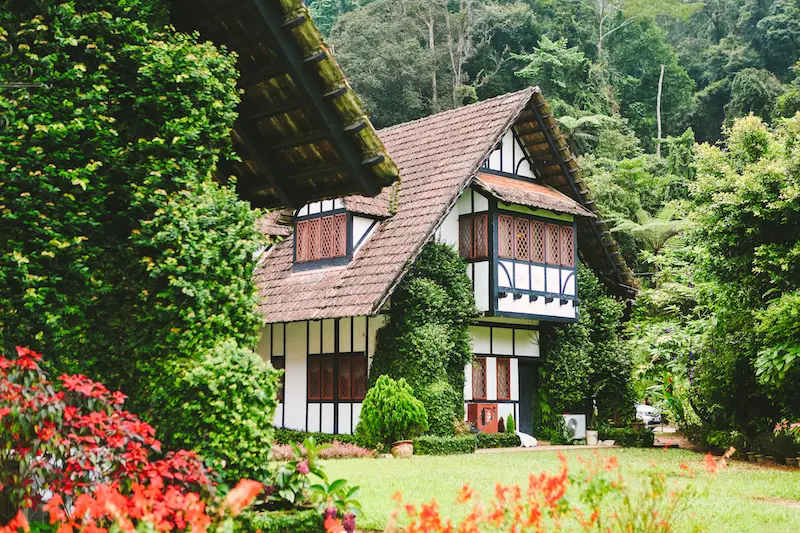 This charming Tudor-style boutique hotel is known for its beautiful gardens, cozy rooms, and elegant dining experience. It's a great choice for those seeking a romantic and peaceful getaway.
---
When is the best time to visit?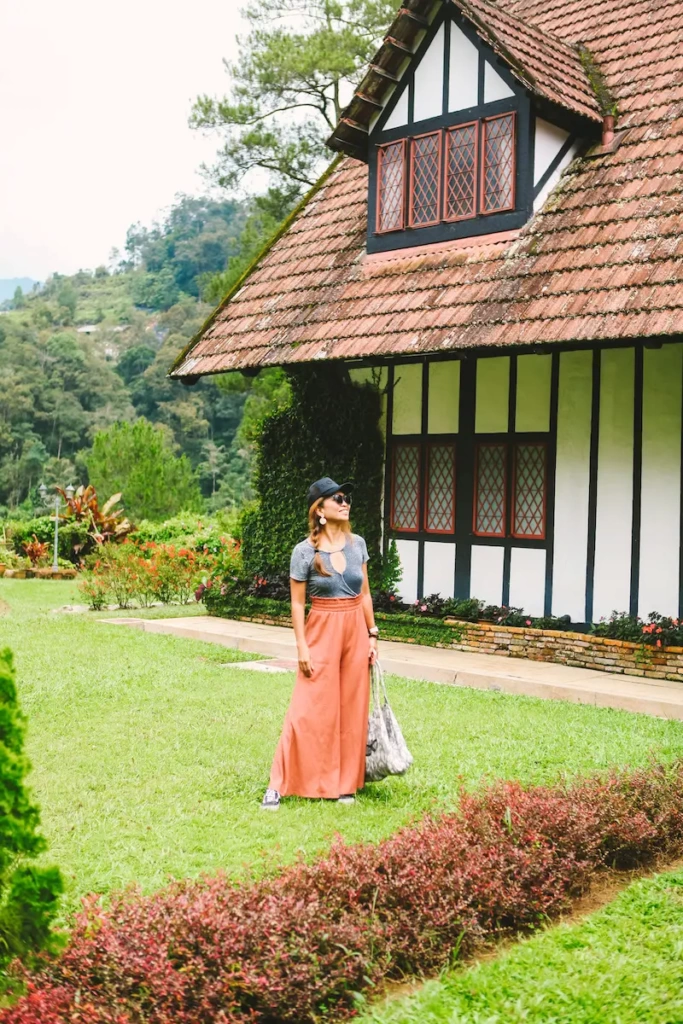 The best time to visit Cameron Highlands is during the dry season, from March to September.
The rainy season is from late October/early November until the end of February. While it is still possible to visit Cameron Highlands during that time, some hikes and attractions might be closed due to the rain.
AVOID WEEKENDS AND PUBLIC HOLIDAYS: Cameron Highlands is one of the most popular things to see in Malaysia with locals and tourists. However, during weekends, school holidays and Public Holidays Cameron Highlands gets very crowded and traffic is quite common during that time. Especially since there is only 1 road to lead to the Cameron Highlands and to the main attractions…
---
How many days to visit Cameron Highlands?
For us, 2 full days is the ideal time to visit Cameron Highlands. If you want to add some hikes to your trips, then consider staying longer. However, in 2 days, you will be able to cover most sights!
---
How to get there?
Bus Kuala Lumpur – Tanah Rata
From Kuala Lumpur, there are many buses departing from TBS bus station. Bus tickets can be purchased online here.
The terminal is large and well-organized. Get a little early so you have time to find your bus.
To go to Tanah rata (Cameron Highlands), it took us 3.5 hours. The seats are very spacious.
---
Bus from Penang
Buses depart daily from Penang to reach Cameron Highlands. The journey takes around 3 hours and costs between RM30 and RM50 depending on the company. You can book here.
---
Driving to Cameron Highlands
Of course, the easiest to get to Cameron Highlands and around the main attractions there, is by driving a car. You can easily rent a car in KL if you need.
---
Join a guided Tour or hire a private driver
For more convenience, you can also hire a driver or join a guided tour from KL! More options below:
---
Final Thoughts – Is Cameron Highlands worth a visit?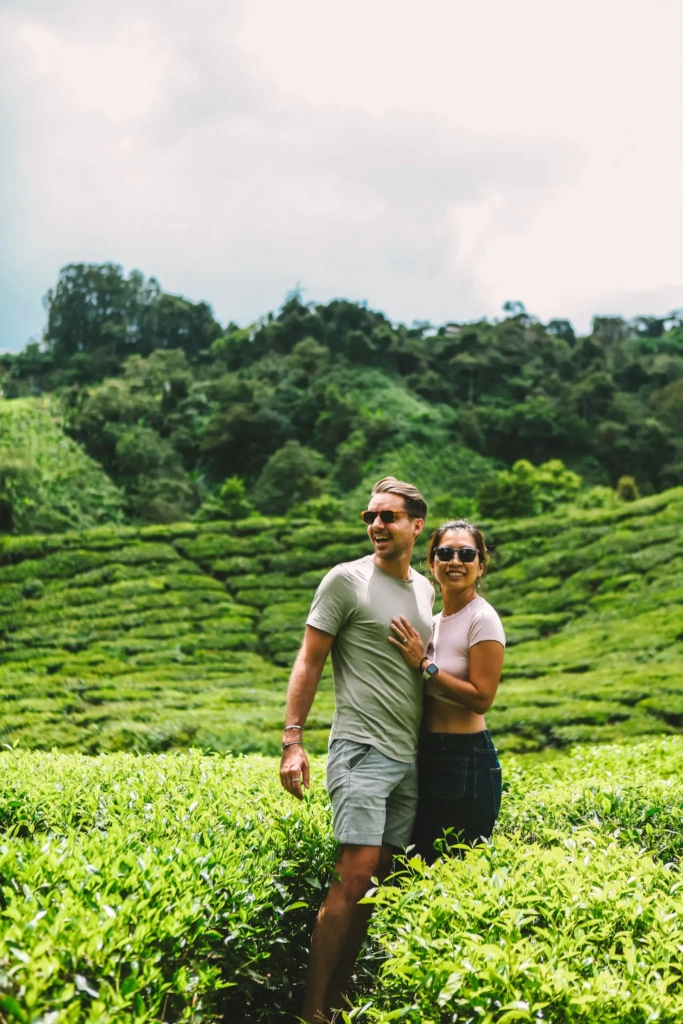 We were in complete awe when visiting BOH Tea Plantations, Cameron Valley Tea, and the Mossy Forest. Then the Time Tunnel, Iskandar Waterfall, and the hikes were pretty amazing too. We also loved the cooler weather compared to KL!
However, as we have no kids, we enjoyed less the farms and gardens. While it can be super fun for kids, it's a bit underwhelming for adults…
That being said, there is something for everyone at least! And if you are reading this and plan to visit without kids, then focus on the natural sites.
So all and all, yes Cameron Highlands is worth a visit
---
Read Also
HIKING GUIDE TO THE MOSSY FOREST
20 BEST THINGS TO SEE IN PENANG, MALAYSIA
GUIDE TO VISITING BATU CAVES NEAR KL
BEST THINGS TO DO IN GENTING HIGHLANDS
DISCOVER THE BEAUTIFUL KL BIRD PARK
BEST PLACES TO STAY IN KUALA LUMPUR
AWESOME PLACES TO SEE IN LANGKAWI
BEST THINGS TO DO ON TIOMAN ISLAND, MALAYSIA
VISIT COLMAR TROPICALE NEAR KUALA LUMPUR
30 BEST CAFES & BRUNCH IN KL [ULTIMATE GUIDE]
DISCOVER THE JAPANESE GARDEN IN BUKIT TINGGI