WHAT TO DO IN PENANG? HOW MANY DAYS TO VISIT PENANG? WHAT IS PENANG FAMOUS FOR? IS IT WORTH VISITING PENANG DURING A TRIP TO MALAYSIA?
Penang is a must on a trip to Malaysia!
In its multicultural capital George Town, discover Penang's rich heritage with temples, mosques, colorful markets, street art, and delicious food.
For an immersion in nature, you can enjoy many different parks, gardens, and beaches near Batu Ferringhi. For a relaxing or exhilarating holiday, alone, as a couple, or with the family, Penang is one of the best places to visit Malaysia.
---
HIGHLIGHTS OF A TRIP TO PENANG IN MALAYSIA: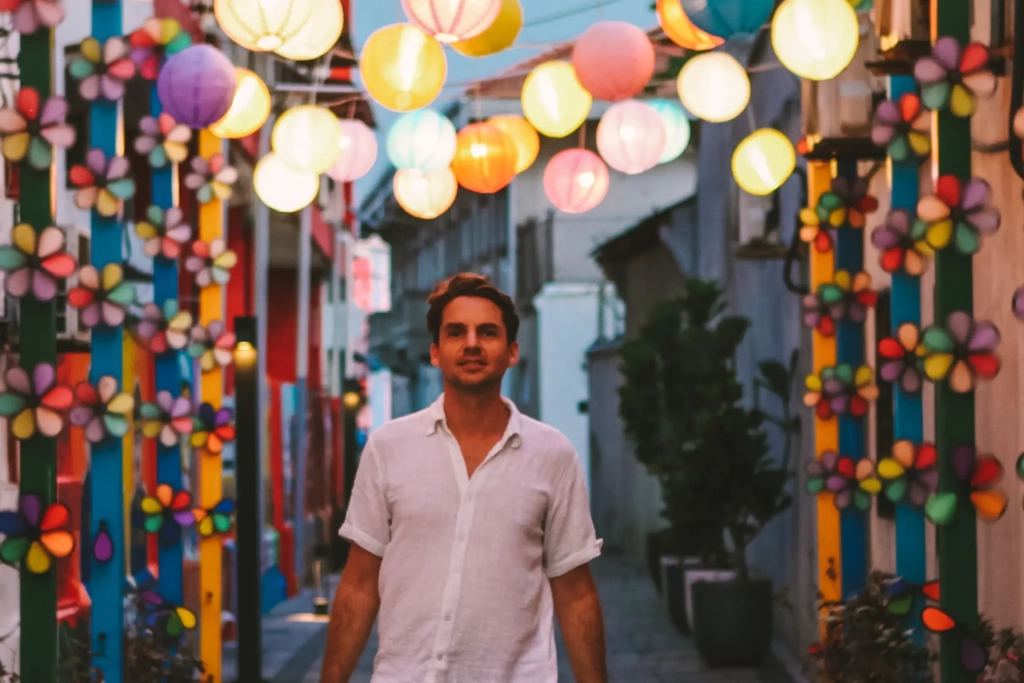 Penang Island is a very popular holiday destination, located on the west coast of Malaysia.
Its capital George Town, the largest city in Penang, is a must-see!
The colonial past and the cultural influences of the Malaysian, Chinese, and Indian populations are present all around the island.
Listed as a UNESCO World Heritage Site, Penang is the kind of place that would be hard to forget!
Its unique atmosphere cannot be found anywhere else. A perfect mix of nature, culture, history and gastronomy.
2 to 3 days is the ideal amount of time to visit Penang
Penang is easily accessible from KL, either by driving/bus or flight
---
CHECK OUT SOME IMPRESSIONS OF PENANG IN THIS VIDEO:
---
ULTIMATE GUIDE TO PENANG?
BEST THINGS TO DO IN PENANG
1. Start your exploration of Penang with a stroll through the historical part of George Town
There is so much to see in the old part of George Town. Will tell you everything about it in this post, so stay tuned!
However, to start having some first impressions of George Town simply walk around the old part of the city! There are many notable streets not to be missed. You will see many restaurants, shops, cafes and more surprises!
Some of the best streets to visit in Penang are:
Armenian Street (location) full of cute shops and street arts.
Beach Street (location) famous for its large historical buildings and old bank buildings.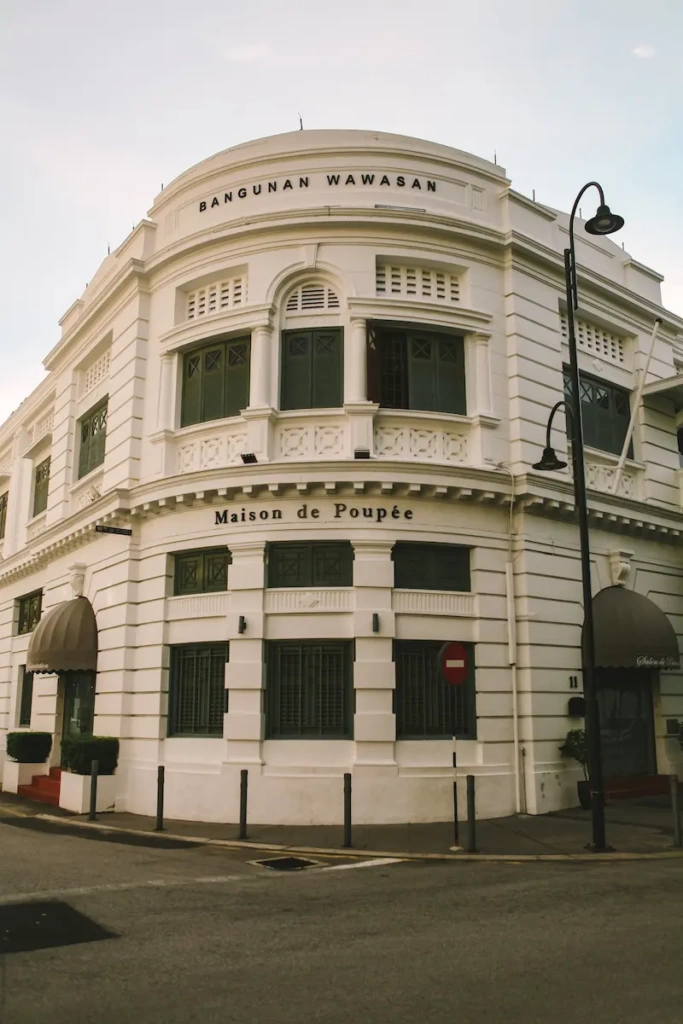 Lebuh Pasar (location) in the heart of Little India.
Chulia Street (location) great at night with plenty of cool bars.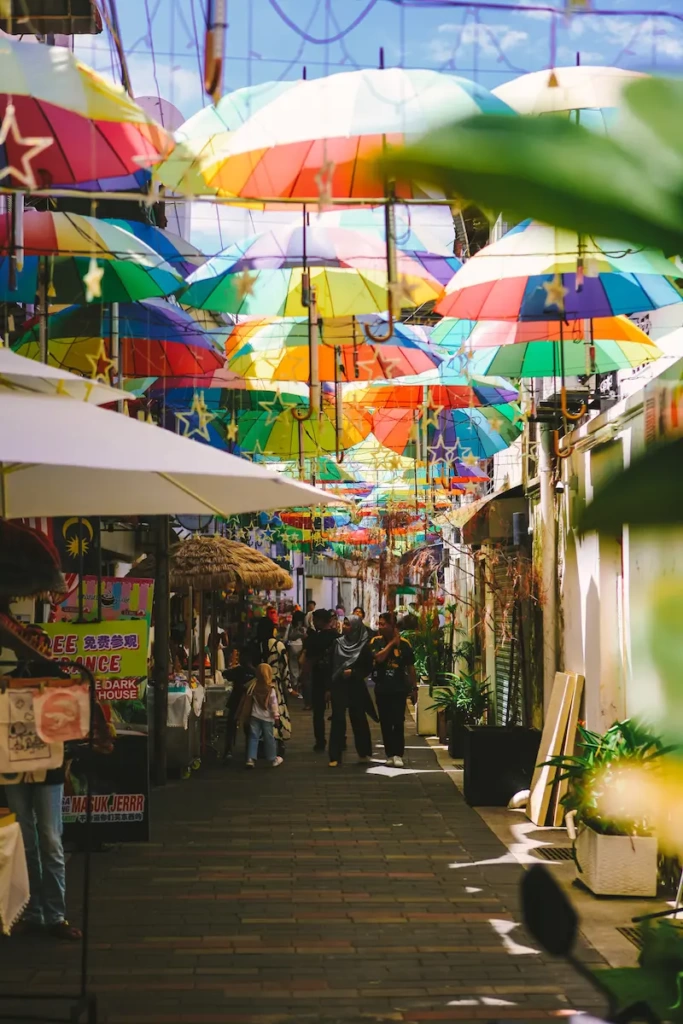 Love Lane (location) a must to try some of the best street food.
Muntri Street (location) full of historical buildings and heritage hotels.

Finally make sure to visit MBPP Walkway @Lebuh Pantai (location), a beautiful alley to visit at night thanks to its many lanterns! The alley is located right next to the beautiful and oldest Fire Station in George Town, from 1908. The Fire Station is still operational today!
The good thing about George Town, is that you can walk to pretty much anywhere in the city! Which makes the visit of the town even more pleasant!
A good way to explore the heritage part of George Town is with a local guide. See your options below:
---
2. Check out the street art everywhere in George Town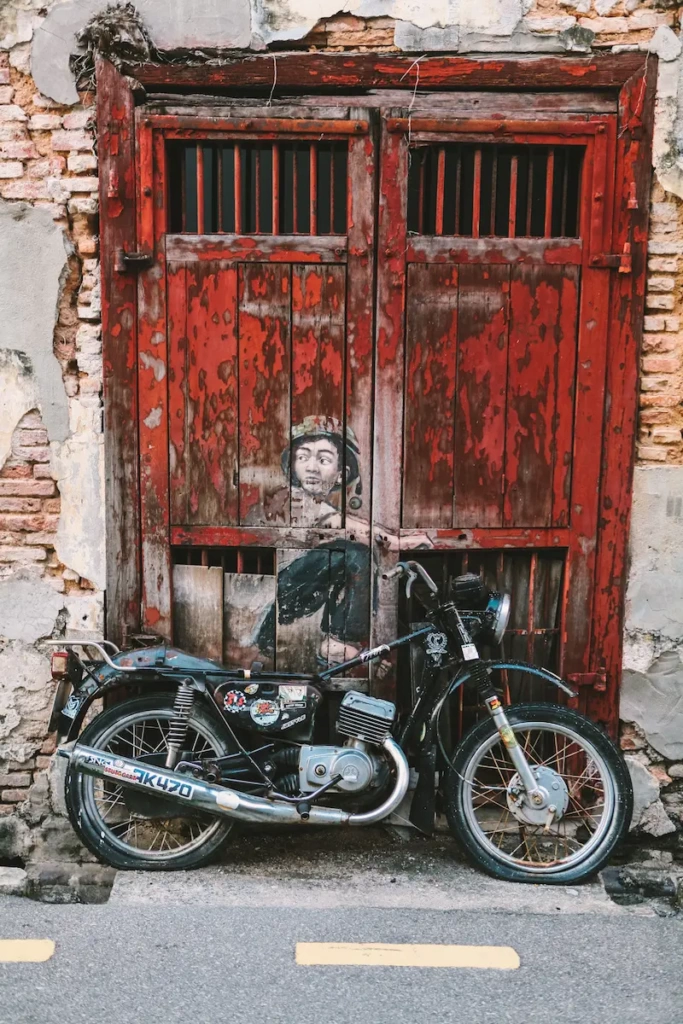 We could easily spent the whole day discovering the street art of Penang. It's pretty crazy to see the number of art works in the town.
A few years ago, the city called on local and international artists to put some arts on the streets! And the result is really cool!
There are very realistic paintings and sculptures retracing the history of Penang all over George Town, especially around Armenian Street and Ah Quee Street.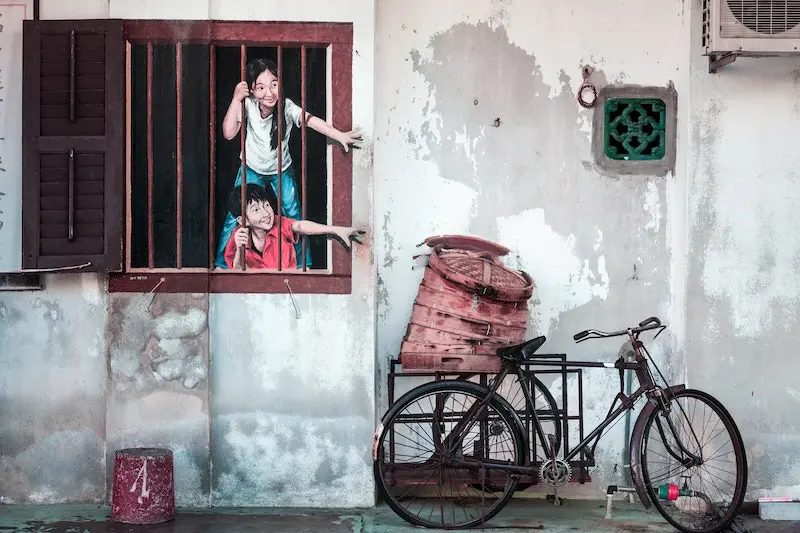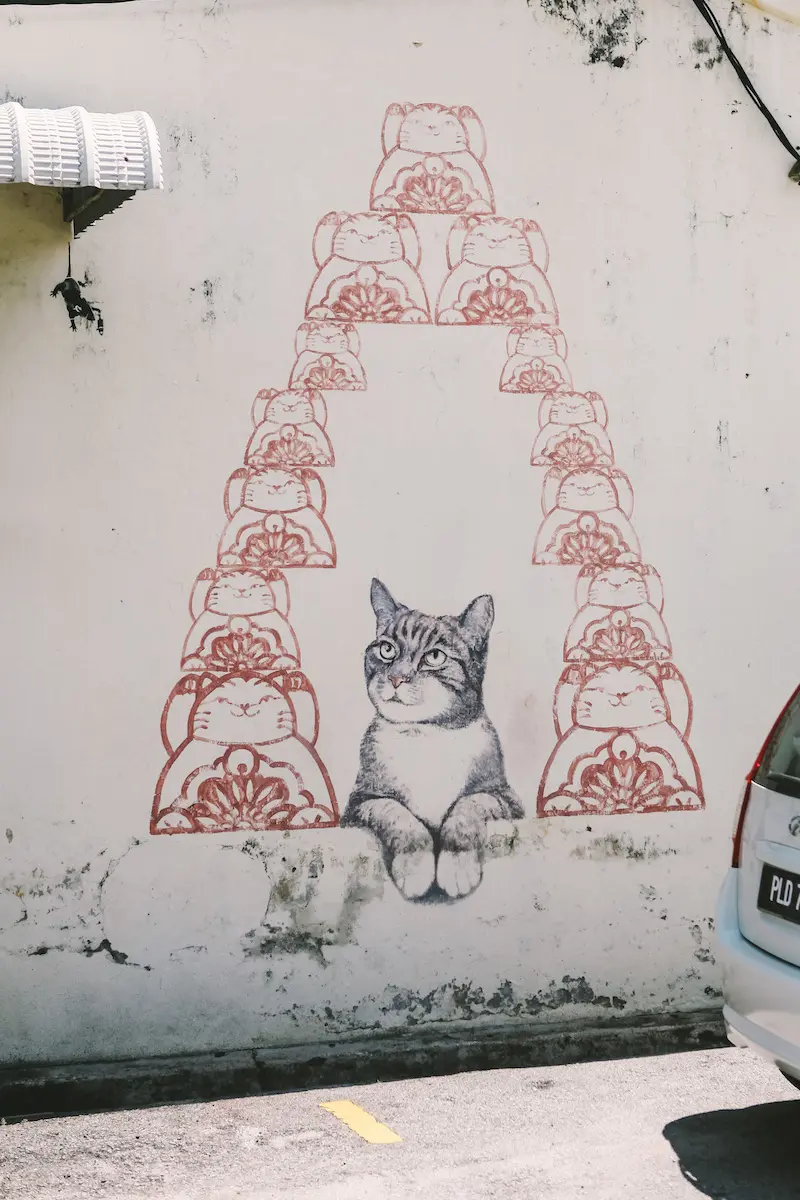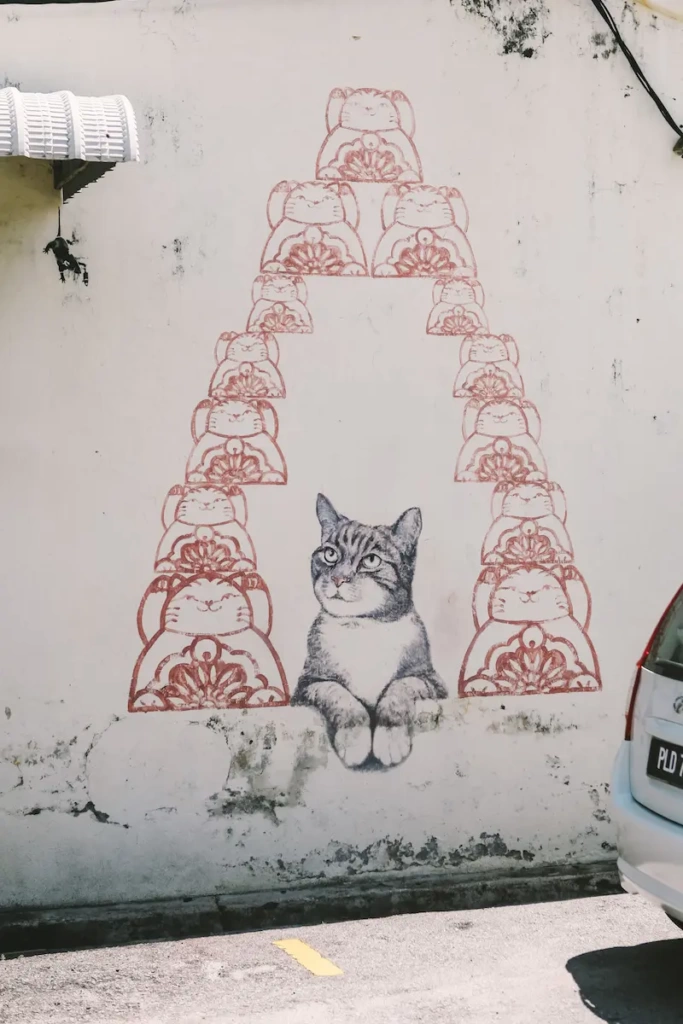 Some of our favorites are "Boy on Motorbike" (here), "Kids on bicycle" by Ernest Zacharevic (here), "I want Bao" (here), Boy on Chair (here), Brother & Sister on a Swing (here). We recommend pining those on Google Maps, to not miss it, as some of them are located in small alleys which you wouldn't necessarily see.
Of course, there are hundreds of more street art all around George Town, which you will discover throughout your visit of this fantastic place in Malaysia!
---
3. Explore the Clan Jetties, one of our favorite places in Penang!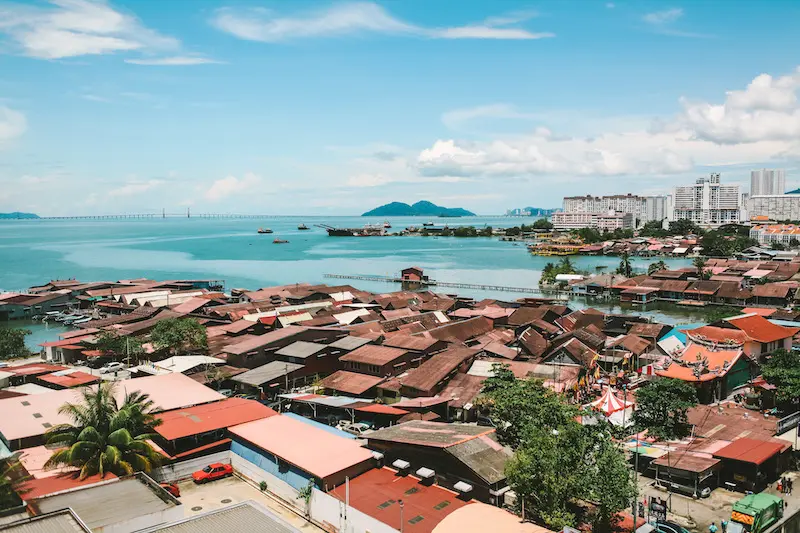 The Clan jetties are Chinese floating villages dating back to the 19th century.
These neighborhoods used to welcome immigrants from China who gathered by clan to help each other. Several of these jetties are still inhabited today by the descendants of these different clans.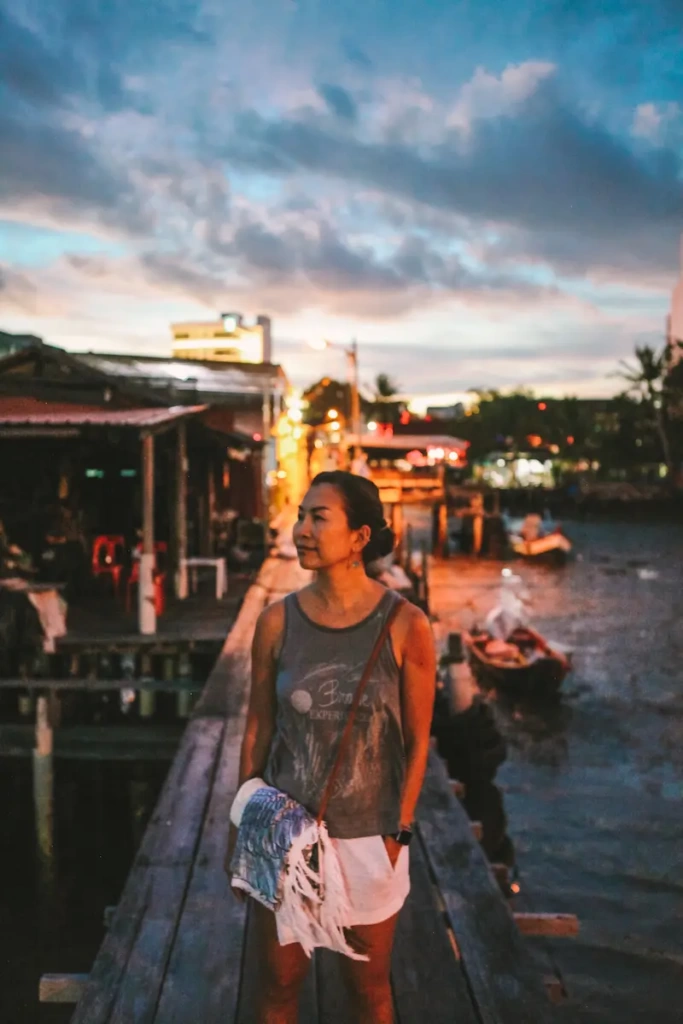 The Chew jetty is surely the most touristy (location). The main tiny lane is lined with souvenir stalls, ice cream shops and durian specialties. There is also a huge Chinese Temple at the entrance!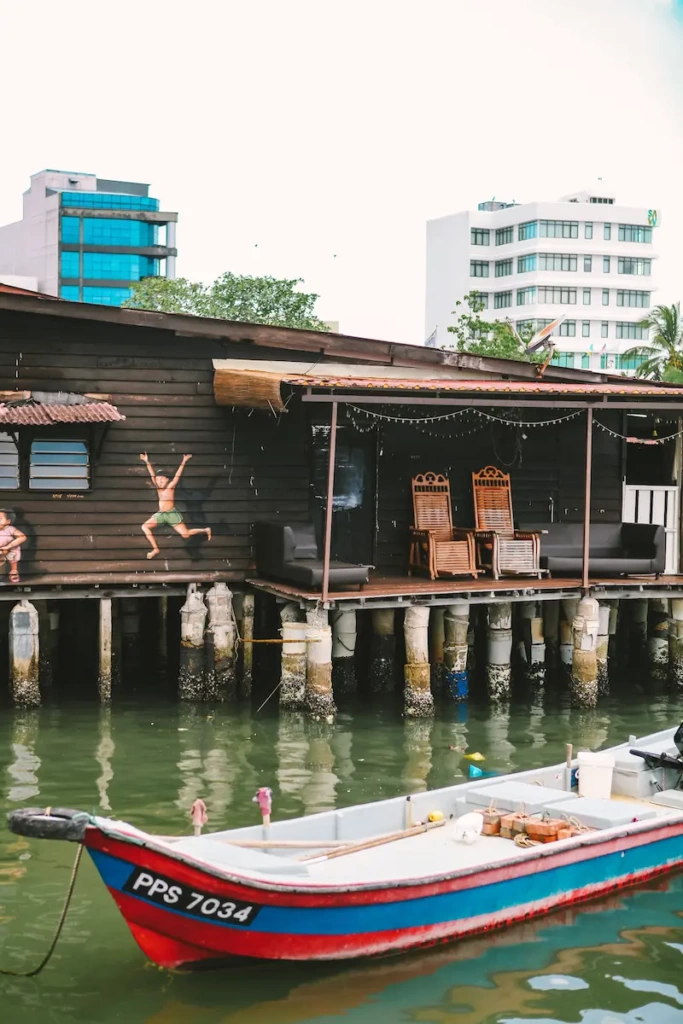 Make sure to also check out the Tan Jetty. It is one of the most Instagrammable places in Penang (our IG posts about Penang).
Further south we also loved our visit of Hean Boo Thean Kuan Yin Temple, a Chinese temple built on the water! You can't miss it with its sharp yellow color.
To get there, you have to go through alleys in the middle of Chinese houses, where everyone is going about their business and greeting visitors.
Although this temple is relatively recent, its location gives it a special charm. At night, it is an excellent vantage point to admire the Penang skyline (location).
READ: FULL GUIDE TO VISIT EACH CLAN JETTY IN PENANG
---
4. Make sure to visit the Pinang Peranakan Mansion, a must in Penang!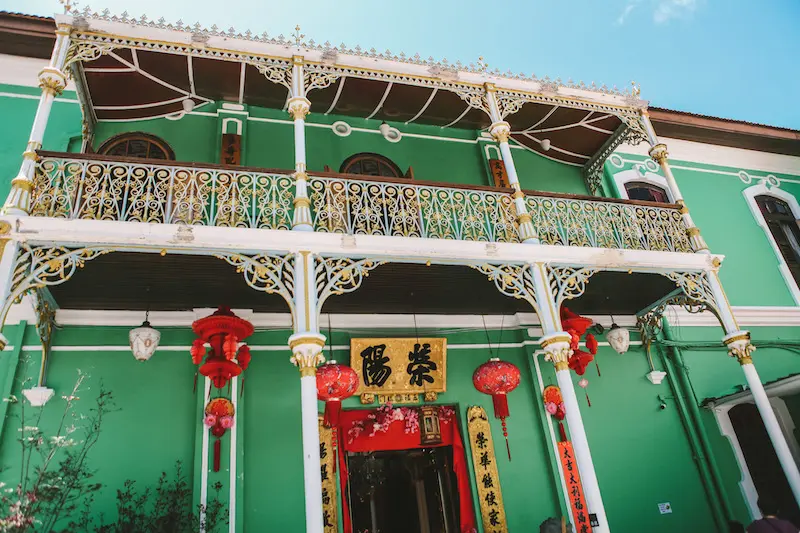 Penang is a fantastic destination in Malaysia, not only because there are so many things to see but for its harmonious blend of three unique cultures – Chinese, Indian, and British.
One good example of that is the Pinang Peranakan Mansion, where you can fully appreciate the noble Chinese Way of Life in the 19th Century.
Indeed, Pinang Peranakan Mansion is a 19th-century Chinese house of a wealthy family in Penang. This is now converted into a museum that showcases the culture and traditions followed by the Chinese during this period.
Through a visit to the sumptuous Mansion, you will learn more about the Chinese beliefs, their customers and the importance of Feng Shui.
The mansion is a real treasure with so many things to see.
A bit of history about the Mansion
The history of the Pinang Peranakan mansion dates back to the Peranakans – also known as the Straits Chinese.
This refers to the Chinese settlements around the Strait of Malacca – Penang being an important base here. This mansion was built by Captain China – Chung Keng Quee, so named by the British.
He built it around the 1890s and called it Hai Kee Chan (Sea of Remembrance). It is said that besides being a home, it was also a base for the first Chinese secret society in Penang. Eventually, it became a regular family home and was passed down from generation to generation.
Today, the Pinang Peranakan is an important part of George Town, a UNESCO World Heritage Site.
Location: here
Website: here
Admission: 25 MYR
---
5. Wander through Little India in George Town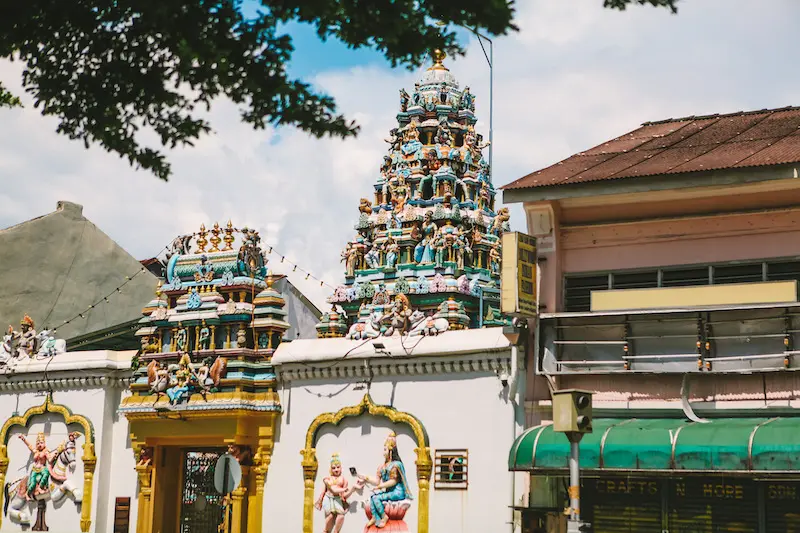 What is magical in Malaysia is that you can go from "China" to "India" in less than 5 minutes.
After our visit to the clan jetties and Pinang Peranakan Mansion, here we are in the little india just a few minutes walk away.
Saree shops and Indian restaurants testify to the presence of this community within Georgetown. Particularly enjoying Indian food, we spent a had lunch there.
The opportunity also to visit the Hindu temple of Sri Mahamariamman (here) and to meet sellers of necklaces and flower offerings.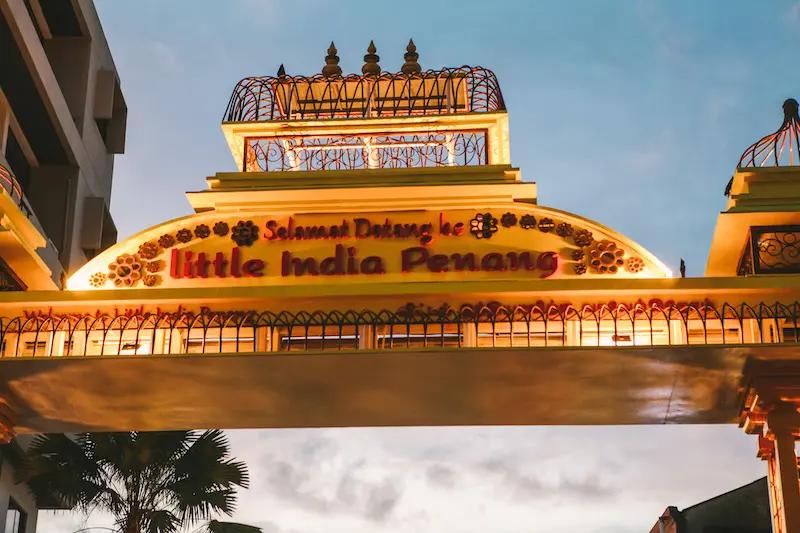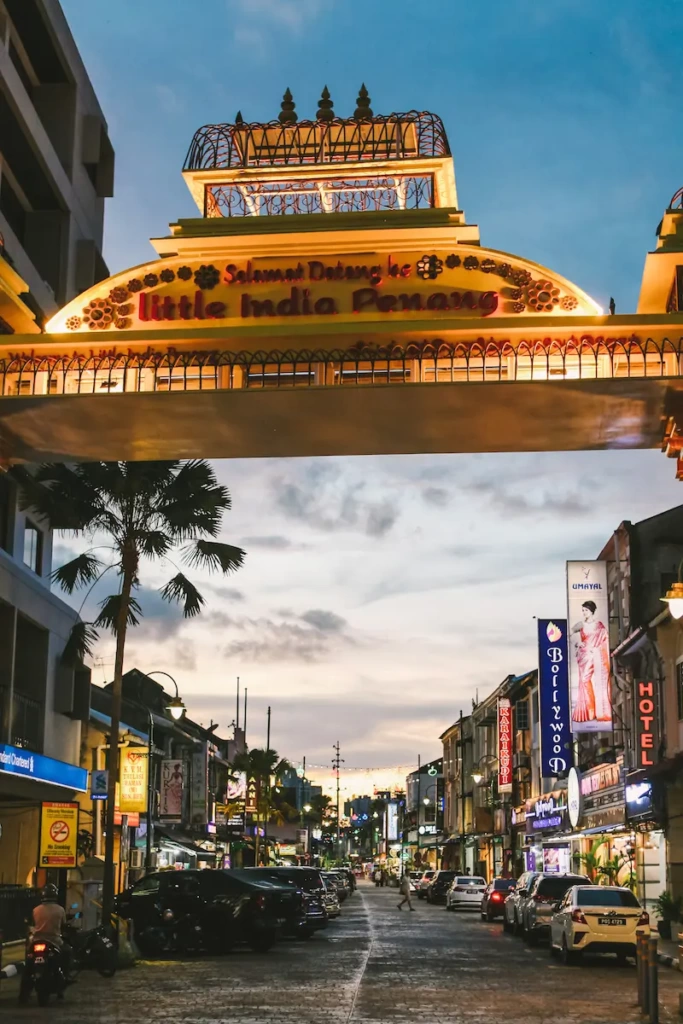 Arranged along the street, near the temple, thousands of flowers are waiting to be assembled into crowns or necklaces that Hindus use for many purposes (offerings, weddings, funerals, etc.).
The main street in Little India is called Lebuh Pasar (here), you can't miss it with its huge yellow gates at each side of the street!
---
6. Right next to Little India, you can visit one of the main Mosque in George Town (Kapitan Kelling)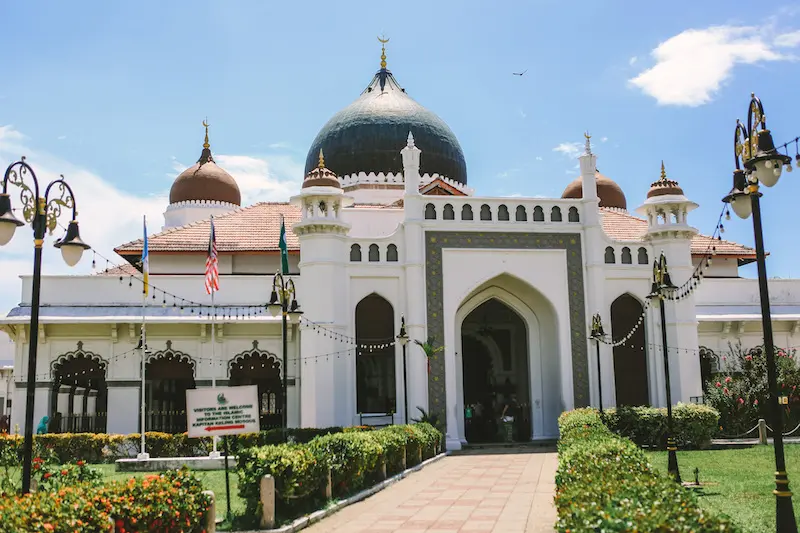 The name of this beautiful mosque is not coincidentally reminiscent of the word "Captain", as it was named after the leader ("Captain") of the first Muslim community in South India (called: "Keling") in Penang.
The Mosque is pretty much at the heart of the old part of town in George Town. It's a great place to visit if you pass by.
The guided tour and the clothing are free. The interior of the Kapitan Kelling mosque is rather sober though.
Location: here
---
7. Back to "China" with the Kongsi
Another testimony of the Chinese presence in Georgetown are the Kongsi. These are Chinese clan houses whose function was to economically support the members of the same clan in order to help them succeed in this new land.
Some Kongsi like Khoo Kongsi (here) or Cheah Kongsi (here) were so developed that they look like a village within the city. It had its own temple, educational, financial and social system.
This mode of organization had a very important role, then gradually diminished.
Located in the heart of the city center classified by Unesco, the Khoo Kongsi is interesting because of the richness of its buildings and its state of conservation, but also because it has an interactive exhibition retracing the history of the Chinese who arrived in Malaysia and the role of the Kongsi.
It is, in our opinion, a very interesting visit from a cultural point of view.
Website: here
Admission: 10 MYR
---
8. Next, visit Fort Cornwallis and Queen Victoria Memorial Clock Tower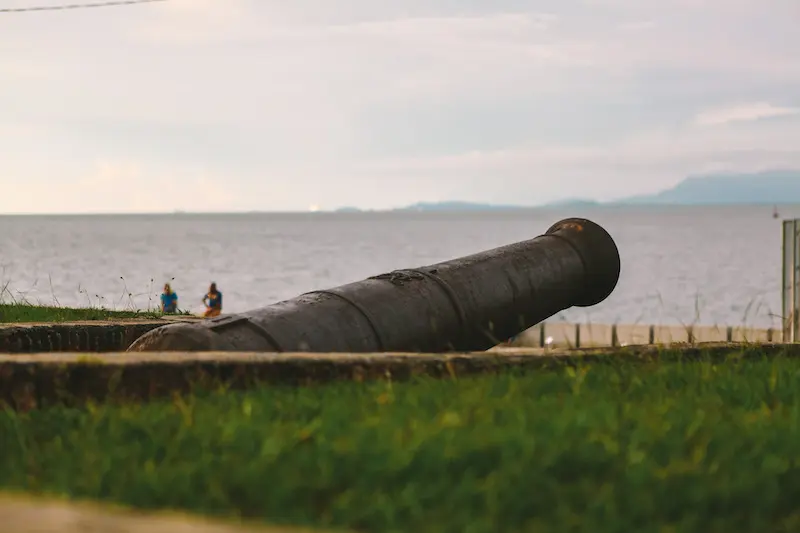 Before dusk, we recommend a visit of Fort Cornwallis, located by the sea.
It is a military fort built in 1786 supposedly to fight against pirates, the French during the Napoleonic wars and the forces of Kedah. However, it really had only an administrative role rather than a defense one, the place being used as a storage for the British troops.
The Fort owes its name to the British Marquis Charles Cornwallis which still has some vestiges of the colonialist era (1812), cannons and a view of the port…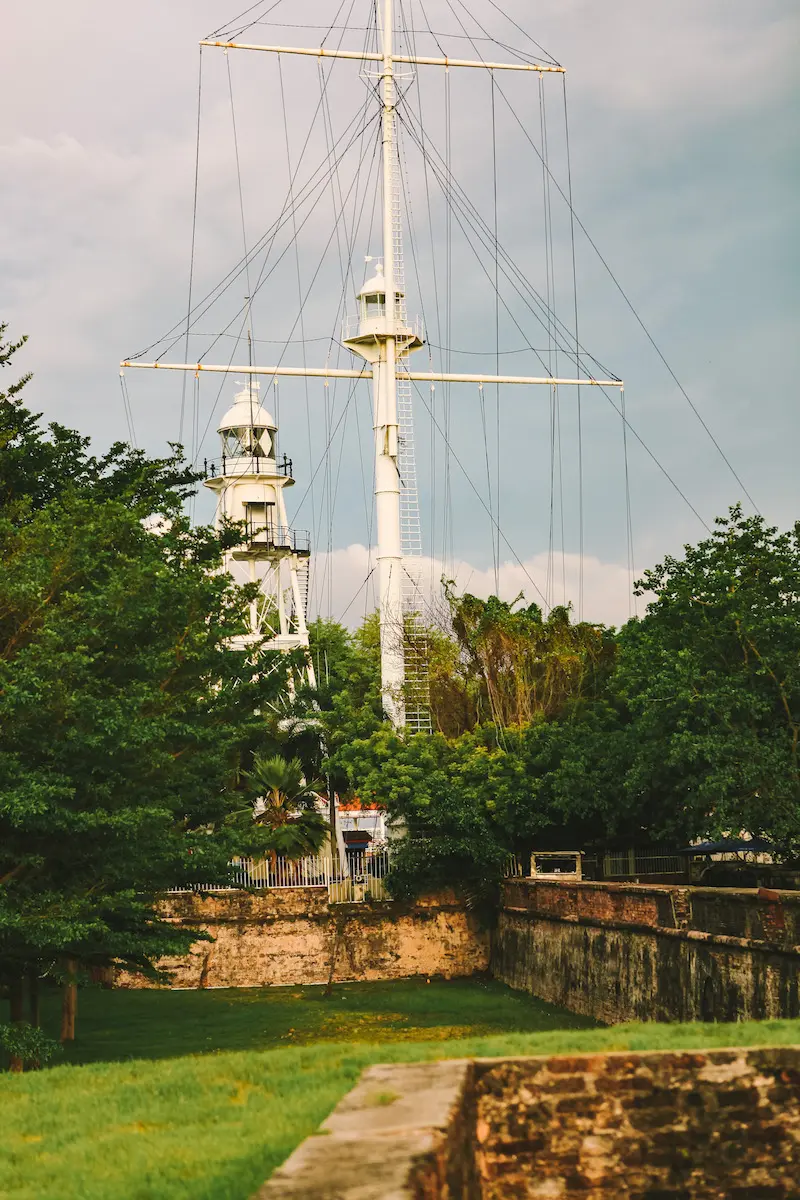 Why go there before dusk? The entrance of the fort comes with a drink (incl. beer). We decided to sit down by the wall facing the sea and enjoyed our beer during sunset. It was perfect!
Before entering the fort, don't miss to take a photo of the beautiful and iconic clock tower built in the Moorish style commemorating Queen Victoria!
Location of the Fort: here
---
9. Enjoy an evening stroll along Jalan Tun Syed Esplanade
Close to Fort Cornwallis, head to the Esplanade (here). This is a very popular spot for locals to enjoy the cooler temperature in the evening and the sea breeze. There is a nice walk along the sea with multiple fantastic viewpoints of the sea and the rest of the city in the background.
You will see many families playing with their kids and stalls selling fruits, juices, ice cream etc! There are also historic buildings illuminated at night, it's stunning!
---
10. Eat delicious street foods at Love Lane followed by some drinks in one of the many bars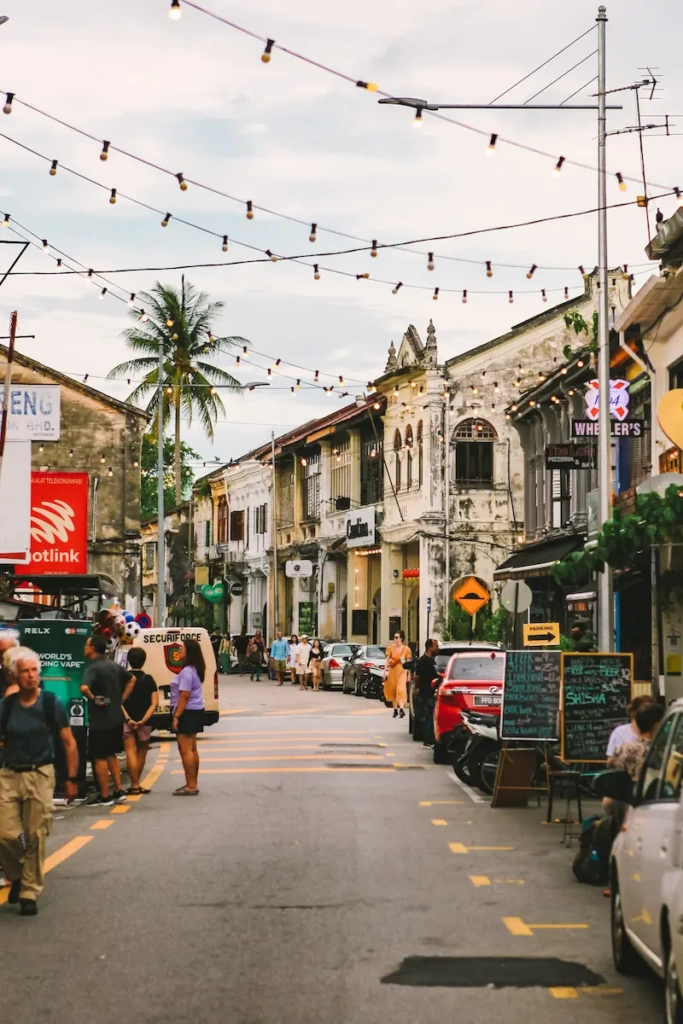 At night head to Love Lane and the streets around it. This is a bit like Kao San Road in Bangkok…
People come here for cheap and delicious street food and its many bars and hipster restaurants. The district really come alive after 7pm.
It's a great place to spend an enjoyable evening in George Town, Penang!
Walk in the streets around Love Lane, to discover many beautiful heritage houses, especially on Muntri Street and Chulia Street.
Location of Love Lane: here
---
11. One of the highlights of our trip to Penang was the visit of Cheong Fatt Tze – The Blue Mansion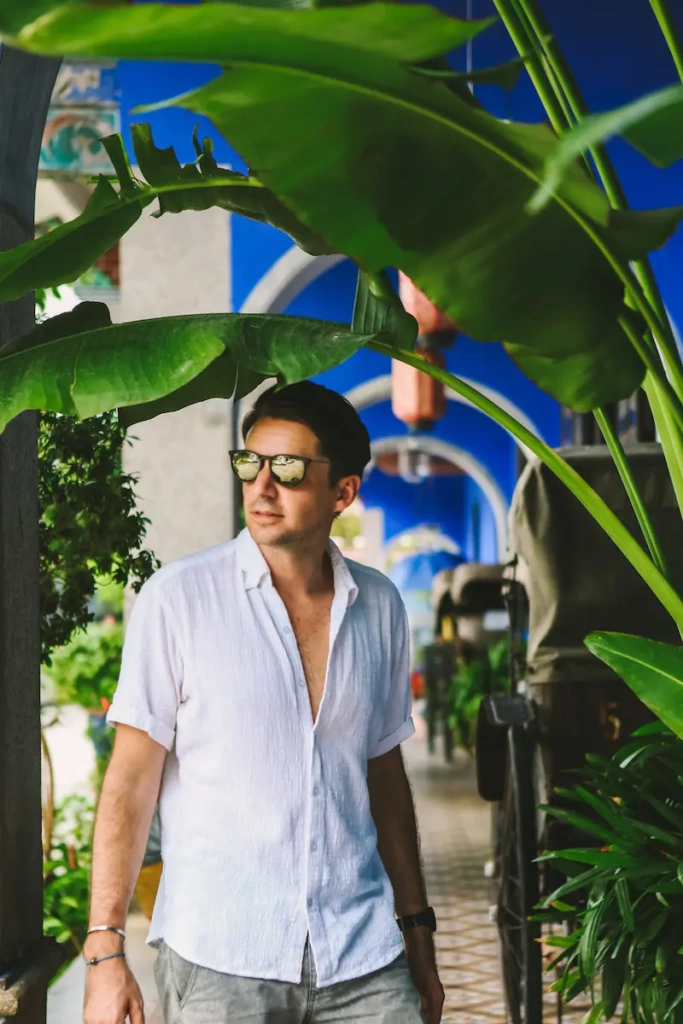 Don't skip this visit! It was one of the best things we did during our trip to Penang!
Cheong Fatt Tze was a very wealthy Chinese Merchant born in 1840 and died in 1916 in Indonesia (he also built the biggest Mansion there).
The house dates from the end of the 19th century, 1880 to be more precise.
The blue color comes from a mixture of lime with a natural dye, coming from the Indigo plant, a very fashionable color during the colonial time.
The house was restored in 1995. In 2000, it was listed as a UNESCO World Heritage Site.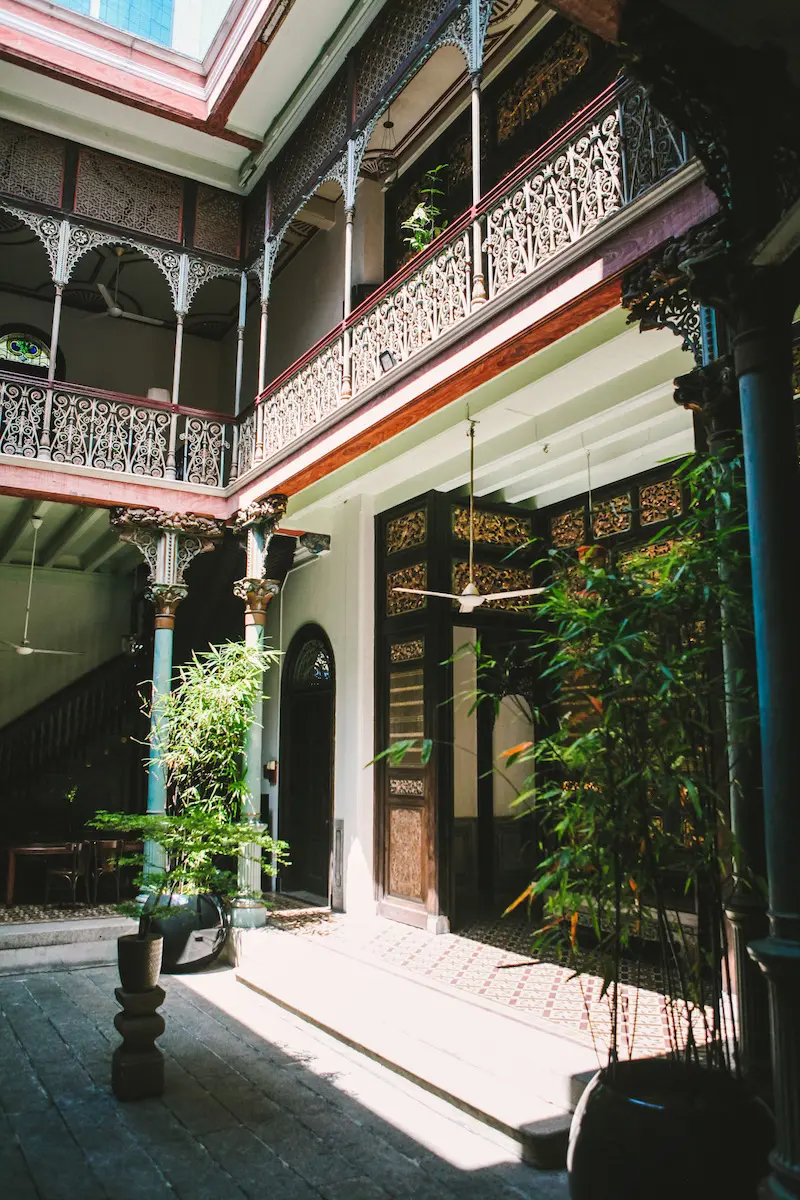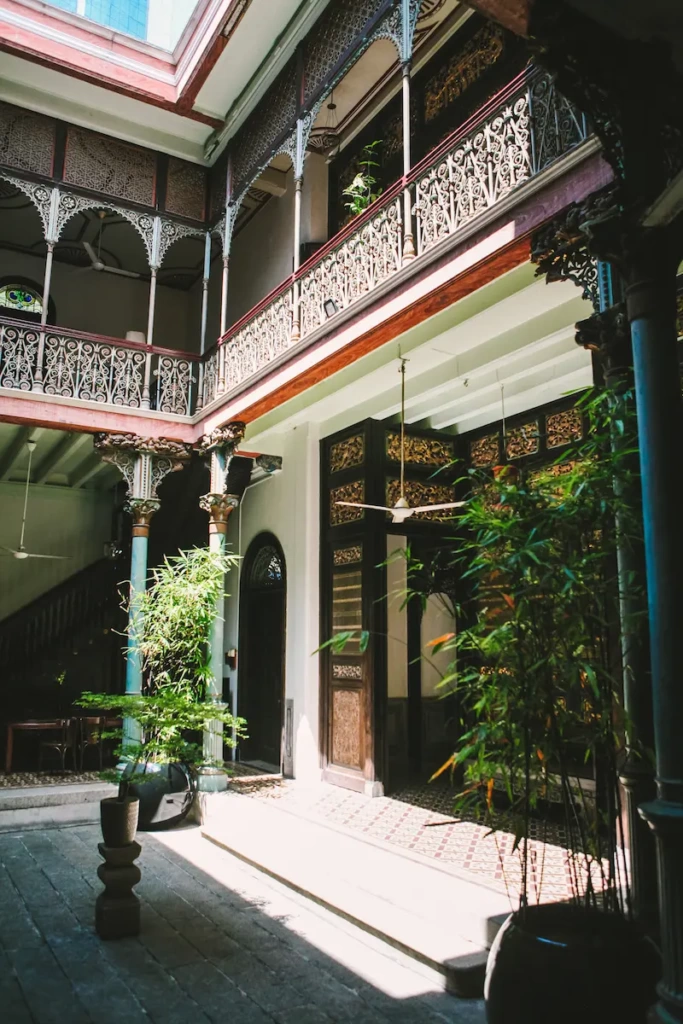 Today, the house can be visited, but be careful, only 2 visits per day at 11 a.m. and 2 p.m. There is only a limited number of visitors each time, so booking online is strongly advised. Book here!
The house was used for many movies, the latest one being Crazy Rich Asians during the Mahjong scene:
Another famous movie filmed here was Indochine, an Oscar-winning film in 1993 starring Catherine Deneuve.
Today the house has been converted to a stunning hotel. This place is booked many months in advance, if you wish to stay here start planning very early. You can check the availability here.
Location: here
READ: FULL GUIDE FOR A VISIT OF THE BLUE MANSION IN PENANG & 20 MOVIES THAT WILL MAKE YOU WANT TO TRAVEL TO ASIA
---
12. Time to explore things outside George Town, head to Kek Lok Si Temple
Now that you enjoyed George Town, Fort Cornwallis, Little India and the many Chinese cultural heritages, it's time to get out of the town to discover the other gems in Penang such as the splendid Kek Lok Si Temple.
This is the most important Buddhist temple in Southeast Asia!!! Can you imagine!? This Buddhist temple is the largest temple by its size in all of Southeast Asia. It is absolutely sublime.
To get to Kek Lok Si Temple it takes about 1 hour by bus or 30-40min with Grab.
You can easily spend hours there, with so many things to see.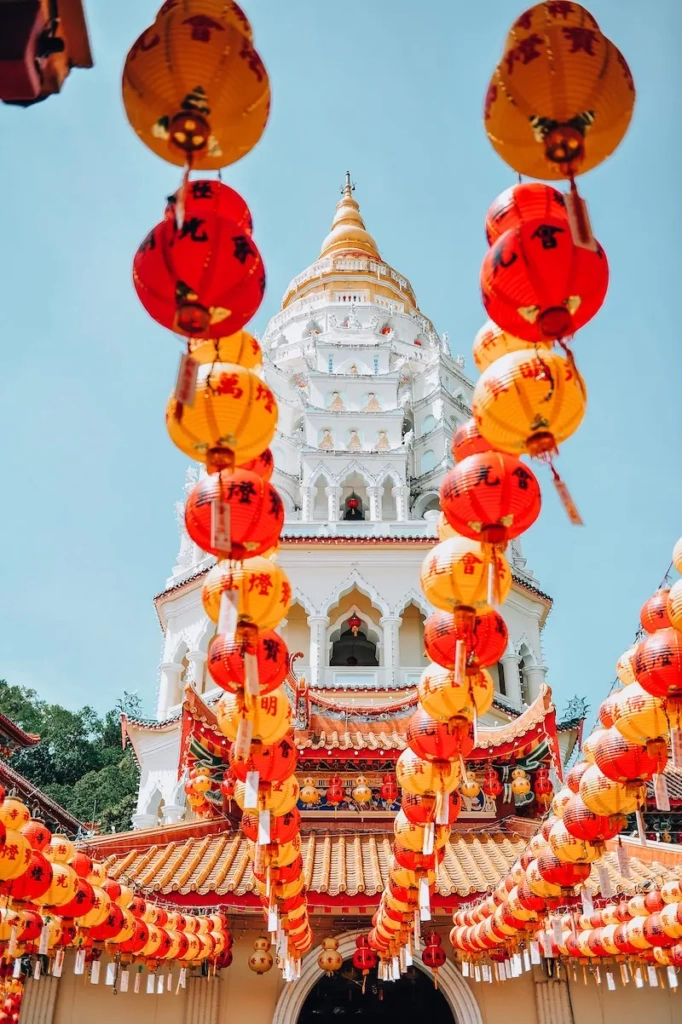 The temple is known for its unique pagoda, where multiple statues are exhibited and mixes 3 three sections with architecture varying according to the sections: its base was made in a Chinese style, its center is in Thai style and the top is Burmese style. There are lots of stairs to get to the top, but the view is so rewarding!
After the Pagoda head to the temple's various prayer halls, where you can witness ceremonies and rituals not seen anywhere else.
Pass through the absolutely incredible botanical gardens and enjoy a peaceful moment to stop and observe around you. Do you feel that inner calm?
The last part of the temple requires taking a funicular. At the top you can admire a 30.2-meter bronze statue of Kuan Yin, the Goddess of Mercy, which is the other must-see in this temple.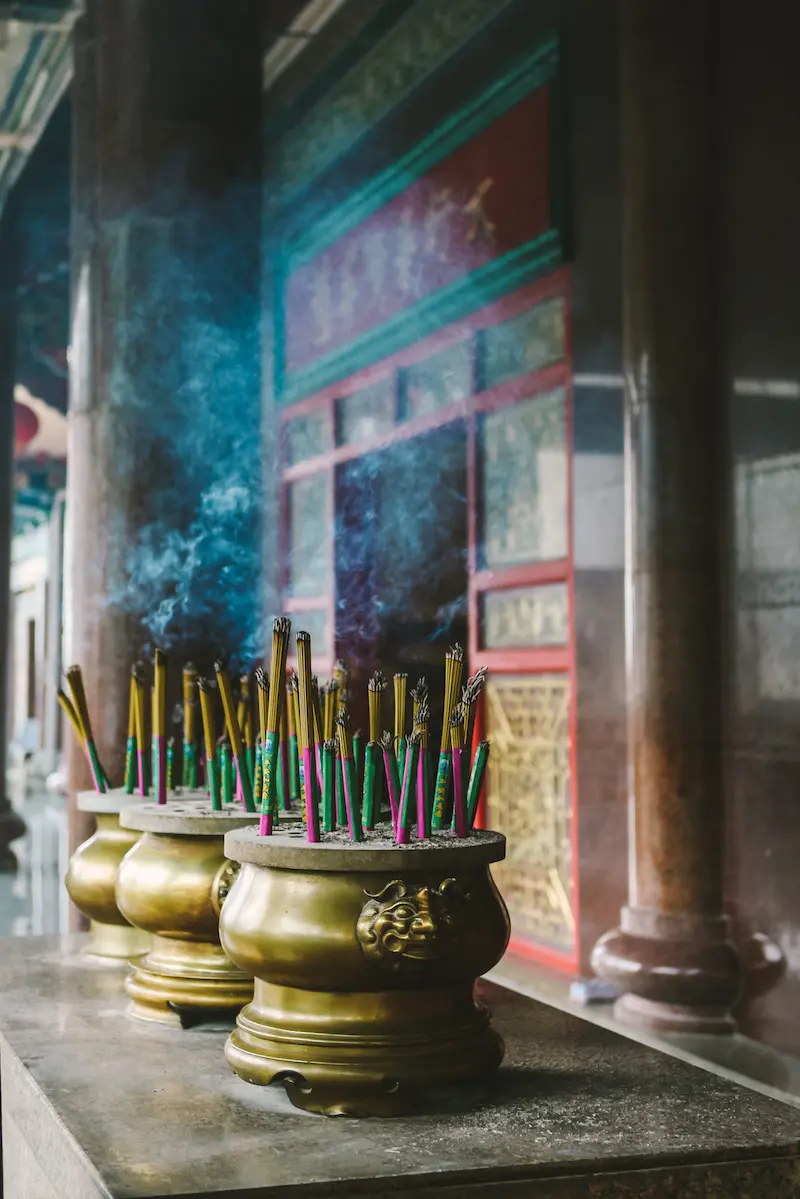 The entrance to the temple is free, but to access some sections such as the pagoda or funicular you will need to pay a little extra. The money is used to help maintain the temple, so it's for a good cause.
TIP: to enjoy a visit of Penang with Kek Lok Si Temple, you can book a private tour here.
READ: FULL GUIDE TO VISIT KEK LOK SI TEMPLE

---
13. Admire the stunning views at Penang Hill
Penang Hill is one of the best things to see in Penang!
The hill is home to a rainforest with many exotic plant species. It is the ideal place for those looking for a little peace and freshness.
To access Penang Hill you will need to take a funicular for about fifteen minutes. At the top, a platform offers a panoramic view of George Town and its surroundings. With a bit of luck, you will be able to observe monkeys and giant black squirrels.
Ideally, a whole day should be devoted to Penang Hill. On-site, you will find a lot of activities to do. There are lots of trails up there. On the hill itself, you can also find Hindu temples, mosques, restaurants, shops, and cafes.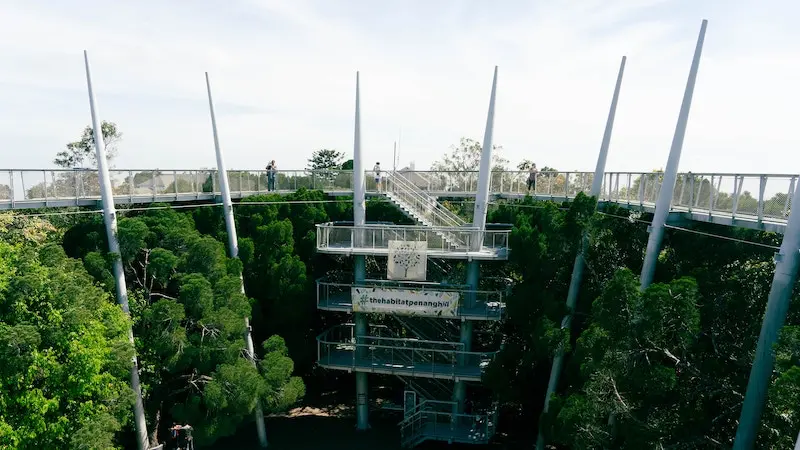 For nature lovers, don't miss The Habitat, a set of 100% nature attractions in the heart of the tropical jungle: paths, footbridges, zip lines, gardens, giant swings, an elevated platform, and much more. Book your ticket in advance here.
---
14. Visit Penang Botanic Gardens
If you like beautiful parks with a calm and relaxing atmosphere, then head to Penang Botanic Garden, it's free!
This is one of the prettiest parks in Penang and it's huge! There is such a vast variety of plants inside the Botanic Garden. There are also some unique fruits and fungi which are fascinating to discover.
There's a waterfall inside the park if you are walking far enough, so go there if you enjoy your long walk. You will also see lots of monkeys.
However, we recommend visiting the garden early morning to avoid the heat and humidity during the day!
---
15. Another must-see in Penang is the Spice Garden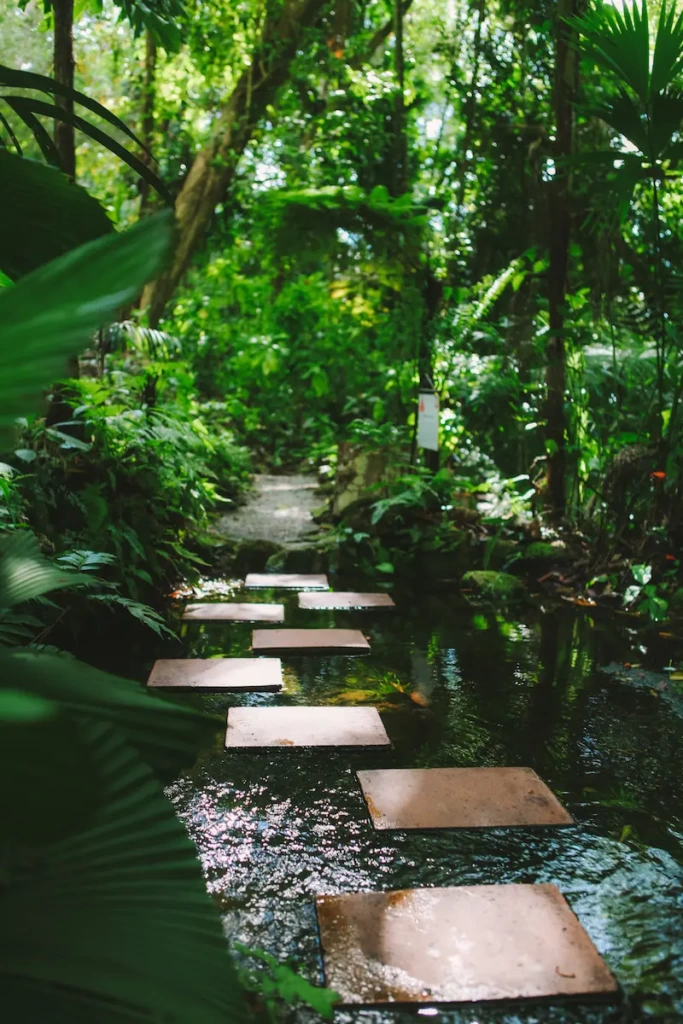 Lose yourself among the water lilies and discover how some of the most famous spices grow.
If you are looking for a slightly more food-oriented activity, we recommend going to the Tropical Spice Garden.
This lush garden lists more than 300 species of flora starting from fruits, palm trees, spices… An audio-guided tour is available to accompany you during this walk in the middle of the vegetation…
However, be prepared for mosquitoes attack! Make sure to spray some mosquito repellent before your visit of the park.
Towards the end of the park, there is a natural fish spa, where fishes from the river come and clean your toes! It's fun a experience. After that, enjoy a nice free cup of tea, freshly prepared daily.
This place is really peaceful and very well done, which makes it one of the best things to see in Penang! Count around 1h to 1.5h for the visit of the park.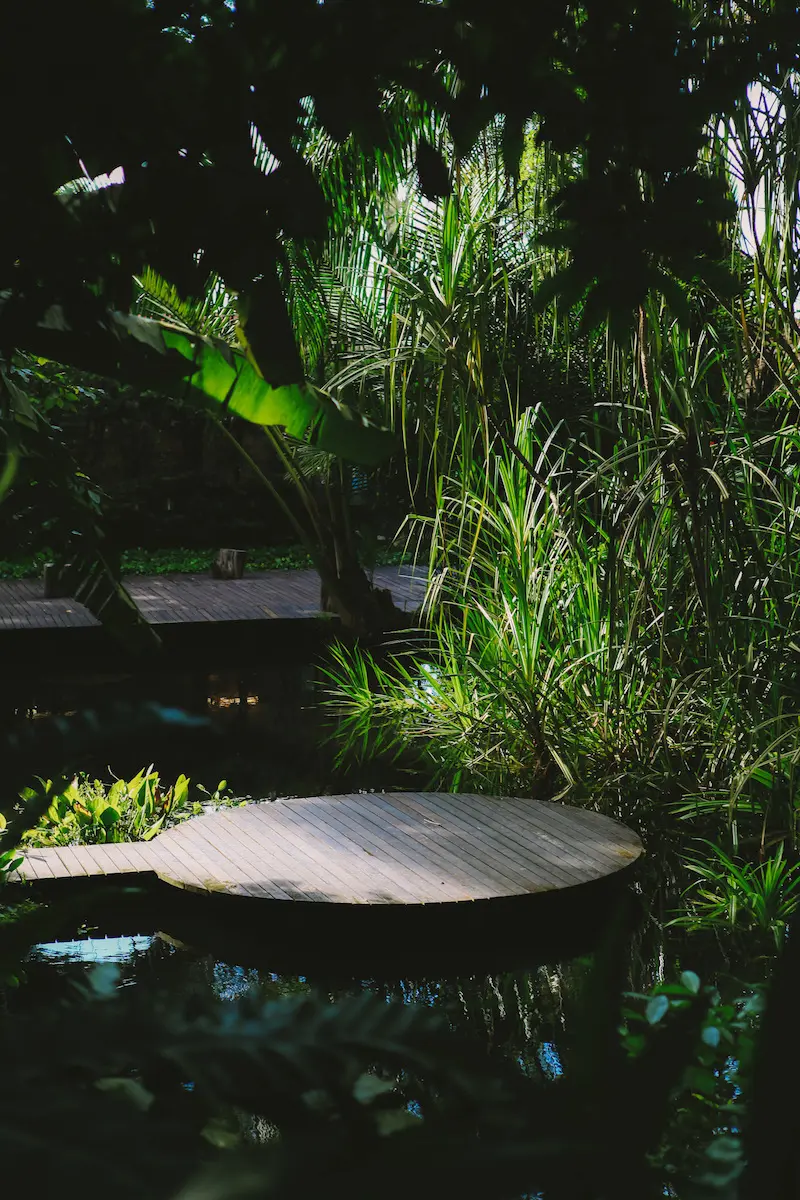 They also organize cooking classes, which are normally very full. So booking in advance is recommended.
READ: EXPLORE THE TROPICAL SPICE GARDEN IN PENANG
---
16. Continue your explorations at Penang National Park
This is Malaysia's smallest national park, however it is also one of the richest!
The Taman Negara Pulau Pinang (its name in Malaysian) has a surface area of 25 km2.
Among the ecosystems present in the park, there is of course tropical forest, fine sand beaches and coral reefs, but also mangroves and a meromictic lake.
These type of lakes are characterized by the fact that deep and surface waters do not mix (more on wikipedia).
The park is full of animals. You will most likely see huge lizards, monkeys, eagles, plenty of different birds etc.
There are a few ways to visit the national park. The most common one is to hike. There are 2 main trails. One leads to Turtle Beach (here) and the other one to Monkey Beach (here).
If you are not up for a hike in a humid and hot tropical environment, you can also get to Monkey Beach by boat. Can check all your options and get more information at the National Park Office located here. The jetty to get a boat is right beside the office.
More information about Penang National Park here.
---
17. Have fun at ESCAPE Penang!
ESCAPE Penang has been elected as one of the best theme parks in Malaysia!
Here you can experience many activities such as fun rides, tree climbs, acrobatics, water slides and a lot more! Even skiing!
If you come with kids or with a group of friends then this place is for you! You will have a memorable day at ESCAPE Penang!
ESCAPE Penang is located near the entrance of Penang National Park.
Location: here
Website: here (buy your ticket online for a cheaper price!)
---
18. Visit the floating Mosque
On your way back to George Town after a visit to ESCAPE or Penang National Park, make a stop at the floating Mosque, Masjid Daerah Timur Laut.
This beautiful Mosque is built on the water right by the ocean. This place is really scenic and the Mosque very well maintained. The praying hall is open to public.
It's a great place to relax and enjoy the breeze from the sea.
---
19. Relax at Batu Ferringhi Beach
Batu Ferringhi is considered to be the best beach in Penang. And for good reason! This peaceful beach is covered of white sand and calm water. Batu Ferringhi is also very clean.
There are many things you can do on the beach. Enjoy a meal at one of the many beachfront restaurant, rest on a sun lounger, have fun playing some watersports, you can even go on a horse ride by the beach! How amazing is that!
There are many quiet spots as the beach is very large, so don't worry if you just want to relax and enjoy some relaxing time.
---
20. And finally enjoy a great cup of coffee!
1. Norm Micro Roastery
This place is a true gem. After opening the huge door (without any name by the way), you will enter a magnificent place. The norm is our top 1 cafe in Penang. Their food is excellent too. We came here a few times for breakfast…
---
2. Picco Polo Cafe
Picco Polo is such a lovely and cute cafe in Penang. They have excellent coffee and a great choice of food! For all those influencers out there, this is one of the most Instagrammable cafes in Penang! You gonna love it.
---
3. White Smoke Restaurant
Not only a great cafe (but be aware that it only opens at 12pm), the White Smoke is an awesome restaurant in Penang. A great place to also enjoy a glass of wine at night and some amazing fusion food! Highly recommended in Penang.
Location: here
Website: here
For discounts at White Smoke, click here

---
4. China House
China house is a cute cafe in Penang serving some amazing desserts! It is also an artistic place with many things to see inside the cafe! This is a must-try in Penang!
---
WHERE TO STAY IN PENANG?
We recommend to stay either in George Town (actually this would be our first choice) or by the beach in Batu Ferringhi. It depends on what you intend to do during your stay in Penang.
For first-timers if you want to explore mainly the historical part of George Town, then stay in the city. There are so many historical hotels that have been refurbished. Those places are amazing!
If you prefer a relaxing holiday by the beach, then Batu Ferringhi would be more suitable for you. You can then do a day trip to the historical town and another day trip to Penang National Park or to Kek Lok Si Temple.
The Prestige Hotel Penang (The ultimate luxury experience)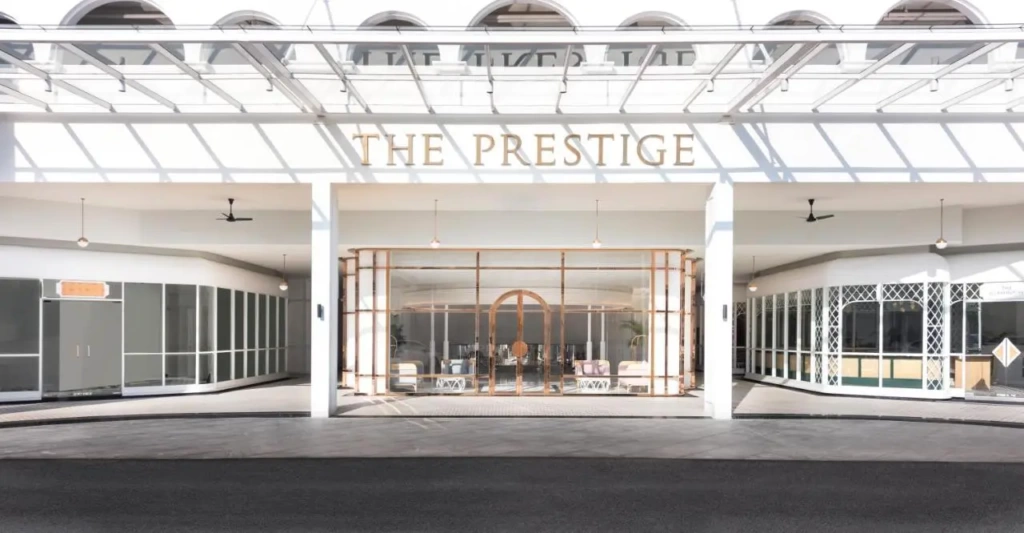 The Prestige is considered to be THE best hotel in Penang! So if you are in for a treat, why not booking this luxury hotel.
The hotel is designed with heritage style, blending perfectly within the historical part of George Town. It is located near all the main attractions.
The view from the pool is also breathtaking. All and all you gonna love your stat at Prestige. Trust us on this one.
>> CHEKC THE AVAILABILITY HERE <<
---
SAVV (the best value for money!)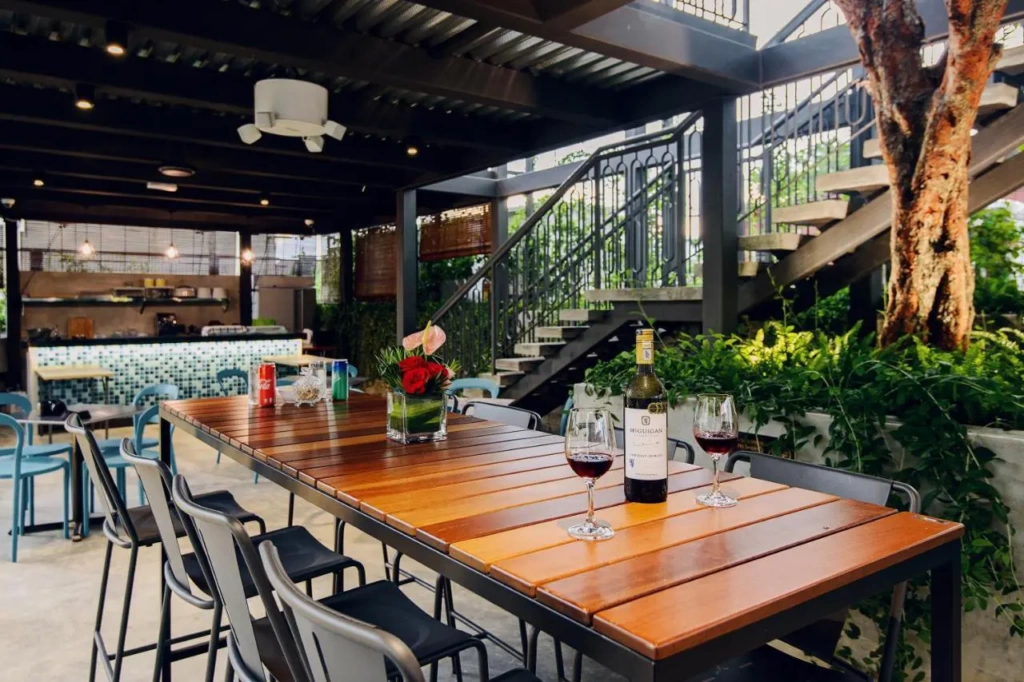 The SAVV hotel is an awesome place to stay in Penang. It's clean, modern, it has a lovely pool, and the location is unbeatable!
All that at affordable rate. We really recommend this hotel if you are staying in Penang but don't want to spend too much on your accommodation…
>> BOOK HERE NOW <<
---
Shangri-La's Rasa Sayang Resort & Spa (perfect for family and if you want to stay by the beach)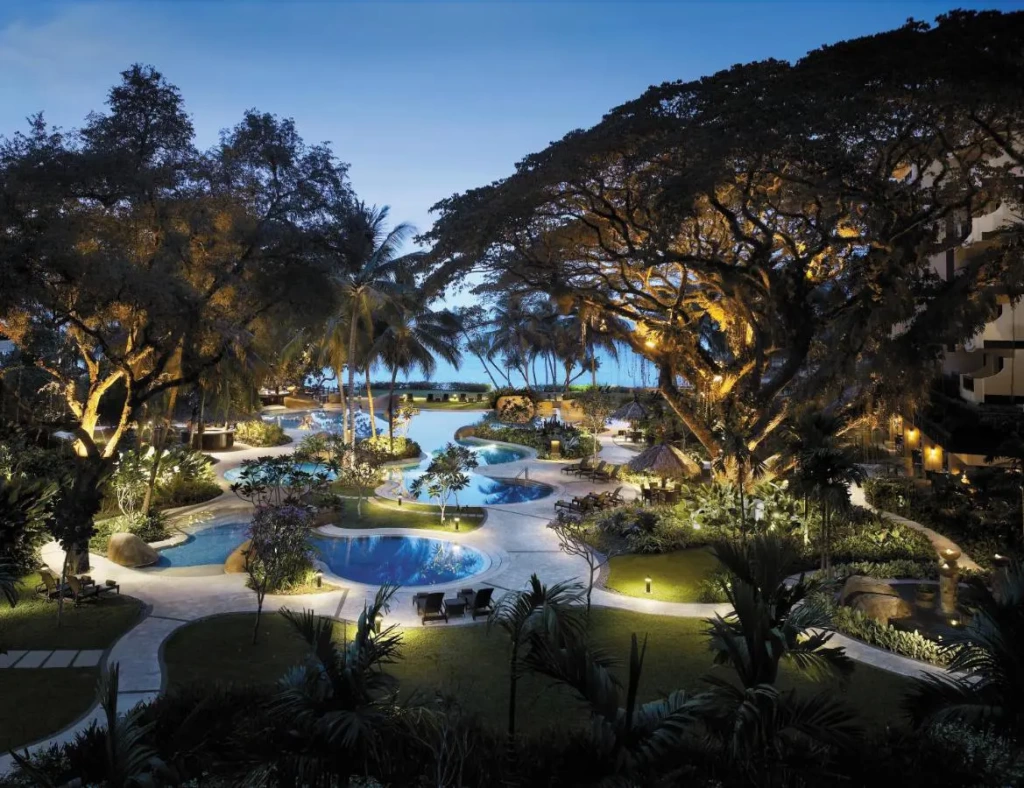 As we said earlier, we recommend to stay in the centre of George Town for a first visit in Penang. However, if you are going to Penang to relax, to eat its delicious food, and pamper yourself, then pick the Shangri-La! It's located right in front of Batu Ferringhi Beach!
>> CHECK IT OUT HERE <<
---
WHERE AND WHAT TO EAT IN PENANG?
Penang is a street food paradise.
At the markets in George Town, the advantage is that you can taste a bit of everything, even when you don't know what it is. In Penang, everyone speaks English, so it's very easy to ask the seller if his dish is spicy, vegetarian, sweet or salty…
From Streetfood to the markets of George Town, passing by the small restaurants, food is in abundance on the island of Penang. Indian, Chinese, Malaysian, Thai, Arabic, and of course Western cuisine. You can find everything, and at all prices.
Suggestions on restaurants in George Town:
Hameediyah in George Town: the oldest restaurant in nasi kandar serving Indian food. The food is excellent food, generous and cheap. No wonder why it attracts so many people every single day… (location)

Tok Tok Mee: fresh noodle made using bamboo. You can see the preparation of the noodles every day around 10am. (location)
Penang Road Famous Teochew Chendul: here you can try this sweet dish made of shaved ice with coconut milk, red beans and especially jelly noodles. Delicious! (location)
Suggestions for markets on Penang Island:
Chulia Street, Chinese or Indian cuisine, with all dishes ranging from MYR 2 to MYR 10.
Batu Feringghi Night Market
Sungai Dua Night Market
Kimberley Street Food Night Market closes around 9pm
MacCallum Street Monday Night Market
Tanjung Bungah Tuesday Night Market
Friday night market Pasar Malam Van Praagh
Famous dishes in Penang:
Char Kway Teow is a national favorite. It is a dish of flat rice noodles sautéed in soy sauce, prawns, cockles and bean sprouts.
Popiah is a kind of fresh spring roll. Think soft pancake-like skin wrapped in stewed radishes, fresh vegetables and a sweet, gooey sauce.
Asam Laksa is a spicy-sour soup made from fish, served with thick white noodles. In Penang, asam laksa gets its tart, fishy taste from tamarind and mackerel.
Nasi kandar is a meal of biryani (flavored) rice served with curries and side dishes. It is a Malay meal, originally from Penang.
Rojak means "mixture" in Malay. That's exactly what rojak is: a jumble of deep-fried batter, tofu, cuttlefish, and fruit smothered in a thick, syrupy sauce and sprinkled with peanuts.
Lor mee is a dish of yellow noodles and/or bee hoon (rice vermicelli) dipped in a thick, dark sauce.
Mee Goreng: If you love noodles, you can't leave Penang without trying the local mee goreng. Mee goreng is a fried noodle dish. Thin yellow noodles are fried with garlic, onion and shallots.
Fried Oyster Omelette! This is our favorite in Penang. Also called oh chien, this dish is made with eggs, oysters and tapioca flour. Simple but divine taste! You gotta try.
---
HOT TO GET TO PENANG?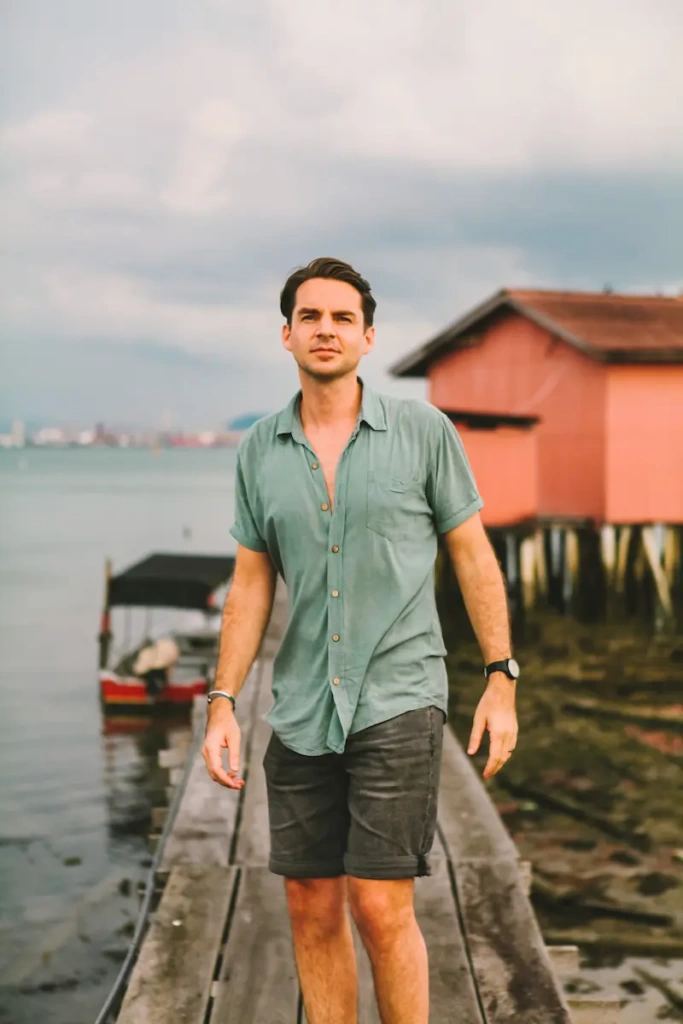 By bus from Kuala Lumpur
George Town is very well connected from Kuala Lumpur, it is one of the major transportation axes. Buses mainly depart from Terminal Bersepadu Selatan and arrive at Penang Sungai Nibong bus terminal (which is 20 minutes from George Town). The trip takes about 4h30 and costs between 38 to 42 RM depending on the bus company.
You can check the timetable and book directly here.
By Flight from Kuala Lumpur
Flying to Penang is also a great option. The flight is only 1h and the price is relatively low with Air Asia or MY Airline. Check it out here.
Driving to Penang
Although Penang is an island, it is connected by a bridge to the mainland. Hence, it makes it very easy to drive to Penang from anywhere in Malaysia Peninsula. From Kuala Lumpur it takes about 4h30.
---
OTHER USEFUL INFORMATION
Getting Around Penang
To get around Penang you have many options. Public bus, taxi, bicycle, motorcycle. The easiest way to get around is by getting a GRAB (the main ride hailing company in Malaysia).
The good thing though about visiting Penang, is that within Georgetown pretty much everything is walking distance! Another reason why we like this place so much!
You can also book a popular rickshaw tour here.
---
Best Time to visit Penang
Every year, George Town hosts a very important cultural and artistic festival. Exhibitions, dance, theatre, and street arts, it is a rich program that animates the city. It usually takes place at the end of August-beginning of September. It is simply called the George Town Festival, see here. Going there during that time would be a great idea to enjoy something special in Penang!
Another time when it can be interesting to visit Penang is during the Chinese New Year period. Visiting the Ke Lok Si temple at night during the illuminations is really magical.
In terms of weather, Penang is like any other island in northwest Malaysia. The weather is humid and warm throughout the year. The average temperature in the city is 28°C and its highest temperature is 32°C.
The best time to visit Penang Malaysia is between December and February as it gets less rain. The worst period to visit Penang is between September and October, when the island becomes overwhelmed by tropical rains.
---
How many days to visit Penang?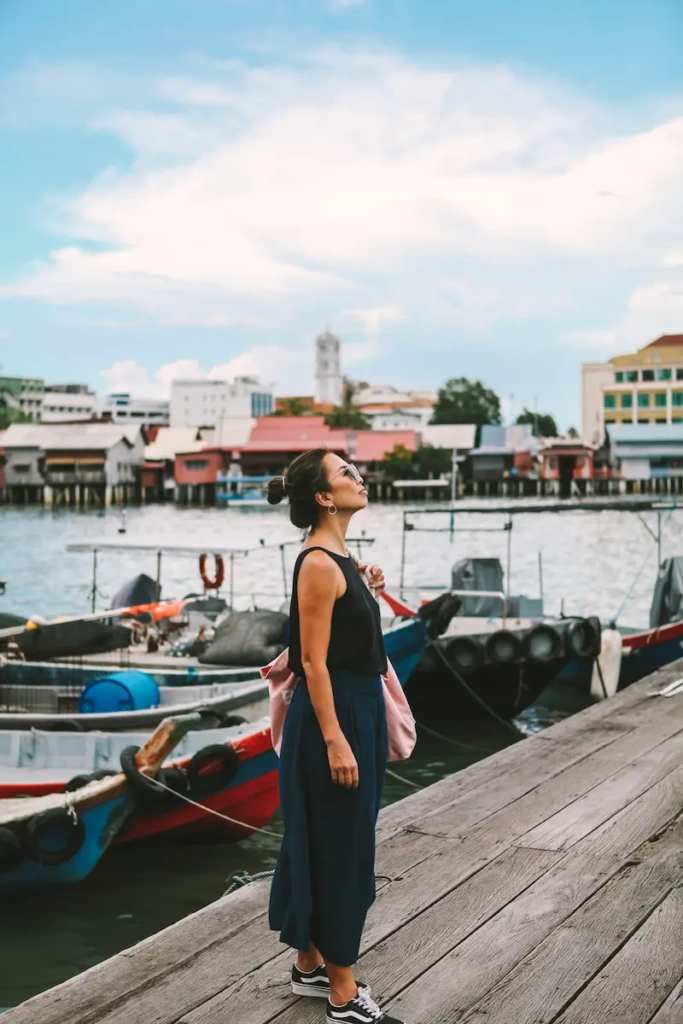 We recommend at least 3 days to visit Penang. Of course, you can easily stay longer and enjoy the beach, a hike in the National Park, and explore the surroundings.
---
Penang, a new hotspot for Digital Nomads?
Many friends told us that Penang was becoming a new Digital Nomads hotspot. Uh, really, Penang? We never thought about it as a place to live long-term.
But we were actually quite surprised. Penang definitely ticks many boxes for Digital Nomads. It is cheap, it has excellent internet coverage, it has countless of cafes and co-working spaces, the city is fun, there are many great beaches to relax in, everyone speaks English, and the airport is well connected!
So yes, we would definitely recommend Penang as a good place for Digital Nomads.
READ: BEST PLACES IN THE WORLD FOR DIGITAL NOMADS
---
IN CONCLUSION – IS PENANG WORTH VISITING?
To conclude, we really like Penang. It is definitely one of the best things to see in Malaysia.
The old part of George Town is absolutely fascinating with the many shop houses and the history mixing Chinese, British and Indian influences.
If you are planning a trip to Malaysia, make sure to add Penang in your itinerary.
See our Reel below from our trip to Penang
---
Related posts
AWESOME PLACES TO SEE IN LANGKAWI
DISCOVER THE SUMPTUOUS BLUE MANSION OF CHEONG FATT TZE IN PENANG
VISIT THE CLAN JETTIES IN PENANG!
FULL GUIDE TO VISIT KEK LOK SI TEMPLE
15 FUN FACTS YOU DIDN'T KNOW ABOUT MALAYSIA!
5 BEST REASONS TO VISIT GEORGE TOWN IN PENANG
BEST THINGS TO DO ON TIOMAN ISLAND, MALAYSIA
BEST THINGS TO DO IN GENTING HIGHLANDS