WHAT ARE THE BEST THINGS TO DO IN LANGKAWI? HOW MANY DAYS TO VISIT LANGKAWI? WHAT ARE THE BEST ACTIVITES IN LANGKAWI? WHEN IS THE BEST TIME TO VISIT LANGKAWI IN MALAYSIA?
Langkawi is one of the best islands in Malaysia. Most islands in Malaysia are less known compared to Thailand, the Philippines or Vietnam, but they are equally nice, if not more! They are often the best kept secret places of Asia with much less tourists compared to other Asian countries.
Langkawi consists of 99 islands. It is the ultimate paradise getaway and only a short fly away from Kuala Lumpur, the capital of Malaysia.
"Langkawi received the UNESCO Global geopark status in 2007!"
Largely unknown to tourists until the 1980s, Langkawi achieved what many destinations failed to do, balancing a rapid tourism boom with the preservation of over 65% of its natural habitat. Langkawi received UNESCO Global Geopark status in 2007.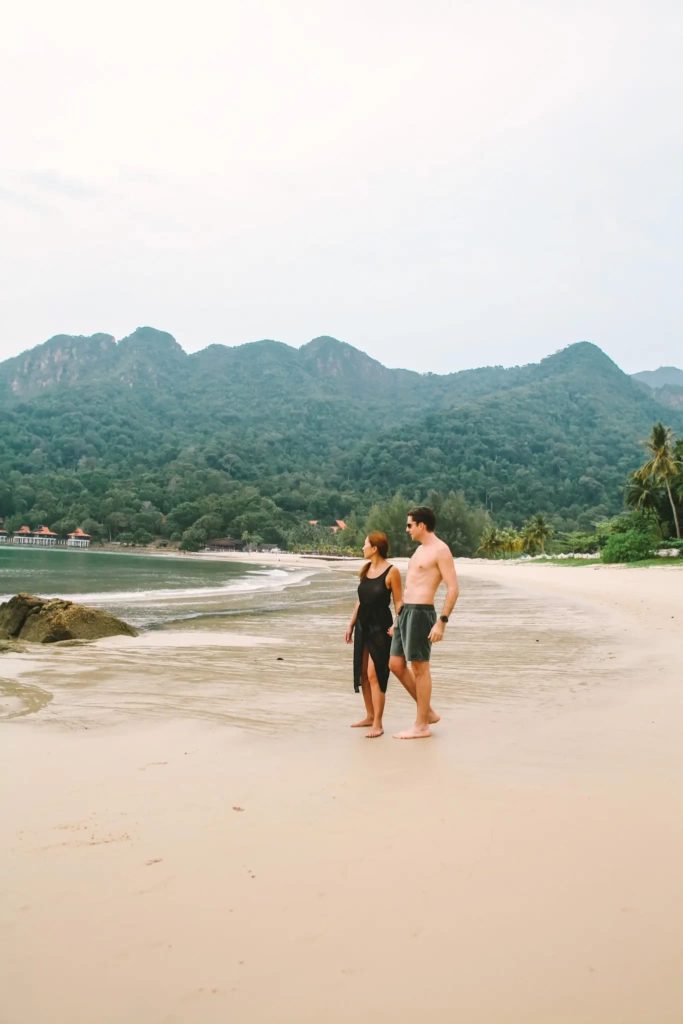 The island is home to lush forests, white sand beaches, waterfalls, caves and mangroves.
Besides its natural beauty, it is an island rich in traditional Malay culture. Like everywhere in Malaysia, you can find delicious food around the island.
In this post, we listed the best things to do in Langkawi, the best places to stay, where to eat and a lot more. We hope that you will find this full guide about Langkawi helpful.
To start with, check out some impressions of Langkawi:
---
WHAT TO DO IN LANGKAWI?
1. Start your exploration of Langkawi with the famous cable car and skybridge!
You've probably seen some photos already of the suspended bridge between 2 high mountains with the sea in the background! Well, it's in Langkawi, and it's one of the reason why the island became so popular since its construction!
Needless to say, it's a must see during a trip to Langkawi!
To get there, rest assured, you won't have to hike all the way up! You won't have to hike at all in fact. There is a fun cable car ride taking you all the way to the top of the mountain.
The particularity of the skybridge is that it is curved crossing 2 peaks with an incredible view. The bridge's length is 125m and located 700m above sea level!
Our recommendations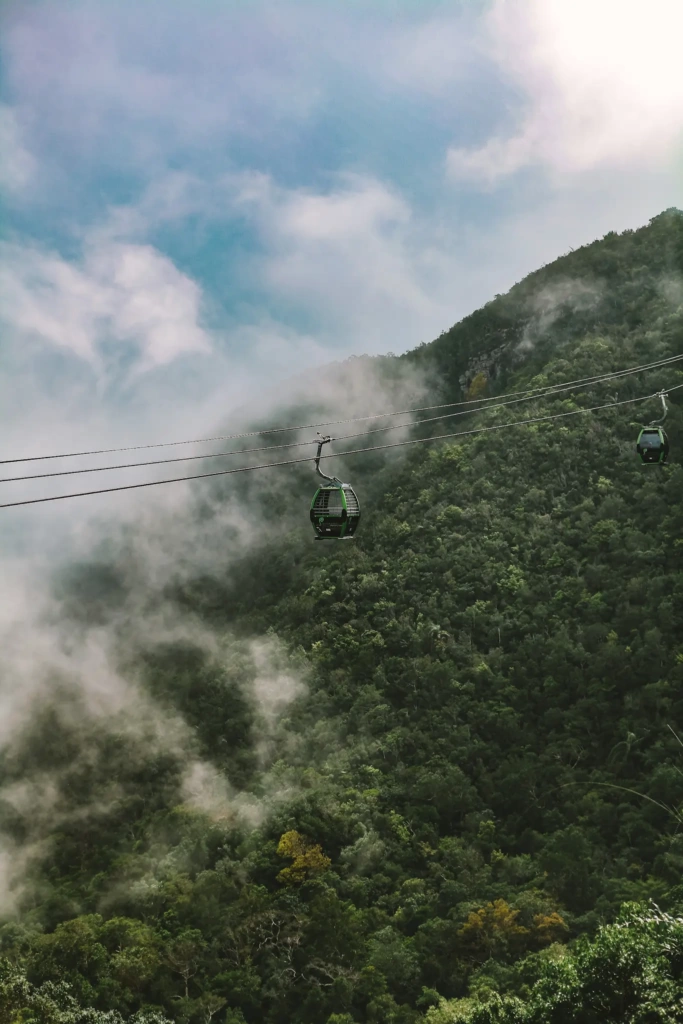 GO IN THE MORNING: Be aware that it can get very cloudy up there from time to time and the weather can change in just a few minutes. Normally the weather is clearer in the morning, so we recommend starting your exploration of Langkawi with this activity (although it might be more crowded during that time)…
BOOK ONLINE TO DIRECTLY ACCESS THE BRIDGE: Last thing to bear in mind, is that your cable car ticket doesn't give you access to the bridge. You'll need to pay an additional fee to cross the bridge at the top, unless you book online HERE and select Skybridge as add-on.
Website: here
Location: here
---
2. Combine your visit of the skybridge with the Oriental Village
Actually the cable car to access the skybridge is located in the middle of what is called "Oriental Village". This is a sort of mini amusement park with lots fo activities, 3D art museums, shops, a small zoo, a VR simulator, restaurants, cafes and a nice promenade overall.
The good thing is that your cable car ticket gives you access to other activities such as SkyRex.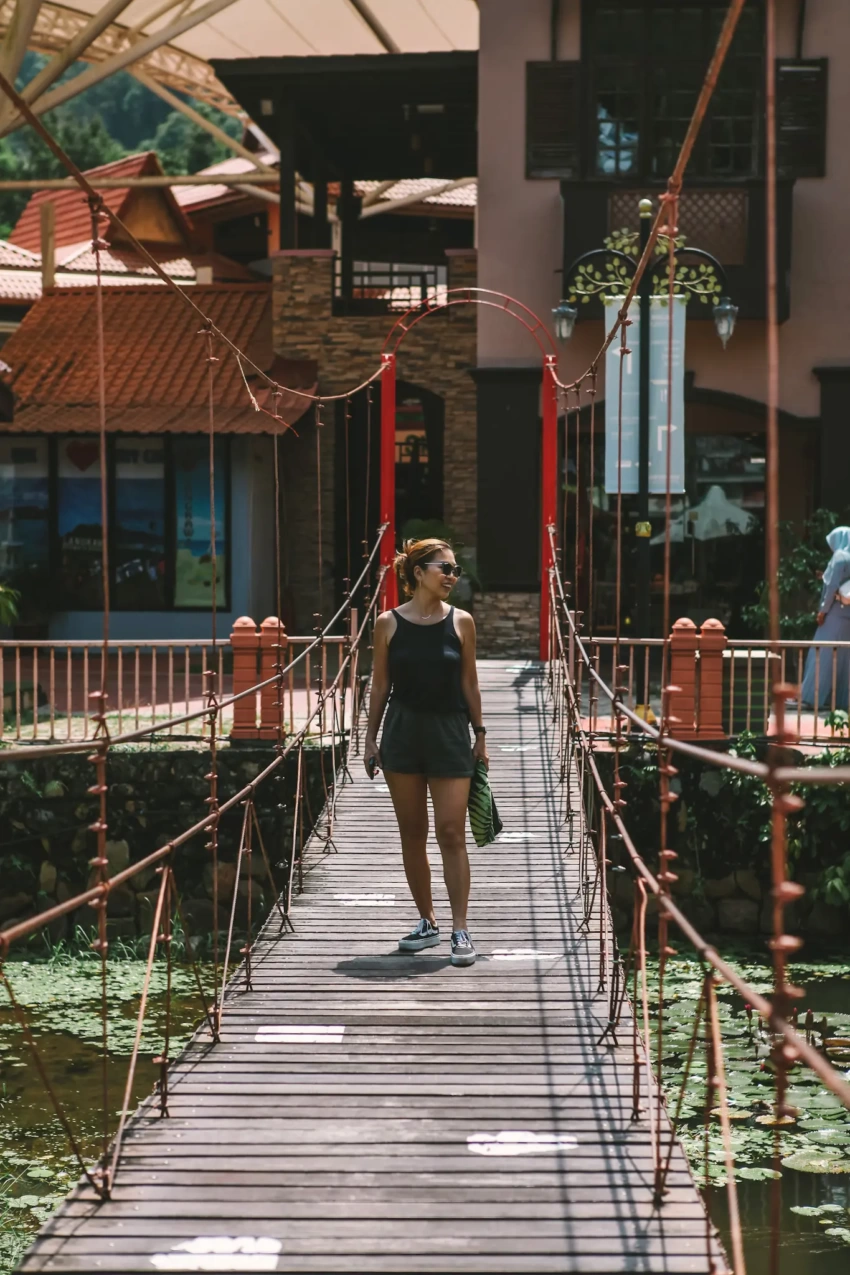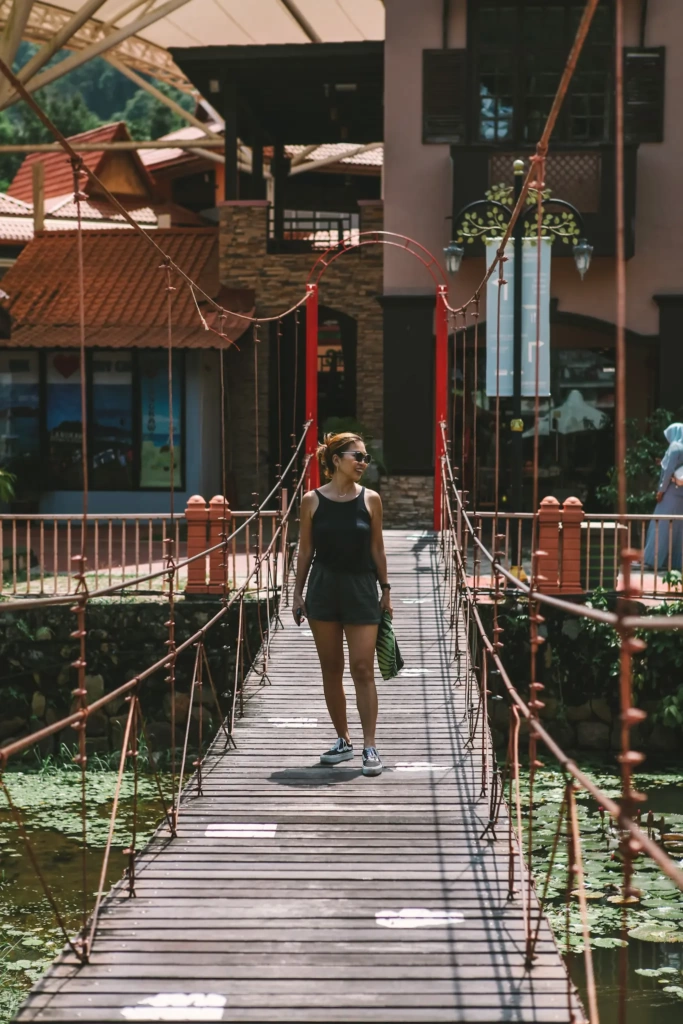 If you are with kids you will have lots of fun over there, you can easily spend half day exploring the park.
If you visited the skybridge in the morning and then the oriental village, it's probably lunch time, so we recommend enjoying your lunch there in one of the many restaurants before heading to the next activity in Langkawi!
Location: here
---
3. Near the Oriental Village you can swim at one of the most stunning waterfalls in Langkawi: Telaga Tujuh
Surrounded by thick jungle, the majestic Telaga Tujuh Waterfalls are among the most magical sights on the island.
It is easy to imagine that fairies once bathed in its seven pools, as legend has it. Springing from the side of Mat Cincang Mountain, the series of waterfalls plunge into seven different pools, in which you can bathe.
The picturesque setting really makes this a peaceful place to spend an afternoon. In the surrounding trees you can often see beautiful birds and lots of monkeys.
However, be aware that the access to Telaga Tujuh is not super easy. It requires a 45min steep climb from the parking lot at the Oriental Village. But once you reach the top, stunning viewpoints await you!
If you are not up to such a hike, which we understand (no judgment here), then simply look to your right from the cable car on your way up the skybridge. You will partially see the waterfall.
Location: here
---
4. Next in your itinerary, head north for a stunning Mangrove tour by boat (Kilim Geopark)!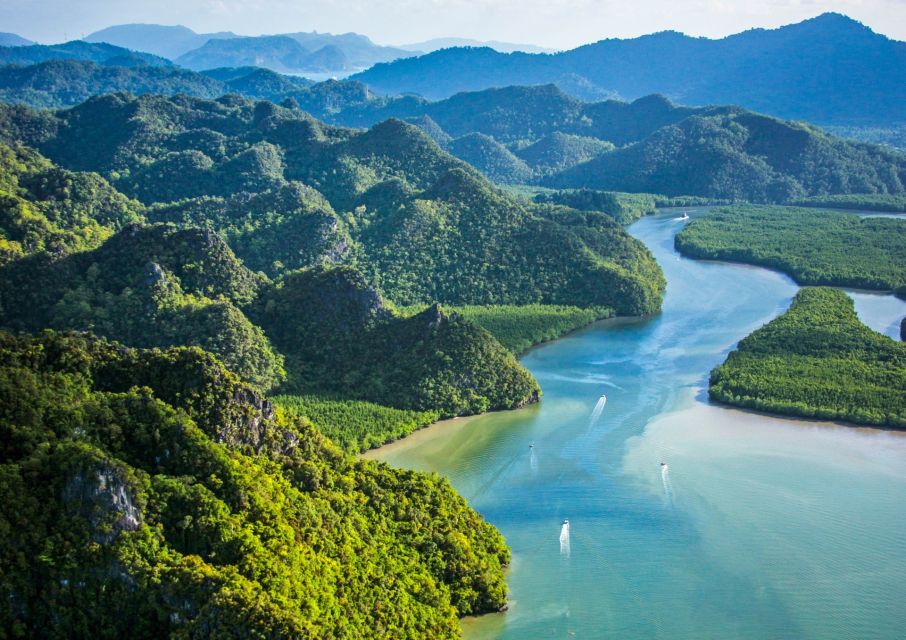 A Mangrove tour in Langkawi is an absolute MUST! This was by far our favorite activity on the island (even more than the skybridge)!
To get there, you will need to drive for about 30min from the Oriental Village, to Tanjung Rhu Mangrove Jetty (here). From there 1.5 hours of amazing exploration await you inside the UNESCO Park: Killim!
Comprising colossal limestone rock formations (don't miss the impressive Gorilla mountain shaped like one), beautiful beaches, and large lagoons, the Kilim Geopark is full of amazing landscapes to explore.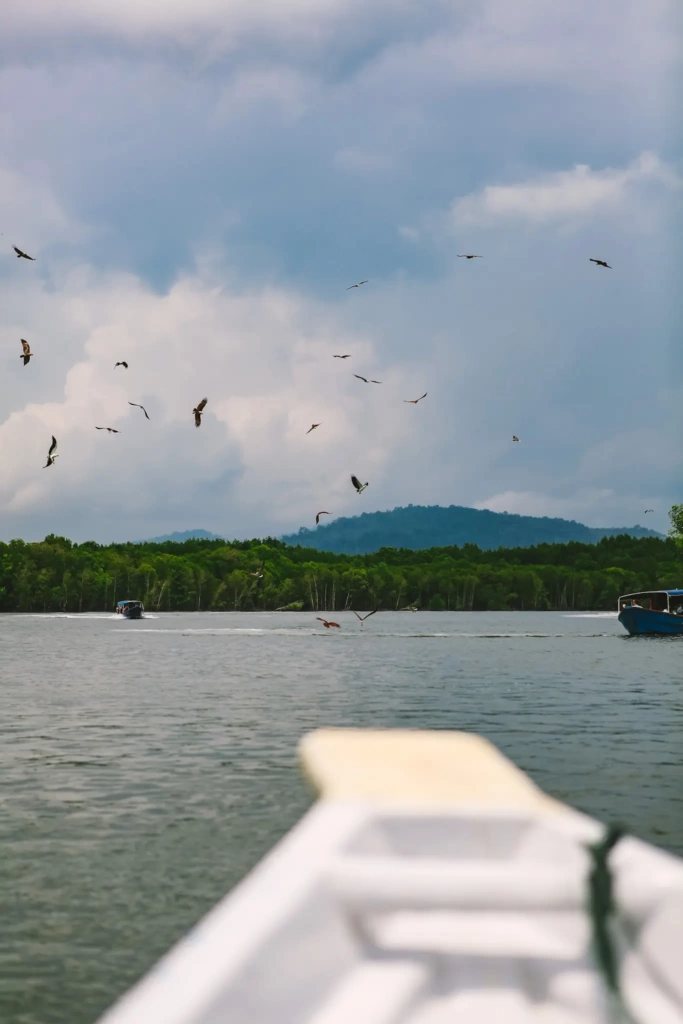 As the park is made up of several river basins and several offshore islands, the best way to see its many wonders is to take an unforgettable boat trip around its swamps, rivers and mangroves.
You will be able to observe countless monkeys inside the mangrove, beautiful eagles, huge lizard and thousands of bats in a bat cave! if you are a nature lover, a boat trip inside the Killim Geopark will amaze you!
There are 2 jetties from which you can embark on a boat tour. However, we highly recommend the one located here in Tanjung Rhu. Why? Because the tour is much bigger crossing the sea at some points to also explore the gorgeous Andaman Sea.
From afar you will even see Thailand! Yup, Langkawi is that close (more on that later).
Oh, and just in case, the other jetty is located here.
Don't wait, BOOK YOUR TOUR HERE
---
5. Relax at Tanjung Rhu, one of the best beaches in Langkawi
Located at the northern end of Langkawi, Tanjung Rhu is one of the most beautiful beaches in Langkawi! You will see the beach on your way to the jetty for the mangrove tour.
If you are in a rush, at least make a quick stop to see the beach, it's worth it.
This secluded location means that there are fewer tourists than in the rest of the island, and the beach is super clean! We love this place.
With its craggy limestone islets set offshore amid sparkling turquoise water, and thick jungle backing onto its white-sand beach, Tanjung Rhu offers a spectacular sight.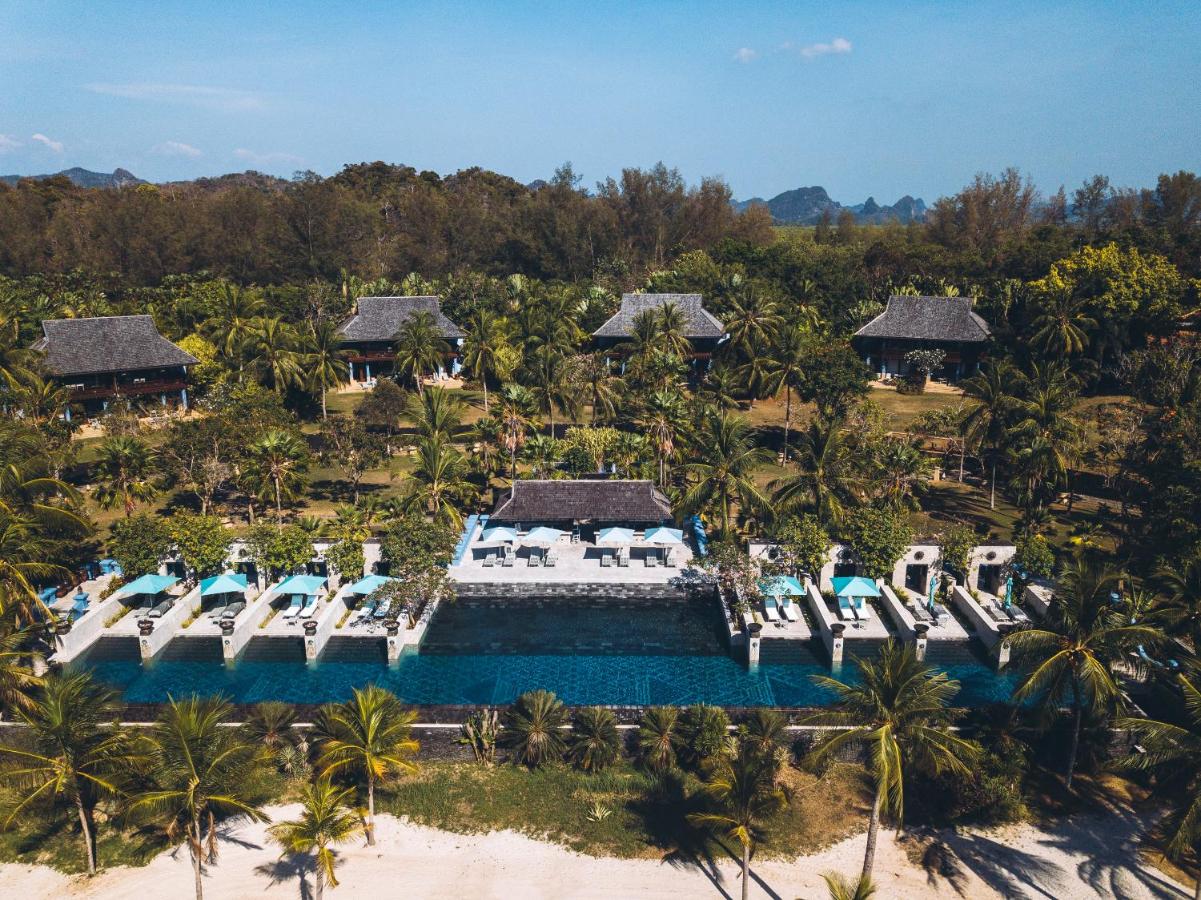 If part of the beach is reserved for guests of the high-end resorts that are located by the beach (such as the gorgeous Four Seasons, which by the way we highly recommend, – SEE HERE), the rest is free and you can relax there as you wish pretty much by yourself!
And if you are there around lunch time, head straight to Scarborough Fish & Chips, one of our favorite restaurants in this part of the island. They serve one of the best fish and chips we ever ate! And the view from the restaurant is stunning.
Expect a bit of waiting time until you can get seated though, this place is really popular! (Location: here).
READ: THE 5 BEST BEACHES IN LANGKAWI
---
6. If you are into water activities, head to Cenang Beach
Cenang Beach is the most famous and popular beach on the island. Cenang Beach is located southwest of Langkawi not far from the airport.
It has everything you could want in a beach. Stretching for almost two kilometers, its soft, powdery sand is lined with a host of fantastic bars, restaurants, and hotels.
In addition to its many amenities, you can try many different water sports, such as jet-skiing, snorkeling, and parasailing.
As it is famous for its sunsets, many people visit its bars and cafes as evening approaches to watch the sun go down and enjoy another day in paradise.
Location: here
---
7. Have fun at Langkawi Underwater World
With some 500 different types of fish and marine species, Underwater World Langkawi is the place to go if you want to learn more about the many underwater wonders of the island and archipelago.
The largest aquarium in the country has an almost endless array of tanks you can walk past; they are home to everything from seahorses and stingrays to sharks and turtles.
The main attraction is its amazing underwater tunnel, which takes you through a gigantic tank where a myriad of colorful fish and sea creatures swim around.
Located in Pantai Cenang, Underwater World Langkawi is part of a large shopping complex, so you can shop or grab a bite to eat after seeing the aquarium.
Location: here
Website: here

>>BOOK ONLINE FOR DISCOUNTED PRICE<<
---
8. Near Cenang Beach check out the beautiful rice fields at Laman Padi
There are plenty of rice fields in Langkawi. Here at Laman Padi it is combined with a museum. The rice paddy is rather small, but very pretty nonetheless with lots of spots to take nice photos.
If you take a guide during your visit, which we highly recommend, then you will get a lot of explanations about how to harvest rice, but also other plants such as cinnamon and lemongrass.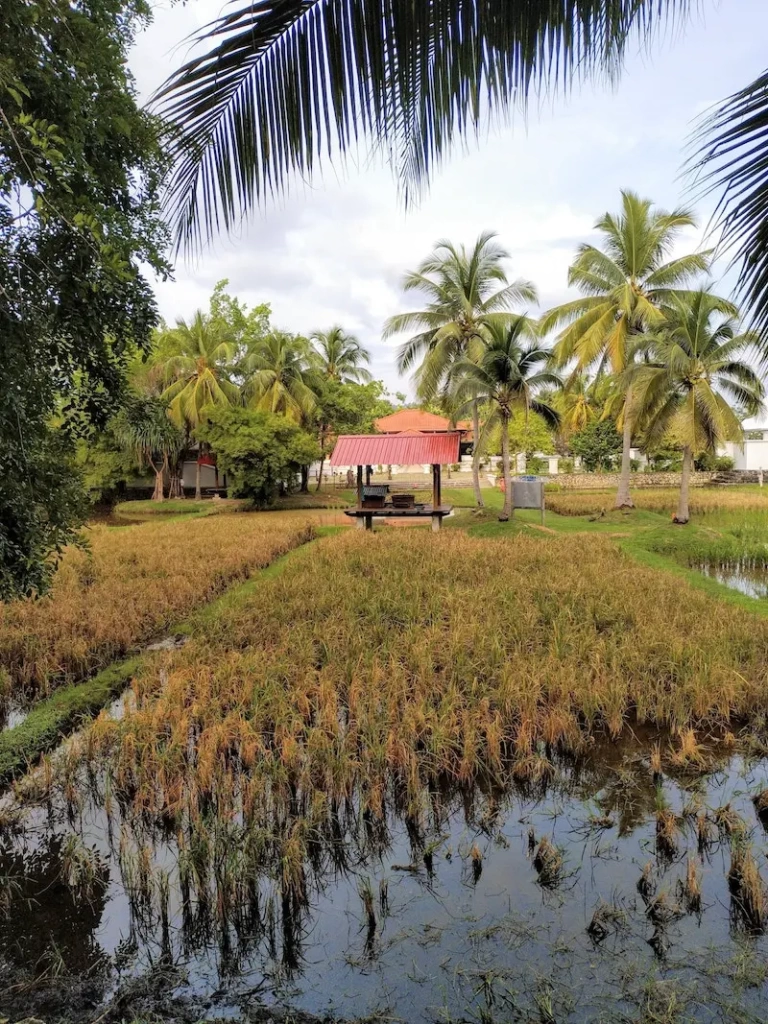 You can easily spend 1 or 2 hours at Laman Padi.
There is also a nice traditional restaurant inside. It's a perfect place to have lunch!
If you drive around Langkawi, you will see many other beautiful rice fields, especially in the center of the island.
---
9. Visit the agrotechnology park MARDI in Langkawi
This was one of the most fun experiences we had in Langkawi.
It is a fruit farm, hosting more than 30 different fruits, and depending on the season you get to taste different ones.
It's about a one-hour tour, where a guide will drive you with a buggy through the park with many stops for you to taste the fruits, feed some fish, and take pictures of many different places.
The are many nice scenic spots around the park.
We found this tour to be very instructive and a lot of fun thanks to our guide.
---
10. Enjoy a sunset cruise
If you've been following us for a while (our Insta), you would know that we love sailing! We met on a boat, we got engaged on a boat, and we married on a boat! Needless to say, we never miss an occasion to be on a boat.
Good thing, is that Langkawi offers many opportunities for a boat trip. We opted for the sunset cruise! And it was A-M-A-Z-I-N-G!
We could watch a stunning sunset while enjoying some drinks and food cooked on the boat. Our crew was super fun and everyone started dancing and singing towards the end of the journey.
It was a memorable trip and something we highly recommend doing in Langkawi. It is also kids friendly.
>> BOOK YOUR CRUISE HERE <<
---
11. Have a lot of fun Ziplining at SKYTREX Adventure Langkawi
If you are into outdoor adventures, then Langkawi is for you. Next on your list of things to do is the Skytrex Adventure Park.
There you can enjoy a Zipline exploration high up in the trees in the midst of the Jungle. We've been to many Zipline before, and this was one of the best ones we did!
You can choose different courses depending on your difficulty level. More information here!
Location: here (near the Skybridge and Oriental Village)
---
12. Explore the neighboring island of Dayang Bunting Island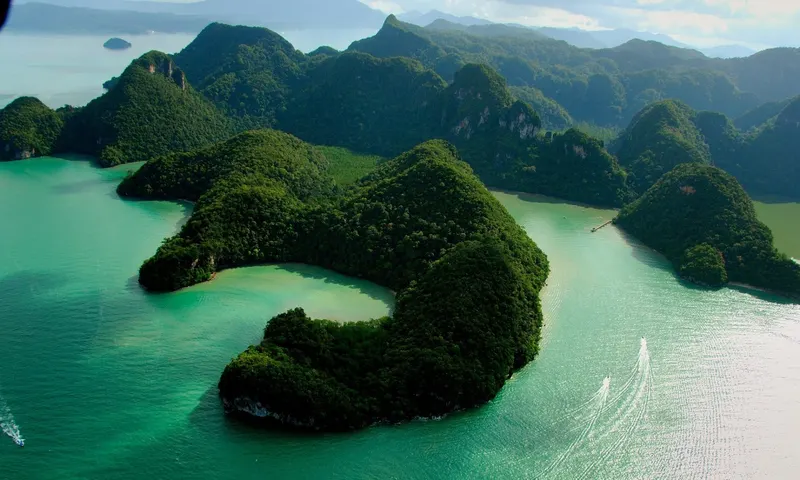 Located a short boat or jet ski ride south of Langkawi, Dayang Bunting is the second largest island in the archipelago and is a hugely popular tourist attraction.
Meaning "lake island of the pregnant maiden", Dayang Bunting has a distinctive silhouette resembling that of the pregnant princess of the local legend who gave her her name.
The lake is the largest freshwater lake in the country. It is absolutely amazing as the lake is not near the ocean but at the same time surrounded by forests and mountains.
Apart from swimming or kayaking around the lake, visitors can also hike in Dayang Bunting Marble Geoforest Park and explore the island's many interesting rock formations and caves.
The best way to visit the lake and the rest of the island is with a private boat tour. The boat will start from Cenang Beach. >> CHECK IT OUT HERE.
Location: here
---
13. Visit Eagle Square
Featuring a huge eagle statue that towers over the surrounding waters, Eagle Square is one of the most recognizable and iconic spots on the island.
Apart from the twelve-meter-high statue that dominates the square, there are also pretty little fountains and gardens, as well as a few cafes and restaurants.
Offering fantastic views of the Straits of Malacca, Dataran Lang – as it is called in Malay – is well worth a visit, and a number of other attractions, such as the fantastic Langkawi Night Market, are nearby.
The Eagle is the symbol of Langkawi.
Nearby there are 2 beautiful hotels with private beach, The Westin and the St. Regis. A great choice if you are not on a budget when visiting Langkawi.
Location: here
---
14. Visit a night market in Langkawi
One of the best things to do in Langkawi is to visit a bustling Night Market.
The night market is located at different locations each evening, so it's good to check in advance; one evening he will be in Kuah and another in Kedawang, Padang Matsirat, or Pantai Cenang.
Strolling around is great fun, as stalls sell everything from t-shirts and souvenirs to handbags, sunglasses, and paintings. The main attraction, however, is the incredibly cheap and delicious local food that you can find at the market!
Grilled seafood and chicken satay are among the most popular dishes. The very relaxed and welcoming Langkawi Night Market is not to be missed if you want a taste of local culture and cuisine.
It makes up for a great evening overall.
More info on the night markets here.
---
15. Visit the nearby island of Koh Lipe in Thailand
Yes, you read that right! Thailand is super close to Langkawi. So close, that it only takes 1.5 hours by boat to reach the paradise island of Koh Lipe!
So if you are traveling through Asia, a good way to go from 1 country to the other is by taking the boat from Langkawi to Koh Lipe or vice versa.
There is a lot to see in the beautiful Koh Lipe Island.
Indeed, Koh Lipe has some of the most beautiful beaches in Thailand. There are 3 main beaches on the island: Sunrise Beach, Sunset Beach, and Pattaya Beach. We especially recommend the first two.
It is also a great spot for diving or snorkeling.
To book your boat trip ticket, head here.
---
Where to stay in Langkawi?
The most touristy place on the island is at Cenang Beach, this is where you will find most hotels. However, there are other great location around the island which feel a bit more secluded.
Here is our top recommendations on the best places to stay in Langkawi:
Berjaya Langkawi Resort (the best value for money)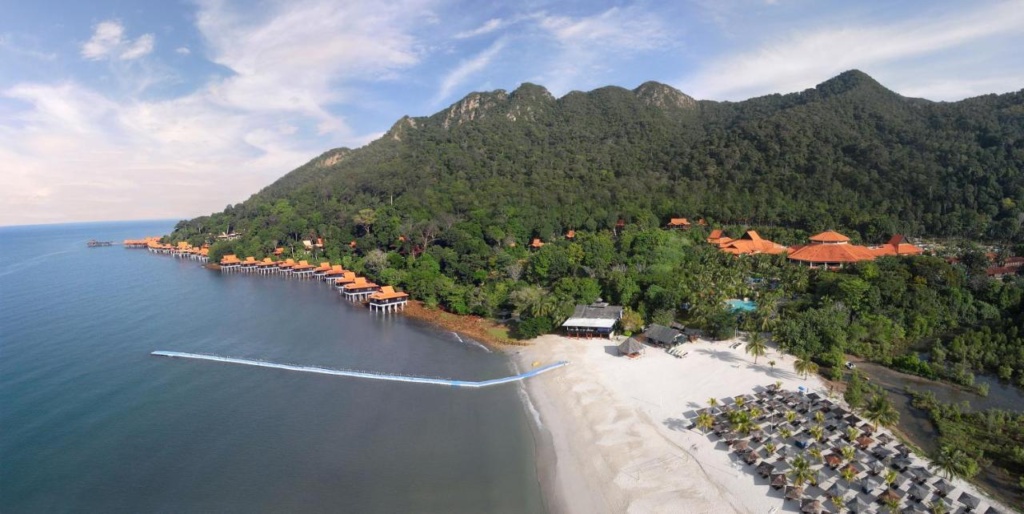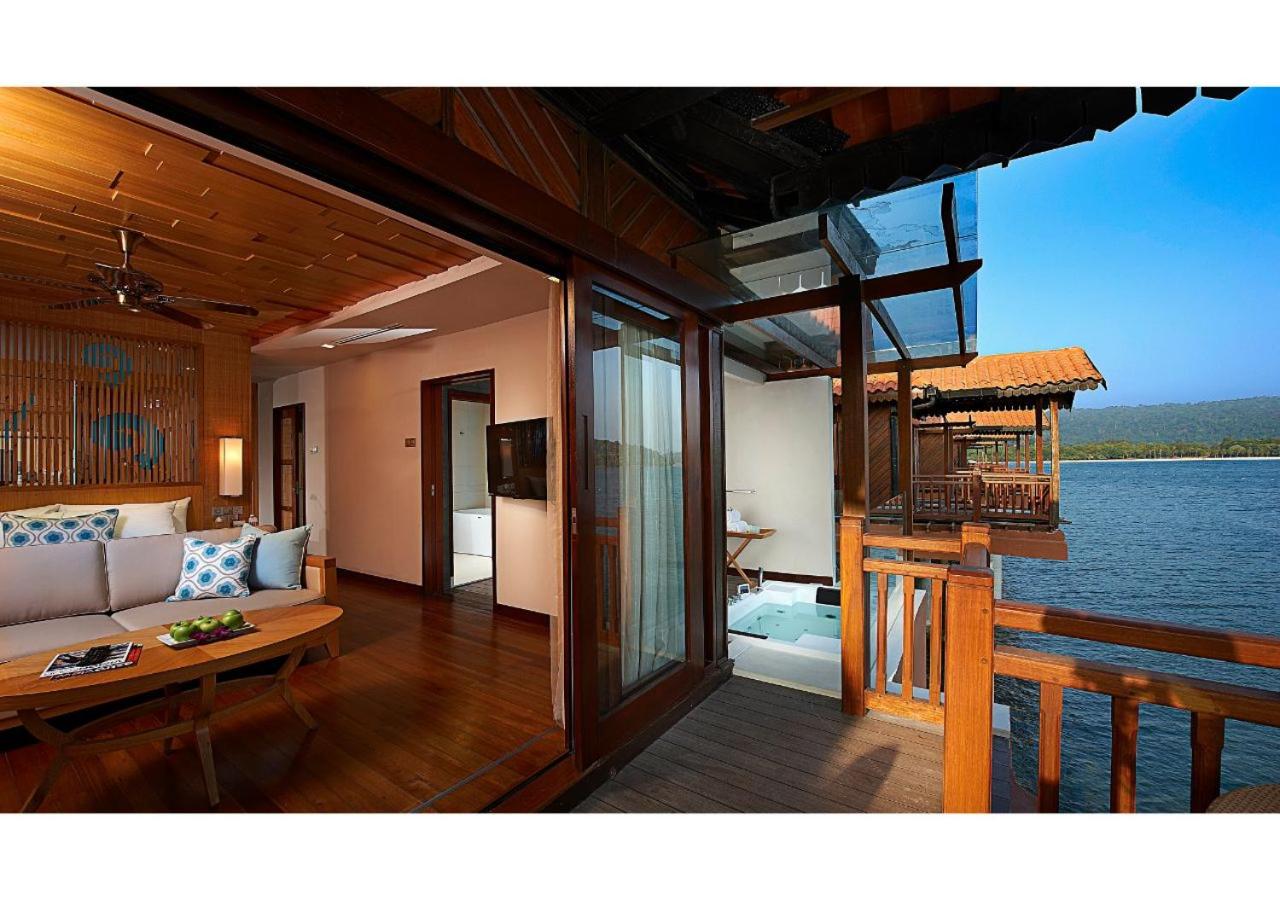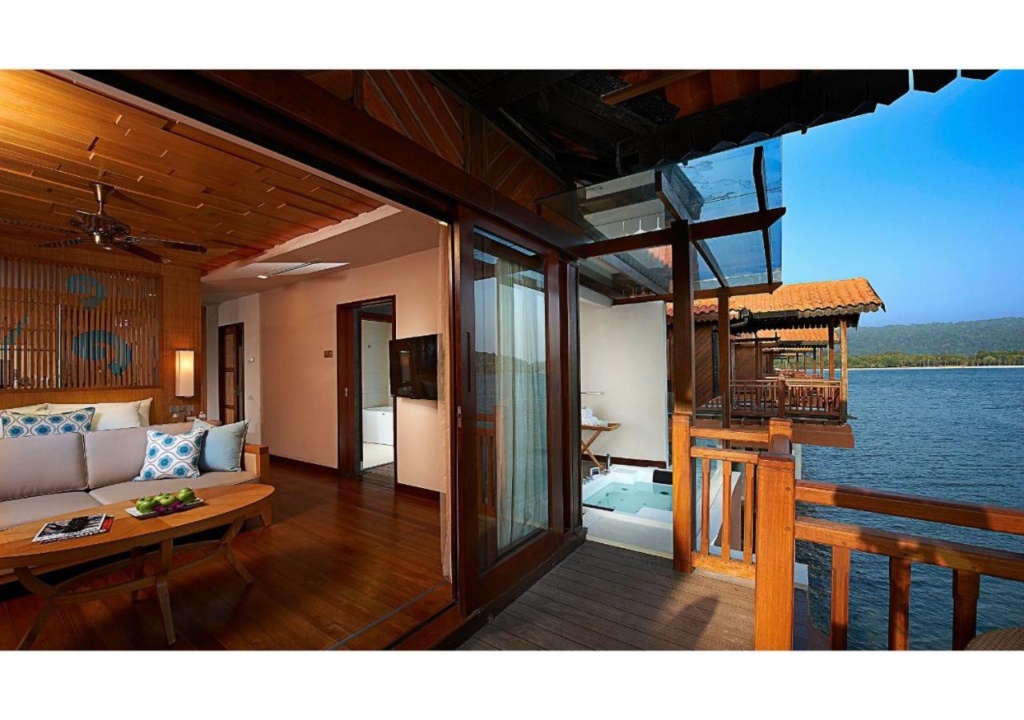 We looked at many hotels in Langkawi and of course you can go to the ultimate luxury resorts or simple hostels. However, if you want to have a luxury feel but at affordable rates, then we highly recommend the Berjaya Langkawi Resort.
Like in the Maldives, you can even have your own villa on the water! The hotel is surrounded by nature, where you can observe all sorts of cute animals such as the Dusky leaf monkey.
The hotel also has its own private beach and 3 different restaurants. Berjaya Resort is located very near the Cable Car to see the Skybridge, pretty much within walking distance. Which is also very convenient.
We loved our stay there and would definitely go back.
---
The Danna (Colonial experience mixed with ultimate luxury)
From the second you walk into the hotel, you will feel the beauty of this place. With its private beach, beautiful swimming pools, and private villas, The Danna is one of the best hotels on the island.
The service is also top-notch! The breakfast buffet was one of the best we ate in Asia!
All and all our experience at The Danna was outstanding!
Of course, all of this comes at a price. However, if this is within your budget, then The Danna is even better than the Berjaya!
---
Parkroyal Langkawi (perfect for a family)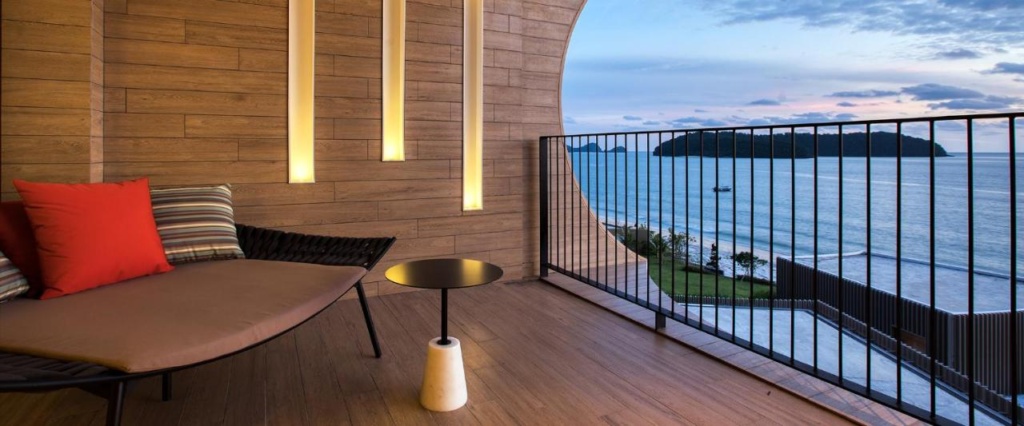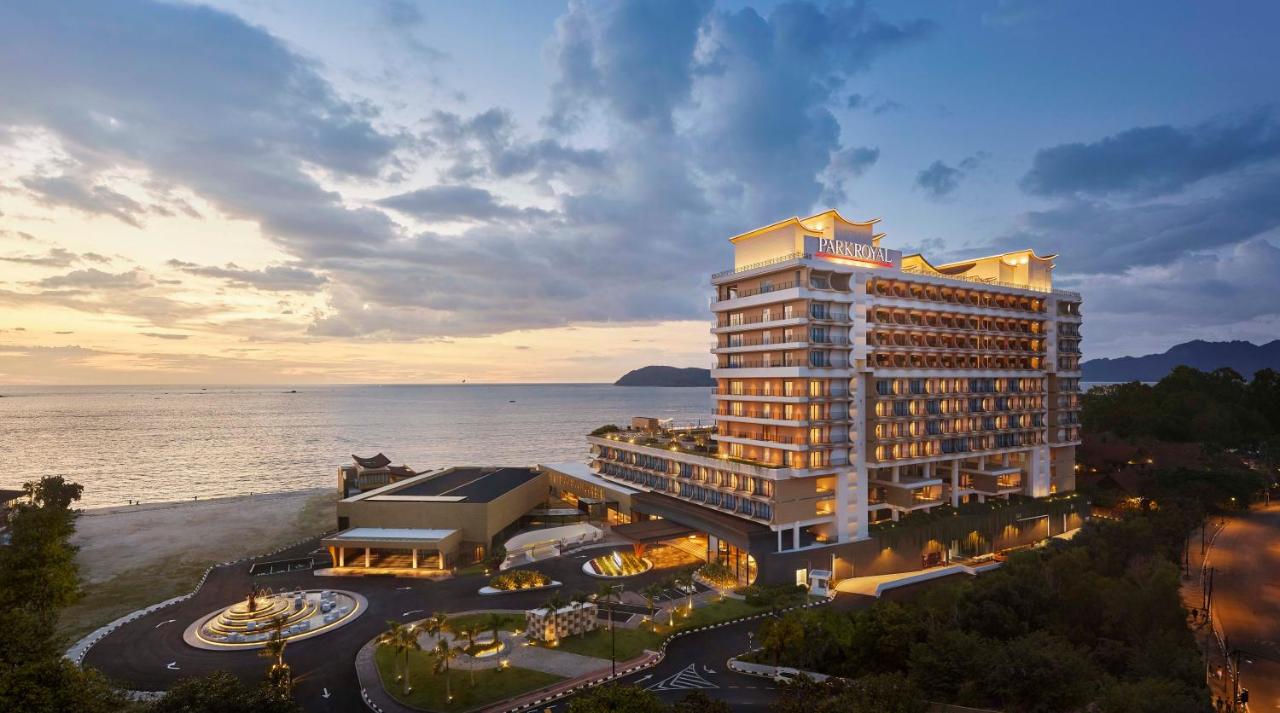 Another awesome hotel in Langkawi is the PARKROYAL, right by the beach in Cenang. This hotel offers amazing amenities and the view from the room is simply breathtaking.
If you want to stay in the middle of the action in Langkawi, where many activities are offered, plenty of bars and restaurants can be found, and very close to the airport, then this place is for you!
---
How to get to Langkawi?
If you are flying from KL, then taking a flight is your only option. You can check the cheapest flights here. It takes about 1h to get there.
If you are in Thailand, you can take a ferry from Koh Lipe. Book your ferry here. The ferry takes about 1.5 hours.
---
Other useful information about LANGKAWI
Getting Around Langkawi
The easiest way to get around is by getting a GRAB (the main ride-hailing company in Malaysia).
You can also rent a scooter, which is a fun way to explore Langkawi. There are many scooter rental companies along Cenang Beach area.
---
Best Time to visit Langkawi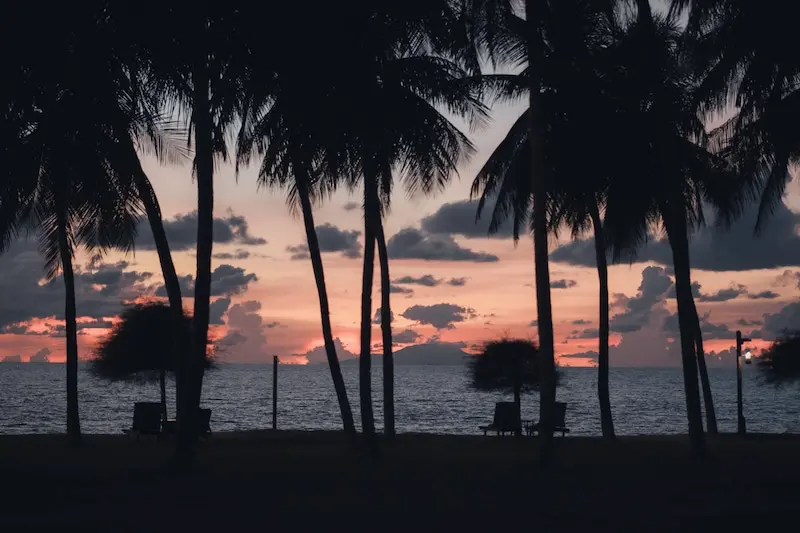 November to April is the best time to visit Langkawi. Why? This is the time when Langkawi gets the least rain. We actually visited Langkawi in May and it was also fine. There was a bit of rain, perhaps 1 hour per day, but the rest of the time it was perfectly fine.
---
How many days to visit Langkawi
We recommend at least 3 days in Langkawi. You will be able to see the main attractions and do a boat ride, either to explore the mangrove or island hopping to Dayang Bunting.
---
In conclusion about the best things to see in LANGKAWI
Langkawi seduced us!
To sum up our impressions of Langkawi, it is a great discovery and one of the best places to visit in Malaysia.
The island preserved its natural beauty and it was not overbuilt nor overly touristic. It's a great place to relax.
Nature here is a mixture of mountains, mangroves, and many animals such as monkeys of different species, but also many birds, including beautiful eagles.
A good part of the island is still well covered by its tropical forest. There are several waterfalls too.
And finally, of course, let's not forget its beaches, some of which are really scenic!
See our Reel below from our trip to Langkawi:
---
Related posts
20 AWESOME THINGS TO SEE IN PENANG
THE 5 BEST BEACHES IN LANGKAWI
DISCOVER THE SUMPTUOUS BLUE MANSION OF CHEONG FATT TZE IN PENANG
BEST THINGS TO DO IN SINGAPORE