WHAT TO SEE AND WHAT TO DO ON TIOMAN ISLAND? IS TIOMAN WORTH IT? IS TIOMAN SUITABLE FOR FAMILIES?
Nestled in the South China Sea, Tioman Island stands as a pristine jewel of Malaysia.
With its crystal-clear waters, lush rainforests, and vibrant marine life, it offers a haven for nature enthusiasts, adventure seekers, and those longing for an idyllic tropical getaway.
"Tioman is one of Southeast Asia's most spectacular travel destinations."
Whether you're an avid explorer or simply seeking relaxation, Tioman Island has something to offer everyone.
Our trip to Tioman was one of the most memorable ones in Malaysia! Indeed, it's the first time we swam with sharks! Yes, you read that right: SHARKS! But no worries, there are only Reef Sharks in Tioman, which means they do not care about humans at all!
In this comprehensive guide, we'll unveil the 10 best things to do on Tioman Island, ensuring you make the most of your visit to this paradise.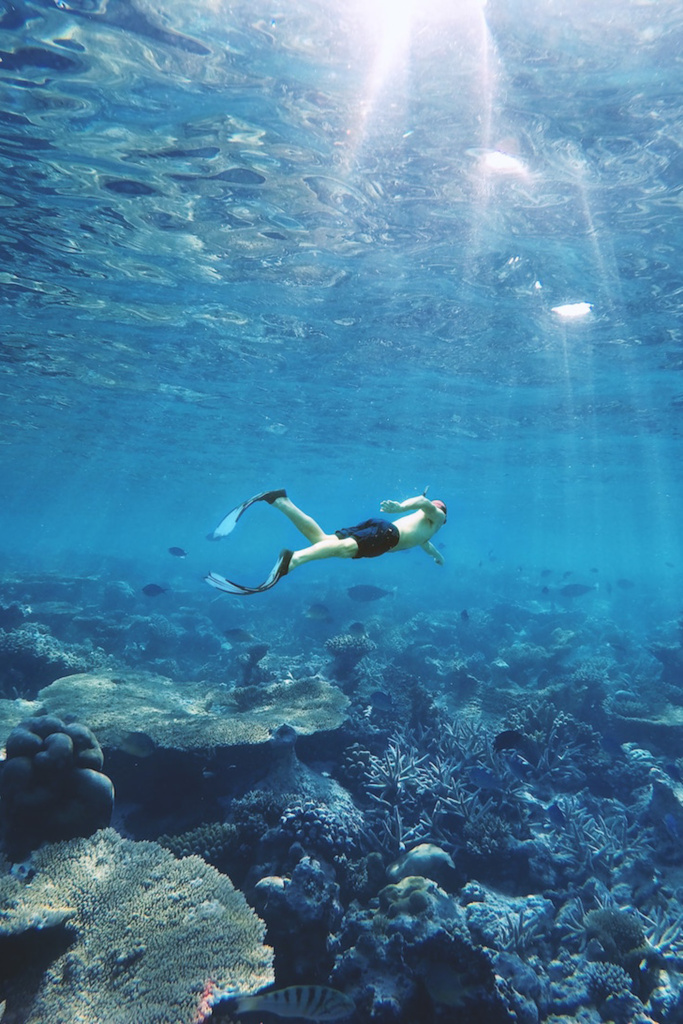 Tioman is considered one of Southeast Asia's most spectacular travel destinations.
Tioman, is a major tourist destination in the region. It is located along the east coast of the state about 60 km sailing from the coasts of the state of Pahang in Malaysia.
On the island, there are 8 villages, the largest being Kampung Tekek which is also the most modern and inhabited area. With an area of 136 km2, it is very small and, like many other islands in Malaysia, it has a mountainous heart with Gunung Kajang being the highest peak (1,038 meters above sea level).
The local population does not even reach 500 people organized in predominantly Malaysian and Chinese communities.
Check out what to expect during a trip to Tioman in this video:
---
What to do in Tioman?
1. Start your trip to Tioman with a snorkeling trip to Coral Island
We've been snorkeling many times in our lives, but Tioman is something different! Here you can see the type of corals you usually only see in movies anymore… Full of colors, full of life, countless fish species, and reef sharks!
Located just off Tioman's western coast, Coral Island is one of the best things to see in Tioman. Swim alongside colorful fish, making memories to last a lifetime.
Most hotels organize a day trip or half-day trip to Coral Island and further snorkeling spots. You won't have any problem organizing it once your reach the island.
---
2. Relax on Salang Beach
Salang Beach is renowned for its stunning sunsets and tranquil ambiance. Bask in the sun, swim in the clear waters, and indulge in beachfront massages to unwind and rejuvenate.
Salang Beach, is located on the western coast of Tioman Island.
With its soft golden sand and lush green backdrop, Salang Beach is mesmerizing.
As the day comes to a close, Salang Beach treats visitors to breathtaking sunsets that paint the sky with hues of orange, pink, and gold, creating an amazing spectacle.
---
3. Explore Juara Village
Juara Village exudes a unique charm that will capture your heart.
This coastal settlement offers a glimpse into the local way of life, immersing travelers in a tranquil and authentic Malaysian experience.
Juara Village is renowned for its unspoiled beauty, boasting a pristine sandy beach that stretches along the azure waters of the South China Sea. The village exudes a laid-back atmosphere, with traditional wooden houses and local establishments dotting the landscape.
Visitors can explore the quaint streets, interact with friendly locals, and indulge in delicious fresh seafood at the village's cozy restaurants.
Whether you choose to relax on the beach, engage in water sports (indeed this is one of the best surf spots on the island), or simply soak up the natural beauty surrounding Juara Village, a visit here promises a true escape from the modern world and an opportunity to appreciate the simplicity and serenity of island life.
---
4. Go diving on Tioman Island
Tioman Island boasts incredible diving and snorkeling opportunities.
The island's dive sites are teeming with an array of colorful fish, mesmerizing coral formations, and fascinating underwater landscapes.
From beginners to experienced divers, there are options for all levels, with dive sites suitable for both leisurely exploration and thrilling adventures.
Whether you're exploring the renowned Renggis Island or diving into the depths of the Marine Park, Tioman Island offers a diverse and captivating underwater world waiting to be discovered.
Explore its diverse coral reefs, encounter exotic marine species like turtles and reef sharks, and witness the stunning underwater world of Tioman.
The warm tropical waters, excellent visibility, and experienced dive operators ensure that diving on Tioman Island is a safe and rewarding experience.
---
5. Hike to Gunung Kajang the highest peak of Tioman
Rising majestically as the highest peak on Tioman Island, Gunung Kajang stands as a testament to nature's grandeur and beckons adventurers to conquer its heights.
Embarking on a trek up Gunung Kajang is a thrilling and rewarding experience for those seeking breathtaking vistas and a sense of accomplishment.
The journey begins amidst the lush rainforest, where hikers are enveloped by the sights and sounds of tropical flora and fauna. As the ascent continues, the trail becomes steeper, challenging both physical stamina and mental fortitude.
However, every step is well worth it, as the summit rewards climbers with awe-inspiring panoramic views of the island and its surrounding waters.
The sight of Tioman Island's pristine beaches, verdant forests, and endless expanse of the South China Sea is truly awe-inspiring.
For adventure seekers and nature lovers, conquering Gunung Kajang is an experience that embodies the spirit of exploration and the beauty of Tioman Island's natural wonders.
---
6. Visit Kampung Tekek one of the best things to do in Tioman
Tioman's largest village, Kampung Tekek, offers a glimpse into local life. Explore the village's bustling streets, browse traditional handicrafts, and savor delicious Malay cuisine.
Strolling through the bustling streets of Kampung Tekek, you'll be immersed in a rich tapestry of local life and culture. The village is home to a variety of shops, restaurants, and markets, where visitors can sample delicious Malay cuisine, browse traditional handicrafts, and interact with friendly locals.
Despite its size, Kampung Tekek maintains a relaxed and laid-back atmosphere, inviting visitors to slow down and embrace the island's serene ambiance.
Whether it's exploring the local architecture, indulging in mouthwatering delicacies, or simply observing the daily rhythms of village life, Kampung Tekek offers an authentic and enriching experience that showcases the heart and soul of Tioman Island.
---
7. Go on an island-hopping adventure
Island Hopping Adventure: Embark on an island-hopping tour around Tioman Island and its neighboring islets. Discover stunning beaches, hidden coves, and secret lagoons, including the breathtaking Monkey Bay and Tulai Island.
Island hopping in Tioman is one of the best things to do! You can explore the breathtaking beauty of this tropical paradise.
With its cluster of nearby islands, Tioman offers a wealth of options for island-hopping excursions. Embark on a boat tour and discover secluded beaches, hidden coves, and pristine lagoons that are only accessible by sea.
Each island has its own unique charm, whether it's the tranquil beauty of Pulau Tulai, the vibrant marine life at Renggis Island, or the picturesque Monkey Bay.
Snorkel in the crystal-clear waters, marvel at the colorful coral reefs, and soak up the sun on deserted shores. Island hopping in Tioman is a remarkable experience that unveils the diverse wonders of this idyllic destination.
---
8. Trek through the Rainforest
Embark on an unforgettable jungle adventure by trekking through the island's rainforests. Immerse yourself in the lush greenery, listen to the symphony of wildlife, and discover breathtaking waterfalls like Asah Waterfall and Mukut Waterfall.
There are multiple rainforest treks in Tioman.
The first one we did, starts from ABC Village. It takes about 2 hours to reach Monkey Bay and Monkey Beach.
For the second, we actually got dropped off at the Kampung Mukut Jeti by boat, and from there, we hiked to Asah Waterfall, which was relatively short. After a swim at the waterfall, we hiked back to our resort at Tunamaya.
There are also amazing treks around Juara Village.
---
9. Go Kayaking along the Coastline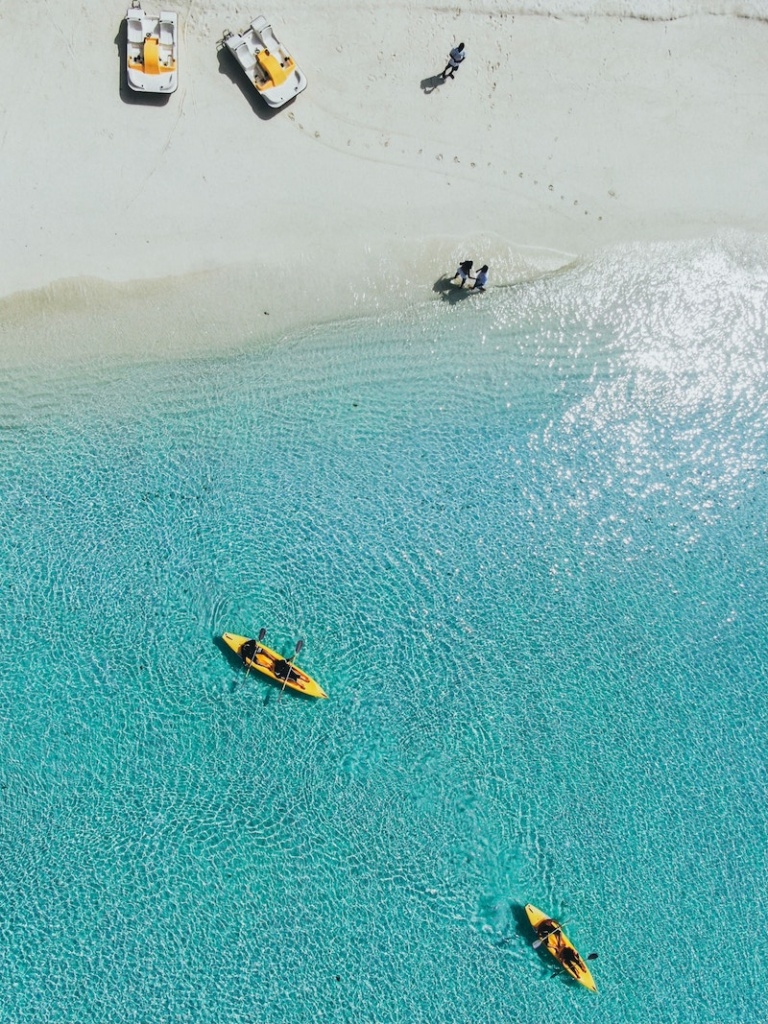 Rent a kayak and paddle along the island's pristine coastline, exploring hidden coves and secluded beaches.
Enjoy the tranquility of the sea and admire the stunning landscapes from a unique perspective.
Most hotels offer kayak rental or SUP. The sea is relatively quiet, but during the Monsoon season be aware of big swells, especially on the East Coast!
---
10. Enjoy the local cuisine
Tioman Island is not only a visual delight but also a gastronomic haven.
From fresh seafood to flavorful Malay cuisine, the island presents a diverse range of culinary delights. Start your culinary journey with the iconic dish of Tioman, the ikan bakar (grilled fish). Prepared with a perfect balance of spices and cooked over an open flame, the ikan bakar showcases the island's abundant seafood offerings.
Another must-try dish is the nasi lemak, a fragrant coconut rice dish served with various accompaniments like sambal, fried anchovies, peanuts, and cucumber.
For a taste of local flavors, indulge in the classic Malay dish of rendang, a rich and aromatic slow-cooked meat curry. Don't miss out on savoring the unique flavors of keropok lekor, a traditional fish sausage made from a blend of fish and sago flour, which is then deep-fried to crispy perfection.
To round off your culinary adventure, sample refreshing tropical fruits like rambutan, mangosteen, and durian, known as the "king of fruits."
Tioman Island offers a culinary experience that combines the freshness of its ingredients with the rich heritage of Malaysian cuisine, leaving you with a lasting appreciation for its flavors and a desire to explore more.
---
Where to stay on Tioman Island in Malaysia?
Tioman Island is home to a variety of exceptional hotels that offer unparalleled comfort, stunning views, and exceptional service. Here are 3 of the best hotels in Tioman that guarantee a memorable stay on this beautiful island:
Japamala Resort (best for couples)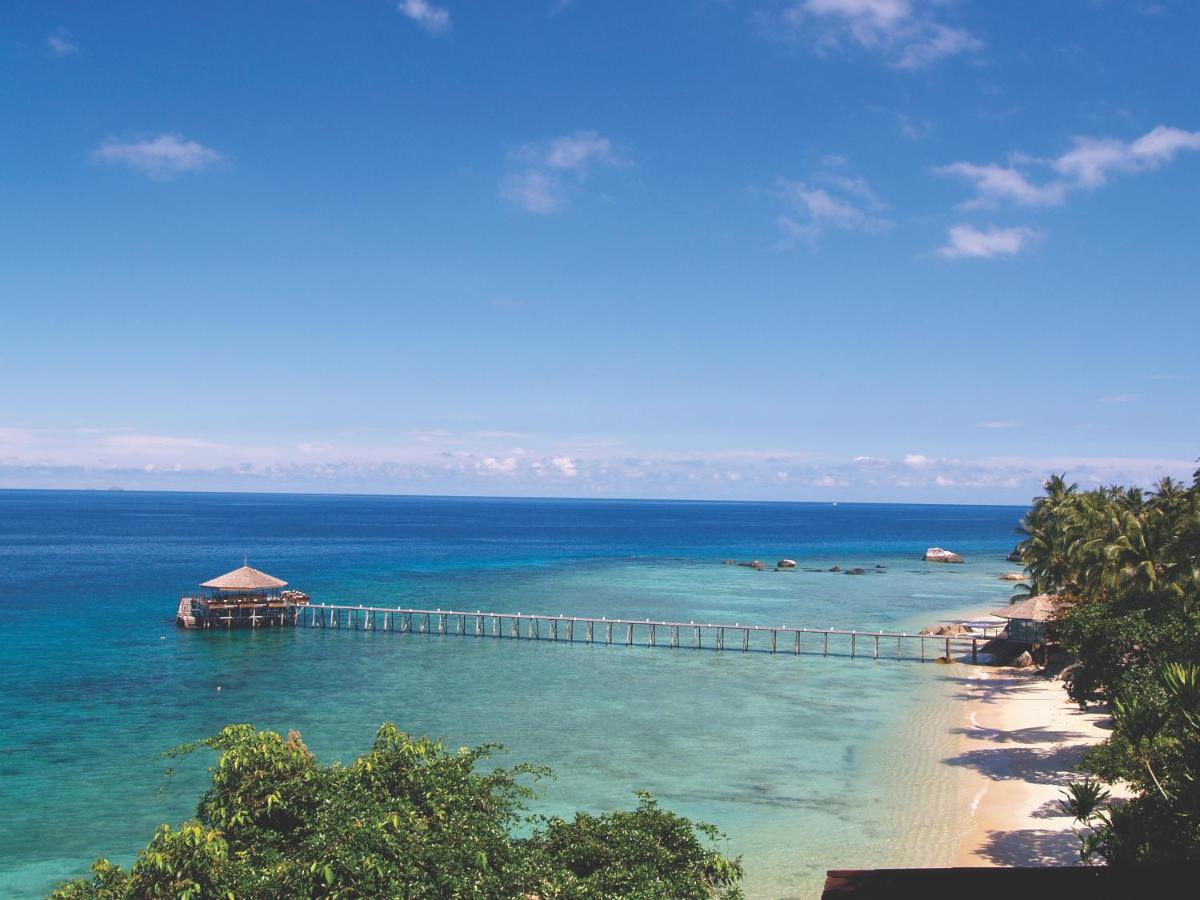 Nestled amidst lush rainforest and overlooking the pristine beach, Japamala Resort is a secluded paradise that offers an exclusive and intimate experience.
The resort features beautifully designed villas and chalets, blending traditional Malay architecture with modern comforts. Each accommodation offers privacy and breathtaking views, with some featuring private plunge pools or direct beach access.
The resort's spa and wellness center provide rejuvenating treatments, and its exquisite restaurant serves a fusion of Asian and Western cuisine. With its serene ambiance and impeccable attention to detail, Japamala Resort ensures a truly indulgent stay.
>> BOOK HERE
---
Berjaya Tioman Resort (best for golfers)
Situated on the stunning beachfront, Berjaya Tioman Resort is a sprawling property that offers a range of accommodations to suit every traveler's needs.
From spacious rooms and suites to charming chalets nestled amidst lush gardens, guests can choose their ideal abode. The resort boasts a wide array of amenities, including swimming pools, a spa, and multiple dining options serving delectable cuisine.
The highlight of this resort is the access to its splendid golf course!
Berjaya Tioman Resort also offers an array of activities, such as snorkeling, kayaking, and island tours, ensuring guests have an adventurous and memorable stay.
>> BOOK NOW
---
Tunamaya Resort (best for families)
Tunamaya Resort stands out as one of the best hotels in Tioman Island especially for families. The hotel offers a blend of luxury, tranquility, and breathtaking natural surroundings.
Located on the pristine beachfront, the resort boasts elegant villas and chalets that provide guests with spacious and comfortable accommodations. Each villa is thoughtfully designed to offer privacy and stunning ocean views.
The resort features a range of amenities, including a swimming pool, a spa, and a beachfront restaurant serving delectable local and international cuisine. Tunamaya Resort also offers various water activities, such as snorkeling, diving, and kayaking, allowing guests to fully explore the vibrant marine life surrounding the island.
With its idyllic setting and attentive service, Tunamaya Resort provides an unforgettable stay where guests can relax, rejuvenate, and immerse themselves in the natural beauty of Tioman Island.
>> BOOK HERE
---
How to get to Tioman Island?
Take the ferry to Tioman Island:
The most common way to reach Tioman is by taking a ferry from the mainland. From various departure points such as Mersing or Tanjung Leman. Ferries operate daily, providing convenient access to the island.
The ferry journey takes approximately one to two hours, depending on the departure point.
You can choose between CataFerry or Bluewater. Note that some hotels also offer private boat to pick you up at Mersing.
To get to Mersing, there are direct buses from Singapore, Malacca and Kuala Lumpur.
Flying to Tioman
It seems that it was or it will be possible to take direct flight to Tioman island's airport. The small airport is located in Tekek Village. It was or will be possible to fly from Kuala Lumpur, and even from Singapore (Seletar Airport).
We saw a few websites talking about it, but so far it seems that the route is not open… Let us know in the comments below if you have more information. It might have stopped during Covid…
---
How to get around the island?
Getting around Tioman is not very easy… Indeed, there is only 1 road, and it doesn't lead to each part of the island. Hence taking a boat is quite common to visit different parts of the island. Most hotel can organize boat tours for you.
However, if you are staying on a resort which has a road access, then you can catch a taxi to go from 1 place to the other, rent a bicycle or even a scooter.
Lastly, Tioman's small size and picturesque landscapes make walking a pleasant way to discover hidden gems and soak up the island's charm.
---
When is the best time to visit Tioman?
The best time to visit Tioman Island is during the dry season, which typically extends from March to October.
The months of April and May are particularly pleasant, with moderate temperatures, lower humidity levels, and fewer tourists. The sea is calm, making it an ideal time for diving, snorkeling, and other water sports.
June to August is also popular, as it coincides with school holidays, attracting families and vacationers seeking a tropical getaway.
From November to February, Tioman experiences the monsoon season, characterized by heavier rainfall and occasional storms. Many hotels and businesses may close during this time, and water activities are limited due to rough seas.
However, if you prefer a quieter and more budget-friendly experience, visiting Tioman during the off-peak season can still offer a unique charm, as the island takes on a tranquil and untouched ambiance.
---
Our practical advices when visiting Tioman island in Malaysia
When planning a visit to Tioman Island, it's essential to keep a few key tips in mind to ensure a smooth and enjoyable experience. Here are some practical advice and tips to help you make the most of your trip:
Research and plan ahead
Before your visit, gather information about Tioman Island, including transportation options, accommodation choices, and popular attractions. This will help you make informed decisions and avoid any last-minute surprises. During long weekends the island is quite busy and many tours get booked quickly…
Pack accordingly
As Tioman Island is a tropical destination, pack lightweight and breathable clothing, sunscreen, insect repellent, and comfortable footwear. Don't forget your swimwear, snorkeling gear, and a waterproof bag to protect your belongings during water activities.
Cash and supplies
Tioman Island does not have many ATMs, so it's advisable to bring enough cash for your stay. Additionally, pack essentials such as toiletries, medications, and any specific items you may require, as the availability of certain products may be limited on the island.
Respect the environment
Tioman Island is a protected marine park, so it's crucial to be mindful of the environment. Refrain from littering, avoid damaging coral reefs, and follow any guidelines provided by tour operators during snorkeling or diving excursions.
Be prepared for transportation
Ferry schedules can be subject to change, especially during the monsoon season. Check the latest ferry timings, book tickets in advance if possible, and allow for extra time for transfers. It's also a good idea to have a backup plan in case of any unforeseen delays or cancellations.
Embrace the local culture
Tioman Island is home to friendly locals with a rich Malay heritage. Respect their customs and traditions, greet them with a smile, and be open to trying local delicacies. Engaging with the community will enhance your cultural experience and create memorable interactions.
Stay hydrated and protect against the sun
With the tropical climate, it's important to drink plenty of water to stay hydrated. Apply sunscreen regularly and wear a hat, sunglasses, and lightweight clothing to protect yourself from the strong sun rays.
By following these practical tips and advice, you'll be well-prepared to explore and enjoy the wonders of Tioman Island, creating cherished memories that will last a lifetime.
---
In conclusion about the best things to do in Tioman
Tioman Island is an untouched paradise, brimming with natural wonders and enchanting experiences. It is one of the best islands to explore in Malaysia!
Whether you seek relaxation on pristine beaches, adventure in the rainforest, or immersion in the rich marine world, Tioman has it all.
The activities outlined in this guide offer a comprehensive glimpse into the island's diverse offerings. Embark on this journey, create unforgettable memories, and let Tioman Island weave its magic, leaving you with a longing to return to this tropical haven time and time again.
---
Related Posts
AWESOME PLACES TO SEE IN LANGKAWI
BEST THINGS TO SEE IN PENANG MALAYSIA
DISCOVER THE SUMPTUOUS BLUE MANSION OF CHEONG FATT TZE IN PENANG
VISIT THE CLAN JETTIES IN PENANG!
FULL GUIDE TO VISIT KEK LOK SI TEMPLE
15 FUN FACTS YOU DIDN'T KNOW ABOUT MALAYSIA!
VISIT COLMAR TROPICALE NEAR KUALA LUMPUR
5 BEST REASONS TO VISIT GEORGE TOWN IN PENANG