WHAT TO SEE AT BATU CAVES? HOW MUCH IS THE ENTRANCE FOR BATU CAVES? HOW TO GET TO BATU CAVES?
Batu Caves, just 13km north of Kuala Lumpur, are the site of an iconic Hindu temple and shrine. The site is known for its enormous statue of the Hindu god Murugan (or Kârttikeya, the god of war), its 272 steps which lead to a magnificent view of the city and its surroundings, as well as the many monkeys that add a little bit of fun to Batu Caves!
"THE BATU CAVES, MIX OF CULTURE, ADVENTURE & MONKEYS"
The Batu Caves are a Malaysian national treasure and one of the best things to do during a trip to Kuala Lumpur!
These limestone caves are home to beautiful Hindu Temples! In fact, they are one of some of the largest and most popular Hindu shrines in the world outside of India! Impressive, isn't it?
In this post, we explained all you need to know to prepare for your visit to the Batu Caves in Malaysia!
First a teaser about the Batu Caves in the video below:
---
HOW TO GET TO BATU CAVES?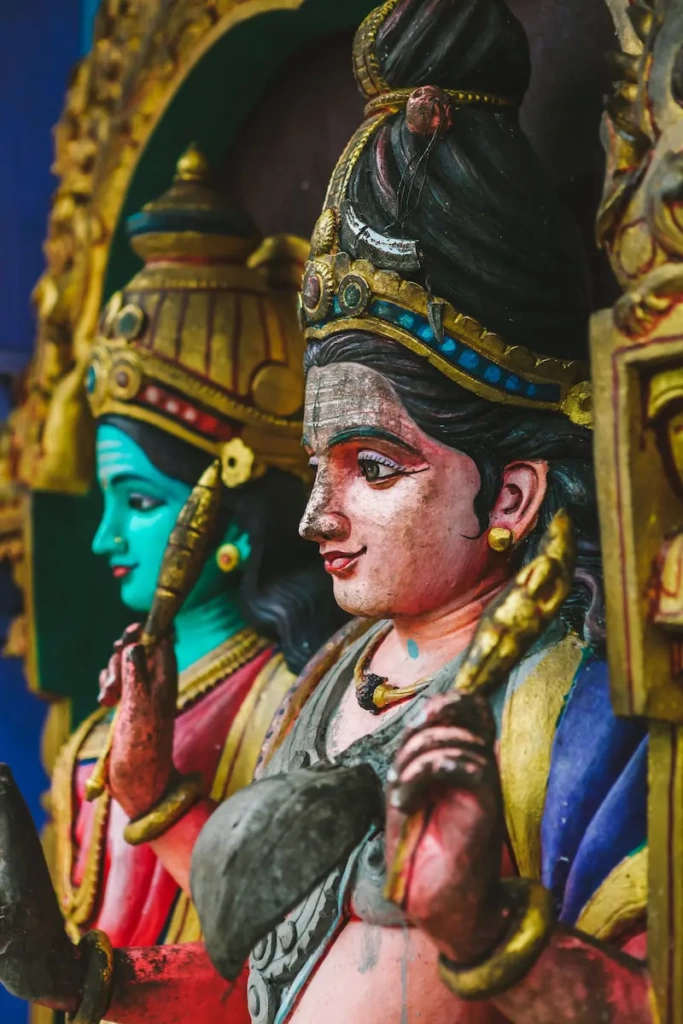 The Batu Caves are located north of Kuala Lumpur, roughly about 13 kilometers.
The best way to get there and avoid frequent traffic is to go there by train, more information on that below.
TAKE THE TRAIN TO BATU CAVES
Since July 2010, there is no longer any need to take a bus or a taxi to go to the Batu Caves. The KTM komuter train departs from KL Central Station and goes directly to the Batu Caves.
The train leaves every 30 minutes. The return ticket costs around 1 USD. This is the cheapest and fastest way to get to Batu Caves.
GUIDED TOUR
If you want to combine your visit to Batu Caves with other great things to see outside KL, then consider joining a guided tour. Here you can just go with the flow and it doesn't require too much planning. For example, this tour brings you to the amazing Genting Highlands and Batu Caves in 1 day!
If you have limited time in KL, this would be the perfect combo!
AVOID PUBLIC BUS/TAXI
As traffic can get quite bad to Batu Caves, we highly recommend taking the train or joining a guided tour.
DRIVE WITH YOUR OWN CAR
If you have your own car in KL, then driving there from KL will take you roughly 30 to 45min depending on traffic. There is plenty of parking onsite, the cost is 2RM only…
---
HOW MUCH IS THE ENTRANCE FEE?
Believe it or not, it's FREE! Indeed, the main caves are completely free to visit… This is also why this place attracts so many visitors!
However, access to the adjoining caves (and in particular the Dark Cave) remains chargeable but only for 5RM… which makes a visit to the Batu Caves very affordable.
---
IMPORTANT THINGS YOU NEED TO KNOW BEFORE VISITING BATU CAVES
1. ARRIVE EARLY TO BATU CAVES TO AVOID THE HEAT AND CROWDS!
It is important to arrive early if you want to avoid the crowds and the sun. Indeed, this place is popular with travelers and worshipers. But also, the Malaysian sun is extremely strong and will not leave you unscathed if you do not protect yourself.
It is therefore good to arrive in the morning…
---
2. DRESS PROPERLY AND RESPECTFULLY
Before climbing the many multicolored stairs that lead to the caves, check your clothes one last time.
Indeed, before being a tourist site, this is a place of pilgrimage for Hindus. Hence it is mandatory for women to cover their knees and shoulders. You will see during your visit, a person at the entrance of the site who will scan the crowd and check that everyone is dressed correctly. If not, you will need to purchase a sarong.
For men, T-shirts and shorts or pants will do.
---
3. BE PREPARED FOR A LONG CLIMB
To enter Batu Caves in Malaysia, you will need to climb the 272 steps. The stairs were only recently painted in multicolors, which was really nice to see!
You may think that 272 steps isn't too much… Well, remember that in Malaysia it's very hot and humid… It will be enough to get you very sweaty once you reach the top…
Take some breaks in between for photos and to admire the view!
---
4. WATCH OUT FOR MONKEYS
During your visit, you will surely see many monkeys. However, be aware that Monkeys have a reputation for grabbing people's phones and bags. At least these are some of the stories we heard…
When we went there, the monkeys were really friendly. So it depends, but as a general rule, if they start showing their teeth, it's time to back off!
---
5. MAKE SURE TO CHECK THE INTERIOR OF THE CAVES!
Many travelers stop only at the gate and photograph the large Murugan statute and the multicolored steps. Don't let the stairs discourage you! Visiting the interior of the caves is as impressive! Indeed, the experience is surreal!
As soon as you set foot inside, you will immediately feel the importance of where you are. Just be aware that there are bats inside the cave too. Not dangerous at all, but at least you won't be surprised…
---
BE RESPECTFUL
It is very important to remember that caves are a place of culture and religion, not just a tourist attraction. Every day, hundreds of people climb the steps of Batu Caves to pay their respects and make their offerings to their god.
You will see people carrying their offerings and dressed in traditional clothing. Please be respectful and do not disrupt.
---
BEST THINGS TO SEE AT BATU CAVES
1. MURUGAN GOLDEN STATUE
What strikes at first glance is the huge 42.7-meter-high statue of Murugan, a Hindu deity.
This was inaugurated in 2006 and is the tallest statue in the world representing Murugan. As the statue is covered in gold color, it's absolutely stunning! WOW, what a place!
---
2. THE COLORFUL STAIRS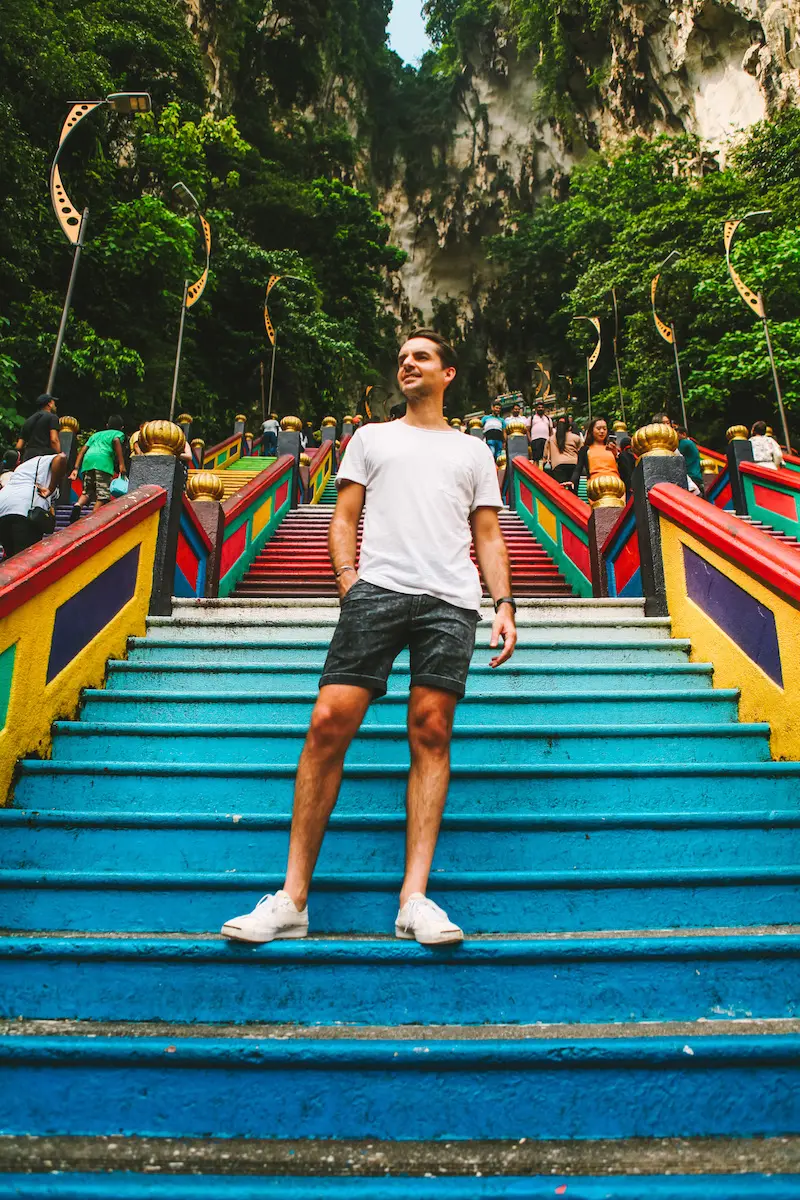 Generally, Hindu temples are full of colors! It's the same here, every shrine is so colorful! To add to that, recently the stairs to reach the actual caves were also painted in different colors.
At least this makes the climb of the 272 steps more joyful! It's also a heaven for photographers!
---
3. THE TEMPLE CAVE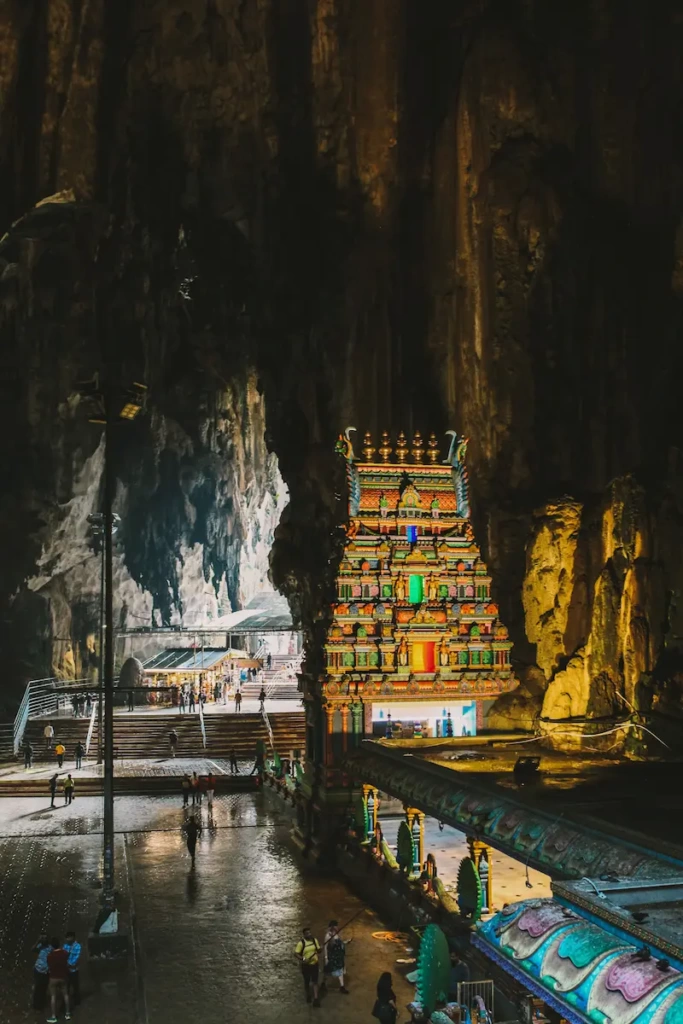 After reaching the top, you will arrive at the "cathedral cave" or "temple cave", the largest of the three cavities; it reaches 100 meters high! It's absolutely breathtaking!
Inside there are several richly decorated Hindu shrines, which can be visited. There was even a small ceremony during our visit which made this place even more interesting!
---
4. SRI VALLI DEIVANAI TEMPLE
After the Temple Cave, there is a smaller set of stairs that lead to an open-air cavern with amazing rock formations! Here lies the Sri Valli Deivanai Temple, dedicated to the wife of Murugan, the golden statue at the entrance of Batu Caves.
This last short climb is absolutely worth it, not necessarily for the temple itself, but more for the cave itself!
---
5. THE DARK CAVE
Up to now, everything was free. However, if you want to push your visit further, you can explore the Dark Cave. You will see the cave on your way down from the main colorful staircase.
To visit this cave you will need to pay extra. Unfortunately for us, the cave was closed for renovation so we could not visit it… Apparently, you have to enter with a headlight, and there are many bats inside the cave… Well, a good reason for us to come back to Batu Caves!
---
6. ART GALLERY CAVE OF RAMAYANA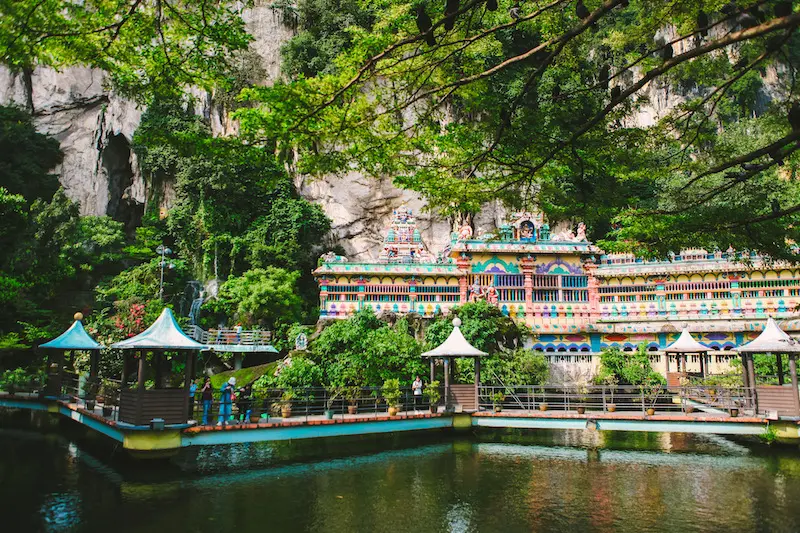 After going back down the huge staircase, go right and you will have the option to see even more caves! There is indeed 1 place that was converted into temples, the Art Gallery Cave of Ramayana Cave costing 5RM to enter.
---
HOW LONG TO VISIT THE CAVES?
We probably spend about 2 hours visiting Batu Caves. Of course, if you add the Drak Cave (which takes about 45min), then expect your visit to last way over 2 hours…
---
THAIPUSAM FESTIVAL IN BATU CAVES
This sanctuary, with its gigantic caves over 100 meters high in some places, is the most important Hindu site outside India. This is particularly noticeable every year, between January and February, during the festival of Thaipusam, an important Hindu festival.
During that time more than a million Hindus from all over the world gather at the Sri Mahamariamman temple, the oldest in Kuala Lumpur, for a pilgrimage of nearly eight hours to the caves of Batu Caves!
---
FINAL THOUGHTS – IS BATU CAVES WORTH A VISIT DURING A TRIP TO KL
Batu Caves stands as a remarkable testament to the harmonious blend of nature, culture, and spirituality.
Its grandeur and significance make it a must-see place during a trip to KL! No question about it, It's absolutely worth visiting Batu Caves!
This place promises an unforgettable journey that will leave a lasting imprint on your mind and heart.
As for us, it reminded us a bit of the gorgeous Marble Mountains in Da Nang, Vietnam.
---
RELATED POSTS
20 BEST THINGS TO SEE IN PENANG, MALAYSIA
VISIT KLCC PARK IN KUALA LUMPUR
BEST THINGS TO DO IN GENTING HIGHLANDS
BEST PLACES TO STAY IN KUALA LUMPUR
AWESOME PLACES TO SEE IN LANGKAWI
BEST THINGS TO DO ON TIOMAN ISLAND, MALAYSIA
VISIT COLMAR TROPICALE NEAR KUALA LUMPUR
DISCOVER THE JAPANESE GARDEN IN BUKIT TINGGI