WHAT TO SEE AT KELLIE'S CASTLE IN PERAK, MALAYSIA? IS KELLIE'S CASTLE WORTH A VISIT? HOW TO GET TO KELLIE'S CASTLE?
Nestled in the heart of Perak near Ipoh, Malaysia, Kellie's Castle stands as a testament to both architectural marvel and historical intrigue.
This captivating heritage site has long been a favorite among tourists and history enthusiasts, offering a unique blend of colonial charm, Scottish design, and an enigmatic story that continues to pique the interest of visitors from all corners of the world.
In this blog post, we'll take a journey through time and explore the fascinating history and captivating architecture of Kellie Castle.
READ: 25 BEST THINGS TO SEE IN IPOH
---
A Brief History of Kellie's Castle in Malaysia
Kellie's Castle was named after its founder, William Kellie Smith, a Scottish planter who ventured to Malaysia in the early 20th century.
Smith arrived in Perak in 1890 and quickly became a successful rubber planter and tin miner.
His affluence and ambition led him to dream big – he envisioned building a grand mansion in the style of a Scottish castle in the lush greenery of the Malaysian countryside.
Construction began in 1915, and the castle was intended to be a gift for his beloved wife, Agnes, and a symbol of his devotion to her.
Unfortunately, William Kellie Smith never lived to see his dream fully realized, as he passed away in 1926 during a trip to Portugal. With his demise, the construction of the castle came to an abrupt halt.
---
Intriguing Architecture
One of the most remarkable aspects of Kellie Castle is its architecture. The castle's design seamlessly blends Scottish, Moorish, and Indian influences, creating a structure that is truly unique and captivating.
From the outside, the castle appears as a striking, picturesque fortress with crenellated parapets, towers, and turrets, reminiscent of traditional Scottish castles.
The interior, however, reveals a different story. The Moorish influence is especially evident in the intricate plasterwork, arches, and balconies that adorn the castle's interiors.
---
A Haunted Castle…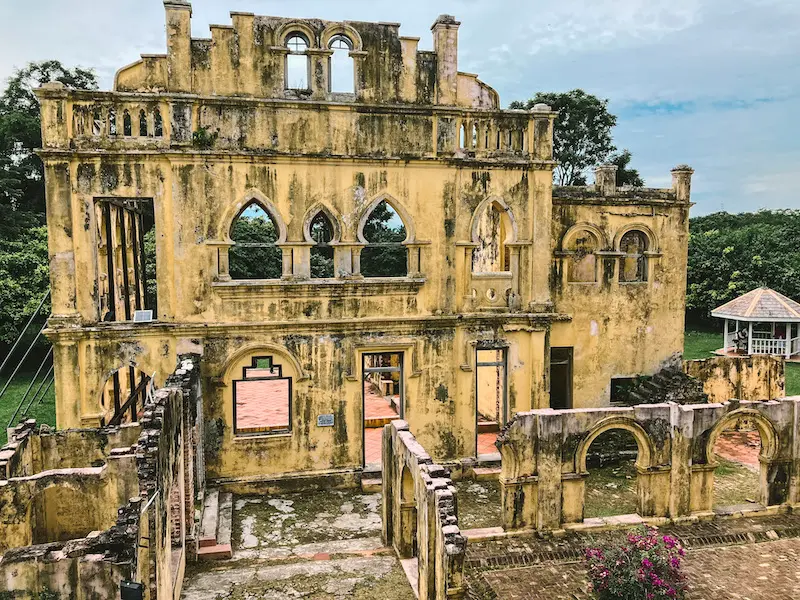 One of the most intriguing aspects of Kellie Castle's history is its unfinished state. After William Kellie Smith's death, his family made several attempts to complete the castle, but they were ultimately unsuccessful.
Willian Kellie Smith also brought 70 craftsmen from Madras, India for the construction of the castle. All the bricks and marble were imported from India, too. There was also a plan to build the first-ever elevator in Malaysia! However, during the construction, a virulent strain of Spanish Flu struck all his workers.
One popular legend also suggests that the construction was plagued by supernatural disturbances, with workers often claiming that the site was haunted.
Smith's original plan included a rooftop courtyard, a magnificent wine cellar, and an elevator – all incredibly ambitious for the time. The castle's construction also suffered due to economic difficulties, including the fall in tin prices during the 1920s.
---
Visiting Kellie Castle
Kellie Castle is a treasure trove of history and architecture, and it's open to the public. Visitors can explore its eerie, unfinished spaces, marvel at the stunning views from its towers, and learn more about the enigmatic history of this remarkable place.
The castle is located near Ipoh in Perak, and it's easily accessible by car.
OPENING HOURS: every day from 9:30 am until 5:15 pm
ADMISSION FEE: 10 RM for foreigners
LOCATION: HERE
WEBSITE: HERE
VISIT DURATION: 1 to 2 hours
FOOD AND DRINKS: There is a small cafe on site serving simple food and drinks.
---
How to get to Kellie's Castle from Ipoh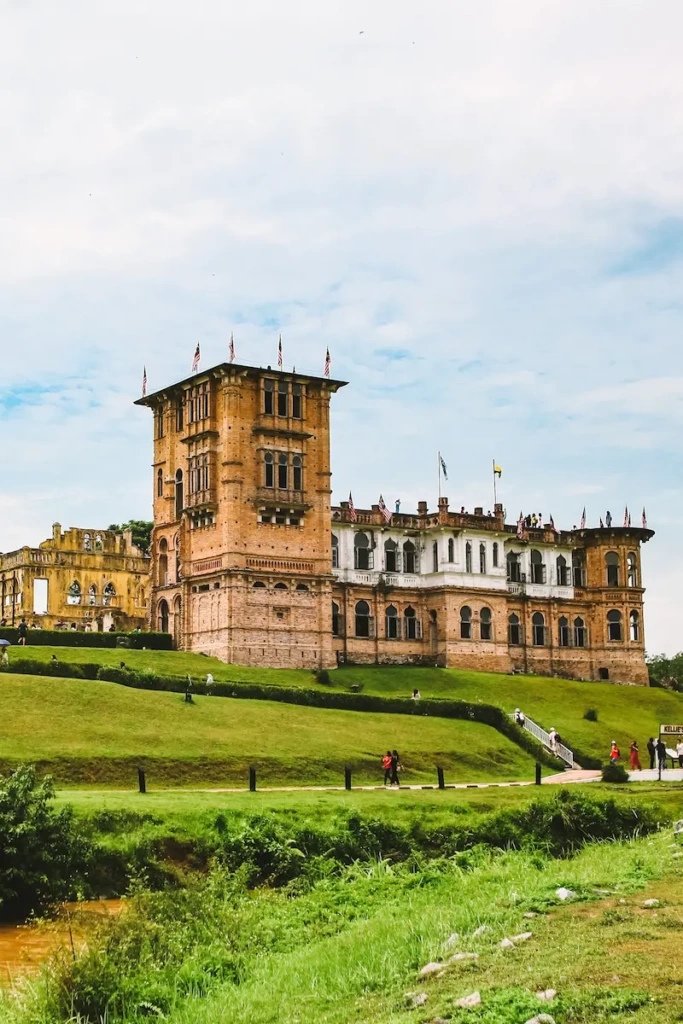 From Ipoh driving to Kellie's Castle would be the easiest. It takes roughly 30min. You can also use Grab to get there.
It is also possible to reach Kellie's Castle by taking the bus, however the whole journey takes about 2h, as the bus doesn't stop exactly in front of the castle. So you will still need to walk 30min to the castle…
Another option would be to take the bus from Ipoh to Gopeng and from Gopeng take a grab or taxi.
All and all, we recommend taking Grab directly from Ipoh as it would save you lots of time..
---
In Conclusion about Kellie's Castle
Kellie Castle in Perak, Malaysia, stands as a testament to the dreams and ambitions of its founder, William Kellie Smith.
Its captivating blend of architectural styles, enigmatic history, and unfinished state make it a must-visit destination for history enthusiasts and curious travelers alike.
As you explore its corridors and towers, you'll be transported back in time to an era of colonial grandeur and ambition, and you may find yourself captivated by the allure of Kellie Castle, just as so many others have been throughout the years.
---
RELATED POSTS
MOST AMAZING THINGS TO DO IN PENANG
FULL GUIDE FOR VISITING BATU CAVES NEAR KL