WHAT TO SEE IN KANDY? WHERE ARE THE BEST PLACES TO STAY IN KANDY? IS KANDY WORTH VISITING?
Kandy is the 3rd largest city in the country. It is a UNESCO World Heritage Site. Kandy in Sri Lanka s a pleasant mix between modernity and authenticity. It is one of the best things to see in Sri Lanka!
---
Highlights of a visit to Kandy in Sri Lanka:
Kandy was the last royal capital of the country
It hosts the famous Temple of the Sacred Tooth Relic
Kandy is a major Buddhist center in Sri Lanka
Some of the best things to see in Kandy include World Buddhist Museum, Kandy's gorgeous Botanical Garden, Kandy Lake and so much more which we listed in this post!
---
Here is a teaser about what to expect in Kandy!
---
WHAT ARE THE BEST THINGS TO SEE IN KANDY?
---
1. Visit the Temple of the Sacred Tooth Relic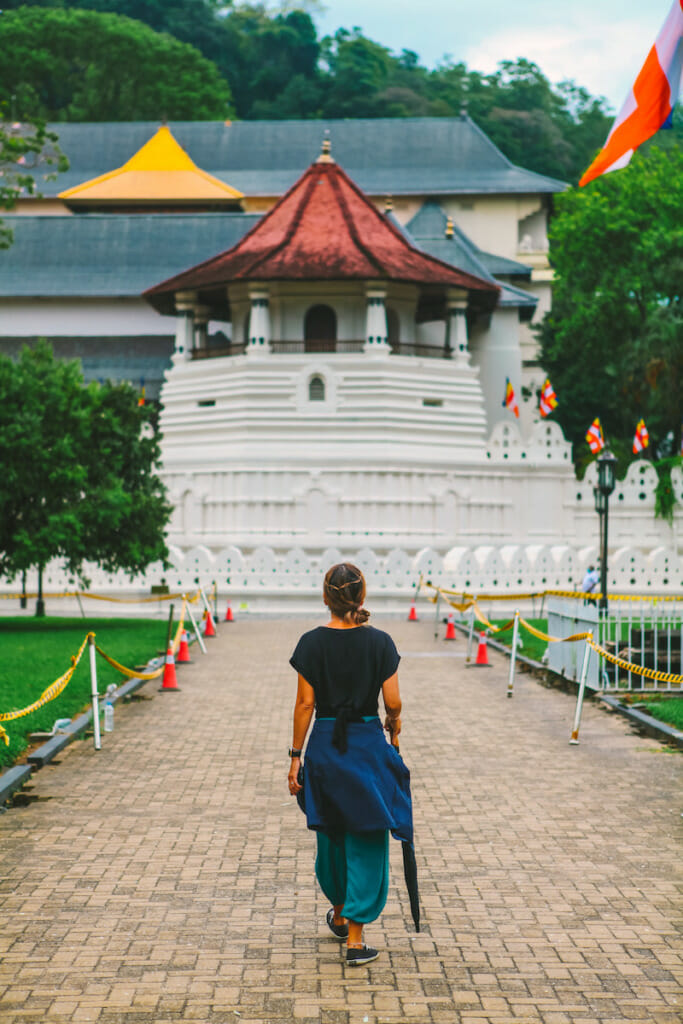 The Temple of the Sacred Buddha's Tooth (Sri Dalada Maligawa) is a must-visit in Kandy. Why such a name? Simply because this temple houses a relic of a tooth of Buddha.
This relic makes this temple one of the most sacred places for Buddhism in Sri Lanka. Everyone tries to make a pilgrimage there at least once in their life.
It is possible to visit the Temple of the Sacred Tooth but unfortunately, it is not possible to see the relic… The box is only opened once every 5 years and only leaves the temple a few times a year! The temple is located in the heart of the Old Royal Palace of Kandy.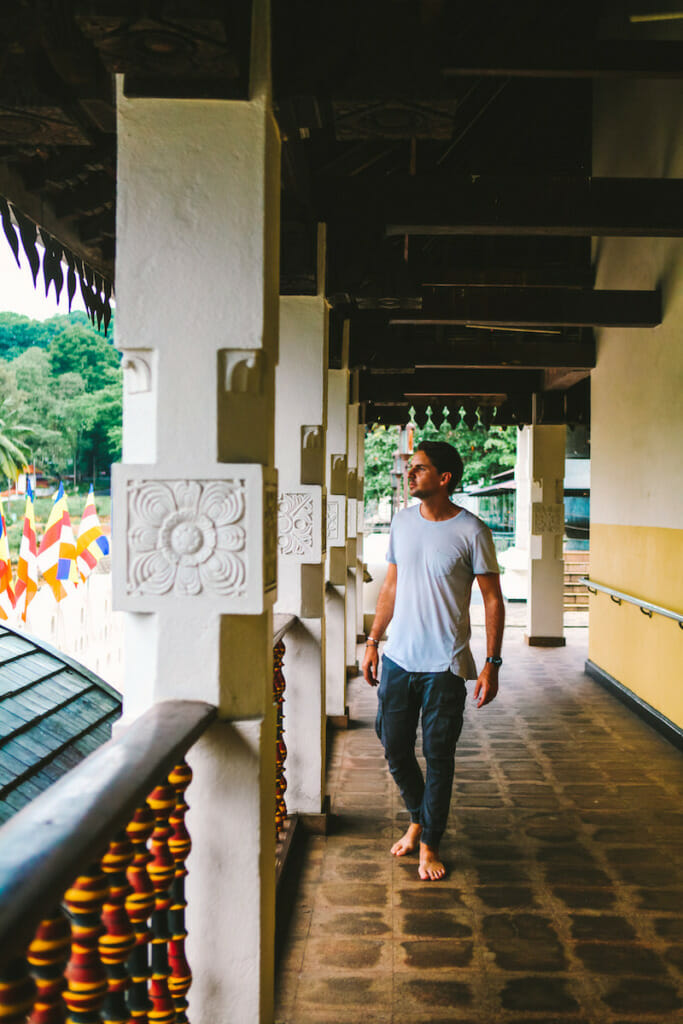 Location: here
Admission fee: Rs. 1,500
Website: here
>> READ: FULL GUIDE FOR VISITING THE TEMPLE OF THE SACRED TOOTH RELIC
---
2. Visit the World Buddhist Museum
After you finish with your visit to the Temple of the Sacred Tooth Relic, head to the World Museum of Buddhism. The Museum is located right behind the Sacred Tooth Relic Temple.
This rather large museum shows photographs depicting Buddhist worship around the world, along with replicas of famous statues.
There are several sections and galleries dedicated to various countries associated with Buddhism.
Location: here
Admission fee: Free (as long as you pay the entrance for the Temple of the Tooth Relic)
---
3. Join a traditional dance performance
After finishing our visit to the temple, we were asked by locals if we wanted to join a traditional dance performance. We had no idea about it, but decided to follow them anyway.
The place is actually just a few minutes walk from the Temple of the Tooth Relic in a large performance hall. We paid a very small entrance fee and enjoyed the 1-hour show.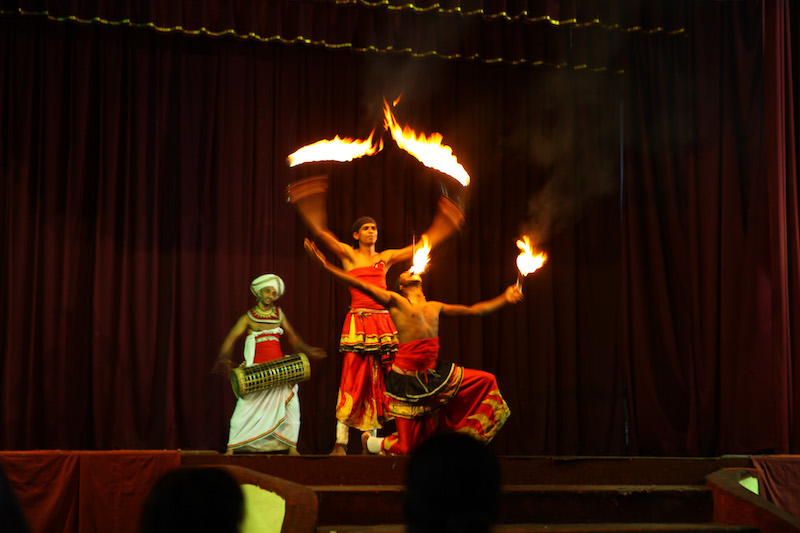 This was totally unexpected, and we absolutely loved it!
The show was filled with drum beats, dance, fire breathing performance and lastly walking on the burning coal. This made us literally hold our breath. Definitely check it out when in Kandy!
We are not quite sure about the schedule of the show. The best would be to ask your hotel or at the entrance of the temple, as they may have more information. We only know the location of the theatre: here
---
4. Explore Kandy Market and wander through the city
Our favorite thing to do in Kandy was to get lost wandering through the town.
We loved taking photos of the daily bustling life. The city is full of amazing buildings which we discovered randomly. It is also a place full of contrasts between modernity, traditions, Buddhism, and the busy city life with traffic and loud tuk-tuks! We absolutely loved it!
If you want to fully immerse yourself in the local culture, go to the Kandy Market. The market is inside a building hosting shops of spices, fruits and vegetables, bags, and local souvenirs.
Wandering through the market is a great way to learn more about the way of life of locals and to taste lots of good things.
Take your time here and enjoy this bustling place in Kandy.
Outside the main market there are also many merchants selling clothes and all kinds of accessories. It is one of the busiest areas in Kandy.
Location: here
---
5. Visit Kandy's gorgeous Botanical Garden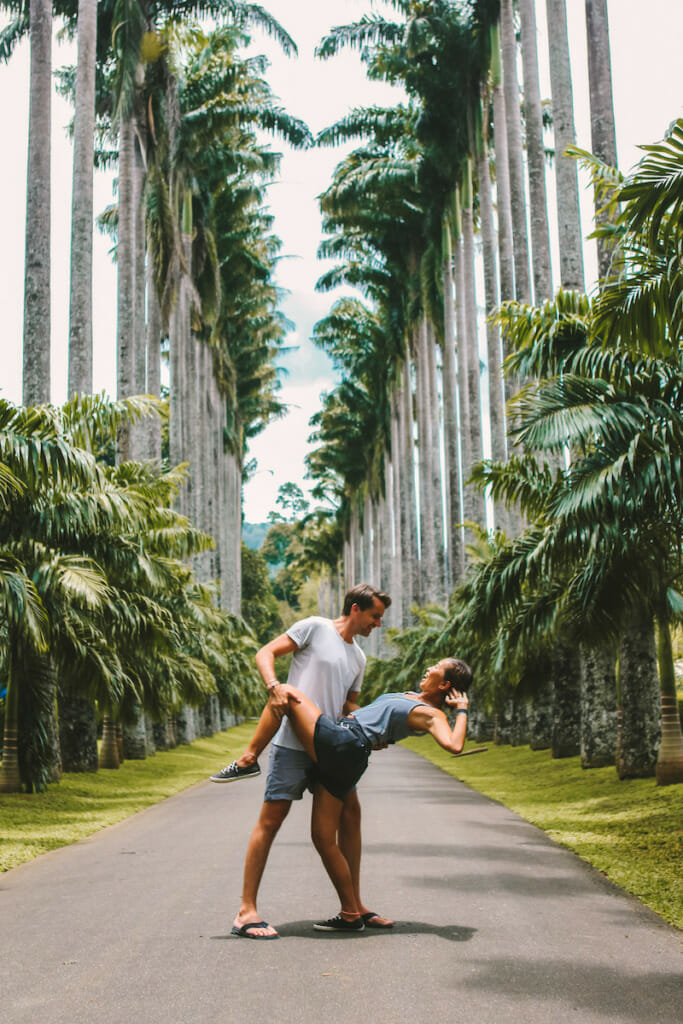 This Botanical Garden is very famous in the country. It is actually not in Kandy but in Peradeniya, a few kilometers southwest of Kandy.
We spent an entire morning exploring this huge park!
We particularly appreciated the calm after the hustle and bustle of Kandy! You can walk around there for a while. There are many things to see, with different sections, various greenhouses, huge alleys with tall palm trees (great for photos), hanging bridges, we even saw a buffalo in the park!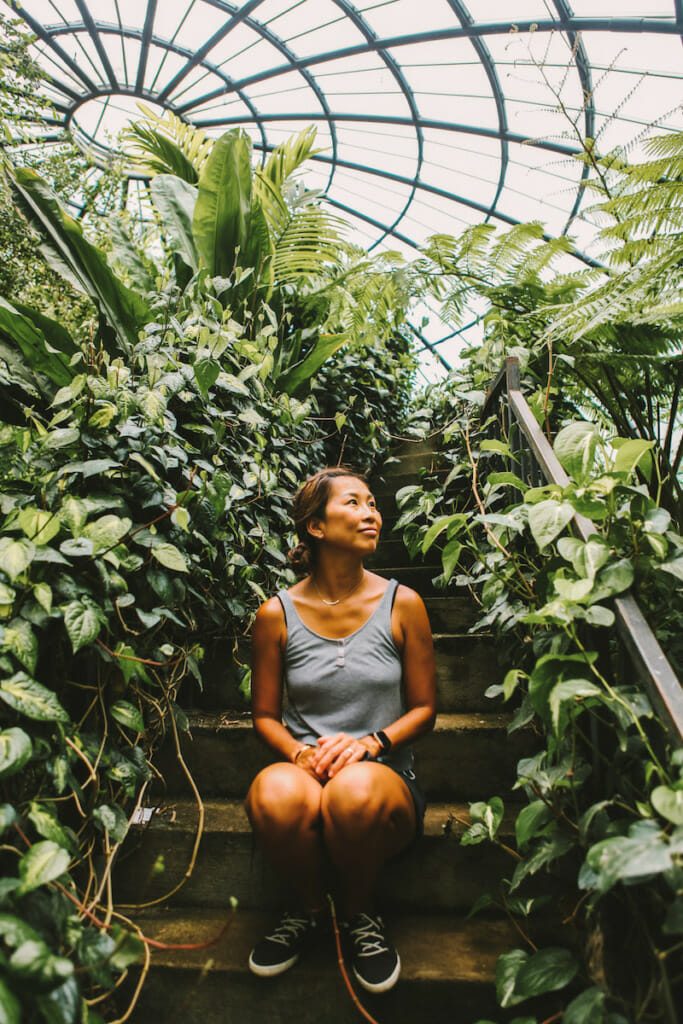 With its 60 landscaped hectares, the Kandy Botanical Garden is today the largest and most renowned in Sri Lanka.
Location: here
Admission fee: Rs. 2000
READ: FULL GUIDE FOR VISITING KANDY BOTANICAL GARDEN
---
6. Visit Dodamwala Suspended Bridge and go on a river cruise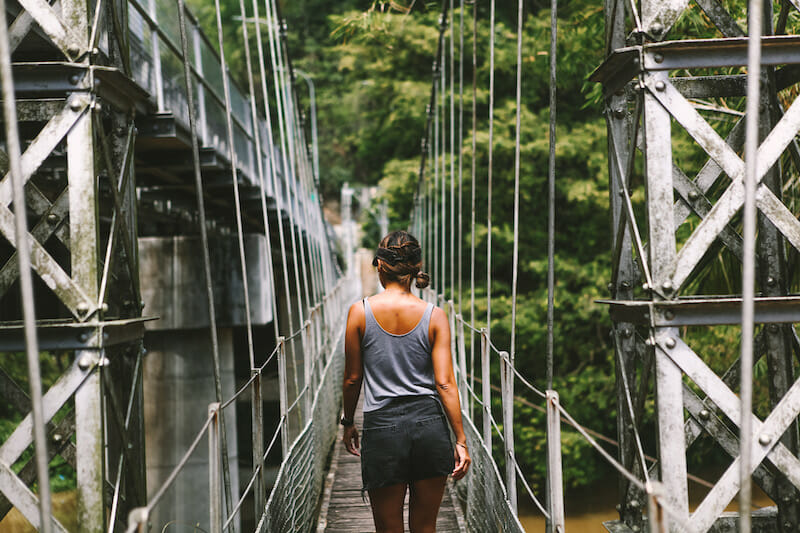 Dodamwala Bridge is a beautiful suspended bridge on top of Mahaweli River. We had no idea about this place, but our tuk-tuk driver asked us if we wanted to visit a not-so-touristy place in Kandy.
As travel bloggers, we are always excited to discover hidden gems, so of course we immediately and naïvely said yes! We weren't disappointed.
This spot is very scenic to take photos, and it's a great place to admire the Mahaweli River surrounded by Jungle. Besides, we were indeed the only tourists there. We had the entire place to ourselves!
The location of the bridge is here.
---
7. Check out Kandy's best viewpoint on top of the lake
This is the most scenic spot in Kandy, one of the best things to see in the city. The view from there is absolutely stunning. You can see the Royal Palace, the Temple of the Tooth Relic, the modern part of Kandy, and of course the beautiful lake in the middle of the city.
The viewpoint is located on top of a hill by the lake. To get there, simply take a tuk-tuk or go for a short but uphill walk!
Location: here
Admission fee: free
From there you can also observe a giant white Buddha! This is next in the list of best things to see in Kandy!
---
8. Visit the giant white Buddha Statue
This giant Buddha is called Bahirawakanda Vihara Buddha. After visiting the best viewpoint of Kandy, ask your Tuk-Tuk driver to get you to the big Buddha. It only takes 10 minutes.
This is the BIGGEST Buddha Statue in Sri Lanka! One of the best things to see in Kandy!
There you will see a beautiful temple on top of a hill with a 360 Aerial view of Kandy. It is a good place to peacefully spend your time. At first, it looks like it's just a massive Buddha statue, but once you are inside, there is a lot to explore. Besides it was recently renovated.
Location: here
Admission fee: Free
---
9. Spend some time in Kandy Spice Garden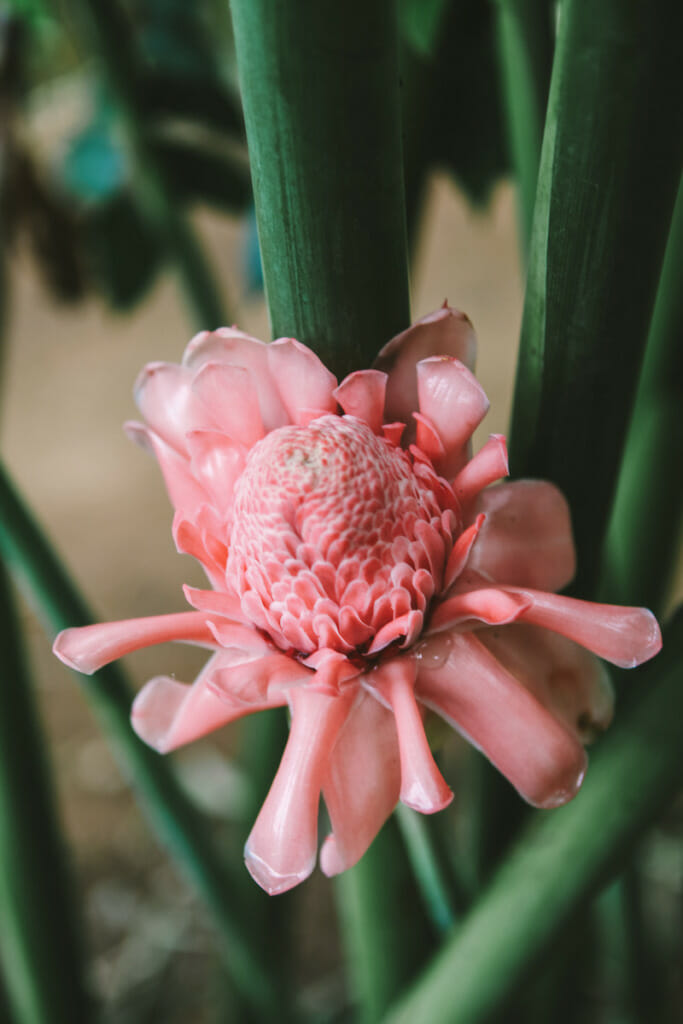 If you haven't visited a spice garden yet in Sri Lanka, then visit the one in Kandy. There are many spice gardens in Sri Lanka, and all look a bit the same.
Generally, one guide is assigned to you when you enter the park (for free). The guide will then explain to you about the different spices and their health benefits.
It's a great way to discover many different flowers, plants, and fruits in Sri Lanka. At the end, there is a shop where you can buy some of the natural products made out of different plants.
Location: here
---
10. Explore Udawattakele Forest Reserve
Walking through the Royal Forest in Kandy called Udawattakele Forest Reserve is a great way to relax. Open your eyes wide, monkeys live in the area.
Many films have been shot in the royal forest. Indeed, this strange and surprising forest served as a setting in particular for Indiana Jones.
Location: here
---
BRIEF HISTORY OF KANDY
As major Buddhist centre, Kandy was the seat of an important independent monarchy in Sri Lanka at the end of the 15th century.
Kandy, following Anuradhapura and Polonnaruwa, became the capital in 1592; Kandy was the last royal capital in Sri Lanka. This meant all the other kingdoms in Sri Lanka were already ruled by the colonial powers, either the Portuguese, the Dutch, or the British!
Kandy managed to survive countless attacks by colonial forces. However, it failed to the British in 1818. While all other Sinhalese kingdoms had been wiped out by the Portuguese in the early 17th century, Kandy resisted tenaciously for two centuries!
From then on, Kandy retained its sole function as a religious capital and became a place of pilgrimage for Buddhists in the country.
---
WHAT ELSE TO SEE OUTSIDE KANDY?
The Knuckles
For the more adventurous, why not try a walk in the Knuckles, listed as a UNESCO World Heritage Site!
The Knuckles Mountains are a chain of mountains located near Kandy. If you like hiking, you will not be disappointed by this exceptional natural site which will immerse you in the middle of rice fields, and lush green jungle and offer superb landscapes and panoramas once at the top.
Keep your eyes open, and you will see giant squirrels and monkeys.
---
Amubluwawa tower
Located about 45 minutes from Kandy, Ambuluwawa Tower is off the beaten track.
Nestled at an altitude of 1090m, the Ambuluwawa Tower is a real mystery. Indeed, there is very little information on this extraordinary monument. Who built it? When and why? So many questions that remain unanswered…
The only information is that Ambuluwawa temple dates back to the 13th century. Ambuluwawa Peak is said to have been the center of the kingdom of Gampola during the reign of King Buwanekabahu IV.
Ambuluwawa Mountain is a biodiversity hotspot in Sri Lanka. It is home to no less than 200 kinds of plants of 80 different species.
There are also many medicinal plants there.
---
Tea plantations
On the heights of Kandy, there are tea plantations, a good alternative for those who do not have time to go to Ella or Nuwara Eliya. You can visit the Ceylon Tea Museum here and the tea plantations surrounding the museum. This is a great exploration outside of Kandy.
---
The 3 temples
Go for a day trip to discover the 3 famous temples: Lankatilaka Vihara, Gadaladeniya or Embekke. The temples serve as a living testimony to Sri Lanka's Buddhist heritage, history, and exceptional craftsmanship. This is one of the best day trips from Kandy. You can join a guided tour here.
---
Pinnawela Elephant orphanage
This is a place that we absolutely do not recommend. Sadly, animals are domesticated, chained, and therefore abused.
If you read this, make sure that you do not go there. As the most tourists visit this place, the worse it gets for Elephants…
---
Go on a day trip to Sigiriya
If you are on a tight schedule during your trip to Sri Lanka, you can do a day trip to Sigiriya, instead of spending a night or 2 there. During your day trip, you will see all the essential things to visit in this magical place. If you go there for a day only, we highly recommend booking a private tour here, with a driver and a car.
For all your bus, train, or driver bookings, you can also use 12go, here.
---
Kandy to Ella train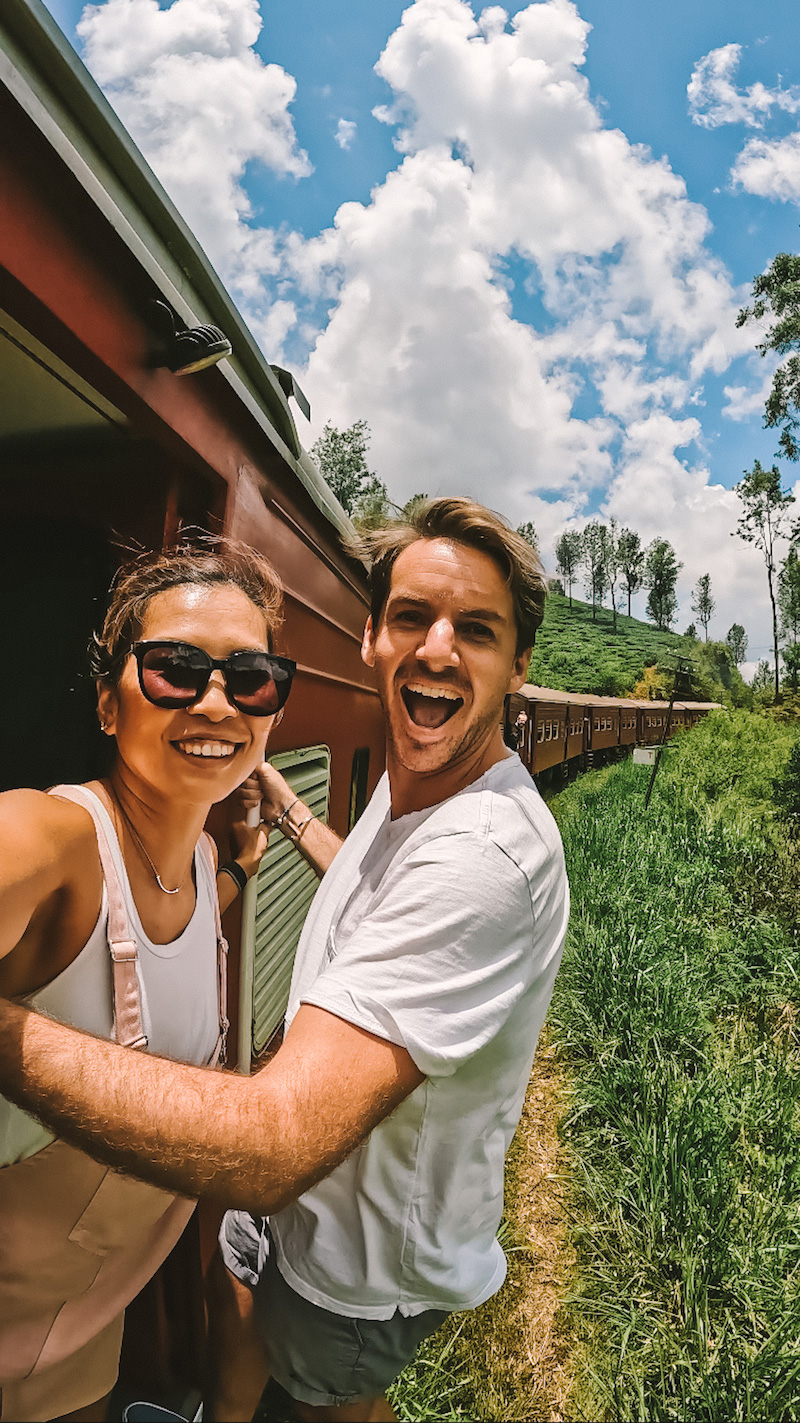 From Kandy head to Ella by train. This would be the most epic ride ever.
This 6-hour journey was the most memorable thing we did during our trip to Sri Lanka. The train will cross the central mountains of Sri Lanka, where you will see tea plantations as far as the eyes can see, waterfalls, immense forests, rice fields, and local life all along.
We wrote a full post about this epic journey here.
---
WHERE TO STAY IN KANDY?
The Radh Hotel – $$$$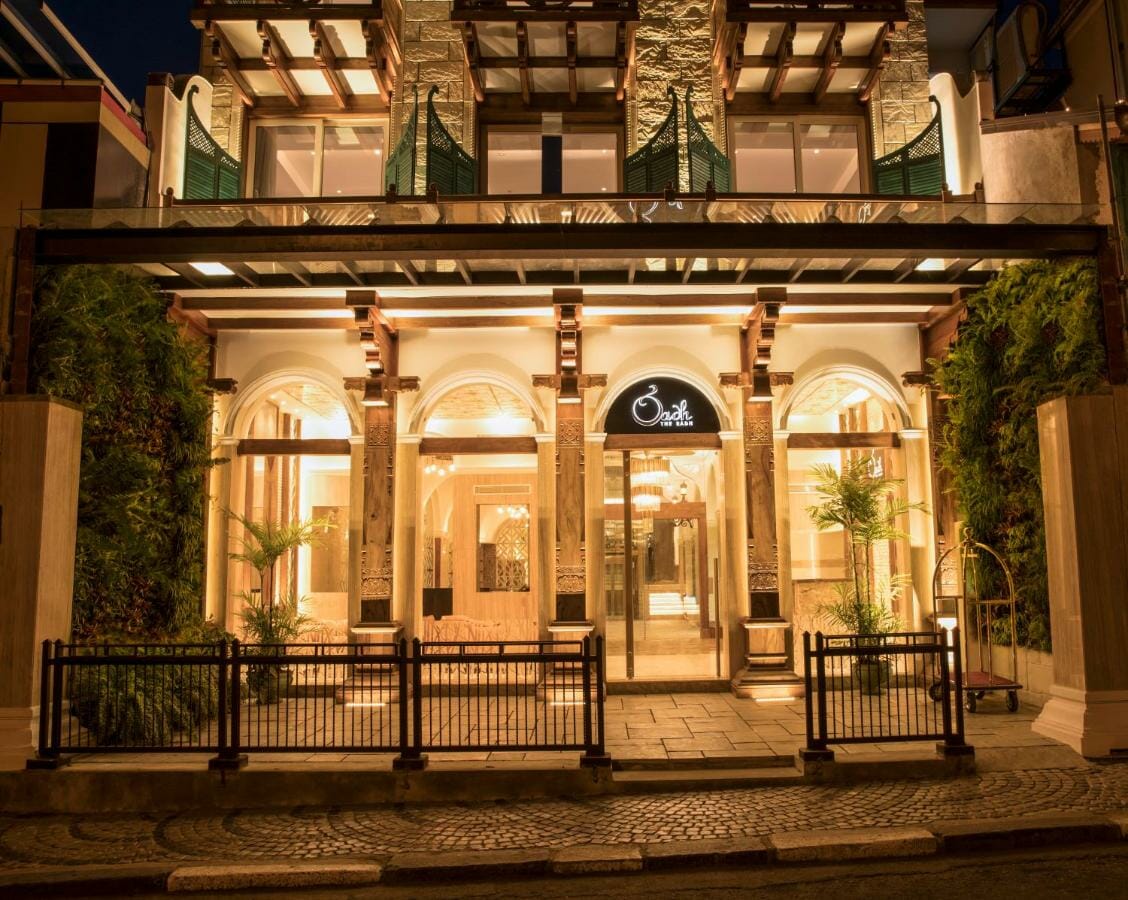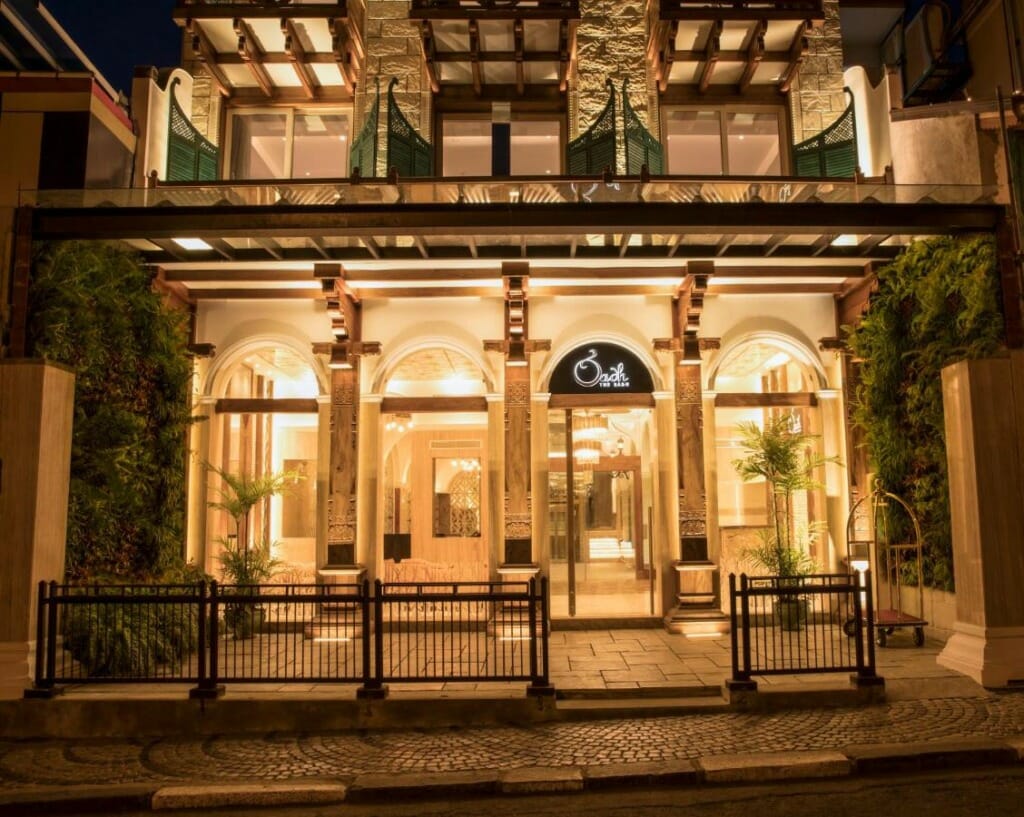 Located in the center of Kandy, this hotel is the perfect place to start your exploration of the city. Many attractions such as the Temple of the Tooth Relic, or Kandy Market are accessible on foot! The rooms are modern and clean. The breakfast is also delicious with a great variety of food.
Check out the availability here.
---
The Grand Kandyan – $$$$$
The Grand Kandyan, is a 5-star hotel, tucked away in Kandy just a few minutes drive to the Temple of Tooth Relic. The hotel has a beautiful swimming pool, a fitness center and a spa. If you want to get pampered while visiting Kandy, then this is the best hotel in the area.
>> Book now.
---
Radisson Hotel Kandy – $$$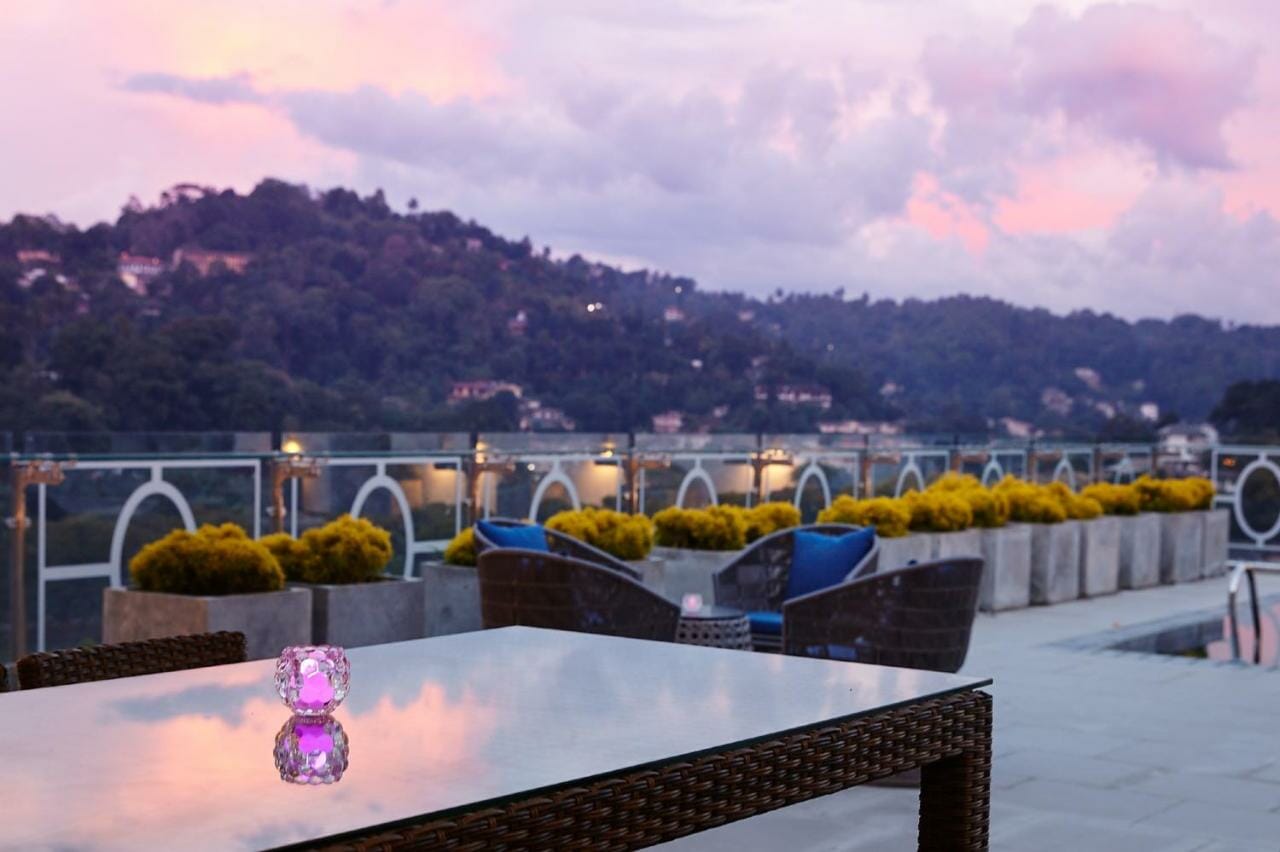 Radisson Hotel Kandy is a modern hotel featuring a rooftop pool, bar and lounge, and fitness center.
All rooms are designed to offer flexible, modern yet homely living spaces. You can also dine at the Radisson Hotel Kandy's signature all-day dining restaurant serving buffet breakfast.
---
HOW TO GET TO KANDY?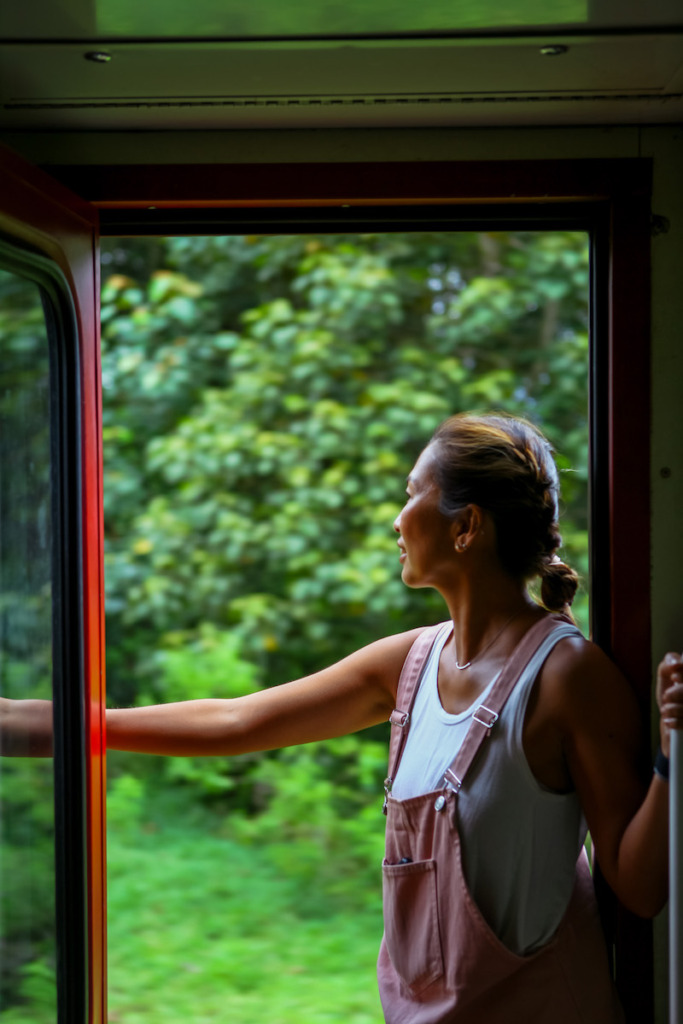 Here are the distances and train/bus routes for some cities you might want to visit before or after your trip to Kandy:
Distance Colombo – Kandy: 120 km. It is easy to take the Colombo Kandy train (or vice versa). There are several a day and it takes about 2h30 (sometimes more depending on the trains).
Distance Dambulla – Kandy: 85km. The Dambulla–Kandy buses are very regular, approximately every 20/30 minutes during the day. It takes about 2h / 2h30 of journey
Distance Kandy – Ella: 75km. The train journey from Kandy to Ella is one of the most beautiful in Sri Lanka, and arguably in the world! It lasts 6 hours but there is so much to see that time flies.
---
IN CONCLUSION – IS KANDY WORTH A VISIT?
Nestled amidst the emerald hills of Sri Lanka's central province, Kandy stands as a cultural jewel, captivating visitors with its rich heritage, stunning landscapes, and serene atmosphere.
Often referred to as the cultural capital of the island, Kandy offers a blend of ancient traditions and modern charm. From its iconic Temple of the Tooth Relic to its lush botanical gardens, Kandy is a destination that leaves an indelible mark on the hearts of all who visit.
---
Related Posts
FULL GUIDE FOR VISITING THE TEMPLE OF THE SACRED TOOTH RELIC
VISITING THE NINE ARCHES BRIDGE IN ELLA
VISITING LIPTON'S SEAT IN HAPUTALE