WHAT TO DO IN WELIGAMA? WHERE TO SURF AROUND WELIGAMA? BEST PLACES TO STAY IN WELIGAMA?
Nestled along the southern shores of Sri Lanka, the idyllic town of Weligama is a hidden gem to experience the perfect blend of serenity, culture, and stunning natural beauty.
With its picturesque beaches, rich history, and vibrant local culture, Weligama has earned its place as a must-visit destination in Sri Lanka. Weligama is also a surf paradise with many great surf spots.
We spent a month traveling through Sri Lanka and Weligama remain one of the most memorable stay in this country!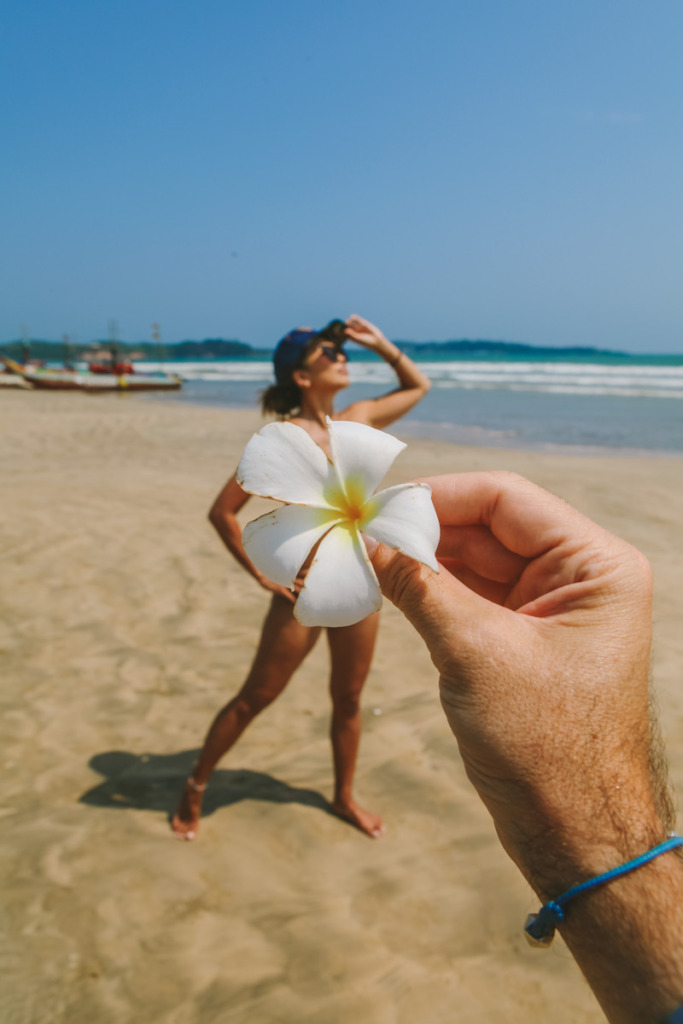 Weligama is one of our favorite places in Sri Lanka. If you like surf culture, trendy cafes, and being surrounded by digital nomads, then this place is for you.
By the way we ranked Weligama as one of the top places for Digital Nomad. (READ: 15 BEST PLACES FOR DIGITAL NOMADS)
In this video you can see some first impressions of what Weligama looks like:
---
WHAT TO DO IN WELIGAMA
1. LEARN HOW TO SURF IN WELIGAMA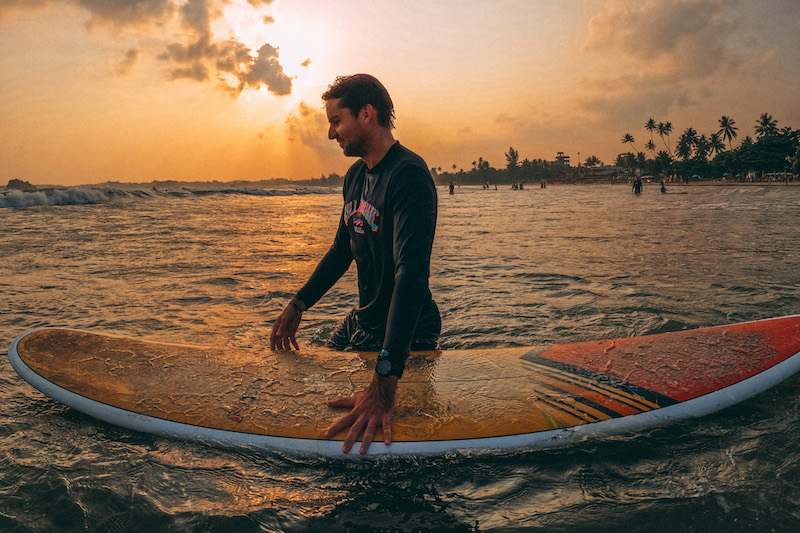 Weligama is a well-known beach for beginners and intermediate surfers. This beach break is actually beautiful and a great place to learn surfing. There are many surf camps around Weligama.
The swell is usually better early morning or late afternoon as it's less windy. We surfed pretty much every day during our stay in Weligama in March. We stayed at The Weligama Bay Resort. An awesome hotel right by the beach. The hotel also rents out pretty good surfboards, which is perfect if you don't have a board.
>> BOOK YOUR SURF LESSON IN WELIGAMA
---
2. CHECK OUT TAPROBANE ISLAND
Taprobane Island is a tiny island that can be seen from Weligama Beach. During low tide, it is even possible to walk to the island. Funny enough, having stayed 1 month in Weligama, we never paid much attention to this rocky place full of palm trees, until the last week of our stay.
We then realized that there is a hotel/villa built on the island. We then did some research and found out that there is a mansion on the island originally built in the 1920's which hosted kings, queens, presidents, prime ministers, artists, writers, and many famous personalities from around the world. What a surprise!
The mansion includes five en-suite bedrooms, with spacious living areas, balconies, verandahs, tropical gardens, and a stunning infinity pool. This is probably the most exclusive, most romantic, and most luxurious place in Sri Lanka.
---
3. JOIN A YOGA RETREAT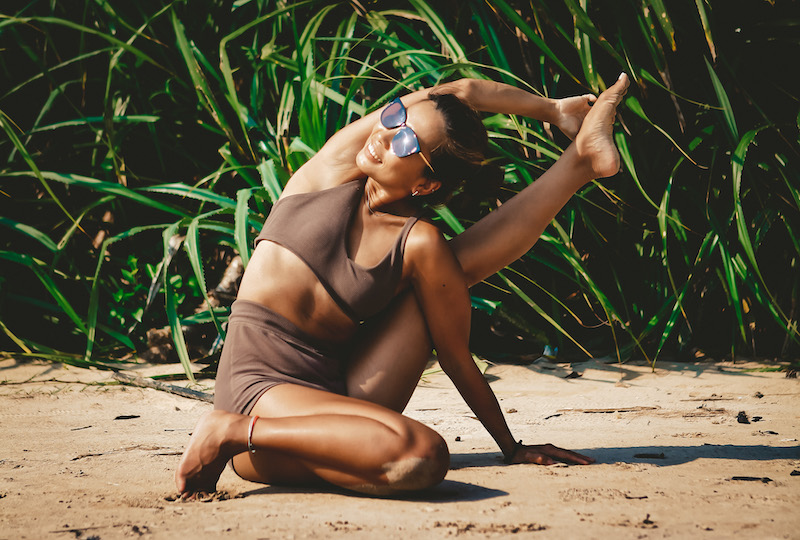 Yoga and meditation are part of everyday life in Sri Lanka.
Many people come to Sri Lanka to join a yoga retreat. There are many options in Weligama some also combine surf, and yoga and it's all-inclusive with vegetarian food options. Check it out here.
If you simply want to join a class, we recommend Kosala Yoga. More information here.
---
4. VISIT A TEMPLE IN WELIGAMA
In Weligama, you can visit a beautiful Buddhist temple by the river. The temple is called Pelena Gangarama Maha Viharaya. It is not as impressive as another temple in the south of Sri Lanka such as Mulkirigala Rock Temple, but still worth a visit. You can easily walk to the temple and also check out the beautiful river passing by.
The temple includes a huge stupa and a rather big Buddha inside a building. There you can also see monks. Closer to the river there is a school for small children.
Location: here
---
5. GO SKATEBOARDING IN MIDIGAMA SKATEPARK
The skatepark is located just outside Weligama, but only a few minutes drive by tuk tuk or scooter will get you there. The skatepark is free and is also covered, which is perfect a perfect alternative if there aren't good waves for surfing or for rainy days. The owner is super friendly and also rent out surf board.
Location: here
---
6. ENJOY A DELICIOUS BRUNCH OR COFFEE
Weligama is full of great brunch and cafes, here is our list of recommended places:
MOOCHIE'S
Lovely settings in a garden, with a great vibe and super healthy food. A must-try in Weligama
---
CURRENT – SOCIAL CLUB & KITCHEN
Located in the outpost co-working space, this is our favorite restaurant in the area. Great and Healthy food, amazing coffee, excellent cocktail at night and a great view by the beach. In a nutshell, the perfect place to eat in Weligama.
---
CEYLON SLIDERS
This is one of the trendiest place in the area with a pretty awesome vibe! Ceylon sliders is also a great boutique hotel which you can book here.
Location: here
Website: here
---
7. CHILL AT KURUMBA BAY
Kurumba Bay is one of the best areas in Weligama to chill, have a drink, eat some food, and do a bit of shopping. This new place is located right by the beach. This is our go-to place in Sri Lanka, no question about that.
From time to time they have a live band playing, which is really nice. On top of that, they have a free tool to use for customers. Isn't it amazing?
Our favorite restaurant there is Bowl'd. We ate there 3 or 4 times a week at least! You can have all sorts of healthy bowls with Tuna, Salmon, or vegetarian options.
---
9. EAT SOME SEAFOOD ON WELIGAMA BEACH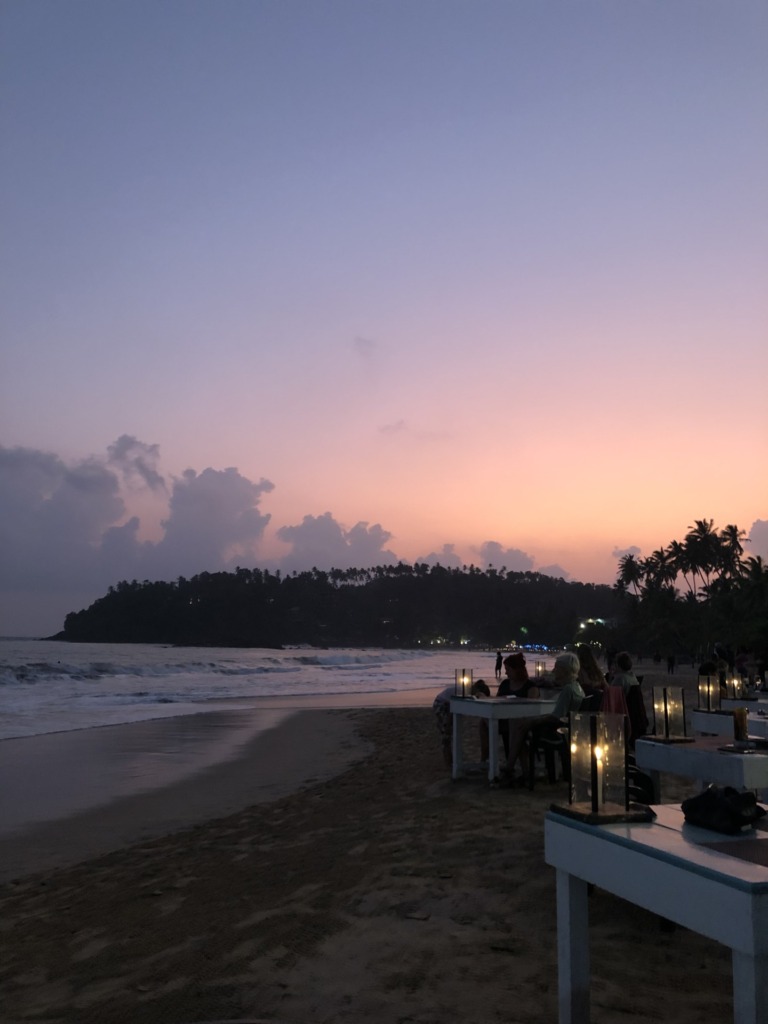 We love fresh seafood. And at Weligama, you can choose a freshly caught fish by the beach which the restaurant will then cook for you.
For that head to Kuma Seafood Restaurant. Seat by the beach with a candle on your table and watch the sun go down. Then wait for your fish to be cooked, and enjoy one of the best meals in Sri Lanka. This is also one of the most romantic places.
When you arrive at the restaurant, it doesn't look very nice from the road but don't worry, the seafood is fresh, the price really cheap, and you will seat on the beach far from the road.
Location: here
---
10. TAKE A WALK ON THE BEACH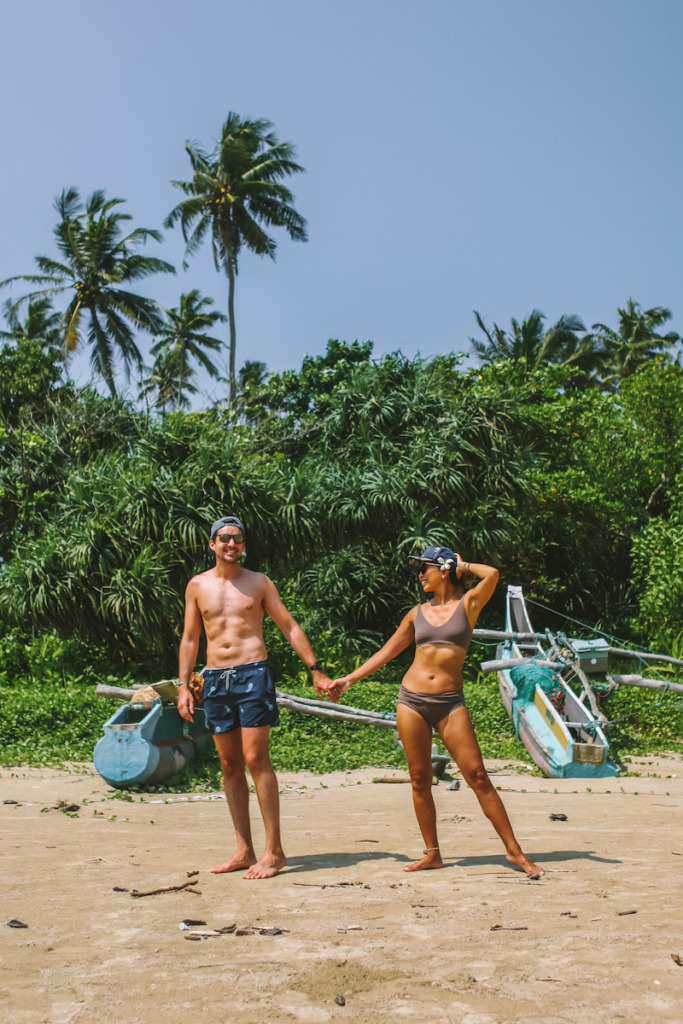 Weligama is one of the longest beaches in the south of Sri Lanka. The beach is a bit over 1km long. It is perfect for nice walks in the morning or evening. On the way check out the fishermen with their colorful wooden boats.
One day we spotted a giant turtle digging a hole in the sand to put her eggs during one of our walks. It was such a magical moment. Wildlife is everywhere in Sri Lanka. Another reason why we fell in love with this place!
---
WHAT ELSE TO SEE IN THE SOUTH OF SRI LANKA
From Weligama, you can easily visit some of the best things to see in the South of Sri Lanka.
You can go on a day trip to Galle, you can go to Mirissa and join a whale-watching tour, or head to Polhena Beach to swim with Turtles. There are amazing things to see in the south of Sri Lanka.
>> READ: 20 BEST THINGS TO SEE IN THE SOUTH OF SRI LANKA
---
OTHER GREAT RESTAURANTS IN WELIGAMA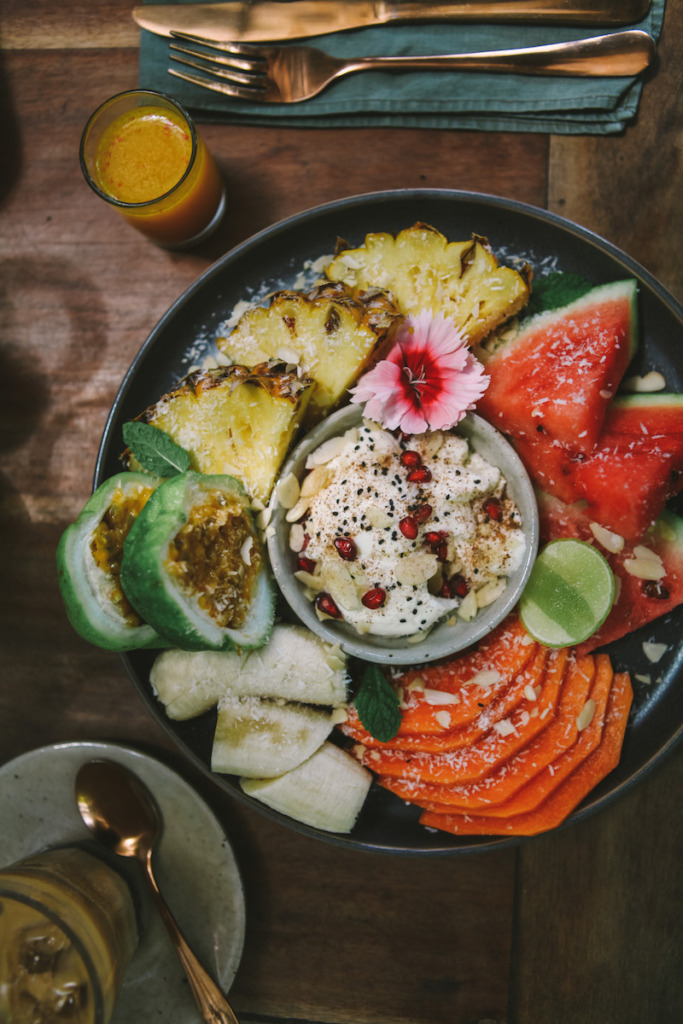 Although there aren't as many choices as Mirissa, Weligama is full of hidden gems. We already listed amazing brunch places earlier in this post as well as Kurumba Bay which offers a great variety of food. However, there are other restaurants worth checking in the area.
BAY-ROUTE
If you like Middle Eastern food, then this place is for you. We ate one of the best hummus ever! The owner is also super chill.
Location: here
---
RISE
Although Asian food is incredible we all need a western break at some point. For that, head to Rise, the best pizzeria in the South of Sri Lanka. The best? Yes, the chef is Italian, serving authentic pizza. It's absolutely delicious.
Location: here
---
JAYALATH REST
Actually, we just realized that we didn't recommend any local places in this post.
However, Sri Lanka has lots of amazing food. Our favorite? Fish curry or Roti! There are many local restaurants all around Weligama, simply take your chance with any of them. However, there is one we would like to recommend: Jayalath Rest. They serve amazing curry!
Location: here
---
BEST TIME TO VISIT WELIGAMA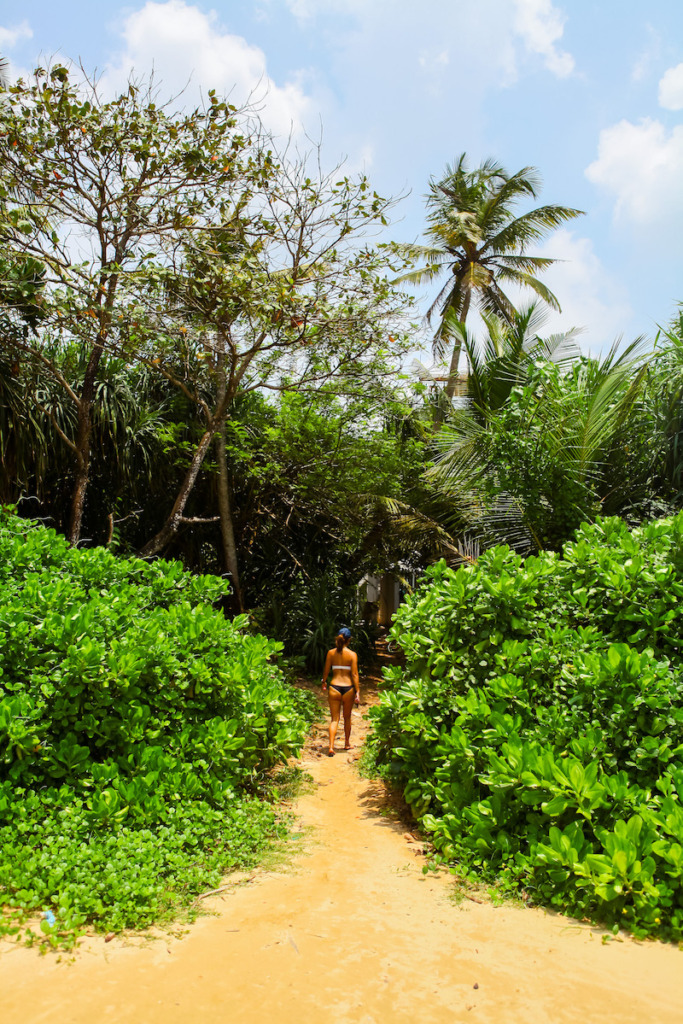 West/South-West monsoon: April to September
North/East monsoon (Arugam Bay): November to March
So ideally, the best is to visit the south coast from November to March. You will have mostly sunshine, great waves for surfing and all restaurants/hotels will be open during that time.
---
WHY WELIGAMA IS A GOOD PLACE TO STAY IN THE SOUTH OF SRI LANKA?
If you are planning a trip to Sri Lanka, you have most likely read much more about Mirissa. Mirissa and Weligama are very close to each other. Of course, we visited both places and spend quite a lot of time in both areas.
For us, we actually preferred Weligama. Don't get us wrong, Mirissa is great, but if we were to go again to Sri Lanka, we will choose Weligama over Mirissa for the following reasons:
The Beach is actually much bigger in Weligama
The surf in Weligama is better, with great intermediate waves
Over the last few years Weligama developed quite a bit with great restaurants and Outpost, one of the best co-working space in the area
In terms of hotels, you can find cheaper option and better value for money
READ: 14 AWESOME THINGS TO SEE IN MIRISSA
---
WHERE TO STAY IN WELIGAMA?
Weligama Bay Resort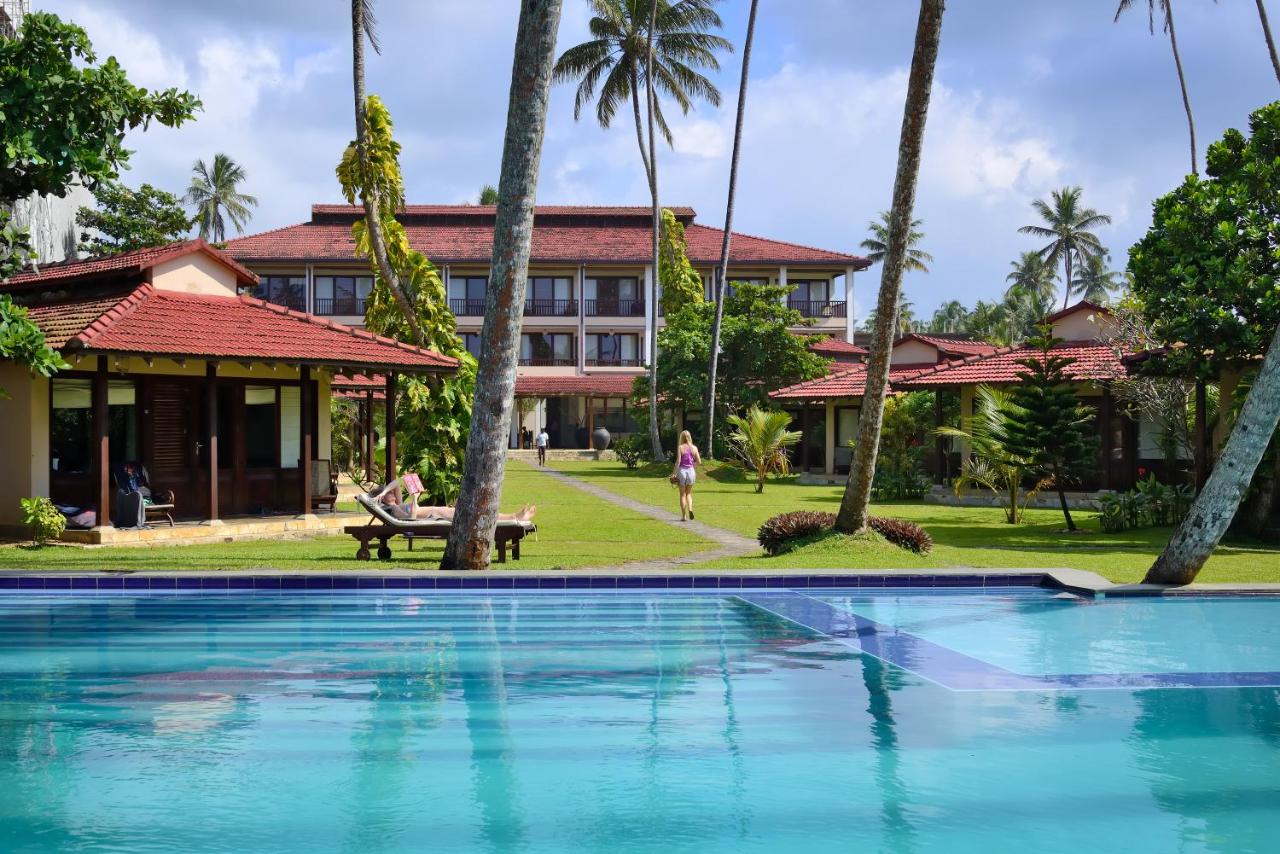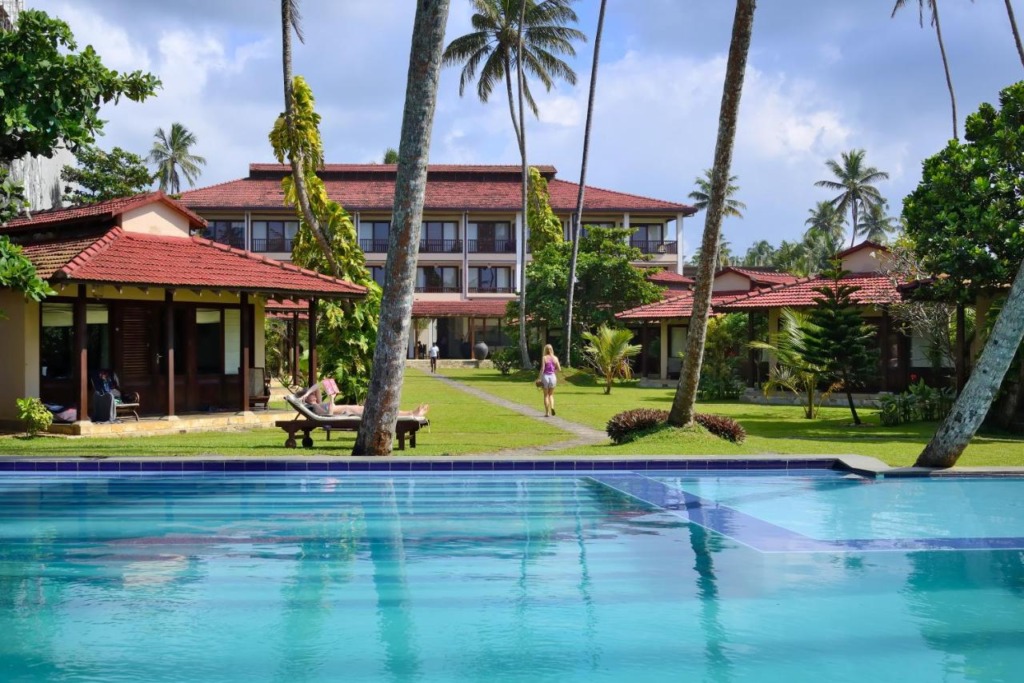 We absolutely love the Weligama Bay Resort. It is perfectly located by the beach in Weligama. One of the best value for money in the area. There are many restaurants nearby and the beach is at your footstep. Don't hesitate, book here.
---
Weligama Bay Marriott Resort & Spa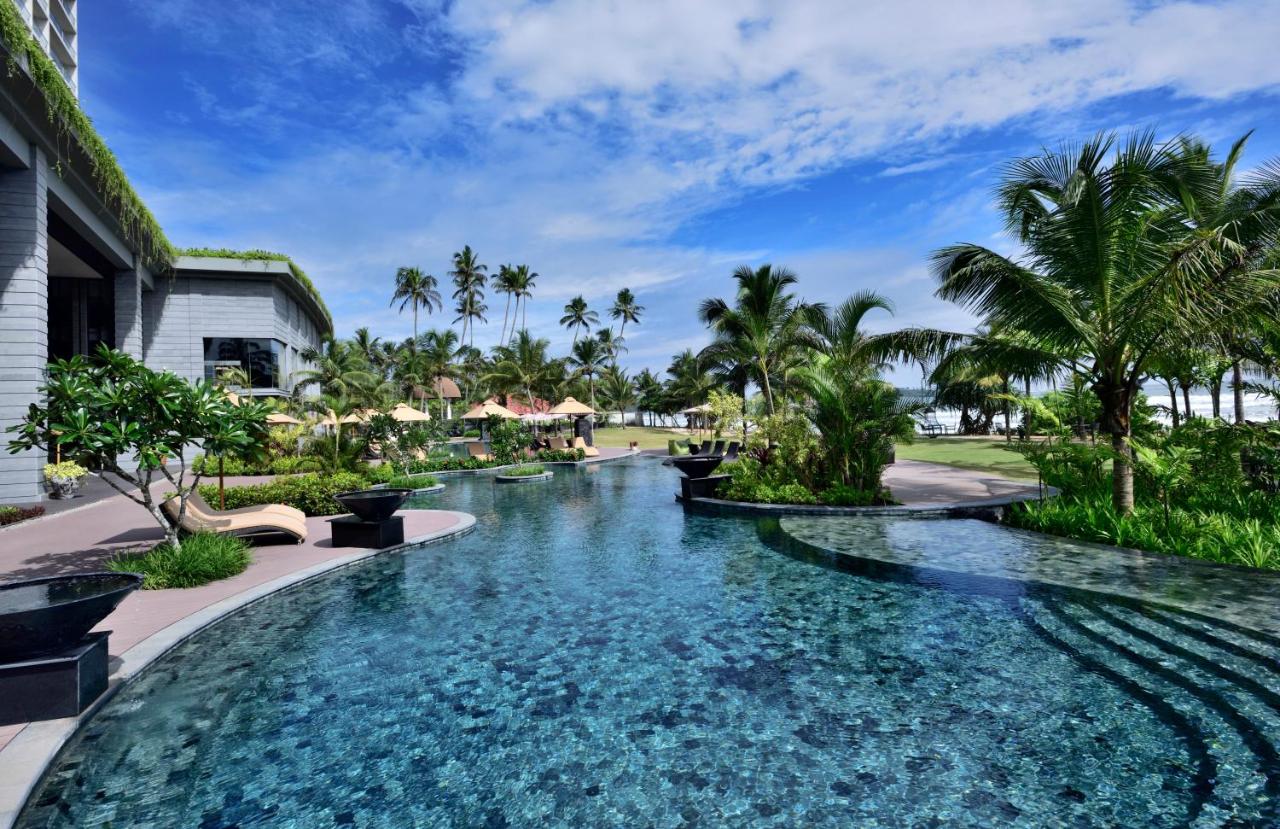 For the luxurious experience and western comfort, pick the safe bet with Marriott. This hotel is located right next to Weligama Bay Resort, also facing the beach. Check out the availability here.
---
OUTPOST – CO-WORKING AND CO-LIVING SPACE
During our last visit in Weligama, we stayed at Weligama Bay Resort. However, we discovered the Outpost, which recently opened as a newly renovated Co-working and Co-living space.
The manager showed us the rooms and they are actually beautiful, facing the sea. For sure, next time we go to Weligama, we will opt for Outpost. Book here well in advance as it's in high demand.
---
HOW TO GET AROUND IN WELIGAMA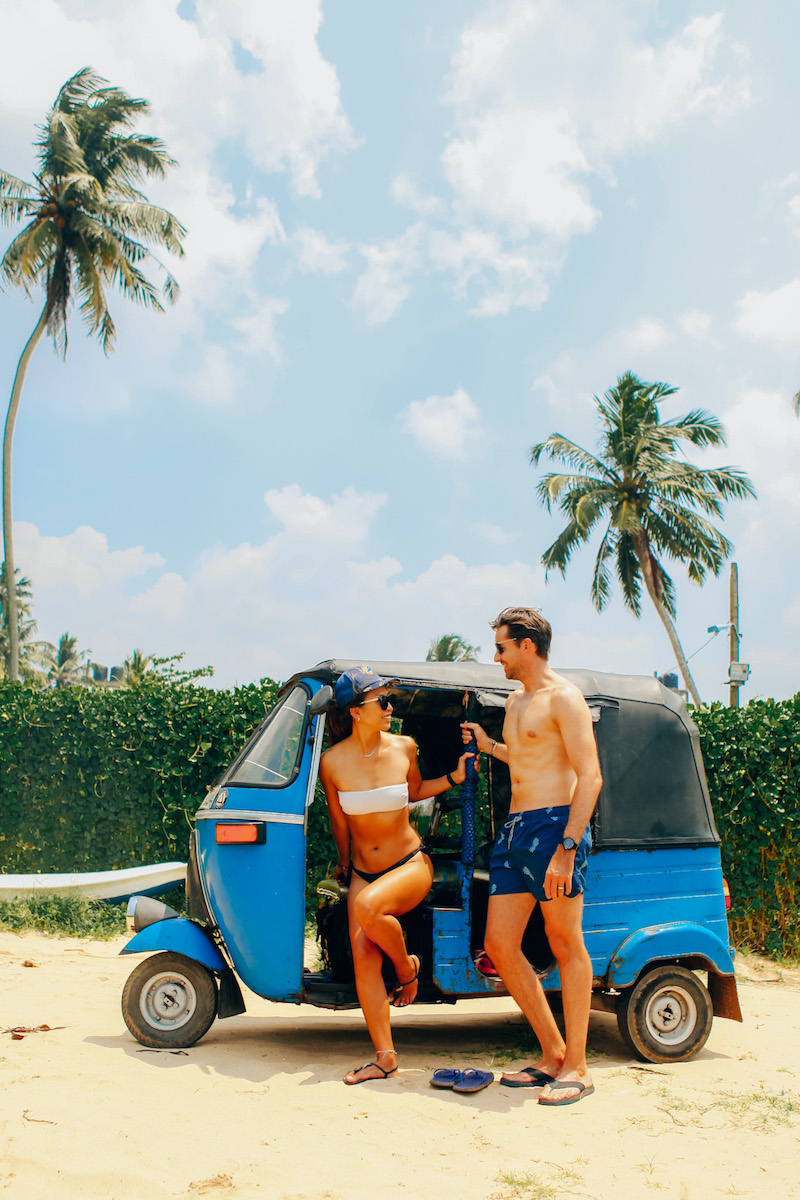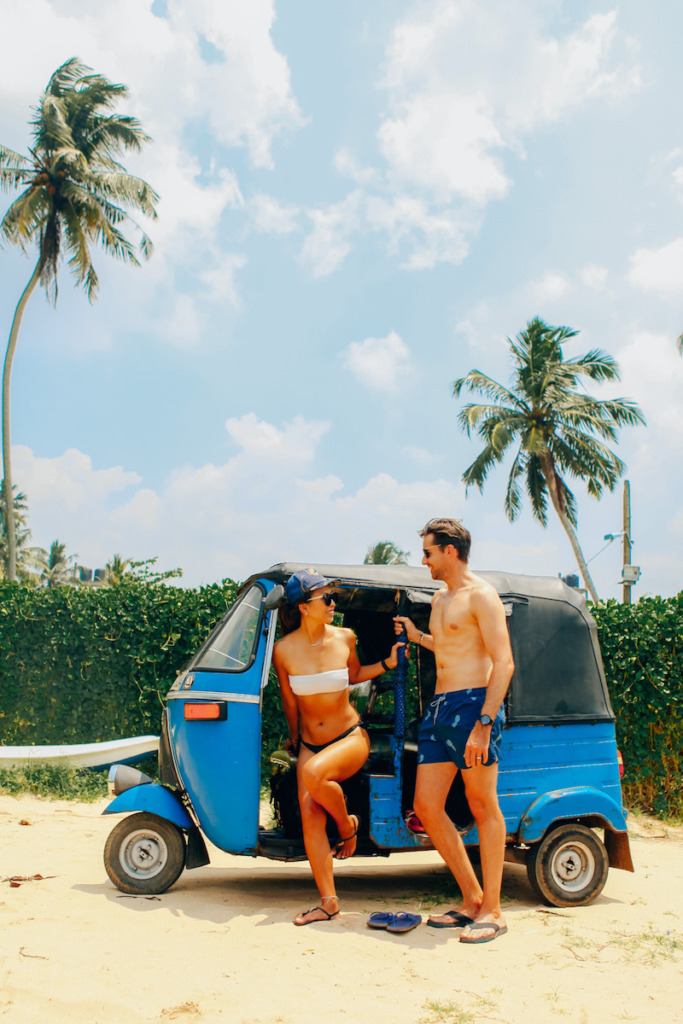 To visit most of the things in Weligama itself, the good thing is that pretty much everything is accessible on foot. If not, simply take a tuk-tuk which will get you pretty much anywhere.
Remember to negotiate the price of your journey, it's part of the culture!
You can also take public transportation which would be the most cost-effective way of travel in Sri Lanka. As for us, we opted for a scooter. We rented a scooter for the entire time, which was perfect and gave us plenty of flexibility. Not sure about the requirements there to drive a scooter as no one asked for our driving license…
For the more adventurous, you can even rent a Tuk Tuk. Some of our friends traveled through the entire country by Tuk Tuk. If you have a few months in front of you, this would be an amazing experience! You can rent your Tuk Tuk at multiple locations. Check out this website for more information.
---
IN CONCLUSION ABOUT THE BEST THINGS TO DO IN WELIGAMA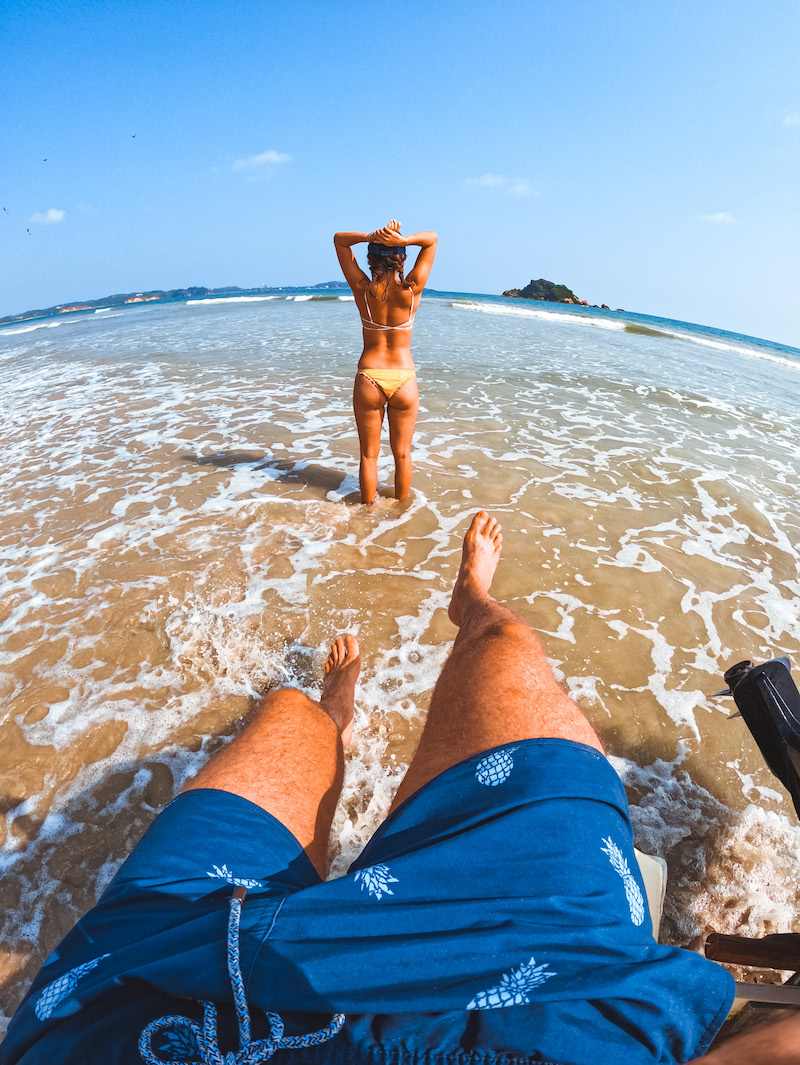 Well, hopefully, this post made you want to stay in Weligama during your holiday in Sri Lanka. We absolutely love this place in Sri Lanka.
At first, we only planned to stay a week, but ended up staying a month. It was exactly what we needed: friendly locals, great beaches for surfing every day, yoga places, delicious and healthy food, and an awesome vibe at night especially in Kurumba Bay.
We actually feel that Weligama can become the future Bali, such as Canggu. But hopefully, it will keep its authenticity and friendly vibe.
Hoping that this article has pleased/helped you (thank you for reading us!), don't hesitate to ask us any questions, or send us your comments (positive or negative, it's always rewarding) via the comments below, or via our Instagram.
Enjoy your trip to this wonderful country!
---
Related Posts
20 BEST THINGS TO SEE IN THE SOUTH OF SRI LANKA
14 AWESOME THINGS TO SEE IN MIRISSA
20 AWESOME THINGS TO SEE IN ELLA
15 INCREDIBLE THINGS TO SEE IN GALLE
10 AWESOME THINGS TO SEE IN KANDY
FULL GUIDE FOR VISITING THE NINE ARCHES BRIDGE IN ELLA
FULL GUIDE FOR HIKING LITTLE ADAM'S PEAK
A VISIT THE BEAUTIFUL TEA PLANTATION AT LIPTON'S SEAT NEAR ELLA
ELLA-KANDY, THE MOST EPIC TRAIN RIDE IN SRI LANKA
FULL GUIDE FOR VISITING UDAWALAWE