What to see in the south of Sri Lanka? Where are the best beaches in the south of Sri Lanka? Where to stay in this part of Sri Lanka?
We spent a month in Sri Lanka whereby 2 weeks were in the South. We loved it as it's one of the best places for surfing and practicing yoga. The south is full of incredible beaches with hard-to-remember names finishing with "A": Hikkaduwa, Ahangama, Midigama, Mirissa, Hiriketiya, Weligama…
However, we also had plenty of time to discover this beautiful part of Sri Lanka. There are plenty of things to see besides the amazing beaches of course.
From Colombo, you can get to the south of Sri Lanka by train, by bus, or simply by taking an Uber/taxi. We actually chose the last option, as we just arrived to Sri Lanka from a long flight, and didn't want to bother with a packed train. However, this is by far the most costly option. Taking the train is normally the most popular way.
In this post we listed for you for the 20 best things to see in the south of Sri Lanka. Enjoy your trip!
---
1. Visit Galle for its beautiful fort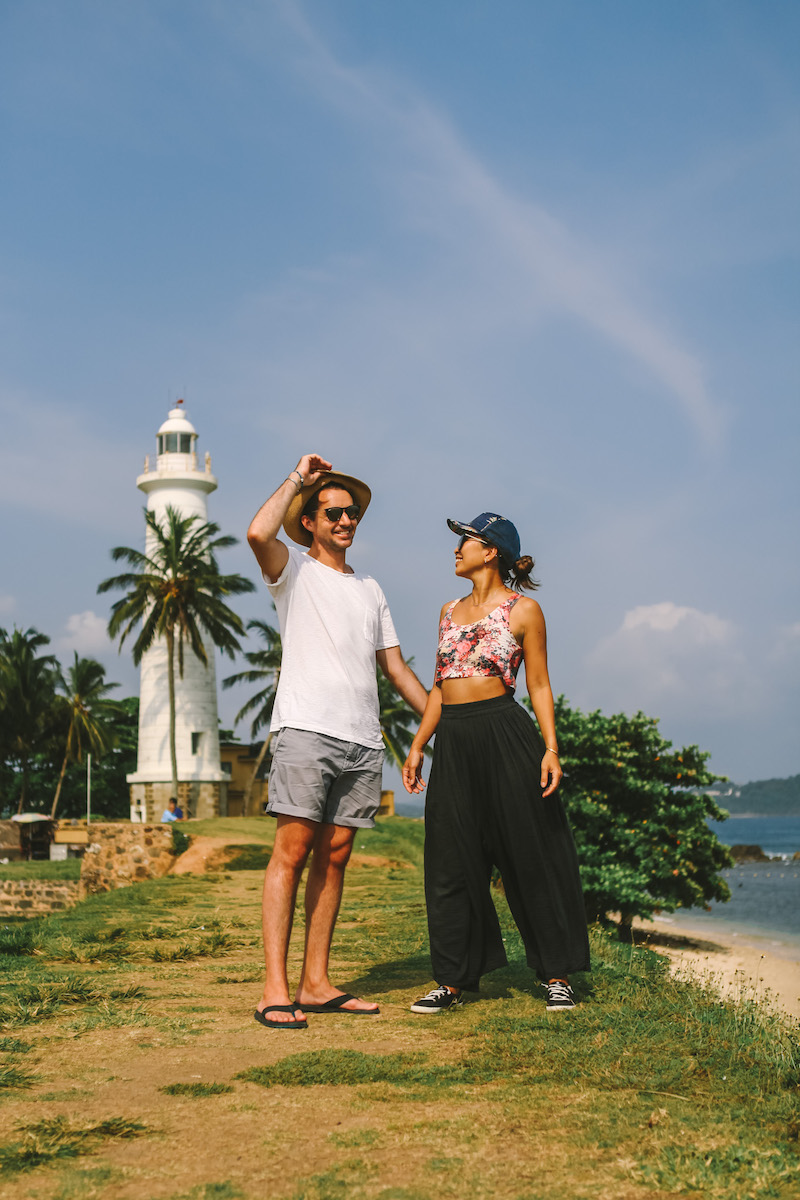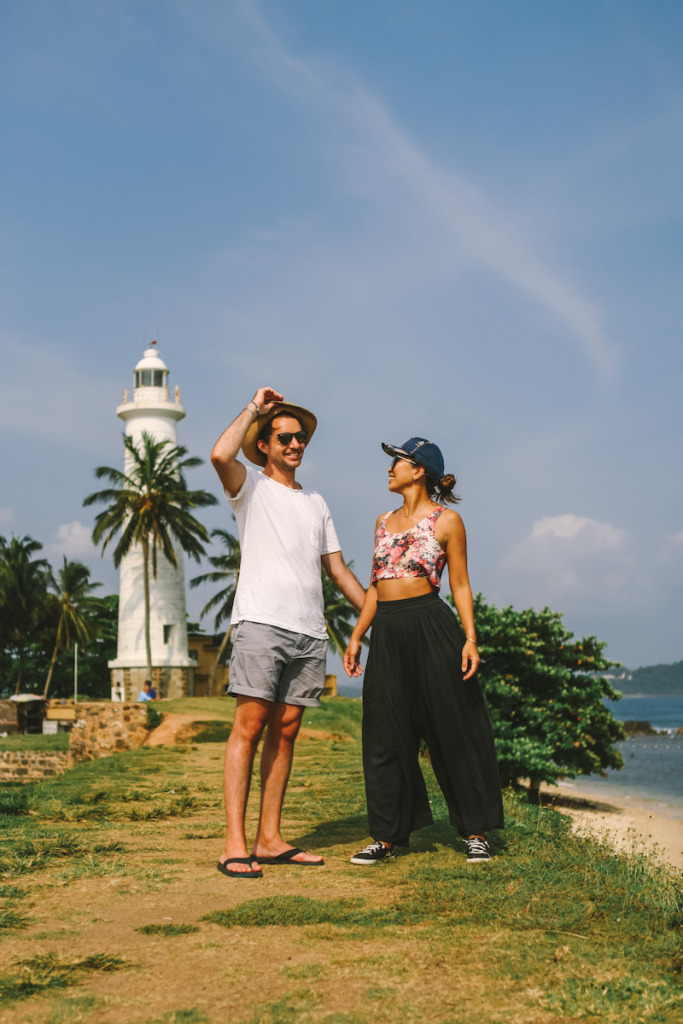 With its colonial style and its ramparts topped with bastions and a lighthouse, Galle contrasts with all the other cities of Sri Lanka: it was actually built by Portuguese, the Dutch and the English succeeding one another. Since 1988, it has been listed as a UNESCO World Heritage Site!
We absolutely loved our visit of Galle, full of contrasts, mixing European colonial style with Sri Lankan culture. Most of the main things to see in Galle, are located inside the Galle Fort, which is a part of the city surrounded by ramparts.
Start your exploration by walking around the pedestrian streets full of shops, restaurants and trendy cafes. Making sure to check out the main street called Pedlar St.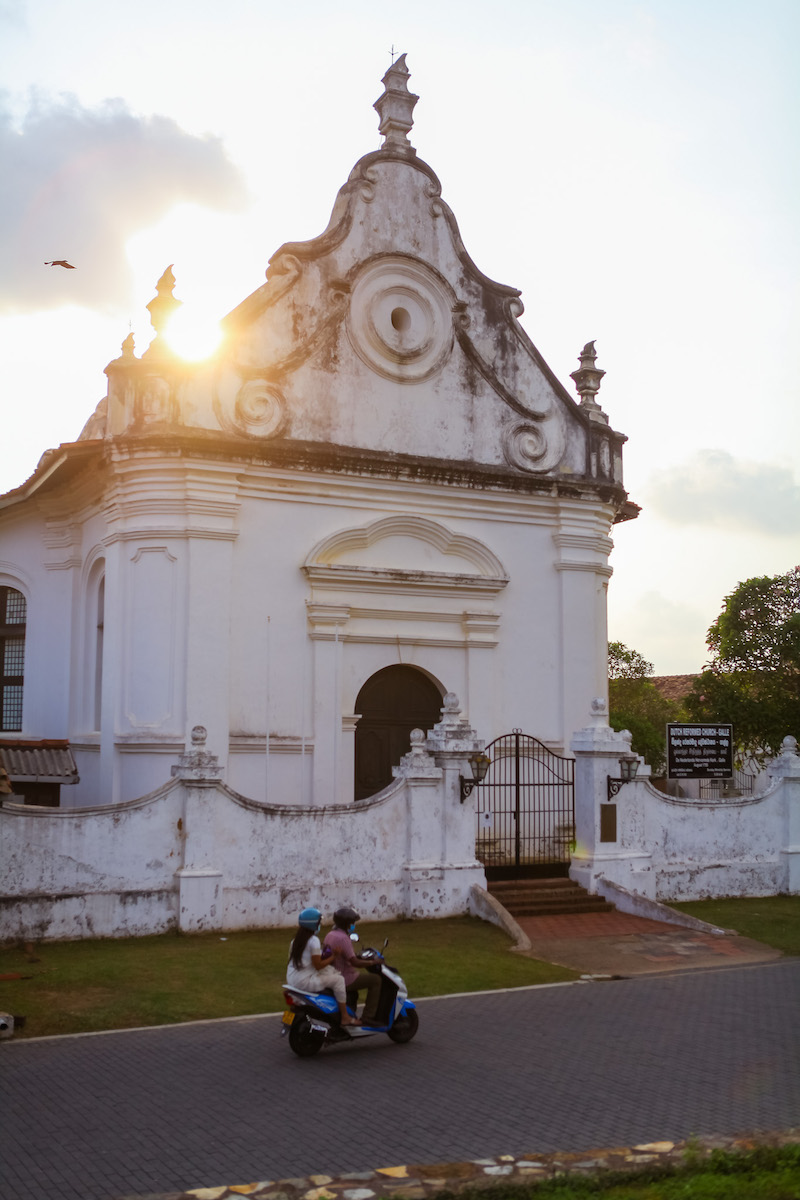 In this maze of alleys, you will encounter many surprises such as a Mosque transformed from an old Portuguese Church (Galle Fort – Meeran Jumma Masjid – location). You will see a beautiful Anglican church (All Saints Church – location), then a Protestant church (Groote Kerk – location), but also an old dutch hospital converted to a shopping center (here), gardens of coconut and mango trees and Dutch-style colonial mansions (18th century).
Before Sunset, make your way to the Ramparts. From there the view of the ocean is absolutely stunning. Check out the beautiful Lighthouse and the Pointe Utrecht bastion. From there, take a break and admire the beautiful sunset.
The colonial town of Galle is one of the best things to see in the South of Sri Lanka.
Location of Galle Fort: here
READ: 15 INCREDIBLE THINGS TO SEE IN GALLE
---
2. Check out the stilt fishermen at Koggala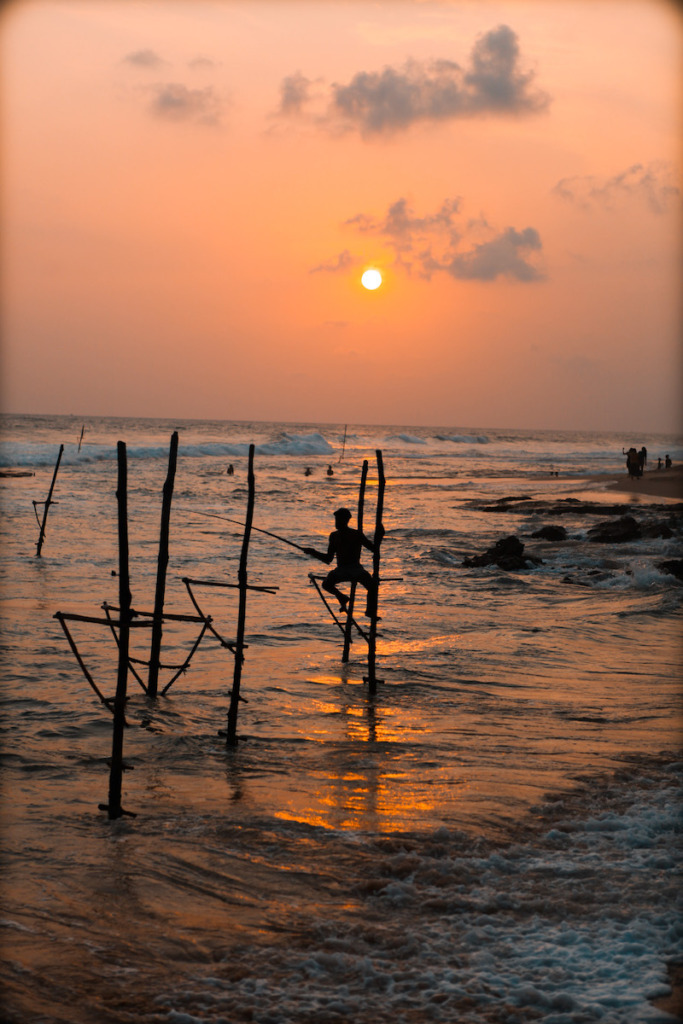 Head to Koggala to see something unique to Sri Lanka and the Galle Region: The stilt fishermen.
This is one of the best things to see in the south of Sri Lanka. At dawn or dusk, the fishermen, installed on large wooden poles, are catching fish above the water. You will see them mostly in the Galle region. As the waves are quite strong in this area, the fishermen came up with a different way of fishing for many years.
This tradition still exists today and it's unique to Sri Lanka and this region.
Location: here
---
3. Take one of the most instagrammable shots at the Swing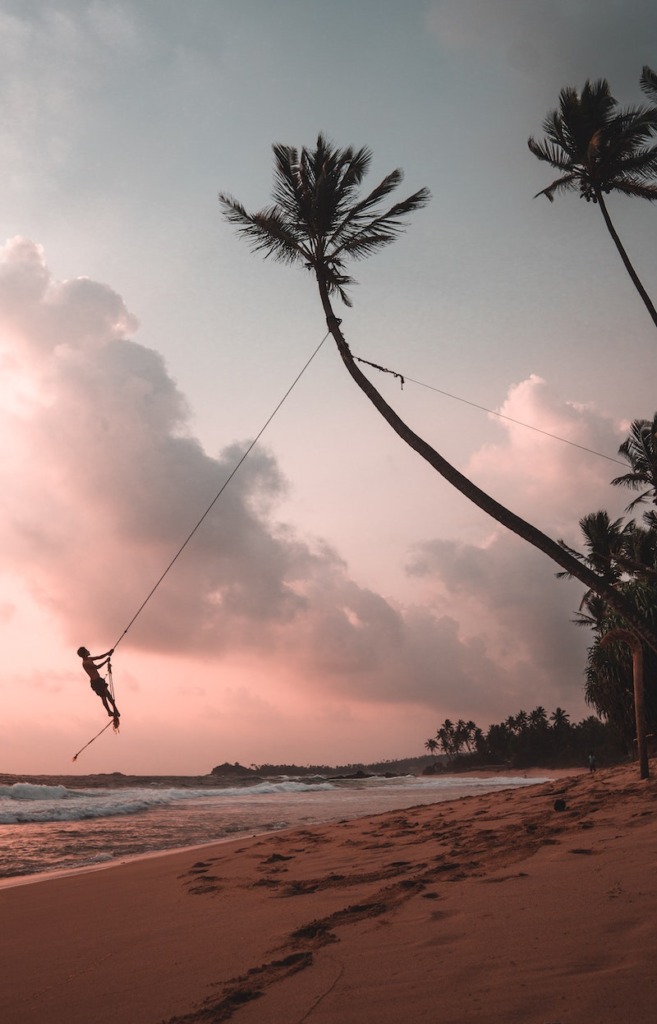 This place was made famous thanks to instagram. Here you can take a beautiful shot at sunset on a swing hang to a coconut tree.
The palm tree rope swing is located on Dalawella Beach. Today, it is one of the best things to see when traveling to Sri Lanka. This place is right in front of the Pearly's Dream cabana a chill place for a drink and food with a super friendly owner.
Location: here
---
4. Visit the Sea Turtle Farm & Hatchery
In Koggala we recommend a short visit of the Sea Turtle Farm & Hatchery. Here you can learn about the different kind of turtles with a very informative guide.
They also take care of different species of injured turtles and help the baby turtles survive. It's a fantastic initiative and worth a stop if you are in the south of Sri Lanka.
Location: here
---
5. Surf in Weligama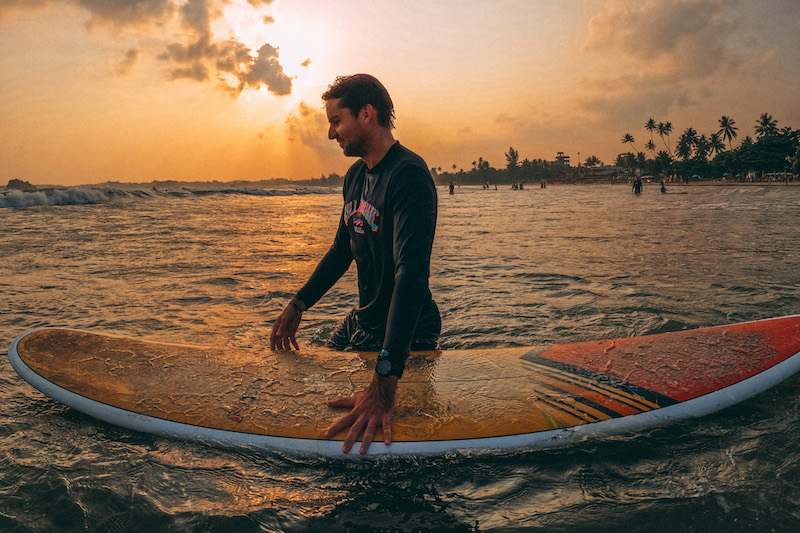 Weligama is a well known beach for beginners and intermediate surfers. This beach break is actually beautiful and a great place to learn surfing. There are many surf camps around Weligama.
During our stay in the south, we actually decided to stay in Weligama in a fantastic hotel by the beach: The Weligama Bay Resort. We highly recommend this place if you are staying in the south. Check it out here.
We chose Weligama not only for surfing, but because there are many cafes around, great restaurant and co-working spaces such as the Outpost. We used to hang out there a lot as they serve amazing food and awesome cocktails at night on their rooftop. Actually in the recent years, Weligama has become one of the hotspots for Digital Nomads (READ: 15 BEST CITIES FOR DIGITAL NOMADS).
Location: here
Weligama is one of our favorite places in Sri Lanka. Here we wrote the 10 best things do in Weligama.
---
6. Visit a tea plantation at Handunugoda Tea Estate
Although it is more popular to visit Tea Plantations around Ella, such as Lipton's Seat, Handunugoda Tea Estate is a great place to visit and discover the whole process of how tea is made.
At Handunugoda Tea Estate wondered around tea plantations, visit the tea factory, and drink tea serve with nice cake. You can also learn stories about how Handunugoda Tea Estate produced its renowned white tea for the Chinese emperor himself. All this is free of charge with a great English speaking guide.
Besides the tea plantation you can also visit lots of other plantations in the estate, such as cinnamon, rice, rubber trees, mahogany.
We highly recommend this activity, as it is one of the best things to see in the south of Sri Lanka.
Location: here
Website: here
---
7. Check out Coconut Hill in Mirissa
Coconut Tree Hill, like the Swing in Dalawella Beach, is one of the prettiest, very Instagram-worthy spots in the south. It is situated at the end of Mirissa Beach. It is a hill completely covered with coconut trees overlooking the ocean.
Head there early morning if you want to skip the crowd. Unfortunately when we went there at sunset it was rather packed with tourists. Having said that, this place is beautiful and worth a visit.
Location: here
---
8. Discover Secret Beach!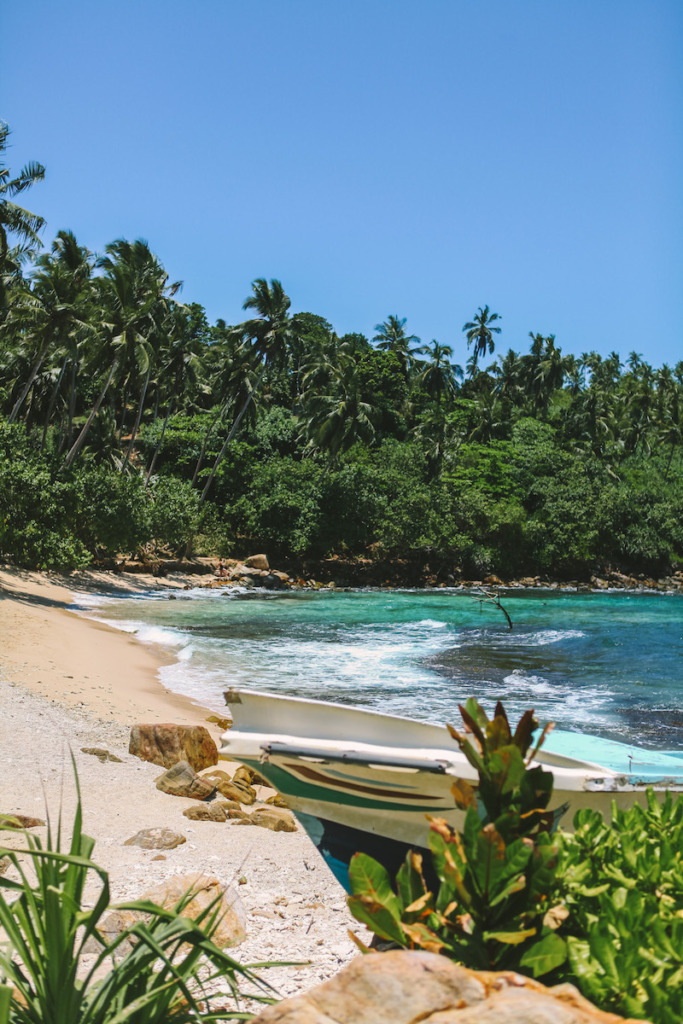 Our favorite beach in Mirissa is Secret Beach. At this hidden gem, you will have a stunning beach almost to yourself. There is a small bar/restaurant serving simple food as well so you don't have to worry about bringing your own lunch.
Although the beach is named "Secret Beach", it is actually not so secret anymore. There are many signs showing the direction of the beach. It was perhaps still a secret many years ago for locals. But today, it is a well known spots in Mirissa. There is even a google map pin here.
READ: 14 AWESOME THINGS TO SEE IN MIRISSA
---
9. Go Whales watching in Mirissa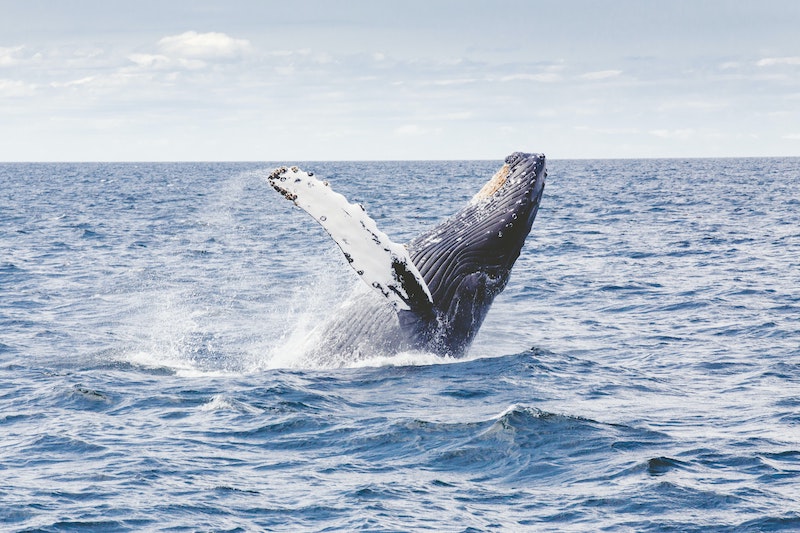 Beyond its great beach and hipster vibe, Mirissa is above all one of the few places where you can observe blue whales.
There are many companies offering whale watching tour all around Mirissa. You can also book your tour online here. The guides are usually very good and provide lots of explanations about the whales. In his approach, there is a real desire to educate the public and get them to understand whales a bit better.
You have to go offshore to see these blue giants. The chances of seeing whales are usually very high. But as always with mother nature, things are unpredictables, and there is always a possibility of not seeing them. However, if you get a chance to see a whale in the wild, this is an unforgettable experience and one of the best things to see in the south of Sri Lanka!
---
10. Join a yoga retreat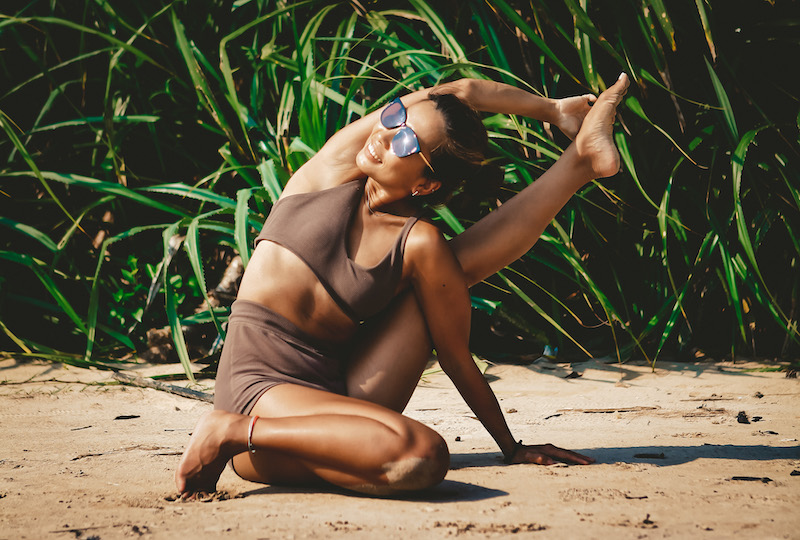 Yoga and meditation are part of everyday life in Sri Lanka.
Meditation is an integral part of Buddhism and Hinduism. Monks have advocated meditation for centuries, and insist on its importance for mental health.
Yoga also balances the physical with the mental. The goal is to combine breathing exercises and postures called "asanas" to feel all the benefits of this sport.
Many people come to Sri Lanka to join a yoga retreat. There are many options. We always recommend Lapoint, as there are present in many places around the world and usually offer great service. Although more for surfing, they also offer yoga classes. Check it out here.
We also joined other classes near Mirissa such as Rukshan Yoga (see here).
Getting a massage in Mirissa?
There are many places which offer massage in the south of Sri Lanka. We tried a few, but only we highly recommend Secret Root Spa & The Secret Guesthouse. They offer one of the most amazing spa experience in the south of Sri Lanka. Check it out here.
---
11. Head to Polhena Beach to swim with turtles
Polhena is one of our favorite area in the south of Sri Lanka. It's peaceful with lush vegetation and beautiful turquoise water. The sea is shallow with coral reef to protect the bay. It is the ideal spot for a relaxed swim and the observation of underwater fauna such as turtle.
We join Oska, a passionate guide about turtles. We snorkelled together to watch turtles, stingrays, corals and many other fishes. It was an amazing experience. Watching these giant turtles in the wild, is one of the best things to see in the south of Sri Lanka.
To join Oska and watch beautiful turtles, check out this link. Here is the location of his place.
---
12. Party at Doctor's House
Not far from Polhena beach, enjoy a fun evening at Doctor's House. Go there on a Wednesday night or Saturday night for the best atmosphere in the south of Sri Lanka.
This place used to be a 200-year-old former Dutch Ayurvedic hospital, transformed into a bar and restaurant. It's absolutely unique and rather huge!
Order a pizza and some Margaritas to enjoy a fun evening with live bands, DJ and so much more. Ask anyone for the best place to have a good time in the south of Sri Lanka, and most likely Doctor's House will be their first answer!
Location: here
Website: here
---
13. Visit the stunning Dondra Lighthouse
Continue your visit of the South of Sri Lanka with a beautiful colonial lighthouse at Dondra. It is actually the tallest lighthouse in Sri Lanka at 161 ft.
The lighthouse is located in the Southern most point of Sri Lanka (Dondra Head). It is not possible to visit the interior of the lighthouse, but the surrounding with a beautiful beach and palm trees all around is very scenic and worth a visit during your trip to the south of Sri Lanka.
Location: here
---
14. Relax at Tangalle Beach
Tangalle is famous for its gorgeous beaches and relaxed atmosphere compared to the more bustling Weligama or Mirissa.
Silent Beach and Fisherman's Bay, are pretty spots for walking, sunbathing and swimming. Both places are really great.
Paraiwella beach park is another great spot to visit in Tangalle. Not as beautiful as the 2 previous beaches, but a great place to swim nonetheless. Local families appreciate this place. So it's a great place to meet Sri Lankans.
Location: here
---
15. Visit Mulkirigala Rock Temple
Near Tangalle (about 40 minutes by tuk tuk) you can visit the Buddhist temple of Mulkirigala. This temple is one the best things to see in the south of Sri Lanka.
This temple is not as visited as other places in Sri Lanka, so you may well be the only tourist during your visit. Which is great, as it means you can interact with buddhist monks and locals.
First of all, this temple can also be called Mulgirigala, don't be surprised to see both spellings.
This temple can be visited in 3 stages because it is made up of 3 main floors.
The 1st floor is quite easy to reach, not too high. You can visit a first room, where there are lots of Buddhas and see a stupa on the terrace.
Then climb a few stairs before arriving on the 2nd part of the temple, built by King Raja Maha (the one who initiated this temple). Here you can see a small water pond with beautiful lotus flowers and a room for Buddhist prayers.
Then comes the last part, which requires quite a lot of stairs climbing. Oh yes, sweaty you will be… But when you reach the top, you will understand why this temple is so beautiful as the temple becomes so serene, calm with an amazing view of the surrounding nature.
Location: here
---
16. Enjoy the surf vibes at Hiriketiya
On your way to Tangalle you can stop at Hiriketya famous for its surf culture and chill vibe! It is actually one of our favorite spots for surfing in Sri Lanka. The Bay forms great waves, perfect for intermediate level.
There you will find many bars and restaurants along the beach and surf board rentals. This beach is absolutely stunning. If you are up for surfing, this is another great place in Sri Lanka!
Location: here
---
17. Explore the Mangrove at Madu River
Want to have a change of scenery after seeing so many beaches? Head to Madu River for a boat trip on the Mangrove.
The landscape at Madu Ganga River with its huge mangrove is absolutely stunning. With the boat you will engulf yourself deep within the Jungle where you can observe over 300 species of plants. You will also be able to observe monkeys, huge lizards, crocodile and many birds.
Madu Ganga River is the second largest wetland in Sri Lanka. However it is considered to be one of the last remaining tracts of mangrove forests.
The tour usually lasts for 2 hours.
You can book your river safari here leaving from Galle.
---
18. Go on a safari in Udawalawe
Away from the beach, enjoy an amazing Safari at Udawalawe to watch elephants in the wild! This is one of the best things to see in the south of Sri Lanka. For us this is one of the most memorable moments of our trip.
The Udawalawe National Park covers 310 km2. This is one of the most visited safaris in Sri Lanka. Here you are guaranteed to see Elephants as they are more than 500 inside the park!
The best time to visit Udawalawe is early morning, at 6:30am when the park just opens. It is at dawn that the animals are most active, especially the wild elephants, busy feeding in the trees, spraying themselves with dust or bathing. However, not to worry, the park can also be visited in the afternoon.
As we are not morning persons, we decided to take it easy and we reached the park around 2pm. We saw many animals including many Elephants. It was wonderful!
Besides Elephant you can also see buffaloes, deers, monkeys, eagles, crocodile and, with a little luck, leopards…
From Tangalle, the park is 70 km away. You can get there by tuk-tuk or opt for a taxi (which we did). Arriving at the park, you will need to get into a Jeep and pay the entrance of the park. Note that you need to book a Jeep in advance. You can book it here.
Location: here
READ: FULL GUIDE FOR VISITING UDAWALAWE
---
19. Watch Leopards in Yala National Park
We recommend to choose either Udawalawe or Yala National Park during your trip to Sri Lanka. Although it seems more people prefer Udawalawe, Yala is famous for its leopards. It is there that you will have the best chances to see them.
Besides Leopards (if you are luck enough to see them), you may spots peacocks, elephants, crocodiles, sloth bears, spotted dear, jackals, sambars and other exotic birds.
Book your safari to Yala National Park here.
Location: here
---
20. Visit Kataragama Temple
Karagama is a city of pilgrimage in Sri Lanka for both Buddhists and Hindus. Indeed, in the same place are the two temples! The temple is located near Yala National Park. You can easily combine your visit of Yala with Karagama.
Kataragama is a quiet, charming place, with many monkeys. There is also a beautiful river passing through.
Kataragama Temple is surrounded by lovely sceneries from where you take beautiful photos and take time for contemplation. If you are there in July, then make sure you join the Perahera Esala celebrations. This is a huge parade, which is absolutely stunning! It celebrates the god of war Skanda Kumara.
Location: here
---
Where to stay in the South of Sri Lanka?
The South of Sri Lanka is quite wide, so we recommend to stay at 2 or 3 different places to cover it all.
1 night in Galle, 2-3 nights in Mirissa or Weligama and 2-3 nights in Tangalle would be a good plan.
Best hotels in Galle
Galle Fort Hotel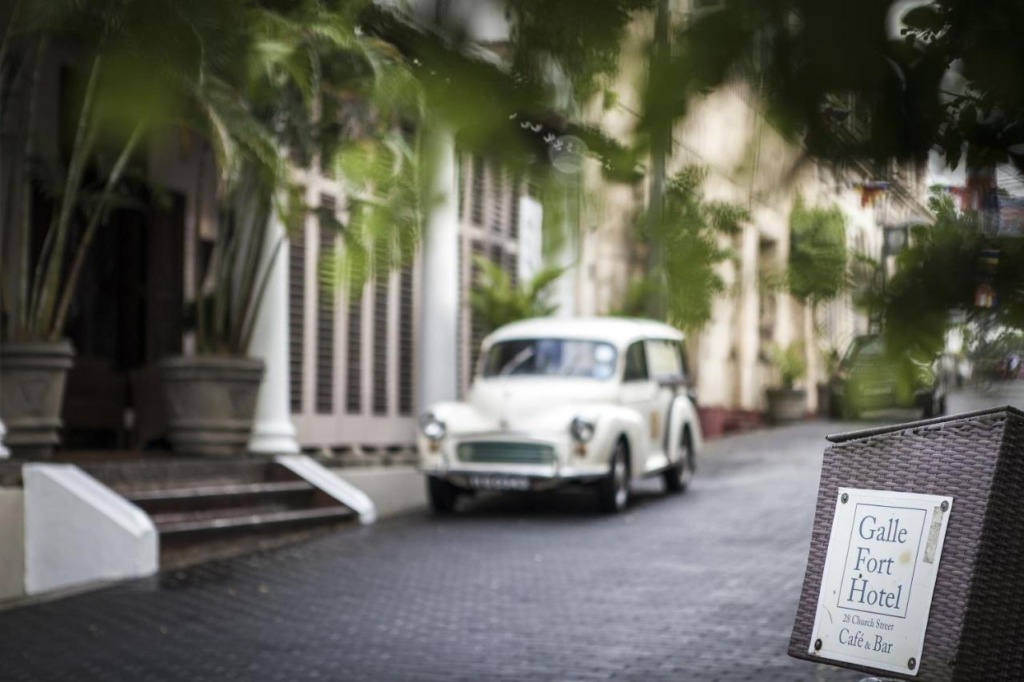 For the ultimate experience stay at Galle Fort Hotel. This stunning colonial building has been fully restored in a stunning hotel. The hotel has an outdoor pool and terrace as well as a great restaurant. Check it out here.
The Bartizan Galle Fort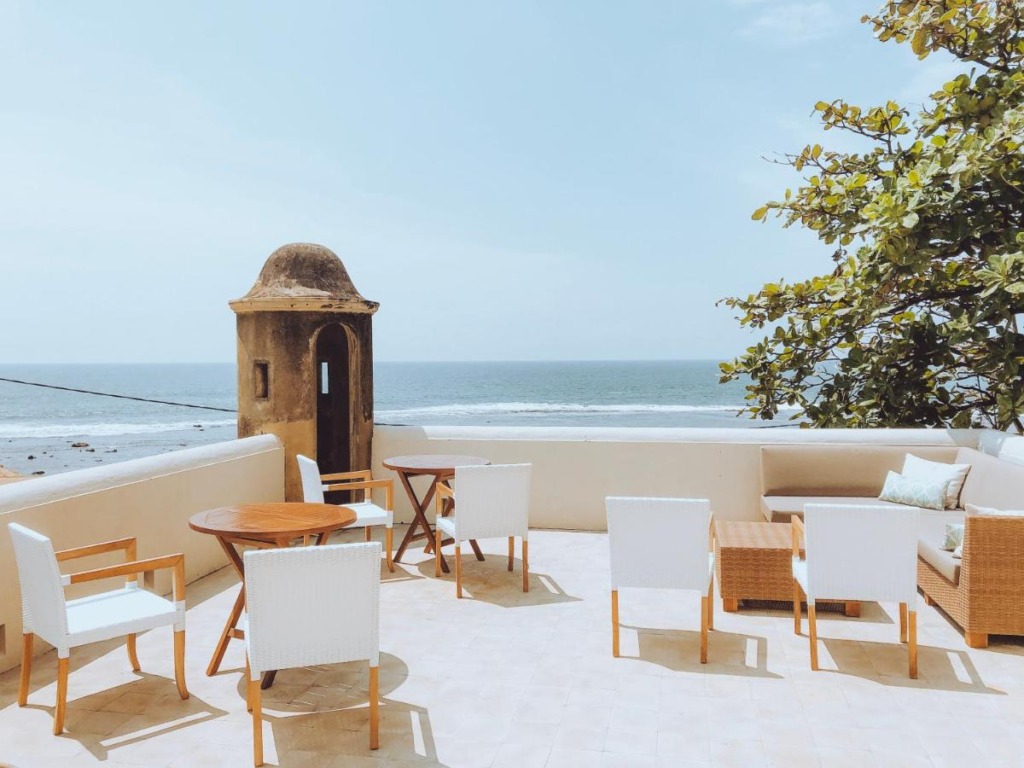 Bartizan is another beautiful hotel in Galle. This place was originally built in the 17th century during the Dutch colonial period. The hotel was fully restored to its former glory. This place is perfectly located in the Galle Fort. Book here.
---
Best hotels in Weligama
Weligama Bay Resort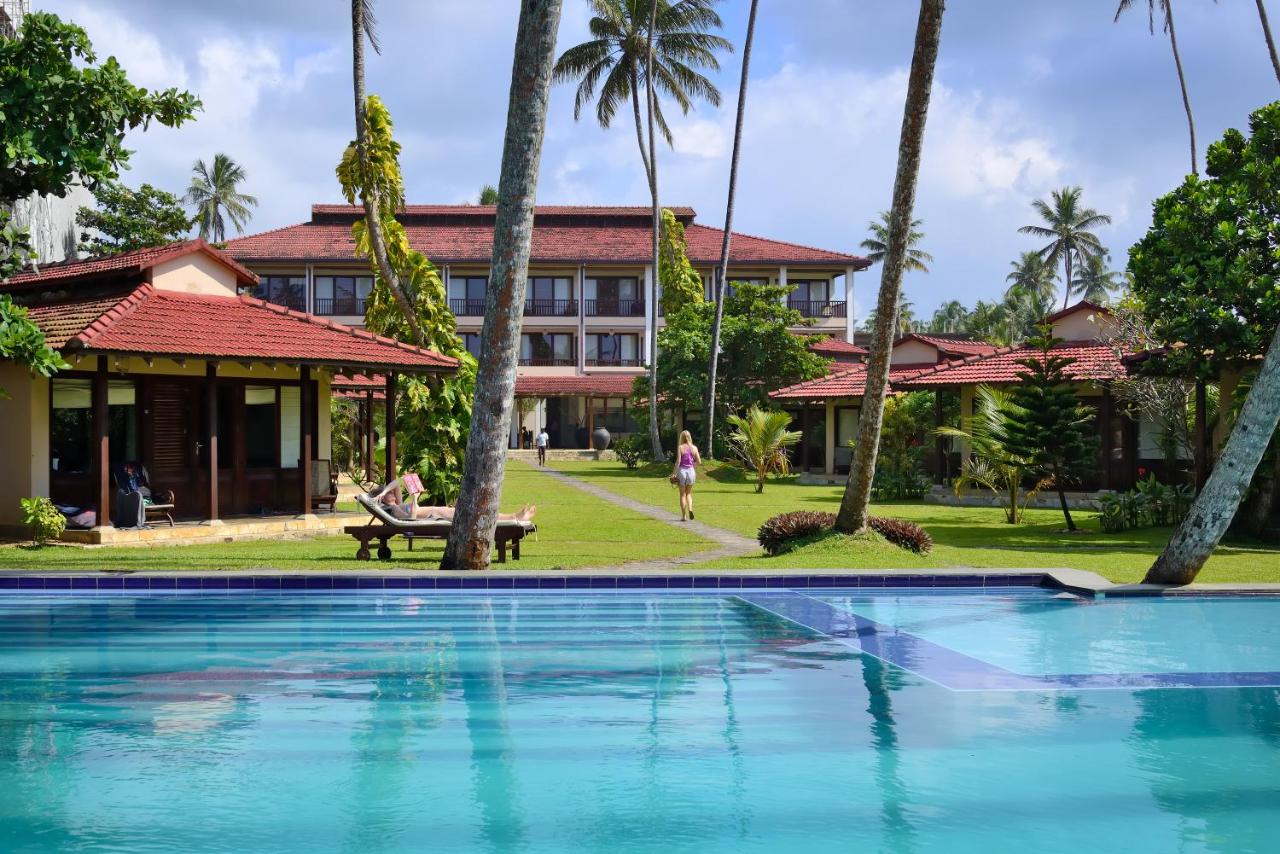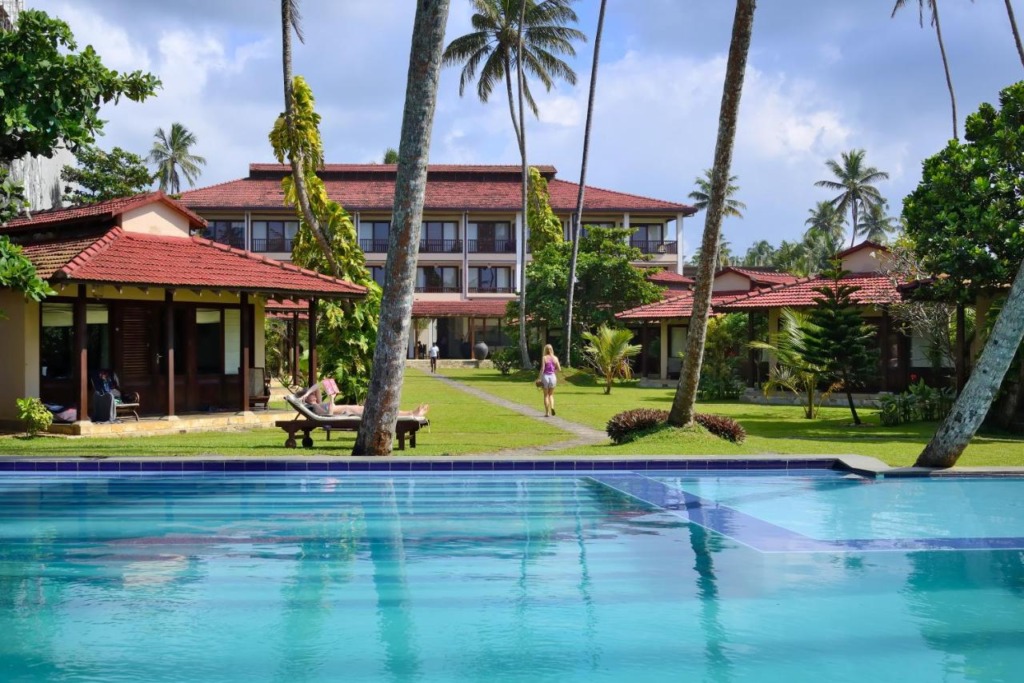 We absolutely love the Weligama Bay Resort. It is perfectly located by the beach in Weligama. One of the best value for money in the area. There are many restaurants nearby and the beach is at your footstep. Don't hesitate, book here.
Weligama Bay Marriott Resort & Spa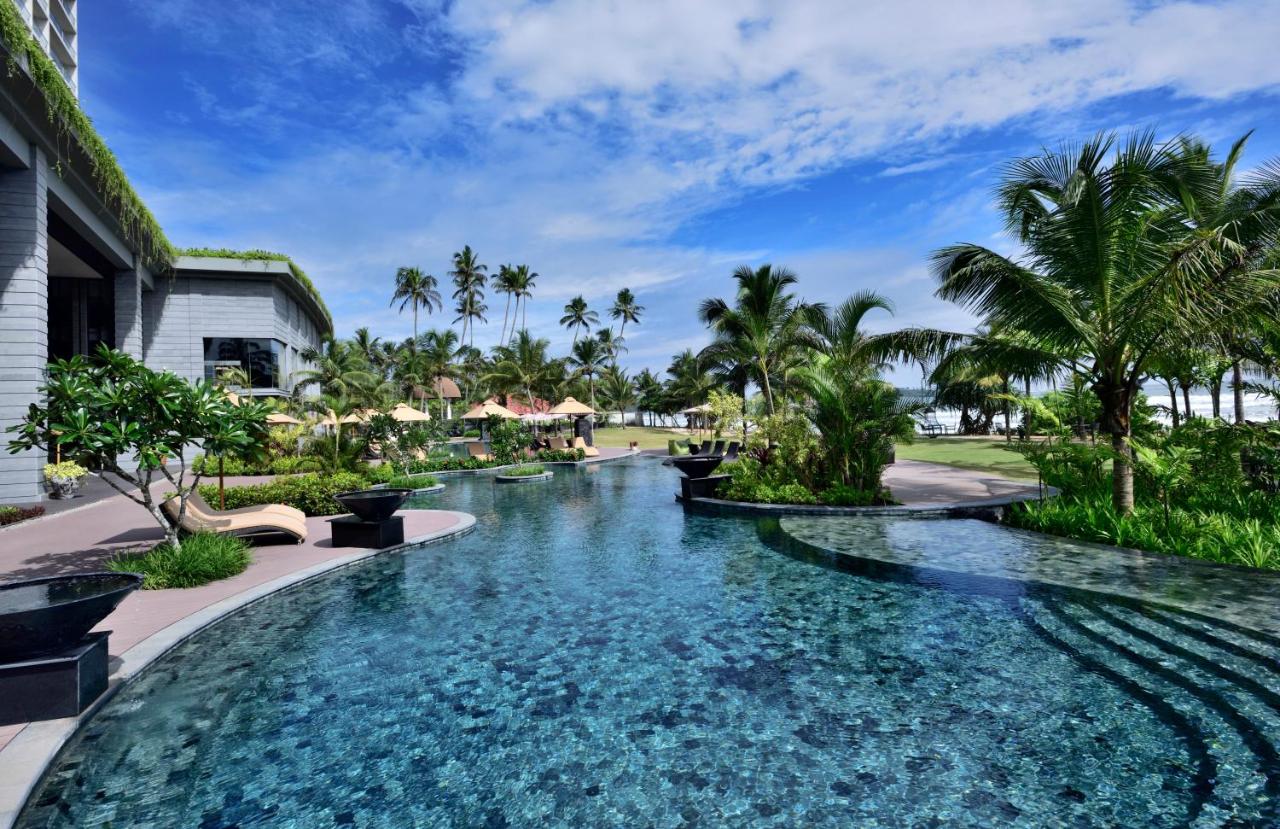 For the luxurious experience and western comfort, pick the safe bet with Marriott. This hotel is located right next to Weligama Bay Resort, also facing the beach. Check out the availability here.
---
Best places to stay in Mirissa
Surf & Yoga Mirissa – Surf camp and Yoga retreat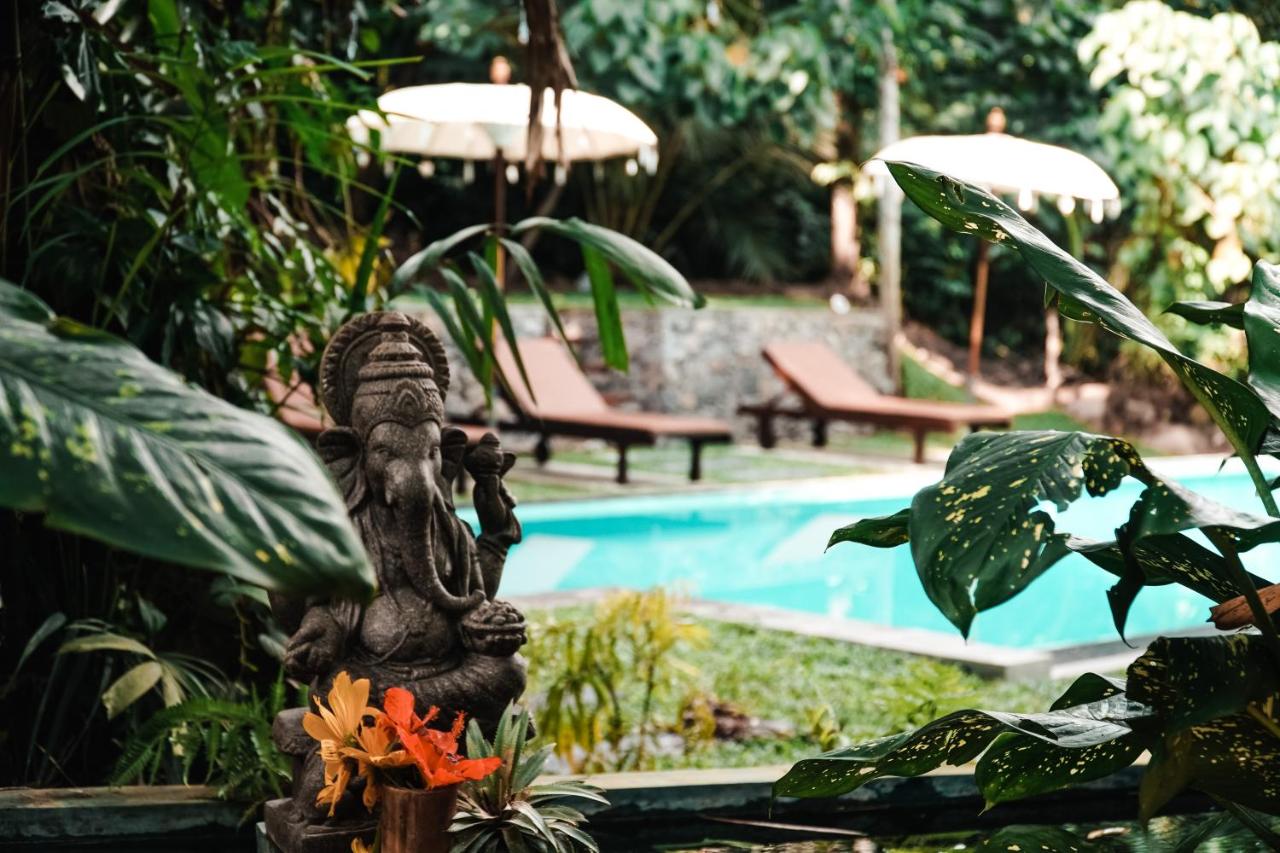 If you want to improve your surf skills and join a yoga retreat, this is one of the best places in the south of Sri Lanka. For more info, check it out here.
---
Best places to stay in Tangalle
Lankavatara Ocean Retreat & Spa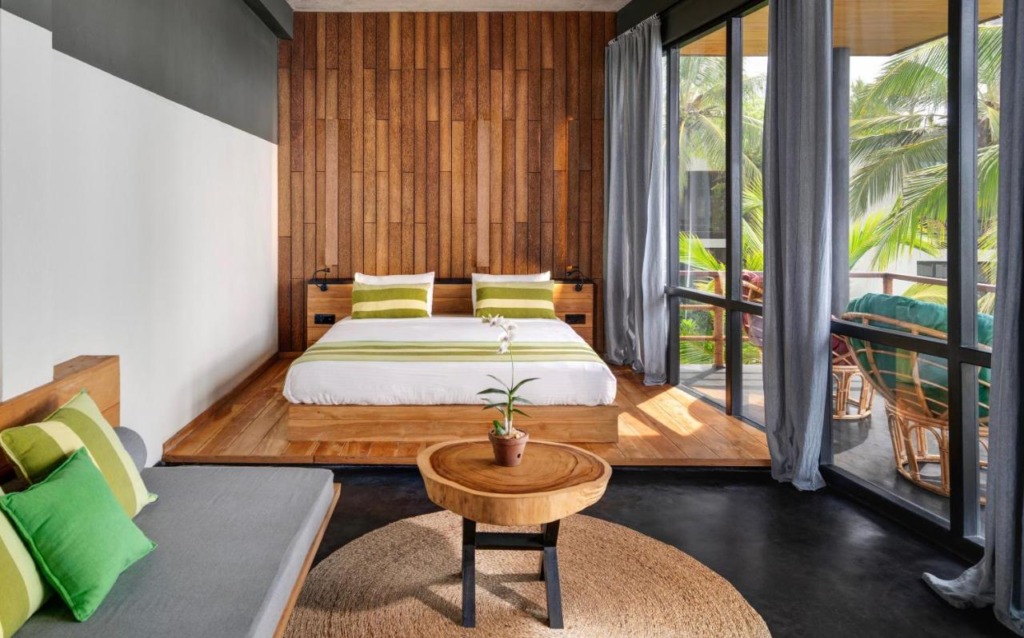 At Lankavatara Ocean Retreat, expect a luxury experience right by the beach. This is one of our favorite places in the south of Sri Lanka. Wanna get pampered during your stay in Sri Lanka? Then this place is for you. Book here.
---
Best time to visit the South of Sri Lanka?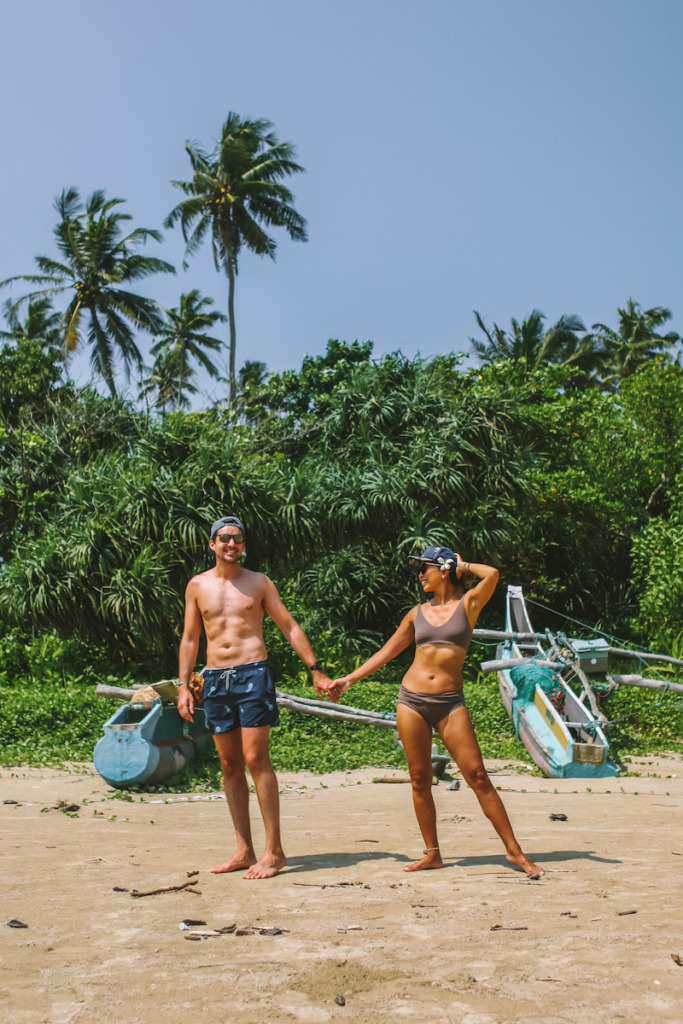 Sri Lanka has a tropical climate with two monsoons seasons at different times and part of the country. This allows travellers to always benefit from a good season, on one side or the other of the country.
For the northeast part, the period from May to September is the most favorable.
Regarding the western and southern region as well as the mountains, the months of December to March are the best with less chances of rain. April – June can get quite a lot of rain with the Monsoon season in the south.
Regarding temperatures, there is an overall average of 27° both in the air and in the water. The climate is therefore hot throughout the whole country. However, in the mountains, such as in Ella, it can get quite cool in the evening. So prepare a light jacket as well.
---
How to get around the South of Sri Lanka? Taxi, Bus, Tuk Tuk, Motorbike?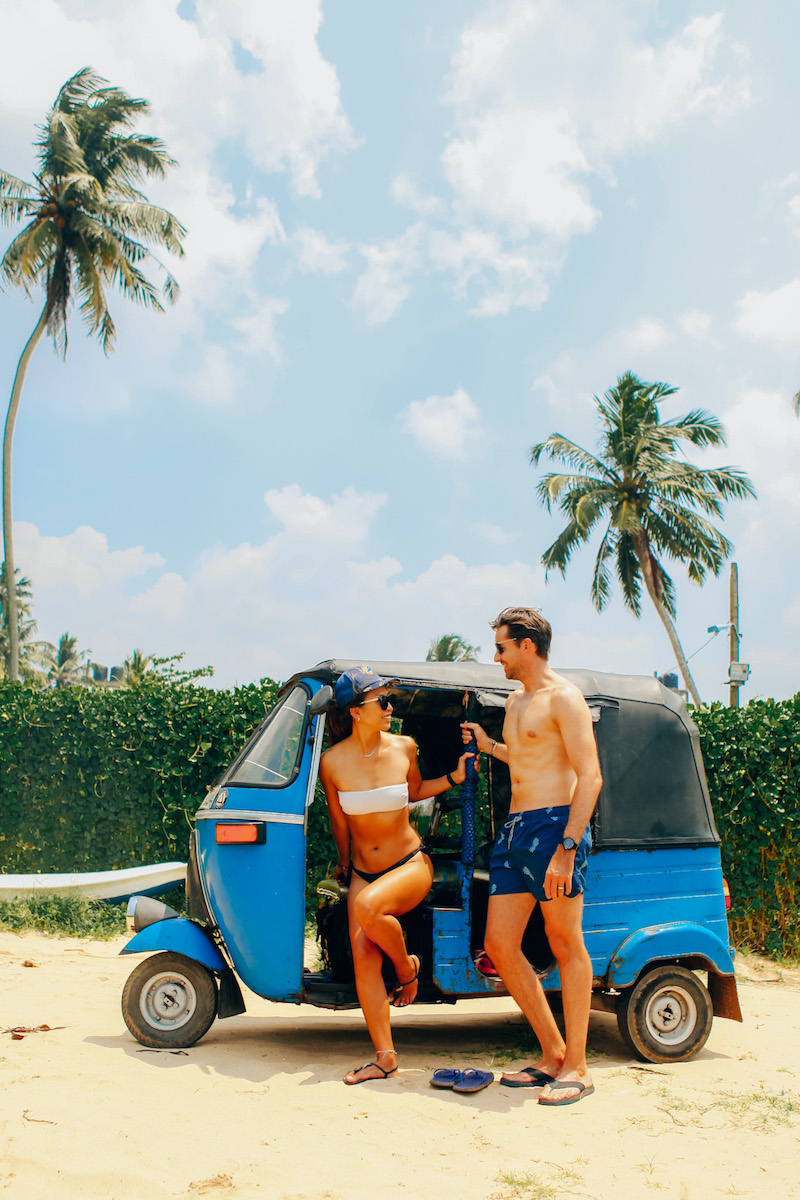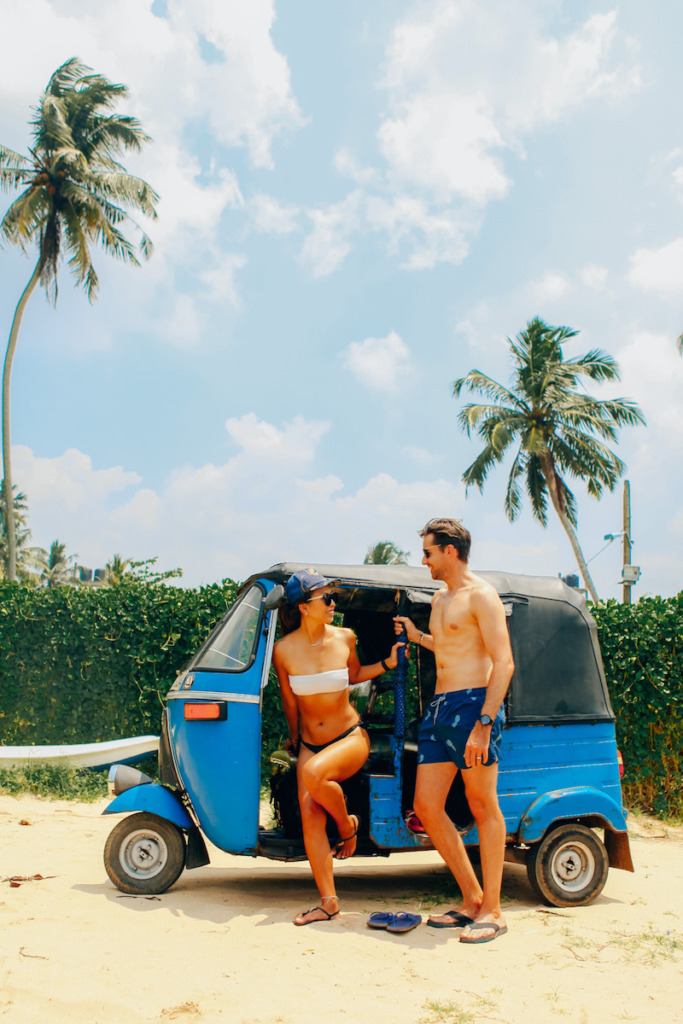 We are being asked this question a lot!
By public transportation
Know that it is quite possible to travel almost everywhere by local transport in Sri Lanka. You can therefore travel without a driver. For long distance train is by far the best way to travel around Sri Lanka. It's cheap and it allows you to admire the country side of Sri Lanka by the window.
Buses are another decent option, but if you travel with big luggages and kids, we would not recommend it. Buses are quite old, so don't expect any A/C inside, and often overcrowded. For short distance however, taking the bus could be a good option.
By Tuk Tuk
Taking a Tuk Tuk is normally the best option to travel through the south of Sri Lanka. You can either hire your Tuk Tuk driver to go from A to B, or for a day trip. Just agree with the driver about where you want to stop and he will drive you the whole day. You only have to pay at the end of the journey.
For the more adventurous, you can even rent a Tuk Tuk. Some of our friends traveled through the entire country by Tuk Tuk. If you have a few months in front of you, this would be an amazing experience! You can rent your Tuk Tuk at multiple locations. Check out this website for more information.
By Taxi or private driver
If you are more than 2 people, then taking a taxi or private guide could be a great option! Of course this is more expensive, but your driver can take you anywhere and suggest great places to visit along the way.
How to find a driver? You can probably ask anyone you meet about a driver. They all seem to know someone either friend or family who can drive anywhere. We asked our Tuk Tuk driver and he arranged a driver for us when we visited Udawalawe National Park. The driver could speak perfect english and was very knowledgeable about the culture in Sri Lanka and things to see in the country.
Rent your own motorbike
It is also possible to rent a small motobike during your stay in Sri Lanka. We rented a scooter for a few days. We always feel more freedom when we get anywhere by scooter.
---
In conclusion about the best things to see in the South of Sri Lanka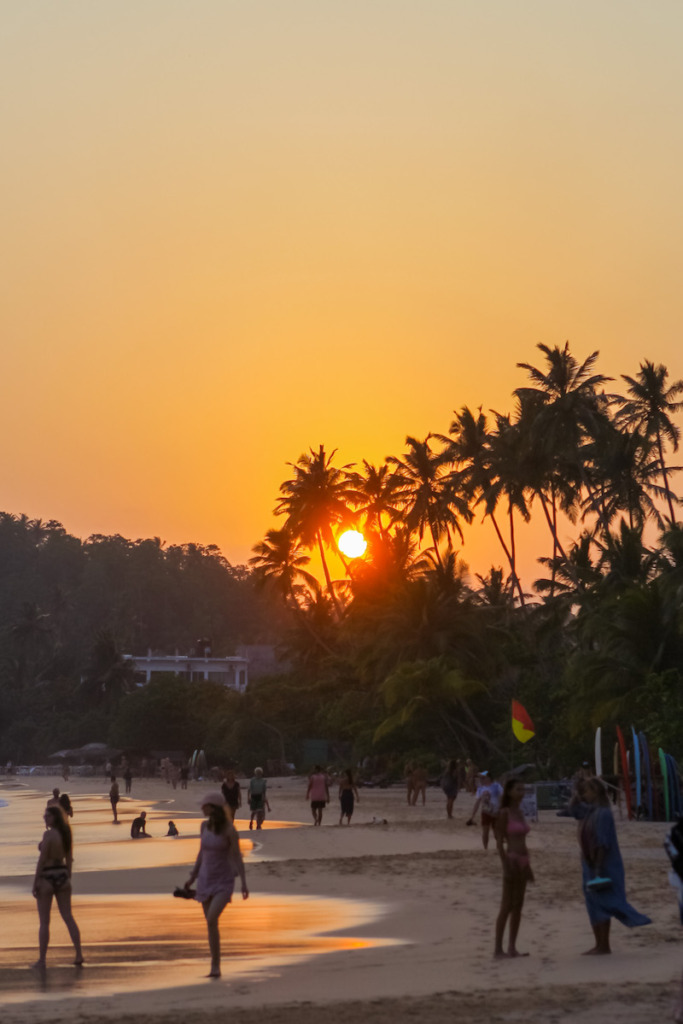 For beach lovers (like us), the South of Sri Lanka is a stunning part of the country. We love that there are so many beautiful beaches, great sea life with turtles, corals and even whales. It's also an awesome place for surfing, with a great surf culture vibe around Weligama and Mirissa.
We were actually quite surprised with the number of digital nomads in Weligama. It offers great co-working spaces and amazing healthy vegan cafes. So for the digital nomads out there, make sure to add Sri Lanka in your itinerary.
Overall, visiting the south of Sri Lanka is absolutely worth it. Especially if you travel intensively throughout Sri Lanka, it's nice to take a break and relax by the beach for a few days.
We hope that you found this post useful. Fee free to reach out to us if you have any question, by leaving a comment below.
Enjoy your trip to this wonderful country!
---
Related Posts
10 BEST THINGS TO SEE IN WELIGAMA: here
14 AWESOME THINGS TO DO IN MIRISSA: here
20 AWESOME THINGS TO SEE IN ELLA: here
FULL GUIDE FOR VISITING UDAWALAWE: here
FULL GUIDE FOR VISITING THE NINE ARCHES BRIDGE IN ELLA: here
15 INCREDIBLE THINGS TO SEE IN GALLE: here
10 AWESOME THINGS TO SEE IN KANDY: here
FULL GUIDE FOR HIKING LITTLE ADAM'S PEAK: here
A VISIT THE BEAUTIFUL TEA PLANTATION AT LIPTON'S SEAT NEAR ELLA: here
ELLA-KANDY, THE MOST EPIC TRAIN RIDE IN SRI LANKA: here
KANDY ROYAL BOTANICAL GARDEN: here
15 BEST PLACES FOR DIGITAL NOMADS: here