WHAT TO DO IN ELLA?
Ella is a charming little mountain village in Sri Lanka, perched in the clouds at 1,000 meters above sea level. Surrounded by hills covered with tea plantations, Ella is located in the southern part of Sri Lanka, 200 km east of Colombo.
Thanks to its altitude, Ella benefits from a climate that is cooler than the the rest of the country. And that's really nice, after you visit other part of Sri Lanka under very hot and humid weather. For us, visiting Ella is a must during a stay in Sri Lanka. We often compare Sri Lanka to Bali. So if Weligama and Mirissa in the south would be like Canggu, Ella would be more like Ubud.
Some of the best things to see in Ella include tea plantations, waterfalls, the Nine Arch Bridge and breathtaking sceneries. In short, you will probably fall in love with Ella, like most visitors.
In this post we are listing all you need to know about the best thins to see in Ella, Sri Lanka.
We joined Ella after finishing a Safari in Udawalawe National Park, which is another must-see in Sri Lanka (full guide for visiting Udawalawe here). On the road from Udawalawe to Ella we could feel the altitude. The air started to get fresher, the temperature slowly went down, and the sceneries became even more beautiful!
Our first impressions of Ella
The main street of Ella is actually quite dusty with lots of noise from the traffic. However, once we started walking around town, we saw many cafes, bars, restaurants of all kinds, including great vegan places as well as many cute shops.
There are also a lot of guesthouses and hotels in the town which is full of backpackers at every corners. The atmosphere fell much more relaxed after a few minutes and we started to understand why people love spending time in Ella.
But we also knew that the best things to see in Ella was outside the town. We couldn't wait for the next day to start our explorations. So here is the list of the 20 best things to see in Ella:
---
1. Start your visit of Ella by hiking Little Adams Peak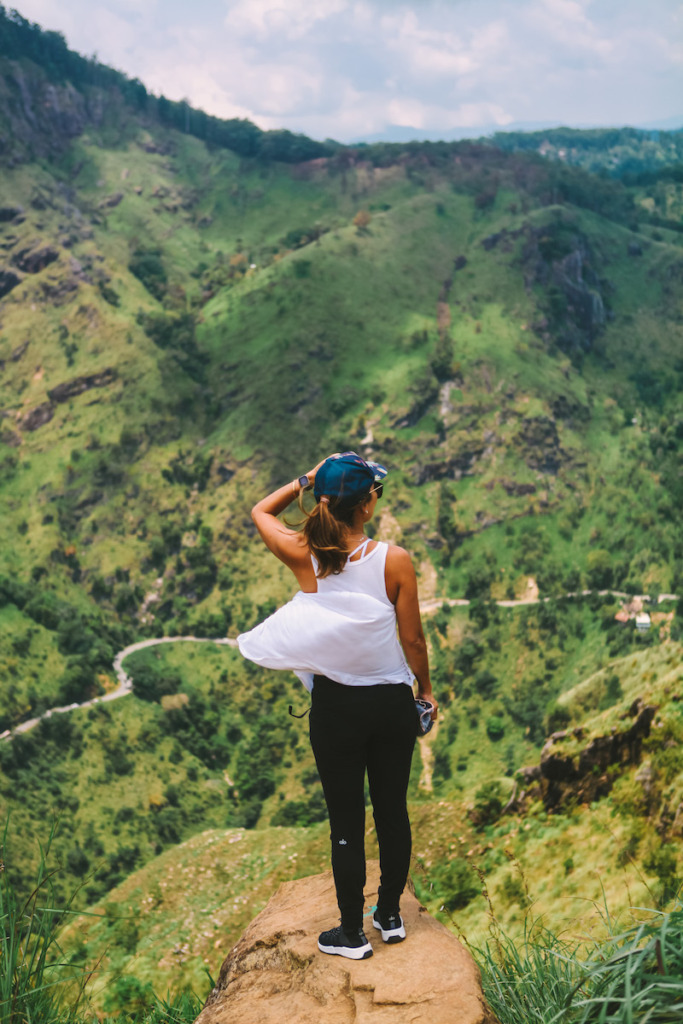 Little Adam's Peak is 1,140 meters high. Don't confuse Little Adam's Peak with "Adam's Peak". Adam's Peak is a sacred mountain for Hindus, Buddhists and Muslims. It is located in the Ratnapura region and culminates at 2,240 meters. It takes much longer to reach the top (more on it later in this post).
Little Adam's Peak is in fact the name given to Ella Rock, for its resemblance to the sacred mountain.
We spent a good 1 hour hiking to the top of Little Adam's Peak from the centre of Ella by making plenty of stops to take photos. The hike is not that difficult, except towards the end with the many stairs combined with the heat of the sun!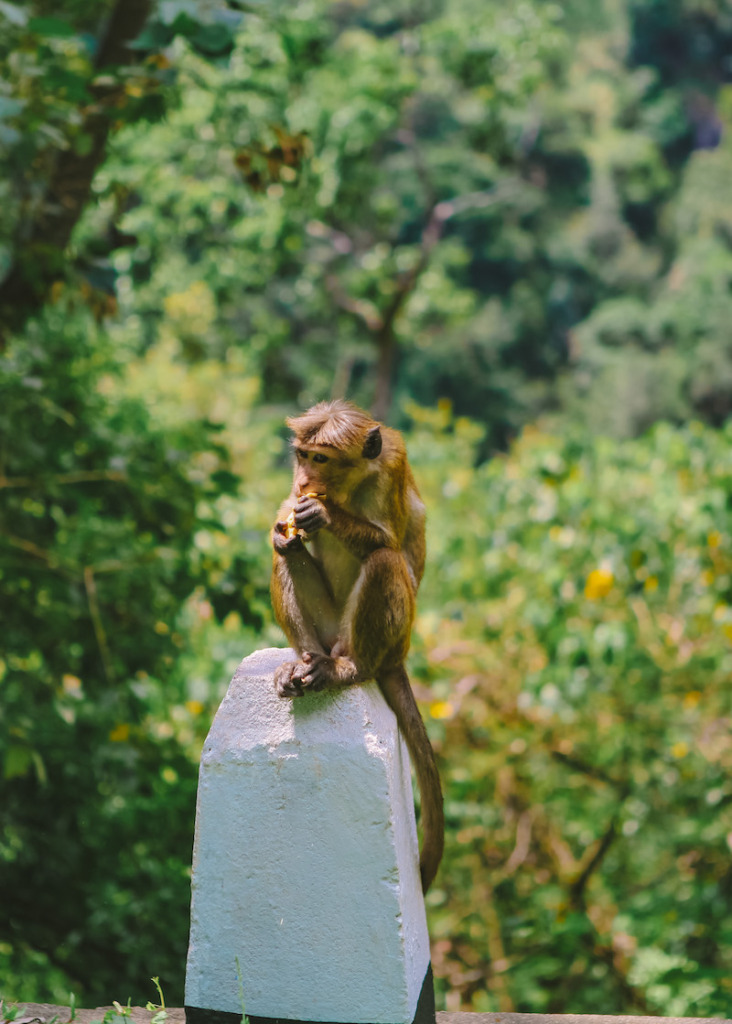 The hike starts in Ella Flower Garden Resort (here). You will first cross tea plantations and the beautiful Ravana Pool Club (here). They just opened Ravana Pool Clube place in 2022. It's a beautiful place if you want to relax in a pool with a cocktail and face tea plantation and the mountains around Ella. Check our their website (here).
The trail is well marked to reach the top. You can't really go wrong from there. The view at the top is stunning! A fantastic place to admire the scenery around Ella.
Hiking Little Adam's Peak is one of the best things to see in Ella.
Location of Little's Adam Peak: here
READ: HIKING LITTLE ADAM'S PEAK [FULL GUIDE]
---
2. Visit the Nine Arches Bridge
On the way back from Little Adam's Peak, you can hike directly to the Nine Arches Bridge. The hike to get there is a bit long, so we opted for a short Tuk-Tuk ride, which was a good idea. The Tuk-Tuk driver will drop you off at the ideal location to start the visit of the Nine Arches Bridge.
You can find a few tuk-tuks waiting on your way down from Little Adam's Peak near Ravana Pool Club. The ride is rather inexpensive and will make you save 1-2 hours of downhill hike.
We were very excited to see the bridge. When planning our trip to Sri Lanka we could see so many photos of the Nine Arches Bridge. So finally, it was our turn to see it. And what a magical place!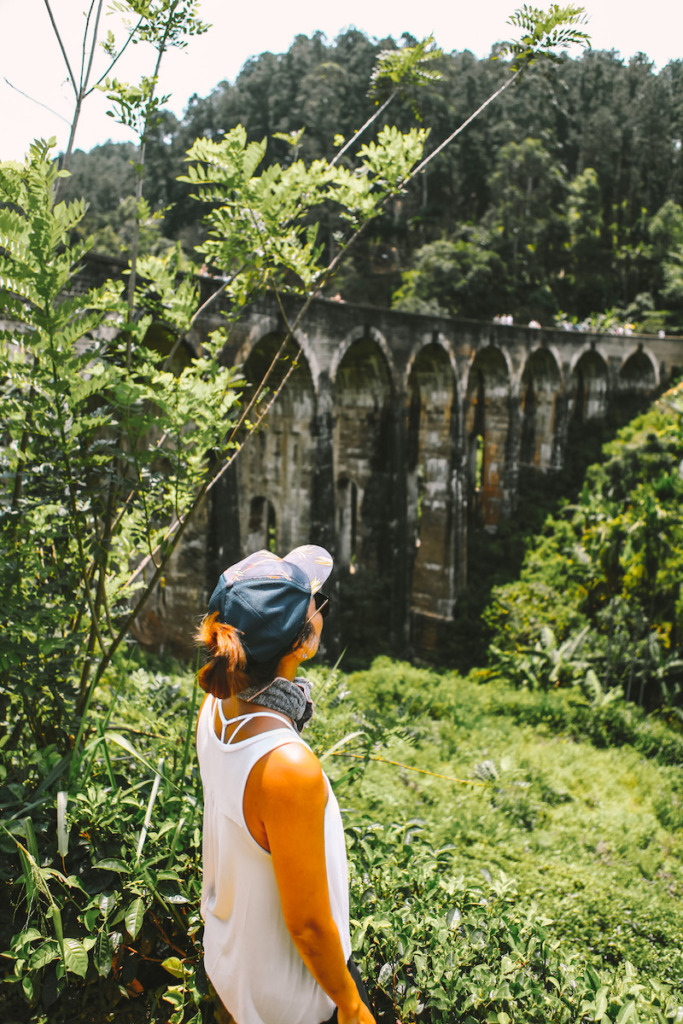 This sight is one of the best things to see in Ella, and one of the most photographed places in Sri Lanka.
And in addition to being a beautiful bridge, its structure also has an interesting history. It was built with the strong involvement of British colonial forces at the beginning of the 20th century.
But before construction began, World War I started and all the steel that was planned for the construction of the bridge was ultimately used for the war.
However Sri Lankans decided to continue the construction after a short interruption but without steel. They used bricks and cement only. The results: an architectural masterpiece!
Of course, the best shot at Nine Arches Bridge is when a train is passing by around 9:30am, 11:30am, 3:30pm, 4:30pm and 5:30pm. However, Sri Lankan trains are often late. So expect to wait a little before you see the train pass by…
Location: here
READ: FULL GUIDE FOR VISITING THE NINE ARCHES BRIDGE
---
3. Get some adrenaline rush by taking a zipline
There is actually a faster way to go down from Little Adam's Peak. Half way through the hike, you have the option to go back down near Ravana Pool, by taking an exciting zipline ride above the tea plantations! How amazing is that!
The place is called Ravana Zipline. You can't miss it. On you way up to Little Adam's Peak you will see people flying back down on top of your head!
You can book your ticket at cheaper price here.
Location: here
Website: here
---
4. Visit the Ravana Falls
To get to the Ravana falls, we recommend taking a tuk tuk from Ella. The falls are located 7km south of Ella. The falls are about 25 meters high and are rather impressive. These waterfalls are named after an ancient king who allegedly punished his daughter by hiding her in a cave near the falls.
The Ravana falls are located by the road. So there is no need to hike from the road to get there. It can be visited rather quickly. There are main viewpoints to take photos. However it is not possible to swim in the Ravana falls…
This is one of the best things to see in Ella, don't miss it.
Location: here
---
5. Go on a day trip to Lipton's Seat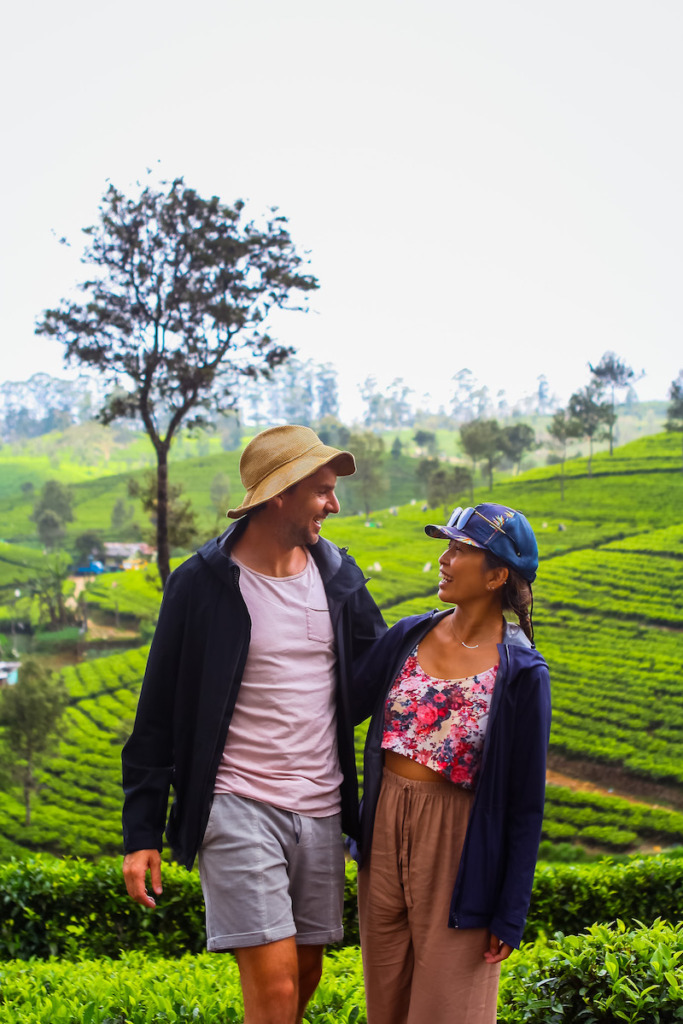 Visiting Lipton's Seat is one of our best memories in Sri Lanka. For us this is a MUST-SEE!
Lipton's Seat is a superb mountainous area south of Ella entirely covered with tea plantations. No words can describe the beauty of this place.
As you may know, Sri Lanka adopted the culture of tea with British colonisation and the country still produces some of the best teas in the world, Ceylon tea.
Why is this place called Lipton's Seat?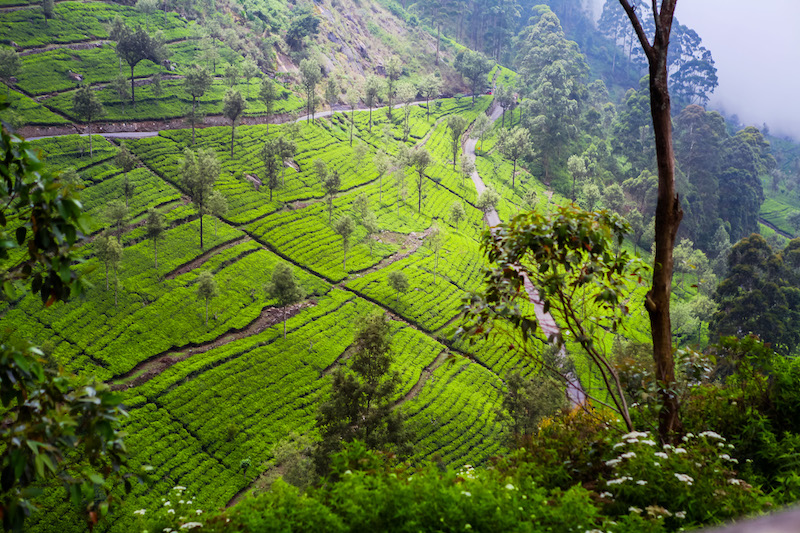 This is simply because Sir Thomas Lipton, the very man behind the Lipton tea brand, used to sit in this region to admire the tea plantations that belonged to him. There is a statue of Sir Lipton on his seat at the top of the mountain.
How to get to Lipton's Seat?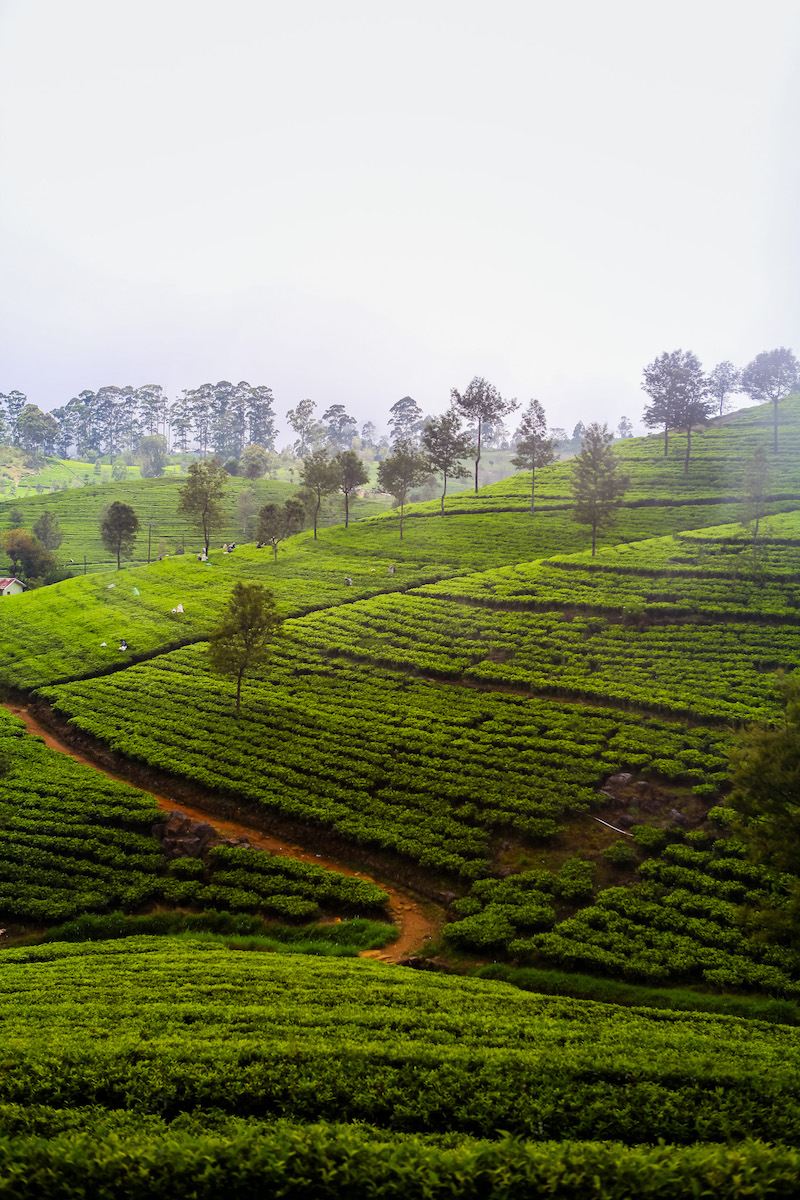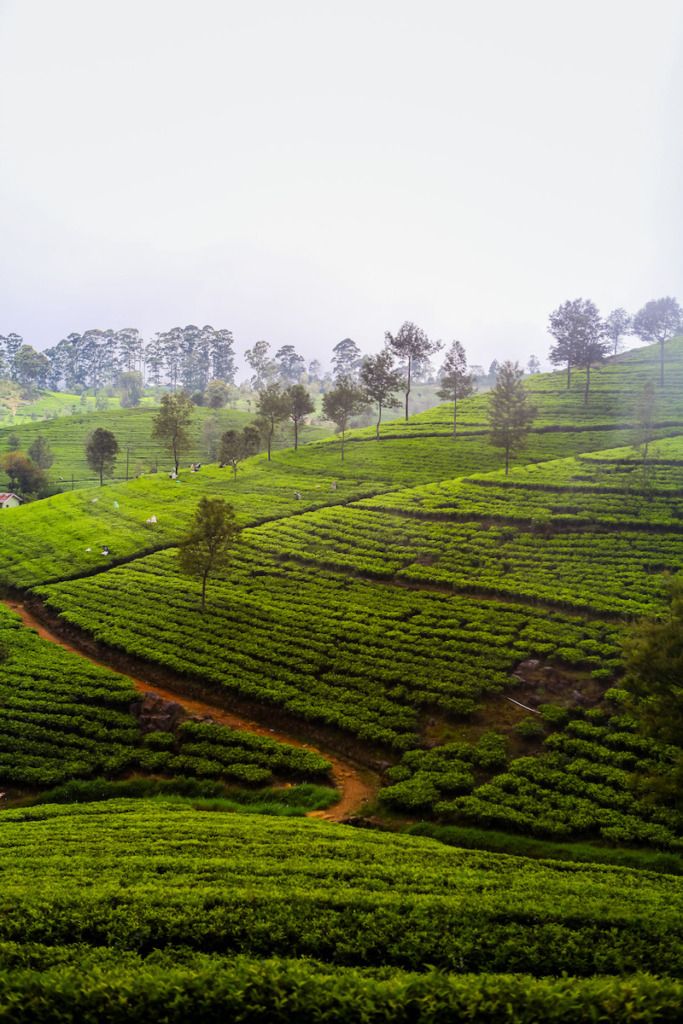 There are different ways to get to Lipton's seat and different way to visit the place.
Take a Tuk-Tuk from Ella. The drive takes 1.5 hours one way. For the last 45min the road is really bad, which makes it difficult for a tuk-tuk to drive through, but still doable. You can book your full Tuk-Tuk tour here.
Take the train from Ella to Haputale and a tuk-tuk from Haputale train station to reach the top of Lipton's seat. From the top, hike back to the train station and head back to Ella. This is by far our favorite option to visit Lipton's Seat. You get to combine a train ride experience in Sri Lanka, which is always an exciting experience. Besides the train passes through the mountains which offer a much nicer scenery than the road with the Tuk-Tuk. Lastly you get enough time to appreciate the incredible landscape of Lipton Seat by hiking through the plantations. You will see many workers plucking the tea leaves. Count 4 hours to hike down!
The train ride takes 1 hour from Ella. You can see the train schedule and book your train ticket here.
Visiting Liption's Seat is by far one of the best things to see in Ella.
Location of Lipton's Seat: here
READ: FULL GUIDE FOR VISITING LIPTON'S SEAT
---
6. On your way back from Lipton's Seat visit Dambatenne Tea Factory
To end this perfect day, visit a tea factory before heading back to Ella. Dambatenne is located near the entrance of Lipton's Seat mountain. You can't miss it. We highly recommend a visit.
Dambatenne Tea Estate is a great place to visit and discover the whole process of how tea is made.
A tour guide will explain you all you need to know about the process and the history of tea in Sri Lanka. The price of the visit is 1,000 rupees per person. You can also buy some tea from the factory directly.
Location: here
---
7. Visit the impressive Diyaluma Falls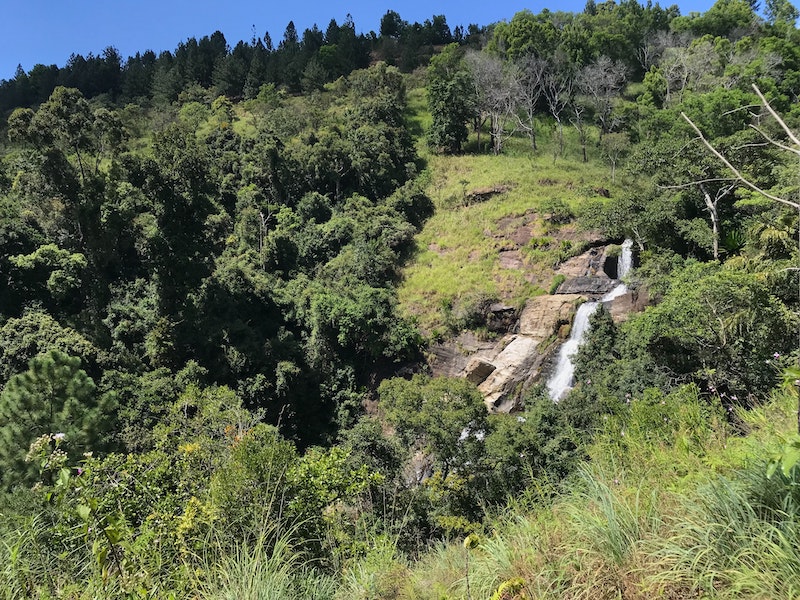 Another must-see in Ella are the Diyaluma Falls with an impressive drop of 220 m! This is the 2nd largest waterfalls in Sri Lanka! 10 times bigger than Ravana falls! On top of that, you can also swim at the bottom of Diyaluma Fall, which adds even more excitement!
Diyaluma Falls is located 40km from Ella. We took a tuk-tuk and it took us a bit more than 1 hour… The road is quite good until the last few kilometers where it gets very bumpy!
Visiting Diyaluma Falls is one of the best things to see in Ella! Make sure to check it out if you are staying in Ella for a few days!
You can book your private Tuk-Tuk tour including lunch here.
Location: here
---
8. For the bravest, hike the "real" Adam's Peak!
Adam's Peak is a mountain with an altitude of 2,243m. The mountain features a rock formation which is considered the footprint of the Buddha for the Buddhist, Shiva for the Hindus and Adam for the Muslims and Christians.
There is a trail to get to the top which takes 3 hours and consist of many many many stairs, 5,200 to be precise! The hike is particularly steep at the top, although ii is quite safe as there are hand rails to hold on to. Many Sri Lankans do the climb several times in their lifetime.
There is a significant difference in temperature as you reach the summit with strong wind. So bring a small jacket with you.
It is not an easy hike due to the many stairs. As described earlier in this post, Little Adam's Peak is great alternative with stunning views as well.
The village where the route begins is called Delhousie. First you can go to Hatton (there is a train station there). From there, you can take a local bus (60 Rs), taxi (2000 Rs) or go by minibus (private) or even by tuk-tuk (6,000 Rs). Either way, the road is amazing, it runs along a lake and endless tea plantations. In fact, these are some of the most spectacular roads in the country.
Location: here
---
9. Visit the tallest waterfall in Sri Lanka: Bambarakanda
This magnificent waterfall is the highest in Sri Lanka with an estimated height of around 264 m. It is even more impressive to visit the Bambarakanda during the rainy season in the south of Sri Lanka to see an incredible flow of water!
By tuk-tuk it takes 1.5 to 2 hours from Ella. As Bambarakanda waterfalls are not too far from Diyaluma Falls, you can combine a visit of both waterfalls in a day.
You need to pay a small fee to see the waterfalls and hike about 1.5km to get to the base of the waterfall.
Bambarakanda is one of the best things to see in Ella.
Location: here
---
10. In Ella visit Halpewatte Tea Factoy
If you haven't visited a Tea factory yet, then we highly recommend a tour at Halpewatte, one of the best things to see in Ella. The Tea factory is located just 2km from the town on top of a mountain surrounded by tea plantations.
During the tour in the factory, everything is explained in perfect English: harvesting, sorting, drying, different types of teas… Visiting a tea factory is a must in Sri Lanka.
Location: here
Website: here
---
11. Go on a day trip to the World's End in Horton plains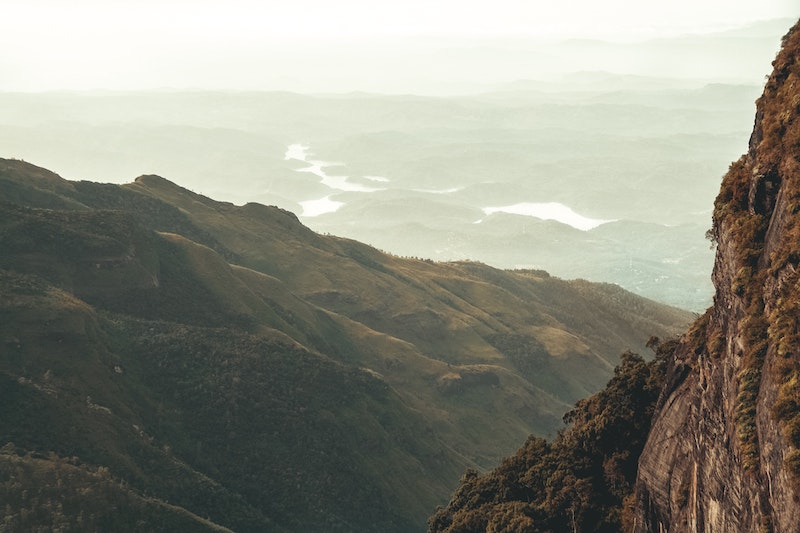 WORLD'S END! Sounds intriguing isn't it. There the plain makes a vertical drop of almost 700 meters, looking like the end of the world! Pretty impressive.
World's end is located inside the Horton Plains National Park, a bit off the beaten track in Sri Lanka but worth a visit! This national park is listed as a UNESCO World Heritage Site for its significant biodiversity. These high plateau landscapes are located around 2,000 meters above sea level.
They are home to different ecosystems such as a cloud forest, meadows where rare orchids flourish, but also marshes near water sources.
It is highly recommended to arrive early, very early to see the landscape without fog, even before sunrise. Once you arrive at Horton Plains National Park, there is a 9km hike in an easy loop which awaits you. At some points a sign will indicate the direction of World's End. You can't miss it.
It takes between 3 and 4 hours to complete the loop. The elevation is not at all significant and there are no major difficulties. The hike is quite accessible to families. Remember to cover yourself well in several layers because early in the morning it is very cold!
From Ella, you can hire a driver to get you there early. It takes 2 hour to drive to Hortons Plain.
Location: here
---
12. In Ella visit Nil Diya Pokuna caves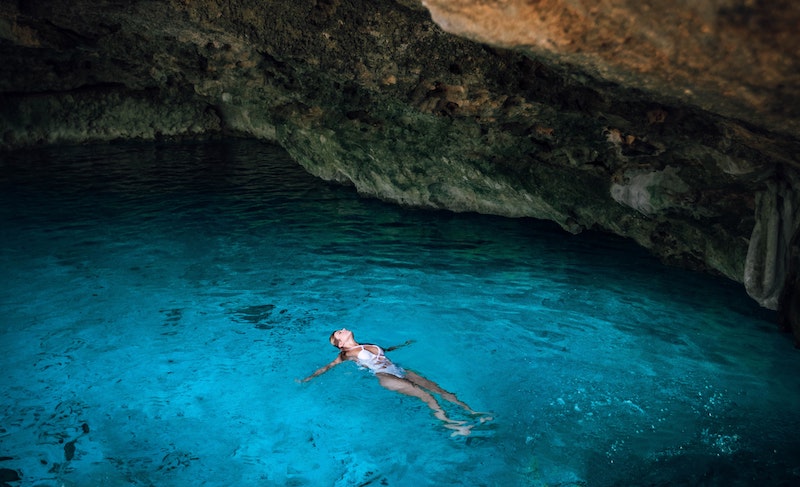 One of the best things to see in Ella are the Nil Diya Pokuna caves believed to be part of the legend of King Ravana. 100m below the surface.
The highlight of the place is the underground pond containing bright blue colored water. To go down to the pond you have to walk through a difficult trail, passing through tight passages and wet cliff edges, so get a confident guide with you.
At the bottom of the cave you can go for a swim inside the pond. Such a unique experience in Ella!
Location: here
Contact Hideaway Destinations to organize a guide for you before the visit. Having a guide is a must. Here is their website.
---
13. Swim at Secret Waterfalls in Ella
If you want to find yourself alone swimming in a beautiful waterfall in the middle of the jungle, then Secret Waterfall in Ella is for you. This is one of the best things to see in Ella.
Secret Waterfall is actually a double waterfall. There is a small trail leading to the waterfall. At the junction you can go either left or right to find one of the waterfalls. To swim we recommend taking the one on the right side.
There is no sign to show the waterfall. But the trail starts opposite the Juice bar. A few locals may ask for some money to show you the way to the waterfall, but you absolutely don't need one. There is only 1 way down…
Location: here
---
14. Take a cooking class in Ella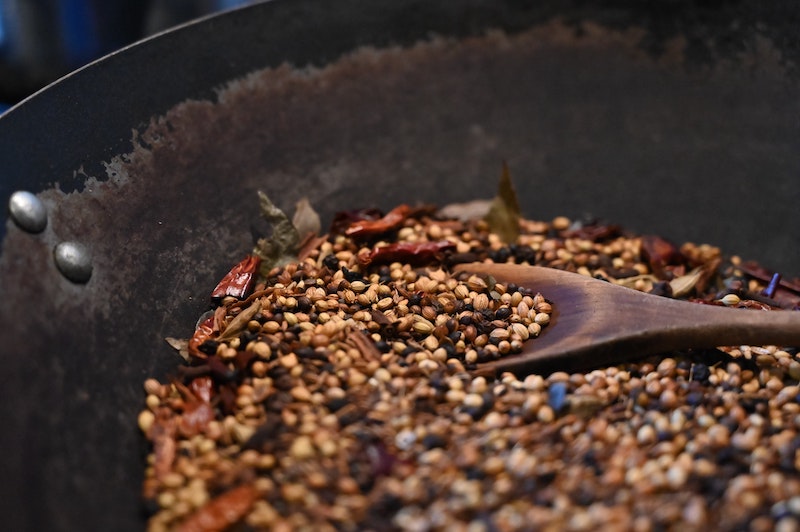 The food in Sri Lanka is delicious. If you ever wonder how to cook a great curry, then joining a cooking class in Ella would be an awesome idea.
You can book a private class at MY VILLAGE COOKING CLASS. The chef there is super friendly and highly skilled. This is a truly authentic Sri Lankan experience. You can spend a great afternoon or evening with the chef. He is a passionate host. The class takes about 4 hours.
Location and contact details: here
---
15. Visit Adisham Bungalow near Ella
Adisham Bungalow is another beautiful place to visit near Ella!
Adisham Bungalow is a country house located near Haputale which now housed the Benedictine monastery. It has preserved its old furniture and fittings and is open for public visits. There is a lovely quaint garden and surroundings as well. It has also shop selling homemade fruit cordials, jams, syrup and and chutneys made and run by the Benedictine monks.
We never expected to see such places in Sri Lanka. Adisham Bungalow is not as touristy as other places near Ella, but we absolutely loved our visit. It ended up being one of the highlights during our trip and certainly one of the best things to see in Ella.
Book a full tour from Ella here. The tour includes a train ride through misty hills, passing tea plantations, tunnels, and waterfalls as well as an ancient village in the Kent countryside. Absolutely stunning!
Location: here
---
16. Enjoy an Ayurvedic Massage in Ella
If you've never heard of Ayurvedic before, you can learn about this practice during your trip to Sri Lanka. Ayurdeva is based on harmony between body and mind, this practice offers many benefits such as stress reduction, elimination of toxins, improvement of blood circulation etc.
Ayurveda is the sister science of yoga which is dedicated to balancing the mind in relation to the body. Many thousands of years ago in India, Ayurveda was developed as a system for diagnosing imbalances in body and mind that eventually manifest as illnesses, ailments and other symptoms.
In Ella, you will find many Ayurvedic massage centers and retreats. Hela Osu Suwapiyasa Ayurvedic Spa is one offers one of the best Ayurvedic treatment in Ella (location: here).
---
17. Enjoy a great meal in Ella
Ella is full of great restaurants and cafes.
Cafe Chill has become an institution in Ella. You gotta try a meal at Cafe Chill at least once! Chill is the most beautiful restaurant in Ella. With excellent music at night, it offers a great vibe for visitors in Ella.
Opposite Cafe chill you can enjoy delicious vegan food at Rainbow Cafe. With its laidback atmosphere, it is the perfect place to chill after a day of exploration.
Tunnel Cafe, is another must-try in Ella. They serve some of the best and most authentic curries we've had in Sri Lanka for very cheap prices.
We also loved our meal at Gem & Berries. Their wifi connection is also very good, which is great if you need to work on your laptop.
---
18. Go on a safari in Udawalawe
Depending on how you organize your trip to Sri Lanka, you may visit Udawalawe before or after a trip to Ella. As for us, we started with the south of Sri Lanka in Weligama. From there we took a driver who stopped at Udawalawe and then dropped us off in Ella. It was perfect for us. You can book this private tour here.
Udawalawe is a must-visit during a trip to Sri Lanka. You can enjoy an amazing Safari to watch elephants in the wild! For us this is one of the most memorable moments of our trip.
The Udawalawe National Park covers 310 km2. This is one of the most visited safaris in Sri Lanka. Here you are guaranteed to see Elephants as they are more than 500 inside the park!
The best time to visit Udawalawe is early morning, at 6:30am when the park just opens. It is at dawn that the animals are most active, especially the wild elephants, busy feeding in the trees, spraying themselves with dust or bathing. However, not to worry, the park can also be visited in the afternoon.
You can book a day trip from Ella to Udawalawe here.
Besides Elephant you can also see buffaloes, deers, monkeys, eagles, crocodile and, with a little luck, leopards…
Location: here
READ: FULL GUIDE FOR VISITING UDAWALAWE
---
19. Go on the most beautiful train ride to Kandy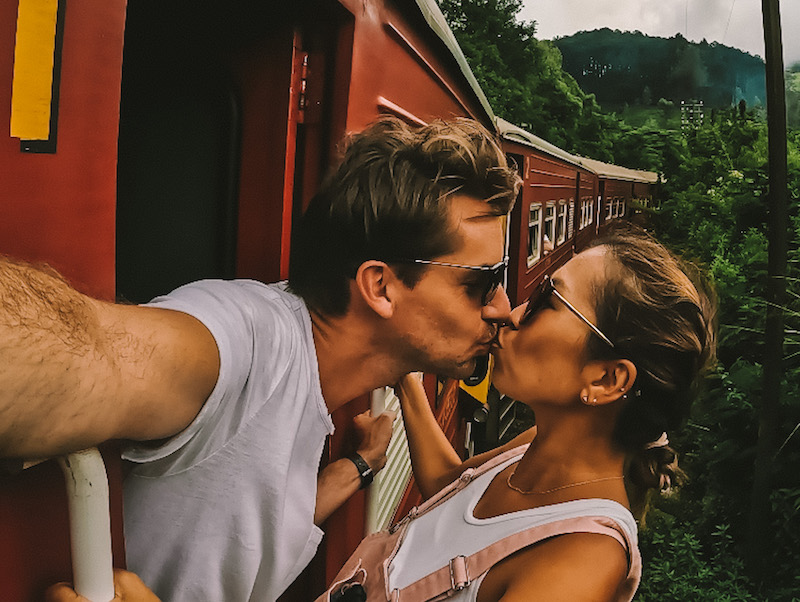 The train ride from Ella to Kandy (or Kandy to Ella) is legendary, renowned for the beauty of its landscapes. For us this is THE most memorable train ride we've ever been on! It was like a dream.
Taking the train in Sri Lanka is like stepping back in time. The entire infrastructure, from the rails to the wagons, including the station master's cap, seems to be fifty years old perhaps a hundred years old…
The line from Ella to Kandy was created at the end of the 19th century by British settlers, with the aim of transporting their tea production from the mountains to the port of Colombo. The precious commodity was then loaded aboard ships that set sail west.
The slow train meanders for 6 hours between the misty mountains and the superb tea plantations. We sat pretty much the entire way at the door which is left open.
Going on this journey is an absolute must! Tickets must be booked in advance though. We recommend using 12go to book your ticket. Check it out here.
READ: ELLA-KANDY, THE MOST EPIC TRAIN RIDE IN THE WORLD
---
20. Visit Dowa Rock Temple in Ella
Unlike most other temples, Dowa Rock Temple conserved the history and holiness that makes the temple unforgettable.
Dhowa is a 2 millennia old temple also known as Rajamaha Viharaya. There is a huge number pilgrims visiting this temple every year. Part of the temple is built inside a rock which makes is very special. There is also a secret tunnel used by historic heroes, sinhalese soldiers and priests to travel between two temples and evade invasive forces of that era.
You can easily reach Dhowa Rock Temple in a 15min Tuk-Tuk ride.
Location: here
---
Where to stay in Ella?
As Ella has become quite a popular place in Sri Lanka, the best hotels and hostels fill up quickly. So try to make your reservations in advance to make sure you don't miss out on great deals.
98 Acres Resort and Spa – $$$$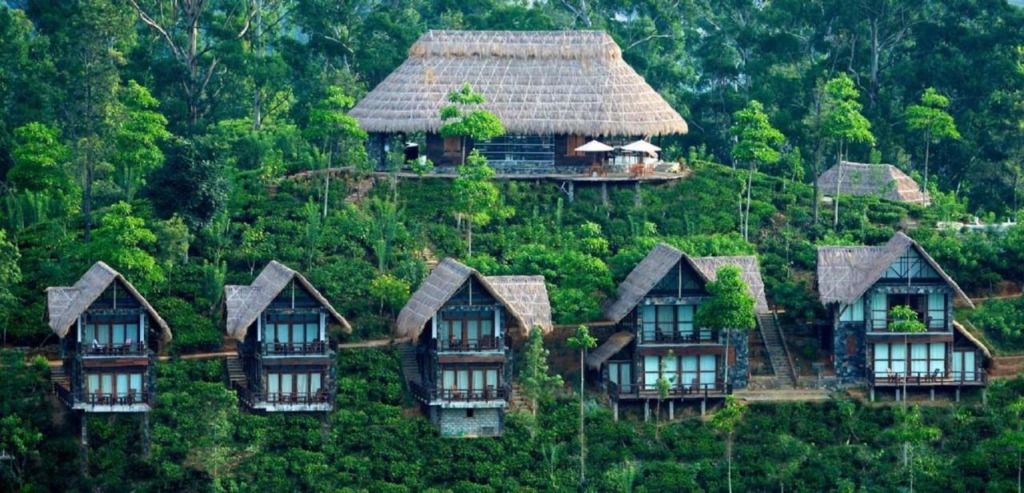 This is without a doubt, THE best hotel in Ella. Often fully booked, this is the most exclusive resort in the area, with a breathtaking view of the mountains in Ella.
When hiking to Little Adam's Peak, you can see the hotel perched on the edge of a mountain, nestled in the middle of the nature. If you have the budget for it and want to live a unique experience in one of the best hotels in Sri Lanka, then book here now to secure a room as soon as possible!
---
HIDE-ELLA Hotel & Resort – $$$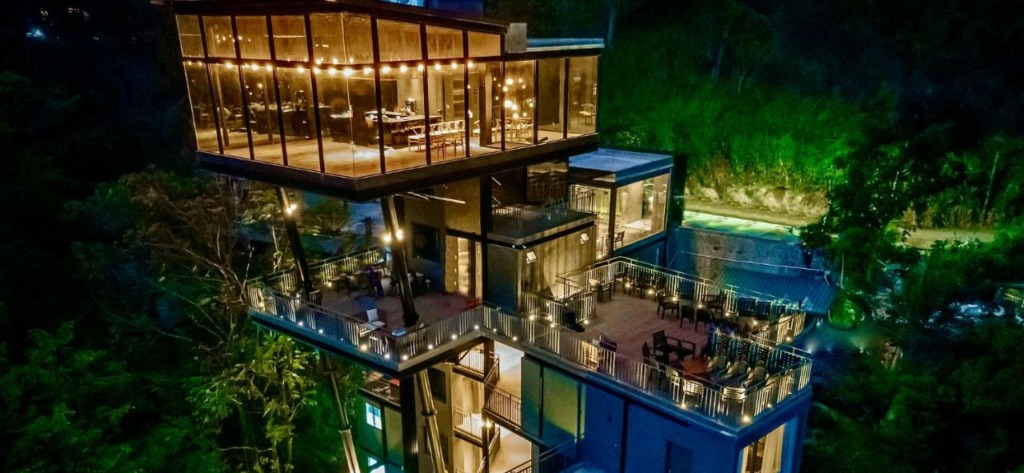 HIDE-ELLA is one of the newest hotels in Ella, located right in the centre of town! This very modern hotel offers amazing comfort, spacious and modern room and awesome restaurant. If you are not a budget, then this is our top recommendation in Ella. Check it out here.
---
Ella Planters Bungalow – $$$
Ella Planters Bungalow was one of our favorite hotels we stayed at during our trip to Sri Lanka. Beautiful rooms, lovely view and great hospitality. They looked after us exceptionally well. The food was delicious as well with generous portions.The view from our room was also stunning!
So if you are looking at something quiet, nestled in the nature this is the place for you! The hotel is a bit outside of town but getting to Ella is easy as the hotel have their own Tuk-Tuk. Check it out here.
---
The Chillout Ella – $$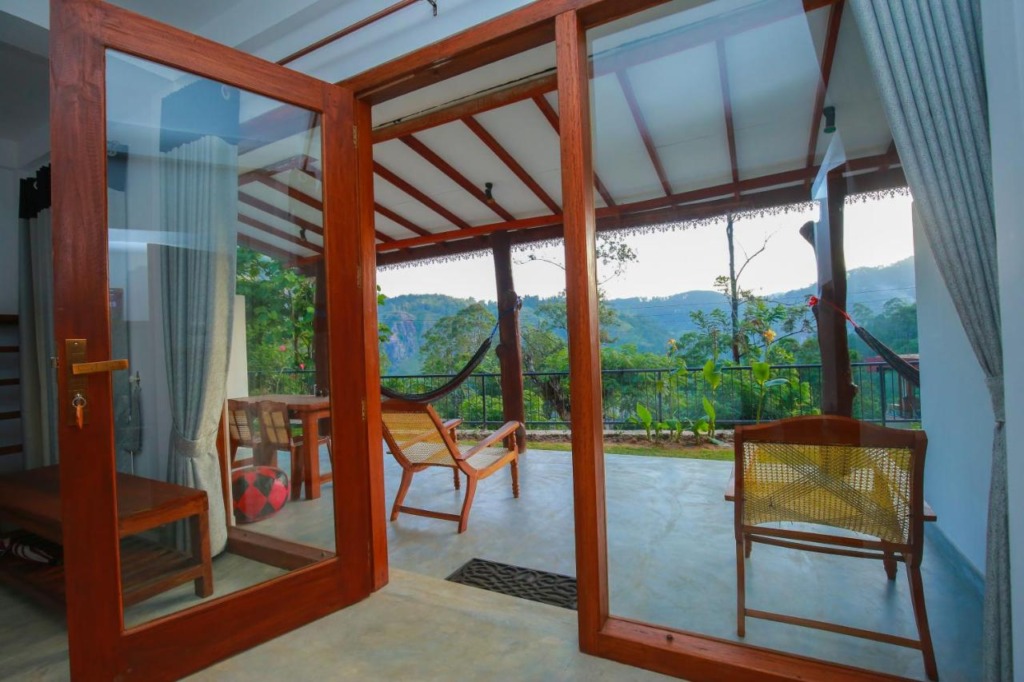 If you have a little more budget, immerse yourself in a magnificent natural setting at The Chillout Ella. This hotel is a little more out of the way without being very far from the city center. But the good news is that it is on the heights around the city and therefore offers great views of the mountains in the area. The rooms are large and you will have everything you need in terms of equipment. Add to that that the night is not very expensive so you will have a very good quality / price ratio. Book here.
---
Hangover Hostels Ella – $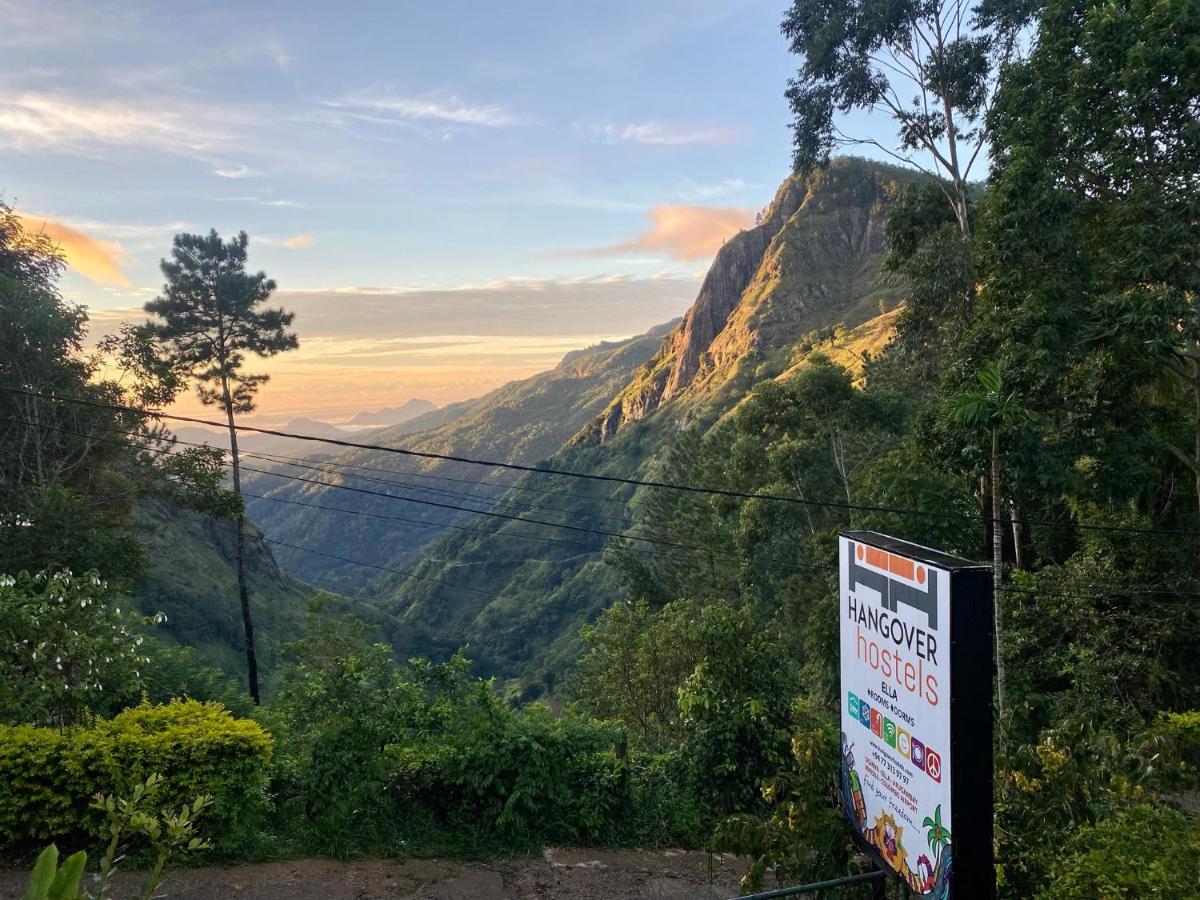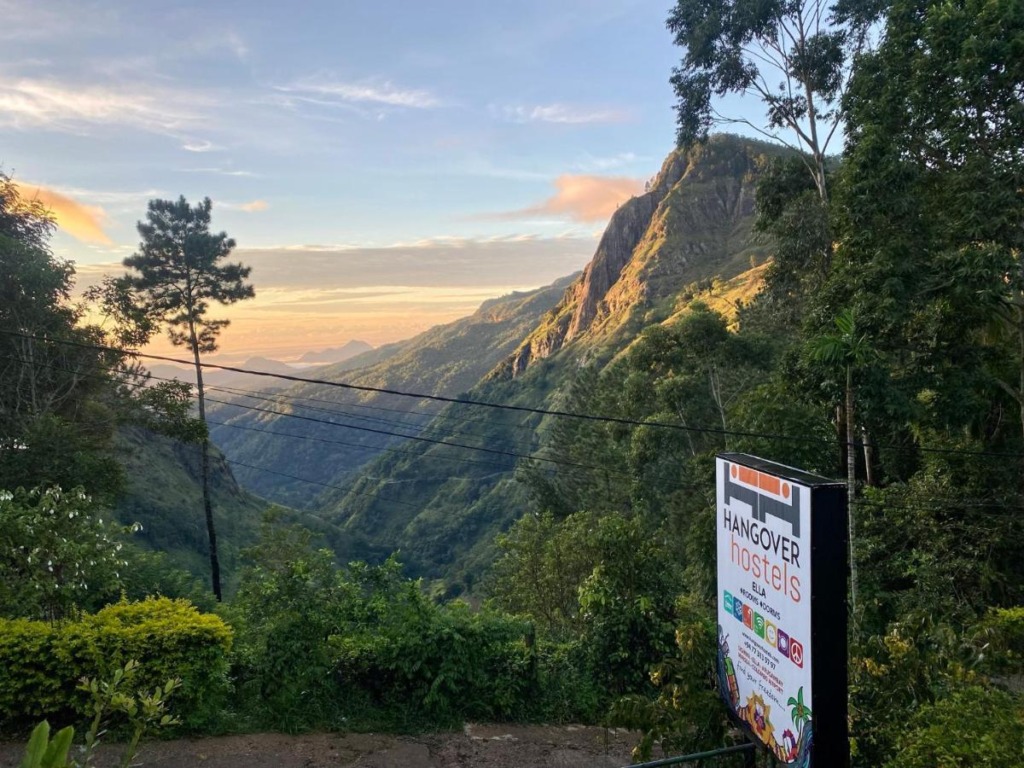 For those looking for a hostel style accommodation, I highly recommend Hangover Hostels Ella. The hostel is well located, just a few minutes walk from the train station. The dormitories are comfortable and it is also the ideal place to meet people. Book here.
---
How long to stay in Ella?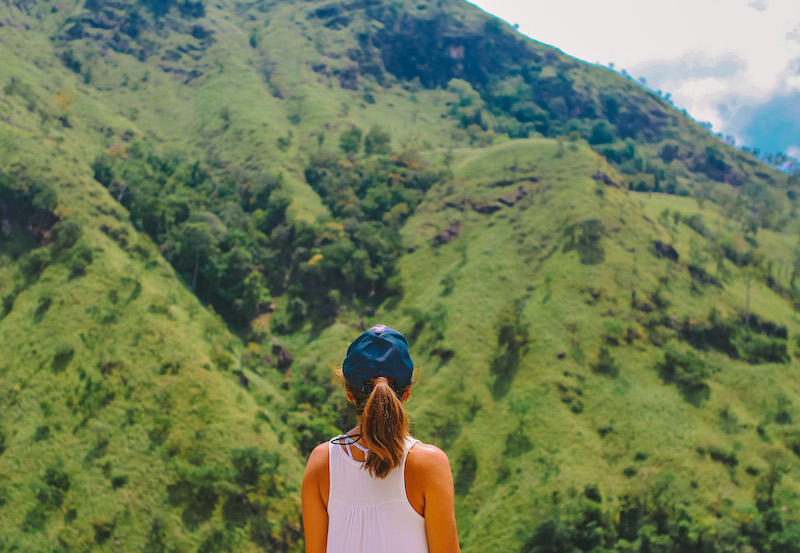 To cover everything in our post, you need at least 5 to 6 days. However, if you focus only on the most popular attractions which are:
1- Little Adam's Peak
2- Nine Arch Bridge
3- Lipton's Seat
4- Ravana Falls
5- Diyaluma Falls
Then 2-3 nights might be enough. It depends how much time if you have during your trip to Sri Lanka. As we stayed in Sri Lanka for more than a month, we took our time and spent quite a week in Ella. We enjoyed the cooler climate and the overall vibe of the place.
---
When is the best time to visit Ella?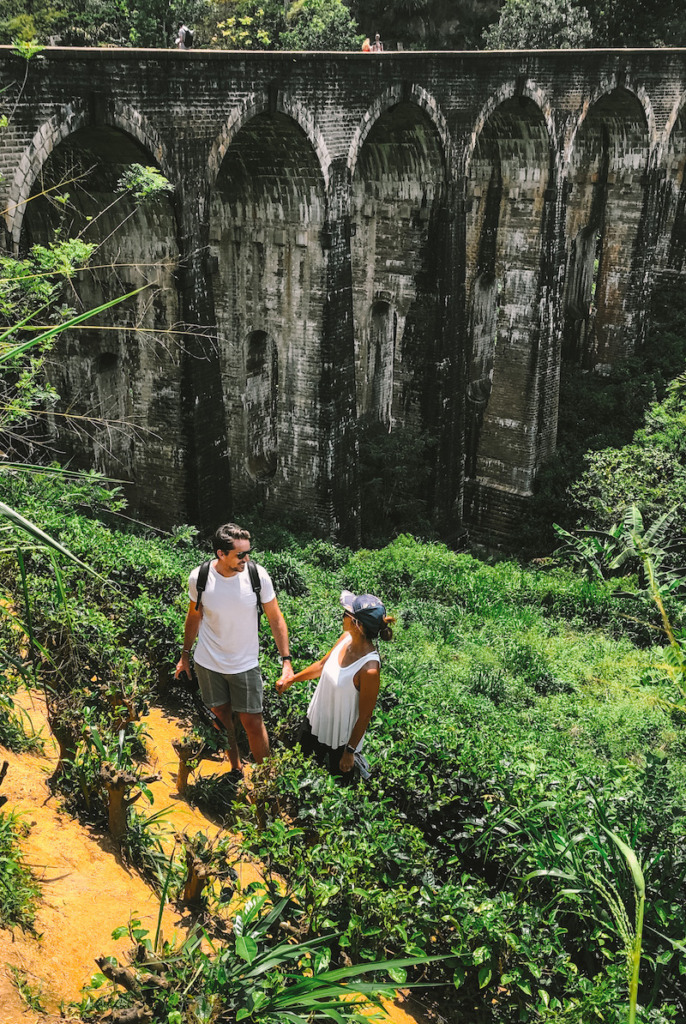 The temperature in Ella generally varies between 20° C and 28° C. Nestled in the heart of a mountainous region, this city is blessed with a cooler climate than in the lower altitude areas.
The recommended months to visit Ella are January, February, March to avoid the rain. That said, we went there in March and we still got a bit of rain every day. In any case, Ella can ben visited throughout the entire year.
---
How to get around Ella?
In its city center, Ella can be visited on foot. Little Adam's Peak and the Nine Arch Bridge are easily reachable.
However, many activities are located outside Ella within a few hours drive. You can decide to rent a scooter or simply hire a tuk-tuk which we did most of the time. Sometime the road can be pretty bad to access some sights, so driving with a scooter can be a bit dangerous.
For more comfort, you can also hire a driver with a car or minivan. You can either ask your hotel to arrange for a driver, or you will find many drivers waiting in the center of Ella.
---
How to get to Ella?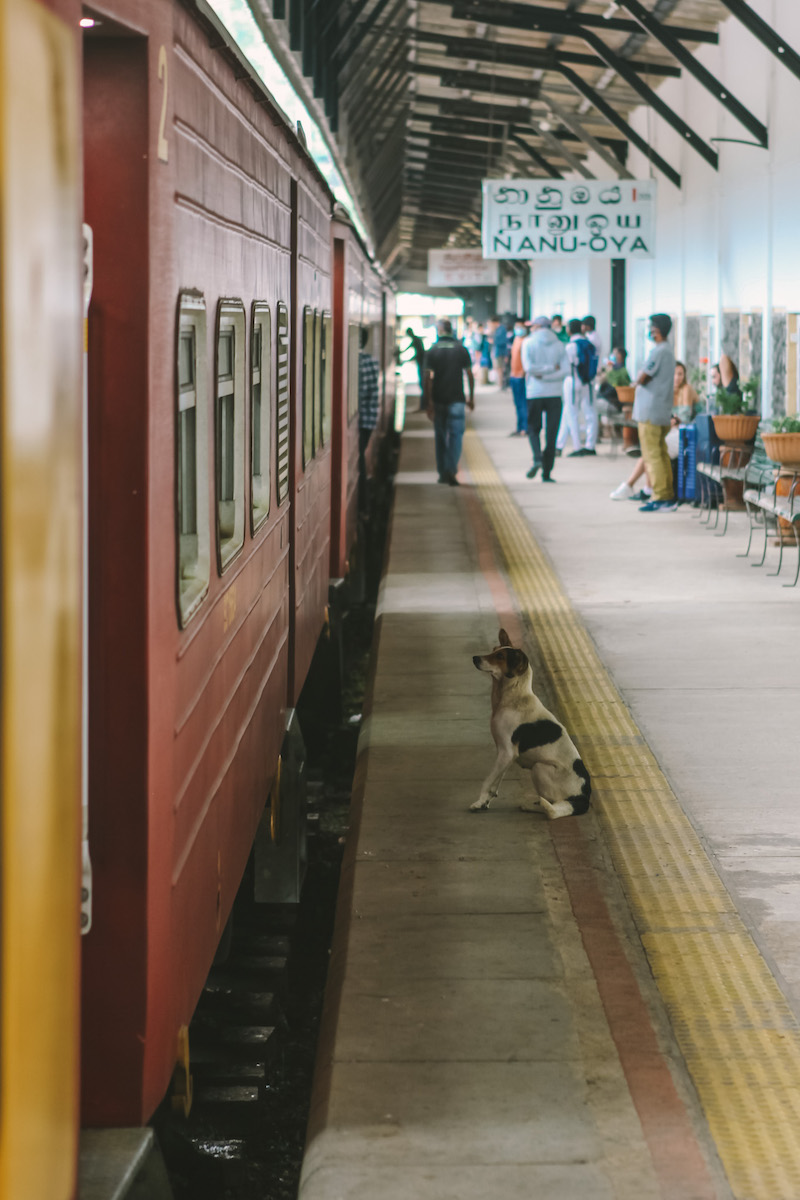 If you come from Kandy, then no questions: TAKE THE TRAIN! This is one of the most epic train ride ever! We highly recommend it.
If you come from the south of Sri Lanka (like we did), we hired a driver who took us for a visit to Udawalawe and then dropped us off to our hotel in Ella! It was super convenient! You can book a driver here.
---
In conclusion about the best things to see in Ella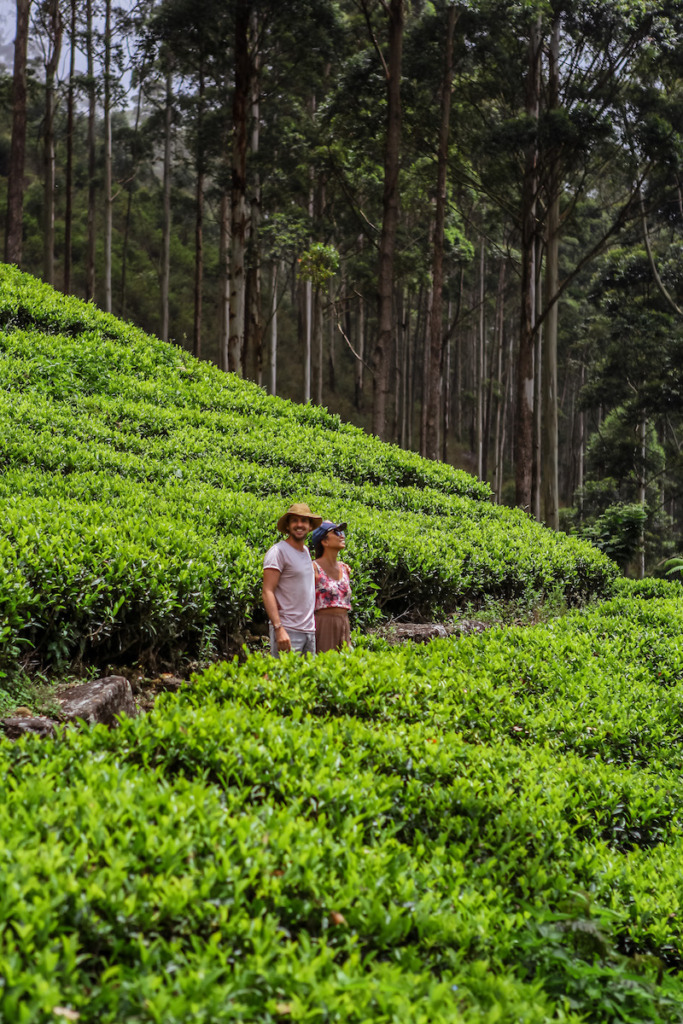 Sri Lanka is not only about dreamy beaches or beautiful temples. Ella offers a great contrast to the rest of Sri Lanka with its many exceptional places to discover. A true gift of nature.
Hiking to Little Adam's Peak or visiting the tea plantations around Lipton's Seat are some of our most memorable things we did in Sri Lanka. We were also super excited to visit the Nine Arch Bridge, as we saw countless photos of this place when planning for our trip!
We also enjoyed the great variety of food in town and the many vegan options!
Visiting Ella is a must when you are in Sri Lanka.
We wrote many posts about our trip to Sri Lanka, which you can find here.
We hope that you found this post useful about the best things to see in Ella . Feel free to reach out to us if you have any question, by leaving a comment below.
Enjoy your trip to this wonderful country!
---
Related Posts
BEST THINGS TO SEE IN THE SOUTH OF SRI LANKA: here
A VISIT THE BEAUTIFUL TEA PLANTATION AT LIPTON'S SEAT NEAR ELLA: here
FULL GUIDE FOR HIKING LITTLE ADAM'S PEAK: here
FULL GUIDE FOR VISITING THE NINE ARCHES BRIDGE: here
ELLA-KANDY, THE MOST EPIC TRAIN RIDE IN SRI LANKA: here
10 BEST THINGS TO SEE IN WELIGAMA: here
10 AWESOME THINGS TO SEE IN KANDY: here
14 AWESOME THINGS TO DO IN MIRISSA: here
FULL GUIDE FOR VISITING UDAWALAWE: here
15 INCREDIBLE THINGS TO SEE IN GALLE: here
THE TEMPLE OF THE SACRED TOOTH RELIC IN KANDY: here
KANDY ROYAL BOTANICAL GARDEN: here
15 BEST PLACES FOR DIGITAL NOMADS: here
10 MOST INCREDIBLE HOTELS IN BALI: here