WHAT TO SEE IN LIPTON'S SEAT? DO YOU NEED TO BOOK IN ADVANCE? HERE IS ALL YOU NEED TO KNOW ABOUT A VISIT TO LIPTON'S SEAT IN HAPUTALE NEAR ELLA IN SRI LANKA
Lipton's Seat is the name given to a huge area covered in tea plantations near Ella, in Haputale to be exact. Lipton's Seat is actually a viewpoint on top of a mountain dominating the tea plantations with 360° panorama. This was Sir Lipton's favorite view, the very one who developed the culture of tea in the region as well as the democratization of tea throughout the world.
As you may know, Sri Lanka adopted the culture of tea with British colonisation and the country still produces some of the best teas in the world, Ceylon tea.
For us visiting Lipton's Seat was one of the best things we did in Sri Lanka.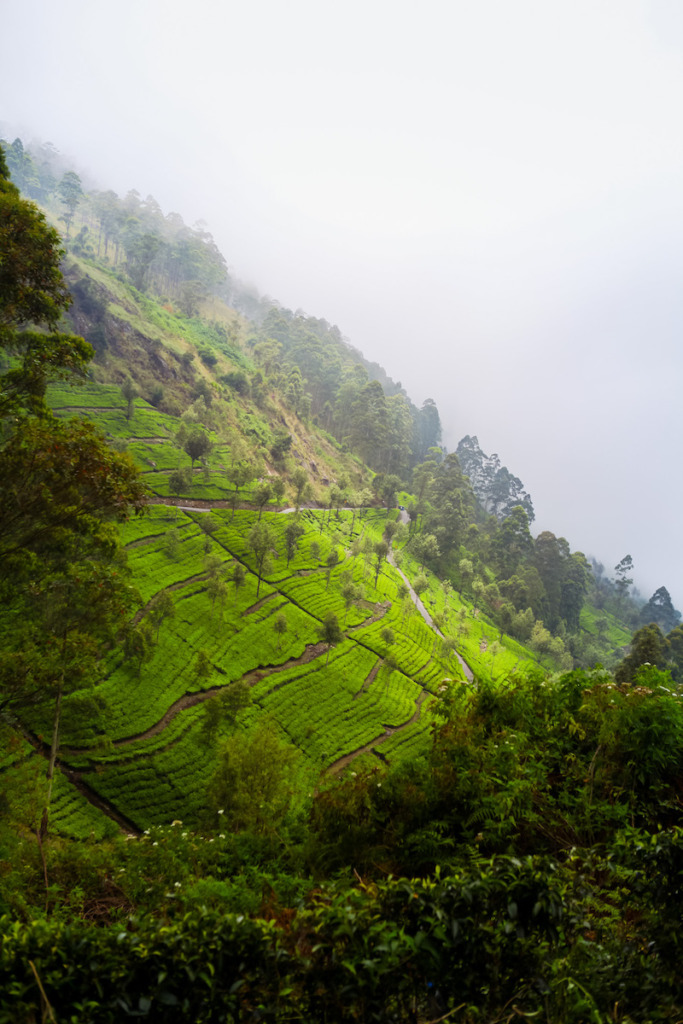 Lipton's Seat is located near Ella, a charming little mountain village in Sri Lanka, perched in the clouds at 1,000 meters above sea level. Most people would visit Lipton's Seat as part of a day trip from Ella.
In this post we describe all you need to know for a visit of Lipton's Seat. How to get there, how much does it cost, what to see, where to hike etc.
---
HISTORY OF LITPON'S SEAT
"Tea for all" was Sir Lipton's will. Although it seems obvious today, tea wasn't for all back in the 19th century. Indeed, tea was reserved for the rich only! It was a rare and expensive commodity to import. Only the wealthiest could enjoy a cup of tea at that time…
So at the beginning of the 19th century, when a disease destroyed almost all the coffee plantations in Sri Lanka, Sir Lipton decided to acquire 7 huge plantations and grow tea instead of coffee to try to accomplish his mission of making tea more affordable.
The rest is history as Lipton Tea became one of the most famous tea brand in the world. Besides, Sir Lipton achieved his goal of making tea available for all. It is him who started selling tea inside tea bags. So it's partly thanks to him that you can enjoy your great cup of tea every morning.
SO WHY LIPTON'S "SEAT"?
This is the place where Sir Lipton used to sit to have a 360 degree panorama view of his tea plantations. Today there is a statue of Sir Lipton at this location, which we invite you to discover in this post.
The history of Sir Lipton is fascinating. When reading about it, we couldn't wait until to visit this place (more info here). In this post we share all you need to know about a visit to Lipton's Seat.
---
HOW TO GET TO LIPTON'S SEAT?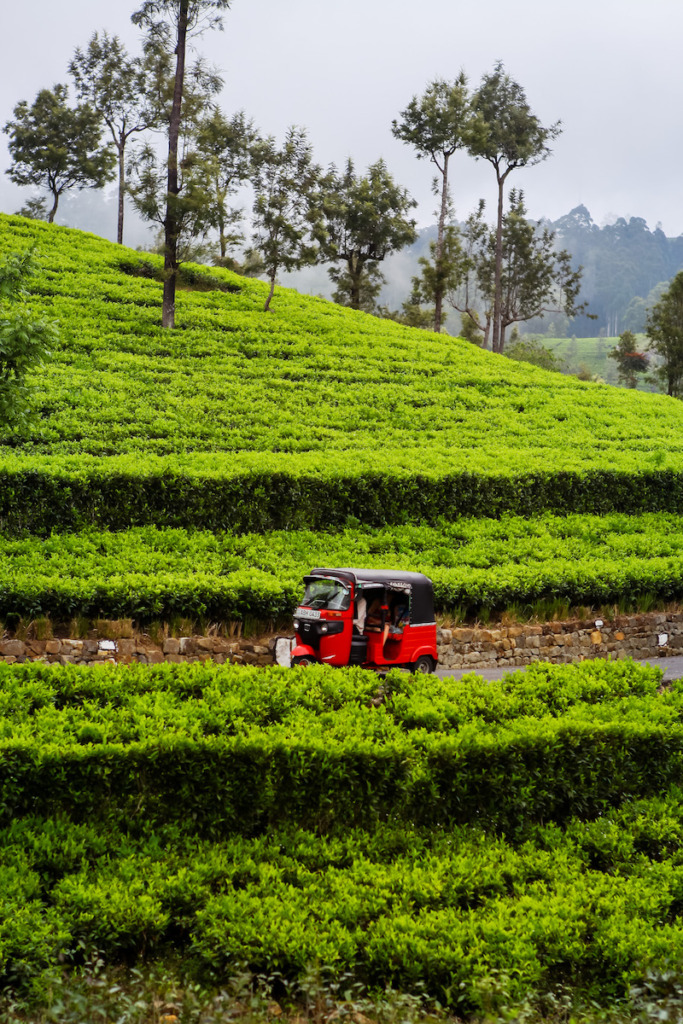 FROM ELLA
OPTION 1: Take a Tuk-Tuk from Ella.
The drive takes 1.5 hours one way. For the last 45min the road is really bad, which makes it difficult for a tuk-tuk to drive through, but still doable. You can book your full Tuk-Tuk tour here.
The view when you enter Lipton's Seat tea plantations area is absolutely stunning. Don't hesitate to ask your Tuk-Tuk Driver to stop on the way to take plenty of photos. Our driver even took photos for us, which was great!
The driver will get you all the way to the actual Lipton's Seat where you can see a statue of Sir Lipton. After you are done with your visit, your driver will get you back to Ella or to another point of interests as there are other things to see in the area. More on that later in this post.
OPTION 2: Take the train from Ella and stop in Haputale train station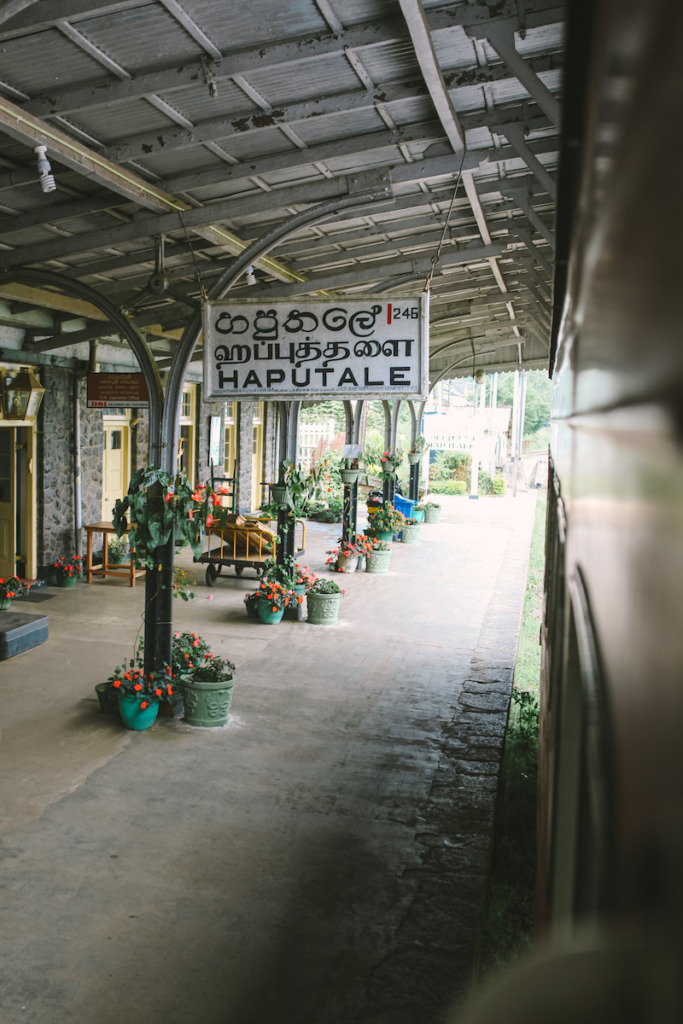 This is by far our favorite option to visit Lipton's Seat. You get to combine a train ride experience in Sri Lanka, which is always an exciting things to do in this country. Besides the train passes through the mountains with stunning sceneries including waterfalls.
After you arrive in Haputale, we recommend taking the Tuk-Tuk all the way to Lipton's Seat. From there, hike back to the train station and head back to Ella. We like this option the most, as it gives you more time to interact with locals, particularly women picking tea leaves. If you take a Tuk-Tuk both ways, although it is very convenient, you may miss some of the best viewpoints.
From Haputale to Lipton's Seat the total distance is 15km. Count 4 hours to hike down!
The train ride takes 1 hour from Ella. You can see the train schedule and book your train ticket here.
FROM KANDY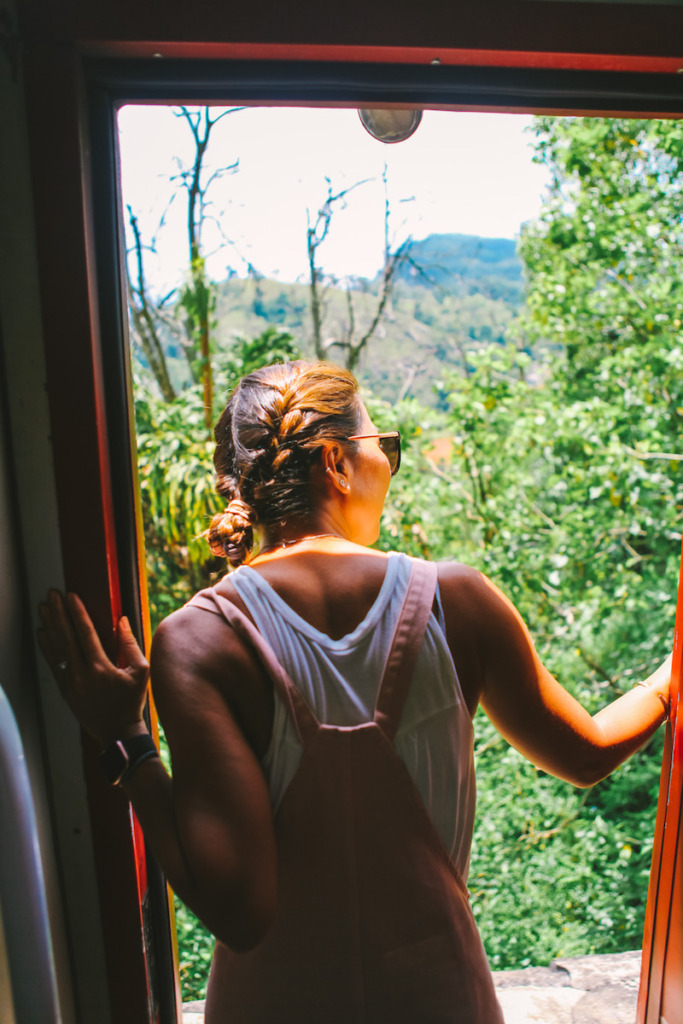 If you are coming from Kandy, chances are that you are taking the train (the most epic ride in Sri Lanka!). Then instead of stopping in Ella, you can stop in Haputale for 1 night. As such you can visit the Lipton's Seat early morning the next day at sunrise, which is the best time to visit this area.
In Haputale, ee highly recommend a stay in one of the best hotels in Sri Lanka: the Dream Cliff Mountain Resort. Check it out here.
For a Tuk-Tuk trip to Lipton's Seat you can book it here.
READ: ELLA-KANDY, THE MOST EPIC TRAIN RIDE IN THE WORLD
---
WHAT TO EXPECT DURING A VISIT TO LIPTON'S SEAT?
A visit to Lipton's Seat is an unforgettable experience. You will see tea plantations as far as the eye can see. For us it was one of the best things we did during our trip in this country.
Here are some of reasons why you should visit Lipton's Seat:
LIPTON'S SEAT ARE THE MOST BEAUTIFUL TEA PLANTATIONS IN SRI LANKA
For us, the main reason to visit Lipton's Seat is to admire the most amazing tea plantations in the country. There are no words to describe the beauty of this place.
The tea plantations extend over several hundred hectares of hilly land, offering a unique scenery.
THE VIEWPOINTS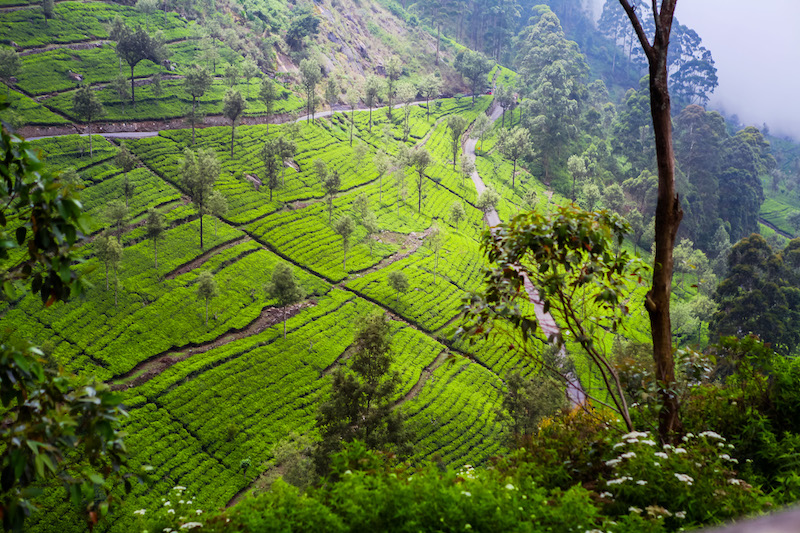 The tea plantations extend over 7 kilometers. One the way to the highest point where the actual Sir Lipton's seat is located, you will have countless of viewpoints one more beautiful than the others. It's hard not to stop to take many photos at every corners!
SIR LIPTON'S STATUE
Once you reach the top, you will see the statue of Sir Lipton. This was his favorite viewpoints. From there he could admire his entire tea plantations. Which indeed, are beautiful. He must have been proud of himself looking at what he has achieved in this part of Sri Lanka.
His statue representing him seated in the very place where he liked to be, was erected to pay him a beautiful tribute.
Location of the statue: here
MEETING LOCALS
In the middle of all these tea plantations are small villages, where the tea pickers and their families live. Some of these small "villages" even have schools. You may come across many children walking by the tea plantations to reach their school.
The Hindu culture being predominant, you can also discover magnificent temples in the heart of these villages.
The tea pickers, mostly women have an exhausting job. They are paid per kilo collected and they must bring at least 16 kg of tea per day. Despite such hardship, these women always have a big smile on their face. All of them will take time to chat with you and exchange beautiful Sri Lankan moments, as we like them.
DRINK A TEA AND ENJOY SOME FOOD AT LIPTON'S SEAT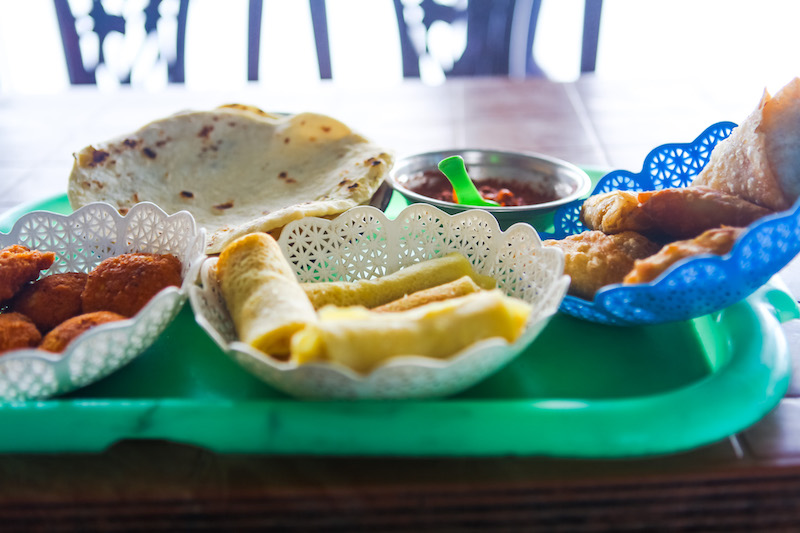 Where the statue of Sir Lipton lie, there is a small restaurants serving great tea and good local foods. We decided to give it a try, and absolutely loved it. The place is called the Lipton's Seat Cafe, located here.
They serve an assortment of local dishes, which was really good. Now, of course expect to pay a little more than what you would usually pay in a local restaurant in town, as it's only for tourists and the only place in the area.
---
HIKING IN LIPTON'S SEAT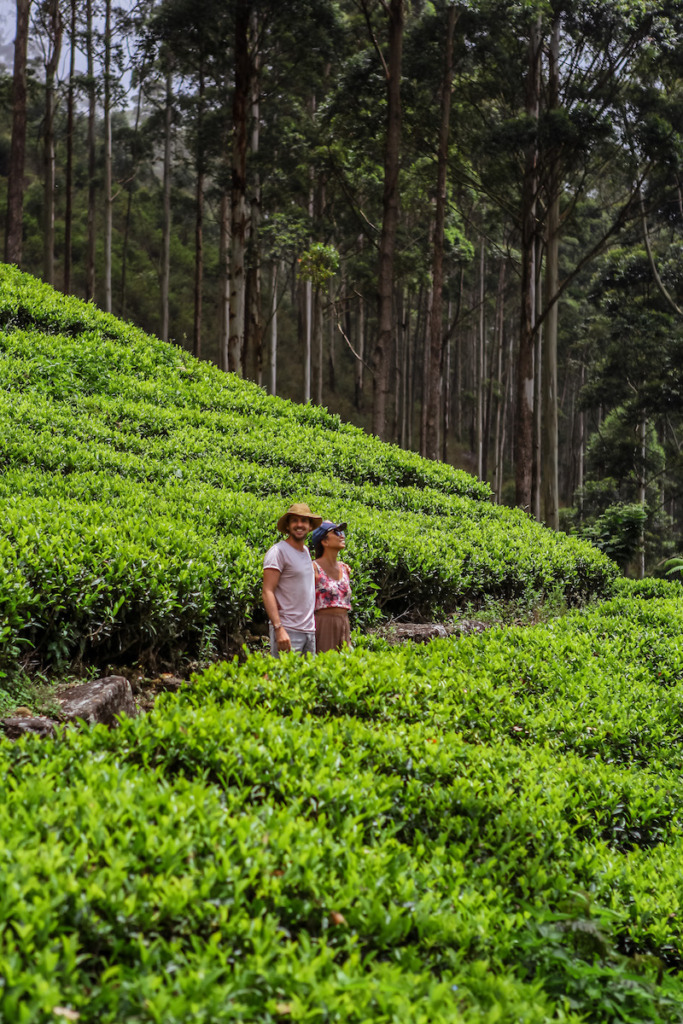 Like we said earlier in this post, we recommend taking a 1 way trip with a tuk-tuk to the actual Lipton's Seat on top of the mountain and go back on foot. That way you have plenty of time to admire the most amazing tea plantations in Sri Lanka and interact with locals.
To hike back to Haputale Train station it takes 4 hours. It's a 15km hike. We simply took the main road to get back down which was great. Sometimes you can cut through tea plantations to save times. On the way back you will surely come across many women picking tea leaves, which makes the whole experience even more exciting!
---
VISIT DAMBATENNE FACTORY ON YOUR WAY BACK
To end this perfect day, visit a tea factory before heading back to Ella. Dambatenne is located near the entrance of Lipton's Seat mountain. You can't miss it. We highly recommend a visit.
Dambatenne Tea Estate is a great place to visit and discover the whole process of how tea is made.
A tour guide will explain you all you need to know about the process and the history of tea in Sri Lanka. The price of the visit is 1,000 rupees per person. You can also buy some tea from the factory directly.
Location: here
---
HOW MUCH DOES IT COST TO VISIT LIPTON'S SEAT?
There is a small entrance fee to access the top of the mountain where the statue of Sir Lipton is located. It only costs 500 rupees to enter Lipton's Seat, which is rather inexpensive.
The gate is located towards the top of the mountain. Which means you can visit 90% of Lipton's Seat area for free. It's only to see the last viewpoint that you need to pay…
---
OTHER THINGS TO DO NEAR LIPTON'S SEAT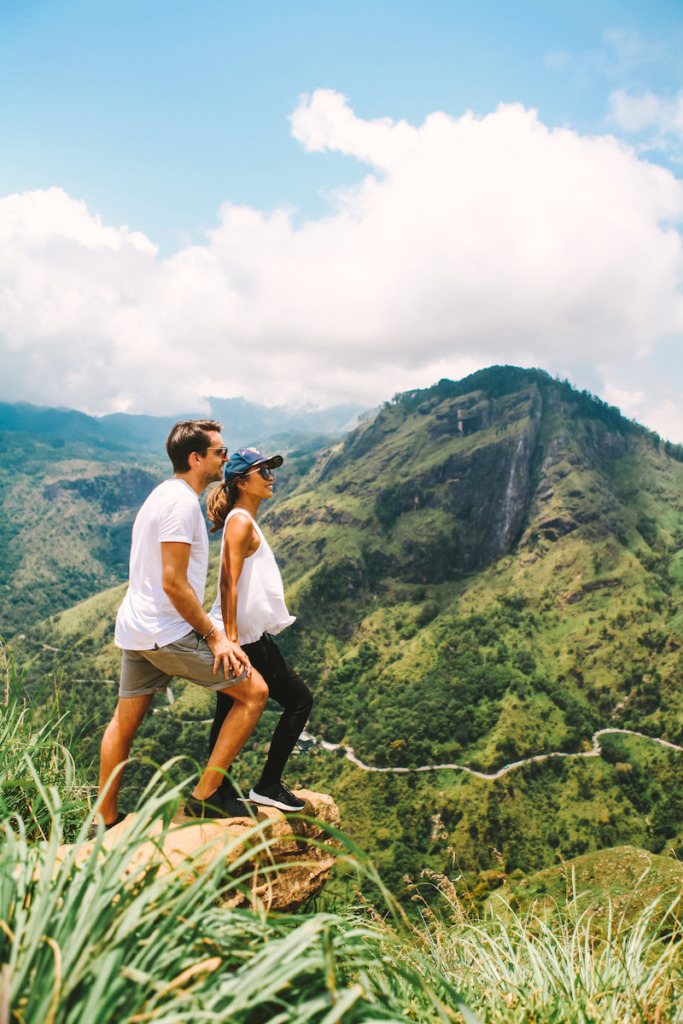 Near Lipton's Seat, you can visit Adisham Bungalow.
Adisham Bungalow is a country house located near Haputale which now housed the Benedictine monastery. It has preserved its old furniture and fittings and is open for public visits. There is a lovely quaint garden and surroundings as well. It has also shop selling homemade fruit cordials, jams, syrup and and chutneys made and run by the Benedictine monks.
Location: here
As Lipton's Seat is located near Ella, one of our favorite part of Sri Lanka, you will find plenty of things to do. Some of the highlights are the beautiful Ravana Falls easily accessible from Ella with a short Tuk-Tuk ride and of course the architectural marvel of the Nine Arches Bridges (more info here)
Little Adam's Bridge, one of the most beautiful hike we did in Sri Lanka, with a stunning panorama at the top (full guide here)
World's End located inside the Horton Plains National Park is another great sights near Ella, a bit off the beaten track in Sri Lanka but worth a visit! This national park is listed as a UNESCO World Heritage Site for its significant biodiversity. These high plateau landscapes are located around 2,000 meters above sea level.
Another great things to see in Ella are the Nil Diya Pokuna caves believed to be part of the legend of King Ravana. 100m below the surface. The highlight of the place is the underground pond containing bright blue colored water. To go down to the pond you have to walk through a difficult trail, passing through tight passages and wet cliff edges, so get a confident guide with you.
READ: 20 BEST THINGS TO SEE IN ELLA
---
Where to stay near Haputale?
In Haputale, there aren't as many options as in Ella. However, there is 1 stunning hotel:
Dream Cliff Mountain Resort – $$$$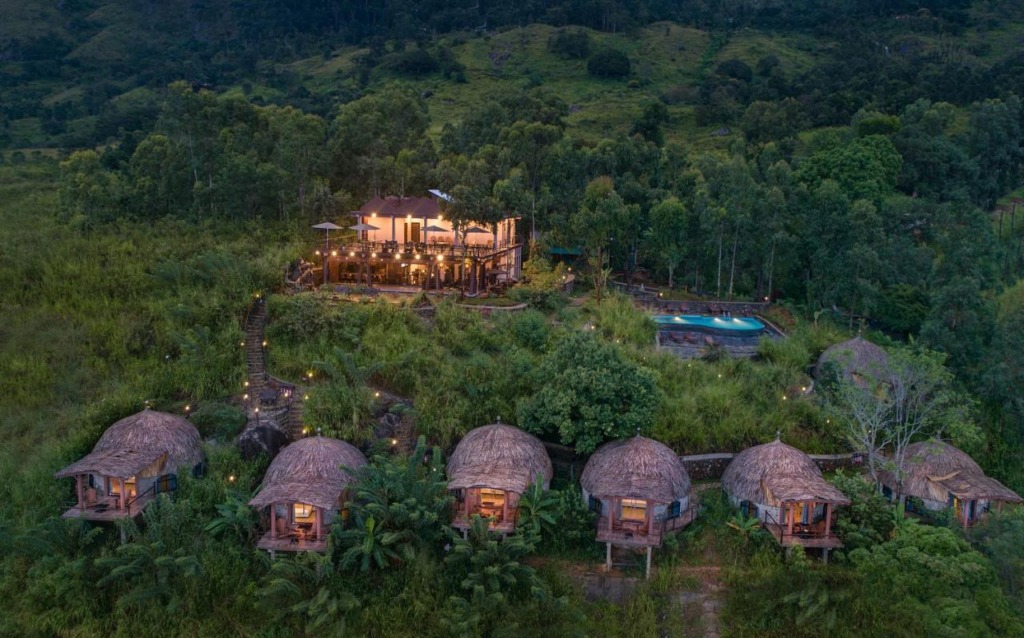 Floating high amongst the clouds perched on top of a mountain, Dream Cliff Resort offers a breathtaking views of the mountains, valleys and great plains of Sri Lanka. One of the best hotel in the area. Check it out here.
---
If you do not want to spend the night in Haputale, then Ella is the other option. However, Ella has become quite a popular place in Sri Lanka and the best hotels and hostels fill up quickly. So try to make your reservations in advance to make sure you don't miss out on great deals.
Here is our list of recommended hotels in Ella:
98 Acres Resort and Spa – $$$$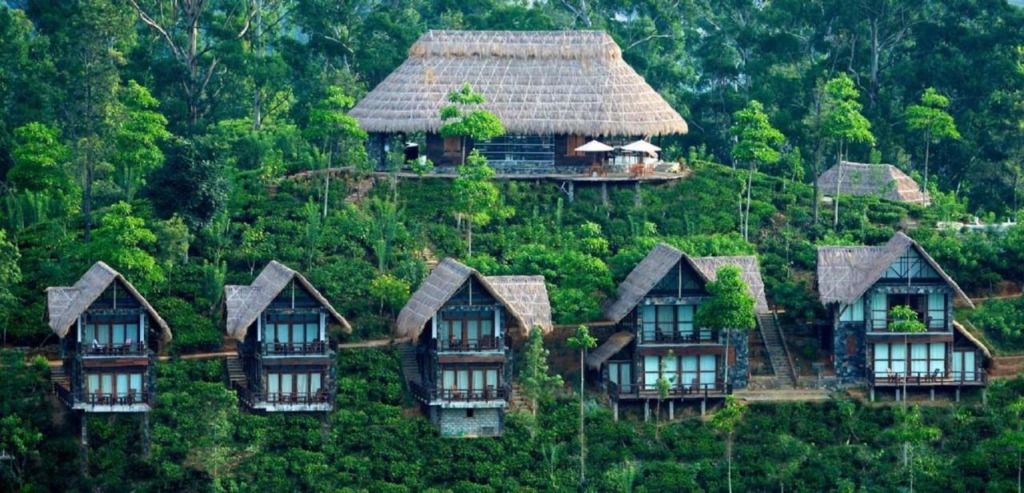 This is without a doubt, THE best hotel in Ella. Often fully booked, this is the most exclusive resort in the area, with a breathtaking view of the mountains in Ella.
When hiking to Little Adam's Peak, you can see the hotel perched on the edge of a mountain, nestled in the middle of the nature. If you have the budget for it and want to live a unique experience in one of the best hotels in Sri Lanka, then book here now to secure a room as soon as possible!
---
HIDE-ELLA Hotel & Resort – $$$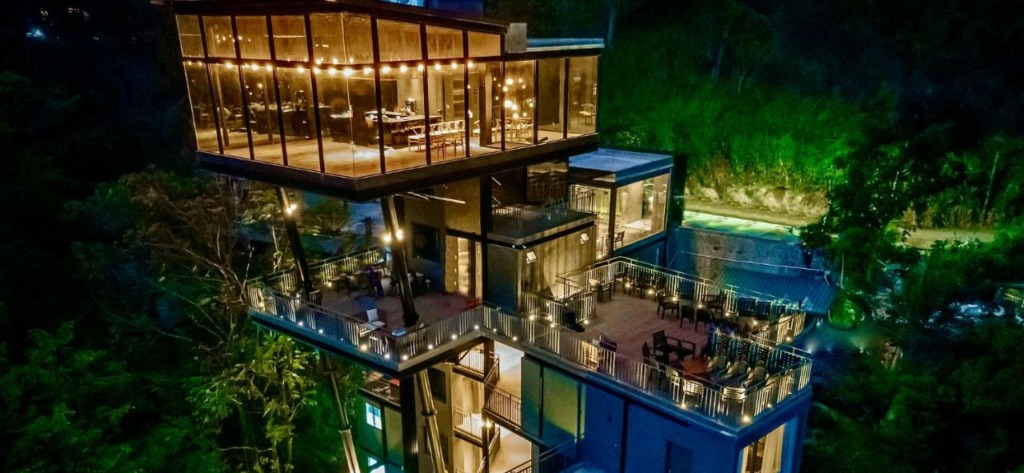 HIDE-ELLA is one of the newest hotels in Ella, located right in the centre of town! This very modern hotel offers amazing comfort, spacious and modern room and awesome restaurant. If you are not a budget, then this is our top recommendation in Ella. Check it out here.
---
Ella Planters Bungalow – $$$
Ella Planters Bungalow was one of our favorite hotels we stayed at during our trip to Sri Lanka. Beautiful rooms, lovely view and great hospitality. They looked after us exceptionally well. The food was delicious as well with generous portions.The view from our room was also stunning!
So if you are looking at something quiet, nestled in the nature this is the place for you! The hotel is a bit outside of town but getting to Ella is easy as the hotel have their own Tuk-Tuk. Check it out here.
---
The Chillout Ella – $$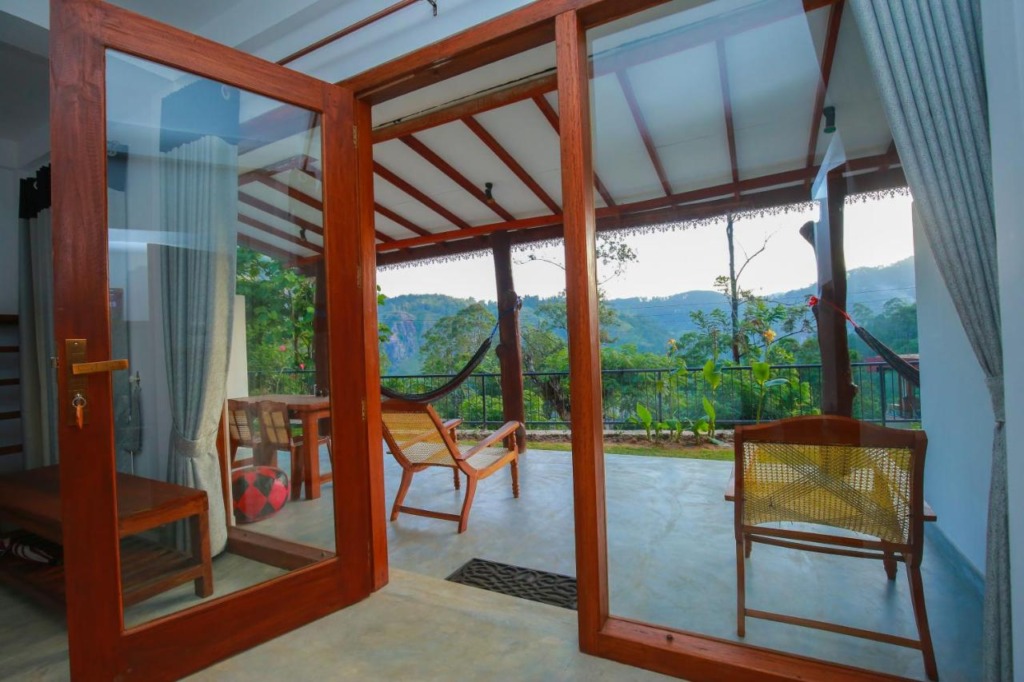 If you have a little more budget, immerse yourself in a magnificent natural setting at The Chillout Ella. This hotel is a little more out of the way without being very far from the city center. But the good news is that it is on the heights around the city and therefore offers great views of the mountains in the area.
The rooms are large and you will have everything you need in terms of equipment. Add to that that the night is not very expensive so you will have a very good quality / price ratio. Book here.
---
Hangover Hostels Ella – $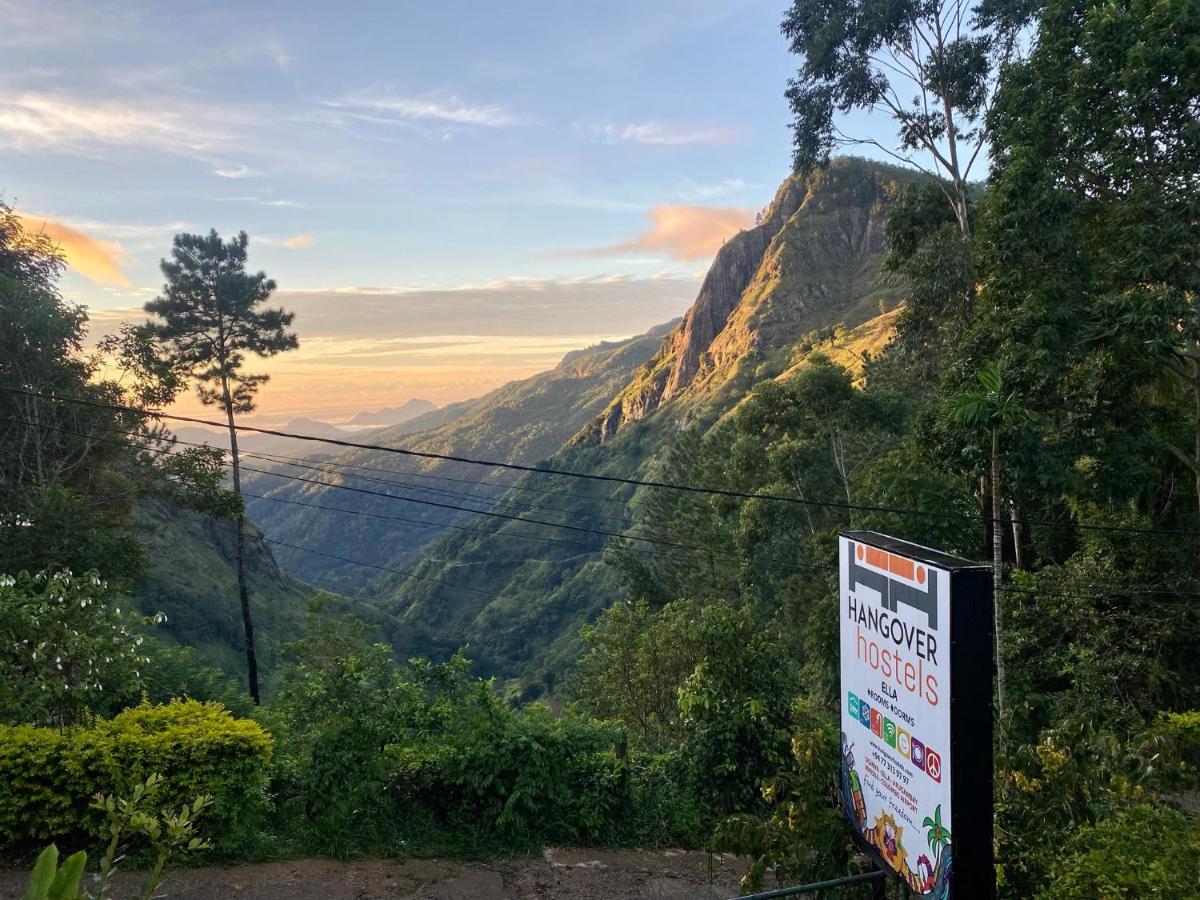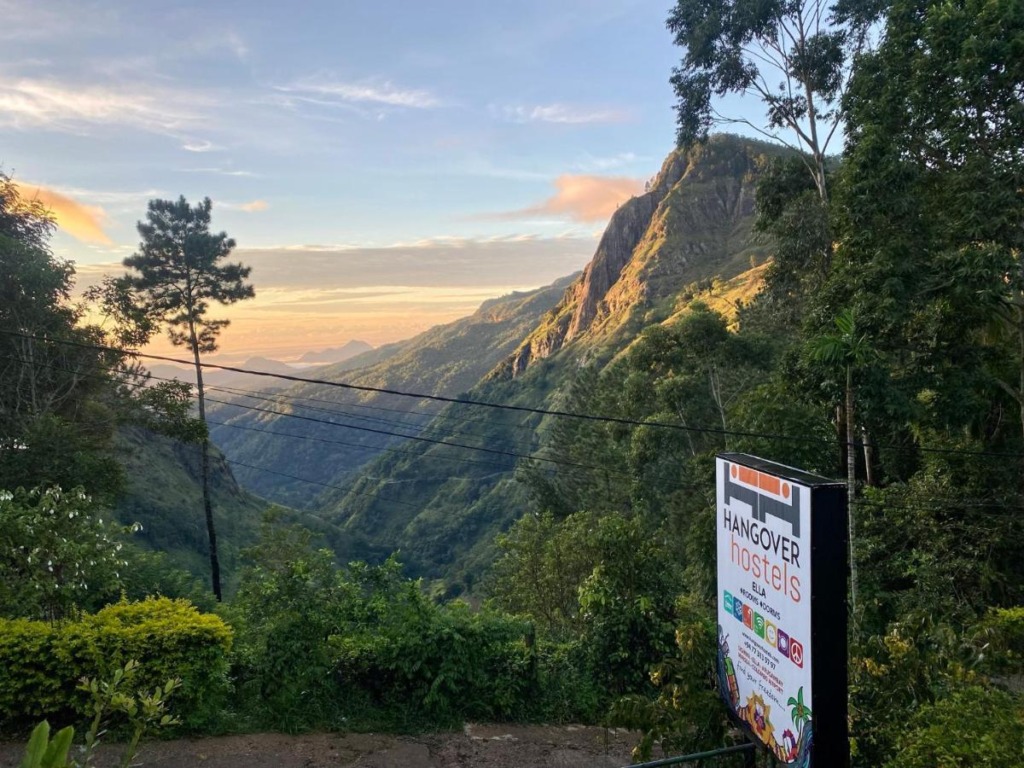 For those looking for a hostel style accommodation, I highly recommend Hangover Hostels Ella. The hostel is well located, just a few minutes walk from the train station. The dormitories are comfortable and it is also the ideal place to meet people. Book here.
---
WHEN IS THE BEST TIME TO VISIT LIPTON'S SEAT?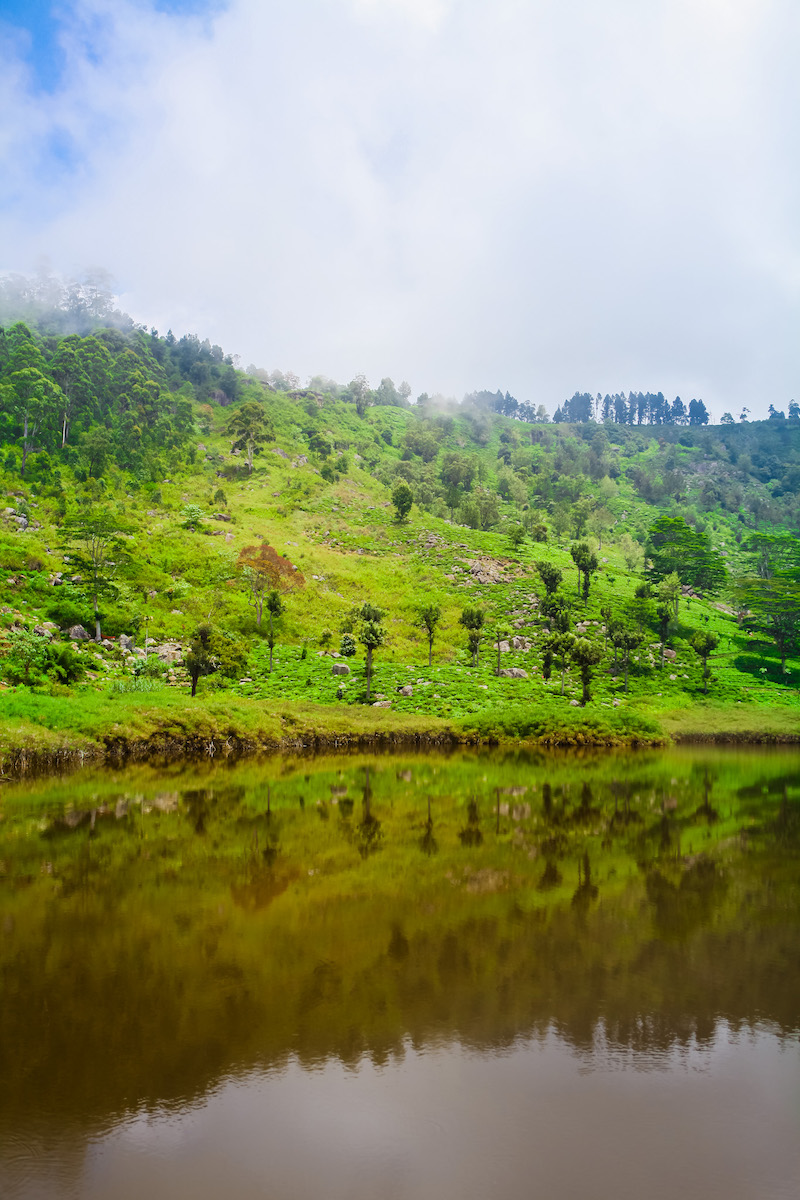 Nestled in the heart of a mountainous region, Lipton's Seat is blessed with a cooler climate than the rest of Sri Lanka. To avoid the rain, the best months would January, February, March.
Also, it is recommended to visit Lipton's Seat at Sunrise for a clear view of the valley and tea plantations.
Finally, make sure to bring a warm jacket with you, as the temperatures are quite low in this part of Sri Lanka. Especially when you reach the top of the viewpoint at Lipton's Seat!
---
Related Posts
20 BEST THINGS TO SEE IN ELLA: here
ELLA-KANDY, THE MOST EPIC TRAIN RIDE IN SRI LANKA: here
KANDY ROYAL BOTANICAL GARDEN: here
10 AWESOME THINGS TO SEE IN KANDY: here
HIKING LITTLE ADAM'S PEAK: here
VISITING THE NINE ARCHES BRIDGE IN ELLA: here
BEST THINGS TO SEE IN THE SOUTH OF SRI LANKA: here
10 BEST THINGS TO SEE IN WELIGAMA: here
14 AWESOME THINGS TO DO IN MIRISSA: here
FULL GUIDE FOR VISITING UDAWALAWE: here
THE TEMPLE OF THE SACRED TOOTH RELIC IN KANDY: here
15 INCREDIBLE THINGS TO SEE IN GALLE: here
15 BEST PLACES FOR DIGITAL NOMADS: here