ALL YOU NEED TO KNOW ABOUT THE NINE ARCHES BRIDGE IN ELLA, SRI LANKA
The Nine Arches Bridge is located in Ella, a gorgeous region of Sri Lanka! Ella is one of our favorite places to visit in Sri Lanka for its natural beauty and cooler climate. We wrote a full post here about Ella.
"THE NINE ARCHES BRIDGE IS AN ICONIC PLACE IN ELLA"
This iconic bridge built on nine massive arches is intended for the trains circulation. It is located between Ella and Demodara train stations. It was built in 1921, during the British colonial period.
Lost in the middle of mountains and lush valleys, it is a real postcard of Sri Lanka. Tourists flock to admire the architecture marvel.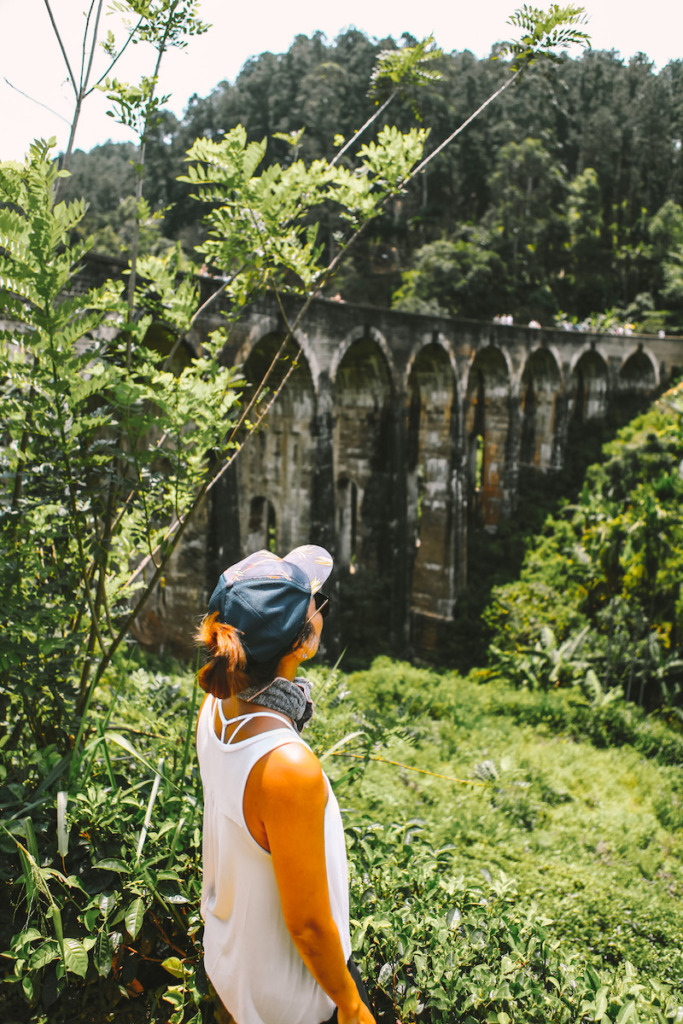 A bit of information about Ella
Ella is a charming little mountain village in Sri Lanka, perched in the clouds at 1,000 meters above sea level. Surrounded by hills covered with tea plantations, Ella is located in the southern part of Sri Lanka, 200 km east of Colombo.
Thanks to its altitude, Ella benefits from a climate that is cooler than the the rest of the country. And that's really nice, after you visit other part of Sri Lanka under very hot and humid weather. For us, visiting Ella is a must during a trip to Sri Lanka.
WHAT IS COVERED IN THIS ARTICLE?
hide
---
HOW TO GET TO THE NINE ARCHES BRIDGE?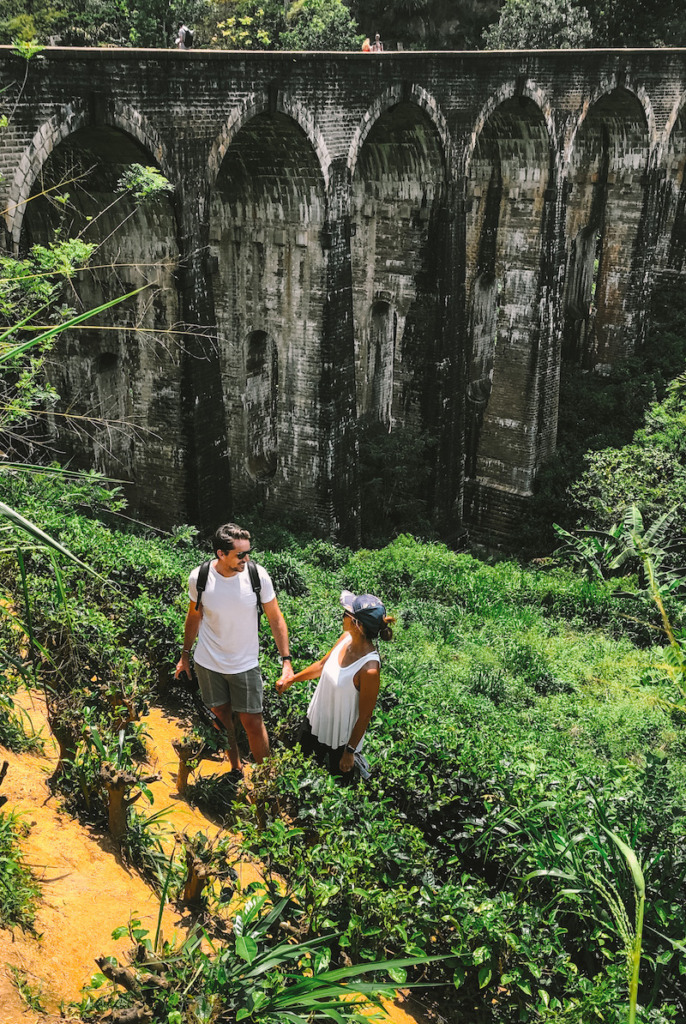 FROM ELLA
The easiest way to get to the Nine Arches Bridge is to go on foot from Ella. It takes a little less than 1 hour to get there. The trail is well indicated. In case of doubt don't hesitate to ask any locals, they would be more than happy to show you the way.
From Ella, you can also go on a Tuk-Tuk if you want to save time and plan to combine the visit of the bridge with something else during the day. You can easily book and customize a Tuk-Tuk tour here.
---
HIKE FROM LITTLE ADAM'S PEAK
Most people combine a hike to Little Adam's Peak with a visit to the Nine Arches Bridge. Indeed from the Little Adam's Peak trail on your way down, you can choose to go left to head back to Ella, or turn right to go to the Nine Arches Bridge. It takes about 1 hour.
As it was already very hot after we finished our hike at Little Adam's Peak, we opted for a Tuk-Tuk to get us to the Nine Arches Bridge, which was a good idea. The Tuk-Tuk driver will drop you off at the ideal location to start the visit of the Nine Arches Bridge.
You can find a few tuk-tuks waiting on your way down from Little Adam's Peak near Ravana Pool Club (here). The Tuk-Tuk ride is rather inexpensive and will make you save 1 hour of downhill hike.
READ: FULL GUIDE FOR HIKING LITTLE ADAM'S PEAK
---
WHAT TO EXPECT AT THE NINE ARCHES BRIDGE?
After our Tuk-Tuk dropped us off, we had to walk for about 10min on the train rail. We loved it, as it's not something we would normally do. From the railroad we could already see glimpse of the bridge between the lush trees.
We were very excited to see the bridge. When planning our trip to Sri Lanka we could see so many photos of the Nine Arches Bridge. So finally, it was our turn to see it.
And the WOW FACTOR was definitely there when we reached the bridge. It is such an architectural marvel. Of course, don't expect to be the only one there as it is one of the most visited places in Sri Lanka.
There are many great viewpoints to take photos of the bridge. The most famous one, but also the riskier one as it is very steep to get there is located in front of a small juice hut here. From there head down to the tea plantation to get one of the most instagrammable shots in the area!
When you cross the bridge to other side, the view is also stunning, perfect to take a few more photos.
The Nine Arches Bridge is one of the best things to see in Ella, and one of the most photographed places in Sri Lanka.
Of course, the best shot at Nine Arches Bridge is when a train is passing.
---
WHEN DOES THE TRAIN CROSSES THE NINE ARCHES BRIDGES?
There are different timing to see the train crossing the bridge, which is the best time to take photos. Now although there are some scheduled train, there are quite often delayed, sometimes by 1 hour. So you will need a bit of luck to see one crossing, or you will need to be patient!
The official schedule is around 9:30am, 11:30am, 3:30pm, 4:30pm and 5:30pm. We were there around noon, and we were in luck, as the 11:30 train was late and pass by a few minutes after we arrived at the bridge! Yay!
---
WHO BUILT THE NINE ARCHES BRIDGE?
In addition to being a beautiful bridge, its structure also has an interesting history. It was built with the involvement of British colonial forces at the beginning of the 20th century.
But before construction began, World War I started and all the steel that was planned for the construction of the bridge was ultimately used for the war.
However Sri Lankans decided to continue the construction after a short interruption but without steel… They used bricks and cement only. The results: an architectural masterpiece!
And don't worry, the bridge is solid enough, even without steel 😉
---
HOW MUCH DOES IT COST TO VISIT THE NINE ARCHES BRIDGE?
GOOD NEWS, it's free!!
There is no entrance to visit the bridge.
However, you can opt for a guided which will take care of everything and explain you more about the history of the bridge and Ella. This includes pick-up from your hotel by Tuk-Tuk. More details here.
---
OTHER THINGS TO DO IN ELLA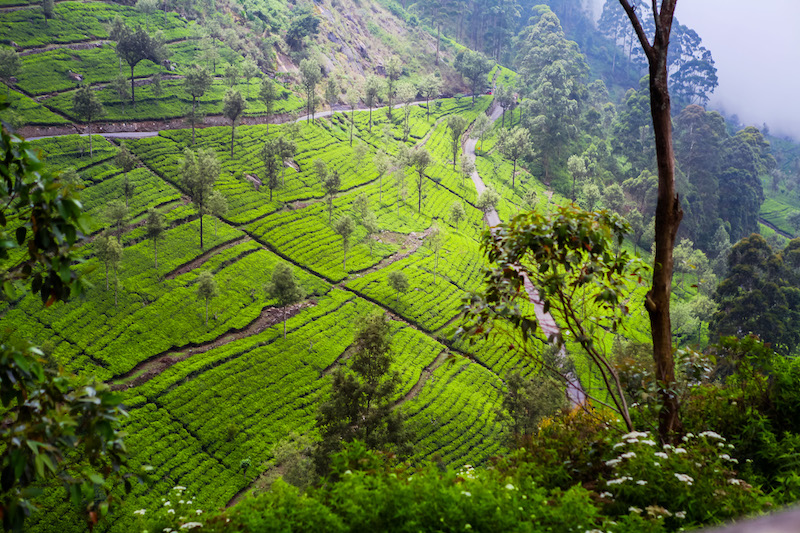 We have a full posts about the 20 best things to see in Ella, here.
Some of the highlights are the beautiful Ravana Falls easily accessible from Ella with a short Tuk-Tuk ride.
Lipton's Seat which is one of our best memories in Sri Lanka. Lipton's Seat is a superb mountainous area south of Ella entirely covered with tea plantations. No words can describe the beauty of this place (full guide here)
Little Adam's Bridge, one of the most beautiful hike we did in Sri Lanka, with a stunning panorama at the top (full guide here)
World's End located inside the Horton Plains National Park is another great sights near Ella, a bit off the beaten track in Sri Lanka but worth a visit! This national park is listed as a UNESCO World Heritage Site for its significant biodiversity. These high plateau landscapes are located around 2,000 meters above sea level.
Another great things to see in Ella are the Nil Diya Pokuna caves believed to be part of the legend of King Ravana. 100m below the surface. The highlight of the place is the underground pond containing bright blue colored water. To go down to the pond you have to walk through a difficult trail, passing through tight passages and wet cliff edges, so get a confident guide with you.
READ: 20 BEST THINGS TO SEE IN ELLA
---
WHERE TO STAY IN ELLA?
As Ella has become quite a popular place in Sri Lanka, the best hotels and hostels fill up quickly. So try to make your reservations in advance to make sure you don't miss out on great deals.
98 Acres Resort and Spa – $$$$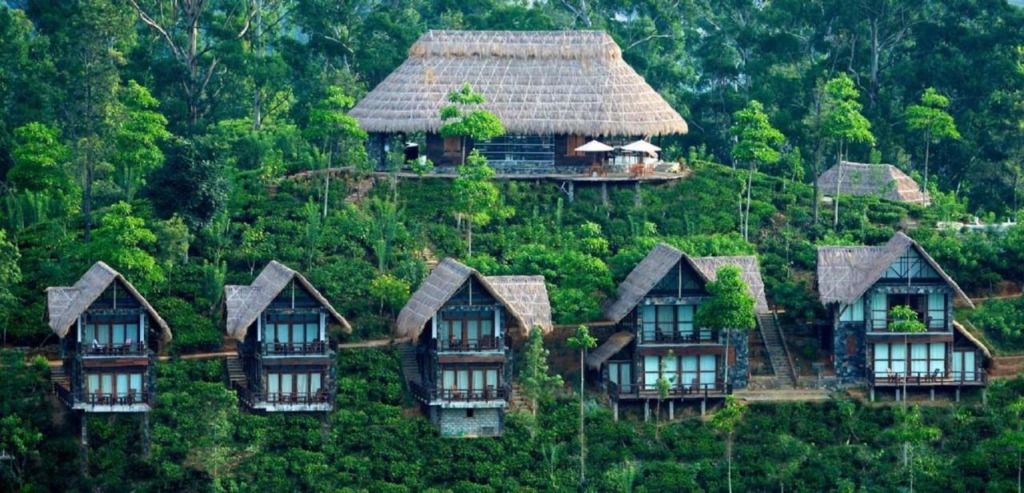 This is without a doubt, THE best hotel in Ella. Often fully booked, this is the most exclusive resort in the area, with a breathtaking view of the mountains in Ella.
When hiking to Little Adam's Peak, you can see the hotel perched on the edge of a mountain, nestled in the middle of the nature. If you have the budget for it and want to live a unique experience in one of the best hotels in Sri Lanka, then book here now to secure a room as soon as possible!
---
HIDE-ELLA Hotel & Resort – $$$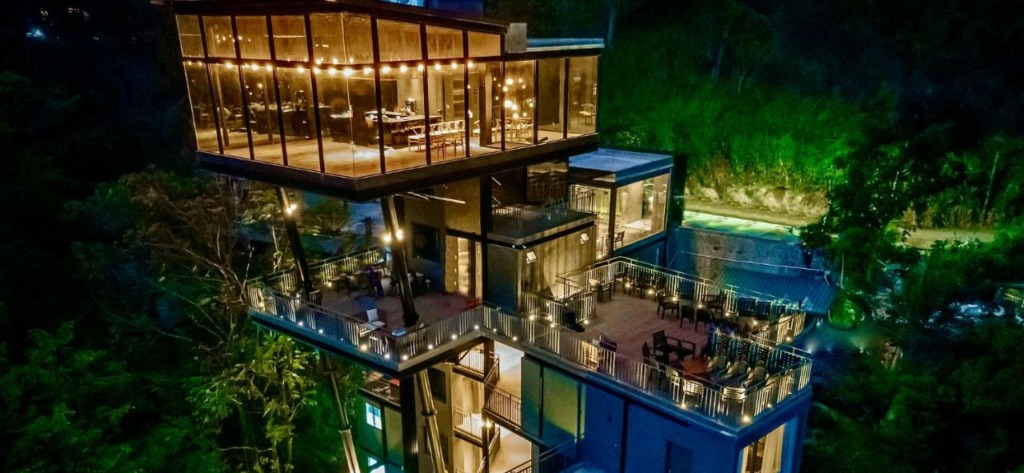 HIDE-ELLA is one of the newest hotels in Ella, located right in the centre of town! This very modern hotel offers amazing comfort, spacious and modern room and awesome restaurant. If you are not a budget, then this is our top recommendation in Ella. Check it out here.
---
Ella Planters Bungalow – $$$
Ella Planters Bungalow was one of our favorite hotels we stayed at during our trip to Sri Lanka. Beautiful rooms, lovely view and great hospitality. They looked after us exceptionally well. The food was delicious as well with generous portions.The view from our room was also stunning!
So if you are looking at something quiet, nestled in the nature this is the place for you! The hotel is a bit outside of town but getting to Ella is easy as the hotel have their own Tuk-Tuk. Check it out here.
---
The Chillout Ella – $$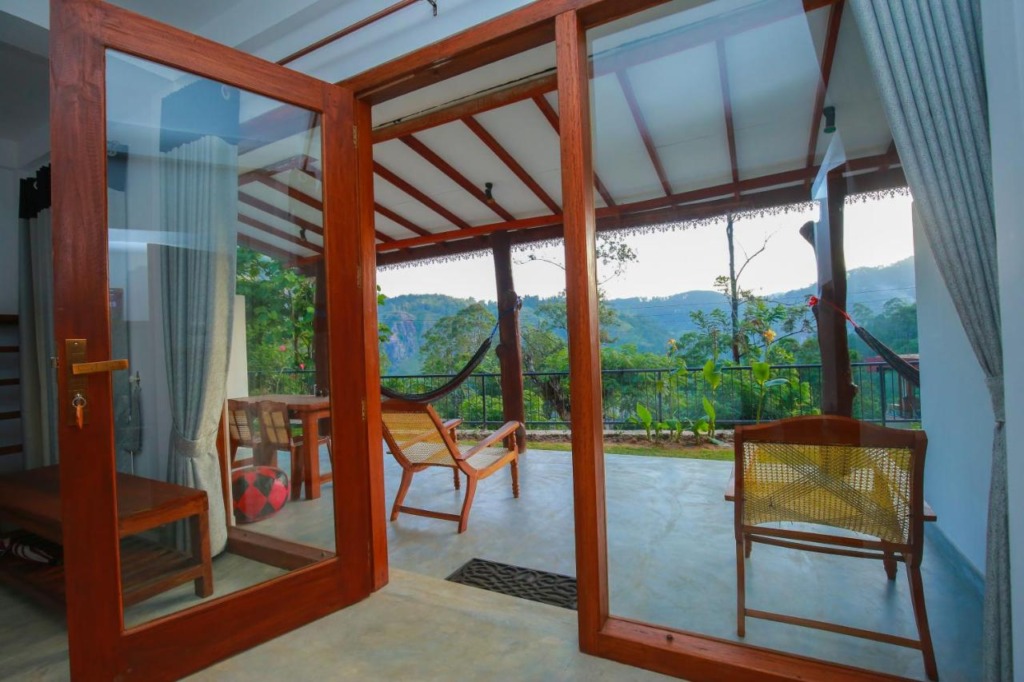 If you have a little more budget, immerse yourself in a magnificent natural setting at The Chillout Ella. This hotel is a little more out of the way without being very far from the city center. But the good news is that it is on the heights around the city and therefore offers great views of the mountains in the area. The rooms are large and you will have everything you need in terms of equipment. Add to that that the night is not very expensive so you will have a very good quality / price ratio. Book here.
---
Hangover Hostels Ella – $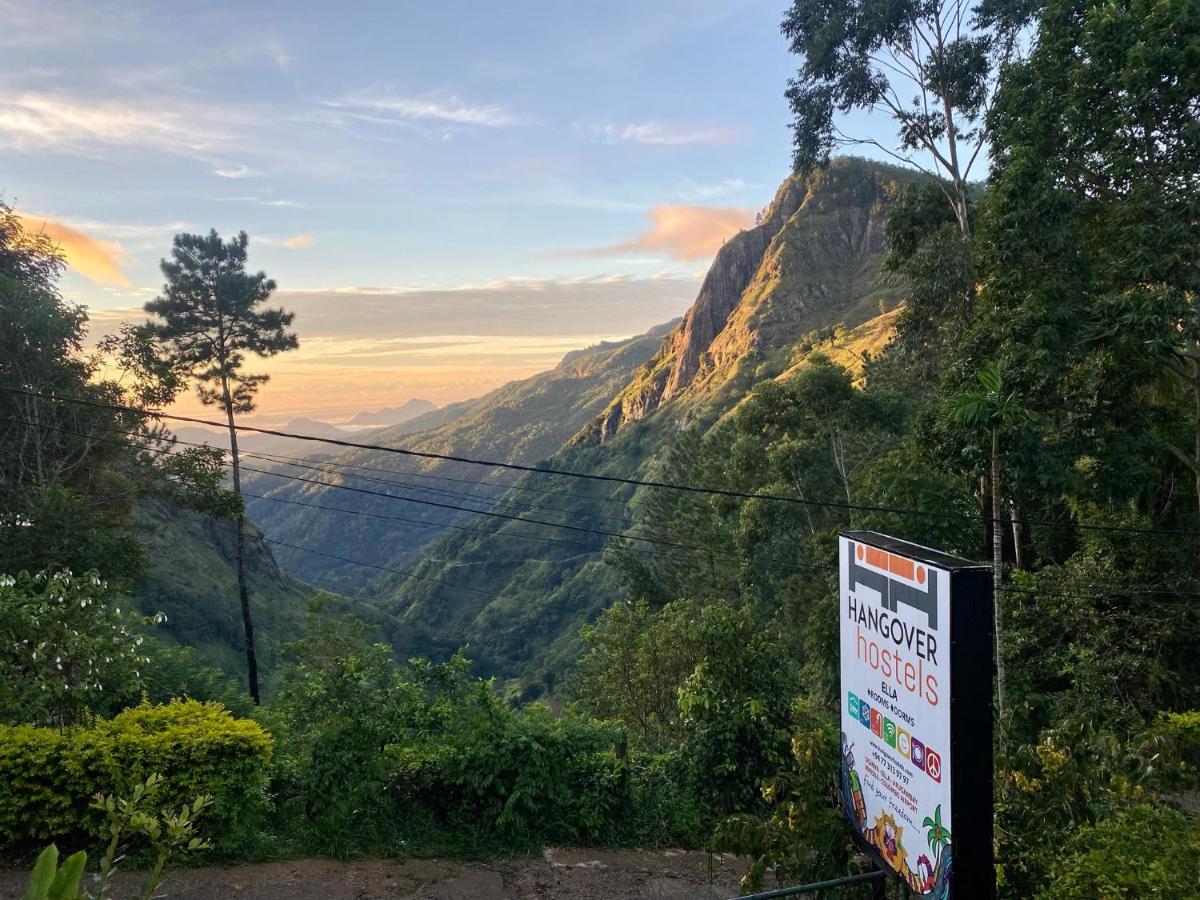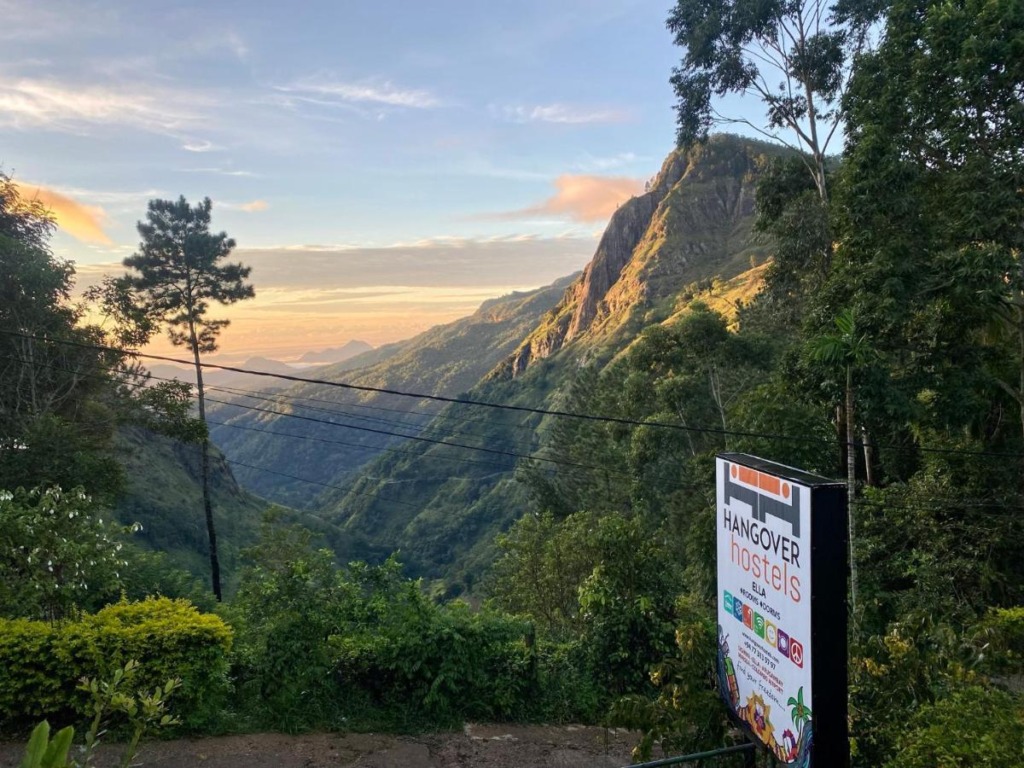 For those looking for a hostel style accommodation, I highly recommend Hangover Hostels Ella. The hostel is well located, just a few minutes walk from the train station. The dormitories are comfortable and it is also the ideal place to meet people. Book here.
---
WHEN IS THE BEST TIME TO VISIT ELLA?
The temperature in Ella generally varies between 20° C and 28° C. Nestled in the heart of a mountainous region, this city is blessed with a cooler climate than in the lower altitude areas.
The recommended months to visit Ella are January, February, March to avoid the rain. That said, we went there in March and we still got a bit of rain every day. In any case, Ella can ben visited throughout the entire year.
---
Related Posts
ELLA-KANDY, THE MOST EPIC TRAIN RIDE IN SRI LANKA
BEST THINGS TO SEE IN THE SOUTH OF SRI LANKA
A VISIT THE TEA PLANTATION AT LIPTON'S SEAT NEAR ELLA
10 AWESOME THINGS TO SEE IN KANDY
10 BEST THINGS TO SEE IN WELIGAMA
14 AWESOME THINGS TO DO IN MIRISSA