WHAT ARE THE BEST BEACHES IN LANGKAWI? WHICH ONES ARE THE CLEANEST BEACHES IN LANGKAWI? ANY SECLUDED BEACH IN LANGKAWI?
Langkawi's beaches may not be the most beautiful in Asia or Malaysia, but there are still some pretty sandy beaches.
So what are the best beaches in Langkawi?
On which beaches can you swim, sunbathe or do water activities?
We take you to discover the 5 best beaches on the island.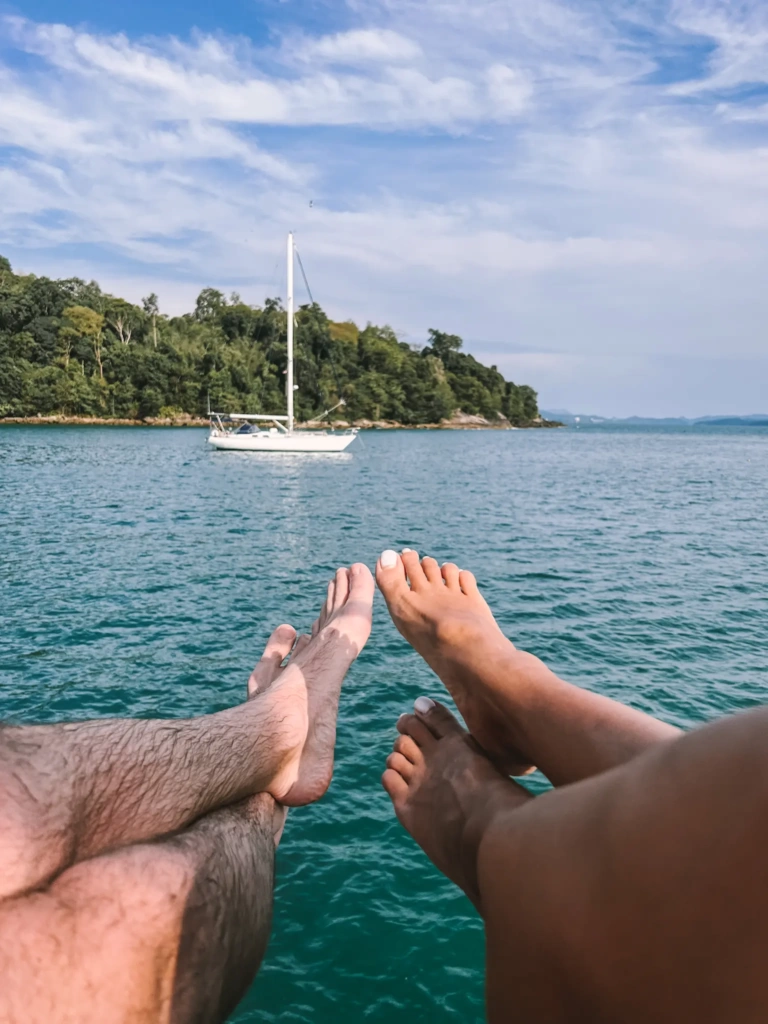 The main island of Langkawi has about ten beaches. The main beaches of the island are to the north, west and south.
The name of a beach is often preceded by the word Pantai. Indeed Pantai means beach in Malay. This is why you will find many direction signs on the spot indicating Pantai. For example Cenang Beach is known as Pantai Cenang.
Most beaches on Langkawi Island are public. There are some private and accessible only from certain hotels.
Langkawi's beaches offer real diversity. There are beaches that are ideal for family, others are secluded and offer a romantic setting for a couple while others are very busy and touristy and offer lots of water activities.
READ: 15 BEST THINGS TO DO IN LANGKAWI
---
Here is the list of the best beaches in Langkawi:
1. Pantai Cenang
Located on the west coast of Langkawi, Pantai Cenang is undoubtedly the most popular beach on the island.
The beach is surrounded by hotels that are often full in high season, making it a busy and very touristy seaside resort.
Lined with fine sand, the beach stretches over its entire length and offers a beautiful view of the western islands of the archipelago. It is a popular beach with many water sports activities such as jet-skiing and parasailing.
Along the road there are bars, shops, restaurants and spas.
Regarding swimming, the water is not really transparent. In terms of tranquility, if you plan to take a nap or rest, it's a bit complicated as there are many activities going on such as jet skis. If you want calm, then stay away from this area.
Location: here
---
Best activities on Pantai Cenang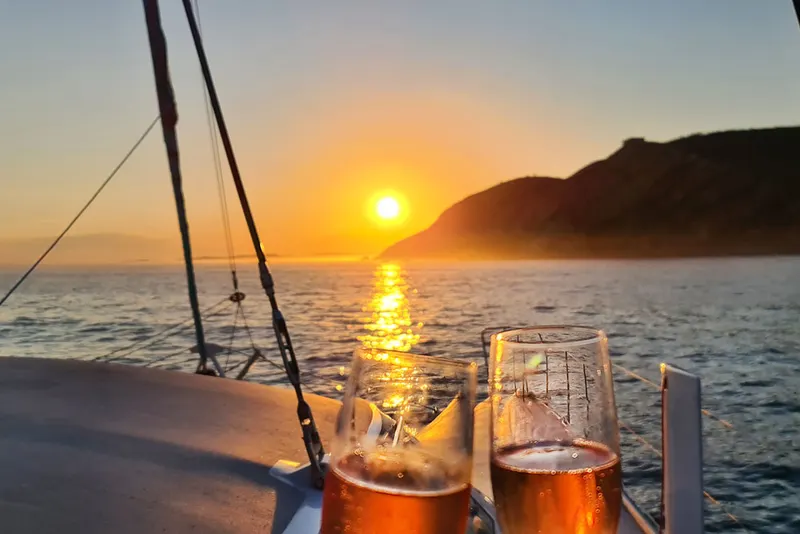 Banana Boat or Parasailing: Book here
Jet Ski Riding: Book here
Go on a cruise: here
---
Best hotel on Pantai Cenang
Ombak Villa Langkawi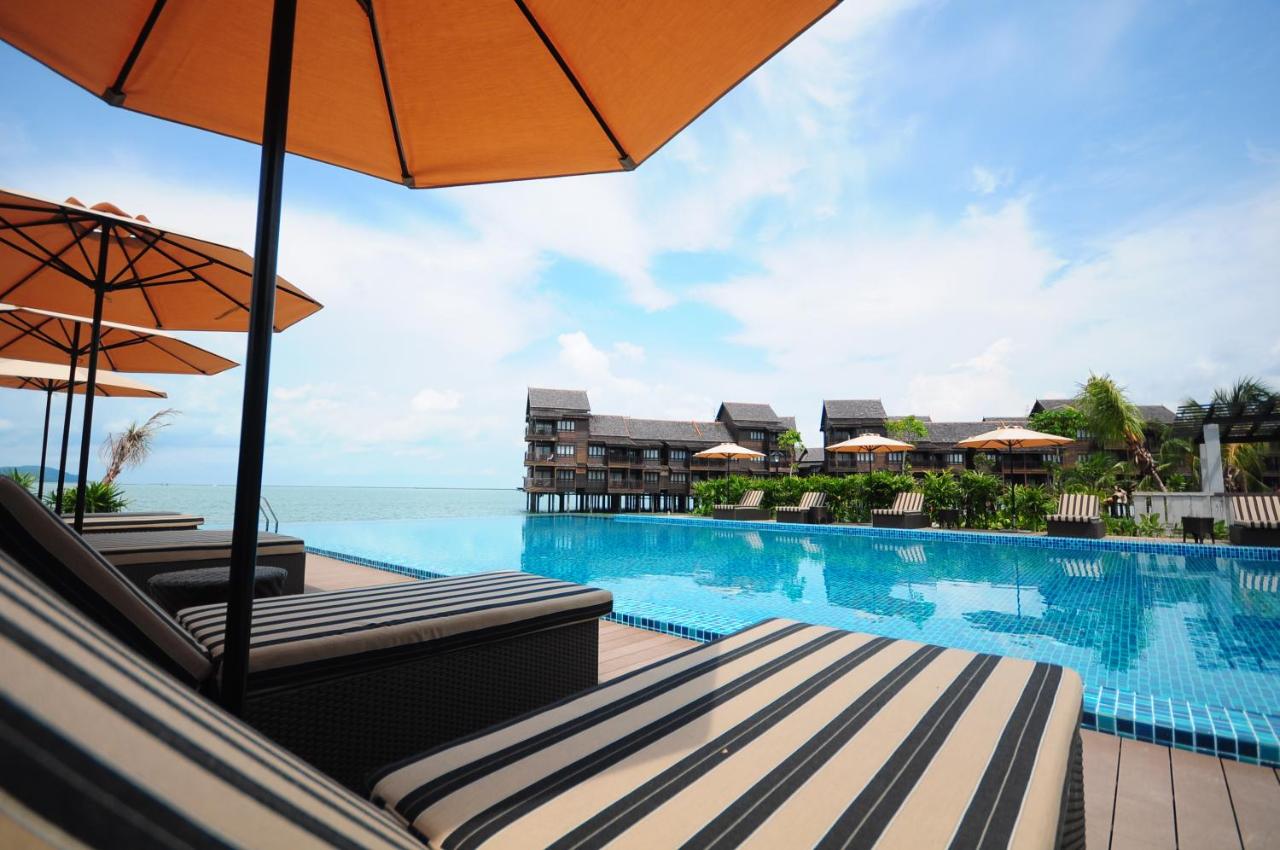 One of the best hotel on Pantai Cenang is Ombak Villa Langkawi. Here modernity and comfort blends perfectly with traditional Malay architecture and culture.
The hotel has a wonderful pool right by the beach.
---
2. Pantai Tengah
Pantai Tengah Beach is also located on the west coast of Langkawi. It is indeed the southern extension of Pantai Cenang beach but separated from it by a rocky cliff.
If you are adventurous, you can climb on the rocks and enjoy a beautiful view of the ocean and the offshore islands. The ascent is not difficult but you have to be careful.
Pantai Tengah is a beautiful sandy beach, bordered by a row of coconut trees. Away from the rush of tourists, the beach is calmer and quieter than Pantai Cenang
Location: here
---
Best hotel on Pantai Tengah
PARKROYAL LANGKAWI (PERFECT FOR FAMILY)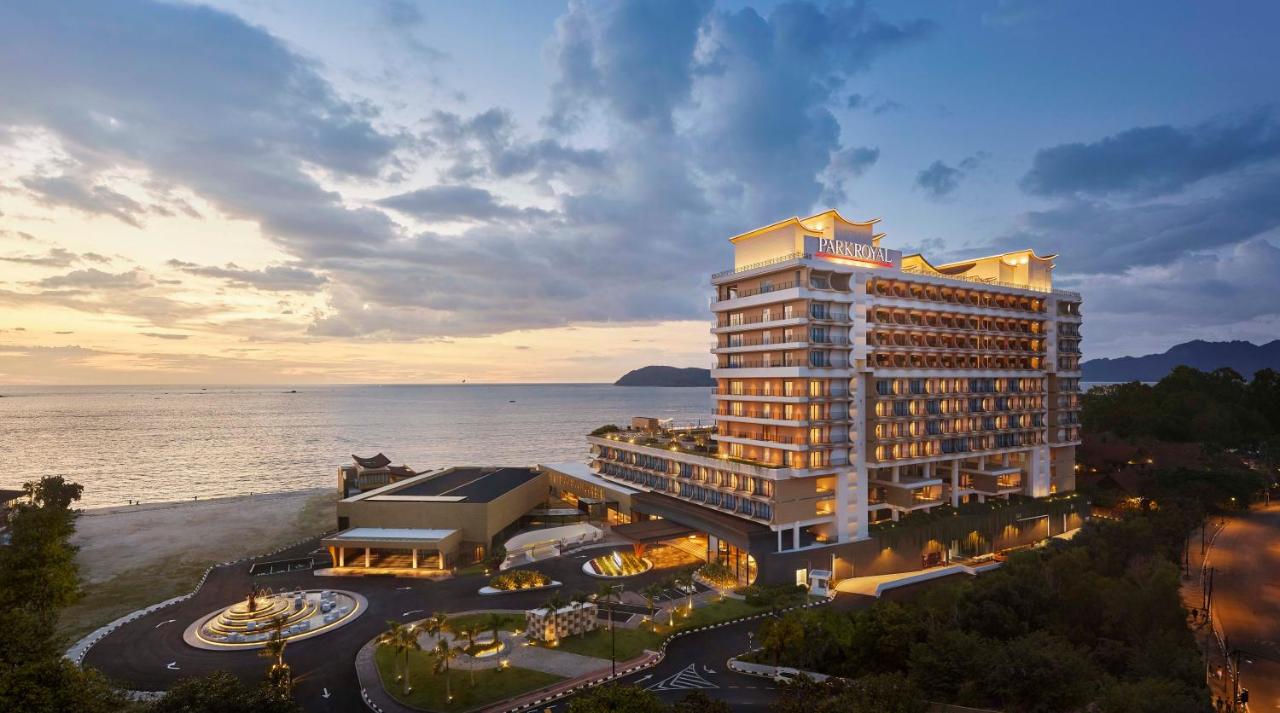 Another awesome hotel in Langkawi is the PARKROYAL, right by the beach in Cenang. This hotel offers amazing amenities and the view from the room is simply breathtaking.
If you want to stay in the middle of the action in Langkawi, where many activities are offered, plenty of bars and restaurants can be found, and very close to the airport, then this place is for you!
---
3. Tanjung Rhu Beach, our FAVORITE BEACH IN LANGKAWI
This vast and beautiful secluded beach is uncrowded.
Tanjung rhu beach is located at the far north of the island, about 40 minutes by scooter from Pantai Cenang. It has an ideal setting with its emerald blue water and its panorama of numerous islands as a backdrop.
Although it requires a bit of driving from popular tourist spots, this beach with its long, wide stretch of white sand and shallow water is probably the most beautiful on the main island of Langkawi.
Tanjung Rhu is considered one of the best beaches in Malaysia.
Location of Tanjung Rhu: here
---
Activites at Tanjun Rhu:
Tanjung Rhu is located near the Mangrove Tour in Langkawi. One of the best things to see on the island. Book your tour here, you gonna love it!
---
Best hotel on Tanjung Rhu
FOUR SEASONS (1 OF THE BEST HOTELS IN LANGKAWI)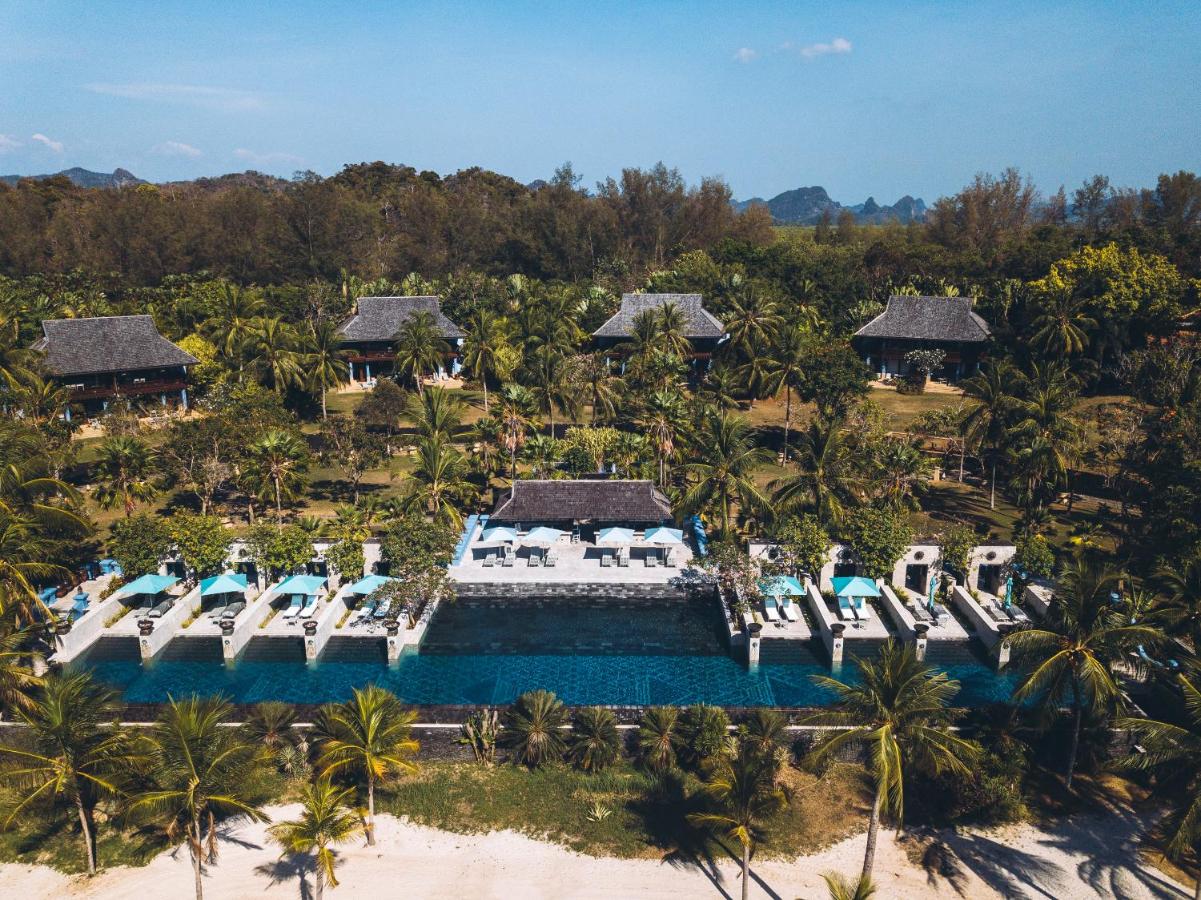 For us the Four Seasons on Tanjung Rhu is one of the best hotels on the island. For the ultimate luxury resort experience, book a stay here.
The hotel is right by the beach at Tanjung Rhu!
---
4. Pantai Pasir Tengkorak
Tengkorak Beach is a beautiful small beach located on the north shore of Langkawi, specifically in the Datai area. It is the favorite beach of locals during weekends and holidays. The locals come here with their families to swim and picnic.
Indeed, the beach has many facilities like picnic tables and a prayer room for Muslims. Pantai Pasir Tengkorak is one of the few beaches in Langkawi that has toilets and shower rooms, but they are chargeable.
With its wooded grounds, white sand, rock formations at its ends, and clear, shallow water, this beach really has it all.
Pantai Tengkorak is really a good plan if you are looking for an isolated and quiet beach to do with family or lovers. You will not find a lot of tourists here.
On the far right of the beach, there is another small beach which you can reach by climbing a stone staircase. This second beach is just as beautiful and even more secluded. Beware, however, of monkeys looking for food who will not hesitate to steal your bag or your belongings.
To reach Pantai Pasir Tengkorak beach by scooter, take the Jalan Datai road. After Crocodile Farm you drive about 4 kilometers, you will find a small road on the right that leads to the park where the beach is.
Location: here
There aren't any hotels or particular activities on this beach as the location is quite remote.
---
5. Pantai Kok
A beach located northwest of Pantai Cenang about 12 kilometers. Bordered by a marina, Pantai Kok faces a magnificent bay and a verdant jungle.
On the waterfront is Telaga Harbor Park, a marina with a host of shops, bars and restaurants.
In addition, there are several tourist attractions in the area such as the oriental village, the cable car, the Telaga Tujuh waterfalls…
The environment of Pantai Kok is relatively peaceful, except on weekends and public holidays. Indeed many Malaysian families come there regularly to picnic, but the beach remains well maintained and fairly clean.
Pantai kok is a calm beach where swimming is ideal. Sunbathing while watching the ballet of sailing boats and catamarans is also nice. In summary, Pantai kok will appeal to both families and couples.
Location: here
BEST ACTIVITIES AT PANTAI KOK
Pantai Kok is located right beside Telaga Harbour Park and its Marina as well as Paradise 101, a man-made island with plenty of water activities, restaurants, and other fun activities. All information here.
---
BEST HOTELS AT PANTAI KOK
BERJAYA LANGKAWI RESORT (THE BEST VALUE FOR MONEY)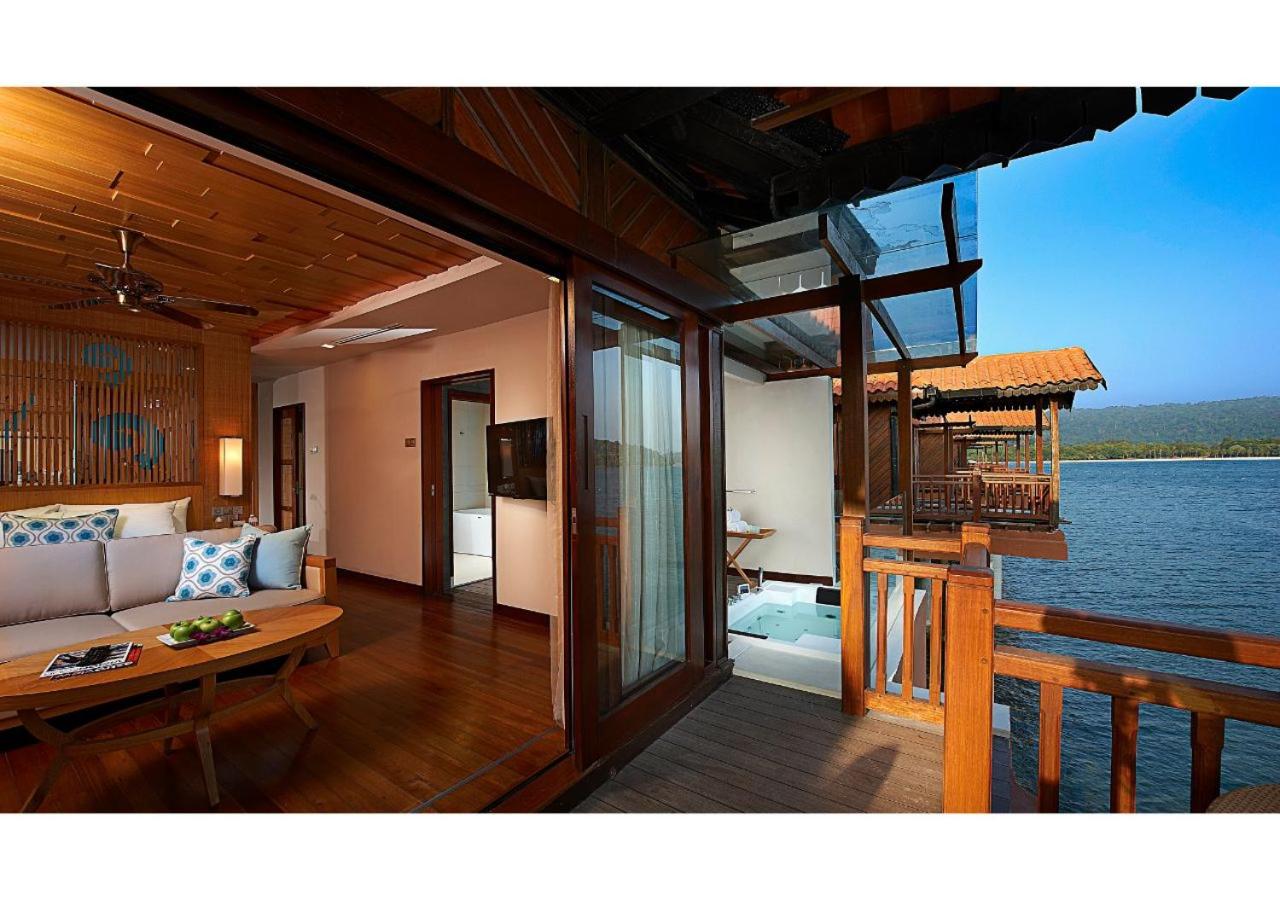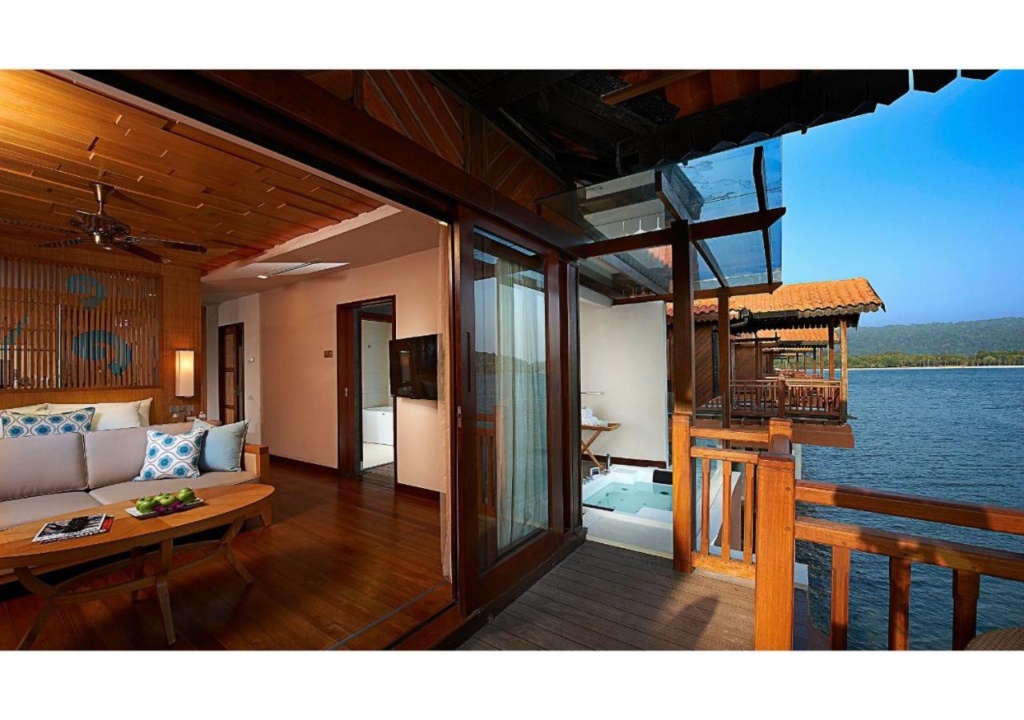 We looked at many hotels in Langkawi and of course, you can go to the ultimate luxury resorts or simple hostels. However, if you want to have a luxury feel but at affordable rates, then we highly recommend the Berjaya Langkawi Resort.
Like in the Maldives, you can even have your own villa on the water! The hotel is surrounded by nature, where you can observe all sorts of cute animals such as the Dusky leaf monkey.
The hotel also has its own private beach and 3 different restaurants. Berjaya Resort is located very near the Cable Car to see the Skybridge, pretty much within walking distance. Which is also very convenient.
We loved our stay there and would definitely go back.
---
THE DANNA (COLONIAL EXPERIENCE MIXED WITH ULTIMATE LUXURY)
From the second you walk into the hotel, you will feel the beauty of this place. With its private beach, beautiful swimming pools and private villas, The Danna is one of the best hotels on the island.
The service is also top-notch! The breakfast buffet was one of the best we ate in Asia!
All and all our experience at The Danna was outstanding!
Of course, all of this comes at a price. However, if this is within your budget, then The Danna is even better than the Berjaya!
---
Related Post
15 AWESOME THINGS TO DO IN LANGKAWI [MALAYSIA]
20 AWESOME THINGS TO SEE IN PENANG
DISCOVER THE SUMPTUOUS BLUE MANSION OF CHEONG FATT TZE IN PENANG
15 FUN FACTS YOU DIDN'T KNOW ABOUT MALAYSIA!
BEST THINGS TO DO IN SINGAPORE