WHAT TO SEE INSIDE THE BLUE MANSION IN PENANG? IS THE MANSION OPEN TO PUBLIC? IS THERE A HAUNTED ROOM INSIDE THE MANSION?
Whatever the question you have mind to prepare your trip to Penang, know that a visit of Cheong Fatt Tze Mansion, known as the Blue Mansion, is an absolute must!
This is one of the highlights during our trip to Penang with Kek Lok Si Temple, another must-see in Penang!
"Cheong Fatt Tze, the Rockefeller of the east"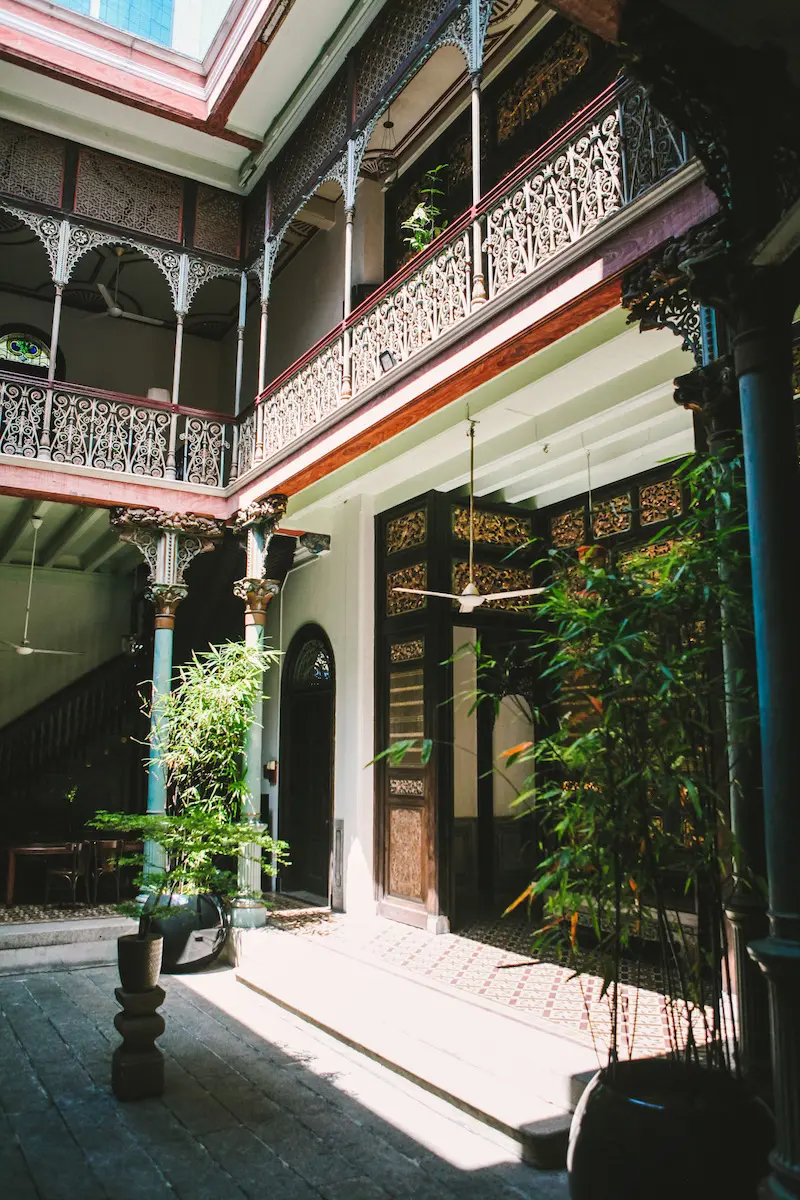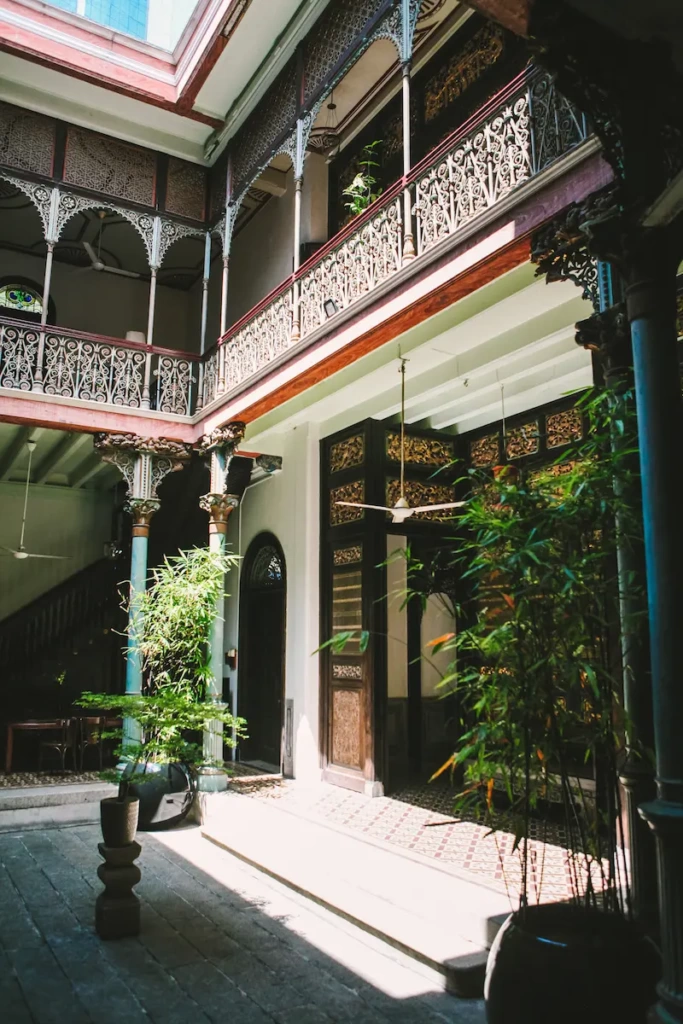 Cheong Fatt Tze Mansion is located in the old quarter of George Town in Penang. The Mansion is very imposting and easily recognizable due to it's sharp blue colors (there is a reason for its blue color – more on that later in this post!).
It is also recognized among the 10 greatest mansions in the world. In 2000, it was listed as a UNESCO World Heritage Site.
The house was the home of Cheong Fatt Tze, a Chinese Merchant who immigrated to Malaysia and who has a very rich history and heritage! He was considered to be the Rockefeller of the east!
---
Who is Cheong Fatt Tze?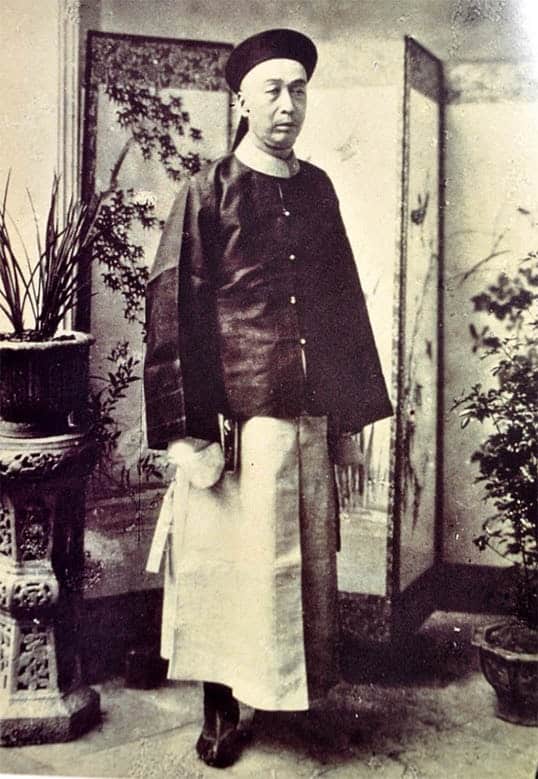 Cheong Fatt Tze is a Chinese who came to Southeast Asia to make his fortune, like many Chinese in the 19th century.
After a difficult start in Indonesia, he then successfully set up various businesses from coffee fields to cargo transport, including banks and wineries (today still the largest winery in Asia!).
Cheong Fatt Tze built several Mansions (in Malaysia, Indonesia and China). The one in Penang was probably his most beautiful ones with extreme refinements. It was also his favorite one! The house dates from the end of the 19th century, 1880 to be more precise.
---
ABOUT THE BLUE MANSION IN PENANG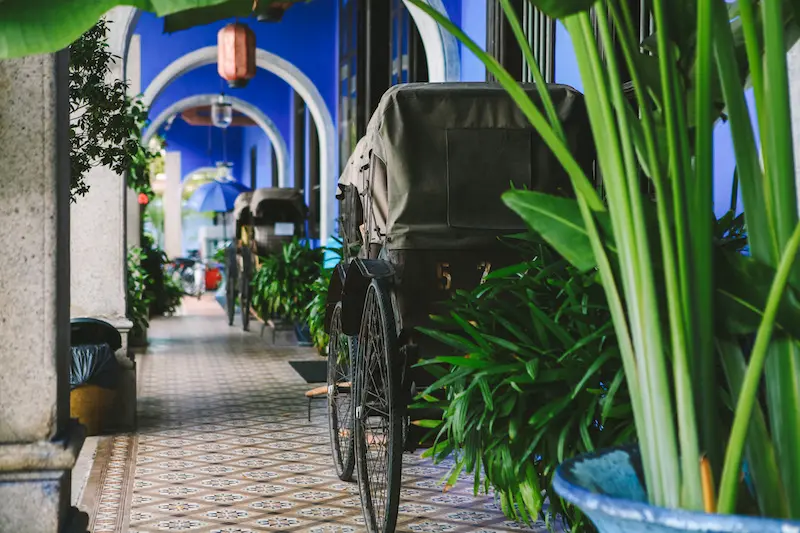 Penang and particularly Georgetown is a very colorful place! And Cheong Fatt Tze Mansion's sharp blue add to his colorful mix!
Although the house had fallen into disrepair it was completely restored in the 90s. The restoration work was very tedious! The house was restored in 1995. In 2000, it was listed as a UNESCO World Heritage Site.
The restoration was done by true heritage lovers. It took 4 years using the original materials and techniques. The goal was to make the Mansion look as close as possible to its original state.
Today the house has been converted to a stunning hotel. This place is fully booked many months in advance, if you wish to stay here start planning very early. You can check the availability here.
Why is the Mansion blue?
The blue color comes from mixing lime with natural blue dye made from the indigo plant. Just like anywhere in Penang, the houses were always very colorful. The main reason is that lime-wash is very effective in a tropical weather as it absorbs moisture and cools houses! Clever, isn't it?
The blue color was very trendy during that time, hence Cheong Fatt Tze decided for a blue color for his Mansion in Penang.
---
Why was Penang an ideal place?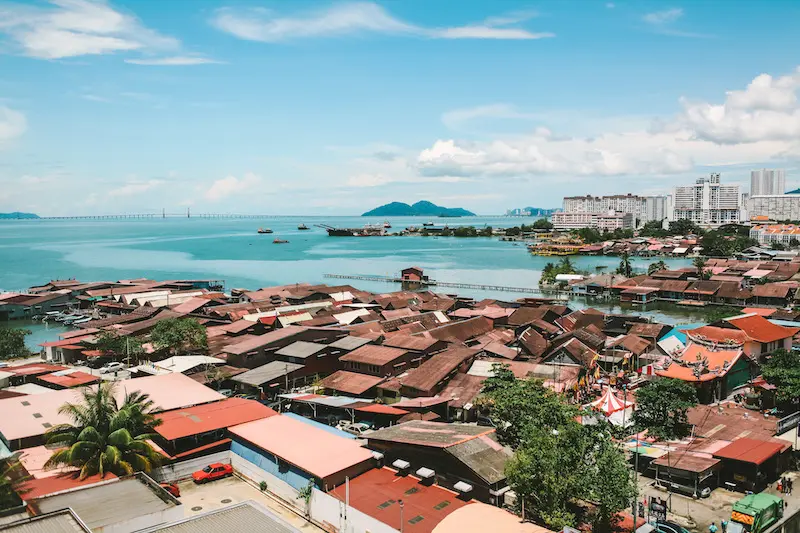 Penang is still a very important port and place of commerce, but it was even more so during the era of colonization.
The island is located along a very busy sea route and is a logical extension of many very rich trading places (Singapore, Malacca in Malaysia, Yangon in Burma, etc.).
Chinese immigration has always been important in the city and we therefore feel a mixed inspiration of East and West.
Penang was therefore an ideal place for a wealthy Chinese merchant to settle. Like Galle in Sri Lanka or Kochi in India, we find the same trade in spices, rice and other local products.
---
Visiting the Mansion today
Today, the house can be visited, but be careful, only 2 visits per day at 11 a.m. and 2 p.m.
There is only a limited number of visitors each time, so booking online is strongly advised. Book here to secure your place.
The visit takes a bit more than 1 hour. Overall we loved our visit, we learned so much about Cheong Fatt Tze!
---
THE MANSION APPEARED IN MANY GREAT MOVIES
The house was the scene for many movies, the latest one being Crazy Rich Asians during the Mahjong scene.
The movie that really made Cheong Fatt Tze Blue Mansion famous though, was Indochine an Oscar-winning film in 1993 starring Catherine Deneuve. Many historical objects in the Mansion were restored or brought from other places thanks to this movie!
READ: 20 MOVIES THAT WILL MAKE YOU WANT TO TRAVEL TO ASIA
Do you have questions about the Penang Blue House? Do not hesitate to let us know in the below section…
---
Related posts
20 AWESOME THINGS TO SEE IN PENANG
FULL GUIDE TO VISIT KEK LOK SI TEMPLE
VISIT THE CLAN JETTIES IN PENANG!
5 BEST REASONS TO VISIT GEORGE TOWN IN PENANG
EXPLORE THE TROPICAL SPICE GARDEN IN PENANG
BEST THINGS TO DO IN SINGAPORE
BEST THINGS TO SEE IN DANANG IN VIETNAM