WHAT TO SEE IN HARAJUKU? IS HARAJUKU WORTH A VISIT? WHAT IS HARAJUKU FAMOUS FOR? WHERE TO EAT IN HARAJUKU?
Harajuku is a neighborhood within Tokyo's Shibuya Ward. Simply head to Harajuku JR station on the Yamanote train line to get there.
Harajuku is mainly known for its pedestrian shopping street: Takeshita-dori. This street is famous for Japanese teenage pop culture enthusiasts who display their eccentric fashion!
But there is a lot more to discover in Harajuku. So much so, that it became one of our favorite neighbourhoods in Tokyo, along with Koenji and Shimokitazawa!
"Harajuku, the cosplay area of Tokyo"
Harajuku attracts a large number of young Japanese dressed is eccentric fashion but also in cosplay, especially at the entrance of the large Yoyogi Park another must-see in Harajuku!
Yoyogi park hosts the majestic Meiji Shrine, one of the best things to see in Tokyo!
Not far from Takeshita you will also find Omotesando, a large avenue in Harajuku considered to be the Japanese Champs-Élysées!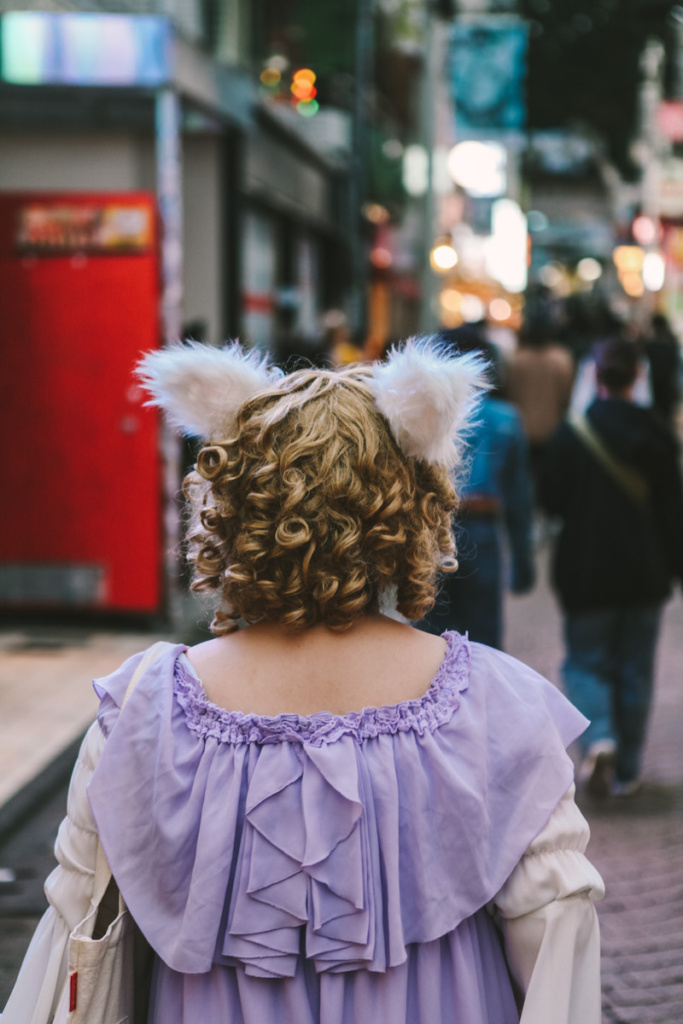 In this post we invite you to discover this awesome part of Tokyo. If you are visiting Tokyo for just a few days, Harajuku should be on top of your list!
Here is what to expect in Harajuku, where crazy Japan meets traditions:
---
WHAT IS HARAJUKU FAMOUS FOR?
Young Japanese love to escape from the rigid rules of their social life. Especially on weekends, many dress up in anime-inspired clothes to parade around Harajuku.
Have fun recognizing your favorite heroes among the fairytale colors of Cosplay. It is also in this district where you will be able to buy your own Cosplay outfit.
But Harajuku is not only about Cosplay or shopping, it is also where the wonderful Yoyogi Park is located with one of the most beautiful shrine in Japan: Meiji Shrine.
If you want to make sure not to miss any of the good spots in Harajuku, book a private tour with local guide here.
If you like to explore other beautiful shrines in Japan, we highly recommend a visit of Nikko. It can be visited on a day trip from Tokyo. There you will find TOSHOGU, considered THE most beautiful temple in Japan! And we totally agree with that statement!
READ: 18 BEST THINGS TO SEE IN NIKKO, JAPAN
---
WHAT TO DO IN HARAJUKU?
1. Start your visit with one of Harajuku's main attractions: Takeshita Dori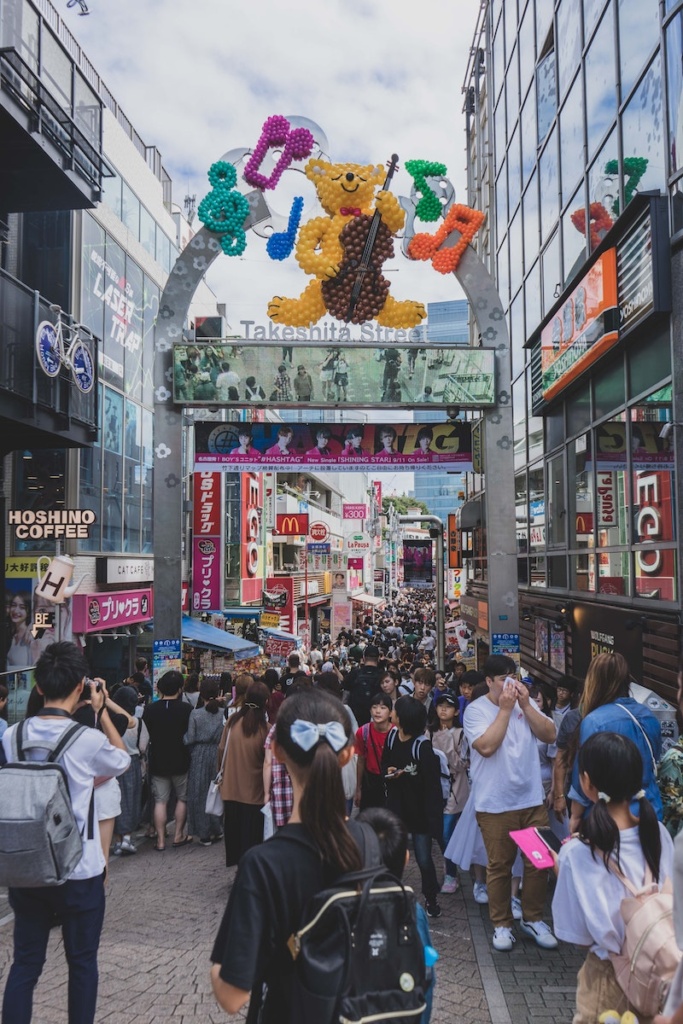 You can't miss it. When getting off at Harajuku Train Station, Takeshita Dori is one of the first perpendicular streets in front of the station!
Many Japanese fashion trends were created in Harajuku.
Takeshita Dori (Takeshita Street) is a 400m long narrow pedestrian street with many shops, boutiques, bars and fast food outlets, mainly for young people.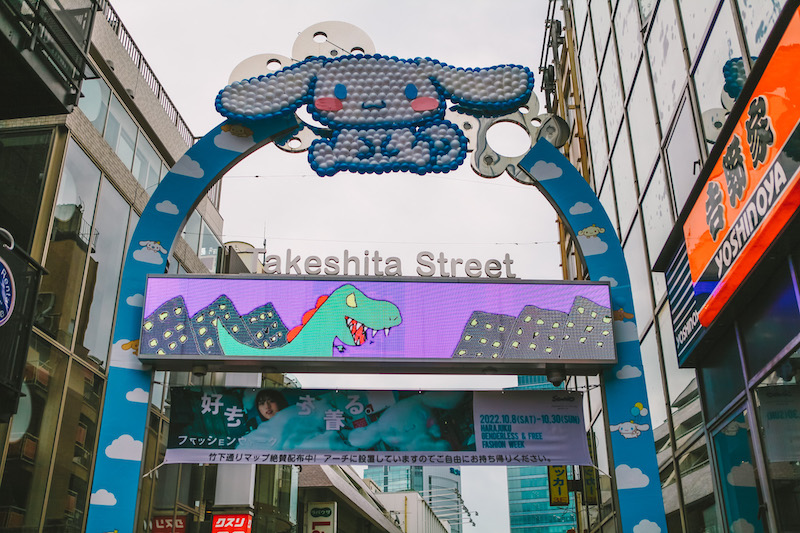 This street is very popular and very busy on weekends. Do not hesitate to also browse the parallel streets to discover many shops and restaurants.
Location: here
---
2. Continue your visit at Harajuku bridge, Tokyo's main cosplay area
This bridge is known to be a rallying point for super stylish cosplayers & young people.
You may be lucky enough to see them on certain days, especially on weekends.
There are also band playing music and other street shows most of the time!
This bridge crosses over the Yamanote Line and connects Harajuku station to the entrance to the Meiji-jingu shrine, in Yoyogi Park.
Another best things to see in Harajuku.
Bridge location: here
---
3. After crossing the bridge you will arrive at Yoyogi Park, one of the best things to see in Harajuku!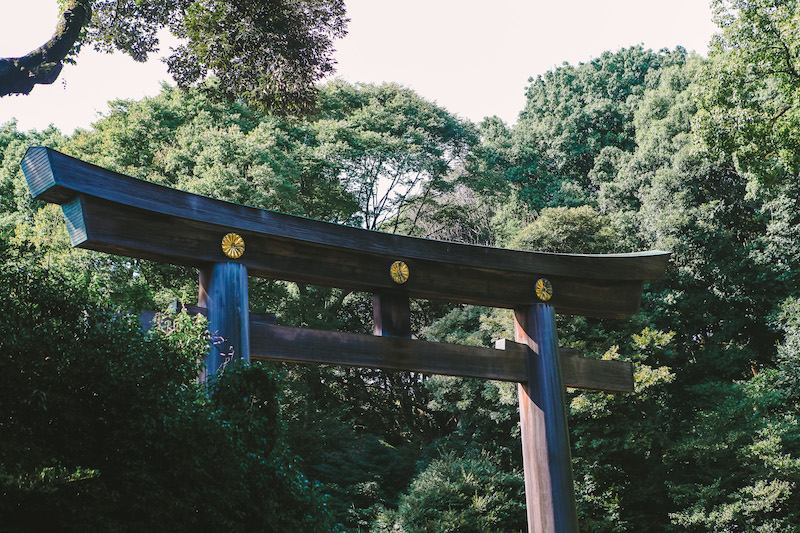 Yoyogi Park (代々木公園) is a veritable oasis in the Tokyo's concrete jungle!
You will always find people there, from office workers to families with children and dogs, relaxing in this large green space.
Yoyogi is one of Tokyo's largest urban parks (over 70 hectares), with wide lawns, ponds and wooded areas. It is an ideal place for jogging, picnic and other outdoor activities.
Although it is in the heart of the city, the park offers rich nature and a serene atmosphere in a vast space. The Central Park of the capital of Japan where multiple events and festivals are organized throughout the year.
---
4. Visit Meiji Shrine within Yoyogi Park, one of the most beautiful temple in Tokyo!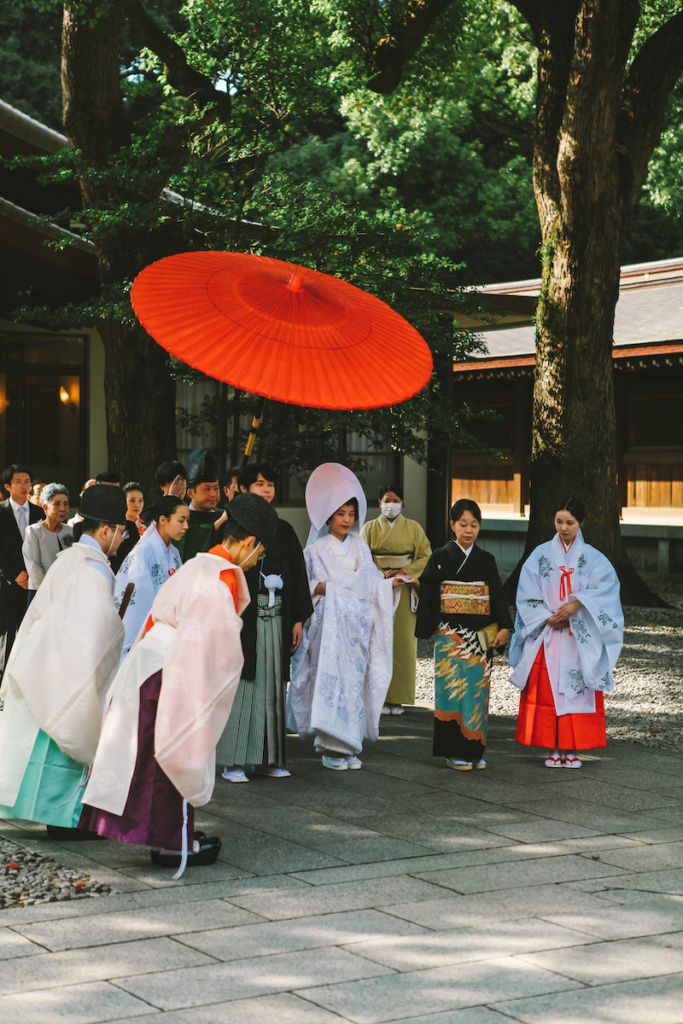 Meiji Shrine is a great place to relax and escape all the hustle and bustle of the Harajuku district. It is one of the most popular places to visit in Tokyo. So make sure to check it out, it absolutely worth it!
Nestled in Yoyogi Park, Meiji Shrine, which was built in 1920.
It is dedicated to Emperor Meiji and Empress Shoken and was built after the royal couple passed away. The complex was destroyed during World War II, but has been rebuilt.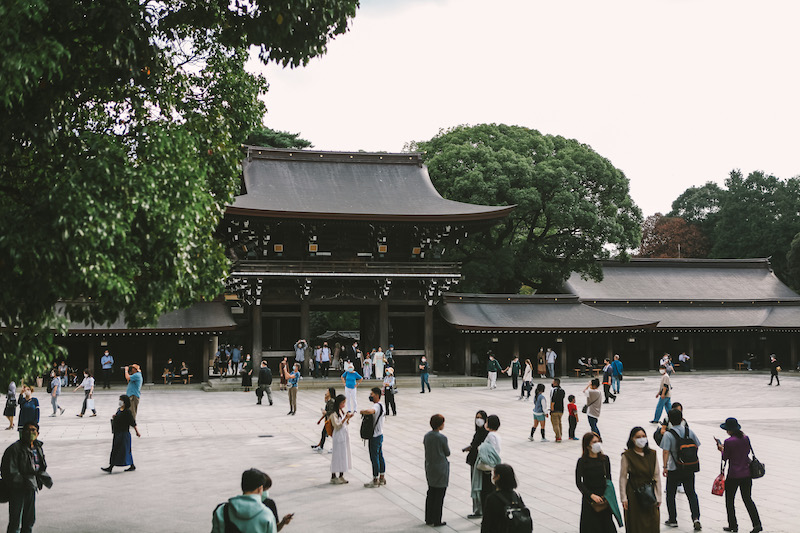 You will have to cross two impressive wooden torii gates before arriving at the main area. It is a popular place for couples to get married in traditional clothes.
We were lucky to arrive during one of the ceremony! Such.a unique experience in Japan!
There are other things to visit within Yoyogi Park, such as the Meiji Garden or Meiji Jingu Museum.
---
5. Walk through Omotesando, the Champ Élysées of Tokyo
Often called the Champs Élysées of Tokyo, Omotesando is a 1 km long avenue with lots of trees on each side of the street.
There are many shops, fashion and luxury boutiques, restaurants and bars generally reserved for a more mature and wealthy clientele than that of Takeshita Dori.
On the weekend, expect this area to be very crowded…
Location: here
---
6. Check out Omotesando Hills, one of the most beautiful mall in Tokyo
Opened in 2006, the 6-story Omotesando Hills Mall contains over 100 shops, bars, restaurants and beauty salons.
The building has a very unique design, you won't miss this place when walking along Omotesando, This masterpiece is the work of the famous architect Tadao Ando.
This mall is the largest in Omotesando. It extends over more than a quarter of the avenue.
---
7. Explore Cat Street, our favorite part of Harajuku!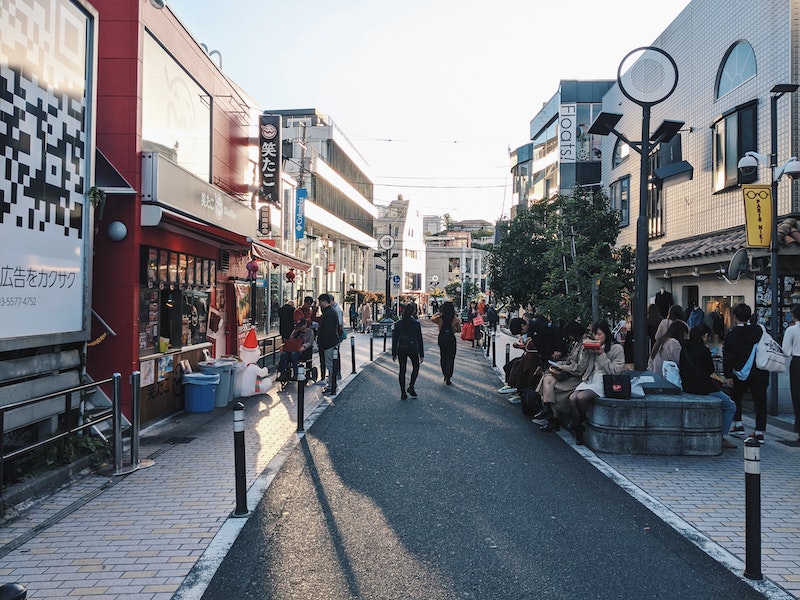 Cat street is one of our favorite alleys in Harajuku but also in the whole of Tokyo! A street where hipster cafés and more traditional shops are side by side.
Here, buildings are no more than three stories high. The shops are also very particular with local designers. Even big brands which setup shop there give it a certain twist.
For example, head to White Atelier by Converse, to design your own converse! (location / website)
We actually like cat street more than Takeshita Dori, but of course the vibe is completely different.
Location: here
---
8. Visit Togo shrine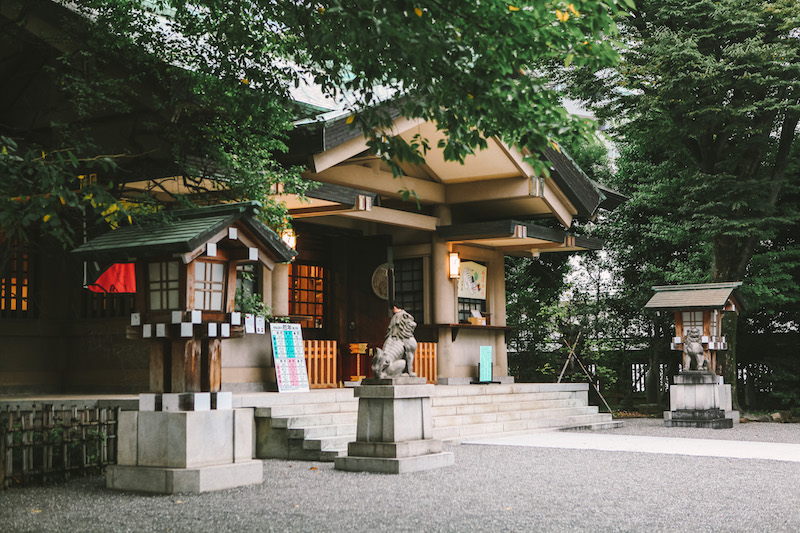 Located not far from Takeshita street, this Shinto shrine is worth a visit, especially if you are passionate about the history of Japan.
It was built in 1940 in honor of Marquis Togo Heihachiro who was an admiral in the Imperial Japanese Navy. You should know that this shrine represents this admiral as a Shinto kami (a divine spirit).
You will also find a small museum and a bookstore dedicated to the Marquis.
Location: here
---
9. Visit the beautiful Nezu Museum
The Nezu Museum contains a collection of oriental artworks from Japan, China and Korea.
The design of the museum and exhibition halls is simple and elegant.
A large traditional Japanese garden open to visitors is located outside the building.
---
10. Shop at 6% Doki Doki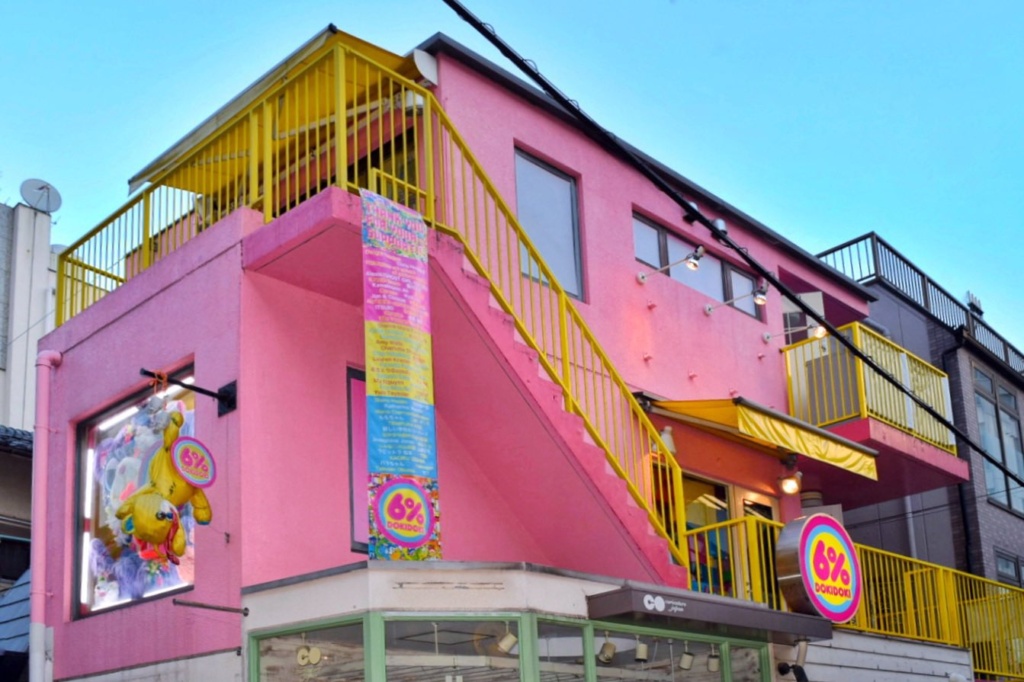 If you want to perfect your fashion style and look like people walking around in Harajuku, then head to Doki Doki 6%, one of the craziest and more colorful shops in the area!
It's dedicated to girls fashion. You will find lots of things inside. Worth to take a look if you are in Harajuku!
---
11. Buy souvenirs at Oriental Bazaar
The Oriental Bazaar is one of the biggest souvenir shops in Tokyo! It is very popular with tourists looking for typical Japanese souvenirs.
Oriental Bazaar offers kimonos, tableware, lamps, dolls, furniture and samurai-related items. The store spans three floors and has a red and green facade, you can't miss it!
---
12. Go for a shopping spree at Laforet
To complete your stroll through the countless stalls of Takeshita street, nothing better than to go poking around at Laforet.
You are sure to find all kind of clothes! There is something for everyone here.
Don't expect to find international brands, the whole point of Laforet is to offer brands from independent designers that you won't find anywhere else.
---
13. Visit one of the many themed cafes
After shopping, take a break while still being amazed how eclectic and intense Harajuku is. Ever heard of themed cafes before? If not, check one of them below:
---
Owl Village Cafe Harajuku:
Located in a small alley a few dozen meters north of Takeshita Street, the Owl Village Cafe Harajuku allows you to spend a time surrounded by owls!
You can eat and relax with these cute creatures, playing, holding them and even taking pictures with them.
---
Hedgehog Cafe:
The Hedgehog Cafe offers visitors a unique experience of interacting with adorable little hedgehogs! It is one of the rarest places in the world where you can touch, hold and play with little hedgehogs and take pictures with them.
---
Tokyo Snake Center:
Cute animals like owls and hedgehogs are not for you? Wanna go more extreme? then why not snakes? The Tokyo Snake Center in Harajuku is the first cafe in Japan where customers can drink coffee with snakes!
You can find it at the corner of Omotesando Avenue, opposite the Tokyo Plaza and LaForet centers on the side of the Ichiran Ramen restaurant.
The cafe is home to different kinds of colorful snakes and customers can touch them or put them around their necks and take pictures!
---
14. Have fun at a purikura
Purikura is widely popular in Japan! It's the Japanese art of photo booth!
Each machine has a particular theme.
After taking a few shots in the cabin in different crazy poses, you will need to customize your photos by adding text or other shapes.
The photo booth are usually located in the basement on Takeshita street.
---
15. Finally, make sure to check Kiddy Land, one of the most famous shops in Harajuku
Kiddy Land is a place not to be missed if you are a fan of goodies of all kinds.
Kiddy Land is simply huge. This temple of goodies offers hundreds of products from different licenses such as Disney, Funassyi, Ghibli, Hello Kitty, Kiki (Monchhichi), Rilakkuma, Snoopy, Star Wars etc. Not to mention fashionable anime derivative products.
You could spend 2 hours in this store!
---
Where to stay in Harajuku?
Harajuku would be an excellent place to stay if you are exploring Tokyo for a few days! Harajuku is centrally located, near many of the main attractions in Tokyo.
Here are few hotels which we highly recommend in Harajuku:
TRUNK (HOTEL)
Without a doubt, one of our favorite hotels in Tokyo! Everything is just perfect at Trunk! Location is amazing, restaurant is great, overall design is excellent, loved the bar and the staff is super helpful!
If you haven't booked a place to stay in Tokyo, check this place out!
>> BOOK HERE <<
---
MOSHI MOSHI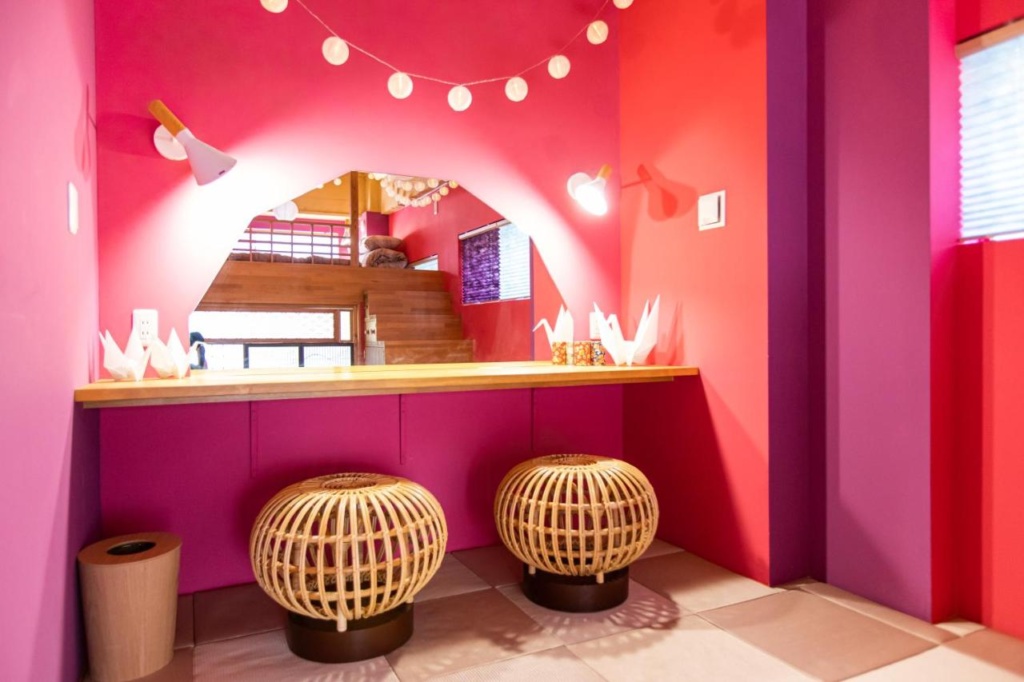 Well, Harajuku is about eccentricity, a bit of craziness, no rules when it comes to fashion.
And this is what Moshi Moshi is all about! Full of life, full of color, this is the Tokyo we like! This is certainly the most instagrammable places in the area!
>> BOOK HERE <<
---
How to get to Harajuku?
Harajuku Station on the JR Yamanote Line is the easiest access to Harajuku.
You can also reach Harajuku from Meiji-jingumae Station on the Chiyoda and Fukutoshin lines.
Another option is to get off at the eastern end of Omotesando at Omotesando station, which is served by the Chiyoda, Ginza and Hanzomon metro lines. It takes about 10 minutes on foot from Harajuku station to Aoyama or Omotesando and about 20 minutes to reach the Shibuya district.
Enjoy your visit!
---
Related posts
13 BEST DISTRICTS TO VISIT IN TOKYO
30 AWESOME THINGS TO DO IN TOKYO
10 BEST THINGS TO SEE IN MONZEN-NAKACHO IN TOKYO
DISCOVER MEIJI SHRINE AND YOYOGI PARK IN TOKYO
15 INCREDIBLE THINGS TO SEE IN AKIHABARA
15 BEST THINGS TO SEE IN SHIBUYA
BEST THINGS TO SEE IN KOENJI IN TOKYO
TOP THINGS TO DO IN GINZA IN TOKYO
EXPLORE KAGURAZAKA, THE LITTLE PARIS OF TOKYO
DISCOVER TSUKIJI OUTER MARKET IN TOKYO
15 BEST THINGS TO SEE IN HAKONE (NEAR MT. FUJI)
BEST THINGS TO SEE IN NIKKO NEAR TOKYO
15 BEST THINGS TO SEE IN ASAKUSA (SENSO-JI)