Maspalomas is an incredible place to visit in Gran Canaria. We are always so amazed about how diverse the Canary Islands are. You can see beautiful beaches, snowy mountains, lush forests, thousands of volcanoes, canyons and with Maspalomas you also have a stunning desert!
No need to go to the Sahara or Dubai to visit the desert. You can even ride a camel through the dunes of Maspalomas! For many, when thinking about Gran Canaria, Maspalomas is the first thing that comes to mind. And for good reason! It is always so impressive to see dunes as far as the eyes can see.
However, Maspalomas is not only about its dunes. There are other things to explore. That's why we wrote this guide to list the best things to see in Maspalomas and to better prepare your visit to this wonderful place.
READ: 20 AWESOME THINGS TO VISIT IN GRAN CANARIA
Are you preparing your trip and you still don't quite know what to do and what to see in Maspalomas? Don't worry, this guide will help you.
There are plenty of places to visit in Maspalomas. Of all the things to do in Maspalomas, the beach is the main reason tourists choose it as their vacation destination.
So here are the top things to see in Maspalomas:
---
1. Start your visit of Maspalomas with the famous lighthouse
Maspalomas is not only famous for its endless sand dunes and constantly good weather. It is also famous for its old lighthouse.
The decision to build the lighthouse was taken in 1861, but it took 28 long years to see its the completion. This place was once a desert and uninhabited region, isolated from the rest of the island. The construction of the 55 meter high lighthouse required the installation of a harbour equipped with a small ramp which allowed the unloading of materials since at the time only transport by sea was possible.
The light at the lighthouse began to shine on February 1, 1890. It was the only construction at the end of a long strip of sand that originated in what is now Playa del Inglés and ended at the gates of the Oasis of Maspalomas. Maspalomas Lighthouse illuminated the route of steamships that covered the shipping lines between Europe, Africa and America.
The lighthouse now stands at the entrance to a wonderful promenade along the coast of Gran Canaria. Along the way you will find many restaurants, bars, gift shops etc.
Location: here
---
2. Check out the beach of Maspalomas
If you walk along the sea from the Lighthouse and towards the dunes, you will arrive at the Punta de Maspalomas which marks the border between Playa del Inglés and Playa de Maspalomas. But make no mistake, this is indeed the same beach with only the name changing from this point on.
You can walk for a few hours along the beach.
This beach is dotted with isolated corners ideal for nudism. Nudism is very common in the Canary Islands, so don't get surprised…
The beach is also suitable for surfing. The best spots is at the junction between Playa del Inglés and Playa de Maspalomas.
Overall we really liked the beach at Maspalomas. It is certainly one of the best beaches in Gran Canaria.
READ: 10 BEST BEACHES IN GRAN CANARIA
---
3. Visit the dunes of Maspalomas
Alright, so this was by far our favorite things to do in Maspalomas. We walked hours in the dunes, sometimes feeling that there was no one else for miles around. We couldn't believe it was possible to see such landscape in Gran Canaria.
The Dunes of Maspalomas represent a unique natural space in the Canary Islands for their beauty and the variety of the ecosystem. The area is protected by the Canarian government as a special nature reserve. It spreads over 400-hectare including the beach, the sand dunes, a forest of palm trees and a lake.
Some of the dunes are more than 10 meters high. It's the perfect canvas to take plenty of photos.
Finally, if you want the ultimate desert experience in Maspalomas, take the opportunity to ride on a camel. If you've never tried riding on a camel before, we highly recommend it. It is super fun. To book your ride, simply click here.
---
4. Go shopping at Meloneras
Ah shopping! There is always a good reason to go shopping isn't it! Well, in Maspalomas you will have plenty of shopping opportunities. On the main street there are multiple malls and shops. There is even a casino. Just head to Meloneras (location) to check out all the shops.
There are also plenty of delicious restaurants in Meloneras. Especially at the waterfront located right next to Maspalomas beach and the Lighthouse. You can't miss it…
One of our favorite restaurants was K1 (location), directly facing the sea. At K1 we enjoyed a nice cocktail and Mediterranean food.
---
5. Walk along the Melonaras waterfront during sunset
After our awesome day at Maspalomas, we went for walk along Melonaras waterfront promenade. Simply head to the lighthouse and make a right turn. This is where the promenade starts.
We enjoyed a pleasant walk at sunset, with a light and refreshing wind. It was perfect! At the end of the promenade you will reach Playa de Meloneras. A nice beach as well, which is a great alternative to the Maspalomas Beach or Playa del Inglès.
---
6. Head to Aqualand for some adrenalines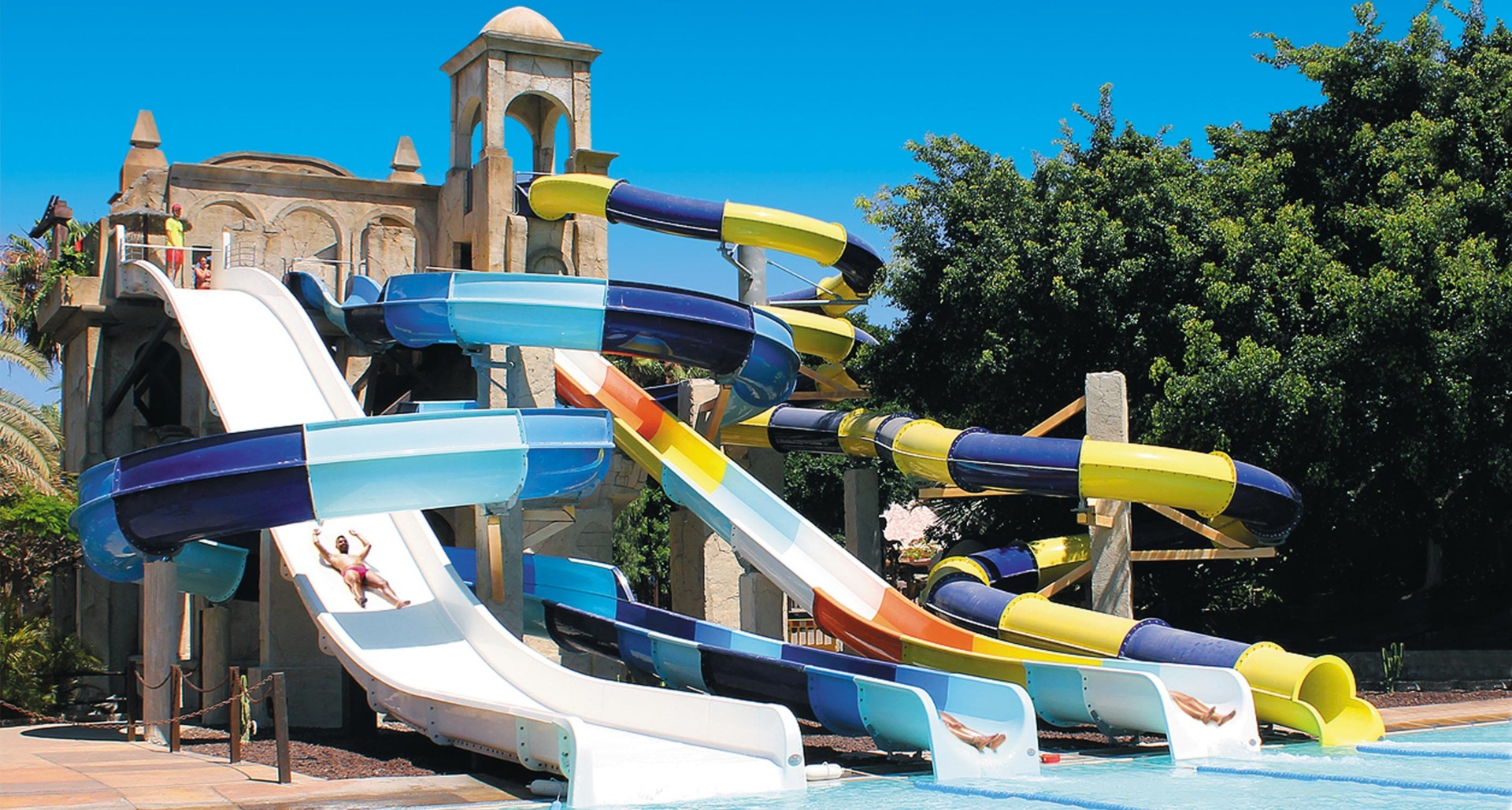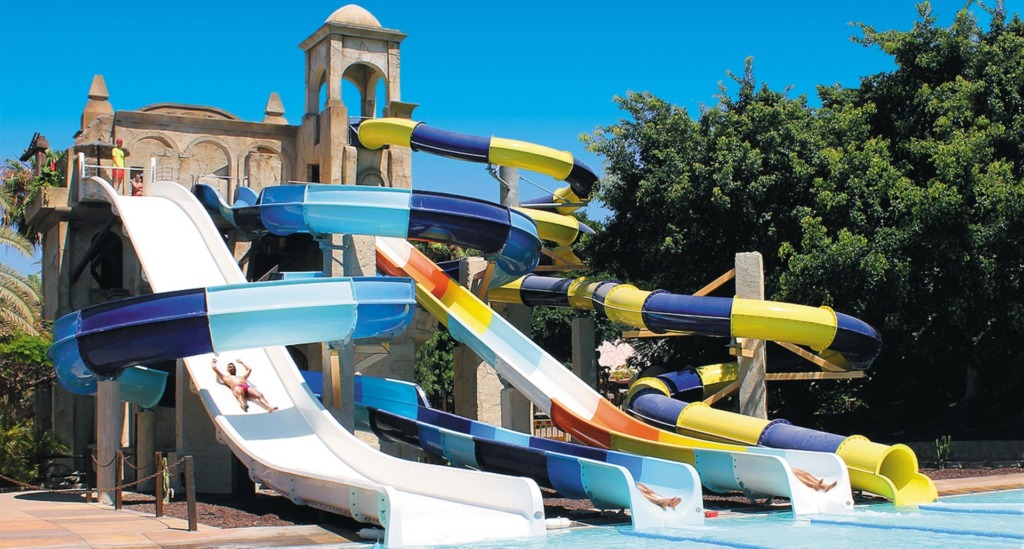 Aqualand Maspalomas is a great waterpak with lots of fun rides for all ages. Some rides can even fit 4 person, so the whole family can even go at once. You can experience many slides of different sizes, shapes and heights, which will get your adrenaline pumping.
Check out the price and book your ticket here.
Website: here
---
Where to stay in Maspalomas?
Maspalomas is the most important seaside resort in Gran Canaria. If you want to enjoy the sea above all and want to spend your holidays in a lively place with a very festive atmosphere, then Maspalomas is probably the right place to stay.
There are so many accommodations in Maspalomas, it can be quite overwhelming to find the right place. We made some selections for you, we hope it will help in choosing your hotel in Maspalomas.
Riu Palace Meloneras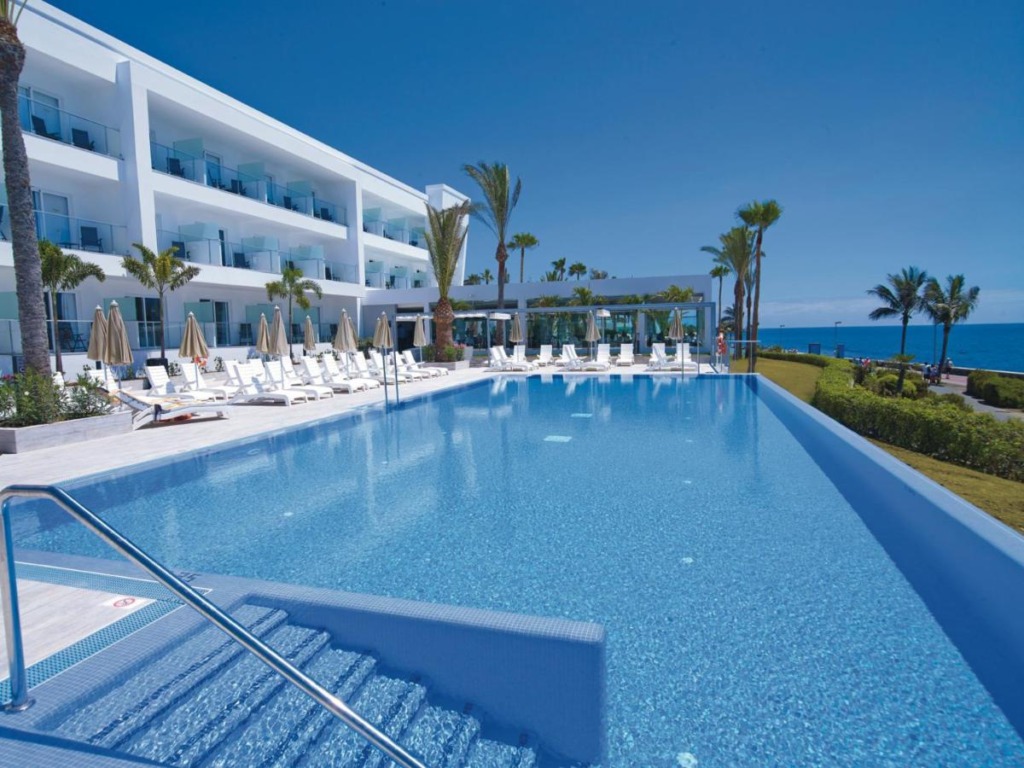 In Maspalomas we highly recommend Hotel Riu Palace Meloneras. In fact, many hotels are located behind the dunes. So accessing the beach requires a long walk in the hot desert until you can finally reach the sea. However, Hotel Riu Palace Meloneras, is located on the side of the dunes, directly facing the sea. And right behind the hotel, you will find many restaurants and a shopping center. Without a doubt, Hotel Riu Palace Meloneras is one of the best places to stay in Maspalomas. Book here.
Kumara Serenoa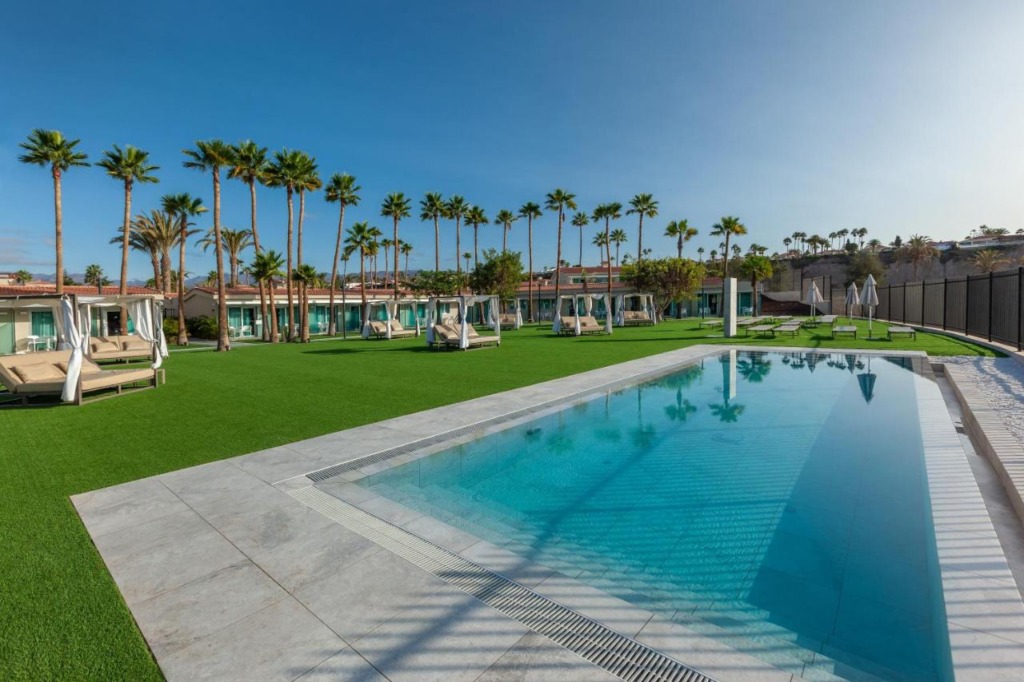 Kumara Serenoa By Lopesan Hotels is a 4-star hotel complex which has 3 swimming pools, a large garden, a restaurant and a bar. It is located less than 1.5 km from Playa del Ingles, right next to Maspalomas golf and the shopping center, and offers beautiful rooms. The pool is just beautiful and it's a quiet place. A very good choice if you don't yet know where to sleep in Gran Canaria!
Check out more information here.
Caybeach Princess

Caybeach Princess has a large outdoor swimming pool, a children's play area, garden and restaurant. You can rent an entire bungalows for yourself. If you are more on a budget but still want something nice in Maspalomas, then Caybeach Princess is a great choice.
READ: 5 BEST PLACES TO STAY IN GRAN CANARIA
---
How long to visit Maspalomas?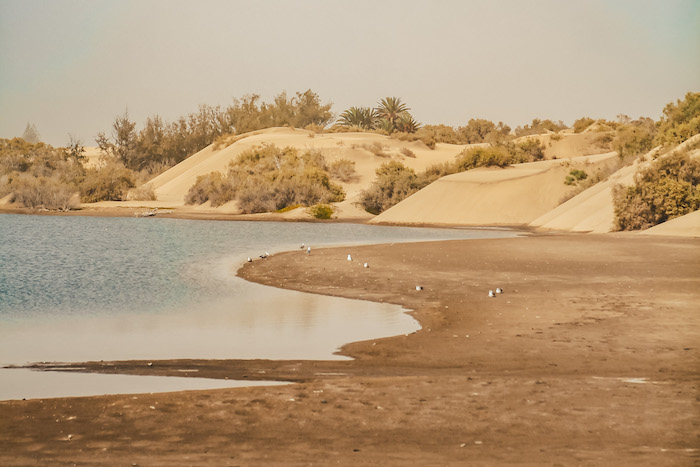 If you just want to see the dunes and the beach, then count at least 2-3 hours. Walking in the dunes is really fun you'll see. You can easily spend a few hours just doing that. If you want to spend a few hours by the beach and swimming, perhaps go on a camel ride and finish you day at Melonaras waterfront, then you will need 1 full day.
---
In conclusion about Maspalomas
Obviously a lot has changed since the day the Lighthouse was built. What used to be an immaculate desert is today one of the main tourist resort destination in Gran Canaria. However, Maspalomas still remains an ideal place to relax, enjoy the sea or simply bask in the sun. And that hasn't changed.
Gran Canaria is such an amazing island. Maspalomas is one of the reason why this island is so special and so diverse. A visit to Gran Canaria without checking out the dunes of Maspalomas wouldn't be complete.
We wrote a full post about things to do in Gran Canaria here to help you prepare for your trip.
If you have any question about Maspalomas or Gran Canaria, feel free to leave a comment below.
All our posts about the Canary Islands can be found here.
HAPPY TRAVELS!
---
Related Posts
20 THINGS TO DO in Gran Canaria: here
PUERTO DE MOGAN in Gran Canaria: here
BEST THINGS TO DO in Las Palmas: here
TEROR, one of the most charming village in Gran Canaria: here
TEJEDA, a town nestled in the mountains of Gran Canaria: here
AGÜIMES, a beautiful historical town in Gran Canaria: here
AGAETE, a gorgeous coastal town in Gran Canaria: here
BEST TIME OF THE YEAR to visit Gran Canaria: here
BEST PLACES TO STAY in Gran Canaria: here
25 BEST THINGS to see in Lanzarote: here
25 AWESOME THINGS to do in Fuerteventura: here
10 BEST BEACHES in Gran Canaria: here
8 REASONS WHY TO VISIT Gran Canaria: here