WHAT TO DO IN GRAN CANARIA? BEST BEACHES IN GRAN CANARIA? PLACES TO AVOID IN GRAN CANARIA? WHEN IS THE BEST TIME TO VISIT GRAN CANARIA
Are you visiting the Gran Canaria soon and want to plan your trip? You want to know what to do in Gran Canaria? Well, you are in luck today, as we prepared this ultimate guide of the best things to do in Gran Canaria.
"Gran Canaria is a true jewel in the Canary Islands"
We spent nearly 1 month in Gran Canaria exploring every parts of the island. We are happy to share with you, what we think are the best things to do in this beautiful island part of the Canary Archipelago.
Second most populated island in the Canaries after Tenerife, the island of Gran Canaria will certainly gain your heart after your first visit.
What we liked about Gran Canaria is the variety of landscapes, from beautiful beaches, the desert of Maspalomas, to historical towns such as Teror or Fataga, and beautiful mountains and canyons like Pico de las Nieves or Guayadeque Ravine.
Don't worry, you don't have to remember all the names now. We have listed everything you need to know in the rest of this post.
What we meant to say, is that Gran Canaria is a true jewel in the Canary Islands. The incredible diversity of its landscapes was recognized as a Biosphere Reserve by UNESCO in 2005.
Here is what you can expect during a trip to Gran Canaria:
Here is our list of the top things to do and see in Gran Canaria. Enjoy your trip!
---
WHAT TO DO IN GRAN CANARIA?
1. Discover Las Palmas, the capital of Gran Canaria
Yes we know, you probably don't want to spend too much time in the city during your holidays. What you are looking for is the beach, the sun and some adventures perhaps. However, we still highly recommend to make a stop in Las Palmas during your visit to the Gran Canaria.
First of all, Las Palmas has a stunning beach called Las Canteras. There you can relax and sunbath but it's also a great spot for surfing! Indeed, most tourists come to Las Palmas to enjoy its beautiful beaches. Besides Las Canteras, you can also explore Las Alcaravaneras and San Cristobal. All extremely beautiful.
However, what is most interesting in Las Palmas is the old town of Vegueta.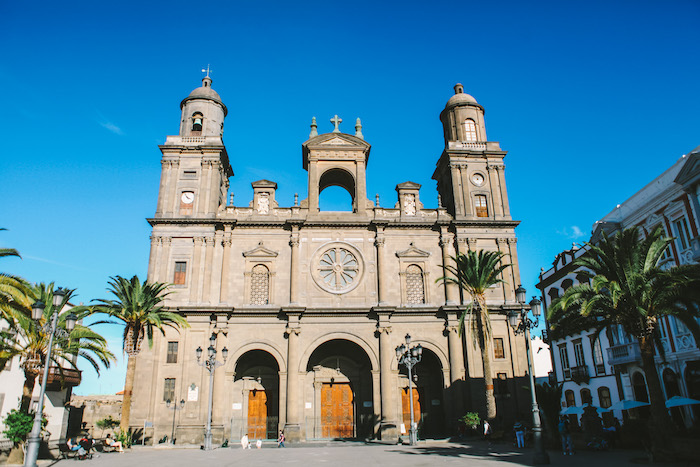 Vegueta is the historical district of Las Palmas. It is rich in historical monuments, museums and bright colors traditional houses. Some of the highlights are the house-museum of Christopher Columbus, Plaza de Santa Ana, The Canarian Museum, The Gabinete Literario, Puerto de la Luz and Calle Triana.
Near Las Palmas, you can also make a stop to the wonderful Jardin Botanico Viera y Clavijo.
READ: BEST THINGS TO SEE IN LAS PALMAS – FULL GUIDE
Other fun activity in Las Palmas:
Submarine tour to discover Gran Canaria's underwater > BOOK HERE
---
2. Check out the impressive crater of Caldera de Bandama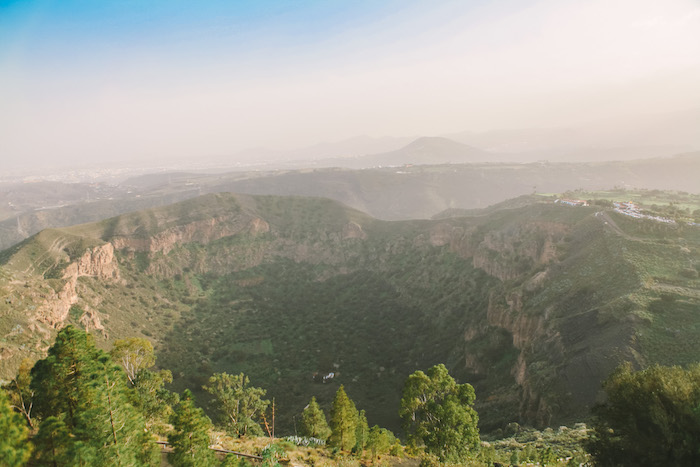 After you are done exploring Las Palmas, head to the nearby volcano of Caldera de Bandama. From there you can see the staggering crater, reaching 1,000 meters in diameter and 200 meters deep. The best viewpoint is that Pico De Bandama, accessible by car (here)
You can also reach the bottom of the crater in half an hour by foot through a path of volcanic rock. Remember to bring your hiking shoes though.
---
3. Visit the impressive Cathedral of Parroquia de San Juan Bautista de Arucas
Let's continue to explore the area around Las Palmas. Less than 15min drive, and you will reach one of the most impressive monuments in Gran Canaria: Parroquia de San Juan Bautista de Arucas.
Arucas is about 18 km northwest of Las-Palmas, it is the third largest city in Gran Canaria. Surrounded by banana plantations as far as the eye can see, the economy of Arucas is mainly centered on the cultivation of vegetables and flowers.
Of course the main reason to visit Arucas is its impressive cathedral. However, a walk though the old town is also very pleasant.
Location: here
---
4. Explore the charming town of Firgas
After your stop at Arucas, continue your journey to Firgas, one of the most charming villages in Gran Canaria.
Firgas became one of the best spots to visit in Gran Canaria thanks to its beautiful pedestrian walkways along a stepped waterfall. This famous roadside waterfall is lined with mosaics for even more charm. The place is called Paseo de Canaria (location).
You can also explore the rest of the village. You will find gorgeous churches, traditional Canarian buildings and you can admire the gorgeous view all around you, as Firgas is located in the mountain. The main sights are all concentrated in the center of the town.
Location: here
---
5. Continue your journey to our favorite village nestled in the mountain: Teror
Although the name "Teror" might sound scary, the village is one of the most charming in Gran Canaria.
Teror is located in the north of the island. The village is best known for her Virgin, enthroned at the Basilia Nuestra Señora del Pino. The Virgin was declared patroness of Gran Canaria and is honored every year on September 8 during a pilgrimage throughout the island.
Rich in history and culture, beautiful in its typical and authentic architecture, Teror represents a great discovery in the Gran Canaria. Make you sure to stop for a visit.
Location: here
READ: VISITING TEROR IN GRAN CANARIA, FULL GUIDE
---
6. Next on your itinerary of Gran Canaria: Tejeda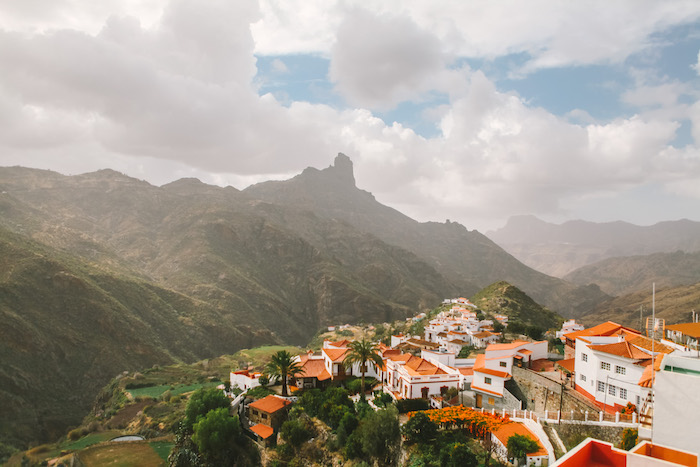 Tejeda is a village located in the center of the island high in the mountain. The town offers an extraordinary panorama of the amazing landscape of Gran Canaria. From Tejeda you can admire the symbol of Gran Canaria: Roque de Nublo and Roque Bentayga. You can't missed them. These two massive rocks stand out of the mountain like the protector of Gran Canaria. We will talk more about it later in this post.
In addition, Tejeda also represents traditional Canarian architecture. The town also has great restaurants. So if you are there during lunch time, your timing would be perfect to take a break in one of the local restaurant.
We absolutely loved wandering through the town of Tejeda. Visiting this place is one of the highlights of Gran Canaria.
Location: here
READ: FULL GUIDE FOR VISITING THE CHARMING VILLAGE OF TEJEDA
---
7. Check out Roque Nublo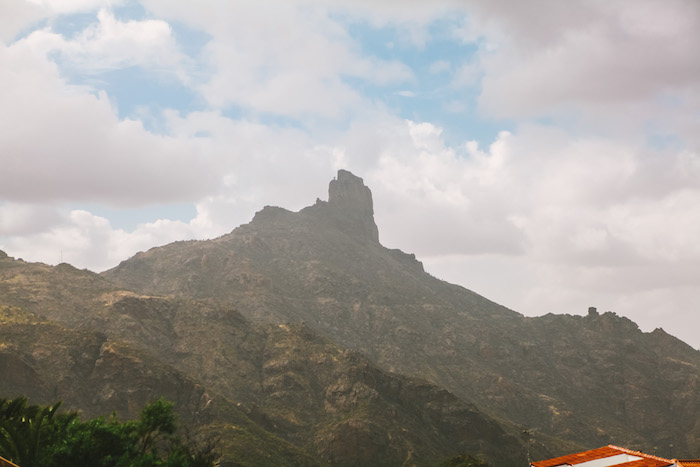 In the center of the island, you will find the third highest peak on the island of Gran Canaria, but also the most symbolic one: Roque Nublo. This is a monolith measuring 80 meters high and located at 1,813 meters above sea level.
Overlooking Tejeda, it provides a splendid 360° view of the lunar and desert landscape surrounding the massif: a unique and exceptional excursion!
To get there, simply park your car at the free parking and hike for about 3km to reach Roque Nublo.
Location: here
---
8. ROQUE BENTAYGA, ANOTHER FAMOUS SPOTS IN GRAN CANARIA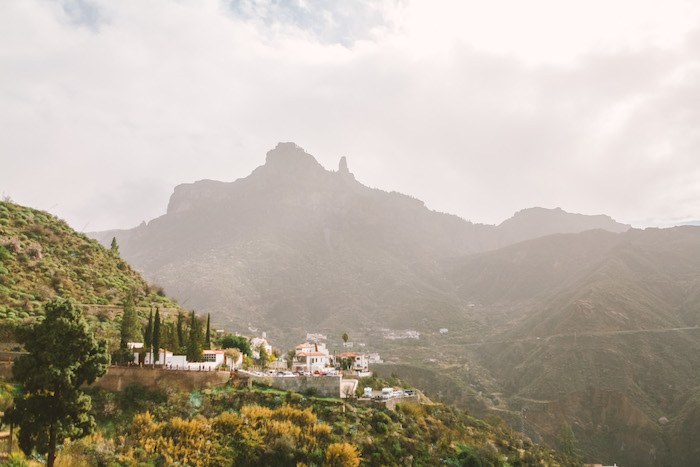 This mountain is one of the most popular places for tourists visiting Gran Canaria. You can explore the beautiful surroundings and make a stop by the Bentayga Visitor Center where you can learn about the history of this area and its inhabitants.
The hike to the rock is not very difficult, but you will need good hiking shoes.
Location: here
---
9. PICO DE LAS NIEVES, THE HIGHEST PEAK IN GRAN CANARIA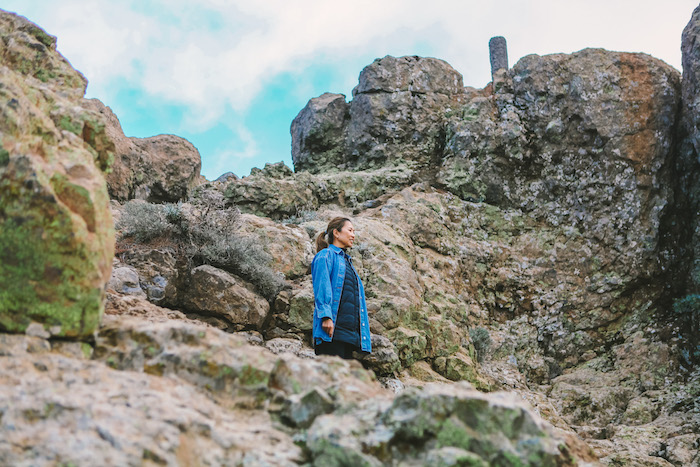 After having reached Roque Nublo and Roque Bentayga, next on your list is Pico de las Nieves. Another awesome thing to do in Gran Canaria. Pico de las Nieves is the highest point of the island with 1,949 meters above sea level. Pico de las Nieves means the Peak of snows.
We were totally unprepared for this visit. As the temperature at sea level was more than 20 degrees celcius, we didn't expect to encounter such cold temperature at the top. But indeed, it was about 5 degrees Celcius when we reached the top…
We only stepped outside for a bit, with our shirt and light hoodie, and quickly ran back in our car. It was anyway a bit cloudy and we couldn't see much of the view…
The good thing however, is that to reach the top you can drive your car all the way to the free parking. From there, just take the few steps towards the peak.
Don't be surprised if you were at the beach in the morning, but wear gloves and a hat in the afternoon at Pico de Las Nieves.
Location: here
---
10. Next, let's head east to the incredible Guayadeque Ravine
We told you that the landscapes of Gran Canaria were very diverse. After seeing charming villages, the beach at Las Palmas, the mountains of Roque Nublo, Roque Bentayga and Pico de Las Nieves, it is time to visit a Canyon. Indeed, a Canyon! And there are more than 1 on the island…
Guayadeque is a hidden gem in Gran Canaria. This extended 15 kilometers long canyon is located on the east side of the island. This place fascinated us with its wild landscape covered with native vegetation.
Driving through Guayadeque, is one of our best memories of our trip to Gran Canaria.
There you can also see the famous houses carved inside the mountain. Some of the restaurants have been established inside some natural caves, keeping it cool even in the hot summer days.
Many natural caves have also been converted into private accommodation.
At the beginning of the ravine, you will find the Guayadeque Visitor Center, which explains the customs of the Canarian aborigines who inhabited the ravine (please note that during covid the center was closed). The road to the Canyon goes up to a hermitage and several restaurants.
At the end of the road, there is a seven kilometers trail that leads to the volcanic caldera of Los Marteles.
Guayadeque Ravine is one of the best things to see in Gran Canaria.
Location: here
---
11. On your way back stop at Agüimes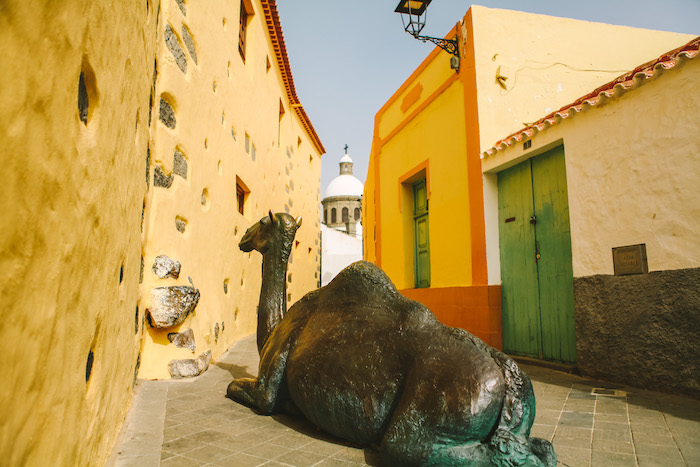 The town of Agüimes is one of the most emblematic place to see in Gran Canaria. Located near Guayadeque, you can combine the visit of the Canyon with Agüimes. The historical district with its stunning main square, the arts and crafts shops, delicious restaurants and traditional events, is a must-see in Gran Canaria.
Agüimes was one of the first settlements after the conquest of the island by the Spaniards in 1491. Make sure to check out the Church of San Sebastian which stands out in the town. You can't miss it.
However, what we liked the most in Agüimes, were the many sculptures displayed around the town. Our favorite one is the camel looking at the church in a very small alley.
Location: here
READ: EXPLORE THE HISTORICAL TOWN OF AGÜIMES – FULL GUIDE
---
12. VENTURE YOURSELD IN BARRANCO DE LAS VACAS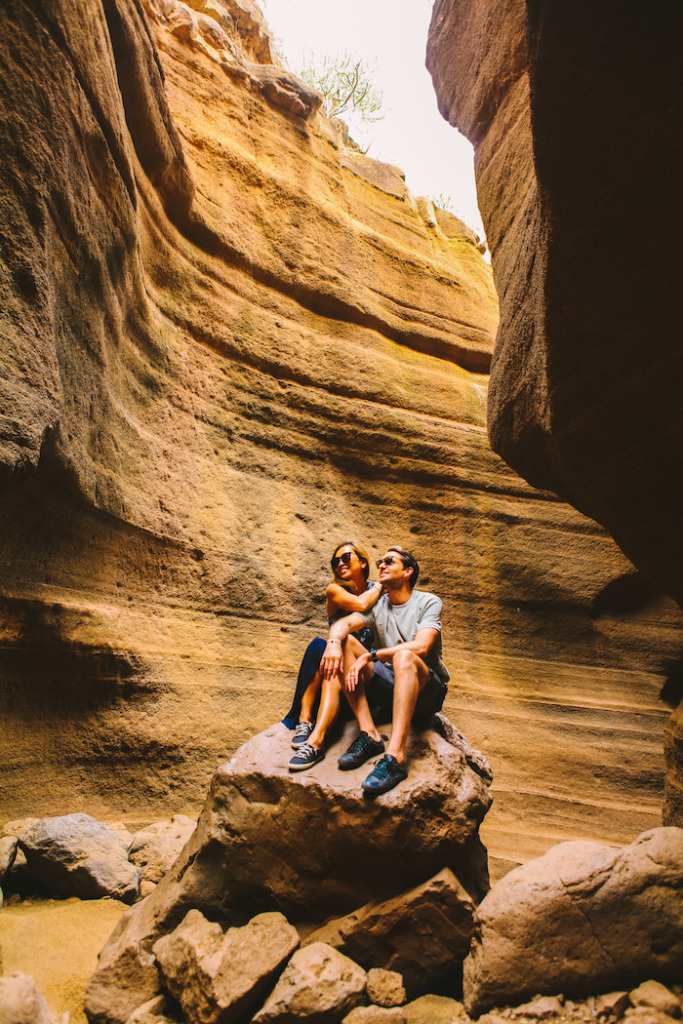 For some reasons, you will not find this place in most guidebooks. We are not sure why, as truly this place is incredible. If you've ever been to Antelope Canyon in Utah, this place definitely feels the same.
This canyon, sculpted in the rock over thousands of years by a torrent, is spectacular. It is only about fifty meters long but it is a magical place that is worth the trip.
The site is located near Agüimes. So you can combine Guayadeque, Agüimes and Barranco de las Vacas in a day. The location is not easy to find. There is absolutely no sign and no real trail to get there. We followed Google Map, and saw a few cars parked on the side of a tiny road. We then concluded that it must be here.
If you drive there, look for a stone bridge. There is a tiny spot to park 1 or 2 cars just before the bridge. From there, there you will have to step over the safety rail, behind which a fairly steep path descends to the ravine.
Go through the tunnel under the bridge and you have arrived.
Walk through the majestic canyon till the end and enjoy the many photo opportunities along the way. The best spot to take photos is at the very end of the Canyon.
Location: here
---
13. HEAD SOUTH TO SEE THE DUNES OF MASPALOMAS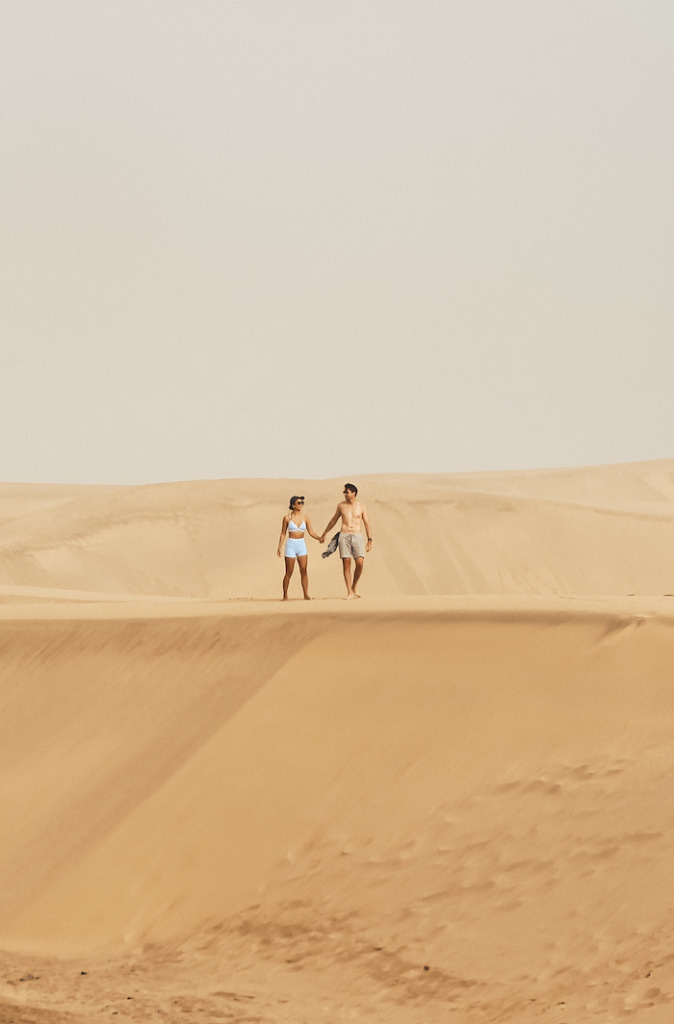 Visiting the Dunes of Maspalomas is certainly the unmissable thing to do in Gran Canaria. For us, we were completely awestruck when we first visited Maspalomas! For miles away, you can only see sands. It definitely felts like we were in the Sahara.
There is a nice promenade which go through the dunes. It starts at the famous lighthouse called Faro de Maspalomas (location).
Some of the highest dunes are over ten meters high and they spread over more than 400 hectares. They are bordered by a large beach of fine sand. We actually really liked the wide beach in Maspalomas. You can easily spend a day there.
You may also fancy a camel ride while in Maspalomas as it feels like you are in the Sahara. Book here.
Location: here
READ: FULL GUIDE FOR VISITING MASPALOMAS
---
14. RELAX (OR PARTY) AT PLAYA DEL INGLÉS
You start to become a bit tired of all these excursions, we know… Well, holiday is also there to simply enjoy a day at the beach or party all night long. This is why Playa del Inglés is here for.
It is often said that the Canary Islands attract mostly retirees… Well, one thing is for sure, you will not find them in Playa del Inglés. This seaside town on the east coast near Maspalomas is where you can party by the ocean, with luxury hotels, bars, restaurants, and countless nightclubs. And if you have a little energy left the next day, try one of the many water sports in offer: surfing, paddle, jet ski or even scuba diving…
Location: here
READ: THE BEST BEACHES IN GRAN CANARIA
---
15. CONTINUE YOUR WAY SOUTH TO PLAYA AMADORES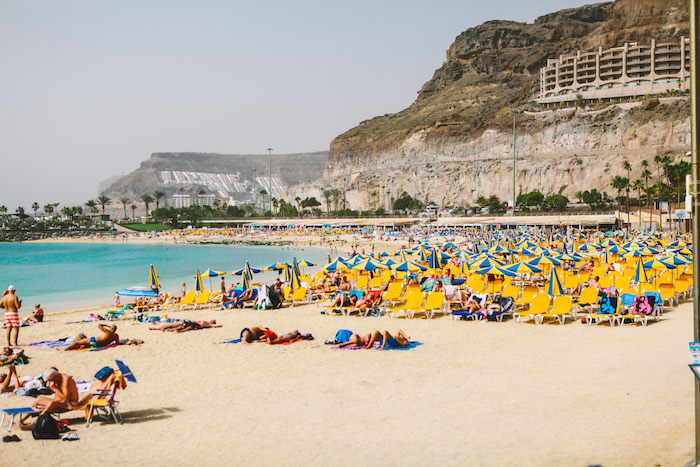 Playa de Amadores, is a sublime beach of white sand with clear and turquoise water. The beach is obviously popular for sunbathing and swimming. Protected by two breakwater, the sea is calm in Playa de Amadores.
This is one of the best beaches if you want to swim safely or if you are visiting Gran Canaria with kids.
Many hotels are located near Playa de Amadores, if you want to make it your base in Gran Canaria.
Location: here
---
16. PUERTO DE MOGÁN, OUR FAVORITE PLACE IN GRAN CANARIA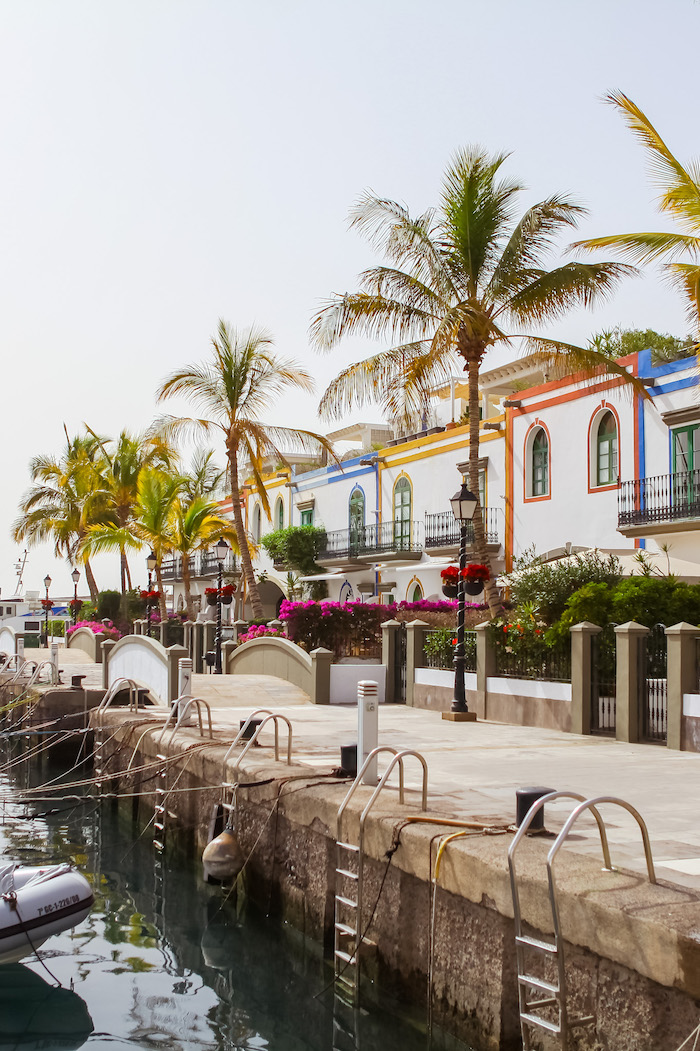 Visiting Gran Canaria without going to Puerto de Mogán would be a real pity… Trust us on this one. YOU MUST VISIT PUERTO DE MOGÁN! This place is even nicknamed "the little Venice of Gran Canaria".
And yes, between the small fishing port, the bridges and footbridges, the marina with its yachts and the seaside town do feels like being in Venice or on the Mediterranean Côte d'Azur.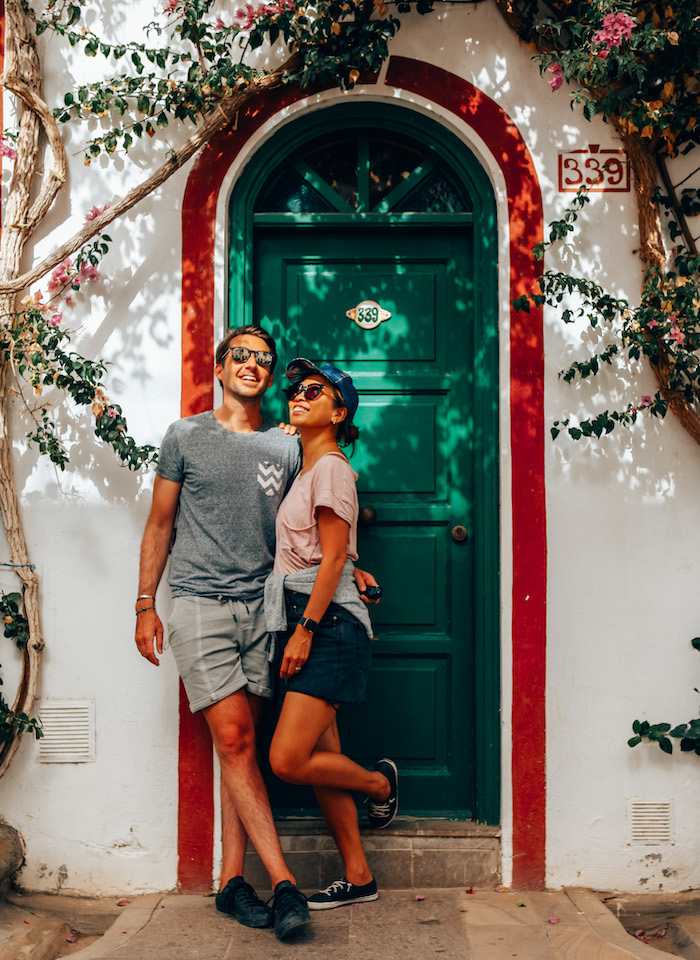 In terms of activities, there are loads to do in Puerto de Mogán. First you can start with a boat trip to spot dolphins but also to admire the beautiful coastline of Gran Canaria. Book here, as this activity is usually one of the most popular in this town.
However, you can also go kayaking/snorkeling, go on a hike, shopping, and simply take a nice stroll through the harbour and eat local delicacies at one of the may restaurants.
Visiting Puerto de Mogán was our most memorable excursion in Gran Canaria. We highly recommend that you spare at least half day to visit it.
Location: here
READ: FULL GUIDE FOR VISITING PUERTO DE MOGÁN
---
17. Barranco de Fataga, another highlight in Gran Canaria
Barranco de Fataga is a deep canyon in the center of the island. Head to the Mirador Astronómico de la Degollada de las Yeguas, a viewpoint from which you can admire the beauty of the canyon.
No need to hike to get there, you can easily access it by car. However, if you like hiking, Barranco de Fataga is one of the best spot in Gran Canaria as you hike in the middle of the Canyon with truly impressive landscape around you.
You do not need to visit the Gran Canyon in the US, you have Barranco de Fataga in the Gran Canaria!
Location: here
---
18. FATAGA VILLAGE, A MUST IN GRAN CANARIA
Fataga is another a charming village nestled in the mountain. This is also one of the best things to visit in Gran Canaria. It is even ranked as one of the most beautiful villages in Gran Canaria.
Perched on a steep rocky outcrop in the middle of a palm grove, the village has retained its soul and attracts many artists, somewhat rehabilitating the village.
A true gem in Gran Canaria.
Location: here
---
19. GO WEST TO VISIT AGAETE AND ITS BEAUTIFUL COASTLINA
Agaete is, without a doubt, one of the best places to enjoy an iconic sunset. The view of the beautiful blue ocean and the majestic cliffs in the background, is stunning!
You can also check out the natural swimming pools which are protected from the sea by unique concrete pylons, creating a tranquil space where you can bathe with the family. These pools are connected by volcanic tubes and offer great views of the northwest coast of the island.
We also enjoyed wandering through the fishing village of Agaete. We ate there some of our best (and cheapest) grilled fish in Gran Canaria. There are many local restaurants facing the pebble beach.
Is it also from Agaete that we took the ferry to reach Tenerife. You can book all your ferry rides in the Canary Islands via Direct Ferry here.
Location: here
READ: FULL GUIDE FOR VISITING AGAETE
---
20. CHECK OUT THE CAVES OF VALERON
To the north of Gran Canaria is one of the most spectacular archaeological sites in the Canary Islands: the monastery of Valerón. It is a huge collective natural granary that the ancient Canarians set up to store cereals. Valerón is made up of more than 300 silos carved into soft rock, connected to each other at different levels. This prehistoric civil engineering work is worth visiting for its heritage and cultural value.
Now the site has been adapted for visits. It is open to the public from Tuesday to Sunday.
This place is really unique and worth the drive all the way north to Gran Canaria.
Location: here
---
BEST ACTIVITIES IN GRAN CANARIA
1. SURFING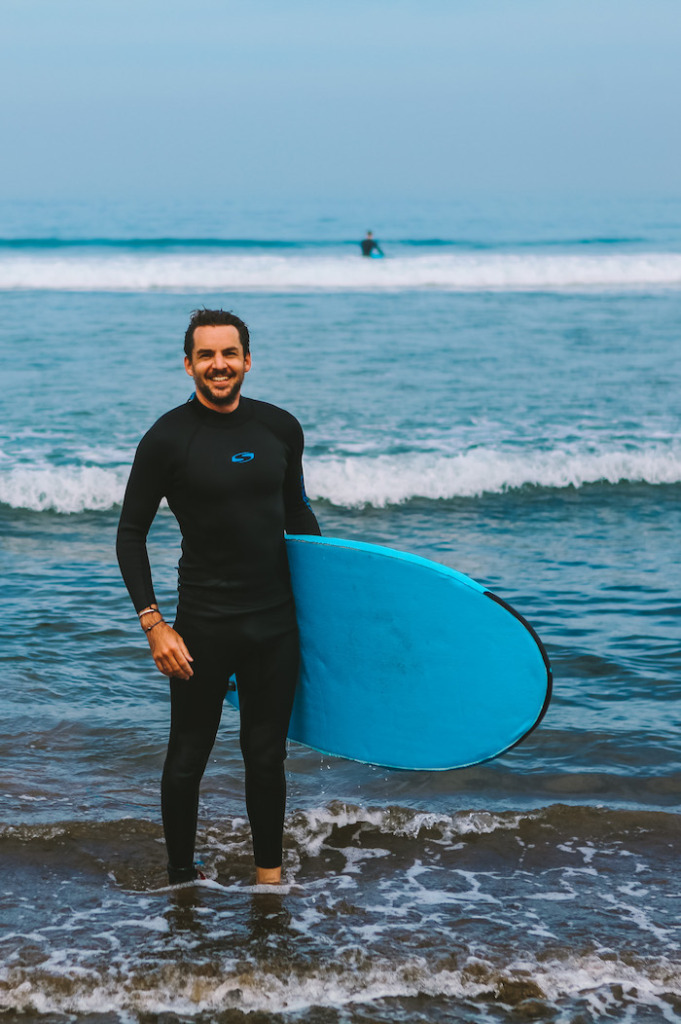 Gran Canaria is not as well known as Fuerteventura or Tenerife for surfing, but the island has some great spots nevertheless. In fact one of the best surfing spots in Gran Canaria, is right in its capital, Las Palmas. La Cicer is a perfect place to learn how to surf. A little further on the edge of Las Palmas, you also have El Confital, where it's quite common to even find barrels. Surf competitions are often held in this spot.
In the south of the island, Playa del Inglés and Maspalomas are also 2 great spots, but mostly for beginners.
READ: BEST SURFING SPOTS IN THE CANARY ISLANDS
---
2. DIVING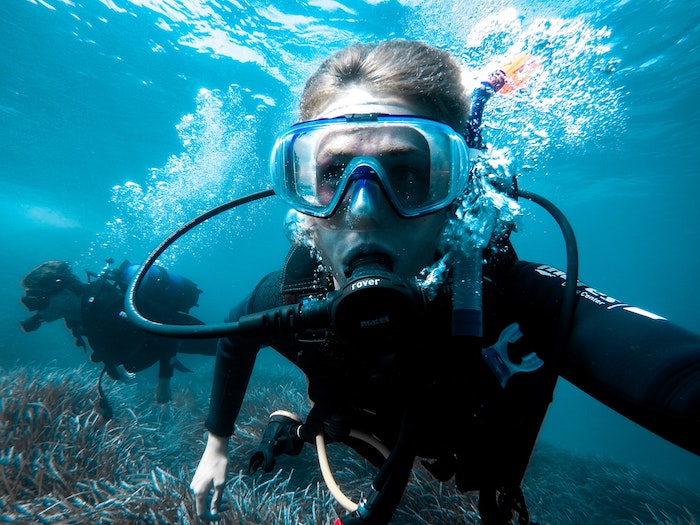 With good weather all year round, 300 days of sunshine and little rain, there is no specific diving season in Gran Canaria. Whether you stay in summer or winter, you can join a diving trip. With visibility of around 30 meters at most dive sites in Gran Canaria, there are plenty of beautiful fishes to see underwater.
Several dive operators are based near Puerto de Mogan, offering a range of diving courses and diving trips. Pasito Blanco is an ideal site for divers, with rock ledges around a plateau that is home to plenty of sealife. As the water is cooler in winter, a 5 millimeter wetsuit is recommended.
---
3. GO ON A BOAT TRIP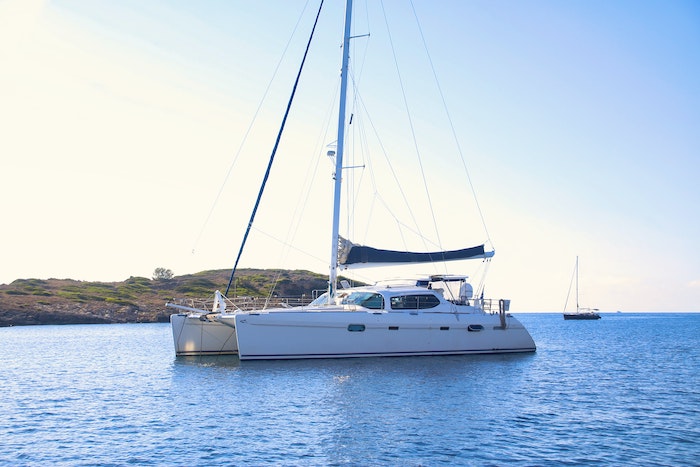 Gran Canaria is an island after all. When you think about an island, we automatically think about boat trip, isn't it? Embark on an excursion to discover the coast of Gran Canaria, watch dolphins and even whales. Yes, it is possible to do that in the Canary Islands.
You see, it's not necessary to go to Hawaii or the Caribbean, we have everything in Europe… You can board a boat in Las Palmas, Maspalomas and Puerto de Mogán.
---
4. KAYAKING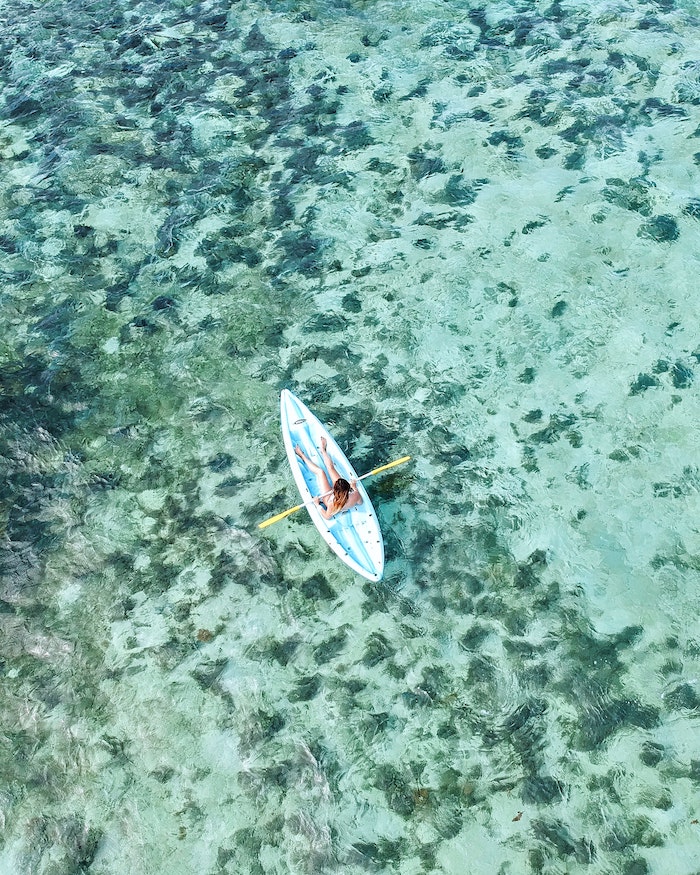 A good way to discover the beautiful coast of Gran Canaria, is by kayak. The south of the island is most popular for kayaking, thanks to the abundance of coves and caves around the coast of Puerto de Mogán and Maspalomas. The rocky shores offer a unique perspective that will make your excursion unforgettable.
Some tours allow snorkeling or swimming in secluded coves or inside caves (tide permitting). Others include free time on a beach to sunbathe and relax before returning to the boat.
> BOOK YOUR KAYAKING TRIP HERE
---
5. HIKING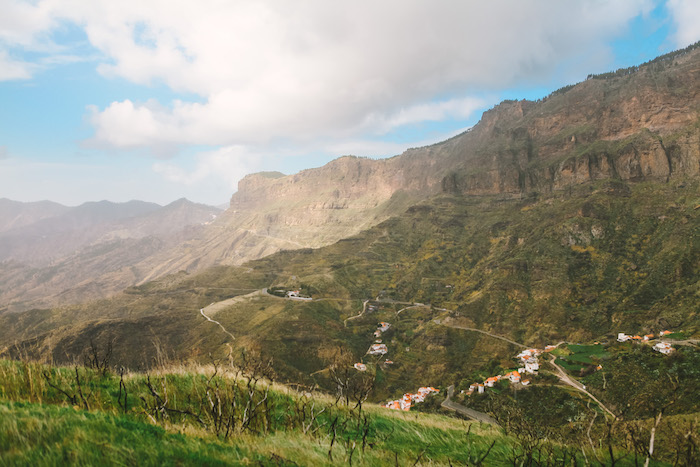 Alright, alright, you are not a water person, we get it… We did not forget you. There are plenty of activities on land in Gran Canaria. The most common one is of course hiking.
Indeed, hiking is one of the top activities to do in Gran Canaria. The island is crossed by countless trails, making it possible to organize treks over several days, or even several weeks for the most adventurous ones. Cruz de Tejeda and the mythical Roque Nublo form the epicenter of hiking in Gran Canaria. Several routes intersect on this absolutely impressive natural site, perched between 1200 and 1500 meters above sea level. Remember to take good shoes, some paths are particularly difficult.
> BOOK YOUR HIKING GUIDED TOUR HERE
---
6. HORSE RIDING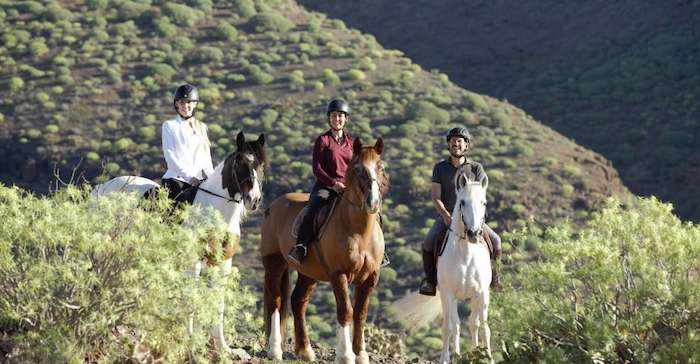 This is our last recommendation of things to do in Gran Canaria. It's probably one of the best one too. Horse riding in the beautiful nature of Gran Canaria. You will be riding with expert guides through some of the most stunning landscapes on the island… You are already picturing yourself on the horse, aren't you?
Well, jump over here to book your ride:
> BOOK YOUR HORSE RIDING TOUR HERE
---
Where to stay in Gran Canaria?
Gran Canaria is probably the Island in the Canaries that offers the greatest variety of landscapes and reliefs. You can enjoy the beach, the dunes, the mountains, discover volcanoes and other unique natural landscapes, visit historical and cultural sites, and practice a large number of activities. The best place to stay will therefore depend on what you want to do during your stay in Gran Canaria.
Having said that, the island of Gran Canaria is in a perfect round shape. To go from North to South or East to West, it wouldn't take you more than 1 hour by car.
READ: 5 BEST PLACES TO STAY IN GRAN CANARIA
Here is our favorite places to stay in Gran Canaria:
---
Puerto de Mogán
When visiting Gran Canaria over a month, we completely fell in love with Puerto de Mogán. For us it is the best place to visit on the island but also one of the best places to stay during your trip.
Puerto de Mogán, with its soothing atmosphere and its small white houses wedged between the sea and the cliffs behind is just stunning. The beach at Puerto de Mogán is also very pleasant. As it is located in the south, it gets more sunny days than the rest of the island. From there, you can easily reach Maspalomas, Playa del Inglés, Fataga and even Pico de las Nieves.
At Puerto de Mogán, our favorite hotel by far is Cordial Muelle Viejo. This brand new hotel is directly facing the sea and is located next to the beach right beside a cliff. We highly recommend this place for a perfect holiday in Gran Canaria. Check it out here.
---
Las Palmas
Las Palmas is a place that is central to the historical and contemporary culture of the Canary Islands. In the city, you can discover a surprisingly rich historical heritage, especially in the district of Vegueta, a colonial district which houses the Cathedral of Saint Anne and the House of Christopher Columbus.
The most important museums of the island are also located here, such as the Museum of Modern Art and the Museo Canario, which exhibits numerous remains of the Guanches, the first inhabitants of the archipelago.
During the first half of our trip to Gran Canaria we decided to stay in Las Palmas. As you may already know, we always look for places where we can surf nearby. And Las Palmas has 2 of the best surfing spots in Gran Canaria, which was perfect for us.
We rented a car in Las Palmas, and it was perfect to drive around the island and explore many places. So if you want something convenient during your stay in Gran Canaria, Las Palmas can be a great place to stay.
In Las Palmas we stayed in a brand new hotel called ART LAS PALMAS MUR HOTEL. We totally loved it. It has such a great value for money and is located close to the main beach of Las Palmas. You can book here.
Another beautiful hotel in Las Palmas, probably the most charming one, is Santa Catalina, a Royal Hideaway Hotel. This luxury hotel is located near the harbour of Las Palmas in the historical center of the city. The rooftop pool is breathtaking. If your budget allows it, then don't hesitate, this is one of the best places in Las Palmas. Book here.
READ: FULL GUIDE FOR VISITING LAS PALMAS
---
Maspalomas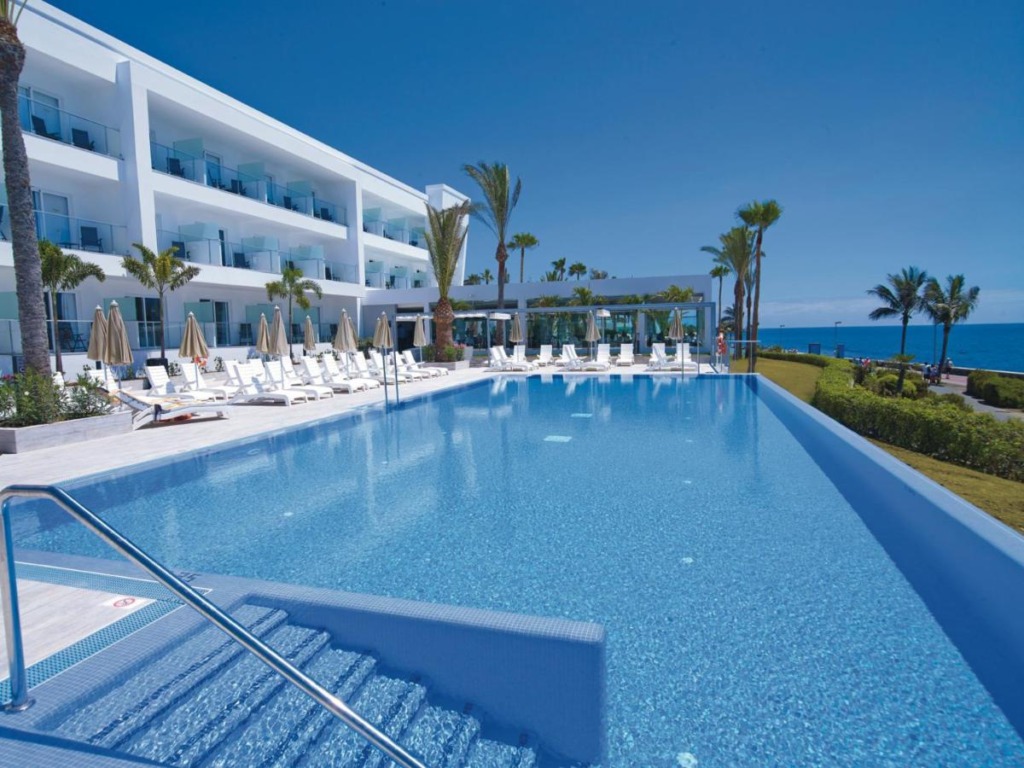 Maspalomas is the most important seaside resort in Gran Canaria. It is located at the extreme south of the island. If you want to enjoy the sea above all and want to spend your holidays in a lively place with a very festive atmosphere, then Maspalomas is probably the right place to stay.
One of the major attractions of this seaside resort is Playa del Inglès, the largest beach on the island.
The offer in terms of accommodations in Maspalomas is quite substantial. You can easily find hotels of all types.
In Maspalomas we recommend Hotel Riu Palace Meloneras. In fact, many hotels are located behind the dunes. So accessing the beach requires a long walk in the hot desert until you can finally reach the sea.
However, Hotel Riu Palace Meloneras, is located on the side of the dunes, directly facing the sea. And right behind the hotel, you will find many restaurants and a shopping center. Without a doubt, Hotel Riu Palace Meloneras is one of the best places to stay in Maspalomas. Book here.
READ: FULL GUIDE FOR VISITING MASPALOMAS
---
How to get to Gran Canaria?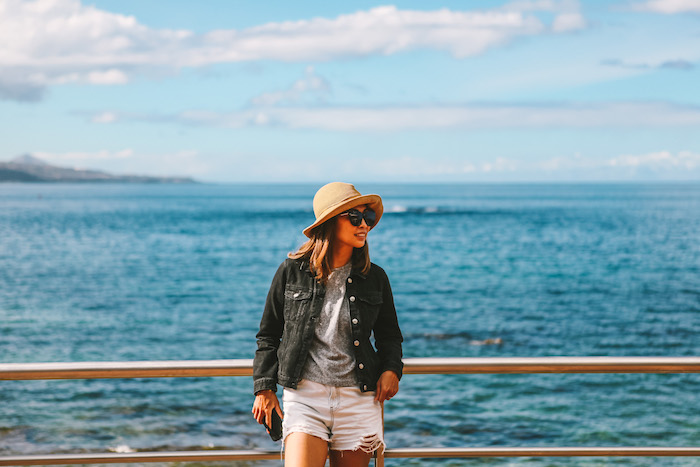 The easiest way is by plane! Plane tickets between the island and the major cities in Europe are generally very affordable. Easyjet has many great offers, however book early as during peak seasons the prices are going much higher.
If you are visiting multiple Canary Islands, then you can easily take the ferry between each of them. We started our journey in Lanzarote, we then took a ferry to Fuerteventura, and after staying a few weeks there, we took another ferry to Gran Canaria. We always use Direct Ferry to book our rides in the Canary Islands (book here). They have the newest ferries compared to other companies.
Once you reach the Canary Islands, it is highly recommended to rent a car. To get the cheaper rate we used Rentalcars.com. Check it out here for the best deals.
READ: 25 BEST THINGS TO DO IN FUERTEVENTURA
---
Best time to visit Gran Canaria?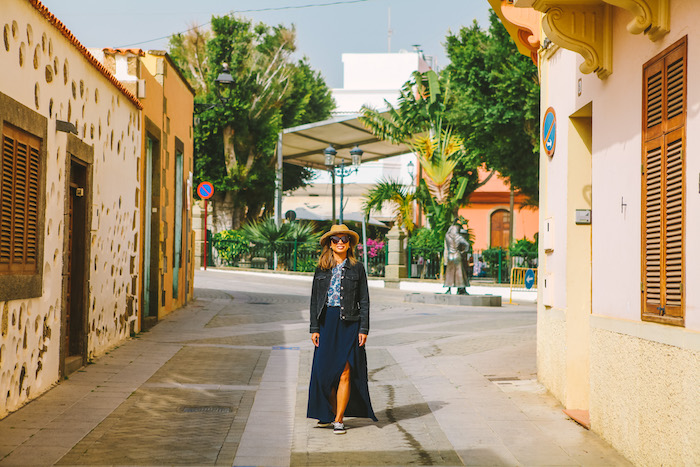 On the island of Gran Canaria, as on all the other Canary Islands, the climate is mild all year round with temperatures ranging between 21°C in January and 28°C in August. As such, the island can be visited all year round.
If you go there for swimming, the ideal period will then be the months of July to September, because the sea temperature would be the warmest approaching 23°C.
READ: FULL GUIDE FOR THE BEST TIME OF THE YEAR TO VISIT GRAN CANARIA.
---
How long to stay Gran Canaria?
After reading this post, you wonder how long will it take you to see everything. If you are extremely active during your holiday, you can squeeze everything in a week.
However, we do not advise you to see all our recommendations if you only go to Gran Canaria for a week only.
Take time to enjoy the beach, or go on a hike for a day. It is important to appreciate the landscape that this island has to offer. Select a few things that you really want to see during your trip if your time is limited.
Staying a week in Gran Canaria will already allow you to see quite a lot. However, the ideal time to explore most of the island would be 2 weeks.
---
In conclusion about the best things to do in Gran Canaria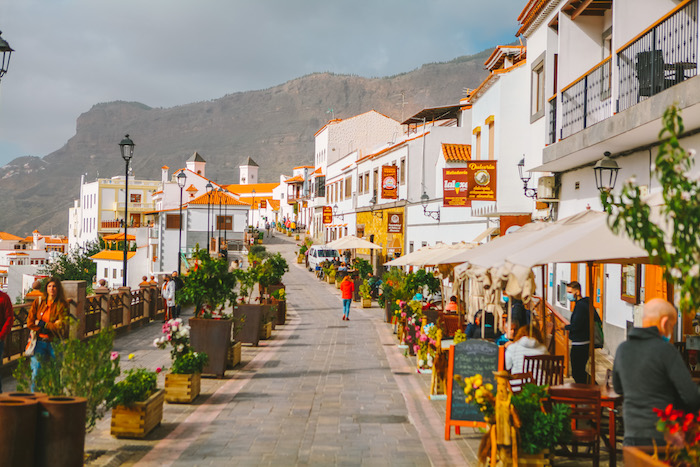 We hope that you enjoyed reading this post. While writing it, all our great memories from Gran Canaria came back. We often talk about how great our trip to Gran Canaria was.
We always thought that the Canary Islands was a destination for retirees… However, we were completely wrong. There is so much to do on on each islands.
Therefore, we recommend visiting Gran Canaria for everyone. You will enjoy every seconds of your trip! GUARANTEED.
If you are considering visiting other islands in the Canaries, you can check our posts about Fuerteventura or Lanzarote.
If you have any question about Gran Canaria, feel free to leave a comment below.
All our posts about the Canary Islands can be found here.
HAPPY TRAVELS!
---
Related Posts
VISITING LAS PALMAS, full guide: here
TEROR, one of the most charming towns in Gran Canaria: here
MASPALOMAS a unique place in Gran Canaria: here
BEST PLACES TO STAY in Gran Canaria: here
PUERTO DE MOGÁN, our favorite place in Gran Canaria: here
10 BEST BEACHES in Gran Canaria: here
AGÜIMES, a fantastic historical town in Gran Canaria: here
AGAETE, a gorgeous coastal town in Gran Canaria: here
8 REASONS WHY TO VISIT Gran Canaria: here
TEJEDA, visit one of the prettiest village in Gran Canaria: here
BEST TIME OF THE YEAR to visit Gran Canaria: here
25 BEST THINGS to see in Lanzarote: here
25 AWESOME THINGS to visit in Fuerteventura: here