Corralejo is the largest resort on the island of Fuerteventura, which is part of the Canary Islands. The town has grown in popularity with both domestic and foreign tourists who increasingly come to Fuerteventura due to the island's beautiful beaches, ideal weather, scenic countryside and festive atmosphere.
If you decided to stay in Corralejo during your trip to Fuerteventura, then this guide is for. We listed the best things to do in Corralejo and around the town.
Enjoy your trip!
READ: if you are traveling to Fuerteventura, you might be interested to read about the 25 best things to do in Fuerteventura.
Corralejo is a town full of charm, located in the northeast of Fuerteventura, in the municipality of La Oliva. This beautiful city has become one of the major tourist destination on the island.
If you are visiting Corralejo there are many activities suitable for everyone. From surfing, walking in the dunes, having lots of fun at the Aqua park, shopping, fine dinning, partying late at night, day trips and so much more. You will never get bored if you are visiting Corralejo.
Here is our list of the top things to do in Corralejo:
---
1. WATER SPORTS ACTIVITIES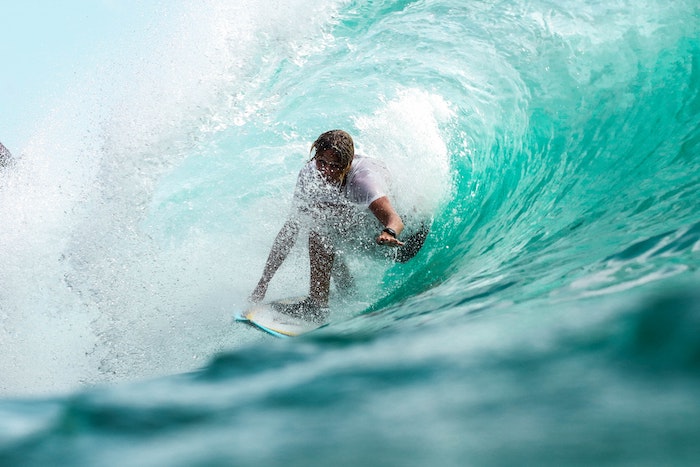 The town of Corralejo is associated with water sports. Its diverse coastal area with calm, crystalline and shallow waters on one side and perfect waves on the other, together with its windy days, make this town an ideal place for water sport lovers.
Diving, surfing, windsurfing, kitesurfing, paddleboarding, fishing and boat trips are just some of the activities that will be able to enjoy in Corralejo.
If you want to learn surfing during your trip to Fuerteventura, you can book classes with professional surf instructor. Check it out here.
READ: the best outdoor activities in Fuerteventura
---
2. WALK AROUND THE TOWN
This traditional fishing village has become a first class seaside resort with a promenade full of charming cafes and restaurants.
Head to Muelle Chico fishing pier, to enjoy some of the best restaurants in town with traditional dishes.
In Avenida Nuestra Señora del Carmen you will find the main shopping area with stores of well-known fashion brands as well as surf and water sports shops.
Corralejo is home to a captivating old quarter just behind its harbour. This section is characterized by whitewashed houses and narrow streets.
In the evening, the city maintains a lively atmosphere. When you head to Music Square, you'll find artists and bands that come together in the evenings to entertain the crowds. Some of the popular pubs in this square include Rosie O'Gradys and Dubliner.
---
3. GO SHOPPING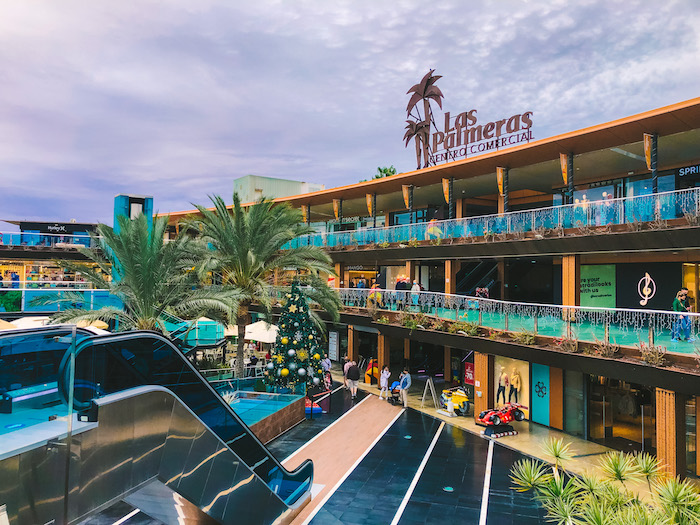 In addition to the many shops at Avenida Nuestra Señora del Carmen, head to El Campanario shopping center. There you will find a wide choice of fashion, craft and restaurants. A shopping center that recreates the colonial era of the Canaries, with traditional buildings and a large central square where many cultural events are organized. In the evening you can enjoy a sangria with a live band.
---
4. TAKE A DAY TRIP TO LANZAROTE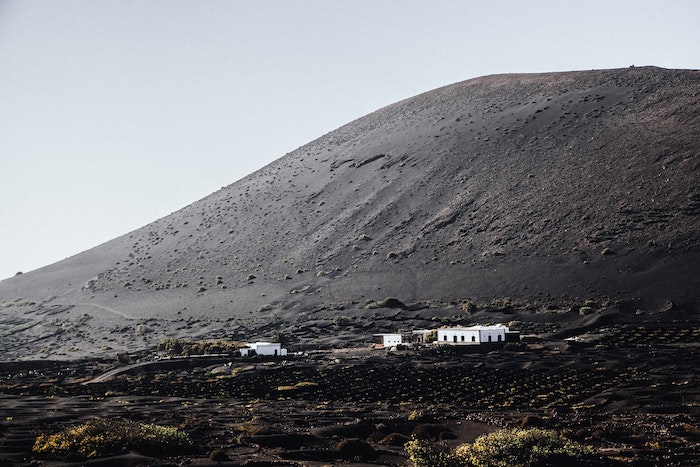 From Corralejo, you can take a 30min ferry ride to Lanzarote, the island of the thousands volcanoes. You can easily book via Direct Ferry and compare the price of the different ferry companies. Check it out here.
If you don't want to get bothered by renting a car to visit Lanzarote, you can simply join a tour group. We highly recommend booking with Get Your Guide, as they are the most reliable. Check it out here.
You will be able to visit the main attraction of Lanzarote, Timanfaya National Park. We wrote a full post about it here. Check it out to prepare your visit. You will also be able to visit the wine region of Lanzarote, go on a Camel Ride, and visit the stunning El Lago Verde!
READ: the best things to do in Lanzarote.
---
5. GO SAILING AROUND LOS LOBOS
From Corralejo you can also board a boat and travel a few kilometers (about 10 minutes) to see the small island of Los Lobos. This 25 square kilometer island is a protected natural area full of native plants and birds, as well as endangered species.
It is also a great place for snorkeling and swimming as its beaches have clear, shallow water. Boat trips from Corralejo Port to Los Lobos Island are offered daily, you can book here.
You can also decide to go sailing around the beautiful island and see places that wouldn't be reachable by land otherwise. See here.
---
6. CHECK OUT CORRALEJO NATURAL PARK AND SAND DUNES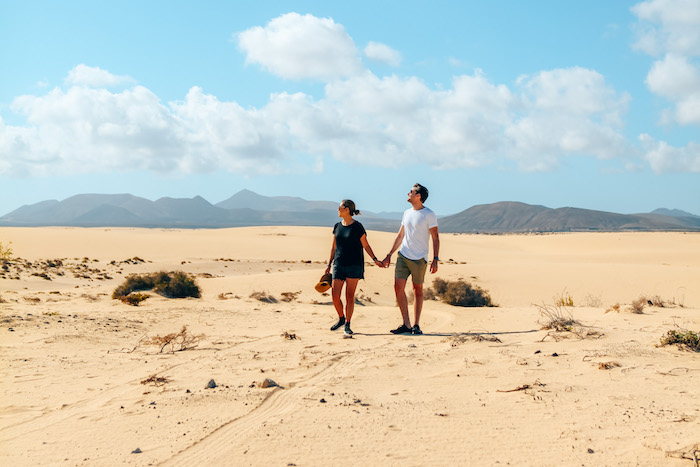 Alright guys, this is one of the must-see if you are visiting Fuerteventura.
You simply cannot miss Corralejo Natural Park if you are in Fuerteventura. This is a magnificent desert landscape with more than 2,600 hectares of sand washed by turquoise blue waters. In this Natural Park, protected since 1994, you will also find a great diversity of birds. A great way to visit the dunes is by buggy which you can rent from Corralejo. Check it out here.
The Corralejo sand dunes are one of the most visited areas of natural beauty in Fuerteventura. In fact, these sand dunes are the largest dunes in all of the Canary Islands; With miles and miles of sandy beaches and clear turquoise waters, it's no wonder the dunes attract so many visitors.
The good news, is that if you are staying in Corralejo it will be very easy to visit the Natural Park as it is even possible to walk to the dunes.
READ: full guide for visiting the Corralejo Dunes Natural Park
---
7. GO ON ONE OF THE BEST HIKE IN THE NEARBY CALDERON HONDO VOLCANO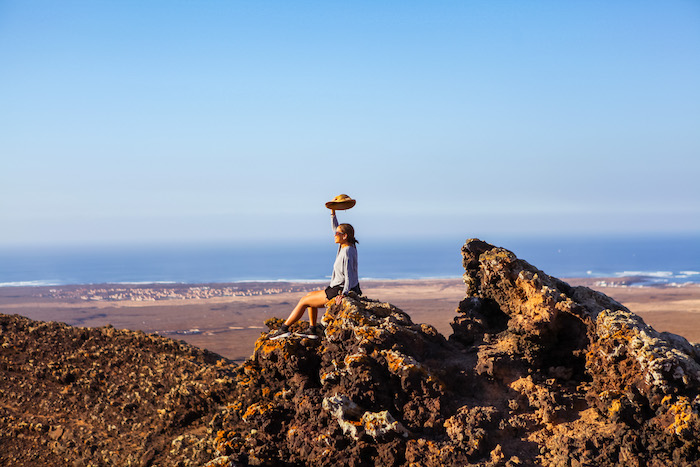 Hiking the Calderón Hondo Volcano, was one of the most memorable things we did in Fuerteventura.
The 50,000-year-old volcano Calderón Hondo is located near Lajares on the north end of the island of Fuerteventura, just a little bit more south of Corralejo. This hilly, volcanic landscape that stretches from La Oliva to Corralejo is one of the most beautiful part of Fuerteventura.
Calderón Hondo is 278 meter high. From the top you have one of the most beautiful view of Fuerteventura. You can also admire the magnificent 70 meter deep circular volcanic crater with its yellowish sulfur deposits. Simply breathtaking!
READ: full guide to hike the Calderon Hondo Volcano
---
8. HAVE FUN AT AQUA WATER PARK
Corralejo's main water park, is called Acua Water Park. This place offers really good fun for children. There are more than a dozen slides and attractions, each suitable for different ages and offering different degrees of adrenaline.
We particularly loved the Laguna Splash, a wave pool, and a large slide that the whole family can slide down together. You will also find a fast and a slow river, as well as two sets of high and steep slides that will allow you to slide at a thrilling speed of 30 km/h.
We recommend to book your ticket in the advance here. Alternatively you can also visit Acua Park website here for more information.
READ: visit El Cotillo, a charming village near Corralejo
---
WHERE TO STAY IN CORRALEJO?
There are many places to choose from when it comes to finding a place to stay in Corralejo. Vacation rentals, all-inclusive hotels, seaside villas with swimming pools… there is something for everyone!
Atlantic Garden Beach Mate hotel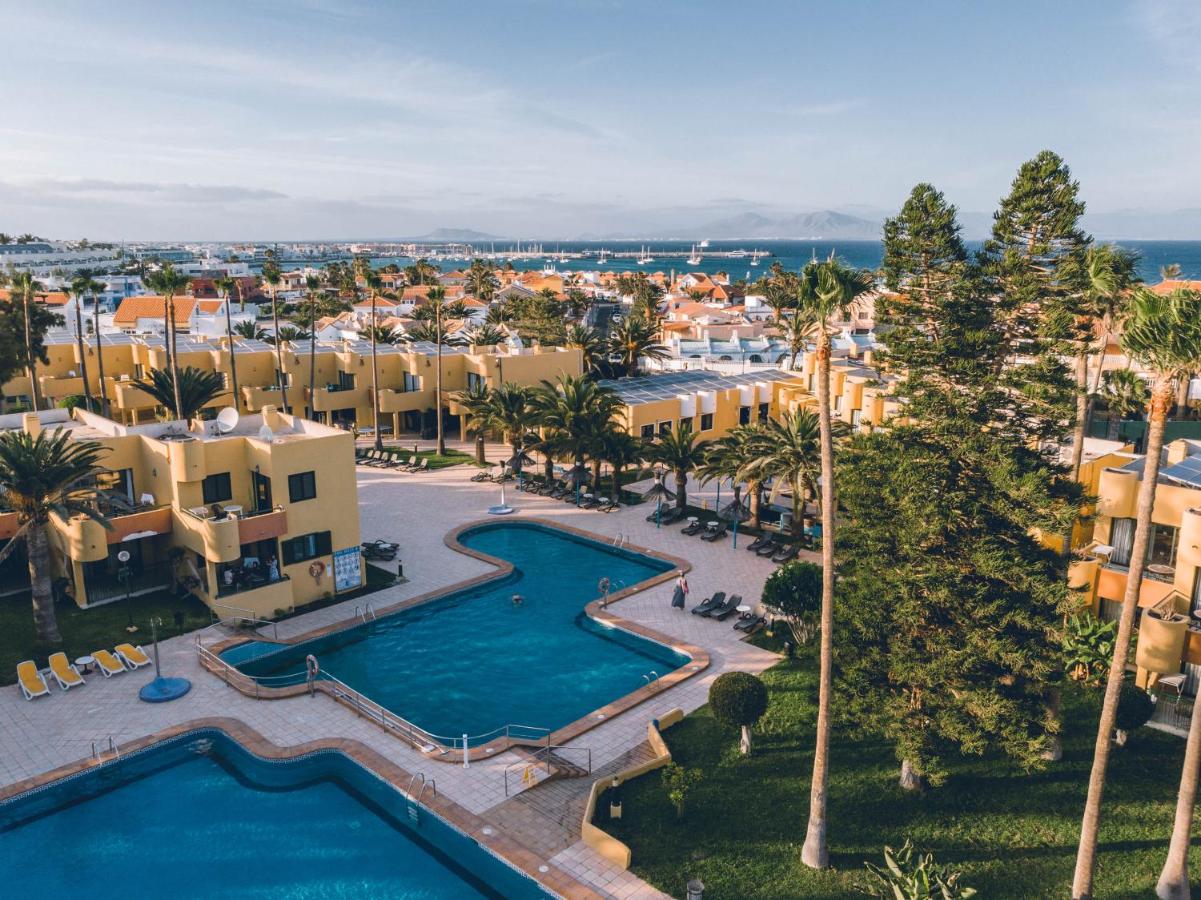 During our stay in Corralejo we chose Atlantic Garden Beach Mate hotel and really enjoyed it. We had a great balcony, kitchen to cook our own meal, a quiet bedroom and we were close to the beach. For us Atlantic Garden Beach Mate Hotel has some of the best value for money in Corralejo. Check it out here.
Hotel Boutique La Marquesina
Hotel Boutique La Marquesina is probably the hotel with THE best location in Fuerteventura right by the promenade with a nice view directly facing the sea. The cherry on top of the cake, is that this hotel has a beautiful rooftop pool which is also protected from the wind. This is the perfect place in Fuerteventura if you also want to go out at night have a nice dinner and some drinks later on. Check it out here.
H10 OCEAN SUITES
H10 Ocean Suites is our favorite hotel in Fuerteventura. This place has been designed with lots of taste. The pool area is gorgeous and overall the service of H10 Ocean Suites is unbeatable. The price per night will be slightly higher compared to our previous recommendations, however if this fits your budget, this is the ONE! You can book here directly.
READ: BEST PLACES TO STAY IN FUERTEVENTURA, FULL GUIDE
---
In conclusion about Corralejo
If you are traveling to Fuerteventura for the first time, then staying at Corralejo would probably be the best choice. From there, you can visit many things on the island and go on some of the best day trips such as Lanzarote or Los Lobos.
We really enjoyed the few weeks we spent in Corralejo. There are many surf schools located in this area, with a great vibe overall. Head to Sunset Lounge right before sunset (location). This is where most surfers will gather for a drink after their surf session and to listen to the great live bands.
If you are preparing for your trip to Fuerteventura, you can check out our full guide here. We listed the 25 best things to do in the island.
All our posts about the Canary Islands can be found here.
HAPPY TRAVELS!
---
Related Posts
BEST THINGS to see in Fuerteventura: here
CORRALEJO DUNES NATURAL PARK, full guide: here
OASIS PARK in Fuerteventura: here
BEST HIKES in Fuerteventura: here
VISIT EL COTILLO near Corralejo: here
BEST PLACES to stay in Fuerteventura: here
COFETE, the best beach in Fuerteventura: here
HIKING CALDERON HONDO in Fuerteventura: here
OASIS PARK in Fuerteventura: here
BEST TIME to visit Fuerteventura: here
BEST BEACHES in Fuerteventura: here
10 REASONS WHY YOU SHOULD VISIT FUERTEVENTURA: here
25 BEST THINGS to see in Lanzarote: here