Gran Canaria has many amazing beaches. In this post we listed the top 10 beaches on the island.
With its 236 kilometers of coastline, Gran Canaria has a lot to offer. While the south and east of the island are lined with countless white or black sandy beaches, the very rocky west coast is dotted with impressive cliffs which sometimes rise to almost 1000 meters above sea level (see Agaete)
READ: 20 AWESOME THINGS TO VISIT IN GRAN CANARIA
This selection of the most beautiful beaches in Gran Canaria will first take you to Las Palmas, the capital of the island. The city has one of the largest beaches in the region. We will then continue south to the beaches of Maspalomas and Mogan. On the west coast of the island, we will finally take you to several beautiful wild and deserted beaches.
Happy holidays to the wonderful island of Gran Canaria!
---
1. The famous beach of Las Canteras in Las Palmas
In Las Palmas, you can find one of the most famous and most beautiful urban beaches in Europe: Las Canteras.
Las Canteras is absolutely sublime. Right in the heart of the city, this huge stretch of golden sand is perfect for your holidays in Gran Canaria. Along the promenade you also plenty of restaurants, cafes and bars with a lively atmosphere.
Las Canteras is also perfect for surfing. The spot of La Cicer is one of the best surf spots in Europe. (BEST SURF SPOTS IN THE CANARY ISLANDS HERE)
Besides Las Canteras, you can also explore the beaches of Las Alcaravaneras, El Confital and San Cristobal in Las Palmas. All extremely beautiful.
READ: HERE IS OUR FULL GUIDE TO VISIT LAS PALMAS
---
2. Maspalomas, the most unique beach
Maspalomas is an emblematic beach in Gran Canaria which you may have already seen on a postcard. Located on the edges of a desert, it belongs to a protected natural area. Its immense dunes of fine sand will make you feel completely isolated to the rest of the world. Maspalomas is also very famous for nudism.
This is a must-see in Gran Canaria.
READ: EXPLORE THE DUNES OF MASPALOMAS
---
3. The beach at Puerto de Mogan, our favorite place in Gran Canaria
Playa Mogán is another beautiful beach, located next to the famous and charming town of Puerto de Mogán. This town is also called the Little Venice, due to its network of canals. Puerto de Mogán is our favorite place in Gran Canaria.
From Puerto de Mogán, you can also start exploring the incredible coastline of Gran Canaria by boat (book your boat trip here)
READ: MORE INFORMATION ON PUERTO DE MOGÁN
---
4. Playa del Inglés
Let's continue our review of the best beaches in Gran Canaria with Playa del Inglés. This beach is located in the south of Gran Canaria.
Technically Playa del Inglés and Playa de Maspalomas are the same beach. However they are separated at Punta de Maspalomas marking the border between Playa del Inglés and Playa de Maspalomas. This beach stretches over a length of 2,700 meters.
If you want to party during your trip to Gran Canaria, then Playa del Inglés is the place to be.
---
5. Puerto Rico, one of the best beaches in Gran Canaria
Not to be mistaken with Puerto Rico in the Caribbean, this beach is indeed located in the southwestern part of Gran Canaria. It is known to be the sunniest place in Gran Canaria. So if you want almost guaranteed sunshine during your trip, Puerto Rico would be a good choice for your stay.
The beach is absolutely phenomenal with turquoise water and white sand surrounded by palm trees. This beach has everything to make you dream.
READ: BEST TIME OF THE YEAR TO VISIT GRAN CANARIA
---
6. Agaete
The northwest coast of the island of Gran Canaria is one of the most impressive on the island. On a clear day, you can see the shores of Tenerife and especially Mount Teide. It's splendid.
Agaete has several beautiful small urban beaches in a breathtaking setting. It is possible to paddle quietly in Puerto de las Nieves or in the natural seawater pools of Salinas. However, no sandy beaches there, you will find mostly pebbles…
We still highly recommend a trip to the charming Agaete.
READ: WHAT TO SEE IN AGAETE?
---
7. Sardina del Norte
First of all make sure you do not confuse Sardina del Norte with Sardina del Sur! The latter is not far from Vecindario and is not as beautiful.
Sardina del Norte is a paradise for divers as well as fishermen due to its crystal clear waters. From its name, you can easily figure out that the sardines are abundant in the area. You can therefore enjoy lots of sardine dishes in any restaurant in the area.
---
8. Amadores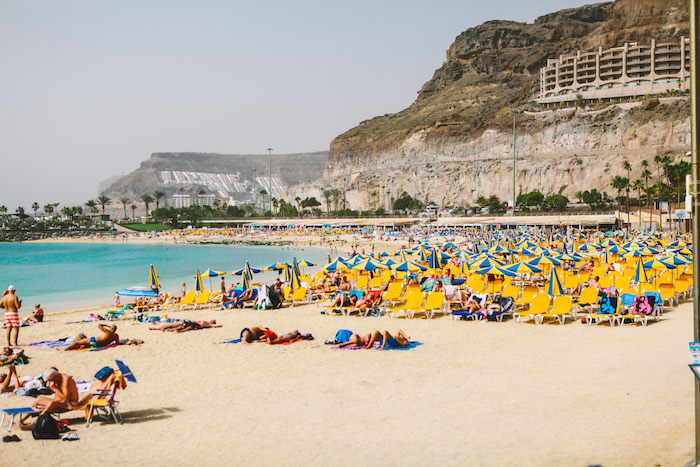 Amadores is located near Puerto de Mogán. Shaped like a shell, this beach of fine sand is bordered by turquoise and calm water, making it one of the best beaches in Gran Canaria for families. However, be aware that this place is very popular and therefore can get very crowded.
---
9. Playa Tufia
Let's continue with the best beaches in Gran Canaria. Next on the list: Playa Tufia. This secret and charming beach has miraculously managed to escape mass tourism, something quite rare in Gran Canaria.
Playa Tufia is mainly frequented by locals. So if you want to escape the crowds, this beach is one of the best choice.
---
10. Playa Guïguï
Güigüi is a magnificent nudist beach, ideal for anyone wishing for a full body tan. Playa Güigüi is however not easily accessible. It is located at the foot of a large cliffs. If you want complete peace, then Playa Guïguï is one of the best beaches in Gran Canaria.
---
BEST WATER SPORT ACTIVITIES IN GRAN CANARIA
1. SURFING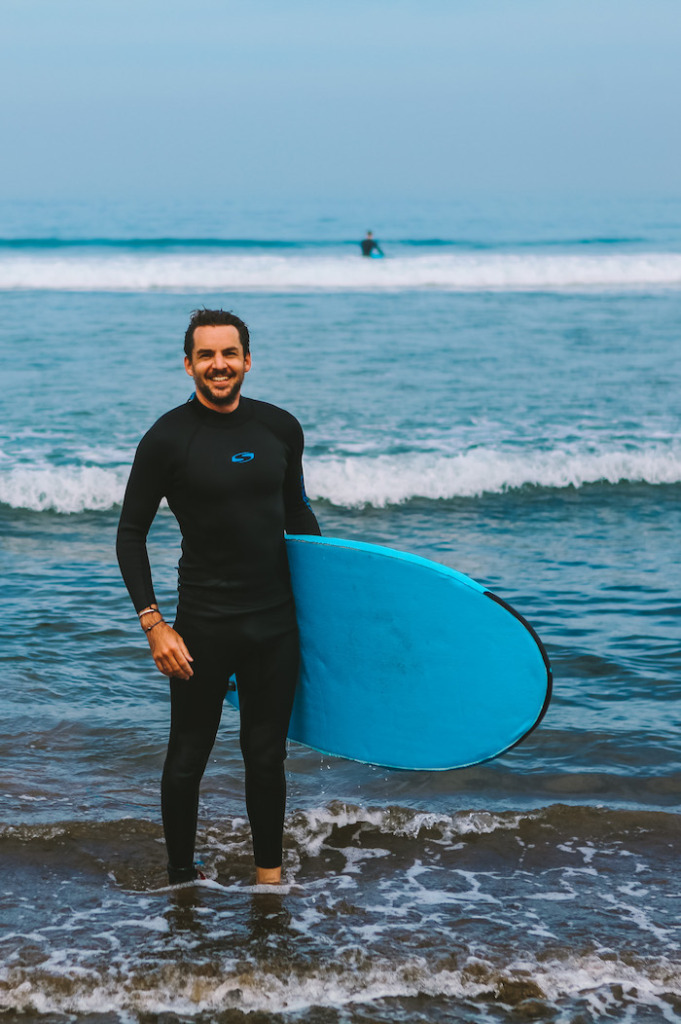 Gran Canaria is not as well known as Fuerteventura or Tenerife for surfing, but the island has some great spots nevertheless. In fact one of the best surfing spots in Gran Canaria, is right in its capital, Las Palmas. La Cicer is a perfect place to learn how to surf. A little further on the edge of Las Palmas, you also have El Confital, where it's quite common to even find barrels. Surf competitions are often held in this spot.
You can easily rent surf boards in Las Palmas. There are many shops right by the beach of Las Canteras.
---
2. SNORKELING
With good weather all year round, 300 days of sunshine and little rain, there is no specific snorkeling season in Gran Canaria. Whether you stay in summer or winter, you can join a snorkeling trip from Las Palmas.
> BOOK YOUR SNORKELING TRIP HERE
---
3. GO ON A BOAT TRIP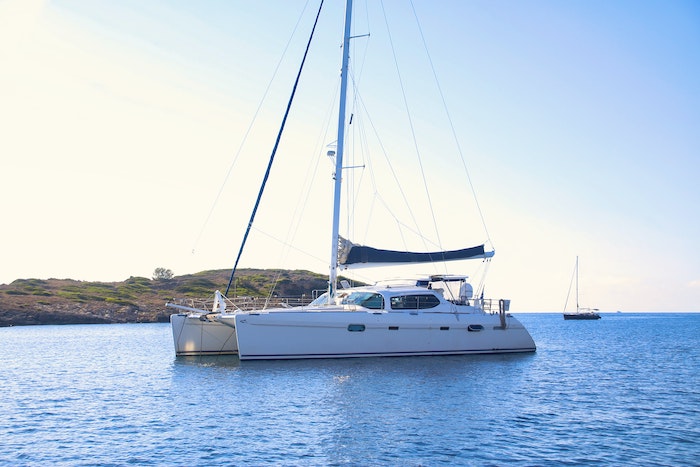 Gran Canaria is an island after all. When you think about an island, we automatically think about boat trip, isn't it? Embark on an excursion to discover the coast of Gran Canaria, watch dolphins and even whales. Yes, it is possible to do that in the Canary Islands.
You see, it's not necessary to go to Hawaii or the Caribbean, we have everything in Europe… You can board a boat right from Las Palmas.
---
4. STAND UP PADDLE
On a stand-up paddle you will be able to explore the stunning coasts of Gran Canaria and access places which wouldn't be possible otherwise. An instructor will explain you all you need to know to practice this fun activity!
---
In conclusion about the best beaches in Gran Canaria
We really enjoyed some of the beaches in Gran Canaria. Las Canteras was stunning and we could go surfing there pretty much every day in winter. Maspalomas was also absolutely stunning and so unique with its impressive dunes. Finally Puerto de Mogán is a complete gem. A trip to Gran Canaria without visiting Puerto de Mogán wouldn't be complete.
However, much of the coast of Gran Canaria has been urbanized by hotels and apartments buildings. It's a bit sad that the government did not try to protect certain areas like they did in Lanzarote for instance thanks to the legacy of Cesar Manrique.
However, some regions of Gran Canaria still remain preserved from mass tourisms. In the north and west of the island. Between Agaete and La Aldea, you can discover many wild beaches where you will sometimes even be alone. There is no sand here, but rather pebble beaches. This whole area of ​​Gran Canaria is classified as a natural park, which de facto prohibits any urbanization. And this is great news!
READ: 20 BEST THINGS TO VISIT IN GRAN CANARIA
All our posts about the Canary Islands can be found here.
HAPPY TRAVELS!
---
Related Posts
20 THINGS TO DO in Gran Canaria: here
PUERTO DE MOGÁN, our favorite place in Gran Canaria: here
TEROR, one of the most charming towns in Gran Canaria: here
MASPALOMAS a unique place in Gran Canaria: here
AGÜIMES, a fantastic historical town in Gran Canaria: here
TEJEDA, the prettiest village in Gran Canaria: here
AGAETE, a gorgeous coastal town in Gran Canaria: here
BEST TIME OF THE YEAR to visit Gran Canaria: here
LAS PALMAS: all you need to know: here
8 REASONS WHY TO VISIT Gran Canaria: here
BEST PLACES TO STAY in Gran Canaria: here
10 BEST BEACHES in the Canary Islands: here
25 BEST THINGS to see in Lanzarote: here
25 AWESOME THINGS to do in Fuerteventura: here
10 BEST BEACHES in Fuerteventura: here
10 BEST BEACHES In Lanzarote: here