WHAT TO DO AT PUERTO DE MOGAN, GRAN CANARIA? IS PUERTO DE MOGAN WORTH VISITING? DAY TRIP TO PUERTO DE MOGAN
Puerto de Mogán is one of the best places in Gran Canaria. It is a village known for its multicolored bougainvillea, colonial architecture, water canals, a beautiful beach and so much more. No wonder why Puerto de Mogán is nicknamed the "Little Venice"!
"Puerto de Mogan, the little Venice of Spain"
We actually fell in love with Puerto de Mogán. For us, it is THE most beautiful place to visit in Gran Canaria. We love the atmosphere, the beautiful harbor with gorgeous boats, all the restaurants and cafes, the beach, and the cliffs in the background. Simply Stunning!
Also, the climate in Puerto de Mogán is often better than the rest of the island, as it's located directly south.
READ: 20 AWESOME THINGS TO VISIT IN GRAN CANARIA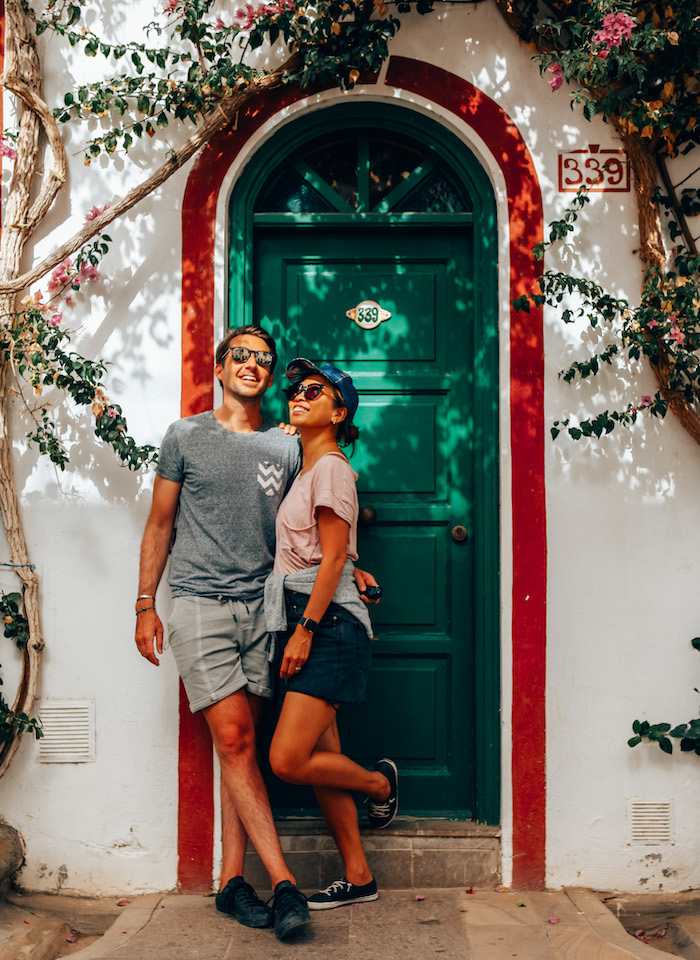 If you are still wondering where to stay in Gran Canaria, we recommend staying at Puerto de Mogán. You can find charming hotels facing the sea. More about it later.
So what can you see in Puerto de Mogán? What are the best places to visit? How long should you spend? We will answer all your questions in this comprehensive guide.
First, check out this teaser about Puerto De Mogán
---
WHAT TO DO IN PUERTO DE MOGAN?
1. Go to the beach
Although Puerto de Mogán is not known for its beach, we were actually pleasantly surprised by the beauty of Playa Puerto De Mogán. The beach is rather secluded and protected by calm water. It's just perfect if you come to Gran Canaria with kids! This beach is super safe.
We also like that there aren't huge hotels surrounding the beach: just nice shops and restaurants and massive cliffs in the background. In Puerto de Mogán, the municipality managed the preserve this place from mass tourism. This is great as sometimes the Canary Islands are sadly overbuilt (we think).
Well in any case, if you plan a visit to Puerto de Mogán, make sure to bring a towel and your swimwear. You gonna love swimming at the beach there.
READ: 10 BEST BEACHES IN GRAN CANARIA
---
2. Check out the traditional colonial houses around the marina
The area of Puerto de Mogán which is attracting so many visitors is at the old marina.
There you can wander through the little streets and bridges over the canal to admire the white houses adorned by stunning bougainvilleas in all colors. At the center of the marina, you will see the main square surrounded by cute little restaurants and cafes.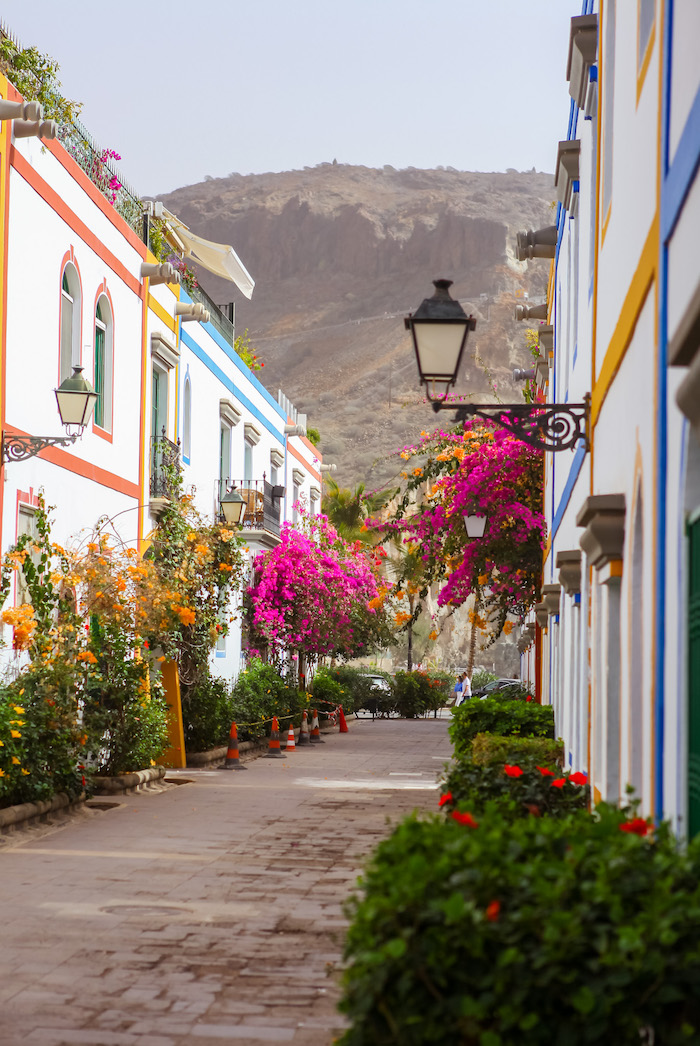 The day we went there, a band was playing at the center of the square. The atmosphere was fantastic. Then you can also admire the beautiful sailboats docked at the marina. If you look at the water you will see huge schools of fish.
The marina is also the starting point for many activities.
---
3. Go on a boat tour to explore the beautiful coast of Gran Canaria
Puerto de Mogan is a great starting point to explore Gran Canaria from the sea. There are a few tours organized, some with snorkeling opportunities such as this one. You can also opt for a more romantic option and sail in the south of Gran Canaria for a few hours. See here.
During your trip, you will be able to explore El Perchel, which is an awesome beach only accessible by boat. Food and drinks are also served on the boat.
Enjoy the trip!
---
4. Go Shopping
Surprisingly along the waterfront promenade, there are lots of great shops with local and international brands. The area is very nice to go shopping as it directly faces the beach.
---
5. Check out the view at Mirador De Puerto De Mogán
To have the best panorama head to Mirador De Puerto De Mogán (location). You can't drive all the way up there. It requires a bit of a climb with more than 200 stairs. However most of the path is shaded, so at least you will be protected from the sun.
The view from up there is stunning though. We highly recommend it. And the view is even more beautiful at sunset.
---
6. Visit Canada de Los Gatos
This place is a hidden archaeological gem in Gran Canaria. The site dates back to 1600 years and is the remains of what was a large coastal settlement a long time ago. From there you can also have a great view of the town.
You can either walk there from the town or drive and park nearby.
Website: here
PHOTO CREDIT: GRAN CANARIA TOURIST WEBSITE
---
Other things to see near Puerto de Mogan
Maspalomas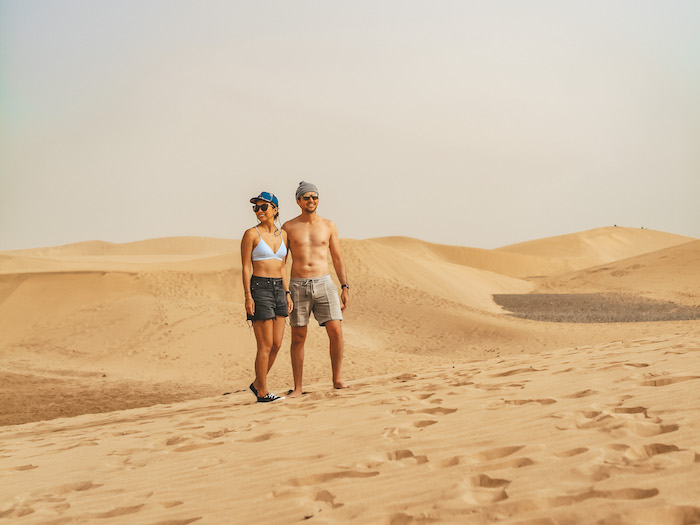 Visiting the Dunes of Maspalomas is certainly the unmissable thing to do in Gran Canaria. For us, we were completely awestruck when we first visited Maspalomas! For miles away, you can only see sand. It definitely felts like we were in the Sahara.
There is a nice promenade which goes through the dunes. It starts at the famous lighthouse called Faro de Maspalomas (location).
Some of the highest dunes are over ten meters high and they spread over more than 400 hectares. They are bordered by a large beach of fine sand. We actually really liked the wide beach in Maspalomas. You can easily spend a day there.
You may also fancy a camel ride while in Maspalomas as it feels like you are in the Sahara. Book here.
Location: here
READ: FULL GUIDE FOR VISITING MASPALOMAS
---
Playa Amadores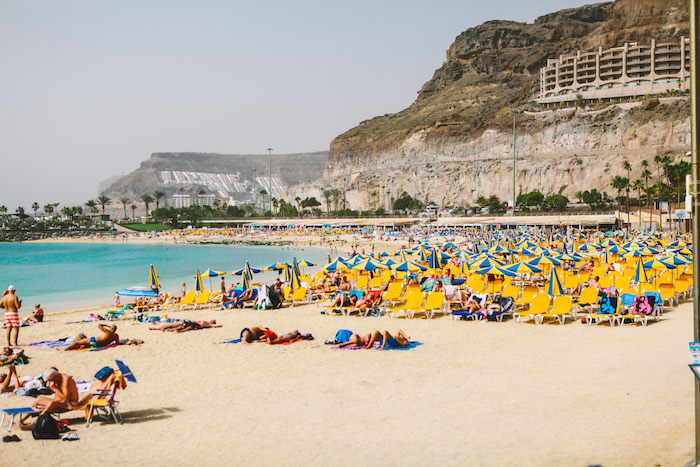 Playa de Amadores, is a sublime beach of white sand with clear and turquoise water. The beach is obviously popular for sunbathing and swimming. Protected by two breakwaters, the sea is calm in Playa de Amadores. This is one of the best beach if you want to swim safely or if you are visiting Gran Canaria with kids. Many hotels are located near Playa de Amadores if you want to make it your base in Gran Canaria.
Location: here
READ: 10 BEST BEACHES IN GRAN CANARIA
---
Barranco de Fataga
Barranco de Fataga is a deep canyon in the center of the island. Head to the Mirador Astronómico de la Degollada de las Yeguas, a viewpoint from which you can admire the beauty of the canyon. No need to hike to get there, you can easily access it by car.
However, if you like hiking, Barranco de Fataga is one of the best spots in Gran Canaria as you hike in the middle of the Canyon with truly impressive landscape around you.
You do not need to visit the Gran Canyon in the US, you have Barranco de Fataga in the Gran Canaria!
Location: here
---
Where to stay in Puerto de Mogán?
At Puerto de Mogán, our favorite hotel by far is Cordial Muelle Viejo. This brand new hotel is directly facing the sea and is located next to the beach right beside a cliff. We highly recommend this place for a perfect holiday in Gran Canaria. Check it out here.
READ: 5 BEST PLACES TO STAY IN GRAN CANARIA
---
How long to visit Puerto de Mogán?
If you are only visiting Puerto de Mogán during your trip to Gran Canaria, then plan at the very least half day to cover most of it. However, if you have enough time, you can easily fit 1 full day in Puerto de Mogán. You can spend a few hours at the beach or join a boat tour.
Making Puerto de Mogán your base when staying in Gran Canaria, is a great idea, as it is strategically located near some of the mains sights. Besides the town get more sun than the rest of the island. Isn't it the reason why you decided to come to Gran Canaria in the first place? Sunshine!
---
In conclusion about Puerto de Mogán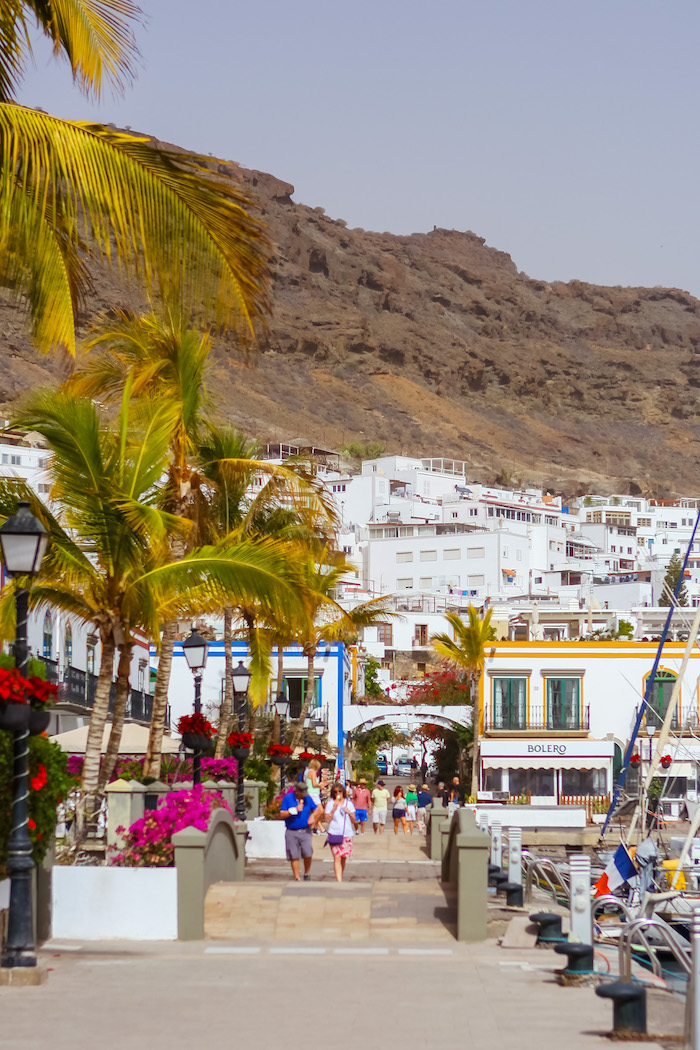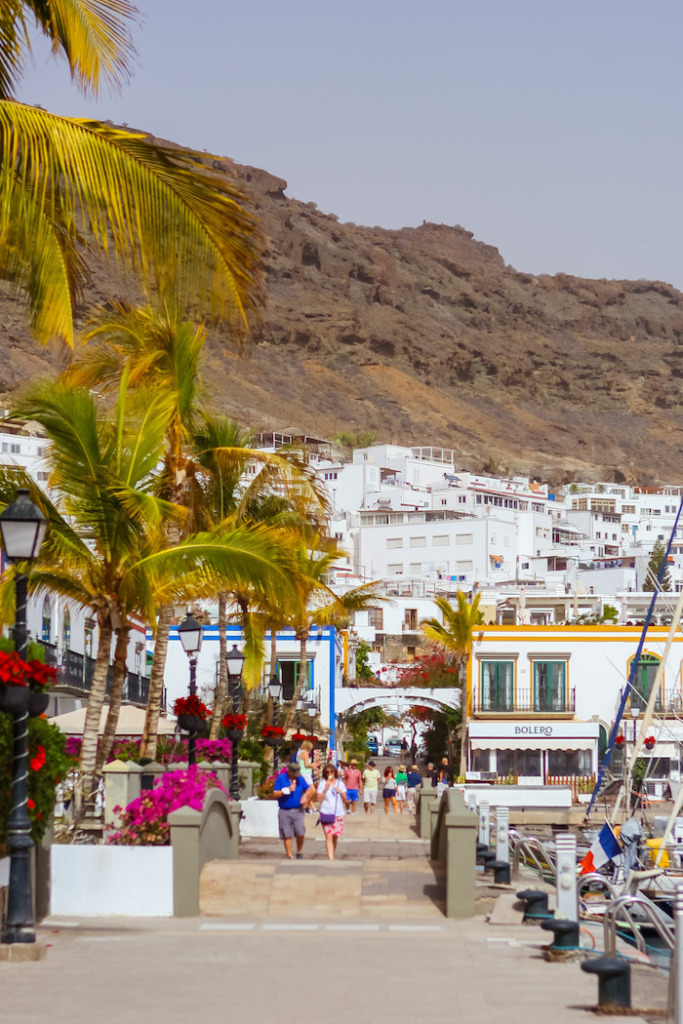 When visiting Gran Canaria for over a month, we completely fell in love with Puerto de Mogán. For us it is the best place to visit on the island but also one of the best places to stay during your trip.
Puerto de Mogán, with its soothing atmosphere and its small white houses wedged between the sea and the cliffs behind, is just stunning. The beach at Puerto de Mogán is also very pleasant. As it is located in the south, it gets more sunny days than the rest of the island. You can easily reach Maspalomas, Playa del Inglés, Fataga and even Pico de las Nieves from there.
We recommend adding Puerto de Mogán to your itinerary when visiting Gran Canaria.
We wrote a full post about things to do in Gran Canaria here to help you prepare for your trip.
If you have any questions about Puerto de Mogánor Gran Canaria, feel free to leave a comment below.
All our posts about the Canary Islands can be found here.
HAPPY TRAVELS!
---
Related Posts
BEST THINGS TO DO IN GRAN CANARIA
EXPLORE MASPALOMAS. IN GRAN CANARIA
VISIT TEROR, A CHARMING VILLAGE IN GRAN CANARIA
BEST PLACES TO STAY. IN GRAN CANARIA
VISIT THE HISTORICAL TOWN OF AGÜIMES
TEJEDA, A TOWN NESTLED IN THE MOUNTAINS
8 REASONS TO VISIT GRAN CANARIA
BEST TIME OF THE YEAR TO VISIT GRAN CANARIA