Las Palmas is one the best cities to visit in the Canary islands. Located in the beautiful island of Gran Canaria, we listed the best things to see in Las Palmas in this post.
Parks, beautiful landscapes, museums and a great climate: Las Palmas is a fantastic city to visit but also to live.
In Las Palmas, you can enjoy stunning beaches with soft sand, clear sea, which guarantees full relaxation. What we also enjoy in Las Palmas, is visiting the traditional district of La Vegueta. After visiting the city, you can also explore the many sights around Las Palmas such as the crater of Caldera de Bandama or the impressive catherdral Parroquia de San Juan Bautista located in Arucas. Both easily accesible by car or public transport. Finally don't miss the fantastic carnival if you visit Las Palmas in February.
We spent nearly 1 month in Gran Canaria exploring every parts of the island. We are happy to share with you, what we think are the best things to do in Las Palmas.
READ: 20 AWESOME THINGS TO VISIT IN GRAN CANARIA
Located in the northeast of Gran Canaria, Las Palmas is the capital and the most populated city of the island. Its origins go back several centuries. It was founded in 1478. Today it is a very dynamic and cosmopolitan city that combines modernity and tradition.
Las Palmas is an ideal destination to spend a holiday whatever the time of year, since its average annual temperature is around 22°C, without exceeding 25°C during the summer months.
Here is our list of the top things to do and see in Las Palmas. Enjoy your trip!
---
1. The famous beach of Las Canteras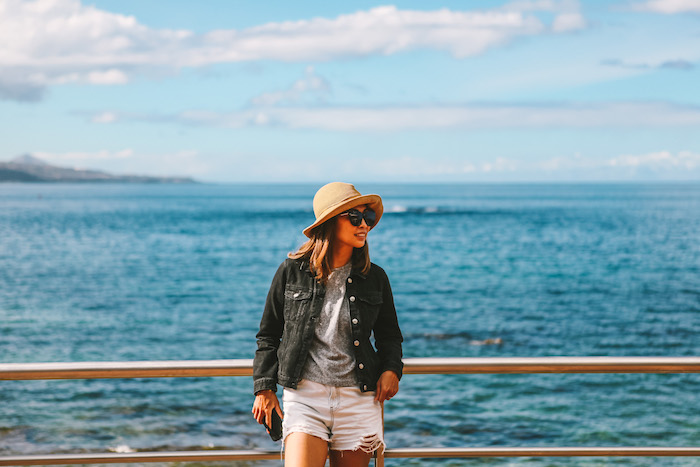 In Las Palmas, you can find one of the most famous and most beautiful urban beaches in Europe: Las Canteras. Indeed Las Canteras is located right in the city. You will find a lively atmosphere along the 2 kilometers long beach.
Plenty of activities are possible at Las Canteras. Of course sunbathing is the favorite ones amongst tourists. But Las Canteras is also one of the most famous beach for surfing. At the west part of the beach, you can find the famous surf spot called La Cicer.
Along Las Canteras promenade you can enjoy many restaurants, bars, cafes, open all day long.
Besides Las Canteras, you can also explore the beaches of Las Alcaravaneras, El Confital and San Cristobal. All extremely beautiful.
Location: here
READ: 10 BEST BEACHES IN GRAN CANARIA
---
2. Auditorium Alfredo Kraus
If you visit Las Canteras, you can't miss this building at the very end of the beach on the west side.
It is a modern structure and the last work of the architect Oscar Tusquets. This building is dedicated to the Canarian tenor Alfredo Kraus. The structure was designed as a place for concerts, meetings, conferences and seminars. The opening date was December 5, 1997, after 4 years of constructions.
At the start of each year, some of the world's most important orchestras gather here for the Canary Islands Music Festival. Throughout the year, the Auditorium organizes its own concert program, as well as those of the Philharmonic Orchestra of Las Palmas and the annual Jazz and Guitar Festival: in total, more than 100 concerts of music from all sorts are arranged.
Check out the full program here. Assisting to one of the concert during your visit to Las Palmas could be a great idea.
---
3. LA VEGUETA HISTORICAL DISTRICT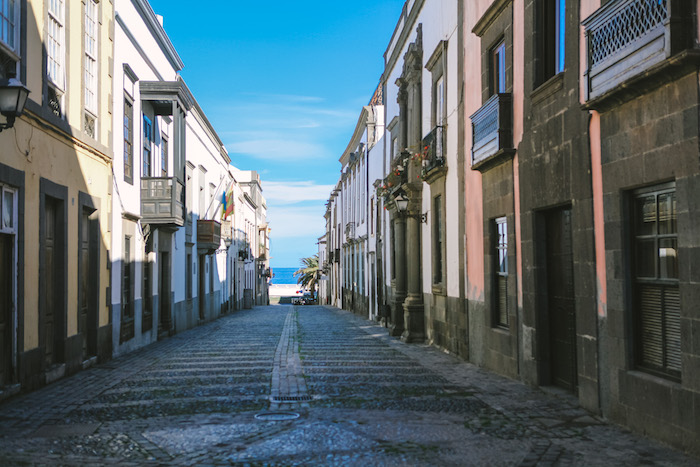 The district of La Vegueta will make you relive the medieval atmosphere thanks to its narrow streets and its noble palaces which contain the styles of the 18th to the 20th century. Many merchant families not only Spanish, but also Danish, Maltese and English settled here long time ago. It was the original heart of Las Palmas. Check out the main square of San Antonio Abad at the heart of La Vegueta.
Here you can admire many cultural sight such as the house of Christopher Columbus (Casa de Colón). There are also four historic houses, ranging from the 16th to the 18th century: among them was the former residence of the governor. Another house was the residence to Alfredo Kraus, whom we just talked about.
Location: here
---
4. Christopher Columbus (Casa de Colón) museum
Visiting the house-museum of Christopher Columbus is one of the best things to do in Las Palmas. During his conquest of America, Christopher Columbus made a stopover in Las Palmas and lived in a house located in the historic center of La Vegueta. Today this house is converted into a museum, where you can see a rich collection of tools and navigation maps. The other rooms in the museum trace the voyages of Christopher Columbus.
Entrance: Free
Website: here
Opening hours: 10:00 – 18:00 Monday to Saturday and 10:00 – 15:00 on Sunday
Location: here
---
5. Go shopping in Triana District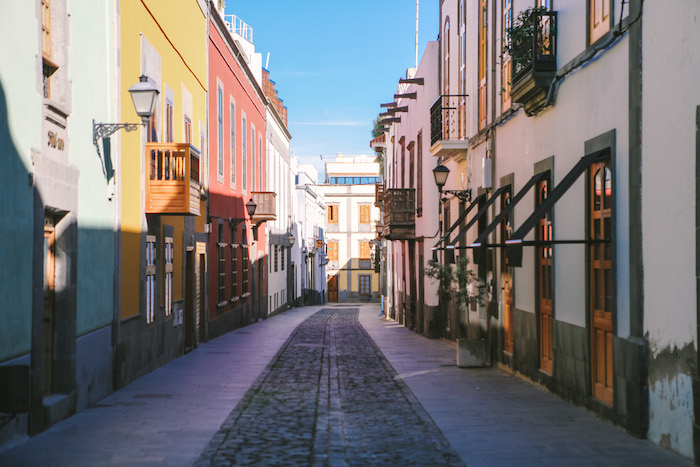 Triana, the other historic district of Las Palmas, dates only from the 19th century. It has many bars and restaurants, San Telmo Park, and especially Calle Triana, a busy shopping street.
Both distrcits La Vegueta and Triana are located side to side. So you can easily visit both areas in one go.
Location: here
---
6. Plaza Santa Ana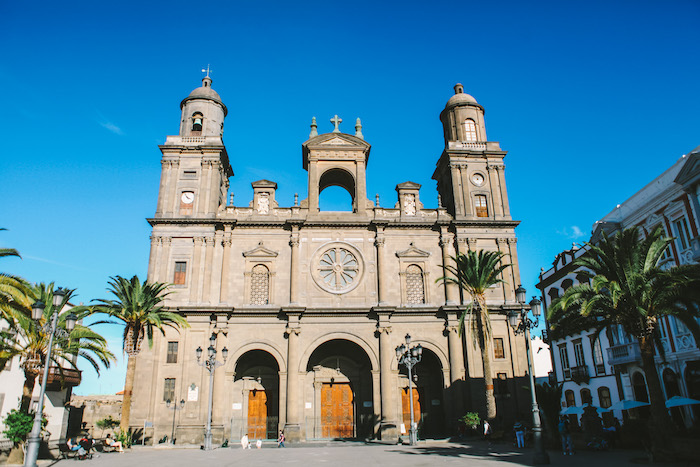 Plaza Santa Ana is a beautiful square located in the heart of Las Palmas. Another must-sees in the city. There you will find Las Palmas' cathedral.
The Cathedral of Santa Anna is the first one built by Spanish royalty after the conquest of Gran Canaria in 1478. The styles are different and range from neoclassical to Gothic and Renaissance. The works began in 1500 and were not completed until four centuries later with the intervention of many different architects and artists.
From the tower of the Cathedral you will have a magnificient view of Las Palmas. You can reach it with an elevator. In the south wing is the Diocesan Museum of Sacred Art, which exhibits several valuable objects, as well as a remarkable and varied collection of paintings, ranging from Dutch masters to Spanish sculptures, which have been collected over the course of the four hundred last years.
Location: here
---
7. Museo Canario
Canario Museo of Las Palmas, is fantastic if you are curious about the history of the Canary Islands. You can learn about the archaeological discoveries that have been made on the island. The museum has varied exhibitions of pre-Hispanic objects from 500 BC to 1400. You can even see a collection of mummies and skeletons of aborigines.
Opening hours: 10AM–8PM weekdays and 10AM – 2PM on weekends
Website: here
Location: here
---
8. Atlantic Center of Modern Art
Still in the Vegueta district, you can check out the CAAM (Atlantic Center of Modern Art), a museum of contemporary art. Its particularity is the openness to three continents (Europe, Africa and America) in a course that combines different forms of art: painting, drawing, sculpture, graphics. The projects are linked by the theme of critical thinking.
The richest collection is linked to the works of Canarian artists, which revolve around the figure of Lujan Pérez and his school of the 1930s and 1940s. The library contains more than 57,000 art-related volumes, with a large section devoted to African and Latin American artists. There is also a special shop where you can find all kinds of souvenirs, ranging from postcards to costume, jewelry, decorations or bags.
Opening hours: 10AM–8PM weekdays and 10AM – 2PM on weekends
Website: here
Location: here
Admission: free
---
9. SAN CRISTOBAL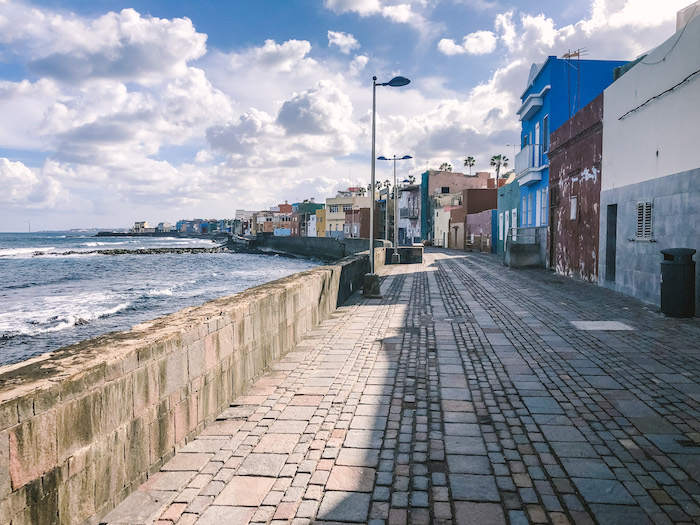 The district of San Cristobal is the ideal place to enjoy the sun, take a walk with the family, have lunch or have a drink outdoor. There are plenty of small bars, restaurants and shops full of charm in San Cristobal. There, each house is painted in a different color. It makes the promenade along the sea really beautiful. We really liked our walk in San Cristobal.
Location: here
---
10. PARQUE DOROMAS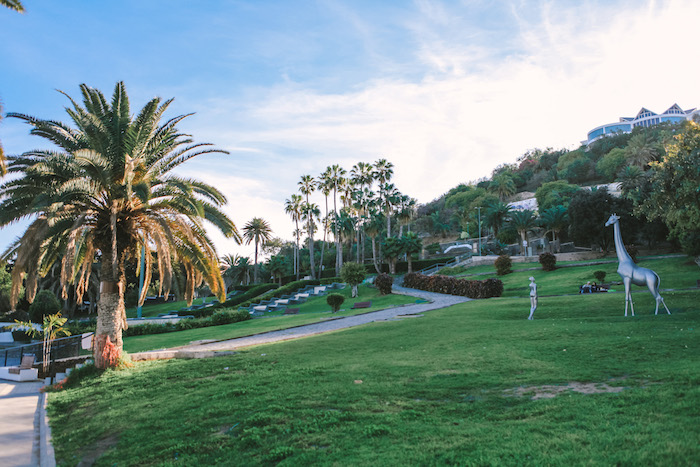 What could be better than resting in the middle of nature after a full day of explorations in the city? Doramas Park, located in the Ciudad Jardin district, is one of the most popular places in Las Palmas. Doramas Park is a very extensive green area, characterized by a variety of vegetation, including palm trees and native species. Its cascading fountains are particularly striking.
Sunday is the day when the park is filled with color and families. Street performances are organized with artists and puppet theaters. The main attraction is the Pueblo Canario, a sort of open-air museum.
You can discover the local traditions and admire a village with typical houses. The main square is transformed into a stage where folk groups and dancers perform, often in costume.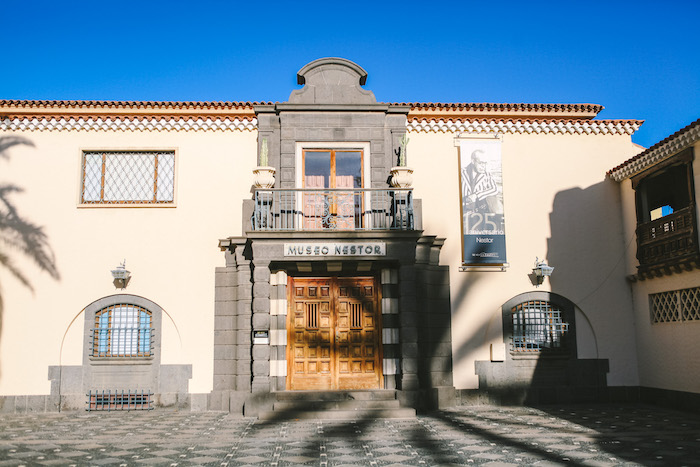 In the same area make sure to also check out Museo Nestor. The museum showcases the work of Nestor Martín-Fernandez de la Torre, one of the most famous Canarian painters and the main representative of modernism in the Canary Islands.
Location: here
It is in Parque Doromas, that you can find one of the most historical and most luxurious hotel in Las Palmas. The hotel is called Santa Catalina, a Royal Hideaway Hotel. The rooftop pool is breathtaking. Book here
---
11. PLAYA DEL CONFITAL
Playa del Confital is located on a peninsula at the edge of Las Palmas. You can go a beautiful hike around the Peninsula and discover Playa Del Confital. The beach is not suitable for swimming as it has a reef. However, it is one of the most famous surf spot in Europe!
Once you reach Playa Del Confital, continue on the main trail called Lomo de los dos morros. From there you can access multiple fantastic view points. If you want to escape the city for a day, head to Playa Del Confital!
Location: here
Our next recommendations of things to do in Las Palmas, are located outside the city accessible by car or public transport.
---
12. Caldera de Bandama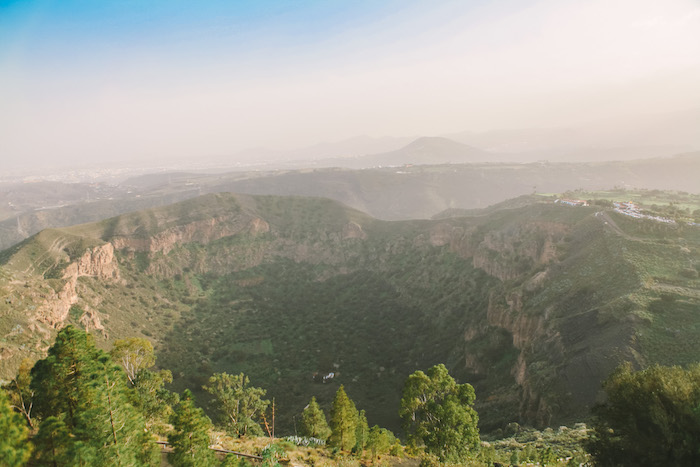 Get ready to discover unique landscapes at Caldera de Bandama. The Caldera de Bandama, about 20 minutes from the center of Las Palmas, is a crater more than a thousand meters in diameter with a peak of more than 500 meters from which one can have a breathtaking view.
For hiking enthusiasts, the route is about 2 km, between ponds, caves and lush vegetation. You will also find in front of you vineyards and houses with hundreds of years of history. Bandama's name is linked to a Flemish farmer, David Van Damme, who bought part of the land near the crater and turned it into a wine-growing area.
Location: here
---
13. Arucas
The town of Arucas is located about 12 kilometers from Las Palmas, on the side of a mountain. The old town is particularly interesting, thanks to its stunning Cathedral, called Parroquia de San Juan Bautista de Arucas.
In Arucas, you can also visit several traditional and historical houses, as well as the rum factory. Inside there is a particularly famous wine cellar, visited by many famous people who leave their signature on the barrels. The Marquise's house, built in 1880, is also one of the popular places to visit in this town. It contains various pieces of furniture and objects of particular value and can be visited.
Location: here
---
14. Jardín Botánico Canario Viera y Clavijo
This beautiful botanical garden is located just a few minutes from Las Palmas. There you can see a beautiful cactus garden, many flowers and native plants as well as lakes and a waterfall. There is parking space above and below the garden. The entrance to the park if free.
Location: here
---
15. PARTICIPATE IN LAS PALMAS CARNIVAL
The Carnival of Las Palmas de Gran Canaria is a very old tradition. After the Spaniards conquest, in the 15th and 16th centuries, citizens of very diverse origins settled on the island. It was the Genovese inhabitants of Las Palmas who imported the passion for mask dances and the greatest promoters, for years, of this type of party.
Later, Franco's Spanish government decided to ban carnivals. In 1976, the Carnival of Las Palmas de Gran Canaria took over the streets thanks to Manolo García, a resident who obtained permission from the civil governor to celebrate it. Since then, the Carnival has continued to grow in popularity. Today it is an important part of the culture and economy of the whole island.
The carnival is usually held in February or March every year. You can check the official website here.
---
BEST ACTIVITIES IN LAS PALMAS
1. SURFING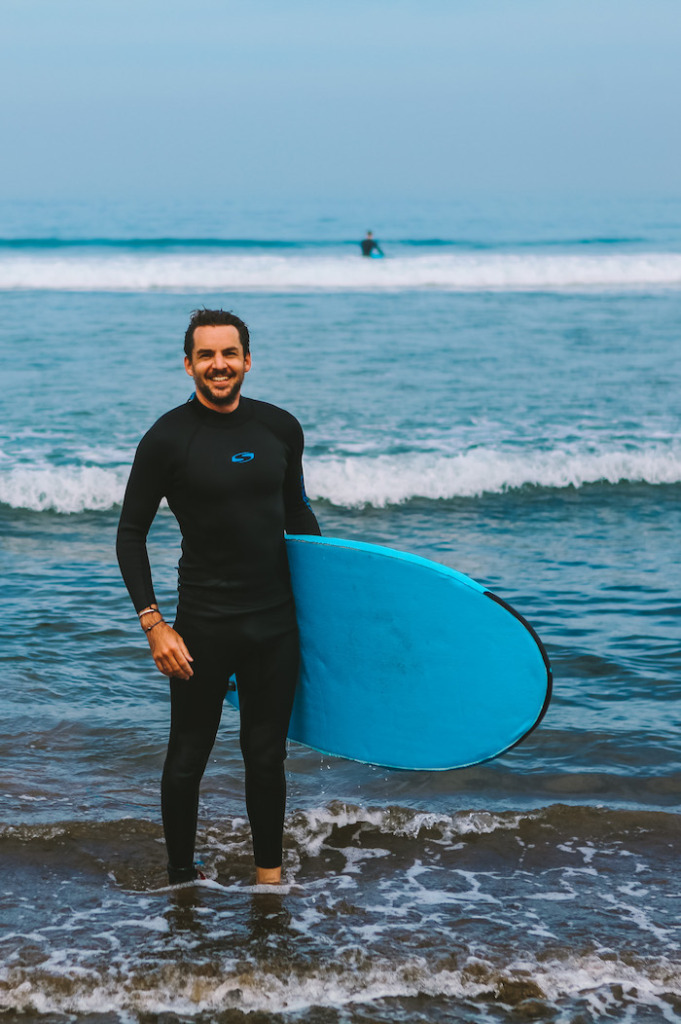 Gran Canaria is not as well known as Fuerteventura or Tenerife for surfing, but the island has some great spots nevertheless. In fact one of the best surfing spots in Gran Canaria, is right in its capital, Las Palmas. La Cicer is a perfect place to learn how to surf. A little further on the edge of Las Palmas, you also have El Confital, where it's quite common to even find barrels. Surf competitions are often held in this spot.
You can easily rent surf boards in Las Palmas. There are many shops right by the beach of Las Canteras.
---
2. SNORKELING
With good weather all year round, 300 days of sunshine and little rain, there is no specific snorkeling season in Gran Canaria. Whether you stay in summer or winter, you can join a snorkeling trip from Las Palmas.
> BOOK YOUR SNORKELING TRIP HERE
---
3. GO ON A BOAT TRIP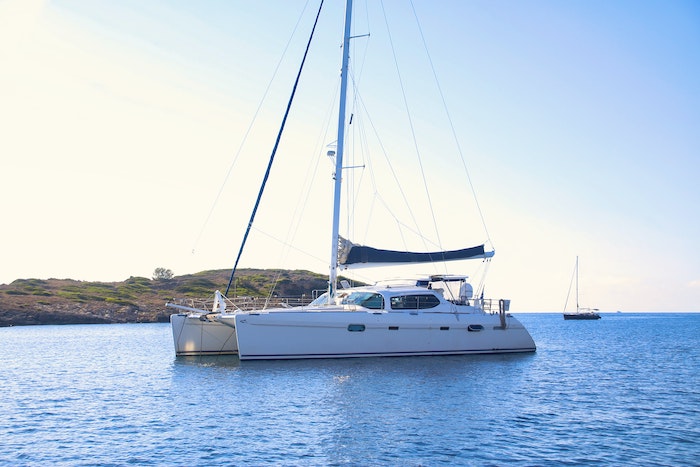 Gran Canaria is an island after all. When you think about an island, we automatically think about boat trip, isn't it? Embark on an excursion to discover the coast of Gran Canaria, watch dolphins and even whales. Yes, it is possible to do that in the Canary Islands.
You see, it's not necessary to go to Hawaii or the Caribbean, we have everything in Europe… You can board a boat right from Las Palmas.
---
4. VISIT POEMA DEL MAR
This is one of the newest attractions in Las Palmas, the aquarium Poema del Mar. If you have kids, make sure to bring them to this fantastic places, where you can admire sharks, manta rays and many other fishes.
> BOOK YOUR TICKETS HERE TO SKIP TO LINE
---
Where to stay in Las Palmas de Gran Canaria?
Las Palmas is a place that is central to the historical and contemporary culture of the Canary Islands. In the city, you can discover a surprisingly rich historical heritage, especially in the district of Vegueta, a colonial district which houses the Cathedral of Saint Anne and the House of Christopher Columbus.
During the first half of our trip to Gran Canaria we decided to stay in Las Palmas. As you may already know, we always look for places where we can surf nearby. And Las Palmas has 2 of the best surfing spots in Gran Canaria, which was perfect for us.
We rented a car in Las Palmas, and it was perfect to drive around the island and explore many places. So if you want something convenient during your stay in Gran Canaria, Las Palmas can be a great place to stay.
In Las Palmas we stayed in a brand new hotel called ART LAS PALMAS MUR HOTEL. We totally loved it. It has such a great value for money and is located close to the main beach of Las Palmas. You can book here.
Another beautiful hotel in Las Palmas, probably the most charming one, is Santa Catalina, a Royal Hideaway Hotel. This luxury hotel is located near the harbour of Las Palmas in the historical center of the city. The rooftop pool is breathtaking. If your budget allows it, then don't hesitate, this is one of the best places in Las Palmas. Book here.
READ: 5 BEST PLACES TO STAY IN GRAN CANARIA
---
In conclusion about the best things to do in Las Palmas
We hope that you enjoyed reading this post. While writing it, all our great memories from Gran Canaria came back. We often talk about how great our trip to Gran Canaria was.
Although we heard mixed feedback about Las Palmas, we actually really liked this place. It's a great mix of urban life and nature with the Las Canteras beach.
READ: 20 BEST THINGS TO VISIT IN GRAN CANARIA
If you have any question about Las Palmas, feel free to leave a comment below.
All our posts about the Canary Islands can be found here.
HAPPY TRAVELS!
---
Related Posts
20 THINGS TO DO in Gran Canaria: here
PUERTO DE MOGÁN, our favorite place in Gran Canaria: here
TEROR, one of the most charming towns in Gran Canaria: here
MASPALOMAS a unique place in Gran Canaria: here
AGÜIMES, a fantastic historical town in Gran Canaria: here
TEJEDA, the prettiest village in Gran Canaria: here
AGAETE, a gorgeous coastal town in Gran Canaria: here
BEST TIME OF THE YEAR to visit Gran Canaria: here
8 REASONS WHY TO VISIT Gran Canaria: here
BEST PLACES TO STAY in Gran Canaria: here
25 BEST THINGS to see in Lanzarote: here
25 AWESOME THINGS to do in Fuerteventura: here
10 BEST BEACHES in Gran Canaria: here