WHAT TO DO IN COSTA ADEJE IN TENERIFE? IS COSTA ADEJE WORTH VISITING? IS COSTA ADEJE A GOOD PLACE TO STAY IN TENERIFE?
The seaside resort of Costa Adeje is one of the best places to stay and visit in Tenerife. This is where you will find the most luxurious boutiques and hotels.
Costa Adeje is one of the most popular places in Tenerife
Here you can expect long sandy beaches, shopping, water sports, restaurants, clubs, casinos, and other activities such as a 40-hectare golf course or a 20-hectare water park.
For more info about Tenerife, you can also read the 25 BEST THINGS TO SEE IN TENERIFE.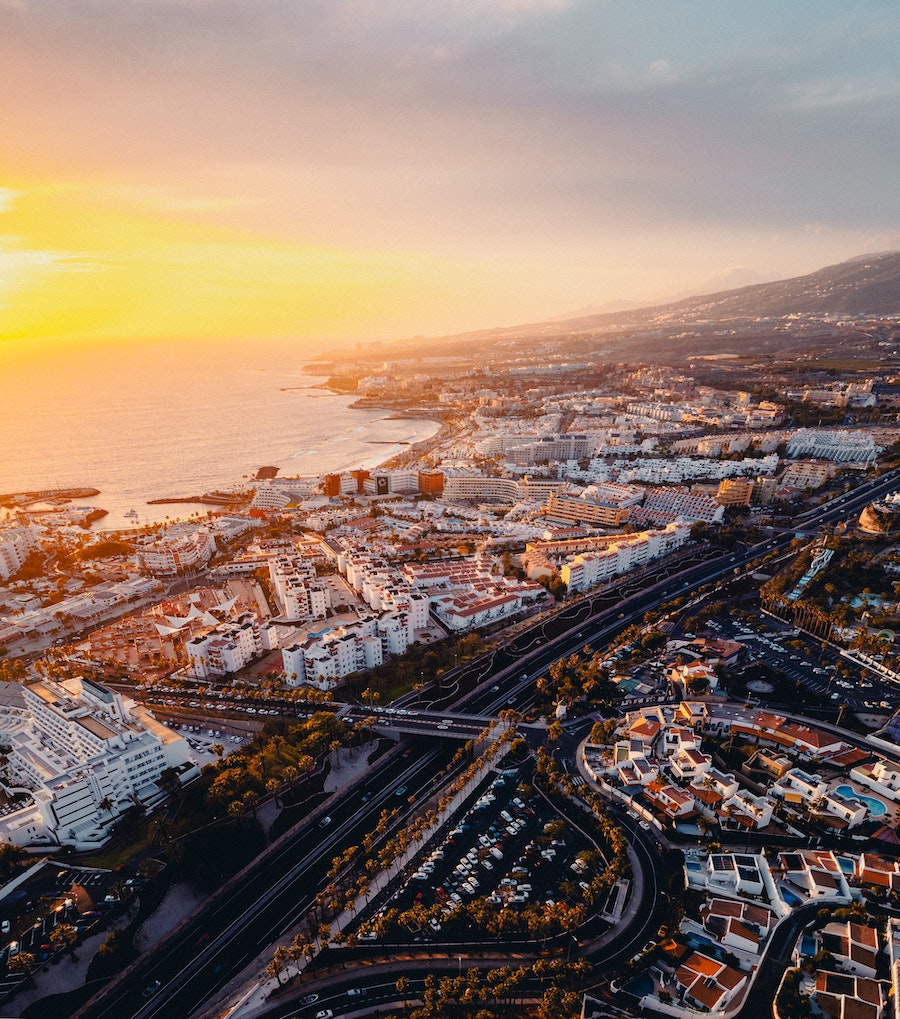 Quick facts about Costa Adeje in Tenerife:
Costa Adeje is known for having some of the most beautiful beaches in Tenerife
There are many luxury resorts in Costa Adeje including fantastic facilities
Costa Adeje is a popular destination for golf enthusiasts.
You can have fun at Siam Park one of the world's most renowned water parks
It is possible to go on a Whale and Dolphin Watching Tour
Costa Adeje is also a shopping and fine-dining paradise
There are a lot more things to discover about Costa Adeje in Tenerife, which we listed in this post!
---
Here is a teaser about Costa Adeje, which will make you even more eager to visit!
---
BEST THINGS TO DO IN COSTA ADEJE?
1. Playa del Duque
This 400-meter-long beach of golden sand is our favorite beach in Costa Adeje and perhaps one of our favorites in Tenerife. The beach is bordered by the most luxurious hotels in Tenerife such as El Mirador as well as several bars, restaurants, and shops.
Playa del Duque is undoubtedly one of the best beaches in Tenerife. We listed the 10 BEST BEACHES IN TENERIFE HERE.
Location: here
OTHER FUN ACTIVITIES:
PARAGLIDING ON TOP OF COSTA ADEJE
CATAMARAN TRIP TO WATCH DOLPHINS AROUND COSTA ADEJE
---
2. Playa Fañabe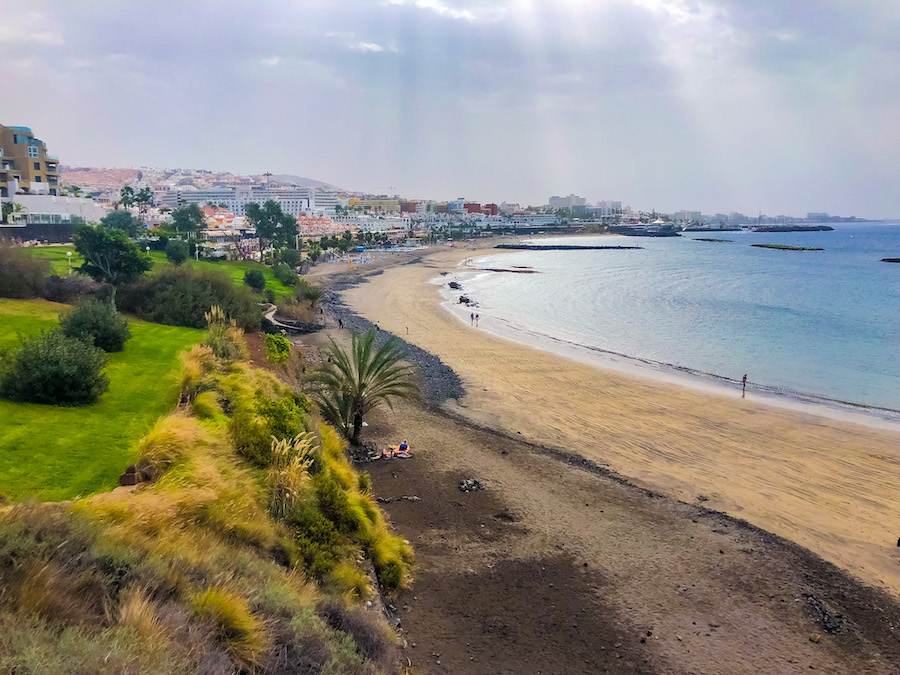 Playa Fañabe is one of the most popular beaches in Tenerife. This 600-meter-long beach is bordered by a multitude of bars, restaurants, shops, and other attractions. It is therefore one of the busiest beaches in Tenerife.
Location: here
READ: BEST TIME TO VISIT TENERIFE
---
3. El Duque Castle
Ok this is still a bit of a mystery as to who owns this place. Between Playa Del Duque and Playa Fañabe, you can admire a huge and beautiful mansion by the sea.
There are many rumors about its owner. Some say it used to be belonged to Elvis Presley, or Michael Jackson, some say Elton John, Liz Taylor, Richard Burton, Ron Atkinson and we also heard some saying to it belongs to the King of Spain, Juan Carlos. In fact, we still don't know…
Well, if you ever to find out the true story about this place, leave a comment below. We are really curious about it! We asked many locals working in the area, and every time we got a different answer… For now, you can watch the video above for a better look at this beautiful place. Unfortunately, it is not open to the public…
Location: here
---
4. Javier Perez Ramos sculpture and Del Duque's viewpoint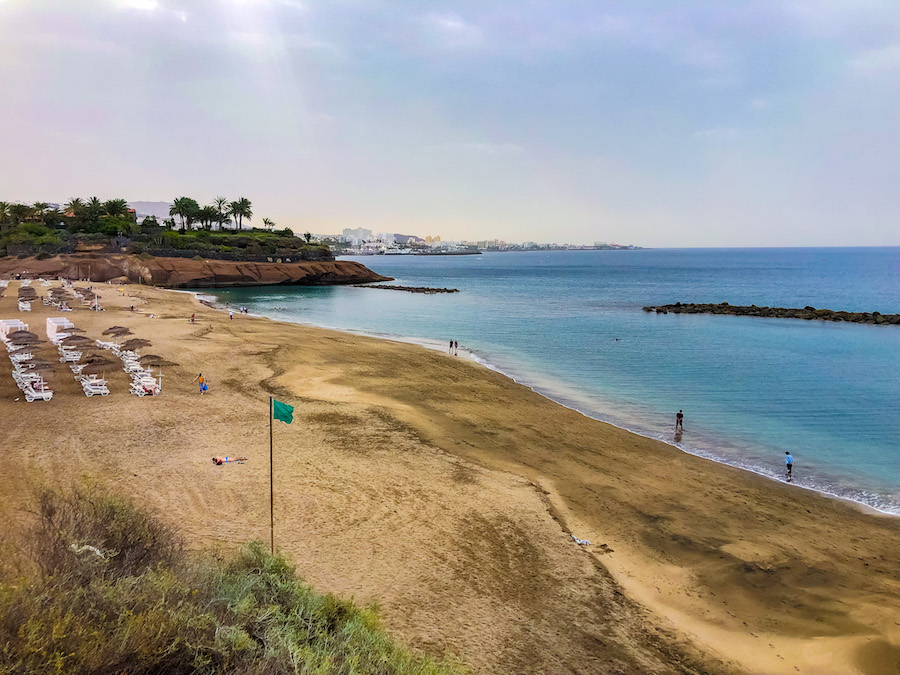 Near Playa del Duque you can see the sculpture Javier Perez Ramos. This sculpture pays homage to a 31-year-old lifeguard. He was here, a few meters offshore, when he died in 1998 while trying to save a tourist caught in a raging sea.
From there, you also have a fabulous viewpoint of the beaches in Costa Adeje.
Location: here
---
5. Playa de la Pinta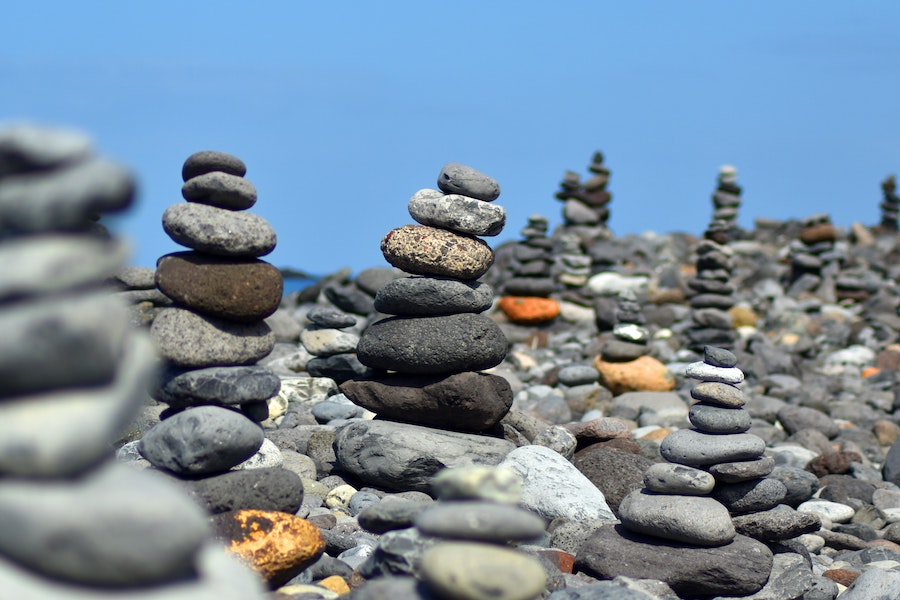 This 180-meter-long beach is located next to Puerto Colón, one of Tenerife's main marinas. It is a golden sand beach. Thanks to the installation of the breakwater, the water is much calmer in this area. Thus it is an ideal beach to come with children. The beach is bordered by many restaurants and shops.
Location: here
---
6. La Caleta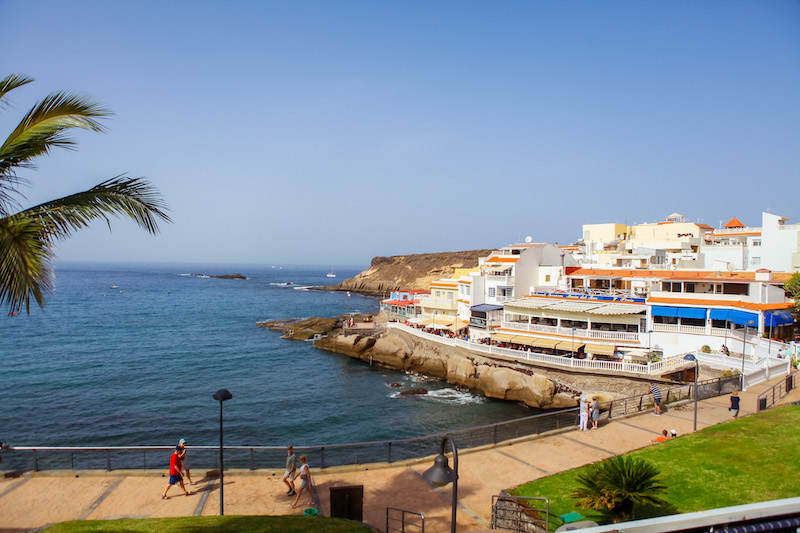 The charming fishing village of La Caleta is located right next to Costa Adeje. A short walk from Costa Adeje will get you there. Not many people are aware of this hidden gem in Tenerife. For us, La Caleta is actually one of our favorite places to visit.
La Caleta is a fishing village, which today has transformed itself into Tenerife's gastronomic hotspot, especially for seafood lovers. People head to La Caleta to sample the best seafood on the island, savor local wines, and enjoy a relaxed atmosphere.
Behind the mountains hide magnificent beaches, a little more north to La Caleta, accessible on foot.
The first beach you will see is Playa Los Morteros – which a few years ago only a few locals knew about it. After Playa de Los Morteros, you will arrive at Playa Diego Hernandez where you will have to descend a rocky and steep path to reach it. Playa Diego Hernandez has been repeatedly voted one of the most beautiful beaches in Tenerife. And yes, we absolutely agree with that! It is stunning.
Location: here
---
7. Siam Park
Siam Park is certainly the most impressive water park in Europe. Located in Costa Adeje, it is one of the main attractions in Tenerife.
The whole park is set in a Thai theme. It has 15 attractions ranging from relaxation to thrills. Giant slides, floating market, beaches, and restaurants, everything has been thought out so that you can live the most incredible experience during your visit.
Location: here
Tickets: book here
---
8. Golf at Costa Adeje
This 40-hectare golf has two courses, 18 and 9 holes. It was built on former banana land. Around the golf you can see 78 Canarian-style villas, the Suite Villa Marina hotel is located inside the golf course itself (more information here about the hotel).
Location: here
Golf Costa Adeje website: here
---
9. Siam Mall
This shopping center is located right next to Siam Park, Tenerife's largest water park. The shopping center has two floors, including the cafés and restaurants. Among the shops, there are independent boutiques as well as some big brands, such as H&M and Zara.
Location: here
Website: here
---
10. Diving with turtles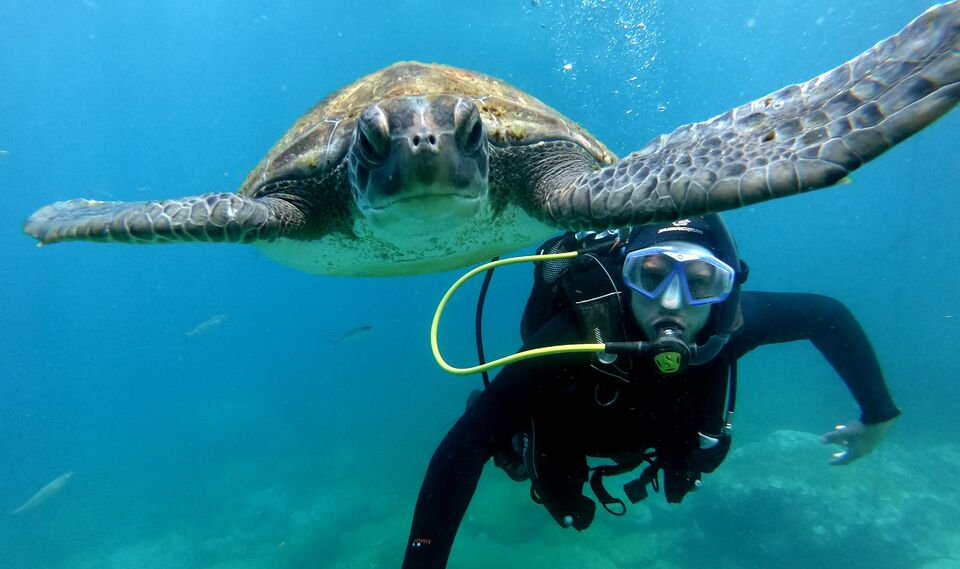 Yes, you read that right! You can see turtles in the wild in Tenerife! If you are lucky you may even see rays! And if you've never been diving before, no worries, you can do it with an instructor who will accompany you the entire time underwater. Besides the water is only 7 meters deep in this area.
To know more about diving with turtles, check out this link.
---
11. Go sailing and try to spot dolphins
In the Canary Islands it is very common to spot dolphins and whales. From Costa Adeje you can board a beautiful catamaran from Costa Adeje and go sailing for a few hours. If you are lucky you will be able to see dolphins and whales.
In Summer the boat will even stop for you to go snorkeling. This is one of the best experiences in Costa Adeje.
---
12. Take a day trip to visit La Gomera
The Canary Islands are full of surprises. This what we noticed after our almost 3 months trip through the archipelago. Each of the Canary Islands are stunning. From Tenerife, you can actually go on a day trip to La Gomera, one of the islands part of the Canary.
La Gomera is much less developed and much less touristy compared to the other islands such as Gran Canaria, Fuerteventura, Lanzarote and of course Tenerife. In La Gomera you can enjoy breathtaking views at Palmarejo viewpoint and immerse yourself back to nature at the Garajonay National Park.
La Gomera is a stunning island.
READ: FULL GUIDE FOR VISITING THE CANARY ISLANDS
---
WHERE TO STAY IN COSTA ADEJE?
Costa Adeje is one of the main tourist destination in Tenerife. What we like about Costa Adeje is the beautiful beaches right in front of the main resorts. Especially Playa del Duque.
Costa Adeje is perfect for families as you will find many things to do in the area. For a couple or for someone who wants something more quiet then La Caleta right next to Costa Adeje is another great place to stay in Tenerife.
Our favorite hotel is the Royal Hideaway. This brand-new hotel offers modern amenities and one of the best views in Tenerife.
Our Recommended Hotels:
$$$$ – Royal Hideaway Corales Beach – Adults Only (La Caleta)
$$$ – Hotel Riu Palace Tenerife
$$ – H10 Costa Adeje
---
FINAL THOUGHTS – IS COSTA ADEJE WORTH IT?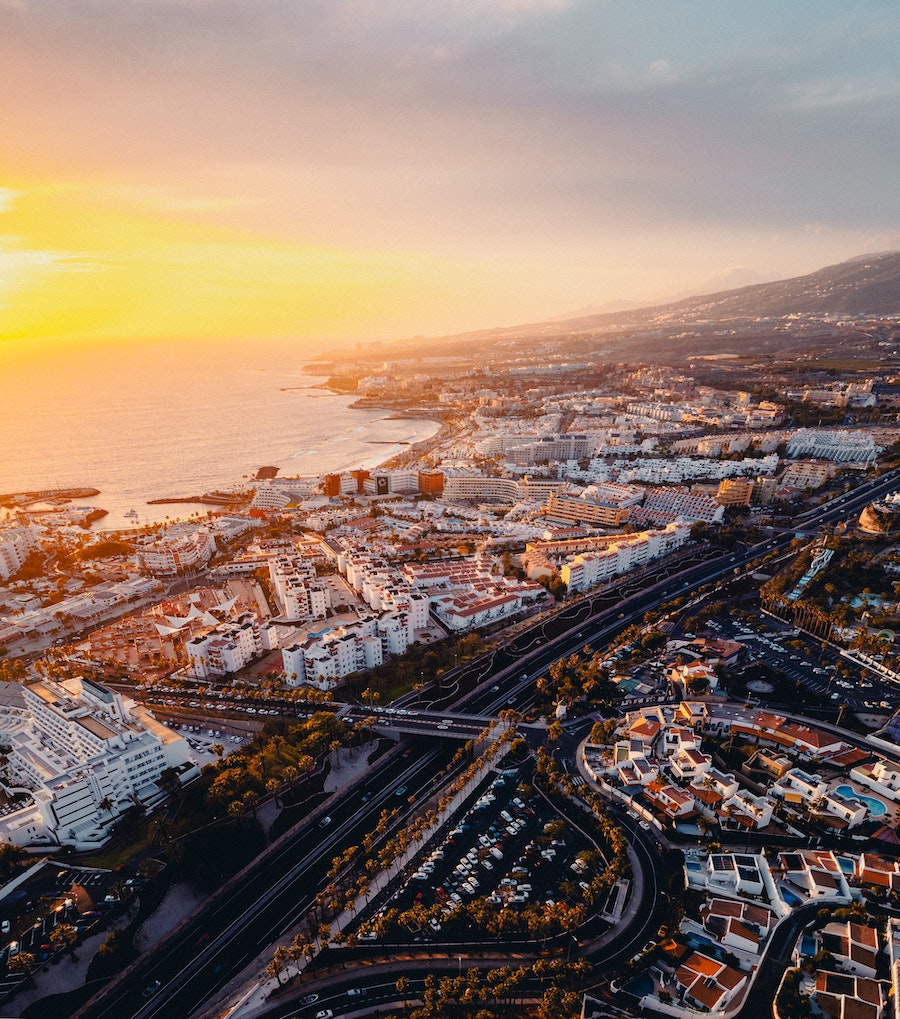 Costa Adeje is one of the best places to stay in Tenerife. It is only 20min from the South Airport and it is near the main attractions on the island, such as Mount Teide, Los Gigantes, Masca etc. From there you can also reach Puerto de la Cruz in 1 hour.
We enjoyed our stay in Costa Adeje a lot. We combined fun activities with lazy days at the beach. It was the perfect combination.
For more information on the best things to do and see in Tenerife, check out this post: 25 AWESOME THINGS TO DO AND SEE IN TENERIFE
Tenerife is a great destination to travel to. No wonder, why it is one of the most popular islands in the Canary!
If you have any questions about Tenerife or Costa Adeje, feel free to leave a comment below.
All our posts about the Canary Islands can be found here.
HAPPY TRAVELS!
---
RELATED POSTS
AWESOME THINGS TO DO IN PUERTO DE LA CRUZ, TENERIFE
DISCOVER MASCA, THE MOST REMOTE VILLAGE IN TENERIFE
FULL GUIDE TO HIKE AT MOUNT TEIDE
EXPLORE SAN CRISTÓBAL DE LA LAGUNA IN TENERIFE
COSTA ADEJE, ONE OF THE BEST PLACES TO STAY IN TENERIFE
VISIT THE IMPRESSIVE LANDSCAPE AT LOS GIGANTES IN TENERIFE
GARACHICO, ONE OF THE PRETTIEST TOWNS IN TENERIFE
TOP 8 REASONS WHY YOU SHOULD VISIT TENERIFE