Agüimes is a historic and charming town in Gran Canaria. The very picturesque and well-preserved center, with narrow medieval streets, orange and yellow houses, dominated by the two large towers of the Parroquia de San Sebastián make Agüimes one of the must-see in Gran Canaria.
We highly recommend adding Agüimes to your itinerary when visiting the island. Agüimes is one of the best things to see in Gran Canaria (full list of best things to see here). Agüimes' historical center was declared a Historic-Artistic Monument, which contains works by local artists such as Luján Pérez del Moro.
We visited Agüimes on our way back from Guayadeque Ravine, another incredible things to see in Gran Canaria.
READ: 20 AWESOME THINGS TO VISIT IN GRAN CANARIA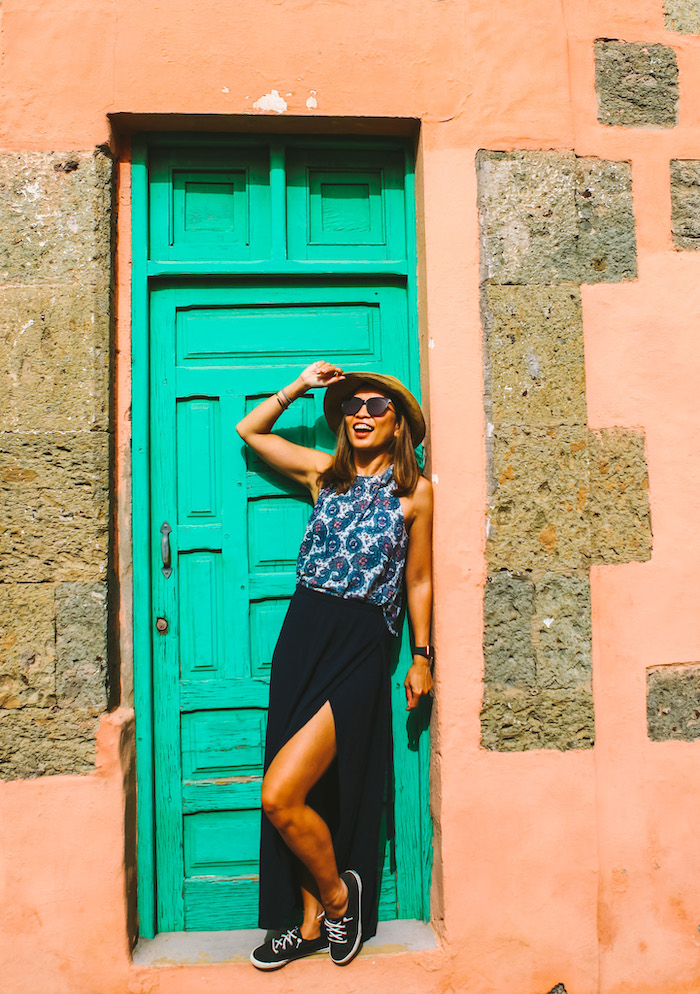 Located southeast from Las Palmas, Agüimes was one of the first settlements after the conquest of the island by the Spaniards in 1491. Agüimes has seen over the past centuries many of its inhabitants leave for the American continent. Those days are over, as prosperity has arrived through the optimal use of its water resources.
Since the 16th century, sugar cane, tomatoes and cucumbers have been planted. And there is a beautiful church to visit, the Church of San Sebastian. You will also see many local artists and lots of sculpture displayed all around the town.
Agüimes in Gran Canaria is definitely worth a visit.
So what can you see in Agüimes? What are the best places to visit? How long should you spend? We will answer all your questions in this comprehensive guide.
---
1. Start your visit with the Church of San Sebastián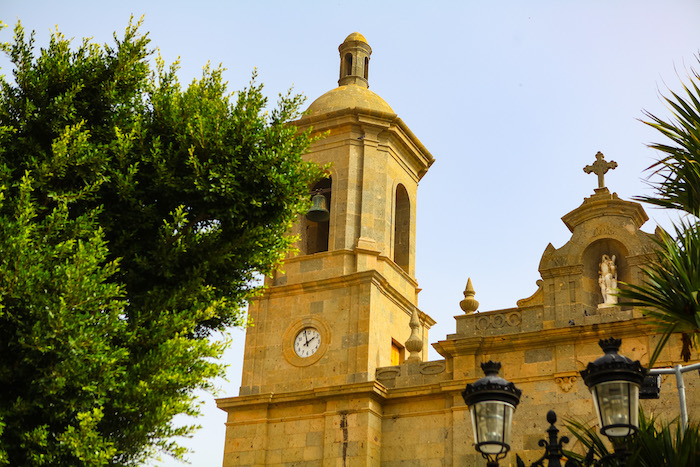 Let your discovery of Agüimes starts with a visit of the beautiful Church of San Sebastián (18th-19th centuries). This church is an eclectic neoclassical building, declared a national historical-artistic monument. Standing at the top of the village, its two towers and the large white dome stand out against the sky from almost everywhere. This church is clearly the symbol of Agüimes .
If you drive there from Guayadeque Ravine, you will quickly understand why. From far away you will right away see the church stands out.
Its main facade is surmounted by a bell wall, while the side walls are whitewashed. Inside the church you can see the altarpiece of the Rosary and the set of Baroque images, mainly works by Luján Pérez. Also, the colorful tabernacle designed by Lorenzo de Campos will catch your attention.
Location: here
---
2. Check out the main square at Plaza del Rosario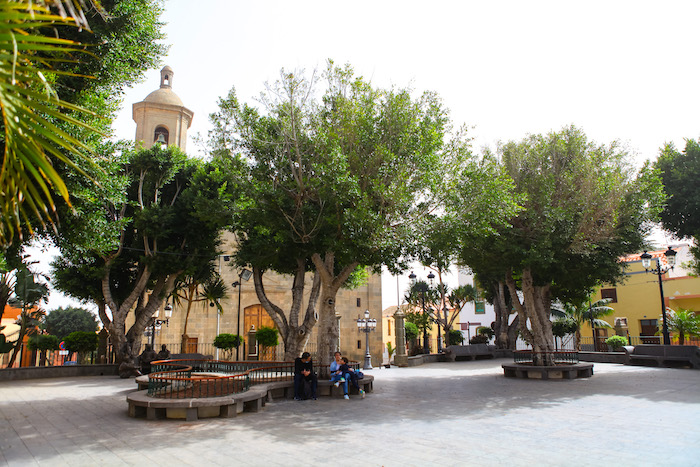 Plaza del Rosario is located right in front of Church of San Sebastian. It is a very nice place to visit. We were there on a Saturday and it was full of kids playing and local families gathering for drinks and foods. The atmosphere was really nice.
We decided it was time for a coffee and a little desert. There are many restaurants around the square. We chose La Tarteria – Coffe&Cake, which was delicious (location)
---
3. Visit some local artists gallery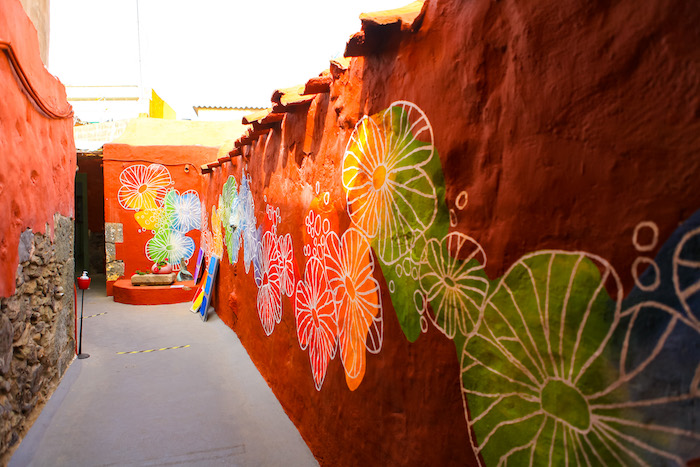 After feeling reenergised from the coffee and some treats, we continued our exploration of Agüimes. We found out that this town is full of local artists and galleries.
From Plaza del Rosario, walk on Calle del Progresso. There you will see many galleries which you can visit, as well as a cheese shop and other souvenirs shops.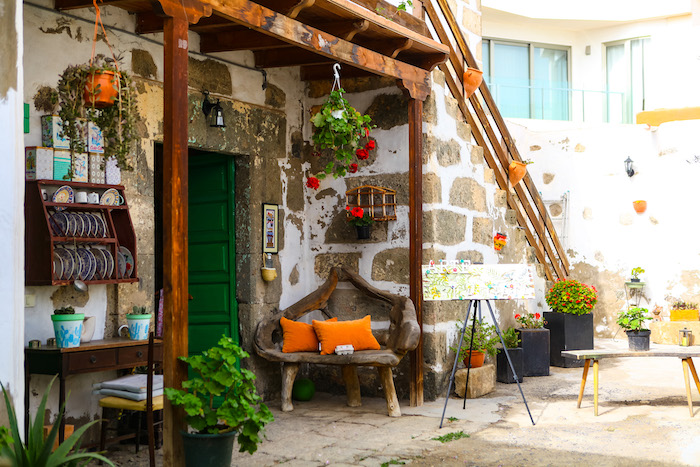 Here a few we noted down and which we really liked:
Villa del Arte: here
Oceanos perfectos: here
Aragüeme Cheese shop: here
At the end of the road, you will reach another nice square called Plaza de San Anton. There is the tourism information center (location).
---
4. Visit the Historic Museum of Agüimes.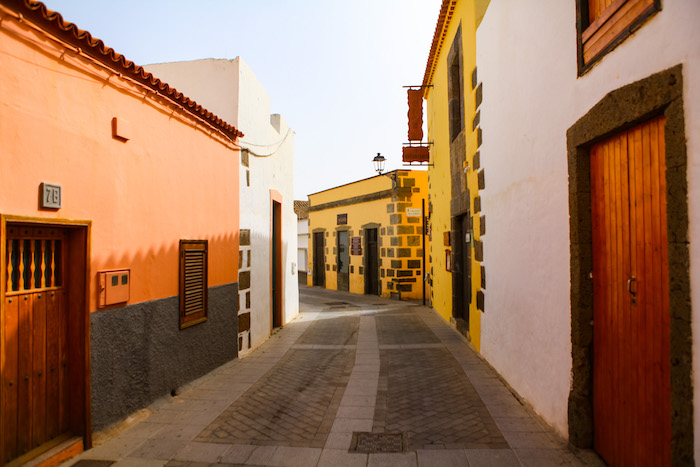 The historic museum is a fascinating place to visit in Agüimes. It is located in an old palace. The building itself is stunning. The museum is well presented with lots of interesting facts about the history of the Canary Islands. If you have some time to spare we highly recommend to visit the museum.
Location: here
---
5. Check out the many sculptures displayed around the town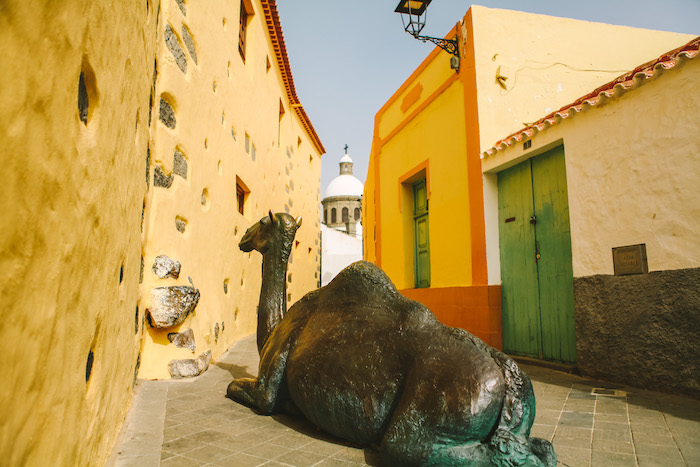 While wandering through Agüimes you might accidentally find some of the many hidden sculptures displayed all around the town.
The bronze sculptures are a celebration of the people of Agüimes, retracing the history of the town.
Our favorite one was the camel located in a very small alley and looking at the Church of San Sebastián standing in-between traditional and colourful houses.
The statue of Princess Masequera is also very nice. This was the daughter of the Guanche king Tenesor Semidán, who lived and died in Agüimes.
We listed for you most of the sculptures here and their location, check them out there are really nice. At the same time you will learn more about the history of Agüimes.
CAMEL: here
DONKEY WITH ALBARDA: here
HOMAGE TO MUSIC: here
HOMAGE TO WOMEN: here
THE CELLIST: here
HOMAGE TO THE ANCIENT CARNIVAL: here
There are certainly more sculptures which we didn't find in our exploration of Agüimes. Let us know in the comment section below if you find other ones.
---
6. Explore the areas just outside Agüimes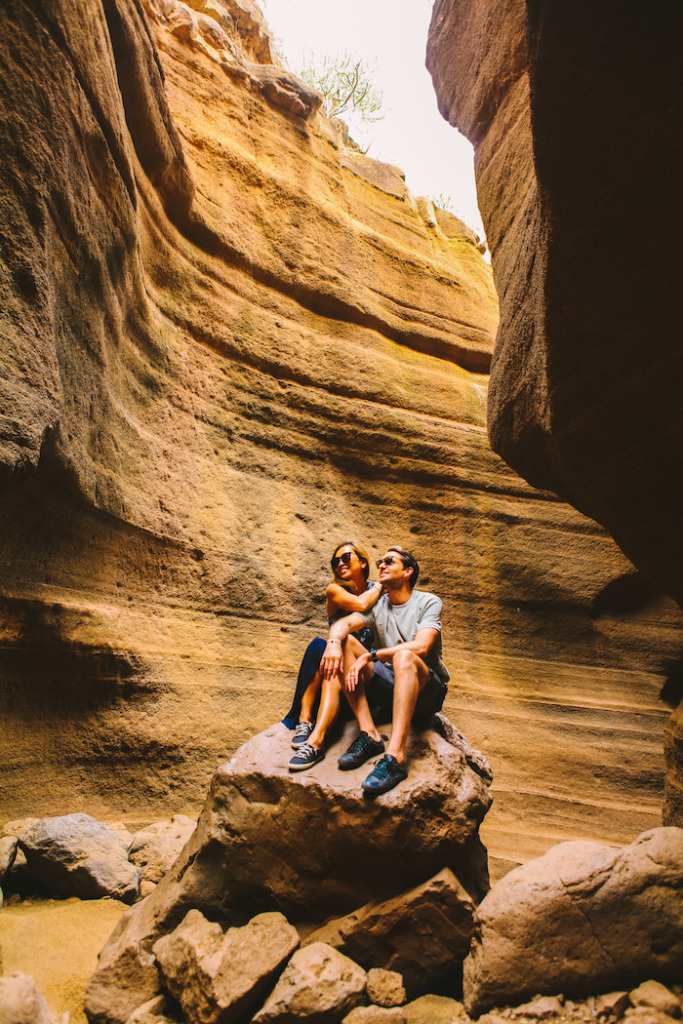 If you have a car during your visit to Gran Canaria, you can easily explore the very interesting areas around Agüimes.
First of all, you will find the Protected Landscape of the Agüimes Mountain, an agricultural land dotted with the ubiquitous presence of stone and the Special Natural Reserve of los Marteles rich in geological formations, plants and endemic pines.
Among the natural monuments that stand out there, you can see Arinaga where many lizard lives. In addition, the Barranco de Guayadeque, inhabited since prehistoric times is one of the best things we saw in Gran Canaria. You can easily start your day at Guayadequ and then visit Agüimes. Finally, due to its archaeological value, the prehistoric places of Morros del Cuervo and Ávila are very important. In both you can see many rock carvings and paintings, some of which depict anthropomorphic figures.
There are also renowned beaches such as Arinaga, Vargas (a famous place for windsurfing and kitesurfing), Cabrón (one of the best diving spots) and Las Salinas Beach, where salt used to be extracted a long time ago.
We also explored Barranco de las Vacas after our visit of Agüimes. This place looks like the famous Antelope Canyon in Utah. See photo above. This is a unique things to see in Gran Canaria.
READ: 10 BEST BEACHES IN GRAN CANARIA
---
7. Join the Festival del Sur in September
In September, the Festival del Sur takes over the city. Subtitled the Encuentro Internacional Tres Continentes, it is an international theater festival, with companies from South America, Africa and Europe. This cultural festival has become an annual event for locals, as well as visitors.
For more information about the programme and the date, check their official website.
---
7. Have fun at Cocodrilo Park Agüimes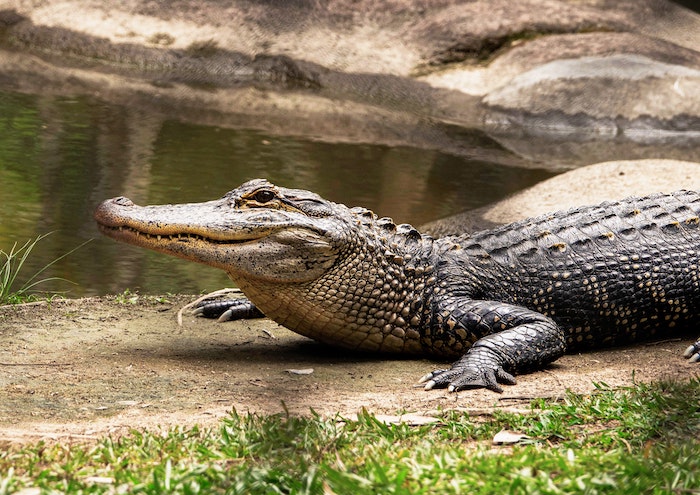 If you have kids, make sure to check the Cocodrilo Park of Agüimes, a small zoological park open all year round, which presents shows of tamed parrots and crocodiles.
Website: here
---
Where to stay in Agüimes?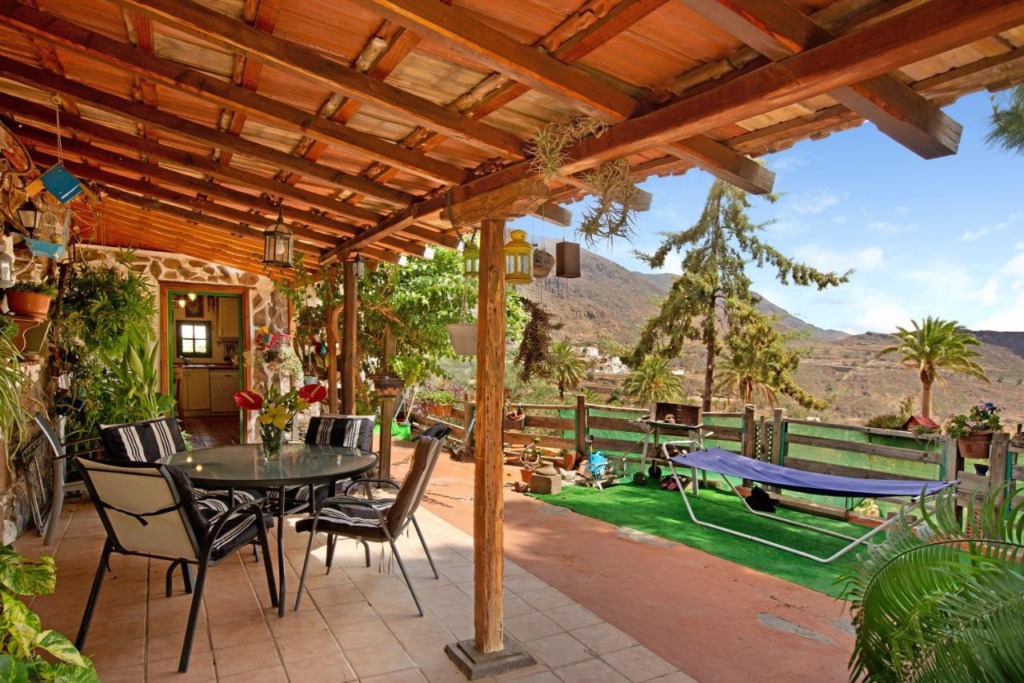 If you decide to spend a night in Agüimes, we recommend a place called Casa Los Pinos. The view from the garden facing the mountains is absolutely stunning.
This is vacation home, with 3 bedrooms.
---
How long to visit Agüimes?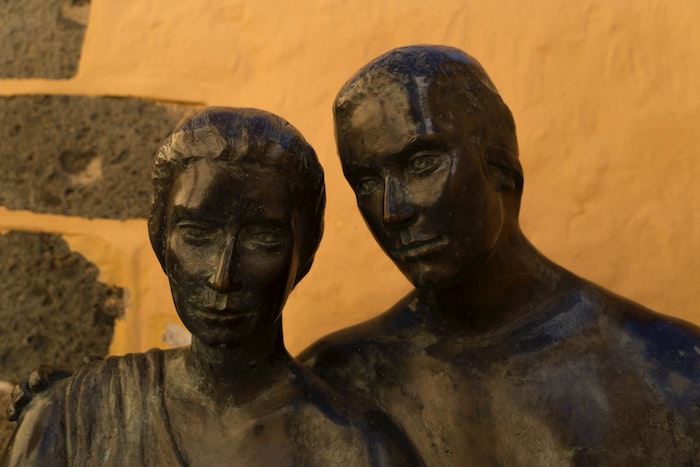 We took about 2 hours to cover most of Agüimes. Of course if you want to combine you visit with other things to see around the town, such as Barranco de las Vacas and Barranco de Guayadeque, then count a full day.
---
In conclusion about Agüimes
Agüimes is a historic town worth a visit in Gran Canaria. It is also a great place to learn more about the culture on the Canary Islands.
Besides the outskirts of Agüimes offer a magnificent natural panorama with many natural sights to visit. Therefore we highly recommend adding Agüimes when visiting Gran Canaria.
We wrote a full post about things to do in Gran Canaria here to help you prepare for your trip.
If you have any question about Agüimes or Gran Canaria, feel free to leave a comment below.
All our posts about the Canary Islands can be found here.
HAPPY TRAVELS!
---
Related Posts
20 THINGS TO DO in Gran Canaria: here
MASPALOMAS a unique place in Gran Canaria: here
PUERTO DE MOGAN in Gran Canaria: here
BEST THINGS TO DO in Las Palmas: here
TEROR, one of the most charming village in Gran Canaria: here
TEJEDA, a town nestled in the mountains of Gran Canaria: here
AGAETE, a gorgeous coastal town in Gran Canaria: here
BEST PLACES TO STAY in Gran Canaria: here
8 REASONS WHY TO VISIT Gran Canaria: here
BEST TIME OF THE YEAR to visit Gran Canaria: here
25 BEST THINGS to see in Lanzarote: here
25 AWESOME THINGS to do in Fuerteventura: here
10 BEST BEACHES in Gran Canaria: here