WHAT TO SEE IN MEGALOCHORI? IS MEGALOCHORI WORTH VISITING IN SANTORINI? HOW TO GET TO MEGALOCHORI?
Megalochori (together with Pyrgos) is one of the most traditional villages in Santorini. This village offers a nice mix of white Cycladic houses, several churches, and narrow streets.
---
Why Visiting Megalochori:
The village is located near the main towns of Fira and Imerovigli making it easy to access
Megalochiri village is surrounded by beautiful vineyards and orchards
The village is not very touristy, which makes it more authentic and peaceful
In Megalochori you can visit traditional churches with blue domes, and cute Greek houses
There are several local restaurants in the village, offering traditional specialties
---
Here is a teaser about a visit to Megalochori in Santorini:
---
10 Best things to see in Megalochori in Santorini
1. Wander in the Village
If you visit Megalochori, start by strolling through the cobbled streets of the village, admiring the traditional houses and windmill towers.
Admire the Basilica of Panagia Episkopi, the largest church in the village, which dates from the 16th century.
By visiting Megalochori, you can experience the rich history and culture of this unique and wonderful village.
---
2. Admire Panagia ton Eisodion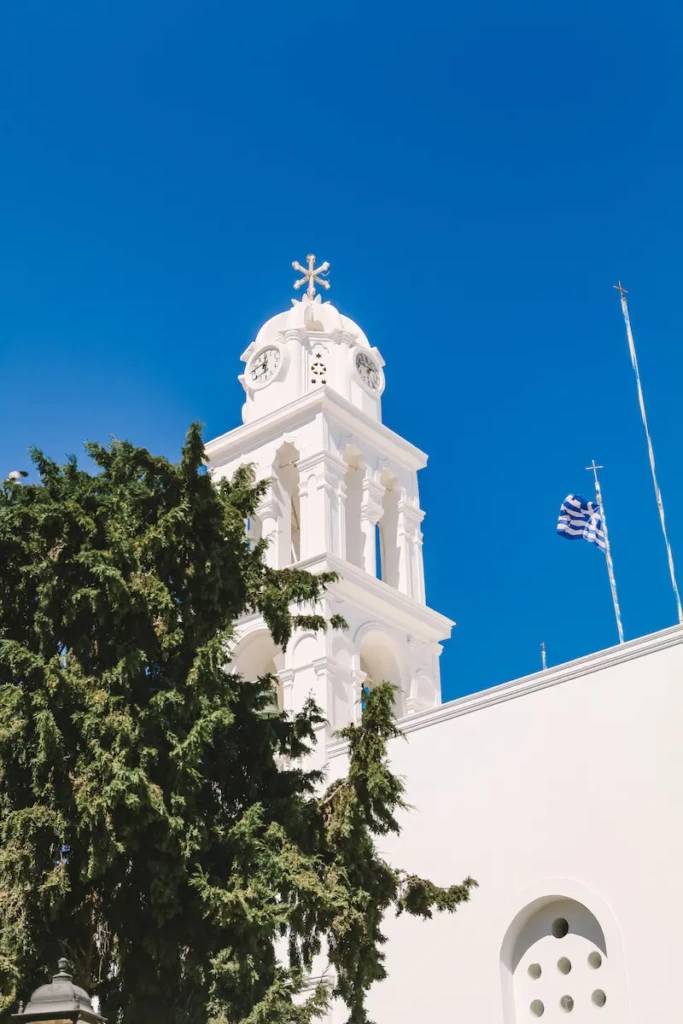 As you enter the village you will come across this beautiful and impressive white church. It's one of the best places to take a photo of the village!
---
3. Check out local shops
There are many local shops in the village selling all sorts of local crafts!
One of them is Studio Leather Transit. Here you can find all kinds to locally made leather items such as bags, belts, shoes, flip-flops, key rings, bracelets…
---
4. Enjoy a local meal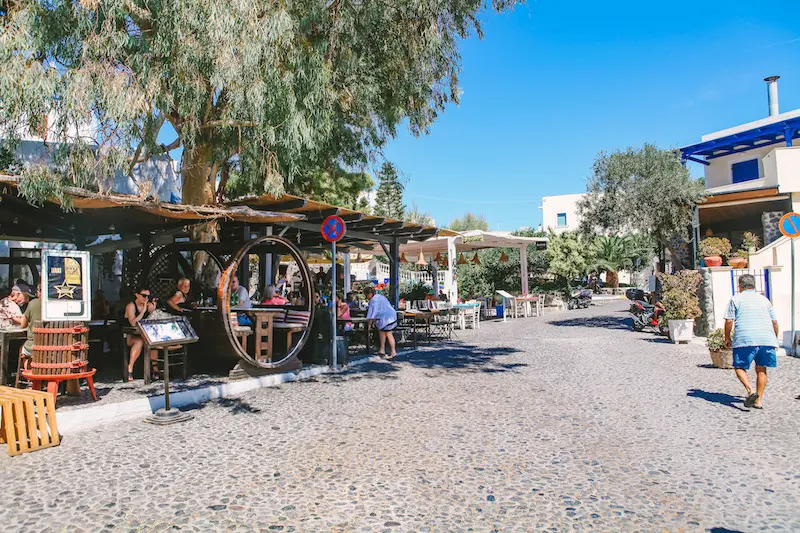 At Megalochori main square, there are a few delicious restaurants serving local Greek food. Raki is one of our favorite restaurants in Megalochori (check it out)
---
5 Take plenty of photos with the blue dome churches
If you continue your visit to the village, going uphill, you will reach a huge religious gate. Take a right turn before that to reach one of the best viewpoints of Megalochori (exact location).
---
6. Visit Boutari cellar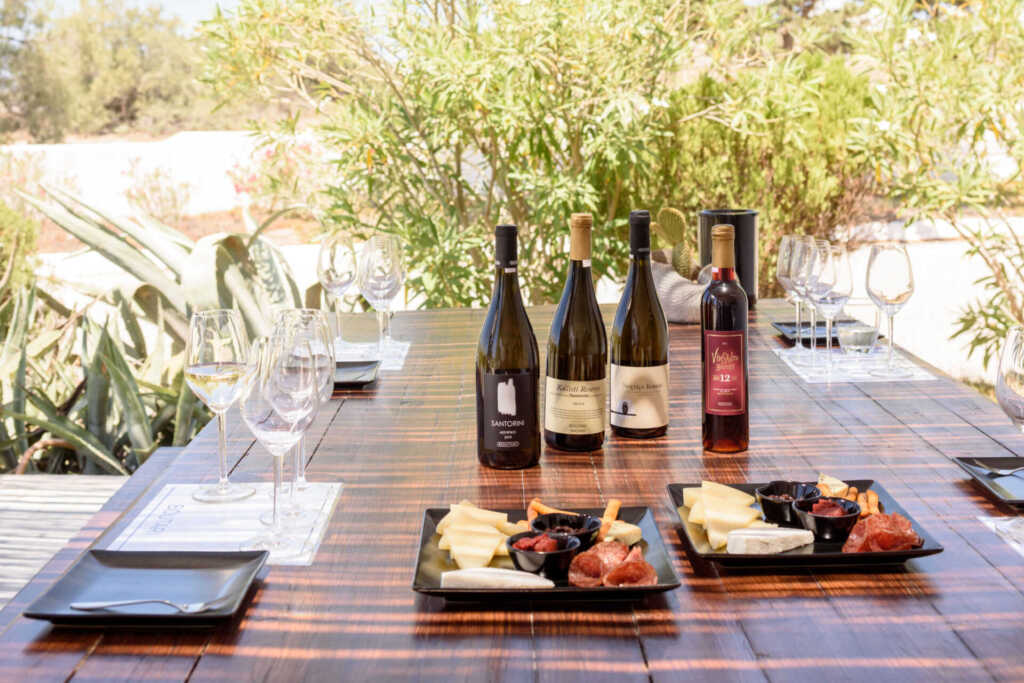 The countless vineyards that extend beyond the village of Megalochori provide a magnificent setting for strolling and admiring breathtaking landscapes with sea views. Megalochori is certainly the best place on the island to experience the rich wine tradition.
The famous Boutari cellar is located on the outskirts of the village. A visit to this wine cellar is one of the best things to do in Megalochori (more info here)
---
7. Experience horse riding at Megalochori
At the end of the village, there is an equestrian center. Here you can ride horses with the whole family through the village but also in the surroundings to admire stunning viewpoints.
---
8. Visit the Megalochori underground cave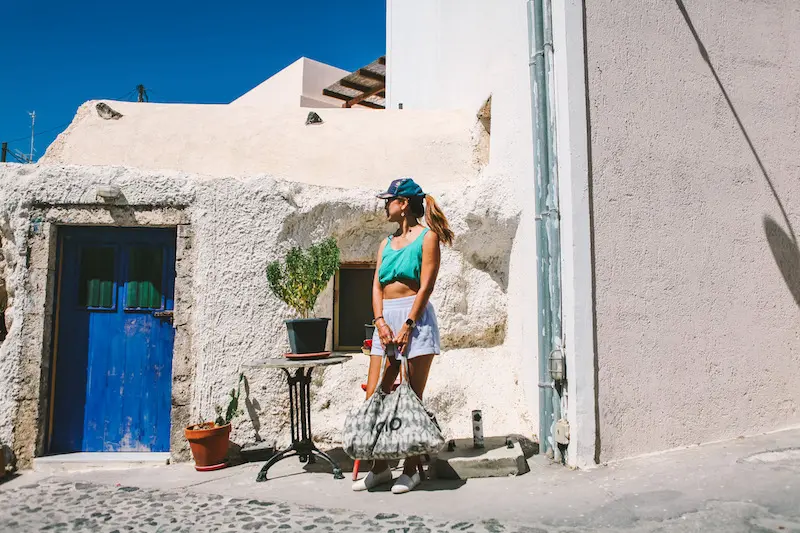 While wandering in the village of Megalochori, we saw a sign indicating a free cave tour of Megalochori. As curious as we are, we decided to follow the sign through narrow alleys until we reached a colorful courtyard.
Continue following the sign which will lead to a small door. Inside you can visit a small cave. There isn't much information about the cave, but as Megalochori was an important trade center the cave served as a warehouse.
---
9. Visit the Santorini Museum of Contemporary Art
It's quite funny that Santorini decided to install a museum of contemporary art inside one of the most traditional villages on the island, but at least the contrast is striking!
The Museum is actually really cool, with great exhibitions, although relatively small. It is located at the entrance of the village (here)
---
10. Stay at a luxury hotel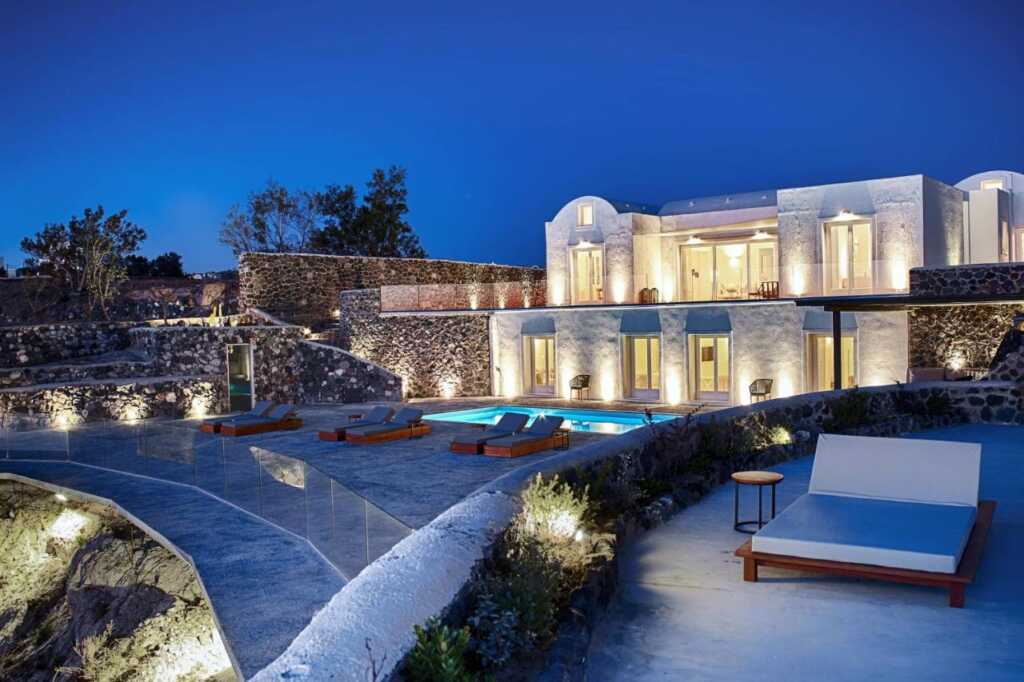 Near the Museum, you can actually stay at one of the most luxurious hotels in Santorini: Vedema, a Luxury Collection Resort. Here Traditional Greece meets Modern Luxury. If you are looking for a unique place to stay in Santorini, then we highly recommend Vedema.
>> BOOK HERE
---
History of Megalochori in Santorini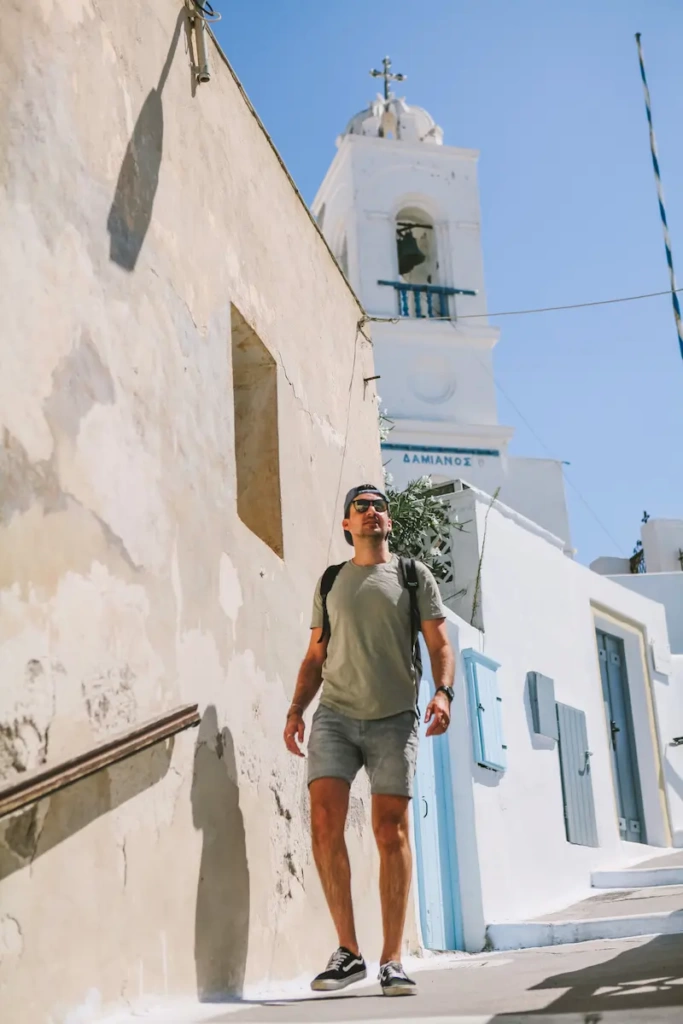 In the 18th century, Santorini was a stronghold for pirates and thieves who operated in the Aegean Sea. Residents also had to deal with the constant threat of pirate raids and attacks.
Pirate activity in Megalochori continued until the beginning of the 19th century. Meanwhile, local authorities have taken steps to stem the problem. They built a small fortress and hired a large number of guards to patrol the village. The pirates eventually moved to other areas and left the village in peace.
The old stone houses, the narrow streets and the small fortress recall the village's pirate past.
---
How to get to Megalochori in Santorini
As explained in this post, the best way to get around in Santorini is by renting your own vehicle, either scooter, quad (ATV) or car. This will give you the complete freedom to visit this beautiful island.
If driving is not your thing, then consider joining a full-day organized tour.
---
In Conclusion – Is Megalochori worth visiting in Santorini?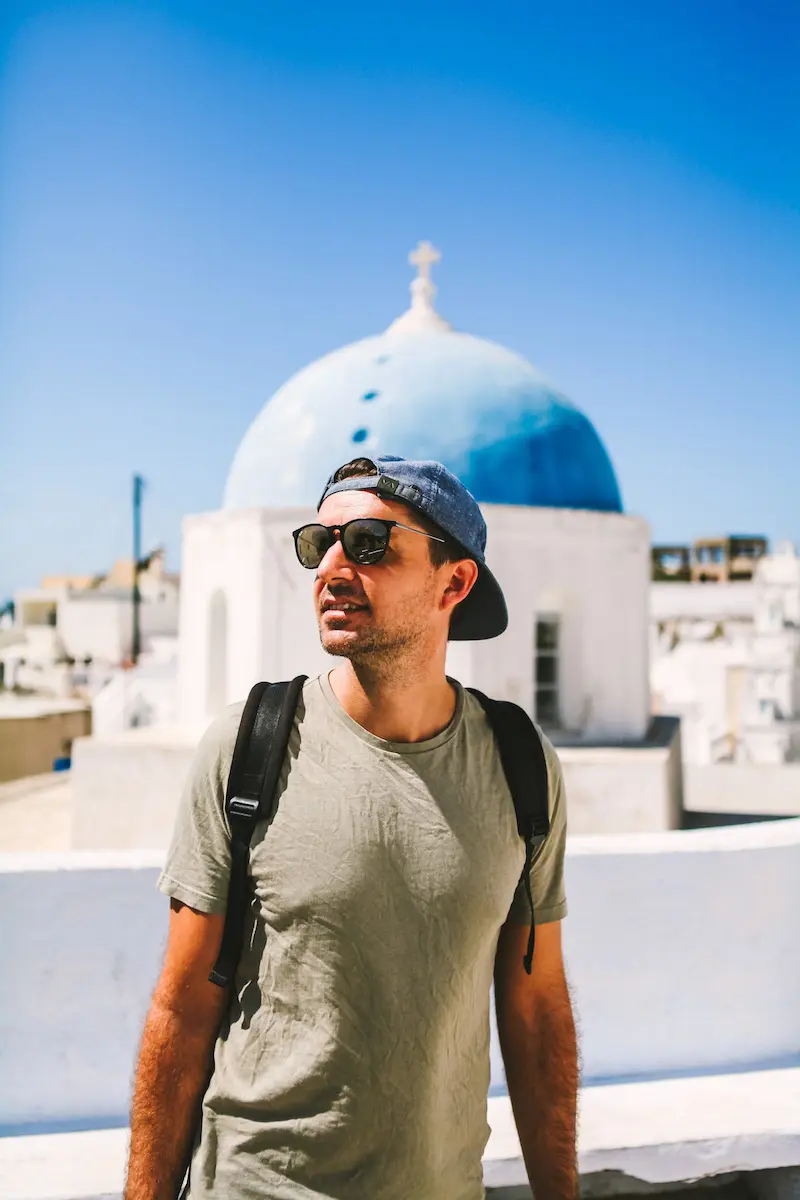 Megalochori offers a peaceful escape from the bustling tourist hubs of Santorini. With its charming streets, delectable cuisine, and rich cultural experiences, this village is a must-visit destination for anyone seeking a more authentic Greek experience.
However, if you are only visiting Santorini for 1 or 2 days, we would prioritize other things to see on the island. If you like traditional villages, we actually liked a tiny bit more Pyrgos.
If you are staying longer in Santorini, don't miss the opportunity to discover the hidden gems of this enchanting village.
---
READ ALSO
25 AWESOME THINGS TO SEE IN SANTORINI
FULL GUIDE FOR HIKING BETWEEN FIRA AND OIA
BEST THINGS TO SEE IN OIA, SANTORINI
10 BEST THINGS TO SEE AT IMEROVIGLI
FULL GUIDE TO VISIT PYRGOS IN SANTORINI
HOW TO GET AROUND IN SANTORINI?
THE PERFECT 3-DAY ITINERARY TO VISIT SANTORINI
BEST THINGS TO DO IN FIRA, SANTORINI
TOP 10 REASONS TO VISIT SANTORINI
DISCOVER THE ANCIENT CITY OF AKROTIRI IN SANTORINI
BEST HONEYMOON DESTINATIONS [2023-2024]