WHAT TO DO IN IMEROVIGLI? BEST HOTELS IN IMEROVIGLI? WHERE TO EAT IN IMEROVIGLI?
Imerovigli is a small village perched on top of a cliff on the island of Santorini, Greece.
Very upscale, it is often considered one of the most pleasant places in the Cyclades islands.
Discover the picturesque village of Imerovigli
During your stay in Santorini, there is almost no doubt that you will pass through Fira, the capital of the island. Imerovigli is the extension of this city. This small village is located just north of the capital.
Imerovigli was built centuries ago, on top of a cliff more than 300 meters high. The name of this village comes from "Imera", which means "day" and "Vigla", which means "lookout" or "watch".
Indeed, the position of this small village allowed the inhabitants of the region to monitor the passage of ships, and to raise the alarm in the event of the arrival of pirates.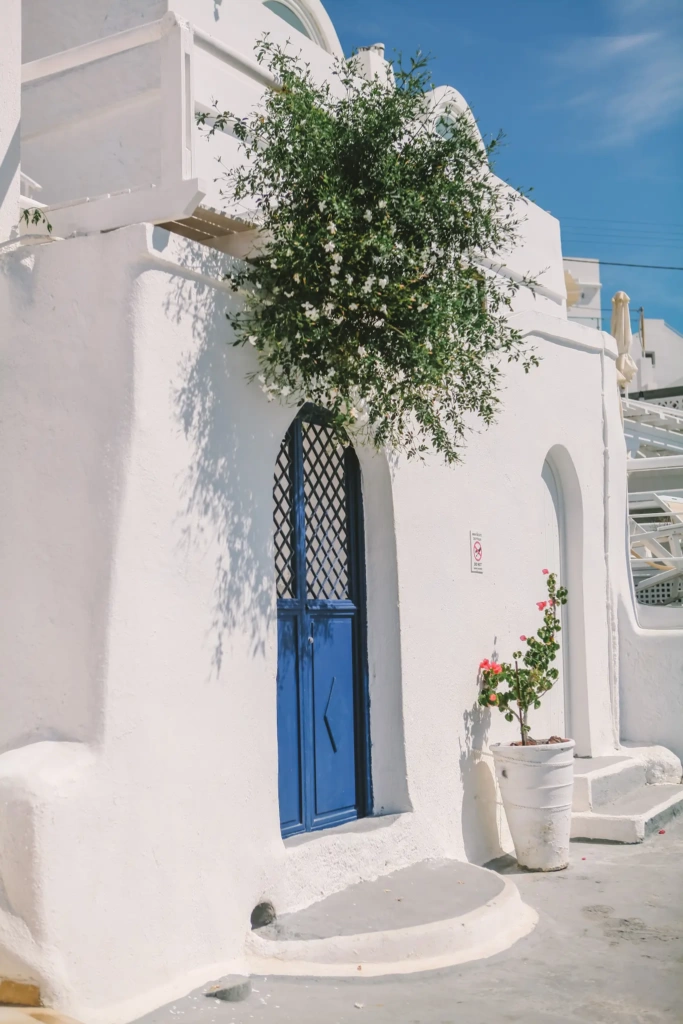 With its cobbled streets, typical churches and small shops, Imerovigli is a peaceful village that seems straight out of a postcard.
The population is only around 500 inhabitants. During more touristy periods, Imerovigli becomes an upscale holiday resort, which is very popular thanks to the magnificent views it offers over the Santorini caldera.
Here is a short teaser about Imerovigli:
---
WHAT TO DO IN IMEROVIGLI, SANTORINI?
1. Visit the Skaros Rock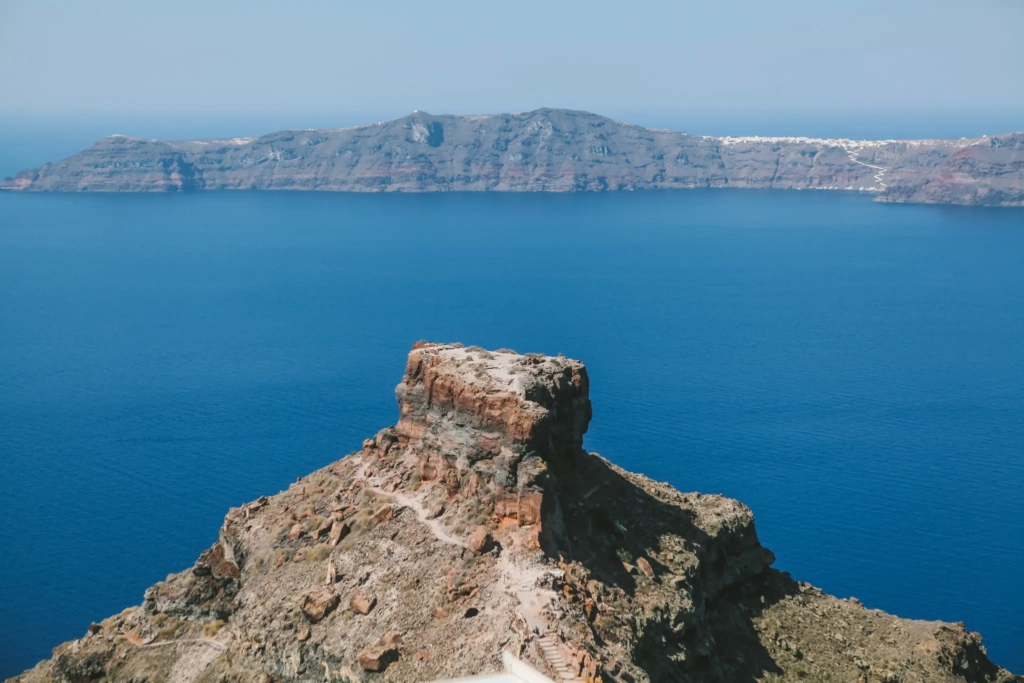 You will find one of the emblematic natural sites of Santorini in Imerovigli: the Skaros Rock!
From several other places on the island such as Fira and Oïa, you can already see the silhouette of the rock. During a short hike of around twenty minutes, from a path that begins at the center of Imerovigli, you can reach this cliff of black volcanic rock.
From Skaros, you will enjoy the most beautiful view of the Aegean Sea and the caldera of the entire island.
On your way, you will have the opportunity to discover the ruins of the village of Skaros, a former Catholic colony. At the edge of the rock, you will also see Ekklisia Theoskepasti, a charming little whitewashed chapel, with its blue dome, typical in the region.
Until the beginning of the 19th century, a Byzantine castle stood at the top of the rock, and local stories say that no invader ever managed to conquer it. After its destruction by an earthquake, today only ruins remain.
Location: here
---
2. Take plenty of photos at the Church of the Resurrection of the Lord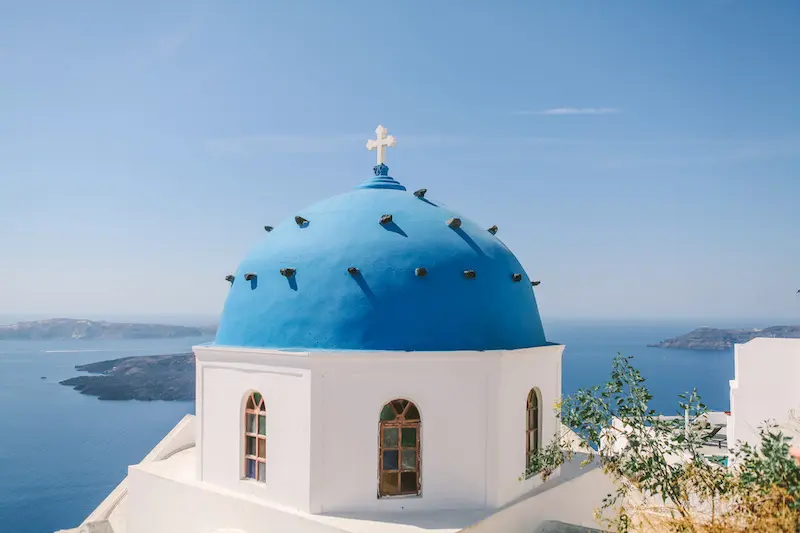 Like pretty much everywhere in Santorini, there are so many places to take awesome photos! 1 of the most Instagramable spots in Imerovigli is at the Church of the Resurrection of the Lord (here).
Here you will have a beautiful view of the blue dome church, with many colorful flowers around and the sea in the backdrop! Simply stunning.
Here, many people chose to do a photoshoot with professional photographers. Book your photoshoot here.
---
3. Wander through Imerovigli
One of the best ways to soak in the beauty of Imerovigli is by taking a leisurely stroll along the cliffside paths.
As you walk, you'll be treated to breathtaking vistas of the caldera and the azure Aegean Sea. This is also an excellent opportunity to capture some more Instagram-worthy photos and make memories that will last a lifetime.
---
4. Enjoy the Sunset from Imerovigli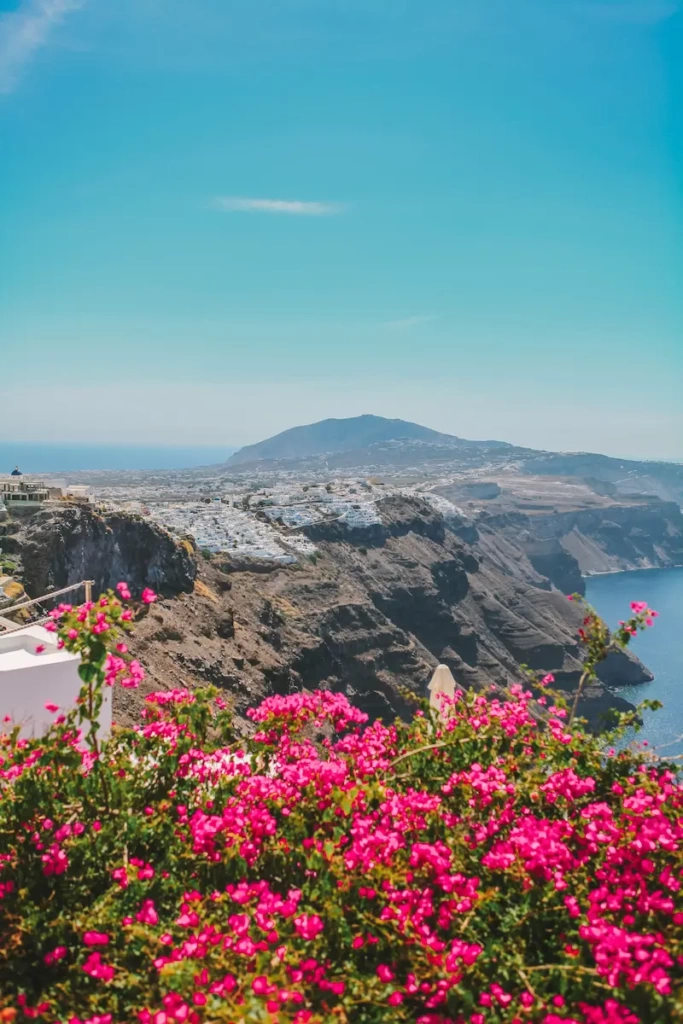 Imerovigli is renowned for its unparalleled sunsets. Head to Skaros Rock or simply find a cozy spot along the cliffside paths, and watch as the sun dips below the horizon, painting the sky in hues of orange, pink, and purple.
It's a magical experience that you won't soon forget, and it's no wonder that countless couples choose Imerovigli as a backdrop for their romantic moments. Just like us… We loved it!
---
5. Enjoy a great dinner with a view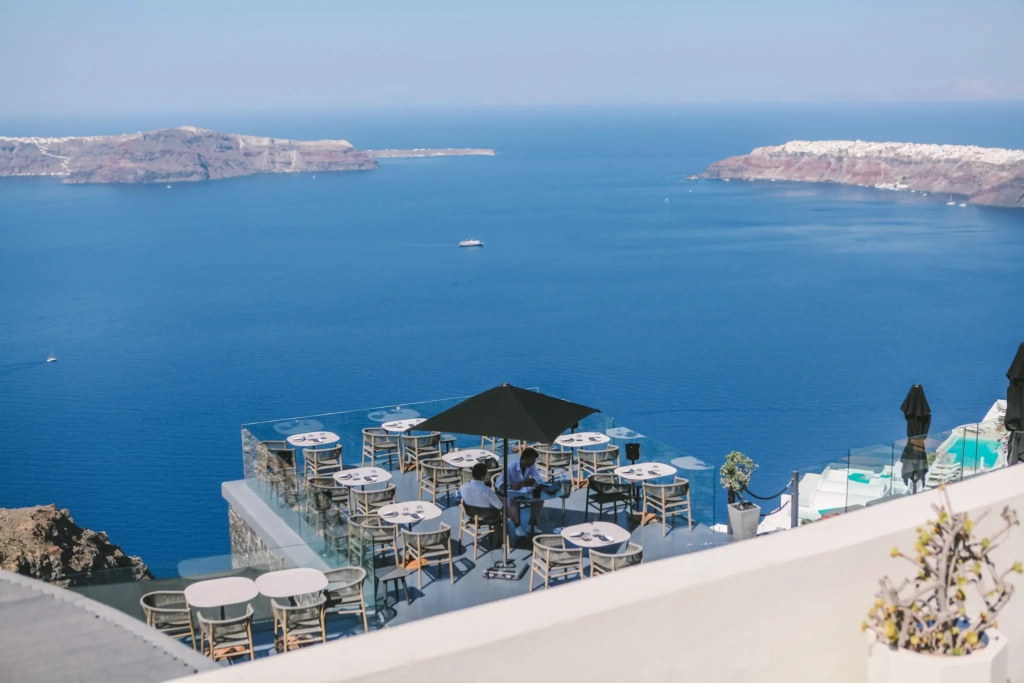 Santorini is famous for its amazing Greek cuisine, and Imerovigli is no exception.
Slightly more upscale that Fira or the rest of the island, Imerovigli you can try stunning restaurants in Imerovigli.
La Maison is one of the most popular ones on the island. However, we also liked Le Moustache Caldera Pool Lounge & Restaurant and White Lounge Restaurant. These 3 places offer incredible sea views and delicious fine dining food!
For Brunch, we also enjoyed Avocado and Dear Ellie.
For a more local experience, we highly recommend Anogi, serving the best traditional greek food in town (perhaps even on the island!). A must in Imerovigli!
e sure to sample some traditional dishes at the local tavernas and restaurants. Fresh seafood, Mediterranean salads, and sweet desserts are just a few of the culinary delights you can savor while taking in the charming atmosphere of the village.
---
6. Sip a nice cocktail in Imerovigli
Imerovigli is rather quiet at night compared to Fira (this is where most nightlife is happening in Santorini). However, there are a few romantic bars facing the sea.
Our favorite places to enjoy a drink in Imerovigli is at Bar To Navagio (location) and Akàstus Cafe & Cocktail Bar.
---
7. Hike from Imerovigli to Oia
The most popular hiking trail on the island, which runs from Fira to Oïa, passes through Imerovigli.
This trek of around ten kilometers will take you along the side of the cliffs, to discover the most beautiful landscapes of Santorini.
During the hike, you will have the opportunity to discover luxurious villas, white chapels, wild cliffs, and a number of unforgettable panoramas. In total, it will take you around 3 hours to complete by taking lots of breaks for photos!
This trail is an absolute must in Santorini!
READ: FULL GUIDE FOR HIKING BETWEEN FIRA AND OIA
---
8. Wine Tasting in Imerovigli
One of the traditions of Santorini is wine production which is centuries old.
In Imerovigli, there is a young vineyard "Vassaltis Vineyards", which was created a few years ago. If you like wine and want to discover the tradition of Santorini, then head there. You will discover the ancestral wine production methods on this island.
---
9. Relax by the pool!
Many of Imerovigli's accommodations boast stunning infinity pools that seem to merge seamlessly with the sea beyond.
Whether you're staying at a luxury hotel or just visiting for the day, lounging by the pool is a fantastic way to unwind and enjoy the beauty of the island.
At Le Moustache Caldera Pool Lounge & Restaurant you can use their pool if you book a cabana or consume food and drinks at their place! A great way to spend a relaxing afternoon in Santorini.
---
10. Explore nearby villages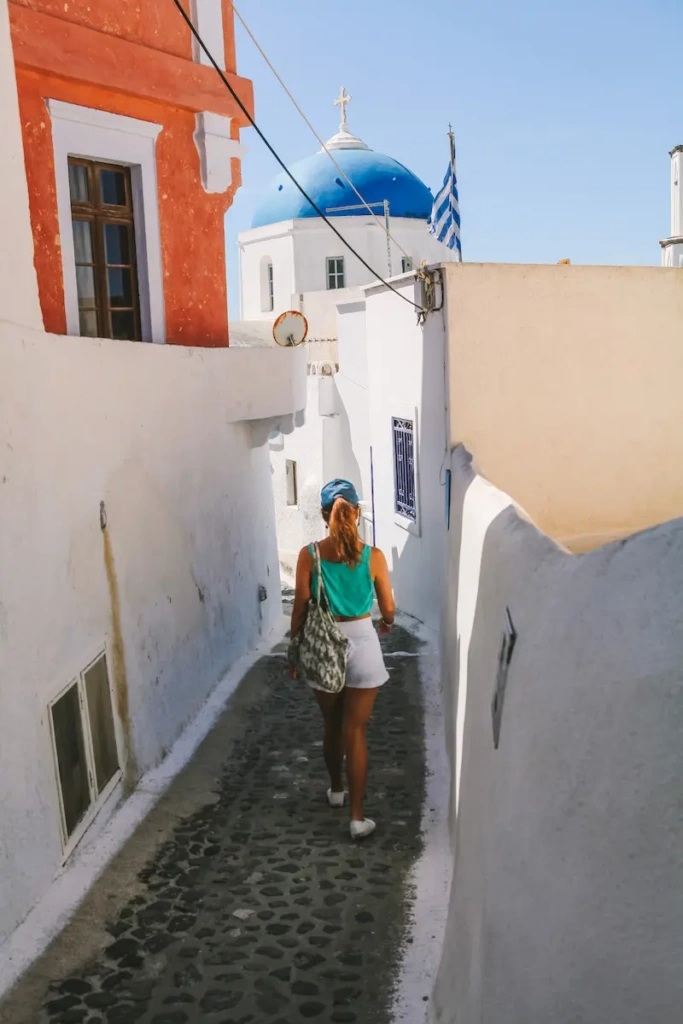 Imerovigli is one of the best places to stay during a trip to Santorini. Not only because it has stunning hotels, but also because Imerovigli is rather centrally located which makes it easy to visit. the rest of the island.
Near Imerovigli you can of course visit Fira the capital of Santorini, but also Pyrgos our favorite traditional village in Santorini, as well as Megalochori.
The best to visit Santorini is by renting an ATV (quad) or Scooter. There are many rental shops in Imerovigli.
---
BEST PLACES TO STAY IN IMEROVIGLI?
If you are staying in Santorini for the first time then we highly recommend Imerovigli. Here you can experience the true Santorini experience, in a hotel by the cliff facing the beautiful caldera!
Our top recommendations are:
Cocoon Suites – the most Instagrammable one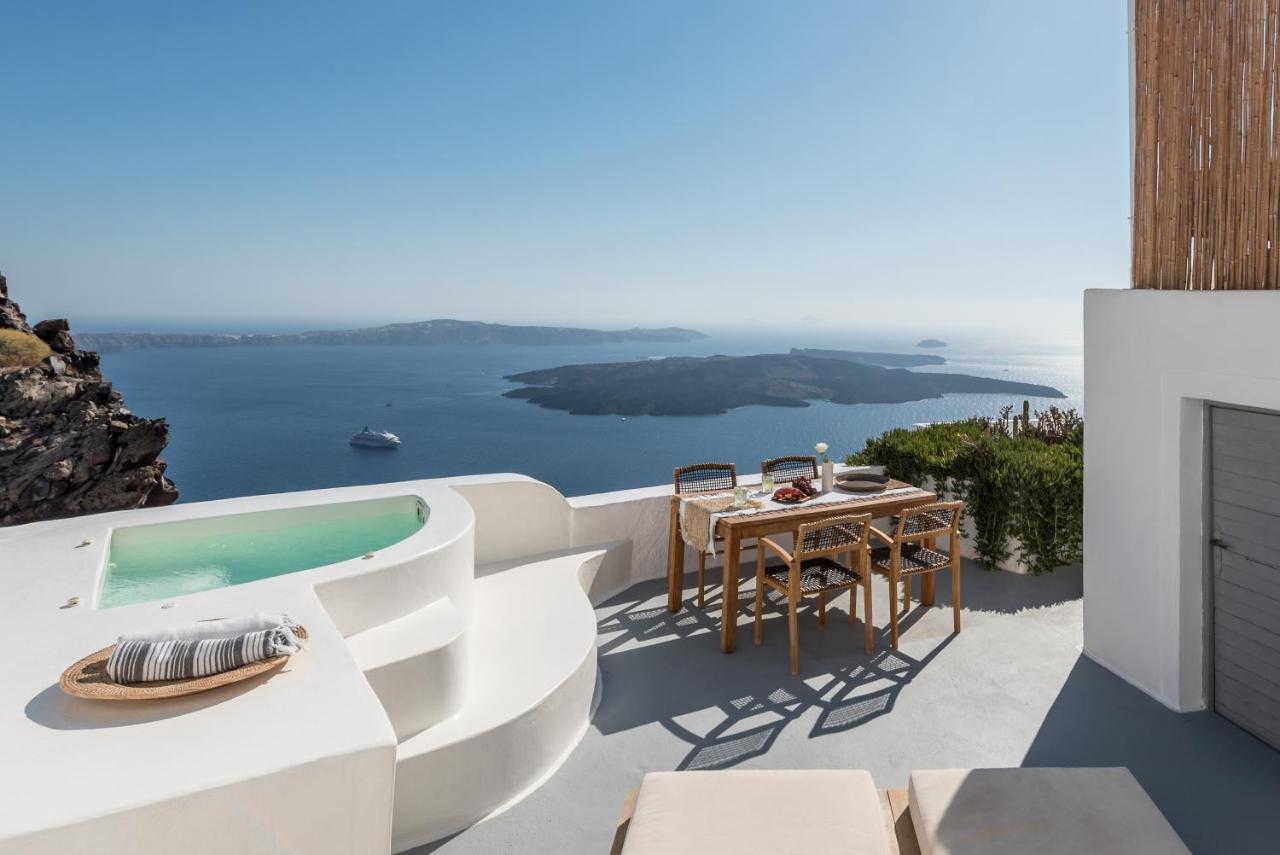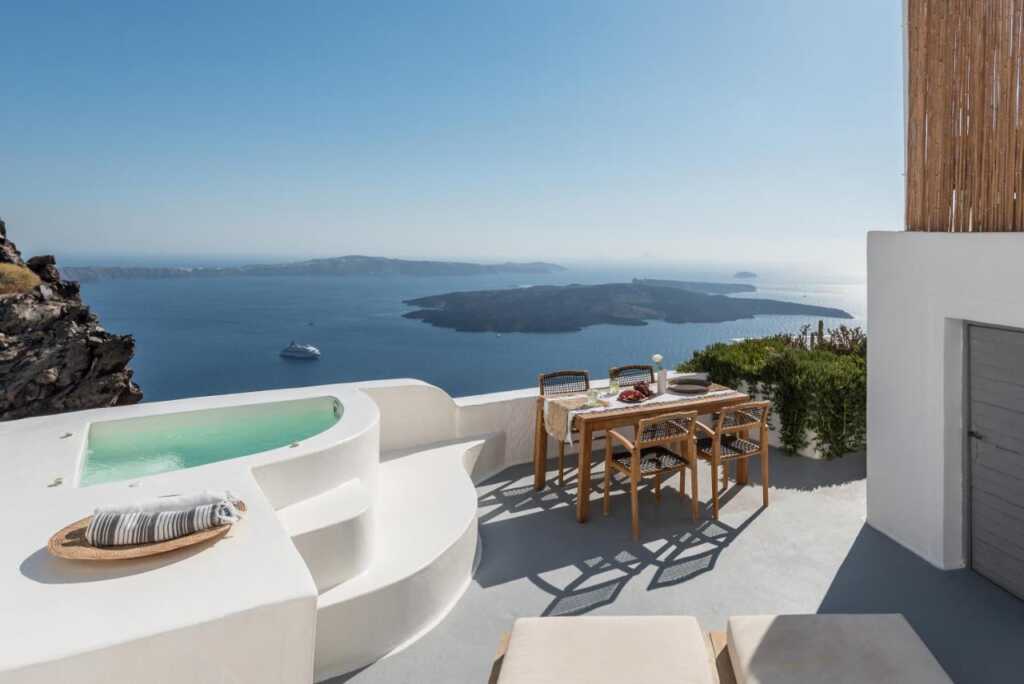 Perched on the cliffs, this hotel offers a range of suites with traditional Cycladic design. It has a lovely pool area and an open-air restaurant where you can savor Greek and Mediterranean dishes.
>> BOOK HERE
---
Galaxy Suites and Villas – the most luxurious one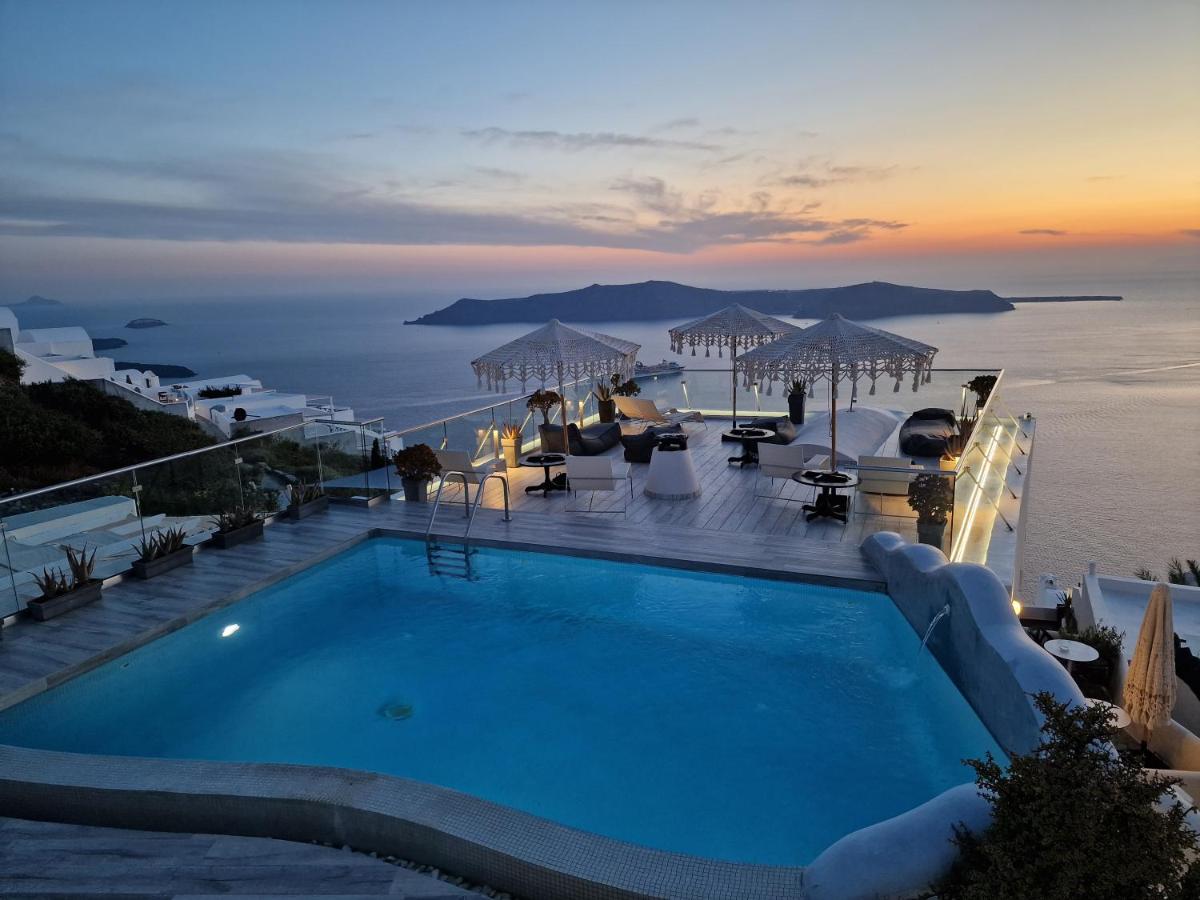 This boutique luxury hotel offers stunning views of the caldera and the Aegean Sea. It features stylish accommodations, a beautiful infinity pool, and a fine-dining restaurant.
>> CHECK IT OUT
---
Absolute Bliss Imerovigli Suites – best value for money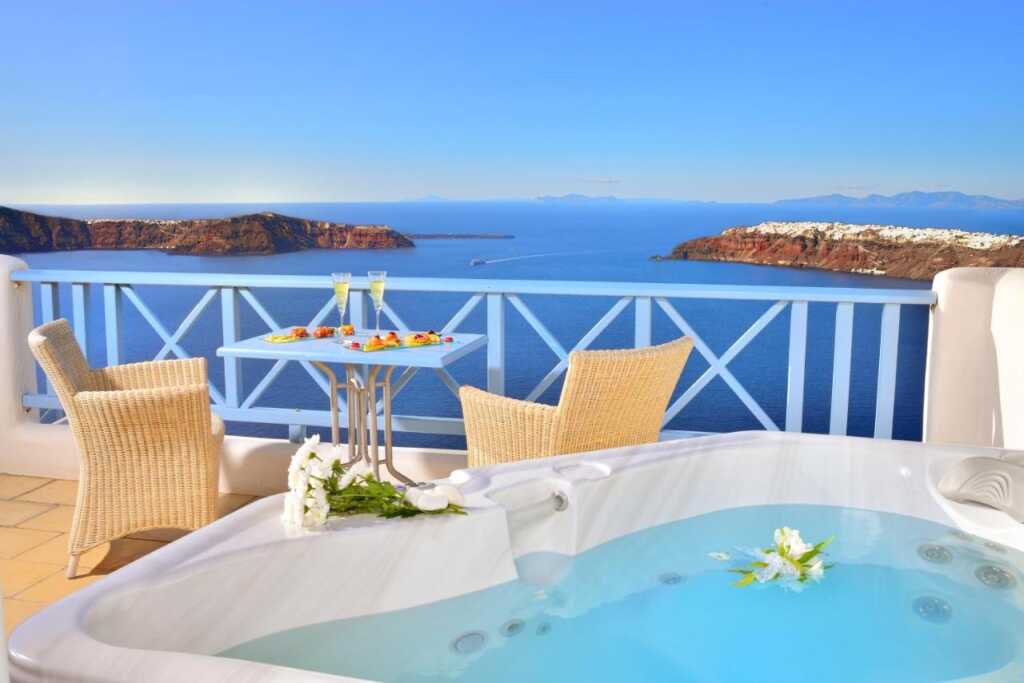 This hotel lives up to its name, offering suites with stunning views and private balconies or terraces. Guests can enjoy a complimentary breakfast and relax by the pool.
>> BOOK HERE
>> READ: 6 BEST PLACES TO STAY IN SANTORINI
---
IN CONCLUSION ABOUT THE BEST THINGS TO DO IN IMEROVIGLI
Imerovigli, with its awe-inspiring scenery and relaxed ambiance, is an idyllic destination for travelers seeking an authentic Greek island experience.
Whether you're captivated by the mesmerizing sunsets, the charming architecture, or the delicious cuisine, this enchanting village has something for everyone.
So, pack your bags, your Greek adventure awaits!
---
RELATED ARTICLES
25 AWESOME THINGS TO DO IN SANTORINI [GREECE]
FULL GUIDE FOR HIKING BETWEEN FIRA AND OIA
THE PERFECT 3-DAY ITINERARY TO VISIT SANTORINI
DISCOVER PYRGOS, ONE OF THE MOST TRADITIONAL VILLAGES IN SANTORINI
TOP 10 REASONS TO VISIT SANTORINI
BEST THINGS TO DO IN FIRA, SANTORINI
ALL YOU NEED TO KNOW ABOUT OIA IN SANTORINI
HOW TO GET AROUND IN SANTORINI?
BEST HONEYMOON DESTINATIONS [2023-2024]
DISCOVER THE TRADITIONAL VILLAGE OF MEGALOCHORI IN SANTORINI
6 BEST BOAT TOURS IN SANTORINI
DISCOVER AKROTIRI IN SANTORINI