The influence of César Manrique in the Canary Island and especially Lanzarote does not go unnoticed by travelers. Universal creator and pioneer of environmentalism, his work modeled the archipelagos.
César Manrique's work, and in particular his extraordinary vision of the relationship between nature and man, can be seen in every of his creations. It also influences the way of thinking of the inhabitants of the island and of all Canarians in general. And of course, throughout he main tourist attractions that span the entire island. (More about Lanzarote here)
César Manrique (1919-1992) was born in Lanzarote. He is a painter, sculptor, architect and multidisciplinary artist. César Manrique studied in Madrid and displayed his arts around the world. Besides, he even lived in New York during the 60's.
A few years later, he returned to Lanzarote, his native island, to settle there permanently. It was then that he began his most personal and ambitious project: using the island itself as a canvas on which to express his artistic ideas and the defense of environmental values. The love he felt for his land and his dazzling personality did the rest. In 1978 he was awarded the World Prize for Ecology and Tourism.
If you ever visit Lanzarote, you will for sure feel touched about Manrique's art. We did at least!
---
CÉSAR MANRIQUE: HIS LIFE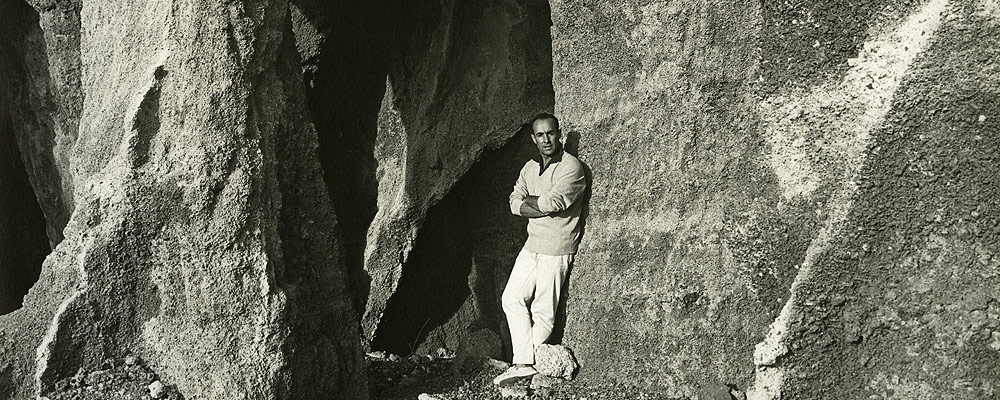 At 26, the Lanzaroteño entered the School of Fine Arts in Madrid where he obtained his master's degree in drawing and painting. César Manrique becomes an artist imbued with surrealism. He opened his first art gallery in Madrid. He met personalities like Rockefeller, who invited him to New York in 1964.
But in 1966, César Manrique definitely returned to his native island. He decided to fight against the policy of new constructions of mass tourism. He wanted to restore the image of his beautiful island: Lanzarote.
With the support of the President of the Government of the Canary Islands, he was committed to the conservation of the cultural identity and landscapes of Lanzarote. As a result, it initiated the phase of sustainable tourist development and the safeguarding of the natural and cultural heritage of the island. Only traditional constructions was authorised in Lanzarote, and buildings beyond two floors were prohibited.
---
CÉSAR MANRIQUE: HIS IDEOLOGY
César Manrique's art is a fusion between Man and nature. The artist expresses himself by shaping works in rocks, stones and lava flows. It highlights the splendor of nature by adding an artistic setting.
In Tahiche, César Manrique builds his house on a sea of ​​lava, where he discovers five lava bubbles. He decides to transform these bubbles into different living rooms.
The Ministry of Education, Culture and Sports recognized his talent in 1980. They awarded him the Gold Medal for Merit in Fine Arts.
Then, in 1988, César Manrique moved into a traditional farmer's house in the heart of the Haría. After his death, it became the César Manrique House-Museum, which opened to the public in 2013.
The former house of the artist, in Tahiche, also opened to the public. It became the César Manrique Foundation in 1992, and promotes artistic activities around three axes: cultural reflection, the arts and the natural environment.
---
MAIN ART WORKS OF CÉSAR MANRIQUE
The artistic work of César Manrique is of a vast and recognized quality, but it is his interventions on the Canary Islands which made him famous. In all his works, Manrique seeks an extremely respectful dialogue and integration with the natural environment. Mirador, gardens, coast landscape, cultural centers… The list is endless and disturbing by its originality and its imperishable modernity.
Here is the list of his main art works:
In Lanzarote:
Mirador del Rio
Casa Museo César Manrique
Restaurant El Diablo
Villa Lagomar
Casa Museo del Campesino
MIAC Castillo de San José
Fundación César Manrique
In Tenerife:
Playa Jardín
Parque Marítimo
La Gomera:
El Hierro:
Fuerteventura
El Morro Velosa Viewpoint
---
LANZAROTE
Los Jameos Del Agua
This is the first center of art, culture and tourism created by César Manrique. It shows clearly the harmony between art and nature. The artist took advantage of the volcanic tunnel to create a natural auditorium of extraordinary beauty.
Nearby is a palm garden with a pool and the Casa de los Volcanes (House of Volcanoes) museum (one of the most important research centers in the world).
Location: here
We wrote a full post about Jameos Del Agua. Check it out here for more information.
---
Fundación César Manrique
César Manrique's strong personal commitment to his work and his ecological vision led him to convert a set of volcanic bubbles into his own home. He lived there for years. Today, his house was transformed into the Foundation decorated with his works and his private collection. Browsing his rooms is the best way to approach the spirit and talent of this unique artist.
Website: here
Location: here
---
Jardín de Cactus
In Guatiza, in the north of Lanzarote, is the Jardin de Cactus. The garden brings together more than 1,400 species of cactus from all over the world.
This is César Manrique's last work on the island.
Respect for the natural environment is one of the keys to César Manrique's architectural work, and is reflected in the Jardin de Cactus, fully integrated into the landscape of the island. The windmill stands on the black stone and remains one of the best places for a panoramic view of the garden. To rest during the visit, it is best to sit near the pond in the garden or go for a drink in the cafeteria.
Location: here
We wrote a full post about the Cactus Garden here to know more about this beautiful location.
---
Mirador del Rìo
The Mirador del Río, in the north of Lanzarote, is a work of art located on top of an imposing cliff. Looking north from its large platform, you can see La Graciosa. The island features gorgeous volcanic cones.
The building was designed by César Manrique, who perfectly blended it into the landscape using the surrounding volcanic rocks. The interior is full of lights and has a bar. Outside, visitors will find information boards, telescopes and large recreational areas.
Location: here
---
El Diablo restaurant
El Diablo restaurant is located in the heard of Timanfaya National Park, a must-see in Lanzarote. The volcanoes and pristine lava fields of this 5,000 hectare national park located near the western coast of the island of Lanzarote are one of the most picturesque visual spectacles in the Canary Islands.
The view from the restaurant is breathtaking. You can even see the impressive geyser coming out of the earth.
For more information about Timanfaya, check out our full post here.
Location: here
---
MIAC Château de San José
From a fortress in ruins to the International Museum of Contemporary Art, the castle of San José is a fort where traditions and modernity blend perfectly. On its 18th century stone walls hang works by Tápies, Miró, Alechinsky, Millares, and many others. Located in the east of the island, this artistic center is a museum, a restaurant and, without a doubt, a unique and emblematic place in Lanzarote.
Once through the round door of the entrance, everything bears the mark of Manrique. The vaulted temporary exhibition hall, the magnificent gardens of lava and palm trees, the naturally white spiral staircase etc. Elegant and very modern, this establishment offers creative Canarian cuisine and fresh tapas in a curved and glazed room.
Location: here
---
CASA-MUSEO CÉSAR MANRIQUE
This is the last residence of César Manrique located in Haria in the northeast of Lanzarote. It is a beautiful traditional house in the middle of a small palm grove and you can also visit its workshop at the end of the garden.
You enter the house through a small interior courtyard paved with volcanic stones. You will quickly discover the intimate universe of the artist. His bedroom with his personal effects, his pajamas on the bed, his outdoor bathroom, everything is there as if César Manrique was still living there.
Location: here
---
VILLA LAGOMAR
Villa Lagomar is our dream house. This beautiful villa was designed by César Manrique, of course 😉
Lagomar is built directly on the rock, in a volcanic stone quarry. This house is really impressive by its volumes and its very luxuriant exteriors.
Omar Sharif bought the house a few years after its construction (but only for a few days…). According to rumors, he would have lost his acquisition by betting it in a Bridge game.
This site is a cultural reference on Lanzarote. Its lush gardens, its incredible caves, water games and labyrinths are worth a visit for nature lovers. Therefore, we can't recommend enough a visit to Villa Lagomar, another must-see in Lanzarote. You will also find a restaurant and a bar inside the villa.
Location: here
---
CASA MUSEO DEL CAMPESTINO
The museum has been built in the geographical center of the island by César Manrique representing local crafts, rural life and local culture.
Right next to the museum, there is a 15 meters high the structure representing a farmer and his camel. You can't miss it if you drive pass.
Location: here
---
LA GOMERA
Mirador del Palmarejo
The imposing ravine of Valle Gran Rey is located in one of the most picturesque part of La Gomera. The spectacular view is offered by the mirador del Palmajero designed by César Manrique. From the lookout visitors can enjoy a stunning view of the vertical rock walls, the terraced slopes, the palm forests and the traditional houses. This place is listed as a Biosphere Reserve by UNESCO.
Manrique brought together Canarian elements and modern elements, then camouflaged the building between the surrounding rocks. In addition, its garden reveals many native plants of the valley such as the Canarian palm trees from which the delicious palm syrup is extracted.
Location: here
---
TENERIFE
Playa Jardín
In the tourist center of Puerto de la Cruz, in the north of the island of Tenerife, is Playa Jardín. This is one of the most famous beach in the Tenerife. It was designed in the seventies by César Manrique. Access to the beach is through the gardens of beautiful flowers stone walls and waterfalls.
Playa Jardín is an urban black sand beach divided into three sections: Playa del Castillo, Playa del Charcón and Punta Brava beach.
Location: here
READ: 25 BEST THINGS TO SEE IN TENERIFE
---
Lac Martiánez
Founded entirely on the shoreline, Lake Martiánez, is a magnificent example of architecture open to the sea. With 33,000 m2 of surface, this lagoon has a gigantic emerald shape and has 5 inner islands that offer visitors restaurants, grills and party rooms.
The terraces and the gardens help to create an atmosphere of exoticism, in which there are several sculptures by the Manrique.
Location: here
---
El Hierro
Mirador de La Peña
From the viewpoint of La Peña, in Guarazoca (north of the island of El Hierro), we can see the consequences of a striking prehistoric event: the gigantic landslide that created the valley of El Golfo several million years ago. The rocks of this enormous depression, 15 kilometers wide by 1.5 kilometers high, are covered with dense native vegetation. At its feet stretches a volcanic soil covered with vines and fruit trees which flows into the blue of the Atlantic. From La Peña, you can also see the virgin rocks "Roques de Salmor", sanctuary of endemic giant lizards.
This building is a real architectural gem, designed by César Manrique. At La Peña, Manrique used lots of plants, large skylights and exposed stone ceilings to create a fresh and welcoming atmosphere. Finally, inside you can enjoy the Mirador de La Peña restaurant, a unique site, with its wide choice of Canarian dishes prepared with products such as tropical pineapple or with the excellent fresh fish caught on this island.
Location: here
---
FUERTEVENTURA
Mirador de Morro Velosa
This viewpoint is an essential stopover for anyone wishing to discover Fuerteventura. The interior of this island recognized as a Biosphere Reserve by Unesco will surprise you with its wild landscapes. An almost infinite succession of rounded and colored hills, in a gradient of red and orange tones.
Morro Velosa is the ideal place to enjoy the perfect view of Fuerteventura. This large, elegant building, with its wooden porch and tiled roof, is painted in the colors of the surrounding landscape. Inside, you can learn about the geological past of this volcanic island.
However, note that last time we went there in January 2022, the mirador was closed. So better check before going there.
Location: here
---
OUR OPINION ABOUT CÉSAR MANRIQUE'S WORK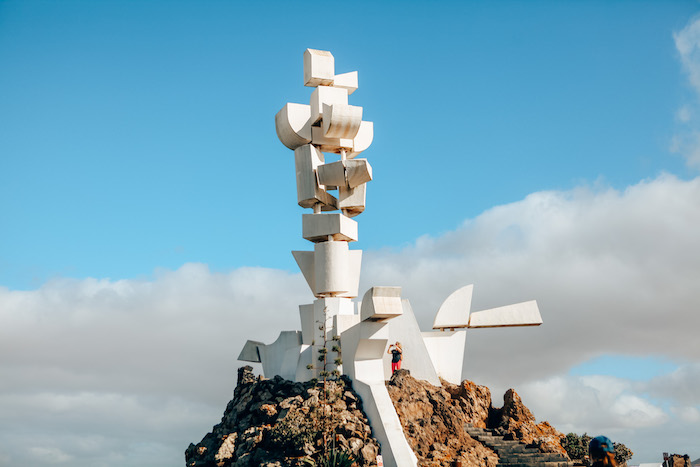 The first time we discovered César Manrique's work was during our first visit in Lanzarote. Well, right when we landed, as the airport is called César Manrique's Airport, and it's written in big capital letter. Impossible to miss it.
Then we went to Jameos del Agua as our first visit, and were completely blown away and amazed by the beauty of this place. After that we went to see the César Manrique's foundation, and were completely hooked by his talent. Simply, he is a genius.
In conclusion, if Lanzarote is as beautiful as it is today, it's completely thanks to César Manrique's vision. We absolutely love his work and really admire him. Before leaving Lanzarote, we did a last trip to his last house in Haría. There we could really feel his presence and were expecting to see him at any moment. All his objects and unfinished art works were left as it is. It's quite an emotional visit.
For more information on Lanzarote, you can check out this post here.
---
Related Posts
TIMANFAYA NATIONAL PARK, the unmissable things to see in Lanzarote: here
CACTUS GARDEN a must see in Lanzarote: here
LANZAROTE, 25 best things to see: here
PLAYA BLANCA, the best place to stay in Lanzarote: here
PAPAGAYO BEACH, the most beautiful beach in Lanzarote: here
TEGUISE, the former capital of Lanzarote: here
FAMARA, a charming village and surf paradise: here
TOP 10 BEACHES in Lanzarote: here
BEST AREAS to stay in Lanzarote: here
JAMEOS DEL AGUA, our favorite sight in Lanzarote: here