WHAT TO SEE IN PYRGOS, SANTORINI? IS PYRGOS WORTH VISITING? WHAT IS PYRGOS KNOWN FOR?
Pyrgos is a small town located in the center of the island of Santorini, which brings together many of the most beautiful things you can see during a stay in the Cyclades.
The village is located about 5 km south of Fira, Santorini's capital.
Pyrgos, the most traditional village in Santorini
If you are visiting Greece and don't know what to do in Santorini, we highly recommend Pyrgos! This village was one of the highlights of our trip to Santorini!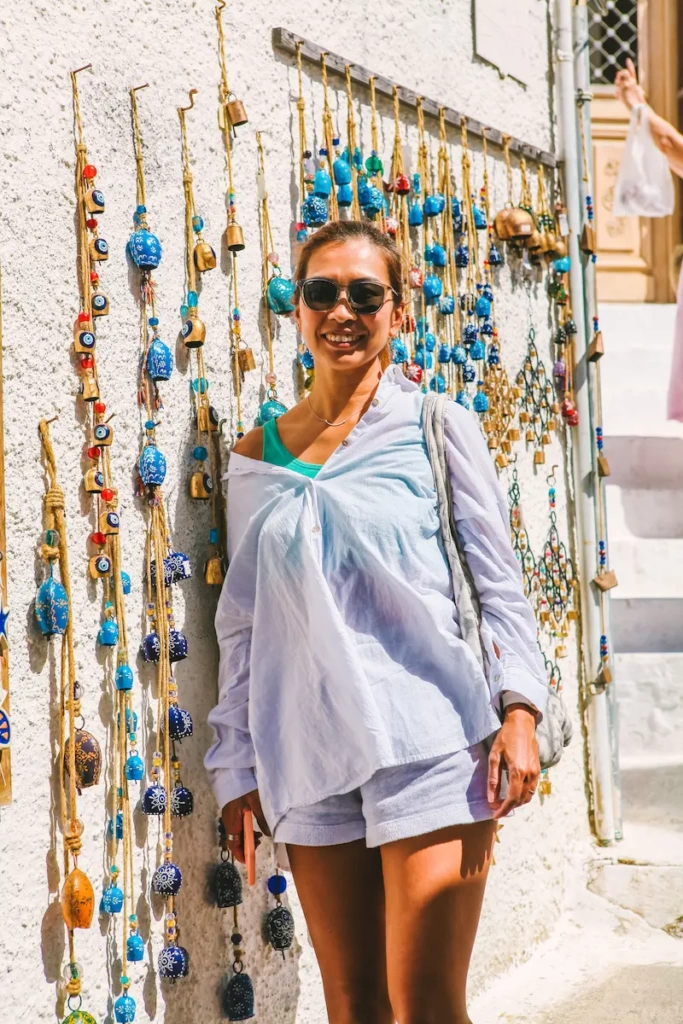 Pyrgos is absolutely stunning between the traditional alleys, the charming churches, and the ruins of the fortress located on the mountain overlooking the village!
In this post, we describe all you need to know about Pyrgos in Santorini.
Here is a glimpse of what Pyrgos looks like from above:
---
WHAT IS PYRGOS KNOWN FOR?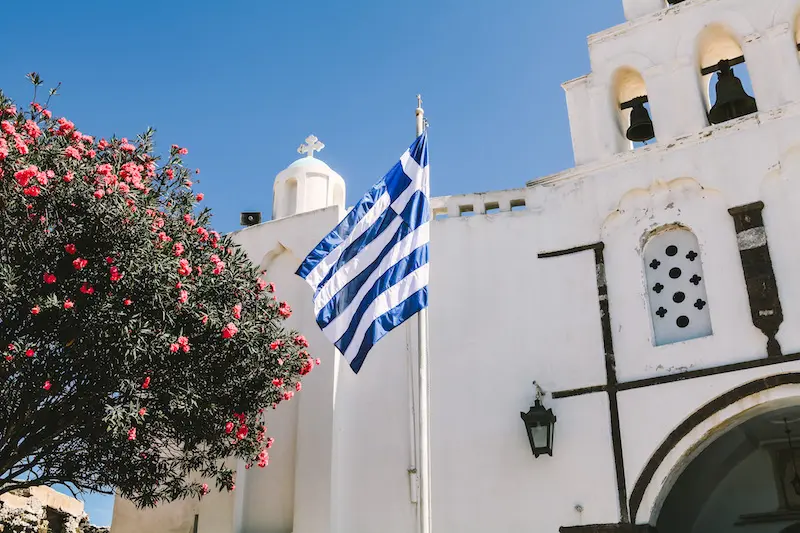 In Pyrgos which is located near Mount Profitis, the highest point on the island and one of the best things to see in Santorini, you can discover amazing panoramic views of the Santorini.
Pyrgos is also much less touristy than some other places in Santorini, such as Oia and Fira. Which makes it even more pleasant to visit!
In Pyrgos focus your visit on the historic heart, where you can discover a picturesque village, which has retained its authenticity.
The panoramic views are breathtaking and it's the perfect place for photos in Santorini! At the top of the hill in Pyrgos, where you will find its castle, it's also the perfect spot to enjoy a sunset on Santorini. And you might even be the only one!
---
WHAT TO SEE IN PYRGOS, SANTORINI?
1. The Venetian castle of Kasteli
This village spread around a medieval fortress built on the highest point of the island at the time of the Republic of Venice (the name Pyrgos literally means "fortress" in Greek).
Pyrgos is the highest village in Santorini, and is home to an emblematic site: the Kasteli fortress. It is one of five fortresses that were built by the Venetians on the island of Santorini during the 15th century. Thanks to its strategic location, Pyrgos's castle was the most important on the island during this period.
Today, the castle that sits atop the hill is in ruins. It was destroyed by the earthquake which hit the island in 1956, but its remains remain particularly imposing. Its central position will allow you to enjoy the best panoramic view of the village, but also of the entire island!
In the Cyclades, you can find a good number of fortresses of this style.
---
2. Discover Pyrgos's Churches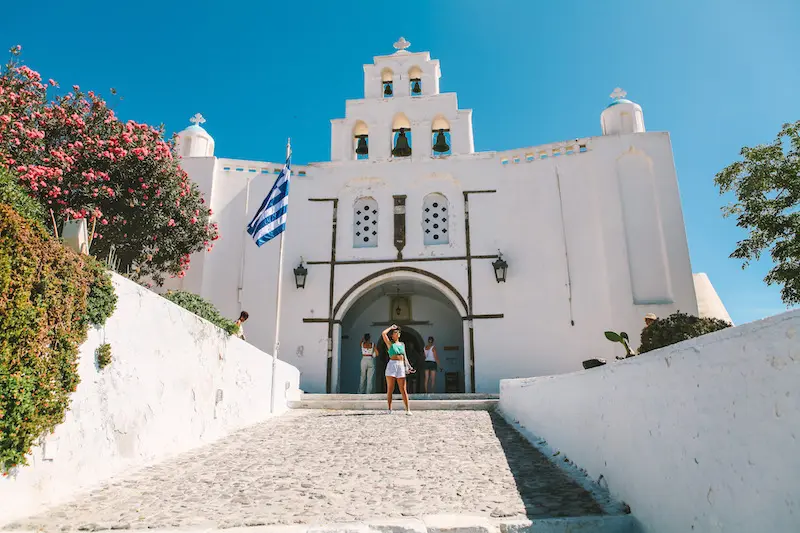 In Santorini, the inhabitants are very religious and a large number of churches are present all over the island. Pyrgos is no exception. There are about 50 religious sites in Pyrgos and its surroundings! Impressive right?
You can visit the Church of the Holy Trinity, which even has a museum inside, or Theotokaki Church, one of the oldest churches in Santorini.
---
3. Wander through the old streets of Pyrgos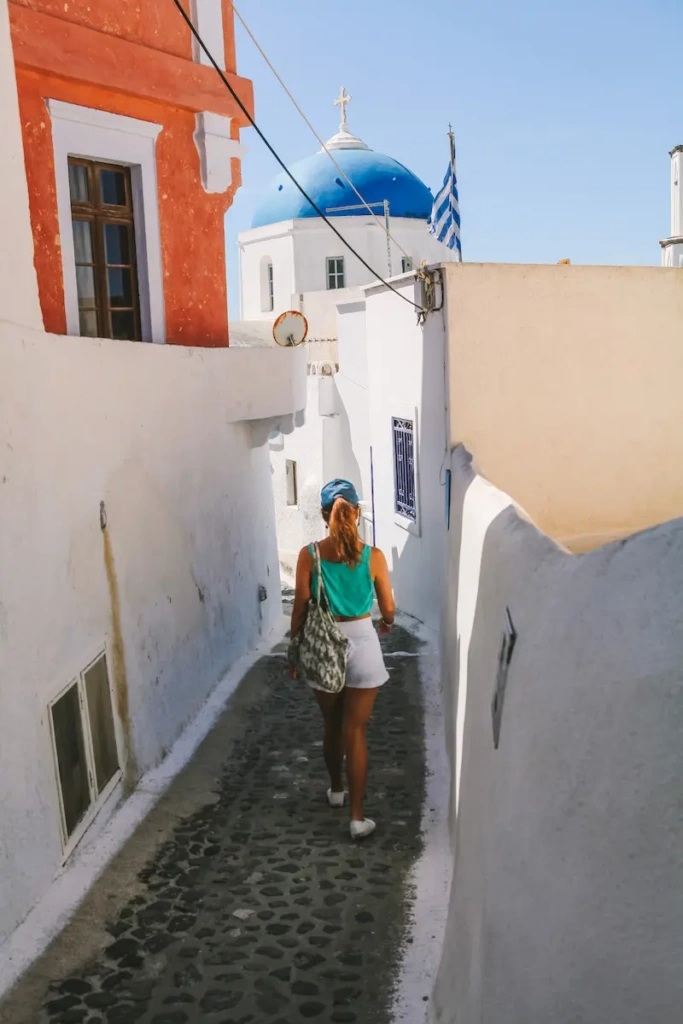 Pyrgos is one of the most charming villages in Santorini. Many people would rather focus on Oia or Fira, but it's a real pity as Pyrgos is an absolute must-see in Santorini.
As you stroll through the narrow, shaded streets of Pyrgos, you will come across small souvenir shops and artisan workshops. As its name suggests, the Spire Marble Art Gallery is as much an art gallery as it is a boutique. You can find absolutely unique marble creations there.
In Pyrgos, you may even see locals getting their food delivered by Donkey, as it used to be in Santorini many years ago.
It's such a pleasure to wander through Pyrgos!
---
4. Eat or have a drink at Franco's Cafe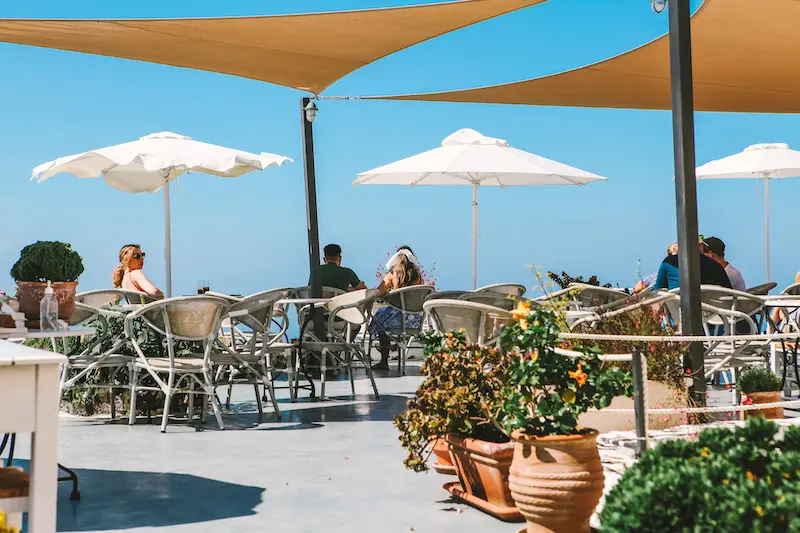 Located at the top of the hill on which the village is built, this small open-air bistro offers a breathtaking view of the entire island of Santorini and its caldera.
Perfect for drinking coffee or fresh orange juice if you visit Pyrgos first thing in the morning!
Location: here
---
5. Hike all the way to Profitis Illias Monastery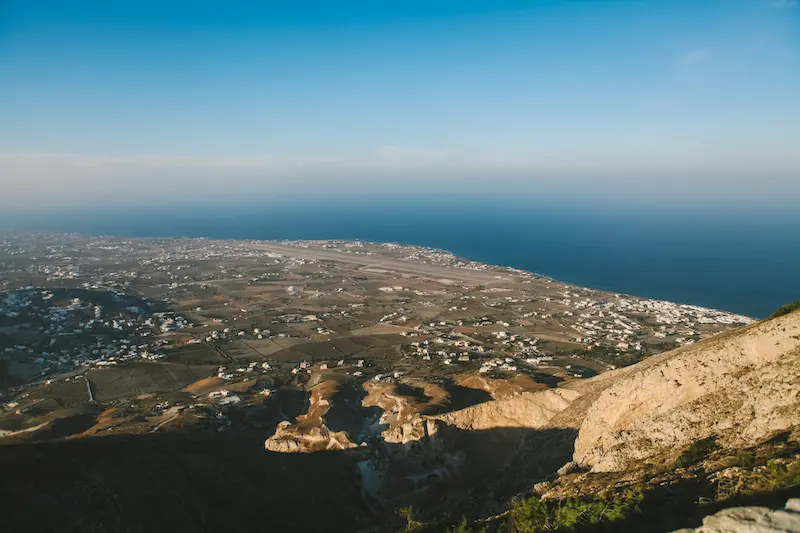 The Monastery of the Prophet Elias is the most famous monastery in Santorini and one of the oldest.
Built at the beginning of the 18th century, it is located on the highest point of the island, at the top of Mount Profitis, which dominates Pyrgos.
Visiting Mount Profitis is one of the best things to do in Santorini. The view is breathtaking!
Inside the Profitis Illias Monastery, you can only visit the courtyard and the church. Just like the Church of the Holy Trinity, you can also find a museum there, which houses a very rich collection of very old books and manuscripts, as well as various religious objects, some of which are particularly rare!
The hike takes about 1 to 2 hours. If you don't feel like hiking or have limited time, note that it's also possible to drive to Profitis Illias.
---
WHAT ELSE TO SEE NEAR PYRGOS?
Taste some delicious wines at Santo Wines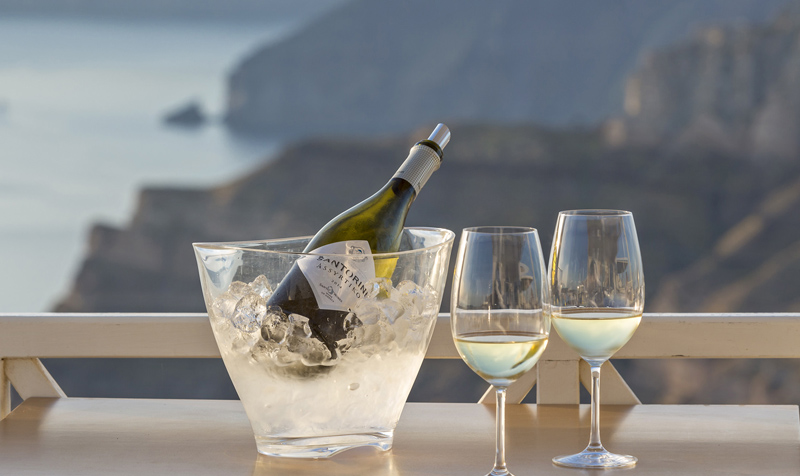 Not far from Pyrgos, continue your visit to Santorini at Santo Wines.
Greece is full of excellent wines. And Santorini produces its own wines too. There are many vineyards around the island. One of the most famous and most beautiful places to taste Santorini Wines is at Santo Wines.
Enjoy scenic winery walking tours, tastings & nibbles, plus a fantastic terrace with caldera views.
---
Visit Megalochori, another cute village near Pyrgos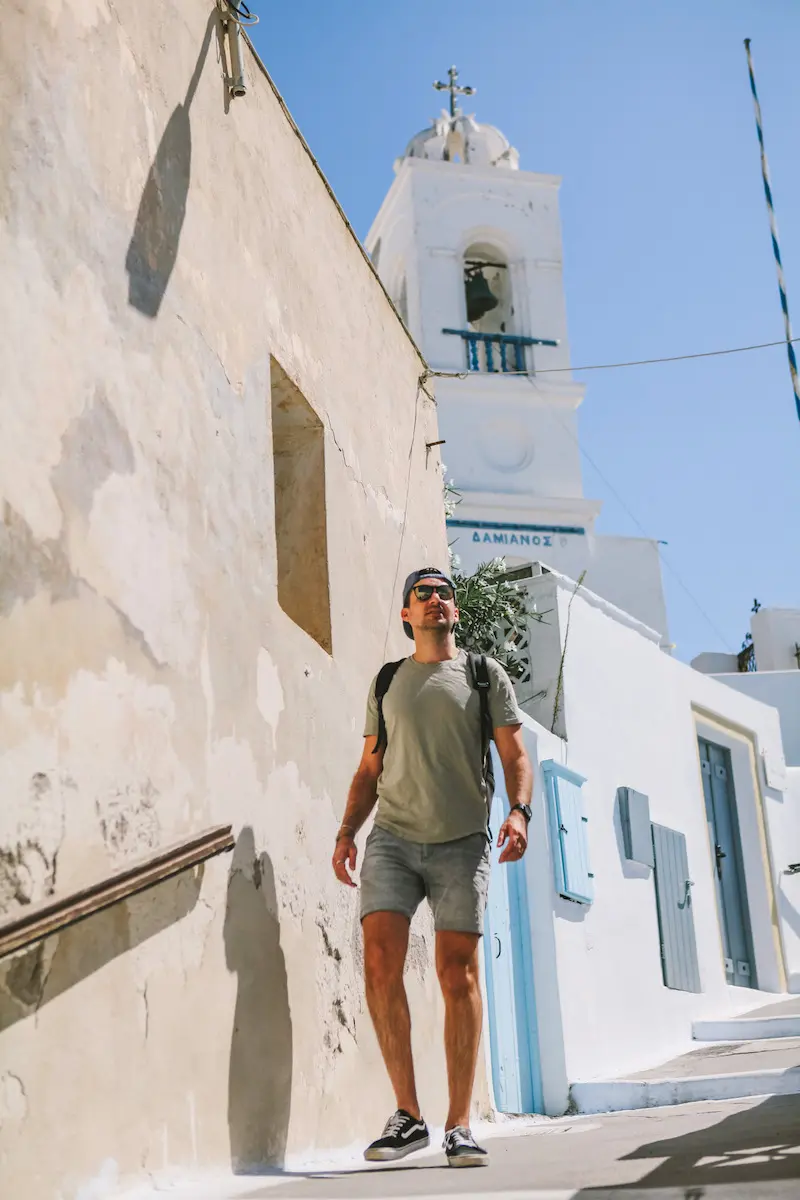 Megalochori is another small and cute village with several churches, close to Pyrgos and Santo Wine. We had a pleasant walk through the village.
This town, not very touristy, offers a nice mix of white Cycladic houses, several churches, and narrow streets testifying to the strong Aegean tradition.
We checked out a few shops with local artists, took some nice photos with traditional churches, and had our lunch there at Raki, a delicious restaurant serving traditional Greek food (location).
Overall, it was a great experience to see a more traditional part of Santorini.
>> READ: DISCOVER THE TRADITIONAL VILLAGE OF MEGALOCHORI IN SANTORINI
---
Enjoy a delicious meal with a view at Metaxi Mas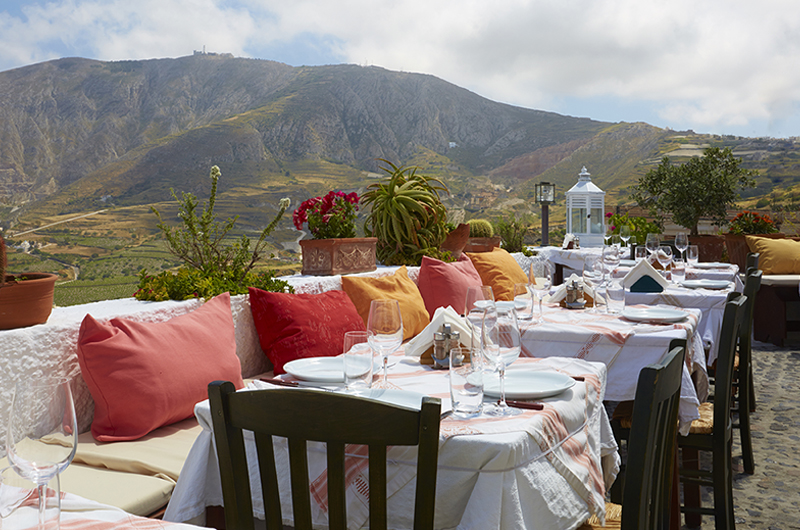 If you want to discover a hidden gem with the best local food in Santorini, search no longer and pay a visit to Metaxi Mas near Pyrgos.
This restaurant has fabulous views of the Countryside below, the food is absolutely amazing, and the staff very welcoming. This place has a lovely rustic genuine feel about Santorini,
Here you will be far away from most tourist places in Santorini, which makes the whole experience really nice.
---
HOW TO GET TO PYRGOS?
To get around Santorini you have a fairly wide option of transportation:
The buses are functional and very inexpensive. They will allow you to reach most towns, villages and beaches on the island. However, if you value your comfort, they will not necessarily be the ideal solution. Travel can be hectic, and buses are often crowded during the summer. Fira is the central location of the island, and all buses stop there, regardless of their destination. Timetable here.
For us, ATVs or scooters are the ideal way to get around Santorini, if you have a minimum of experience with this type of vehicle. Plan to rent a relatively powerful model, to easily cross hills. Be careful though as roads can be sandy from time to time…
Driving a car is also a good option to get around, especially if you are traveling in groups. You can find rental cars on the island from €30 per day.
You can also join a guided tour for a day in Santorini. >> CHECK OUT THE MOST POPULAR TOUR IN SANTORINI
---
IN CONCLUSION ABOUT PYRGOS IN SANTORINI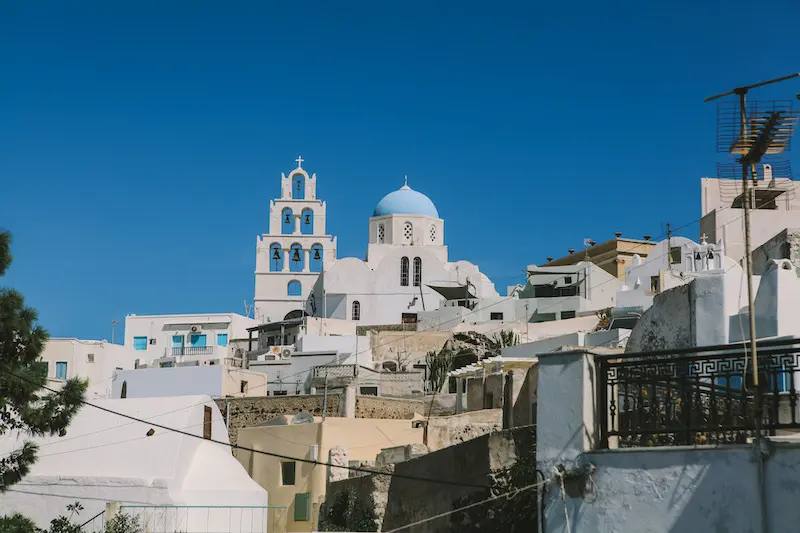 Nestled on the enchanting island of Santorini in Greece, Pyrgos is a picturesque village that offers visitors a taste of authentic Greek culture, history, and stunning vistas.
Far away from the bustling crowds of Fira and Oia, Pyrgos is a hidden gem waiting to be explored.
So, pack your bags, put on your walking shoes, and get ready to fall in love with Pyrgos.
---
RELATED ARTICLES
25 AWESOME THINGS TO DO IN SANTORINI
FULL GUIDE FOR HIKING BETWEEN FIRA AND OIA
BEST THINGS TO SEE IN OIA, SANTORINI
10 BEST THINGS TO SEE AT IMEROVIGLI
BEST THINGS TO DO IN FIRA, SANTORINI
VISIT THE ANCIENT CITY OF AKROTIRI IN SANTORINI
6 BEST BOAT TOURS IN SANTORINI
HOW TO GET AROUND IN SANTORINI?
6 BEST PLACES TO STAY IN SANTORINI
TOP 10 REASONS TO VISIT SANTORINI