WHAT ARE THE BEST BOAT TOURS IN SANTORINI?
Santorini, the jewel of the Aegean Sea, is renowned for its breathtaking sunsets, azure waters, and iconic white-washed buildings.
While exploring the island's charming towns and picturesque beaches is a must, one of the most unforgettable ways to experience Santorini is by embarking on a boat tour.
Whether you're seeking romance, adventure, or relaxation, there's a boat tour for everyone.
Here is a glimpse of what you can expect during a boat tour in Santorini:
In this blog post, we'll guide you through the best boat tours in Santorini, ensuring you make the most of your visit to this Greek island paradise.
---
Best Boat Tours in Santorini
1. Catamaran Tour in Santorini
Catamaran tours are an excellent choice for those seeking a combination of comfort, space, and adventure. These stable and spacious vessels provide a relaxed setting for a day of swimming, snorkeling, and sunbathing.
Many catamaran tours include stops at Red Beach, White Beach, and the Hot Springs, ensuring you get a taste of the island's unique landscapes and crystal-clear waters.
---
2. Island Volcanic Tour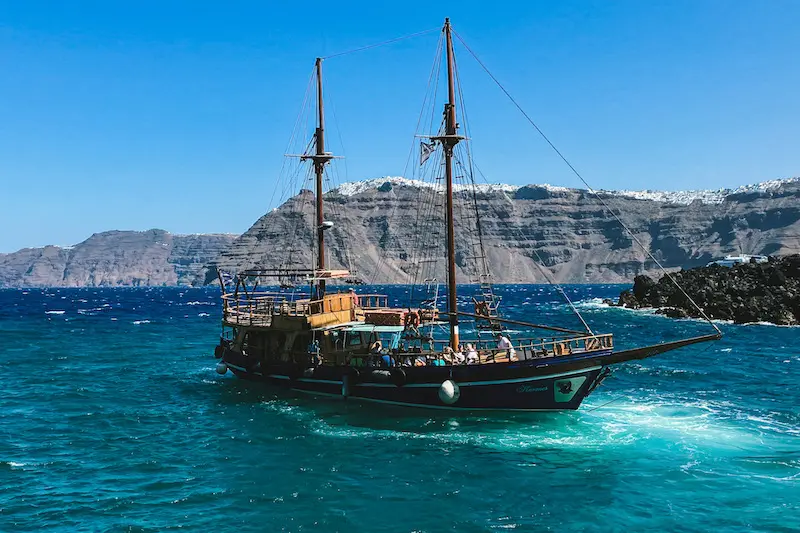 For a more authentic experience, embark a traditional wooden boat to explore the Santorini's volcanic archipelago.
You can't visit Santorini without admiring its caldera! It is an enormous volcanic crater submerged by water and surrounded by cliffs that delimit the bay of the Santorini archipelago.
Take a boat tour to explore the island's volcanic origins by visiting the active Nea Kameni volcano and the therapeutic hot springs at Palea Kameni. You can hike around the volcanic crater, feel the warm waters of the hot springs, and marvel at the unique landscapes.
These tours offer a fantastic blend of adventure and relaxation, as you get to experience the island's geological wonders while enjoying the therapeutic properties of the hot springs.
---
3. Sunset Cruise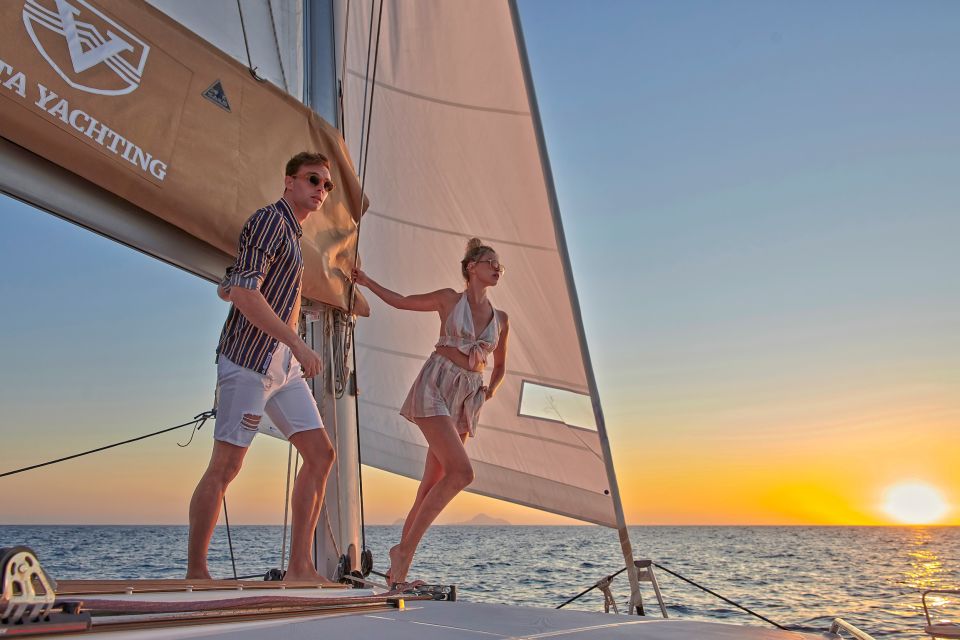 Arguably the most sought-after boat tour in Santorini, a sunset cruise is an absolute must.
As the sun paints the sky in hues of orange and pink, the island's stunning caldera views are at their finest. You can choose from various options, including catamarans, traditional wooden boats, and luxury yachts.
During the tour you can sip on local wine, nibble on delicious Greek snacks, and let the romance of Santorini sweep you away.
---
4. Private Yacht Charters
If you're looking for luxury and exclusivity, a private yacht charter is the way to go. This is one of the best boat tours in Santorini!
Explore the coast of Santorini at your own pace, with a dedicated crew catering to your every need. These tours often include gourmet meals, champagne, water sports, and personalized itineraries.
It's a perfect option for honeymooners, special occasions, or anyone looking to experience Santorini in style and seclusion.
---
5. Kayaking trip in Santorini
For the more adventurous, it is also possible to join kaya tours along the impressive cliffs of Santorini! What better way to appreciate the cliffs of Santorini which are between 150 and 300 m high than with your own kayak at your own pace!
This is an incredible experience!
---
6. Jet Ski tour in Santorini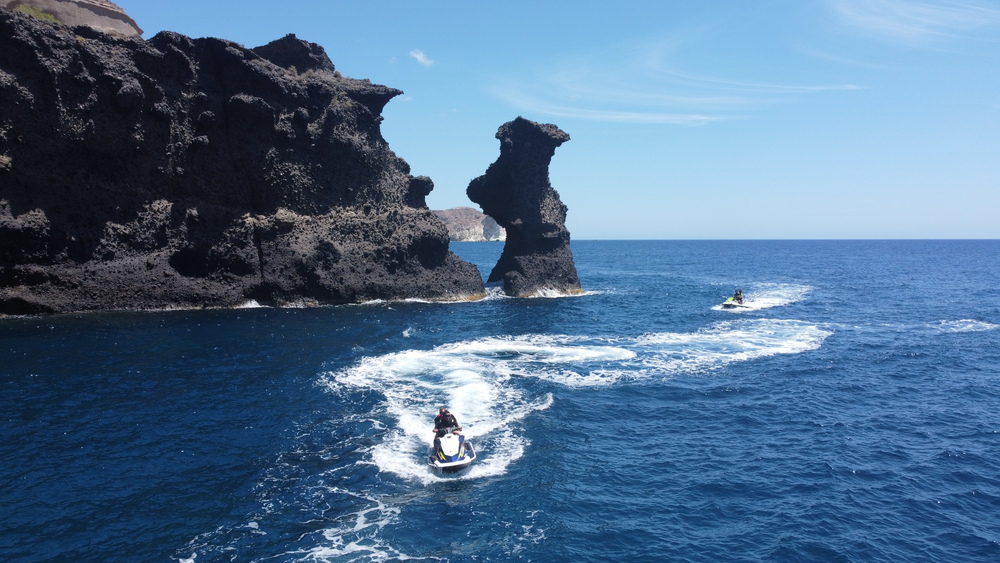 If you're a thrill-seeker and water sports enthusiast, Santorini offers exciting jet ski tours that allow you to explore the island from a different perspective.
Zip through the crystal-clear waters of the Aegean Sea, experiencing the adrenaline rush as you ride your jet ski along the coastline.
>> MORE INFO ABOUT JET SKI TOURS
---
In conclusion about joining a boat tour in Santorini
Sailing between the islands of the volcanic archipelago, is one of the best things to do in Santorini. It's hard to believe that it was once a single large land mass that sank during a huge eruption around 1600 BC.
Santorini's boat tours offer a diverse range of experiences. From romantic sunset cruises to adventurous volcano explorations and private yacht charters.
Regardless of your preferences, a boat tour in Santorini is an essential part of your visit.
---
READ ALSO
25 AWESOME THINGS TO DO IN SANTORINI
FULL GUIDE FOR HIKING BETWEEN FIRA AND OIA
BEST THINGS TO SEE IN OIA, SANTORINI
10 BEST THINGS TO SEE AT IMEROVIGLI
FULL GUIDE TO VISIT PYRGOS IN SANTORINI
HOW TO GET AROUND IN SANTORINI?
THE PERFECT 3-DAY ITINERARY TO VISIT SANTORINI
BEST THINGS TO DO IN FIRA, SANTORINI
TOP 10 REASONS TO VISIT SANTORINI
BEST HONEYMOON DESTINATIONS [2023-2024]