What to do in Seoul if you only have a few days or a week to spend in the Korean capital? Which palaces to visit? Which districts to walk to discover the bubbling city? In short, what are the must-see places you shouldn't miss on your first trip to Seoul?
Seoul is a huge city with so many things to do. We lived there for 3 years and had the chance of being immersed in this amazing culture. In this post we compiled what we think are the best things to do in Seoul.
Expect K-Pop, K-Drama, delicious food (with lots of kimchi), Palaces, Soju (loads of it) and so much more. It is a fun city to discover, with great and very different neighborhoods.
The Korean capital is a fascinating blend of history and modernity, also blending the culture and values of the country. Seoul will surprise you even more when we you think that it was completely wiped out after the devastating Korean War just a few decades ago.
The largest city in South Korea has nothing but great things to offer.
Let's start with some beautiful impressions of Seoul
ALSO READ: 99 THINGS TO SEE IN SOUTH KOREA
---
1. Visit Gyeongbokgung palace, one of the best things to see in Seoul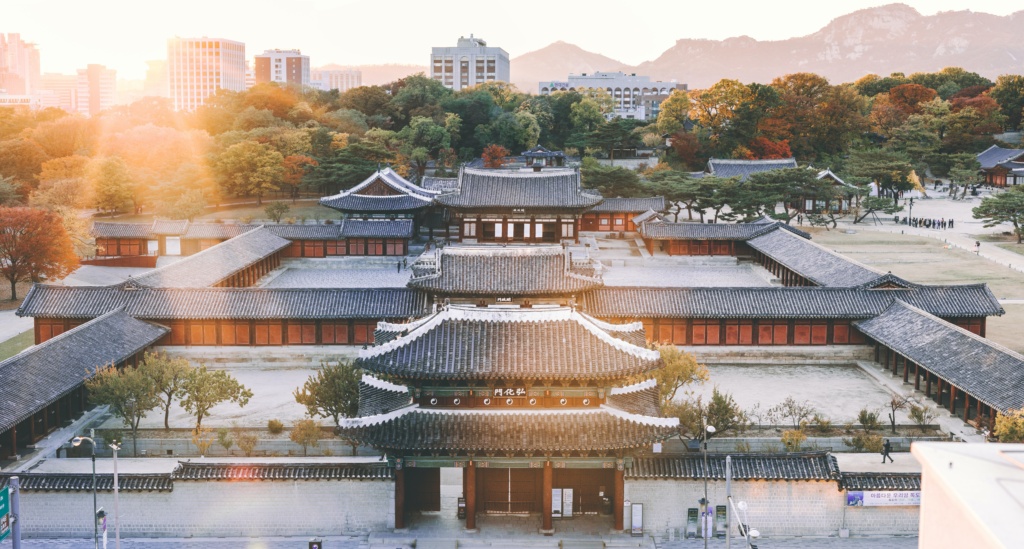 Like most palaces in Korea, their names are unpronounceable for non-korea speaker. Well, try at least to remember Gyeongbokgung, as this is the main palace in Seoul. There are 5 main Royale Palaces in Seoul (more info here).
Gyeongbokgung Palace is truly stunning. This is probably what most tourists visit at first in Seoul. It is located in the center of the city, at the end of the main avenue (Gwanghwamun Square) where you will come across the statue of Admiral Yi Sun-Shin and that of King Sejong, two famous figures in the history of South Korea.
As for the palace, it is gigantic and it will take you about 2 hours too visit. The architecture of the buildings is just magnificent and they are all very well preserved. The palace was built in 1395 and it has been destroyed many times, notably by the various Japanese invasions. Its name literally means "the palace of resplendent happiness".
CHECK OUT THE CHANGING GUARDS CEREMONY
One of the must-see events at Gyeongbokgung Royal Palace is the changing of the guard. The ceremony takes place in front of the Gwanghwamun Gate which is the main entrance to the palace. There are a total of 2 ceremonies per day at 10 a.m. and 2 p.m. Try to go a little earlier so you can be well positioned to see the ceremony. Also note that there is no change of guards on Tuesday!
The other interesting activity to do, is to dress with a Hanbok during your visit to the palace. Hanbok is the quintessential traditional Korean dress and we find it really stylish. The good part, is that if you wear a Hanbok, the entrance to the palace is free! You can rent your discounted Hanbok here.
READ: FULL GUIDE FOR VISITING GYEONGBOKGUNG
---
2. Visit Changdeokgung Palace and the secret garden, another beautiful place in Seoul
This is one of our favorite palaces in Seoul! It was also the favorite palace of many kings of Korea! Changdeokgung is a one of the main places in Seoul.
READ: COMPLETE GUIDE FOR A VISIT OF THE 5 GRAND PALACES IN SEOUL
Surrounded by mountains and hills the site offers a beautiful harmony with nature. It was once a privileged resort for the kings and their subjects.
MAKE SURE TO VISIT THE SECRET GARDEN
The main sight of Changdeokgung, is the Huwon Garden, also called Secret Garden. The Huwon Garden can be visited by booking in advance with a guide. Reservations can be made online or directly on site.
Additionally, you can enjoy a palace tour, titled 'Changdeokgung by Moonlight', during fall and spring from Donhwamun Gate. We highly recommend this tour by the way. It is absolutely magical to visit the temple at night. You can book a full guided tour in English here.
READ: FULL GUIDE FOR A VISIT OF CHANGDEOKGUNG
---
3. Head to the Namsan Tower for the best view of Seoul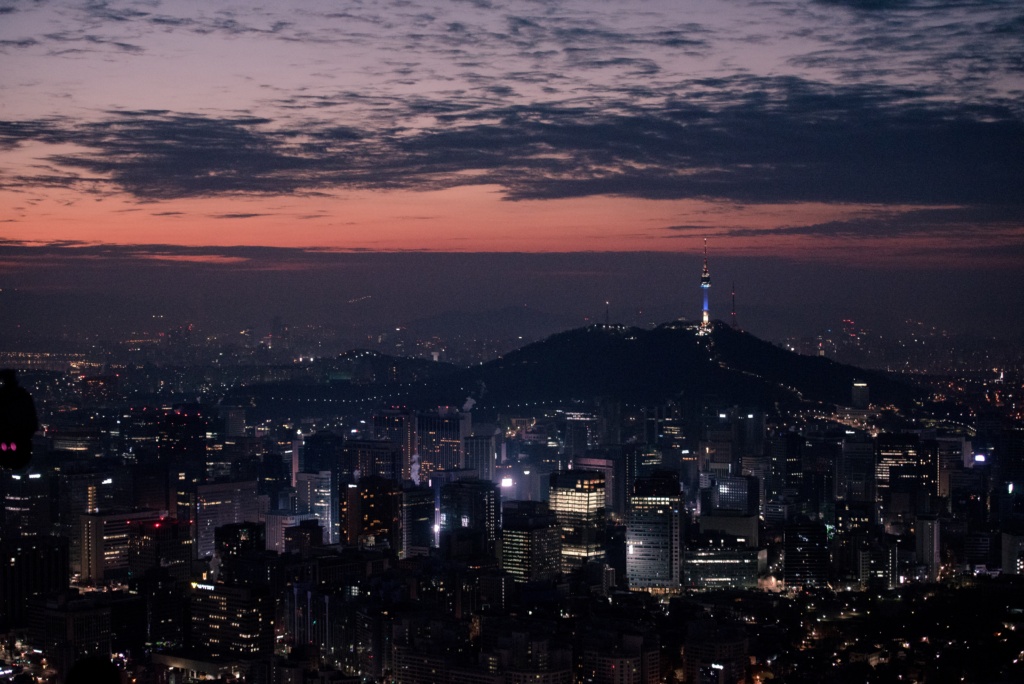 Korea does not have many distinctive monuments such as the Eiffel Tower in Paris, The Marina Bay Sands in Singapore or the Pisa Tower in Rome. However, standing at 480m above sea level, the Namsan Tower has an observation deck at the very top for a stunning 360 views of the city. This is probably the most recognizable monument in Seoul. We wrote a full post here for more info.
You can access the park with a nice a walk through the Namsan Park. You can start from the Grand Hyatt, a majestic hotel located at the bottom of the park (more info here). If you want to experience something else, we recommend that you take the cable car which makes it a fun activity and it's an unusual way to see the city.
Here is our local tip
– Head there just before sunset to catch one of the best sunset lookouts in the city! Truly breathtaking. At night the vista is even more impressive with the millions of lights around the city. It's a romantic area, which is really worth a visit (full post here).
---
4. Wander in Insadong, one of the most traditional neighbourhood in Seoul
Insadong is one of our favorite neighborhood in Seoul, South Korea. If you travel to Seoul, visiting Insadong is a must.
Insadong is known for its many alleys, great shops, authentic restaurants, galleries and so much more. Here, we've listed 8 recommendations of top things to do in Insadong.
Insa-dong (인사동), located in the middle of the city of Seoul, is an important place where old traditional and precious objects are exposed. The district is composed of a main street, Insadong-gil, which connects many alleys with Hanok (traditional Korean houses), where many galleries , restaurants, cafes and traditional tea rooms are located.
READ: FULL GUIDE FOR A VISIT OF INSADONG IN SEOUL
---
5. Stroll in Ikseon-Dong, the cutest area of Seoul
Ikseon-Dong (not to be confused with Insadong) is a district slightly east of Insadong. It's a neighborhood with the cutest little alleys with many Hanoks, trendy boutiques, amazing cafes and great restaurants. Some call Ikseon-Dong the hipster place of Seoul. It is certainly one of the trendiest and most up and coming neighborhood in Seoul. We simply love it!
Ikseon-dong is becoming a trendy hangout for locals. You will feel back in the 1920s, while walking down the narrow alleys. There the Hanoks have been revamped to become trendy cafes, bars and restaurants. This should be on your to-do list while in Seoul (Trust us, this is our best local tip).
Visiting Ikseon-dong is one of the best things to see in Seoul. Don't miss it!
READ: VISIT IKSEON DONG THE CUTEST NEIGHBOURHOOD IN SEOUL
---
6. Party hard in Itaewon, the best nightlife in Seoul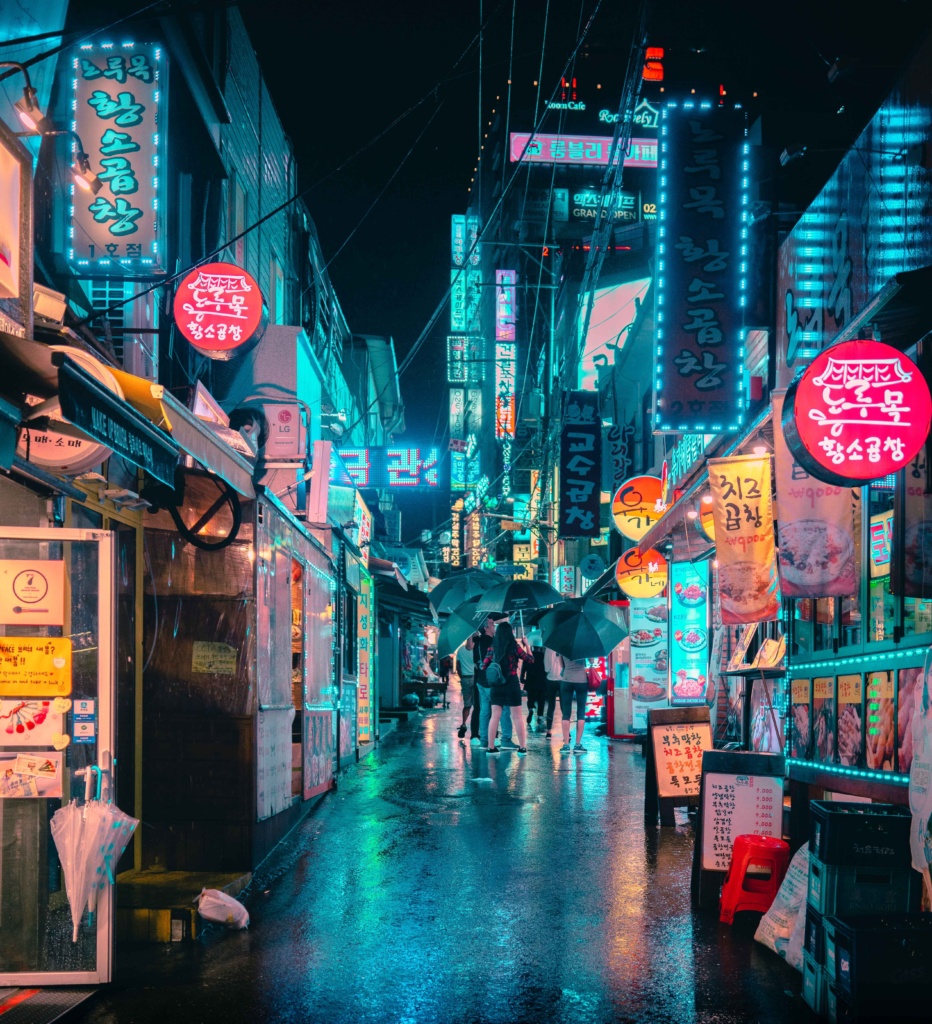 It is well known, Koreans like to drink and like to drink a lot ! Korea is the country where people drink the most in Asia. In Seoul and especially Itaewon, you can enjoy the ultimate nightlife experience and dance until sunrise as most bars stay open till late.
So head to Itaweon at night, and go with the flow. You may try the Korean local alcohol; Soju (which tastes a bit like vodka but much lighter). Itaewon is the neighborhood where you will see most foreigners. It is also well known for restaurants from all over the world and shopping.
A trip to Itaewon at night, is one of the best things to do in Seoul! Put it on the bucket-list of best things to do in the city.
---
7. Hike the Bukhansan National Park, the most beautiful mountains in Seoul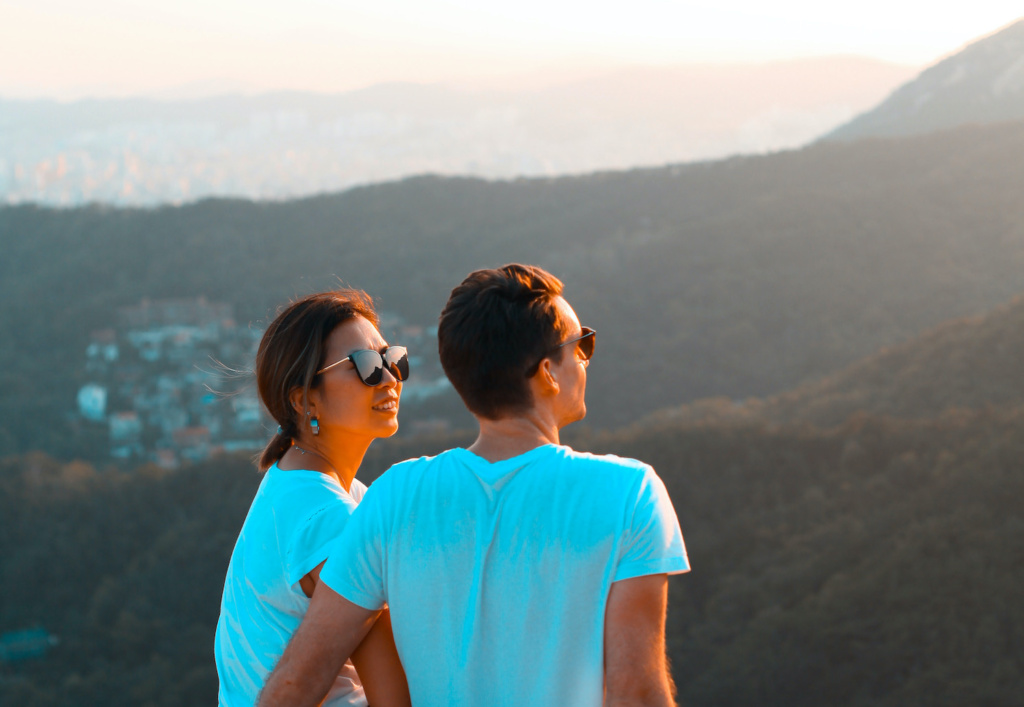 After partying in the city, take some fresh air at the Bukhansan National Park. It is located in the northern part of Seoul. It is a real hiker paradise with many trails. The changing seasons makes the surrounding nature even more beautiful and constantly changing.
With a large majority of the South Korean landscape being mountainous, it is not surprising that rock climbing is an extremely popular sport for Koreans. While the most famous peaks and mountain ranges lie outside of Seoul (such as Seoraksan), the capital has Bukhansan (or "Mount Bukhan") which is the highest peak in Seoul, reaching 836.5 meters above sea level. It is a difficult but rewarding climb.
The breathtaking views of Seoul and the surrounding area are an experience in itself. Beyond the superb panorama, it is an opportunity to meet very friendly Koreans on the roads and share a snack with them along the paths. Remember to take lots of water and put on your hiking shoes.
READ: FULL GUIDE FOR HIKING AT THE BUKHANSAN NATIONAL PARK
---
8. Shop crazy in Myeongdong, the best shopping area in Seoul
The first time we went to Myeongdong, it was at night and we were truly amazed by literally everything: Millions of lights everywhere, loud music, hundreds of shops, tall buildings, great street-food. We were not disappointed with our first experience in Myeongdong. It's a shopping paradise for fashion and beauty, where you will find most of the brands you are looking for.
Visiting Myeongdong is one of the best things to see in Seoul!
Going there at night is even more fun, with all the street food vendors, loud music and thousands of people wandering through the streets of Myeongdong. A unique experience, which we put as top 10 things to do in Seoul.
Read more about Myeongdong in this guide.
---
9. Visit Bukchon Hanok Village, the most traditional part of Seoul
Bukchon Hanok Village is a traditional district in Seoul where many old Korean-style houses (Hanoks) have been renovated. You can even sleep in one of the traditional houses, for an amazing Korean experience like the stunning Bonum 1957 Hanok and Boutique.
Bukchon Hanok Village is also a place where visitors dress in traditional clothes (Hanbok) to tour the neighborhood. It reminded us a bit of Kyoto's Gion district with travelers dressed in kimono. A visit to Bukchon is was really exceptional and one of the best things to do in Seoul!
After visiting head to Samcheong-dong a charming neighborhood at the bottom of Bukchon Village, with plenty of unique shops and great restaurants. The area is very arty, with great cafes and good vibe overall.
Both are located near Gyeongbokgung Palace, hence you can combine both visit in 1 day, all walking distance.
---
10. Relax at Cheonggyecheon stream and visit Gwanghwamun Square
Cheonggyecheon is a long water stream that runs through the city. The stream offers a peaceful oasis in Seoul. It is nice to walk along the stream during the day or at night. Usually there are many events with light shows and markets during the year. This offer a great and relaxing break from the busy city.
At the end of the stream you can directly walk to Gangwhahmun Square, which is one of the main avenues located at the heart of Seoul.
You will see two very big statues. 1 of King Sejong, the most respected king of the Joseon Dynasty and inventor of the Hangeul (Korean alphabet). The 2nd statue is Admiral Yi Sun-shin, a naval commander which won many battles against the Japanese navy during the Japanese war in the 16th century. Both are key figures of the Korean history.
---
11. Enjoy some Korean street food at Gwangjang market, the liveliest market in Seoul
Built at the very beginning of the 20th century, the traditional Gwangjang market has around 5,000 independent shops and boutiques selling everything, including high-quality hanboks (traditional Korean costumes). You can get lost in the labyrinth of shops and alleys.
At the market you can taste many local specialties such as bindaeddeok, a kind of savory pancake. Enjoy this with makgeolli , a rice alcohol drink. Everything is very authentic there and the atmosphere is really unique!
Don't try to resist, just sit in one of the many little hawkers and pick what you want to eat directly from the stand. This is a unique experience which will immerse you a bit more in this fascinating culture of this country.
Visit Gwangjang market is one of the best things to do in Seoul!
---
12. Visit the Namsangol Hanok Village, to step in Seoul's past!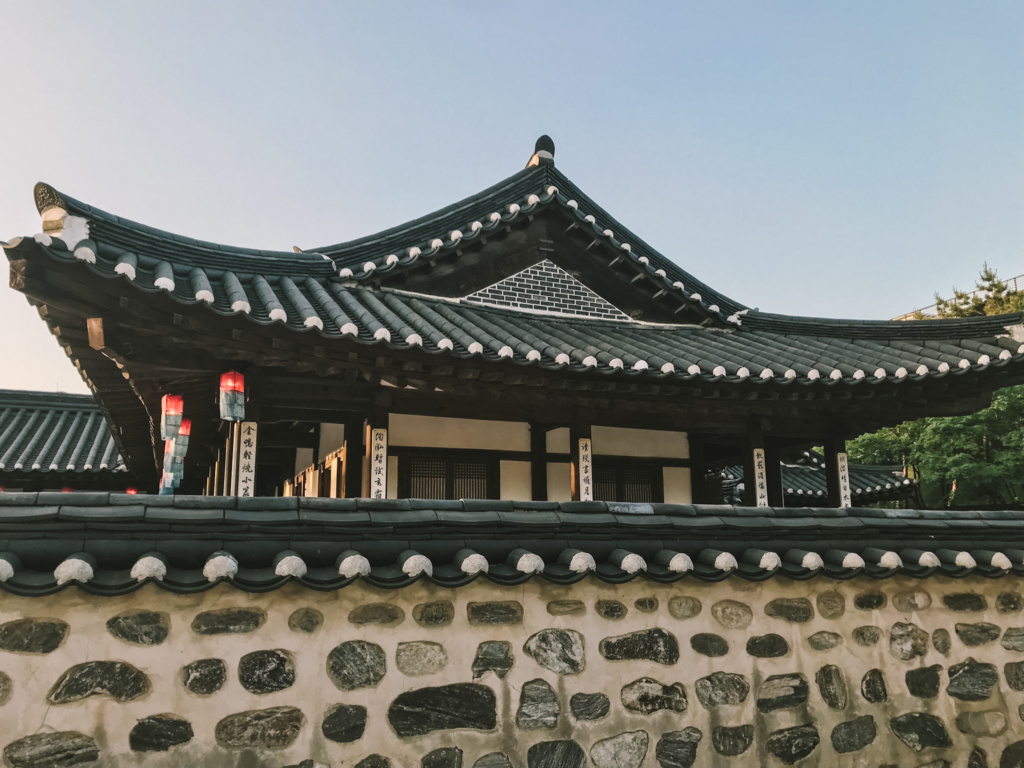 Namsangol Hanok village is located in the north side of Namsan in Seoul. It is the perfect place to discover more about the history of the Joseon period. Namsangol is famous for its preservation of Hanoks. These are traditional Korean houses.
Five of these Hanoks in Namsangol were located in separate villages and then later brought back together to form the Namsangol in 1998. The objective was to develop the Namsangol Hanok village as a cultural garden in the middle of Seoul. It shows the lifestyles of Koreans in ancient times from famers to kings.
Hanok houses are are a source of fascination for all tourists who visit South Korea. At least for us, we found the architectures so beautiful and couldn't wait to visit more of these Hanoks when we arrived in Seoul. With their wooden construction, underfloor heating system, historic furniture and beautiful fireplaces, they are simply exceptional.
READ: FULL GUIDE FOR VISITING NAMSANGOL IN SEOUL
---
13. Visit the modern Gangnam area, the birthplace of Gangnam style!
Gangnam is located south of the Han River. Gangnam is considered one of the richest and hypest district of Seoul. There are many things to do in Gangnam but one of the principal activity is to go shopping. If you don't feel like going to a mall, head to Garosu-gil aka the K-Pop Road.
Head to Gangnam Station area to enjoy the hustle and bustle of the city. Near exit 5 is a tribute to 'Gangnam Style' by PSY, the most popular song in the world. Here, tourists and locals can dance the Gangnam style and record themselves A must-see if you are in Gangnam and one of the best things to see in Seoul!
READ: FULL GUIDE FOR A VISIT OF GANGNAM IN SEOUL
YOU CAN ALSO VISIT BONGEUNSA TEMPLE IN GANGNAM
If shopping or singing Gangnam style is not your thing, head to Bongeunsa Buddhist temple. This temple contrast the modern district of Gangnam.
Bongeunsa temple is also a symbol of Seoul, because it mixes both the traditional side of Buddhism and buildings, with that of modernity, near the tall buildings of Gangnam.
It includes a large Buddha statue which is reflected on the ground, as well as pretty views of Seoul due to its hillside location.
14. Hangout in Hongdae, the student district of Seoul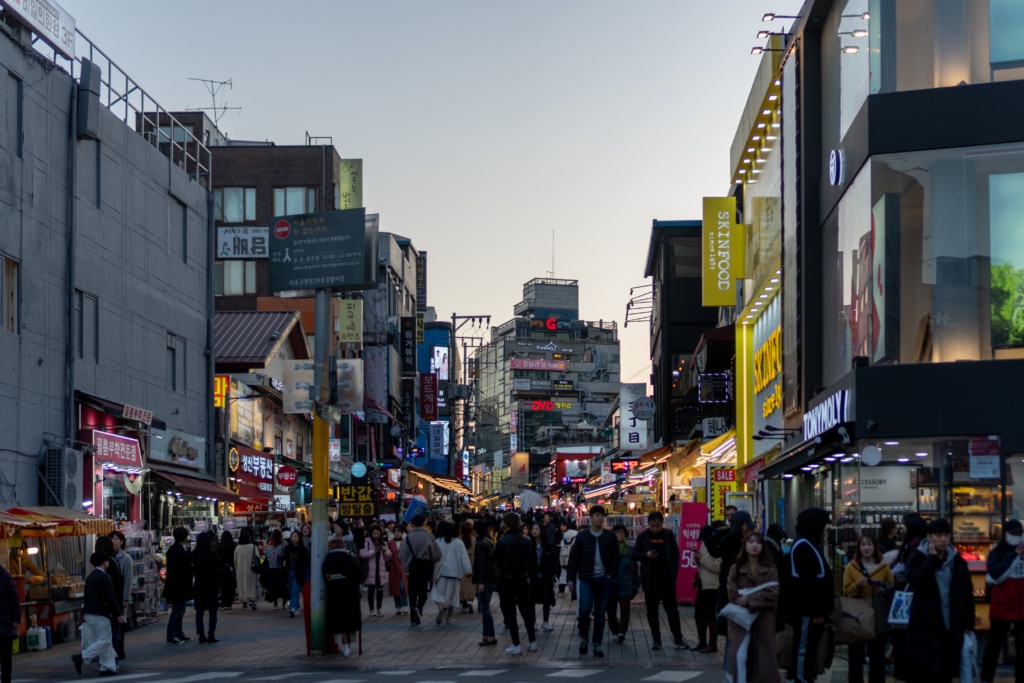 Hongdae is known for being the student district and one of the best party areas in Seoul. It has a unique atmosphere in the Korean capital. Between arts and street food, bars, discos, music and original museums, the visit of this picturesque place reveals a dynamic and alternative culture. It is therefore a must-see while you visit Seoul.
Hongdae is the most famous of all of Seoul's student districts, and it's hard to overlook it. It is located at the junction of three major universities: Hongik, Yonsei and Ehwa.
At night that you should come and enjoy its festive and lively atmosphere. In short, there is always something going on in Hongdae. If you're curious, this is where you can take the pulse of Seoul's youth.
We absolutely love Hongdae. This is one of our favorite district in Seoul! We even lived there for a while. If you are moving to Seoul, check out the best neighbourhoods to live.
READ: FULL GUIDE FOR VISITING HONGDAE
---
15. Visit Ihwa Mural Village, a unique place in Seoul
Ihwa Mural Village is a unique place in Seoul, completely devoted to Street Art. The walls of Ihwa village have been completely taken over by artists over the years.
Street Art in Seoul is filled with joy and color. Everything is fresh, delicate and so cute, a real pleasure for the eyes. And we must admit that despite the dozens of visitors who roam the place, we would love to live in such a cute neighbourhood.
Ihwa is actually a village that was meant to disappear. But a project implemented at the instigation of the Ministry of Culture, Sports and Tourism change the destiny of this place.
The "Ihwa-dong Naksan Project" began in 2006 and took place over approximately 6 months. More than 70 artists have made their contribution and have thus created unique, varied works of all kinds: paintings, sculptures, installations, etc.
Artists who were supported by some locals as well as university students who volunteered. They decided to rehabilitate this place to an art place and encourage visitors to come and discover this almost abandoned place before that.
READ: CHECK OUR IHWA MURAL VILLAGE, ONE OF THE BEST THINGS TO SEE IN SEOUL
---
16. Visit Namdaemun the largest market in Seoul
Namdaemun is Korea's largest and oldest market. It is a fantastic place to discover in Seoul.
A vist to Namdaemun is a must while in South Korea. It is consider as a National Treasure.
Covering more than 66 hectares and with more than 10,000 stores and stalls, Namdaemun Market plays an important role in determining Seoul's consumer price.
Namdaemun Market handles more than 1,700 different types of goods, including everyday consumer goods such as clothing, kitchenware, stationeries, flowers, accessories, food, seafood and agricultural products as well as household items. folk art, local products and imported goods. It is said in Seoul, "There is nothing you cannot find in Namdaemun".
If you are visiting Seoul, Namdaemun is a great place to buy souvenirs. It is also a great place to eat delicious Korean traditional food.
READ: FULL GUIDE FOR VISITING NAMDAEMUN MARKET IN SEOUL
---
17. Changgyeonggung palace our favorite one in Seoul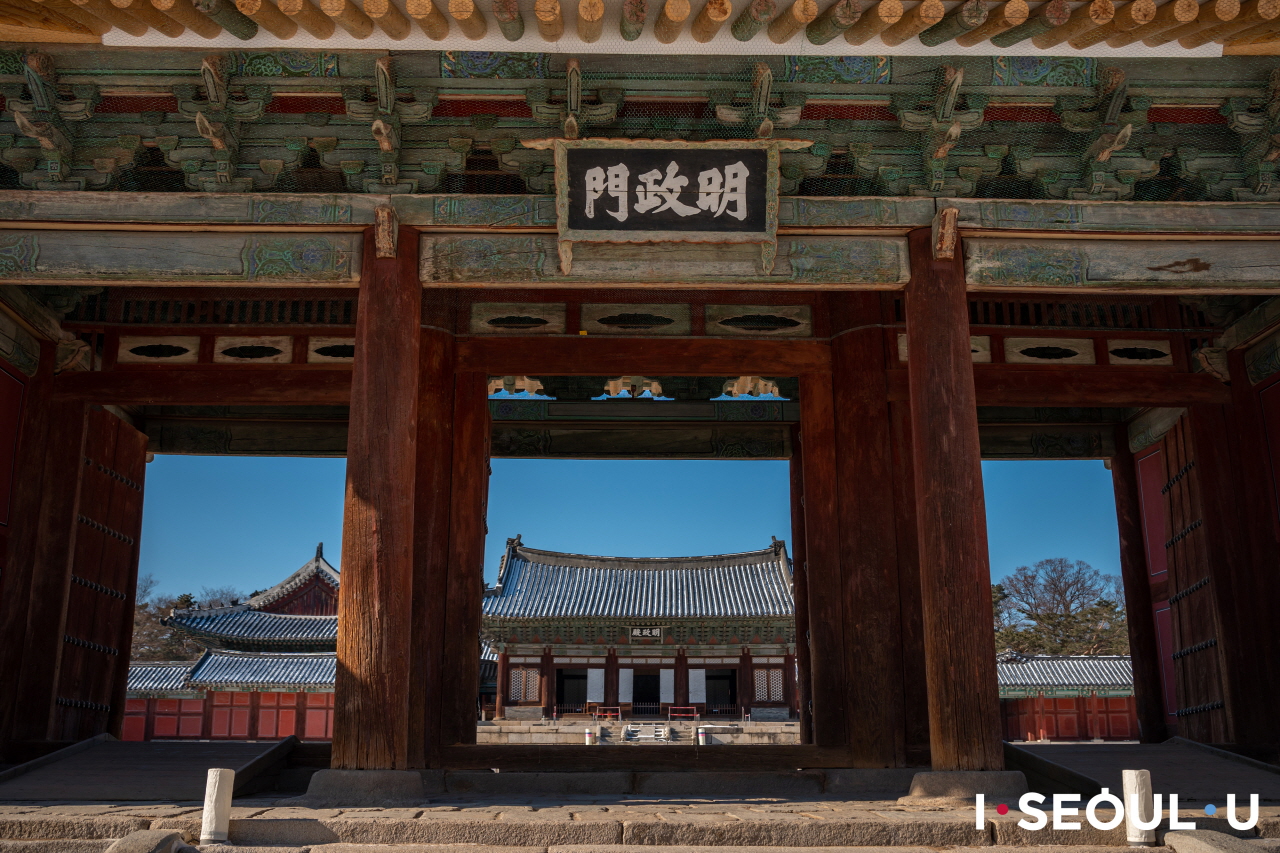 Changgyeonggung is our favorite palace in Seoul. It is located in Jongno-gu district, in the heart of Seoul. Changgyeonggung is known to hold the oldest throne room in Korea.
Seoul has 5 Grand Palaces. To know more about them, you can check out our post here.
Changgyeonggung is not as important as the main Palace: Gyeongbokgung Palace. However, we always enjoyed visiting Changgyeonggung each season, as for us it is the most charming one and has a beautiful garden. It is also the very first palace we visited when moving to South Korea.
Changgyeonggung is different to the others as there is a big a space devoted to the daily life of the family which is much larger than the space devoted to political affairs.
The site thus contains many more personal stories about the royal family, love and hatred between the king and the prince or even the tensions between the queen and the servants of the court.
READ: ULTIMATE GUIDE FOR A VISIT OF CHANGGYEONGGUNG IN SEOUL
---
18. Deoksugung Palace the most modern one
Deoksugung is one of five royal palaces located in Seoul. Its name can be translated as the palace of virtuous longevity.
One of the specificity of Deoksugung Palace is that it is the only royal Palace housing both buildings in the traditional Korean style but also buildings in Western architecture.
As Deoksugung Palace stays open until 9pm, it is best to visit the Palace at night. At least we enjoyed it much more with all the beautiful lights inside the palace and surrounded by the city lights from the surrounding skyscrapers of Seoul. The contrasts of both, makes it a unique sight.
READ: DISCOVER DEOKSUGUNG IN SEOUL
---
19. Visit Seoul – DDP Center (Dongdaemun Design Plaza), the most futuristic place in Seoul!
DDP are the initials of Dongdaemun Design Plaza which is a truly amazing building.
It was designed by Iraqi architect Zaha Hadid who is a very big name in architecture. She sadly died in 2016.
The DDP was built in 2014 and quickly became one of the symbols of the city of Seoul. It is now more and more visited by tourists who discover the urban and futuristic side of the city of Seoul.
The best time to visit the DDP is probably late afternoon to see the lights on. As for the interior, it matches the exterior aspect of the building with all-white hallways and staircases with surreal shapes and without pillars! A true work of art.
As for the types of stores you will find there, there are restaurants, clothing stores with many independent designer brands and a lot of other things. In a nutshell, go ahead, you will love it. For us, the DDP is one of the best things to see in Seoul!
---
20. Go on top of the tallest Tower in Seoul: Lotte Tower
This skyscraper is quite simply the tallest in the city but also in the country. The Lotte Tower is one of the 10 tallest buildings in the world with a height of 555 meters. The building is also called Lotte World Tower. Book online to skip the queue (here).
Since its opening in 2017, it has been possible to go to the Lotte Tower Observatory to enjoy the impressive panorama over the entire city.
The skyscraper is located in the south-east of the city. It's a great spot during sunset with the Han River, the city but also the surrounding mountains. Make sure to visit the Sky Bar at the top!
---
21. Spend the night in a temple
The templestay program allows you to stay in a Buddhist temple in South Korea, for one night or more. This experience is clearly one of our favorites in the country. More information here. Here are some our recommended temples:
Gilsangsa Temple in Seoul
You can spend 24 hours (or more) living with the temple monks and most importantly, to the rhythm of the temple. This would certainly be one of your most memorable experience in South Korea. In the heart of Seoul, Gilsangsa Temple is in the perfect location for a convenient stay during your trip to Seoul. You can stay in the city and still experience the temple way of life.
Bongeunsa temple in Seoul
Bongeunsa is another famous temple in Seoul. This temple located in the middle of the city, contrast magically with the modernity of Seoul. We highly recommend a stay there too.
To learn more about templestay in South Korea, you can visit the templestay website here.
---
Other things to do outside Seoul
DMZ
If you want to see North Korea up close, join a day tour at the DMZ. The 235-kilometer demilitarized zone (DMZ) that separates the two countries has become a tourist attraction, especially as this No Man's Land has been colonized by flora and fauna of great interest. It is however only possible to access it by an organized excursion, which will take you to visit the key points along the area.
From the observatories, you may have the chance to observe deer, which take advantage of this natural environment. There is also a more comprehensive tour, which includes the UN-managed JSA (Joint Security Area) which takes you inside the area. You can get there by bus from Seoul, it's a full day trip. You can book directly here.
---
Suwon
Suwon is the capital of Gyeonggi province. The city is very close to Seoul, about thirty kilometers to the south. In addition, it is very easy to get there by public transport: less than an hour by metro by taking line 1.
Suwon is best known for the Hwaseong Fortress, a UNESCO World Heritage Site. But there are several other places to see in the city including the royal tombs of Yungneung and Geolleung. You can also take wonderful walks on the city walls.
Spending more than a day here is better for getting a good feel of the city.
---
Nami Island
Name island is a small and charming island near Seoul.
Name became famous thanks to a drama, released in the early 2000s, part of it was filmed on the island. Following the success of the show, the island became a popular destination for drama fans who still travel to this day from all over the world. There is also a dedicated trail for fans where they can retrace the highlights of the drama.
However, for nature lovers, Nami island is the perfect escape from Seoul (more info on the best day trips from Seoul here)
Nami is especially a magical place in the fall, whose blazing trees offer a colorful spectacle. We loved the field of red, pink and orange maples. As is the golden yellow ginko alley. For more info about Nami, check out our full post here.
---
Where to stay in Seoul?
Where to sleep in Seoul? This question torments many tourists looking for a comfortable and well-located hotel in the Korean capital. And it is not so easy to answer, because Seoul is so vast and visitors's tast can be so different. For instance, Gangnam is nothing like Bukchon, and the vitality of Myeongdong contrasts with the relative calm of the banks of the Han River…
WE RECOMMEND STAYING IN JONGNO DISTRICT
To make it convenient during your stay in Seoul, we highly recommend that you choose a place in Jongno. Jongno is the district that represents the historic center of Seoul and the Capital of the Joseon dynasty for more than 600 years, it shelters three of the five royal palaces (Gyeongbokgung, Changdeokgung, Changgyeonggung).
It's a bit like Seoul's postcard, where you can admire the imposing statue of Admiral Lee Sun-Shin against the backdrop of Gyeongbok Palace and Bukhansan mountain in the background. A place where political history continues to play out, since it is also here that Cheongwadae was built, the Blue House (today the main residence of Korean President).
In Insadong, the main pedestrian street in Jongno, is the ideal place to find local craft shops, antique dealers and even ceramicists. The Ssamzie- shopping center, the O'Sulloc tea house as well as the numerous cafes and art galleries give a more contemporary atmosphere to this tourist spot. A little further, the Jogyesa Buddhist temple and the Jongmyo shrine in the east will fulfill your search for spirituality.
---
BEST HOTELS IN JONGNO
1. Bukchon Bonum 1957 Hanok Hotel for a unique experience in a Hanok (Korean traditional wooden house) with a garden. All rooms have heated floor and comes with traditional bedding. You will also have your private bathroom and a breakfast is served daily. It is a beautiful place which we highly recommend for your stay in Seoul. Book here.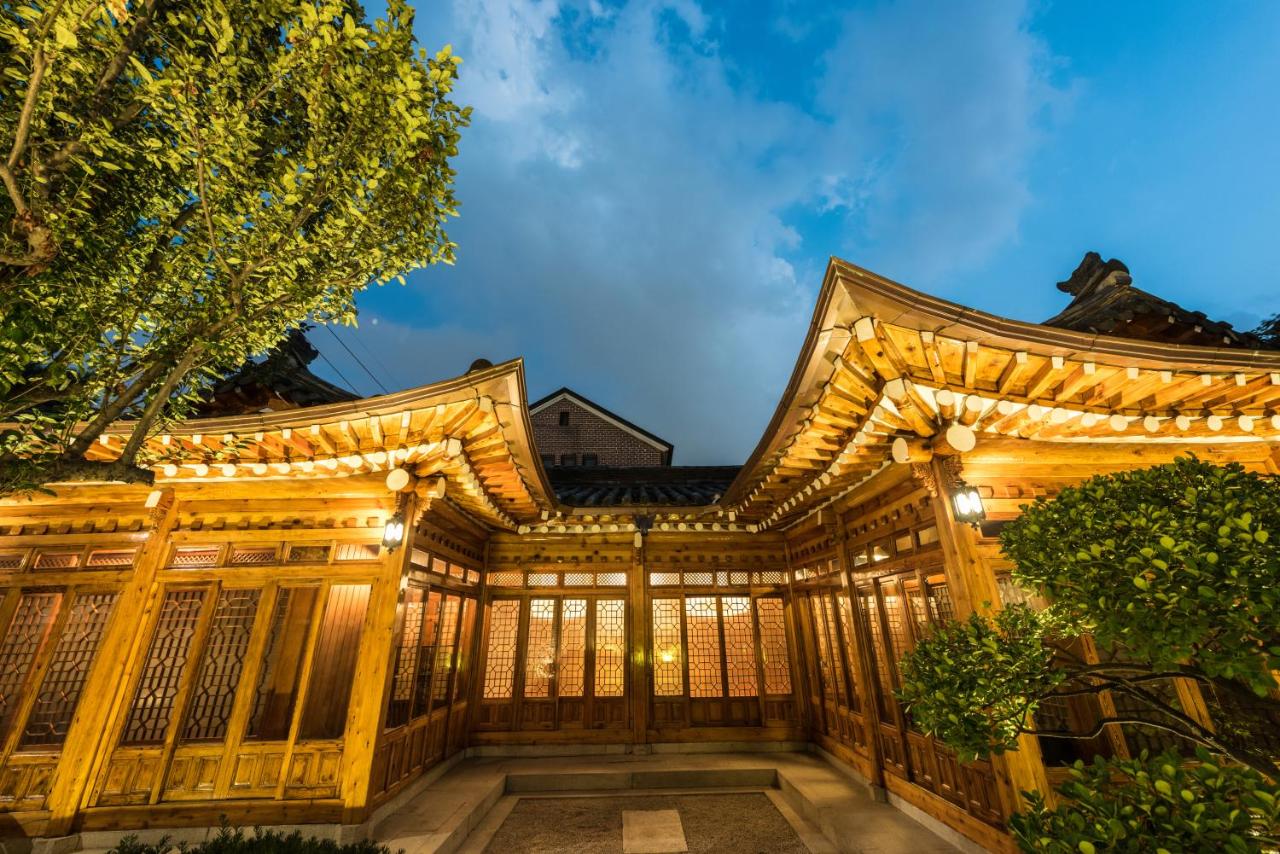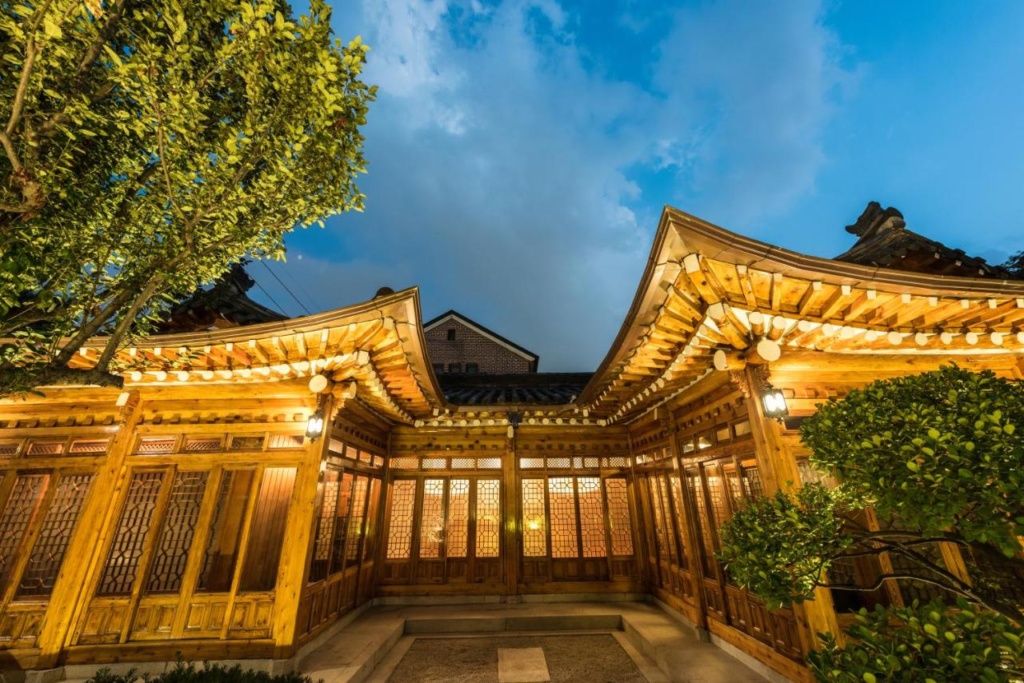 2. Four Seasons: if you are not on a budget, then Four Season is a stunning hotel located right at Gwanghwamun Plaza, which makes it a perfect starting point for all your sightseeing. With many different cuisines, sauna, state of the art gym, Four Seasons is a beuatiful place to stay. You can book here.
3. Aloft Seoul Myeongdong: At Aloft Seoul, you will be located at the heart of Seoul in the shopping district of Myeongdong. The hotel is modern, and serves a yummy breakfast. If shopping is your thing, then don't wait any longer, book your stay here.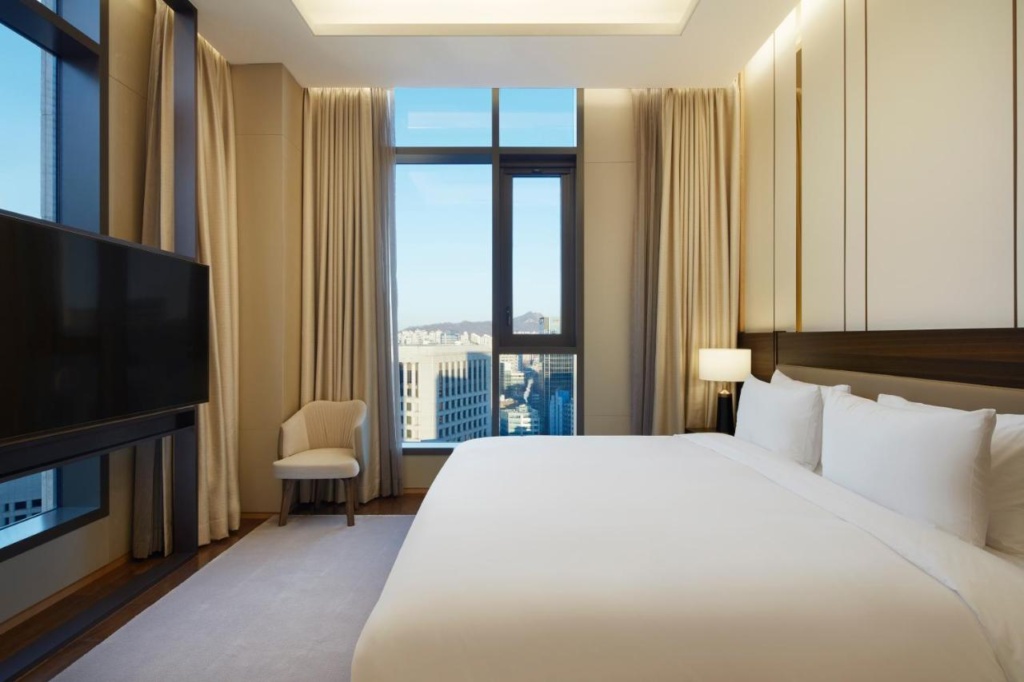 ---
Preparing for your trip
Getting your flight ticket
To get there you can opt for vairous different airlines. However, we highly recommend Korean Air or Asiana Airlines as they offer an outstanding service and good value for money. If you want to compare different flights and get the best deals, click here.
Note that there are 2 airports in Seoul. The main international hub is Incheon Airport (Incheon is actually a city close to the capital). The second airport, Gimpo International Airport, is used more for domestic flights although there are international flights arriving / departing from this airport. Both are served by train / bus.
Visa requirements
Visa for Korea are not necessary for most country to stay 90 days (more info here). During your flight, you will be given 2 forms to fill out (one for immigration and one for customs). The passage through immigration / customs depends on traffic at the airport but is generally fast.
If you don't get the forms on the plane, don't panic, you can get them at the airport, just before going through immigration. Whether at Seoul International Airport or elsewhere at the country's international airports.
Renting a car in Korea
Renting a car as a foreigner can be very complicated in Korea. That's why we highly recommend to book with Trazy here, for the best rate and specialized for foreigners.
Get a Sim Card or eSim Card
We highly recommend to get a sim card to connect to internet when visiting Seoul. This would be much easier when navigating through the city of having to translate things with Google Translate. You can buy very cheap sim card here.
What to book in advance?
Apart from your hotel of course, we recommend to book for certain activities ahead of time, as it can get very busy.
Reservation for the visit of the DMZ . This is a great activity in Seoul, however it requires that you book in advance. You can do so here.
Book your Lotte Tower Observatory ticket here. It is the tallest skyscraper and the view of the city is impressive
---
Related Posts
SOUTH KOREA: some of the most amazing things to do in South Korea: here
BEST ROOFTOPS in Seoul: here
WHY visiting South Korea: here
WHEN visiting South Korea: here
IHWA MURAL VILLAGE: a visit off the beaten path in Seoul: here
IKSEON-DONG: the cutest neighborhood of Seoul: here
NAMSANGOL hanok village: here
NAMDAEMUN the largest market in Seoul: here
INSADONG: a must-see area of Seoul: here
GANGNAM your ultimate guide: here
DAY TRIPS: best day trips from Seoul: here
EAST COAST: best things to do near Gangneung: here
JEJU: the Hawaii of Asia: here