WHAT TO DO IN BUSAN? IS BUSAN WORTH A VISIT? IS SHOPPING GOOD IN BUSAN?
Do you want to visit Busan and wonder what to do in South Korea's second largest city? Or you are in Seoul and simply debating: should I go to Busan? Whether you are already convinced or still hesitant, here are our top suggestions of the best things to do in Busan!
"BUSAN IS OUR FAVORITE CITY IN SOUTH KOREA!"
From sandy beaches to popular markets, including temples, parks and cultural spaces, there is something for everyone in Busan!
In this post we listed all you need to know about Busan.
We absolutely love this place. Enjoy your trip to Busan!
Busan (부산광역시) is the second largest city in South Korea, after Seoul. It is located at the southern end of the Korean Peninsula. Previously, Busan was referred to as Pusan. This spelling is still sometimes found in South Korea.
Busan's port is ranked among the 10 largest commercial ports in the world! Very impressive.
There are several landmarks to visit in Busan which are absolutely stunning. Busan even has the most beautiful temple in South Korea! Excited? Oh yes, you should be.
As there are many attractions in Busan, we recommend at least 3 days for your trip, 4 days being ideal.
In terms of climate, Busan is one of the few cities in South Korea where the temperature rarely drops below zero. Unlike Seoul where negative temperatures are very common in winter. If you plan to visit Busan and enjoy the beach, then it is best to go between June and September. For the rest, if you want to visit Busan, know that the city can be visited all year round as the winter is not too harsh.
Here is a glimpse of what you can expect during a visit to Busan:
Here are the best things to do in Busan:
---
1. Haeundae, the most popular beach in South Korea
Haeundae beach is the most famous place in the city of Busan. This sandy beach, sometimes overcrowded in summer, is one of South Korea's most popular swimming spots. At the foot of very tall buildings, in a lively district full of cafes and restaurants, Haeundae is a pleasant place to relax while enjoying the sea.
Also, if you are looking for a place to stay during your trip, we highly recommend staying in Haeundae. We recommend Shilla Stay Haeundae which for us has the best value for money, check it out here. There is more about hotels in Busan later in this post…
In Haeundae don't miss Dongbaek Park, which is located at the foot of the huge luxury hotel Westin Chosun Busan Hotel. This park is also called "Camellia Island". There are very nice views of Haeundae Beach and the Gwangangdaegyo Bridge. It takes an hour to go around it.
How to get to Haeundae?
Take metro line 2 at Seomyeon station, get off at Haeundae, exit 5. Then walk for 15 minutes (800 meters).
Travel time from Busan station: approximately 1 hour.
Here is our full post about Haeundae for more detailed information.
---
2. Hop on the beach train or Blue Line Sky Capsule
The best way to admire Busan's beautiful coastline is to hop on the Sky Capsule. This attraction is accessible from Haeundae, just a few minutes walk from the beach.
Formerly, the Donghae Nambu Line ran along the coast from Busan to Pohang. While most of this railway has been assimilated into the Donghae Line, there is a small section that has been renovated into the Haeundae Blueline Park. The attraction opened in October 2020.
You have 2 options, the Sky Capsule or the Beach Train:
The Sky Capsule are individual train which seats 4 people. It drives along the coastline, with a beautiful view of the sea. The ride last for about 30min. You will have plenty of time to take amazing photos. The Sky Capsule are all very colorful, adding to the charm of Busan. This whole train experience has a European vacation feel. It's such a magical adventure.
The last stop is at Cheongsapo. From there you can continue by foot all the way to Songjeong Beach, another famous beach in Busan.
The Beach Train is also a really nice experience. The starting point is the same as the Sky Capsule. The train runs all the way to Songjeong with different stop along the way including the Cheongsapo Daritdol Observatory, one of the famous skybridge of Busan. More about it later.
Taking the Sky Capsule is one of the best things to do in Busan!
More info about the Haeundae Blueline Park:
How to get there: Jangsan Station (metro line 2), exit 7. Go straight for 600 meters. Cross the road in the direction of Haeundae Wonjo Halmae Gukbap at the five-way intersection and walk for an additional 140 meters.
Website: bluelinepark.com
Cost: Capsule: 30,000 Won for 2 person
---
3. Cheongsapo Daritdol Observatory
After stopping with the Sky Capsule, continue your journey along the coast and you will be able to reach Cheongsapo Daritdol Observatory. This skywalk opened in August 2017 and is located at the end of the beautiful Cheongsapo fishing village in Haeundae.
Cheongsapo Daridol is a skywalk, which means a transparent glass platform above a cliff. The entrance is free. The only thing you need to do, is to wear some sort of slippers to avoid damaging the glass.
The view from Cheongsapo Daridol Skywalk is stunning.
This is the third ocean observatory in Busan, after Oryukdo Skywalk (15m long) and Songdo Skywalk (104m long). A bit more about these 2 later in this post.
---
4. Go on catamaran tour
As we absolutely love boats, we were so excited when we heard we could go on a boat tour in Busan. The catamaran started near Haeundae Beach, which was really convenient. The tour was absolutely stunning.
The catamran tour last for 1 hour. You can enjoy the view of the majestic Gwangandaegyo Bridge, also called Diamond Bridge, Gwangalli Beach, Haeundae Beach and simply have a relaxing time on the water.
There are free drinks on the boat for you to enjoy. We picked the timing just before sunset, and it was absolutely fabulous. We highly recommend this tour if you are in Busan.
The departure is from Suyeong Bay Yachting Center, which is just a few minutes ride from Haeundae. You can book directly here. Booking in advance is recommended as this attraction is very popular in Busan…
---
5. Songjeong Beach, awesome for surfing
Songjeong is a lovely beach located near Haeundae. You can access it by taking the Beach Train or Sky Capsule (+20min walk along the coast) or by a short taxi or bus ride.
Songjeong is the surfer paradise in Busan. There are many surf shops along the beach, and is one of the most popular place for surfing in Korea. We wrote a full guide about surfing in Korea here.
Songjeong is much less crowded than Haeundae and has plently of restaurants and cafes. We really enjoyed spending some time there and we also went surfing on a rainy day. We loved it!
To book your surf lesson with a discount, you can purchase your pass on Trazy: here.
---
6. Spend a romantic evening at Gwangalli Beach
Almost as famous as its neighbor Haeundae, Gwangalli Beach is best visited at nightfall, when the Gwangandaegyo Bridge (Diamond Bridge) that crosses the bay lights up with a thousand lights. With the luxurious skyscrapers in the background, like those at the Marine City luxury residential complex, Gwangalli is magical. It is a must-see place for a pleasant romantic evening.
We actually enjoyed a drink at night on a terrace enjoying the view on the Bridge. There were lots of people walking along the beach and fancy cars passing by roaring their engine. We must have spend a few hours just watching around. This is a must see in Busan!
To get there
Take metro line 2 at Seomyeon and get off at Gwangan, exit 5. Then walk 15 to 20 minutes for 1 km.
Take the # 41 bus from Busan Station and get off at Seoho Byeonwon stop. Then walk 5 minutes.
Travel time from Busan station: between 45 and 50 minutes.
---
7. Jagalchi Fish Market
Jagalchi market is one of the major landmarks in Busan and the largest fish market in South Korea.
Easily accessible by metro, you really have to go and see this market located on the edge of the port. It is huge, so be ready to see lots of fishes.
It is best to go early in the morning, as this it the times when the market is most active. Koreans like to have breakfast in the market, with fish of course. You can also go there for lunch, there is a large hall with several food stalls on the upper floor of the indoor building with a great view of the sea and port.
The market spans across several streets and buildings. There is a covered part but the biggest area is outdoor. They have of course fresh fish, but also dried fish, also popular in Korea.
Enjoy a meal, while you are visiting Jagalchi for a great Korean traditional experience. We ate one of our best meal in Busan there, with 2 grilled fishes and 1 Korean seafood pancake for only 20,000 won. Incredible!
Jagalchi is located in the Nampo-dong district, where you can also find BIFF Square, Gukje Market and Yongdusan Park, which are also main attractions of Busan. More on it later in this post.
READ: FULL GUIDE FOR A VISIT TO JAGALCHI MARKET IN BUSAN
---
8. Haedong Yonggungsa Temple
Haedong Yonggungsa Temple offers an exceptional setting. For many, it is the most beautiful temple in South Korea.
The charm of this temple is its location by the sea. This Buddhist temple was built in 1376. It is a rather unique site in Korea. You will have the opportunity to contemplate the statue of the great golden Buddha.
To access the temple, you will have to walk along an alley of statues symbolizing Buddhist astrological signs. This temple is dedicated to the goddess of mercy.
The temple was destroyed during the Japanese invasion before being rebuilt around 1930.
We really enjoyed our visit of Haedong Yonggungsa Temple. With the waves crushing on the cliffs right by the temple, and being surrounded by nature, this place is really gorgeous.
Haedong Yonggungsa Temple is not very far from Haeundae. Take bus 100 from Haeundae and it will take about 45min. By taxi count less than 20min.
Full post here about Haedong Yonggungsa.
---
9. Gamcheon Cultural Village
Gamcheon Culture Village was one of our highlight during our trip to Busan. It is a pretty colorful village on the outskirts of Busan, with small houses leaning against a mountain.
Gamcheon has long been a refuge for the poor. It was not until the 1990s that it benefited from a huge renovation project: artists painted the walls, others installed works of art. Today, the village attracts many tourists, who appreciate its picturesque side and the lovely views of the coastline.
Before heading out into the steep lanes, be sure to pick up the Gamcheon paid plan at the tourist information center, and plan on good walking shoes as there are many stairs. Count a bit more than 1 hour to visit the village. We also enjoyed a coffee at one of the many coffee shops in Gamcheon.
To get there
From Busan station, take bus number 87 and get off at Kkachi Saegil Ipgu. Walk about 10 minutes.
Travel time from Busan station: 30 minutes.
READ: FULL GUIDE FOR VISITING GAMCHEON VILLAGE
---
10. Oryukdo Skywalk and Igidae Park
Former military zone, the Igidae park is now the playground for hikers who wish to walk between land and sea in coastal and forest trails.
At the end of the trail, enjoy your reward at the Oryukdo Skywalk, a platform whose transparent "u" shaped floor extends above a cliff 30 meters high.
This is a thrilling experience.
If you enjoy the nature and watching the sea, then we highly recommend a trip to Igidae. If you do not have time for a hike, then simply head to Oryukdo Skywalk directly, and enjoy the platform only. It is worth the trip and it's free.

To get there
For a north-south route, take metro line 2 to Kyungsun University-Pukyong national University station (Kyeongseongdae-Bugyeongdae), exit no.3 or 5. Then take a bus no.20, 22, 27, 39 or 131, and get off at the Igidae ipgu stop. Finally walk about 25 minutes towards the park.
Travel time from Busan station: about 1h15.
---
11. BIFF Square
BIFF Square: time to immerse yourself in the crowds of the Nampo-dong shopping district. The main square of the district has helped to make Busan an international cultural city.
Indeed, this square hosts the Busan International Film Festival (BIFF) – considered the most important in Asia – and has developed as the cultural center of the city, with its many cinemas, theaters and, like Hollywood , handprints of renowned artists on the floor.
This is also the place to be for some amazing street food, and feast on ssiat hotteok, one of Busan's specialties.
BIFF is located just a few minutes walk from Jagalchi Market, hence you can combine a visit of both places.
To get there
From Busan station, take bus 17, 26, 27, 61, 87 1003 or 1004. Get off at Busan Depateu stop. Walk 5 minutes.
Travel time from Busan station: approximately 20 minutes.
---
12. Songdo Cable Car
For 15,000 to 20,000 won, you can enjoy one of Busan's newest attractions: Songdo cable car that takes you in ten minutes from Songdo Beach to Annam Park.
As you travel in the cabin, you will have an incredible view of Busan Harbor and the Songdo Coastal Path. If you have chosen a cabin with a glass bottom, you will be able to see the ocean beneath your feet ;-).
Finally, you can continue the visit by exploring Annam Park, which offers pretty hiking trails and even a dinosaur park! And why not have a picnic there? There are many food stalls.
To get there
Take bus number 26 from Busan station, and get off at Annam Dongjumin Senteo stop. Walk along Songdo Haebyeon-ro Street and Songnim Park to the cable car (approx. 10 minute walk).
Travel time from Busan station: 35 minutes.
---
13. Songdo Skywalk
Songdo Skywalk is the third skywalk in Busan. This one is the longest as it extends from Songdo Beach and overhanging on top of Turtle Island. It is a very exciting sight in Busan and one of the best way to enjoy the beauty of the sea and its natural surroundings.
You can also enjoy a great view of Songdo Skywalk from Songdo Cable Car which is about 50 meters above sea level.
---
14. The Bay 101
The Bay 101 is not far from Dongbaek Island. It is now a trendy spot at the foot of the luxurious skyscrapers of Marine City. Cafes and restaurants attract the trendy youth of Busan. The marina and the Yacht Club are also in the surrounding area.
After our catamaran tour, we enjoyed some delicious fish and chips and beer right by the sea. Such a lovely evening.
If you are a fan of cinema, do not miss the Haeundae Cinema Route, 500 meters away.
To get there
Take the line from Busan Station to Seomyeon Station. From there, take line 2, and get off at Dongbaek. Expect around 15 minutes to walk. Travel time from Busan station: 1h10.
---
15. Seomyeon district
The very central Seomyeon district is at the crossroads of metro lines 1 and 2, making it an ideal place to stay. It is also the main place if you want to go shopping in Busan. Seomyeong also has many restaurants and cafes. The atmosphere is very lively, especially in the evening. Head to Seomyeon Food Alley to enjoy some great street food at some of the many stalls.
---
16. Taejongdae Park
On foot or by train, it is quite easy to explore Taejongdae Park, which is often crowded on weekends. Go to its observatory first. Then continue with a visit to its famous lighthouse, which offers lovely views of the coastal shoreline (and to the Japanese islands of Tsushima on a clear day), as well as a rocky beach below.
The small Taejongsa Buddhist temple completes this pleasant walk of around 2 hours.
Taejongdae Park is often overlooked by first-time travelers to Busan. If you are wondering what to do in Busan on a beautiful sunny afternoon, then we highly recommend going to this park.
The park is located by the sea and expect magical view from the top of the cliffs. This is our favorite park in Busan.
To get there
Take metro line 1, get off at Jungang station, exit 6. Then take the No. 30 or No. 8 bus and get off at Taejongdae. Walk 5 minutes.
You can also take the No. 101 bus from Busan Station and get off at Taejongdae stop.
If you don't want to walk in the park, the Danubi Toy Train (3,000 won per person,) stops at the observatory, lighthouse and temple. Take a ticket, and wait for your number to be called before boarding the train.
Travel time from Busan station: between 35 and 40 minutes.
---
17. The charming Huinnyeoul Culture Village
Although not mentioned in most guidebooks, Huinnyeoul Culture Village is one of our favorite place in Busan. This coastal village is full of colors, gorgeous cafés facing the sea, and many colorful houses with beachy vibes.
We actually preferred Huinnyeoul village to Gamcheon Village as it's directly by the sea, whereas Gamcheong is on the side of a mountain.
This coastside village is super beautiful not only due to the ocean scenery, but also because it has a ton of beautiful murals, that make perfect instagram shots! They have a small museum to introduce all the movies and dramas that were filmed here, so a must-visit if you are in Busan !
---
18. Visit Beomeosa temple
Built on the edge of Geumjeongsan Mountain since the 7th century, Beomeosa is an important Buddhist temple of the Jogye dynasty. It is famous for the beauty of its buildings and its landscapes.
Beomeosa is particularly beautitful in Spring with all flowers in full bloom. In the fall, you can take a rocky forest path to reach the hermitages located on the heights.
The trail is surrounded by flamboyant vegetation that mixes the whole palette of yellows, oranges and reds. Stunning!
To get there
Take metro line 1, get off at Beomeosa station, exit no. 5 or 7. Then walk 5 minutes to the terminal of bus no. 90, and get off at the Beomeosa Maepyoso stop.
Travel time from Busan station: about 1h15.
---
19. Busan Modern History Museum
If you want to know the history of Busan, this free museum, housed in a former building from the Japanese colonial era, will provide you with an informative and interesting insight into the city and its port activity.
Watch the filmed documentary before entering the collection rooms, which feature many relics from modern history.
The museum is small, you can walk around it in less than an hour.
To get there
Take the # 81 bus from Busan station, get off at Gukje Shijang, and walk about 3 minutes, retracing your steps for less than 200 meters.
Travel time from Busan station: 15 minutes.
---
20. Gukje market
You can find everything at the Gukje market! Thousands of stalls gather in this place filled with history, clothes, dishes, books: it's a real fair for new or used products. An essential walk to feel the the Korean culture.
Do not hesitate to get lost in its countless alleys, you will go from surprise to surprise. And you won't go hungry: it's easy to grab a quick bite to eat.
To get there
Take the # 81 bus from Busan Station, get off at Gukje Shijang, and walk about 5 minutes.
Duration from Busan station: 20 minutes.
---
21. UN Memorial Cemetery
This United Nations cemetery is a place of meditation where Korea honor the soldiers of all nationalities who died during the Korean War between 1950 and 1953. The moving visit to the cemetery complements that of Seodaemun Prison in Seoul.
Other that the historical part, the UN cemetery of Busan is also a nice place to visit, with lots of green spaces.
To get there
Take the # 134 bus from Busan station and get off at Yuen kongwon stop. Walk for 500 meters.
Take metro line 2 to Seomyeon and get off at Daeyeon station, exit 3. Walk straight for 20 to 25 minutes (1.3 km).
Travel time from Busan station: 45 minutes.
---
22. Busan Cinema Center
Busan and cinema is a long love affair. Since 1996, the city is hosting the Busan International Film Festival (BIFF), the most famous Film Festival in Asia.
The Busan Film Center was built in 2011 to celebrate this success, and is now a symbol of it. It is a building with futuristic architecture, which offers outdoor and indoor spaces.
Its two roofs are equipped with LEDs. You have to see it at night, when the light show gives it a magical aspect.
To get there
Take metro line 1 to Seomyeon, then transfer to metro line 2, and get off at Centum City stop. Take Exit No.12 and then walk for about 15 minutes heading towards Suyeonggang River and Centum Marina Park.
Travel time from Busan station: approximately 1 hour.
---
23. Shinsegae Centum City
Recorded in the Guinness World Records for a while as the largest shopping center in the world, this gigantic complex is a city within a city! In case of rain, this is a great spot to spend a day in Busan.
There are countless shops, restaurants and cafes. There is a children's play area, an ice rink, an art gallery, bookstore, cinema on three floors, food court in the basement, and above all: SpaLand Centum City. A huge spa, not to be missed if you want to experience Korean hot baths, for only 15,000 won for 4 hours.
To get there
Take metro line 1 to Seomyeon, then line 2. Get off at Centum City (Senteom Siti), exit 12. Walk 5 minutes.
---
24. Busan Tower and Yongdusan Park
The highlight of the Nampo-dong district is Yongdusan Park accessible by an escalator from Gwangbok-ro shopping street. There you will find a traditional pavilion, many statues, and even a floral clock.
But the must is to climb to the Busan Tower Observatory to appreciate the superb view of the city and its famous port. A perfect place to take a break from the hustle and bustle of the city.
To get there
From Busan station, take bus 17, 26, 27, 61, 87 1003 or 1004. Get off at Busan Depateu stop. Walk 5 minutes.
Travel time from Busan station: approximately 20 minutes.
---
25. Sea Life Aquarium
A perfect place especially if you have children. The aquarium is designed specifically for kids. Fun and educational, it offers interactive activities, and even a mermaid show.
You can touch some marine animals there, and marvel at the large pool where sharks, rays and turtles roam. The aquarium is located in Haeundae beach, which is very convenient if you are staying there.
You can purchase discounted tickets here.
To get there
Take the metro line, get off at Seomyeon. Then take line 2 and get off at Haeundae, exit n ° 5. Walk about 10 minutes.
Travel time from Busan station: 1 hour.
---
26. Geumjeong fortress
There is no fort in Geumjeong, just a 17 km long stone wall with four gates. It is, however, a perfect place for hiking, usually reached via the cable car from Geumgang Park.
Choose this mode of transportation to enjoy the breathtaking views of Busan's buildings and its stunning mountains. But if you are good walkers, join the fortress from the Beomeosa temple. The trail is 9km long but with quite some steps… .
To get there
Take metro line 1, get off at Dongnae station, exit no.3. Then take bus number 77 and get off at Geumgang'won ipgu. Walk for 500 meters to reach the cable car.
Take metro line 1, get off at Oncheonjang station, exit no. 5 and walk for approx. 25 minutes. to the cable car.
Travel time from Busan station: 50 minutes.
---
27. Dadaepo Beach
Dadaepo Beach is, in our opinion, one of the most beautiful beach in Busan due to its natural surroundings. Surrounded by a pine forest, it offers a magnificent and very large sandy beach, as well as a pretty coastal path easily accessible via a footbridge.
It is a family beach, which will leave you with great memories if you have the chance to witness a magnificent sunset.
In Dadaepo there is also a fountain and an incredible show with sound and light in the evening. This is the highlight of the visit, so don't miss it if you are going to Dadaepo!
To get there
Take metro line 1, get off at Dadaepo Beach terminus (Dadaepo Haesu Yokjang), exit n ° 2. Walk about 10 minutes.
Travel time from Busan station: 40 minutes.
---
28. Samgwangsa temple
This temple, enclosed in a narrow valley, is one of the most visited Buddhist places of worship in the run-up to the Buddha's birthday festivities. Indeed, it is then adorned with thousands of colored lanterns, all illuminated in the evening.
Even if you have lost your childhood soul, you will not be able to resist the beauty of this event. It's just magic.
To get there
Take the # 81 bus from Busan station, get off at Samgwangsa Ipgu, then walk about 10 minutes.
Travel time from Busan station: 45 minutes.
---
29. Museum Of Contemporary Art (MOCA Busan)
This museum, which is a link between Man and Nature, was created on Eulsukdo Island, a refuge for migratory birds. It is to the French botanist Patrick Blanc that we owe the "Vertical Garden" which adorns the facade of the building, inaugurated in June 2018.
The museum aims to be an experimental space: the contemporary works on display use a variety of media, such as LED light, sound and plants. The idea is to immerse the visitor in a place where the arts and nature coexist.
To get there
Take bus # 1001 from Busan station. Get off at Sahagucheong (Dangni yeok) stop and take bus number 58-2, 58-3 or 520, then get off at Busan Hyeondae Misulgwan.
Travel time from Busan station: 45 minutes.
---
30. Eat Busan famous fish cake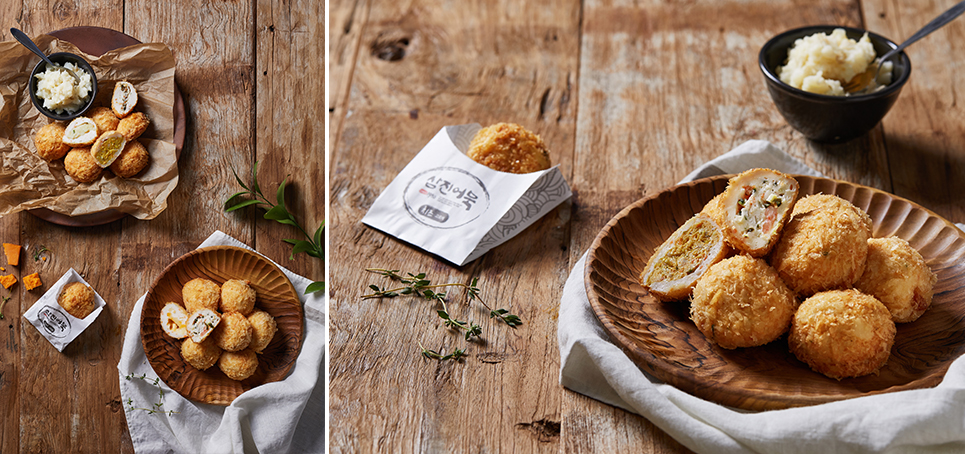 Samjin is the most famous fish cake in Korea. The shop was established in 1953, which also makes it the oldest fish cake producer in Busan. It has more than a few outlets in the city including a museum and store in Busan Station. In 2017, Samjin opened its first outlet in Singapore.
Try it ! It is so delicious. We recommend you to visit the main branch in Busan. Here is their website.
---
Where to stay in Busan?
Busan is a very large city. Therefore, to avoid wasting time commuting between main sights, we recommend to choose a hotel conveniently located an depending on what you wish to visit and do during your trip.
As such we recommend 2 main locations, the first one is Haeundae Beach. There you can not only enjoy the beach, but also the nearby attractions, such as Bay 101, Haedong Yonggungsa Temple, Songjeong Beach, taking the Sky Capsule or visiting Gwangalli Beach.
Our second recommendation if you wish to focus more on the city and see Jagalchi Fish Market, BIFF, Oryukdo, Taejongdae etc. then staying at Seomyeon shopping district wouldn't be a bad idea.
---
Shilla Stay Haeundae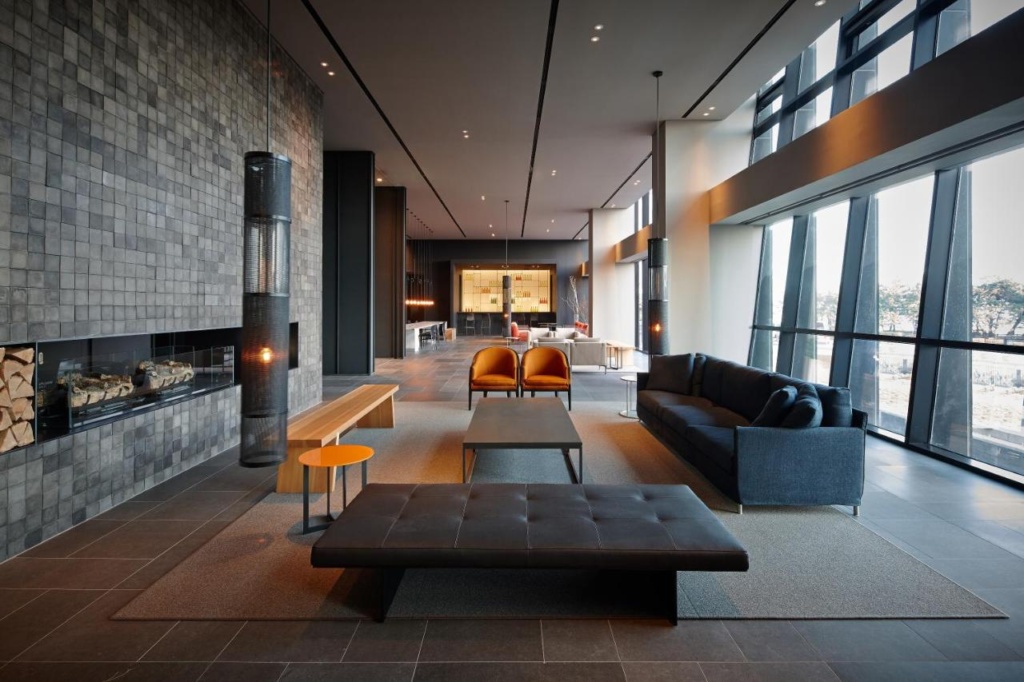 In terms of location, value for money and quality of the facilities, our favourite hotel in Busan is Shilla Stay located in Haeundae. Directly facing the most famous beach in Korea, the view from the room or the rooftop pool is absolutely stunning.
You can also enjoy a delicious buffet breakfast every morning. The hotel also has different restaurants on the first floor with japanese food, korean food and a bar serving all kind of draft beer.
Overall we highly recommend staying here if you go to Busan. You can book here directly.
---
Paradise Hotel Haeundae
For the ultimate luxury experience by the beach, we love the Paradise Hotel in Haeundae. This hotel is pricier than Shilla Stay, but it's a really gorgeous place. We especially love the pool, directly facing the sea.
We felt just like in Bali for a moment 🙂 Besides, Paradise Hotel also has a casino with a fair amount of slot machines, blackjack tables and roulettes.
For more details on Paradise Hotel Busan, you can check out this link.
---
Fairfield by Marriot in Haeundae
For a more affordable option in Haeundae, we recommend a stay at Fairfield by Marriot. The hotel is in the prime location of Haeundae, just a few minutes from the beach. The rooms are very neat and clean.
This hotel doesn't have a pool, so if you do not intend to relax by a pool during your stay in Busan, then we highly recommend Fairfield by Marriot. You can book here.
---
IBIS Hotel in Seomyeon
For first time travelers to Busan who wish to maximize your time visiting the city, then we recommend a stay at Ibis Hotel located very near Seomyeon the most entertaining area of Busan. From there you can easily reach Jagalchi Market or Gamcheon Village.
The hotel has good value for money and serve a delicious breakfast. You can book here.
There are other Ibis in Busan, and also 1 in Haeundae, so make sure you book the correct one.
---
How to get to Busan?
Several options are possible to get to Busan in South Korea, from aborad or from Korea.
From abroad
First of all, you should know that Busan Airport is an international airport, served by many companies. It is therefore possible to arrive or depart from Korea to / from Busan.
Indeed, Busan is located completely opposite Seoul. Arriving in Seoul and leaving from Busan would be a very good option to maximize your time in Korea and avoid unnecessary trip. Even though the country is not huge, it still saves time and saves money.
To find such a flight, all you have to do is use the "multi-destination" option on a price comparator like Skyscanner, click here to find out.
From South Korea
To get to Busan in South Korea from the rest of the territory, several options are possible.
From Seoul, it is possible to reach Busan by plane (just under an hour's flight, click here for the best prices) but the best option is by train. By KTX (Korean Fast train), it takes 2:30 and there are many departures every day. The price of the Seoul-Busan KTX is around 60,000 won. You can check the schedule and book here.
---
Other useful information about Busan
Getting Around Busan
To get around Busan in South Korea, the public transportation is sufficient most of the time. For example, the metro or Bus allows you to reach Jagalchi market, Haeundae district or even Gamcheon.
Occasionally, depending on what you plan to do in Busan, you may need to take a taxi which are relatively affordable.
Busan City Tour
A very convenient way to see most of Busan in a short period of time, is to hop on the Busan City Tour Bus. This is also the most budget friendly option. There are 3 different lines, which allow you to visit all of Busan main sights. Check it out here for more info.
Best Time to visit Busan
Like anywhere in Korea, the best time to visit is Spring and Autumn. However, the good thing about Busan contrary to Seoul, is that Winter is not that harsh, and summer more breathable as the city is located along the sea with many great beaches to get refreshed. For more info about the best time to visit South Korea, check out our full guide here.
---
Other things to see outside Busan
Geoje
Geoje is an island in South Korea and one of our favourite place in the country. Geoje is located 1.5 hours from Busan. Much less known than Seoul or Busan, Geoje particularly surprised us by its natural beauty.
Surrounded by the blue sea and mountains all around, it is a great place to visit after your trip to Busan for a more secluded and peaceful experience.
In Geoje, expect gorgeous beaches, great hikes, amazing fresh seafood, stunning cafes and so much more. We wrote a full post here about Geoje.
You can easily reach Geoje by bus from Busan. There is a long bridge going directly to the island of Geoje.
---
Oedo Island
Oedo Island, officially called Oedo Botania, (in Korean: 외도 보타니아) is a botanical maritime garden located on a small rocky island, 4km from the coast of Geoje Island (check out our full post about Geoje here). It takes about 20min by boat from Gujora after passing the island of Naedo. Oedo is also accessible by boat from other areas of Geoje.
In 1969, Lee Chang-Ho was the first to arrive on this island to escape bad weather as he was fishing. Since then, he and his wife have created this tourist attracting with all their heart and soul for 30 years.
The garden, covers an area of ​​264 km², filled with camellias and other exotic plants such as cactus and palm trees. Full post about Oedo here.
You can also book a 1 day tour from Busan with Trazy, which is very convenient as everything will be organized for you. Check it out here.
---
In conclusion about the best things to do in Busan
With this information about Busan in South Korea, you should be ready to prepare for your stay and visit this amazing city. There would still be other places of interest in Busan that could be mentioned here.
However, visiting Busan is often a stopover of a few days on a trip to Korea. If you are wondering what to do in Busan and you plan to stay there for 2 or 3 nights, you already have plenty to do during these days …
You will probably even have to make a choice because many of these places mentioned in this blog could be a bit far from the center of Busan.
If you are planning to visit Busan in the near future and have any questions that this post does not answer, please send them to us by adding a comment below. we respond quickly to the various comments posted on the blog!
For more posts related to South Korea, check out this link here.
---
Related posts
SOUTH KOREA: best things to do in South Korea: here
HAEUNDAE: the most famous beach in South Korea: here
GAMCHEON CULTURE VILLAGE: here
JAGALCHI, the largest fish market in Korea: here
HAEDONG YONGGUNGSA, the most beautiful temple in Korea: here
TAEAN: amazing national park on the west coast of Korea: here
NAMHAE: the hidden gem of South Korea on the south coast: here
WHEN? Best time to visit South Korea: here
MOKPO: a port city in the south, worth a visit: here
SEOUL: Full guide for the best things to do in the city: here
JEJU: All you need to know before you go to Jeju: here
ADVENTURES: top adventures within 1h from Seoul: here
EAST COAST: best things to do near Gangneung: here
BOSEONG: best green tea planation in Korea: here