Staying in Korea this summer? Wondering what to do? Here we listed the most awesome activities in Korea during summer. Whether you are visiting South Korea during summer, or live there as an expat, we wrote this full guide with suggestions on things to do and visit, as well as tips to better withstand the summer heat in South Korea.
Korea is located in a temperate climate zone with four distinct seasons, but its geographical position in the North Pacific explains its very hot and humid summers. Temperatures range from an average of 22 degrees Celsius to 32 degrees Celsius. More than the heat, it is the humidity which is most uncomfortable.
There is a rainy season between the end of June and mid-July (jangma), less hot, but cloudy and humid. This is due to the presence of a rain front that crosses Asia from east to west. Showers are frequent and the sky is often gray. Likewise in summer, you are not safe from one or more typhoons from the Pacific, although they tend to lose their vigor as they approach the Korean coast. Obviously, this information is not set in stone. South Korea, like everywhere else, undergoing weather changes due to global warming.
Here we describe the best season to travel to South Korea.
---
1. Chill at some of the best beaches during summer in South Korea
With the strong heat of summer, a trip to the sea can be very pleasant to cool off! South Korea offers many beaches that you can discover during your stay.
There are several beaches within a 2 hour drive from Seoul such as Eurwangni Beach or Masian Beach in Incheon. We listed the best 25 beaches in South Korea here.
---
Gangneung in the east
Gyeongpo beach in Gangneung is a very pleasant place to spend the summer in Korea. Only 15min drive from downtown Gangneung, the beach welcomes you with the sound of the waves and the smell of the waters. The extended sea landscape gives a great sense of freshness. You can also take a gorgeous walk in the pine trees forest right by the beach. We wrote a full guide about Gangneung here.
---
Yangyang in the east
If you like surfing, then Yangyang is the surfer's paradise of South Korea. Head to Jukdo beach to catch some of the best waves in the country. You may be surprised that South Korea has many spots to go surfing, we wrote a full guide here.
---
Taean in the West
On the west coast, at about 3 hours drive to Seoul, you can reach Taean National Park with its miles long wild beaches. This is a place which we simply adore in Korea. You can also collect sea shells during low tide and grill them on a beach afterward! Taean is the perfect gateway from Seoul. Check out our full post about Taean here.
---
Yulpo beach near Boseong Green Tea Plantation
Yulpo located in the southern part of South Korea is another great spot to chill on the beach. What we like about Yulpo is that you can combine your trip to a visit in the majestic green tea plantations. Visiting Boseong Green Tea plantations is a must-see in Korea. Full guide here.
---
Haeundae in Busan
Haeundae Beach is probably the most famous beach in South Korea especially when summer comes.
Haeundae Beach is known for its varied cultural events and festivals held throughout the year, but also for its luxury hotels nearby. A large number of visitors go there each year, mainly between June and August. Some of the places to visit around are Dongbaek Island, Busan Aquarium, BEXCO, etc. More info on Busan here.
---
Eurwangni near Seoul
Eurwangni Beach is located southwest of Yongyudo Island near Incheon International Airport. With a gentle slope and an average depth of 1.5 meters, this beach is popular in summer. One of the advantages of this beach is the large number of accommodations that can be found in the surrounding area. We highly recommend spending the night at The Week And Resort. It's a gorgeous hotel located right by the beach. You can book here.
More info on the best beaches in South Korea here.
---
2. Visit some amazing islands in South Korea during Summer
Geoje in the South
Located in the southeast of the Korean Peninsula, Geoje Island is the second largest island in South Korea. It is located near Busan and the city of Tongyeong to the west. Geoje is easily accessible by bus or car. It is linked to Busan by the famous "Geoga" bridge built in 2010.
The island of Geoje is gorgeous during the summer months. The surrounded sea is simply stunning. You can even go snorkelling and sailing in Geoje. As both of us are sea lovers, Geoje is one of our favorite destination in South Korea during summer. Check out our full post to discover the beautiful island of Geoje.
---
Oedo Island
Oedo Botania Park is an exotic park located off the coast of Geoje. The park began to be shaped from the 1960s to gradually become an important tourist site in Geoje. While traveling the 1.3 km course, you will be able to enjoy rare plants arranged according to thematic areas. The place is also known for its Venus 'sculpture park. Thanks to the romantic atmosphere of the island, the place is an ideal destination for couples traveling. You can book a day tour from Busan here.
If you visit Geoje, make sure to stop at Oedo Botania Park. Here is our full guide for Oedo.
---
Namhae
Namhae Island is located in the Gyeongsang region. It is the 5th largest island in South Korea among than 3,000 Korean islands. Namhae is much less known and therefore much less touristy than Jeju-do for example. It is also more rural. Coming from Seoul, you will discover a whole different side of South Korea. This island is full of unexplored treasures that, without a doubt, will charm you. To know more about this hidden gem, check our post here.
---
Muuido near Seoul
Muuido Island is located right next to Yeongjongdo Island, where Incheon International Airport is located. This gorgeous island is less than 2 hour drive from Seoul. The 2 main beaches on the island are Silmi and Hanagae. It is possible to hike on various trails on Mount Horyonggoksan and up to Guksabong Peak. It is also possible to fish or collect seashells. For a full guide about Muuido, check out this post.
---
Island hopping at Sindo, Sido and Modo island near Seoul
Sindo (신도), Sido (시도) and Modo (모도) islands are the perfect gateway from the busy city life of Seoul. Located off the coast of Incheon, these 3 islands are easily accessible by ferry. All 3 islands are connected by a bridge which makes it easy to visit them all within a day. Make sure to check Sugi beach. We love visiting these 3 islands, for more details check out our full post here.
Ganghwado island, one of the most unique island in Korea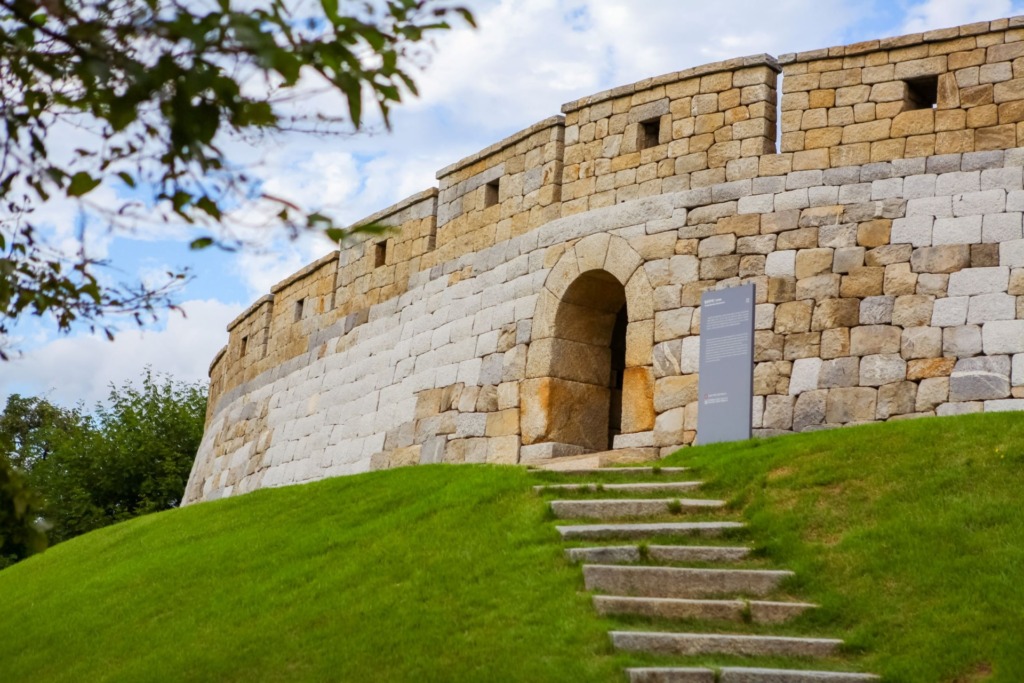 On Ganghwado, located just 1 hour from Seoul, you can see thousands year old dolmens, fortresses, beautiful temples and so much more history. Of course you can also enjoy the beach at Dongmak beach and explore one of the most amazing cafe, called Joyang Bangjik. We wrote a full guide about Ganghwado here.
---
3. Head to Jeju island
Jeju is probably the most famous island in South Korea. And you will quickly understand why if you visit this island. Expect emerald sea, fine sandy beach, volcanoes, lava cave, waterfalls and so many activities that it will take you many days to visit everything.
We went to Jeju so many times and still we haven't see it all. However, we absolutely love this island. Some of the highlight was hiking to the top of the Hallasan, the tallest mountain in Korea (more info here), or chilling at the gorgeous Hamdeok Beach (check this post).
We wrote a full guide of Jeju island here, with the most awesome things to do.
---
Check out Udo island off the coast of Jeju
When you are in Jeju, make sure to visit Udo island by taking a 20min Ferry ride.
Udo Island is an island at the eastern end of Jeju. It is called Udo because its shape resembles that of a cow lying down or holding its head forward. The circumference of Udo Island is 17km and there are around 700 houses and 1,800 inhabitants who make a living from farming and fishing.
We keep such a great memory from our trip to Udo island. We rented an electric tricycle and drove around the island in a day. It was so much fun.
Here is our full guide for visiting Udo island.
---
4. Enjoy some watersports activities
Go Surfing
South Korea has some serious surf spots all around the country. Although winter is the best month to surf, you can still catch some pretty good waves in the summer. Yangyang is the surf mecca of South Korea, however you can also check our Mallipo on the West Coast sometimes called Mallifornia in reference to California.
We wrote a full surf guide for South Korea here.
---
Enjoy wakeboarding and wakesurfing
While it is possible to do many water sports on the Han River, right in the middle of Seoul, we recommend to go a little bit outside to enjoy beautiful sceneries on the Bukhan River in Gapyeong. It's the perfect way to spend a beautiful and refreshing afternoon during the hot Korean summer. There are many water sports centers in Gapyeong. The prices are pretty much similar everywhere.
If you prefer to stay in Seoul, then we recommend the center called SEVEN, more info here.
Another option is to head to Cheonan at the Wakeboarding cable park, the only one in Korea. Check it out here.
---
Go diving
Did you know that Korea has the deepest indoor swimming pool in Asia? Yup, that's right. And it's only located at 1h from Seoul. Check out the place called K26. You can dive as deep as 26 meters down. Website here.
---
Enjoy river rafting
The best rafting in Korea is found towards the east of the country, in Gangwon-do province. It where you can find some of the tallest mountains in Korea. There are a few places to enjoy river rafting, one of them is at Donggang River. For more info on River Rafting, check out this site.
---
Go to a waterpark
Another activity to cool off in the summer is to go to a water park! Here is a selection of places to discover:
– Carribean bay in Everland (website)
– Vivaldi Park Ocean World (website)
– Gimhae Lotte Water Park (website)
– Woongjin Play Doci (website)
---
Enjoy Stand Up Paddle on the Han River
Head to Ttukseom Park along the Han River to enjoy many water sports. You can try windsurfing, kayaking and the most popular is SUP (Stand Up Paddle). It is a fun way to discover another aspect of Seoul, while cooling off during the hot summer months. We highly recommend this fun activity during Summer in South Korea. You can book a lesson here.
For more adventures, you can check out our post on the most awesome adventures near Seoul, here.
---
5. Go Camping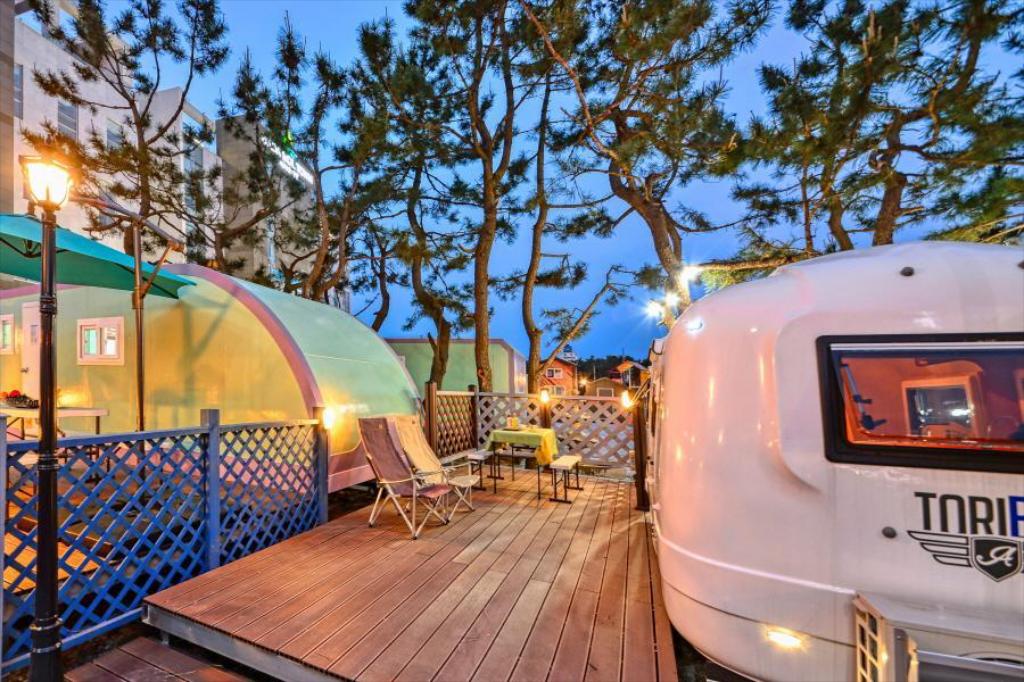 South Korean's favorite activity whole year round is to go camping. This has become even more popular during COVID as people couldn't really travel outside Korea.
If you want to have a good time with your loved ones, camping is another activity to try in summer! In the mountains, in national parks, or close to the sea, camping sites are accessible all over South Korea.
There are campsites where you have to bring your own tent, as well as places where you can rent one. Finally, if you are looking for a little more comfort, know that there are Glamping (글램 핑) which offer "luxury" tents or even houses with unusual shapes!
Here are a few suggestions for "Glamping" ideas:
– Gapyeong Finland Camping Pension and Glamping: book here
– Gangneung Goog Camping: book here
– Pocheon Sun of Glamping: book here
– Pocheon Sanjeong Hosoo Glamping: book here
– Jeju Starlight Glamping: book here
---
6. Enjoy Summer Festivals
During the summer period, South Korea organizes many festivals. The Boryeong Mud Festival is particularly famous. It takes place every year at Daecheon Beach.
If you are more into music, these 3 events will certainly delight you:
– Water Bomb Festival
– Incheon Pentaport Rock Festival
– EDC Korea Festival
Another very popular summer event is the Daegu Chimac Festival! Chimac is a contraction of the word chicken and beer.
To learn more about Korean culture, the Danoje Festival is an event not to be missed in Gangneung City (more info here). It is part of the intangible cultural heritage of humanity of UNESCO.
If you are more nature-oriented, the Buyeo Seodong lotus festival is an event that might interest you with its various activities around the lotus flower.
Finally, summer is often synonymous with fireworks. If you want to see some, the Pohang International Fireworks Festival is held every year with fireworks from South Korea and other countries.
Note: due to COVID some festivals may have been cancelled. Please check their website first.
---
7. Chill by the Han River
There are many awesome parks along the Han River in Seoul. These parks are called Hangang park. Hangang Parks is where people flock all year round to experience the distinct flavor that each season has to offer in South Korea. Do you like cycling or water sports? Or relax by the river watching your favorite singers perform? Hangang Park has it all. Whatever the situation, Hangang Park surely has something for you. There are 12 parks in total, our favorite ones are Ttukseom park, most popular for water sports and Yeouido park, best to order chicken and beer.
Another popular activity along the Han River in summer, is to rent a bicycle. There are cycling tracks all along the river. There are many places to rent bicycle at the Han River. You can enjoy our video here when we went cycling along the Han River.

---
8. Enjoy a refreshing day trip from Seoul, in the nature
Pocheon Art Valley, Sanjeong Lake and Herb Island
Pocheon is a city located in Gyeonggi Province, northeast of Seoul. It is a very beautiful city to explore nature. Anyone with a thirst for nature and its beauty would love to visit here and enjoy the charming hills, elegant lake and the overwhelming island. The pleasant flowery fields attract visitors. Pocheon Art Valley, Herb Island, and Sanjeong Lake are found in the southern Pocheon region.
Pocheon Art Valley consists of a beautiful setting for arts and crafts. This valley was transformed when Pocheon organized the ecological restoration project. It was the first Korean project based on ecological restoration. After the transformation, this place became very popular and tourists started to visit this valley and now it is famous for its works of art. Check out our full post here.
You can also combine your trip to Pocheon Art Valley with the beautiful Sanjeong Lake and Herb Island. More info here.
---
Garden of the Morning Calm
The Garden of the Morning Calm is one of the nicest visits we have had in South Korea. Garden of the Morning Calm is Located in Gapyeong, a two-hour drive from Seoul. There are over 5,000 plant species in the park, 300 of which come from Mount Paektu (Baekdusan), a mountain dear to the hearts of Koreans. They are divided into 27 sections.
We highly recommend a visit to the Garden of the Morning Calm. We wrote a full post here.
---
Nami Island
This small, half-moon shaped island is located a little less than 2 hours from Seoul. Nami is famous for its trees: Korean pines, ginkgo trees, Chinese walnut trees, acacias, maples, metasequoia. They form beautiful alignments under which it is really very pleasant to walk. We love spending a relaxing day at Nami Island, in any seasons. Check out our full post here about Nami for more info.
---
9. Go on a staycation in the city
We highly recommend to spend a day at Paradise City in Incheon. There are many different pools indoor and outdoor facing the sea. But also amazing restaurants, bars and so much more facility. You can simply book a stay for a day to enjoy the facilities, however spending the night there for a full experience is a great idea too. You can book here.
For the ultimate luxury experience, we also recommend a stay at the famous Signiel hotel located in the Lotte Tower. This 5 stars hotel, has an amazing spa, indoor pool with amazing view of the city, michellin star restaurants and so much more. Check it out here.
---
10. Enjoy a sunset drink at a rooftop bar
Summer in Seoul is the perfect time to check out some of Seoul's most awesome rooftop bars. Hongdae, Gangnam, Itaewon or Myeongdong, you have lots of choices for watching the sunset and city lights at night.
If you want to spend the nights in Seoul's rooftop bars, here are some places you might want to visit
Playground Rooftop Cafe & Bar – Hongdae
– Owl's Rooftop – Hongdae (here)
– Southside Parlor – Itaewon (here)
– Rooftop Bar KLOUD – Gangnam (here)
– Rooftop Bar @ Hotel Cappuccino (here)
---
In conclusion
There you go, now you have all the information to survive the hot Korean Summer. Are you in Korea this summer? Share with us your trips and other fun activities you are planning to do!
We have many posts about Korea, you can check them all here.
---
Links to related articles
NAMI ISLAND: a beautiful island on the river near Seoul: here
25 BEST BEACHES in South Korea: here
BUSAN: 30 awesome things to do in the city: here
GANGNEUNG, a beautiful place on the east coast of Korea: here
UDO ISLAND All you need to know before you go to Jeju: here
JEJU, the Hawaii of Asia: here
BEST ADVENTURES near Seoul: here
GARDEN OF THE MORNING CALM, amazing park near Seoul: here
POCHEON ART VALLEY, a beautiful valley near Seoul: here
BEST TIME TO VISIT KOREA: here
SOUTH KOREA: best things to do in Korea: here
GEOJE the best spot for sea lover: here
NAHMAE the hidden gem of South Korea: here
TAEAN the best spot for sea lover: here