HOW TO TAKE THE FERRY FROM MOKPO TO JEJU? FROM WHERE TO TAKE THE FERRY TO JEJU? HOW LONG IS THE FERRY RIDE TO JEJU?
In this post, we describe all you need to know to take the ferry from Mokpo to Jeju Island.
While taking a flight to Jeju island is the fastest way to get there, going there by ferry has the advantage that you can take your own car with you on the ferry and save a lot of money on the car rental. It's also a more pleasant way to travel to Jeju, as you can admire the beautiful sea on the way there. It's also a good time to embrace slow travel.
Full guide to get to Jeju Island by ferry
We wrote this post while being on the ferry on our way back from Jeju, going to Mokpo in the southern part of South Korea. And honestly, we loved our ferry journey. Besides there are so many fun things to do in the ferry. We will let you know all about it later in this post.
So if you are considering taking the ferry for your next trip to Jeju Island, this post is for you. Enjoy!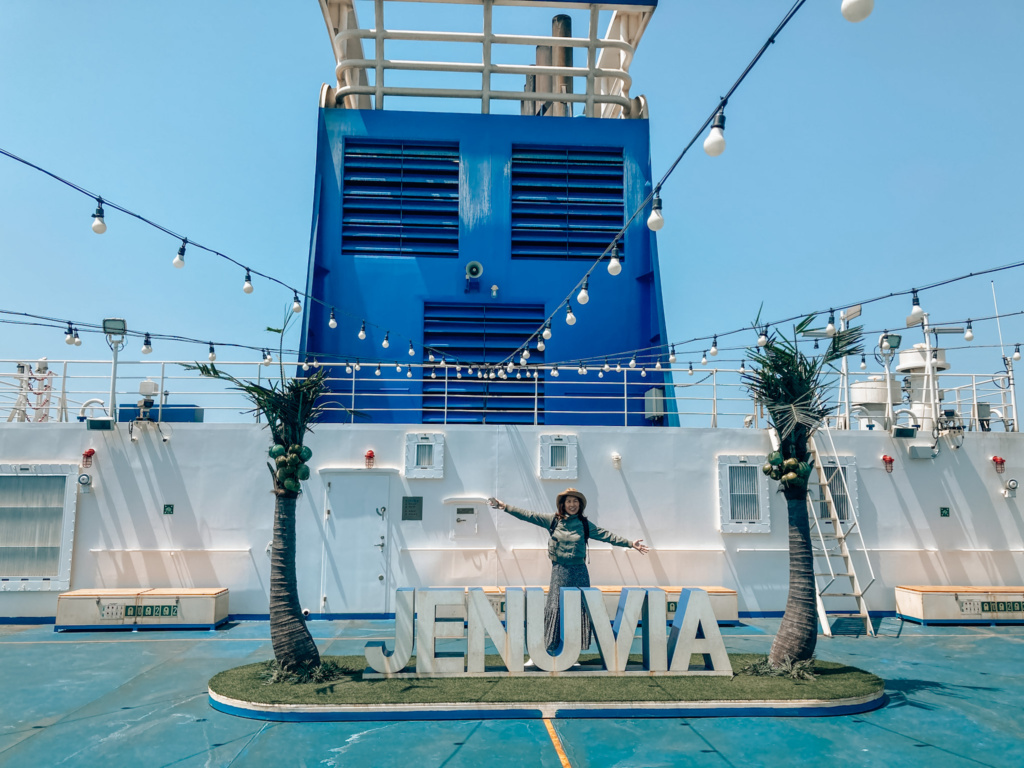 Jeju or Jeju-do is a beautiful island situated in South Korea. Nicknamed the "Hawaii" of Korea due to its partly tropical climate, this island is one of the favorite destinations for South Koreans.
Whether it is for holidays, a school trip, a romantic weekend or a solo trip, any reason is good for spending a few days on Jeju Island
While living in South Korea for 3 years, we traveled to Jeju island multiple times. Especially as we were in Korea during the COVID-19 pandemic, Jeju was our best option for our travel gateway. We wrote many posts about Jeju. You can check our main post here, which will help you in planning your next trip to this beautiful island.
In this post, we share all you need to know to travel by ferry from Mokpo to Jeju
---
Essential information about taking the ferry from Mokpo to Jeju
There are few possible places to take the ferry to Jeju. However Mokpo is the most popular one due to it's proximity to Jeju and good connection to Seoul. If you live in Seoul, then we highly recommend taking the ferry from Mokpo. This would be the fastest and easiest way to get to Jeju. There is also more frequent ferries (2 per days) compared to other places, which sometimes there is only 1 ferry leaving per week.
---
Duration and timing
It takes 4.5 hours to get from Mokpo to Jeju or from Jeju to Mokpo. The journey is relatively fast and easy. There are 2 ferries per day, except on certain days of the month. You can check the ferry website for more details on the latest schedule.
Departure from Mokpo: 1:00 am and 9:00 am
Departure from Jeju: 13:40 and 17:00
Note that checking time is 2 hours before departure. Especially if you have a car, be sure to be on time, as all cars and trucks must be parked in the ferry well ahead of departure time.
---
Cost
Per adult: For 1 adult round trip (without a private cabin and no vehicle) it is roughly 50 USD. If you choose a private cabin or VIP room, the price will go up of course. But honestly, just the standard cabin is fine. You do not need a private cabin unless you take the ferry overnight, then it would be better to sleep in a real bed.
Per car: If you decide to go with your own car, which is most likely the case if you take the ferry, count an additional 300 USD. Depending on the model and type (SUV, Compact, Sedan etc.) price may change as well.
For our round trip for 2 adults and 1 SUV, we paid W 452,000 (400 USD). So yes, you can find cheaper if you take a flight (best prices here), but we stayed in Jeju for 2 weeks and brought our surfboards, so we didn't have to rent a car and pay extra for our sports equipment. All and all it was by far the cheapest option.
---
How to book the ferry to Jeju?
Booking website in English: the easiest way to book you ferry to Jeju is via Direct ferries (everything is in English and the booking process if very smooth. Check out the availability here.
Booking website (Korean only): http://www.seaferry.co.kr/# . This is the Korean website to book for the ferry. However, unless you can read Korean, the booking process is not very easy. You will need Google Translate to help you out…
Ferry company: Seaworld Express Ferry
---
Our experience taking the ferry from Mokpo to Jeju
Getting to Mokpo
We decided to take the ferry from Mokpo at 9:00 am on a Sunday morning. On Saturday we drove to Mokpo and spent the night there. It took us about 5 hours to get to Mokpo from Seoul (incl. 1 hour stuck in the traffic getting out of Seoul 🙁 ).
Mokpo is not very touristy, but there are a few things to visit which were surprisingly very pleasant. You can find out more about things to do in Mokpo in our full post here. If you also decide to visit the southern part of South Korea, we also recommend a trip to Namhae (more info here) and to Geoje, one of our favorite trips we made in Korea (more info here).
---
Where to stay in Mokpo
There aren't too many great hotels in Mokpo, however, we booked a charming guesthouse just 1min away from the ferry terminal. As we usually do not like to wake up too early, and the checking time was at 7:00am already, it was perfect for us. You can book directly here.
It is called 38th Street Guesthouse. The rooms are really clean, and there is a breakfast in the morning, which you can cook by yourself (eggs, toasts, coffee, cup noodles, etc.) in the common kitchen.
Overall we had a great time at 38th Street Guesthouse and would recommend it if you stay in Mokpo. More info in our full post about Mokpo here.
---
Boarding procedure to take the ferry to Jeju
Ok, so this part requires a bit of explanation. If you are getting there with your car, you need to be at the ferry terminal 2 hours before departure. Once you reach Mokpo ferry terminal, there is a sign for the ferry leaving at 9:00am or the one leaving at 1:00am.
When you get there with your car, a person from the ferry company will get your IDs and check that the car plate has been registered when you booked. Then all passengers will need to get out of the car and only the driver is allowed to park the car inside the ferry.
Employees from the ferry company will then show you the way to park your car inside the ferry. It's actually pretty big. There are many parking floors inside the ferry with big trucks. Just follow the direction of the crew to get inside the ferry.
Once you park, get all your belonging and make sure to close the car. You won't be able to access the car anymore after that. So make sure you take everything you need.
Once you are done and your car is locked (make sure to lock it, as otherwise they will call you back to lock it. It happened to us…), you can walk out from where you came and join your friends or family waiting for you outside the ferry. The ferry company do it this way, to avoid having too many people inside the parking area, as it could be quite dangerous with all the trucks and cars going in and out the ferry.
Then head to the terminal building to get your boarding pass. Make sure you bring your IDs. If you are not a Korean resident, make sure to also bring your passport. Once you get your boarding pass, wait in front of the gate. The boarding time is usually 1hour before departure.
---
Inside the ferry
We had no idea, but actually, there are so many fun things to do inside the ferry. Each ferry was different on the way to Jeju and way back. One of them was super modern and the other one a bit older. But both ferries had great activities onboard.
There are arcade games, massage chairs, a karaoke room, 7-Eleven, a food court with a wide range of dishes, a bar and a cinema. To be honest, we didn't get bored inside the ferry for the 4.5-hour journey.
We ate a delicious bowl of Udon with fried shrimp and a bibimbap. After that, we grabbed a coffee at Paris Baguette with a little cake for dessert. We had a great meal on the ferry.
There are many public cabins inside the ferry, which you share with 10 -15 other passengers. You can sleep on the floor, Korean style, during the journey, or simply sit there and watch TV. Your room number is indicated on your boarding pass.
However, as the weather was really nice, we stayed the majority of our time on the deck outside just looking at the sea or sitting at the cafe. The area around Mokpo is really beautiful, with many islands all around. The ferry also pass under the famous Mokpo Bridge (feeling a bit like San Francisco).
---
Bringing your pet on the ferry
We also learned that it is possible to bring your dog onboard the ferry. There is even a dog park at the back of the ferry for your dog to walk around and enjoy the ocean breeze. There must be an extra charge for your pet, which you need to add while booking.
---
Leaving the ferry
About 20 to 30 minutes before arrival, you need to head back to your car to get ready to leave. To get back to your car, everyone is allowed to go. Your friends or family members do not need to wait for you outside the ferry. To leave the ferry, simply drive out, it is not required to do anything on the way out. It is very easy.
---
Our tips for taking the ferry from Mokpo to Jeju
Bring sunscreen and a good jacket if you want to sit outside (as it can get quite cold with strong wind at sea). The ferry didn't move much, even though the sea was a bit rough going to Jeju. So no one fell seasick during the journey. However, if you are not sure, bring some sea sickness medicine, just to be safe.
We took the ferry during that time, it was really nice to admire all the islands in the southern part of Korea. However, if you travel at night with the 1:00 am ferry, we highly recommend taking a cabin for better sleep.
---
What to do on Jeju Island?
Jeju is a beautiful island. If you are in Korea, visiting Jeju is a must. We went there many times during our 3 years living in South Korea, and can't recommend enough visiting Jeju. We wrote a full post about Jeju here.
Here are some of the top attractions:
Hamdeok Beach: our favorite beach on Jeju (more info here)
Udo Island: Take a small ferry to Jeju's sister island called Udo, to explore local fishermen and farmers' life (more info here)
Hallasan mountain: hike the highest peak of South Korea on Hallasan Mountain. It took us 8.5 hours round trip. But totally worth the experience. (full guide here)
Jeongbang and Cheonjeyeon waterfalls: Jeju has beautiful waterfalls, one of which jumps directly at the sea.
>> READ: 30 AWESOME THINGS TO DO ON JEJU ISLAND
---
Taking the Ferry to Jeju – CONCLUSION
Taking the ferry from Mokpo to Jeju is a great experience which we highly recommend. If you decide to stay more than a week to Jeju, then definitely bringing your car with you on the ferry will be the most economical way to travel there.
The whole journey went really smoothly and everything was well organized by the ferry company. We also loved that the ferry had so many fun activities. It made us feel on a cruise. Finally, we loved the feeling of traveling by sea. We took the time to admire the beautiful ocean and think about life. A perfect way to start or end your holiday on Jeju Island.
We lived in Seoul for 3 years and loved exploring all these beautiful places in Korea. There are many posts about Korea in this blog, you can find them all here.
HAPPY TRAVELING!
---
READ ALSO
EXPLORE UDO, JEJU'S SISTER ISLAND
HIKE THE TOP OF HALLASAN MOUNTAIN IN JEJU
VISIT THE BEAUTIFUL HALLIM PARK
CHILL AT HAMDEOK BEACH THE MOST BEAUTIFUL BEACH ON THE ISLAND
ULTIMATE GUIDE FOR OLLE GIL TRAIL AROUND JEJU
VISIT MANJJANGUL CAVE, THE LARGEST LAVA TUNNEL IN THE WORLD!