Winter is often eagerly awaited in Korea, especially by snowboard and ski lovers. While we lived in Korea, we could not wait for the winter to start and the first snowfall. It marks the start of a new seasons, and it was time for us to get our gears ready.
Nestled in the beautiful setting of the Korean mountains, Korea's ski resorts offer a wide variety of slopes for everyone, from beginners to advanced skiers. In addition to the ski facilities, they have very modern equipment. The main places in Korea are in the Gangwon-do region and around Seoul.
Each ski resort offers different opening hours and prices, so check the sites of these stations in advance.
Fun fact: in Korea most of the ski resorts open all night long ! Yes, you can snowboard at 3am after a few drinks if you like…
Here is our list of top 10 ski resorts in Korea, based on our personal preferences.
---
1. Phoenix Park, heaven for snowboarders (our favorite)
Phoenix Park is our favorite ski resort in Korea. We wrote a full post here about Phoenix Park here. The resort is not only famous for its many slopes, but also for the quality of its snow. While the resort offers slopes for all levels, it is also renowned for its Extreme Park: halfpipe, tabletop, round quarter, ramps, etc.
The station also hosted various events during the PyeongChang Olympics in 2018 such as the giant slalom or slopestyle events.
Phoenix is most popular for snowboarding, with great snow for beautiful carve, and great park for some freestyle moment.
More info
Check out our first video
Check out our video here from Phoenix:
---
2. Yongpyong, the biggest resort
Yongpyong is the biggest ski resort in the country. In addition to the world's largest slope, the resort also has 7.4 km of ski lifts and very modern facilities. The area also has a very good level of snowfall. The resort also hosted downhill skiing events during the Olympic Games in PyeongChang. The resort accommodations are located very close to the slopes, making it a popular place for families.
More Info
---
3. High1, the new kid on the block
Located in one of the best-preserved areas in Gangwon-do province and one of the snowiest place in Korea, High 1 station has 18 fantastic slopes that all start from one of three peaks. Beginners can use a 4.2 kilometer long gentle slope, which starts at an altitude of 1,345 meters. Two of the slopes at High 1 also hosted the ski world cup events. The High 1 ski resort also has first-class lift facilities with hands-free pointing equipment and an automatic reader for lift passes.
Nearby attractions include Gangwon Land, an amusement park, trekking routes, a toboggan run and a golf course. High 1 is easily accessible by train from Seoul, which makes it a popular ski resort.
More info
---
4. Alpensia, the prettiest resort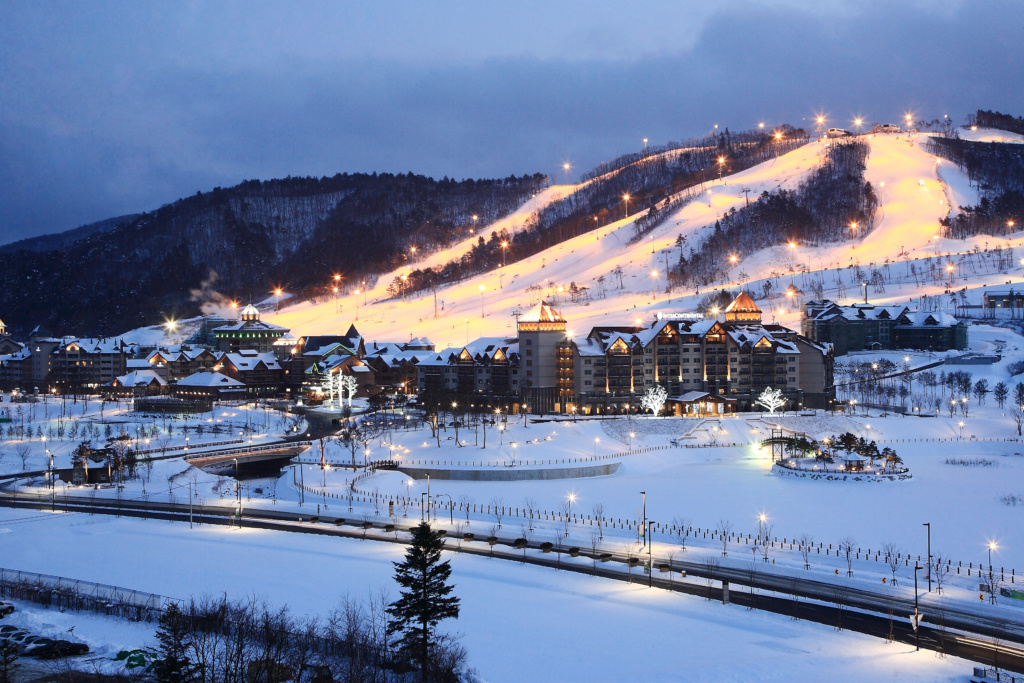 The Alpensia ski resort is nestled in the mountains around 700 meters above sea level and offers excellent snow conditions. The resort has a total of six ski slopes distributed according to levels, one exclusively reserved for snowboarding, which makes it a suitable place for all types of public.
The Alpensia station also hosted most of the events for the 2018 Winter Olympics in Pyeongchang. Visitors can also take advantage of accommodation facilities at the resort including the Holiday Inn and Suites Alpensia Pyeongchang, the Intercontinental Hotel in Alpensia Pyeongchang, and the Holiday Inn Resort Alpensia Pyeongchang, renowned for its spa. It is a pretty resort but we found that it was a little small. It is however perfect for beginners and kids who are taking lessons.
More info
---
5. Konjiam, the closest to Seoul
Located in Gwangju-si in the province of Gyeonggi-do, Konjiam station is the largest station outside of Seoul, at merely 45min drive. It offers 11 tracks of different levels, as well as 5 high-speed chairlifts. The resort also has a limited number of skiers (7,000 people maximum with less than 15 minutes waiting to access the slopes).
About 70% of the slopes are designed for beginners and intermediate skiers, as well as for the older ones, making it the ideal resort for the whole family. It is the ideal place to enjoy a day of family skiing. In addition, there is always an opportunity to rest in the arboretum, the ecological river or the spa.
More info
---
6. Daemyung Vivaldi, the hippest resort
Daemyung Vivaldi was the first ski resort in Korea to open its slopes at night, becoming the favorite destination for young skiers. Even the names of the tracks (Hip-Hop, Techno, Funky …) have been designed to appeal to young adults. Some of the toughest tracks have a unique design, full of unexpected turns for maximum thrills.
All slopes are accessible to skiers as well as snowboarders. The resort is equipped with a wide variety of slopes of different lengths and inclines, allowing recent winter sports enthusiasts to gradually switch from the green to the black piste. Daemyung offers a total of 14 different pistes and 10 ski lifts. Don't forget to take advantage of the Daemyung Resort Vivaldi Park and the Vivaldi Park Ocean World water park!
More info
---
7. Welli Hilli, for the Pros!
Recognized for its size and safety requirements by the International Ski Federation (FIS), the Welli Hilli Park resort is equipped with world-class superpipes which attract many snowboard fans. Its certification by the FIS and its numerous facilities make it a destination appreciated by die-hard snowboarders.
The station has 20 tracks going from the green track to the black track, as well as a mogul course to fill up on thrills. The Fun Park, the largest of its kind in Korea, offers various facilities, including a C Box, an X Box and a Wall Box to allow snowboarders to refine their techniques.
More info
---
8. Deogyusan Muju-Gun, the most impressive resort
Located in the heart of Mount Deogyusan National Park in Muju-gun in Jeollabuk-do province, Muju station has long been a popular destination among Korean and foreign skiers. This magnificent mountain resort is not only endowed with numerous tracks, but it also allows skiers to have a superb view on the snowy slopes which they descend.
The Silk Road track is a fantastic circuit that starts at an altitude of 1,520 meters from the top of Mount Deogyusan. This 6.1 km long track, one of the longest in Korea, has been specially designed for beginners and intermediate skiers. After a day of board sports, refresh yourself in the outdoor thermal springs!
More info
---
9. Bears Town, ideal for families
Located in Pocheon on the outskirts of Gyeonggi-do, Bears Town Resort is 50 minutes from Seoul, making it ideal for a day's ski or snowboard trip. It is also possible to rent all your equipment on site as the station offers a very wide choice of products for hire. The resort has a total of 10 different runs, including runs for expert skiers, two runs for advanced skiers, three runs for intermediate / advanced skiers and three runs for beginners. Bears Town is also popular with families for its 400-meter long toboggan run.
More info
---
10. Oak Valley, ideal to practice new tricks
The Oak Valley Snow Park resort has 9 trails (2 for beginners, 5 for intermediate and 2 for advanced) and a warm accommodation area. Oak Valley Snow Park is ideal for snowboarders, because without the usual crowd, there is plenty of space to test new techniques! The resort also offers ski and snowboard lessons as well as toboggan runs for beginners.
More info
---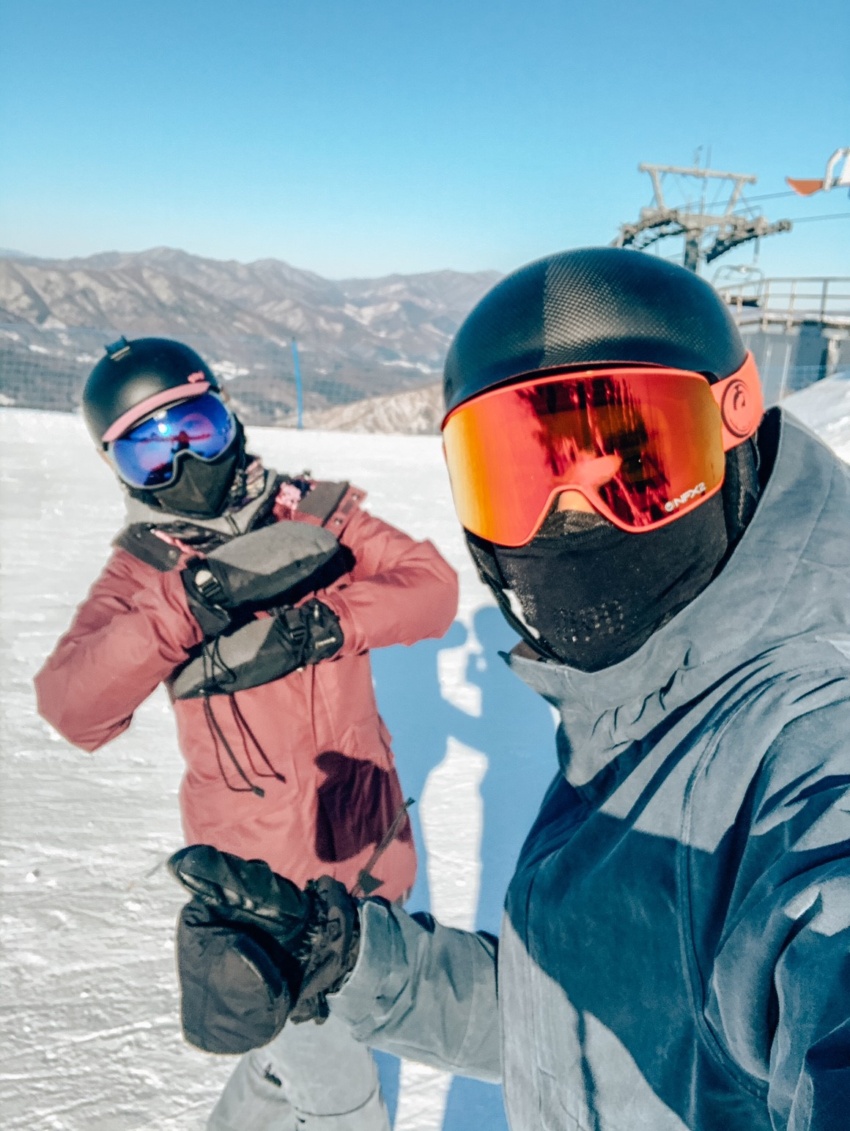 Korean ski resorts are perfect for some beautiful fast and deep carving. However, it doesn't snow enough, hence most of the time you will only get fake snow. However, as we always say to people who ask us, Korea has some of the best fake snow in the world. We mean it! So enjoy the ride.
---
Related Articles