Located in Lantau Island, Tai O is a small fishing village that has survived the passage of time while maintaining its traditions. Here is all you need to know to prepare your visit of Tai O fishing village in Hong Kong.
Sometimes nicknamed "the Venice of Hong Kong," Tai O is actually a small fishing village known for its stilt houses. Tai O is also well known for the observation of pink dolphins, which can been seen by taking a boat trip (although they are getting extinct, sadly…).
Tai O carries a pleasant maritime atmosphere with its friendly inhabitants, the Tanka, a community of fishermen who love the sea and everything related to it.
If you are visiting Hong Kong, we highly recommend a trip to Tai O, as the contrast with the modern part of the city is quite incredible! Tai O is far from the concrete jungle and skyscrapers of Hong Kong, here you will an authentic and charming village.
READ: 38 AWESOME THINGS TO SEE IN HONG KONG
Besides Tai O stilt houses and pink dolphins, you can explore the traditional way of life of its inhabitants, visit many temples, eat amazing local foods, visit listed monuments and so much more.
Most visitors, will make a stop as part of a day trip to Lantau islands, which include a visit of the Big Buddha, Po Lin Monastery and a final visit of Tai O before heading back to the city. Others, may stop to Tai O as part of a hike on Lantau Island, and often plan to arrive there around lunch time.
In this post we explain everything you need to know about a visit to Tai O, one of our favorite things to visit in Hong Kong.
---
A BIT OF HISTORY ABOUT TAI O VILLAGE IN HONG KONG
Tai O village is somewhat isolated on the west coast of Lantau, a relatively large island, located west of Hong Kong city. It has about 5,000 inhabitants. Some of them live in rickety wooden houses on stilts.
Due to its remote location and lack of work, Tai O has experienced little development. The resources come mainly from tourism and fishing.
By the 1930s, a salt production industry had also developed in the area. However, despite its slow growth and despite the damage caused by natural disasters, this village remains a popular destination for tourists, especially for its market and for its few temples and other ancient monuments.
After 1949, Tai O was one of the gateways to Hong Kong used by Chinese fleeing the mainland. The latter came here by boat from the Chinese coasts located further north or west. After disembarking at Tai O, they continued their journey east to the eastern shore of Lantau Island, from where they then reached the city of Hong Kong. At that time, the village still lived mainly from fishing. Nowadays, it is tourism that provides the bulk of its resources.
---
HOW TO GET TO TAI O?
Getting to Tai O, is not straight forward. The village is located in a remote location, that's why it kept its traditions.
There are 5 ways to reach Tai O:
From Central: take a water taxi which gets you directly to Tai O. This is our preferred way to get there, as there are lots to see on the way. The ferry passes by Kwai Tsing Container Terminals, Tsing Ma Bridge, Hong Kong Gold Coast, Hong Kong International Airport, the Hong Kong-Zhuhai-Macao Bridge as well as Tseung Kwan Shek. If you are lucky you may even spot pink dolphins on the way. To book the ferry, simply click here.
From Tung Chung: Bus number 11 will take you to Tai O. The price is 11.80 HKD (Sundays and public holidays: 19.20 HKD) and the trip takes about 40 minutes.
From Ngong Ping: after enjoying the visit of Po Lin Monastery and the Big Buddha (Tian Tan), you can take bus 21 which will take you directly to Tai O. The price is 6.60 HKD (Sundays and public holidays: 14 HKD) and the trip takes about 15 minutes.
From Tuen Mun: you can take a ferry from Tuen Mun ferry Pier, which will get you to Tai O after stopping in Tung Chun. The cost is 27 HKD.
By hiking there: The Tung O Ancient Trail starting from Tung Chung, will get you to Tai O. The hike is absolutely stunning and great way to discover some of the most remote part of Lantau island.
In the next part of this blog, we listed to best things to see in Tai O:
---
1. Explore the market and beautiful blue bridge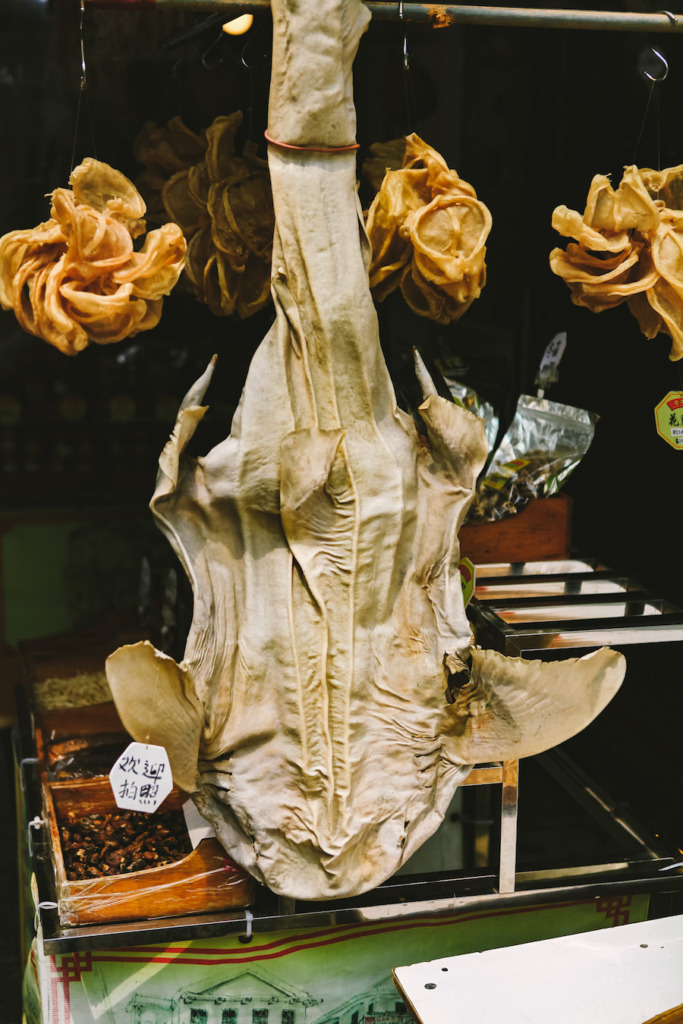 When you arrive in Tai O, get lost in the market. The village produces unusual delicacies thanks to its fishing heritage. Whether it is dried fish, salted fish or different shrimp pastes and sauces, try a few things in the market.
Walk down any street in Tai O and you'll come across a shop, a market stall or even a small restaurant offering dried seafood. From dried fish skin to dried fish stomachs, nothing goes to waste here and is always worth trying at least once.
The smell of dried fish is everywhere. Also, make sure to eat some seafood at one of the many local restaurants! You won't be disappointed.
At the center of the village, there is a beautiful blue bridge (here). One of the best spots to take photos of the village. The bridge is very scenic, almost like a symbol Tai O, don't miss it.
---
2. Go on a boat tour to observe pink dolphins
From the blue bridge, you can embark on a boat trip, which will take you around the village but also along the coast to observe pink dolphins.
The tour lasts for about 1 hour. The boat trip is rather pleasant and gives another perspective of Tai O and its surroundings.
---
3. Visit Kwan Tai Temple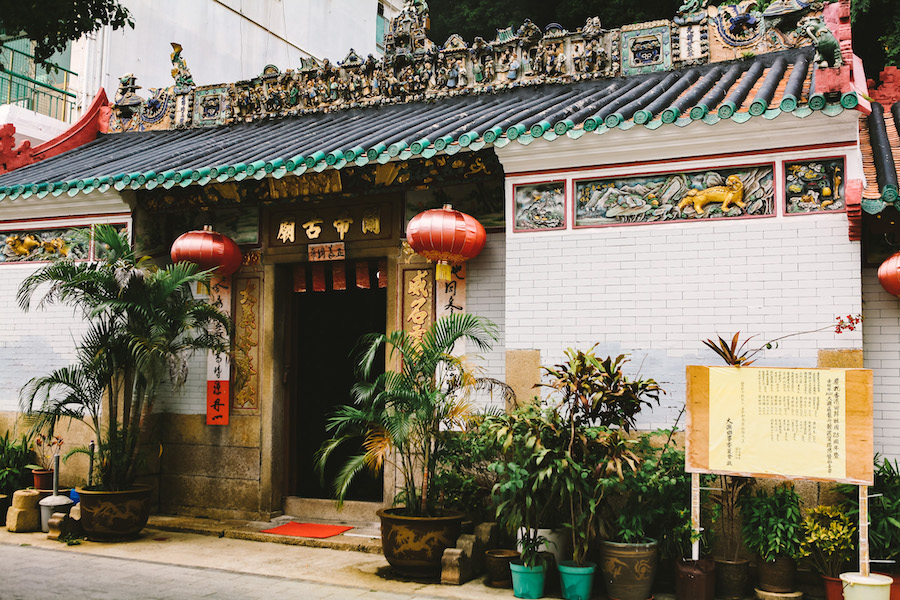 After crossing the blue bridge, you will arrive at the first temple of Tai O, located in the middle of the village.
Built in 1488 during the Ming Dynasty, Kwan Tai Temple is where locals go to pray to the gods of war and justice in the hope that they will be protected from evil. The temple is located at the center of the village and, although modest, is adorned with elegant decor.
Location: here
---
4. Cross Sun Ki Bridge
After a visit of the temple, continue your visit of the village and cross the beautiful Sun Ki Bridge.
This bridge was built in 1979. Before this bridge, people had to use punt to cross the village. Due to the inconvenience, local villagers financed this bridge, which took a month to complete.
We love this bridge. Taking photos there is a must!
Location: here
---
5. Next, visit Yeung Hau Temple
Tai O has two monuments listed by the Hong Kong Department of Monuments and Antiquities. The oldest is Yeung Hau Temple. It was built in 1699. It is classified as a "first rank monument", which means that it is a building "of exceptional importance, deserving that all possible efforts be made to preserve it. ". Hong Kong has a total of around 200 top-tier landmarks.
Yeung Hau Temple is dedicated to the god Hau Wang, said to have been a general during his lifetime who defended the last emperor of the Song dynasty (南宋, 1127–1279) when the latter took refuge in this part of the extreme southern China, which was not yet called Kowloon, and established its capital there. There are several other temples dedicated to Hau Wang in Hong Kong.
We really like this temple, at the edge of the village, right by the coast. The view from there is absolutely stunning! Make sure to check it out.
---
6. Meet with locals
We went multiple times to Tai O. One particular time, an old lady came speaking to us, near Yeung Hau Temple. To our surprise she spoke a very good english. After exchanging a few words, she invited us to visit her stilt house.
It was so nice of her. Her house was a few minutes walk from the temple. She showed us around and served us some tea. We could exchange on how was life for her in Tai O. She also explained to us that her family moved abroad and that she was pretty much alone there, but was very happy of her life in Tai O.
It was a touching moment, small things which we will never forget.
So don't hesitate to approach locals in Tai O. They seem always happy to share a few stories with tourists.
---
7. Visit Tai O Heritage Hotel, the former police station
As explained earlier, Tai O has 2 listed building, one is Yeung Hau Temple and the other one is the former police station built in 1902, when Hong Kong was under British administration.
The colonial style building has been restored to a stunning hotel! It is actually possible to visit part of the building or eat there at the beautiful restaurant.
This former police station was built to serve as a base for maritime patrols whose mission was to fight against piracy, smuggling and any other criminal activity. The number of police officers assigned to it increased from only 6 at the start to nearly 170 in 1983.
Then the importance of this police station decreased: it was transformed into a simple patrol station in 1996, before being abandoned in 2002.
For more information or for booking a night there, check out their website here.
Location: here
---
8. Check out the Kung Fu School
The school seems to be straight out of a Kung Fu movie. It is not possible to enter the school unfortunately, but you can take a few photos from the outside. Sadly, there weren't any students the day we visited.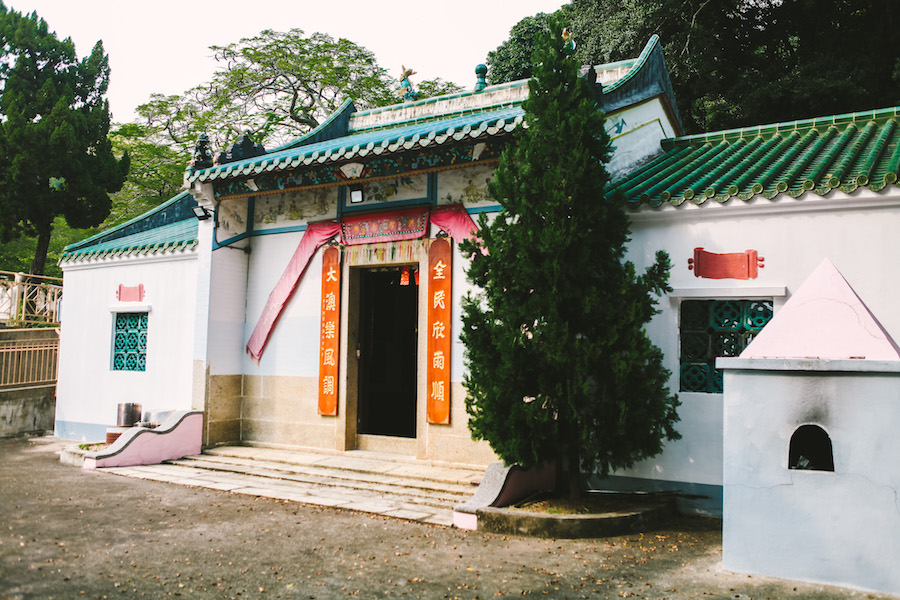 The schools is located here. Right in front of the school, there is another interesting temple: Hung Shing Temple
---
9. Visit a museum in Tai O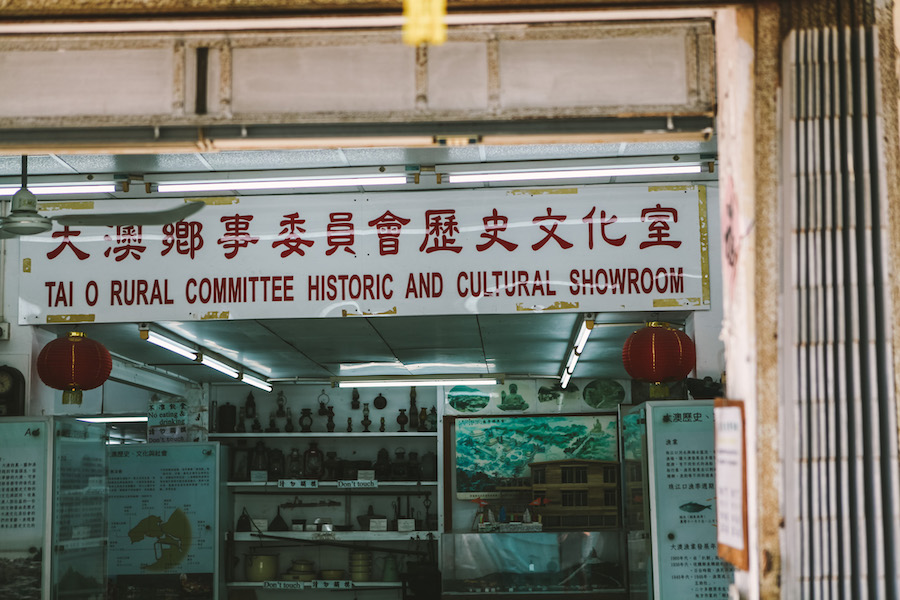 Two museums have been built in Tai O, in order to preserve and present to the public a certain number of objects linked to the history of the village and its surroundings: a small private museum, founded by a certain Mrs Wong Wai-King which closed recently, and a public museum founded by the rural committee of Tai O (free admission, closed on Mondays). This is near the bus station: the Tai O Rural Committee Historic and Cultural showroom.
Location: here
---
10. Participate to the annual Dragon Boat Festival in Tai O
The annual Dragon Boat Festival in Tai O is the third largest in China's National Intangible Cultural Heritage List. Known as the Tai O Dragon Boat Water Parade or Tai O Deities Parade, this religious ritual which takes place on the fifth day of the fifth lunar month consists of a water procession of dragon boats to calm water ghosts.
---
OUR IMPRESSIONS
Tai O will certainly surprise you. This charming and authentic village is unique in Hong Kong. We loved this vision of Hong Kong which brought us back a few century ago. It is a great place for a day trip away from the busy city!
We can only recommend a visit of Tai O if you are visiting Hong Kong.
For more posts about Hong Kong, click here.
ENJOY YOUR TRIP !
---
OTHER INTERESTING READS
BEST NEIGHBOURHOODS TO LIVE IN HONG KONG: here
10 BEST ROOFTOPS IN HONG KONG: here
38 AWESOME THINGS TO DO IN HONG KONG: here
PROS AND CONS OF LIVING IN HONG KONG: here