WHAT TO SEE AT THE JAPANESE GARDEN? IS THE JAPANESE GARDEN AT BUKIT TINGGI WORTH VISITING?
After our visit to the beautiful Colmar Tropical, we headed to the Japanese Garden, just about a 5min drive.
Nestled amidst the lush greenery of Bukit Tinggi this garden will transport you to Japan. The Japanese Garden, a serene oasis surrounded by nature's splendor, offers a peaceful retreat.
This picturesque garden is a testament to the harmonious blending of Japanese aesthetics and Malaysian hospitality, creating an unforgettable experience.
In this post, we describe all you need to know to prepare for your visit to the Japanese Garden in Bukit Tinggi.
---
INTRODUCTION OF THE JAPANESE GARDEN IN BUKIT TINGGI
The Japanese Garden in Bukit Tinggi, Malaysia is a stunning representation of traditional Japanese landscaping and design.
From the moment you step foot in this captivating space, you will be greeted by a seamless integration of key elements such as water, rocks, plants, and symbolic structures.
Delicate bridges arch over tranquil ponds, meticulously pruned bonsai trees dot the landscape, and well-placed lanterns cast a soft glow during the evenings.
Every aspect of the garden is carefully curated to emulate the calming ambiance found in authentic Japanese gardens.
Location: here
How to get there?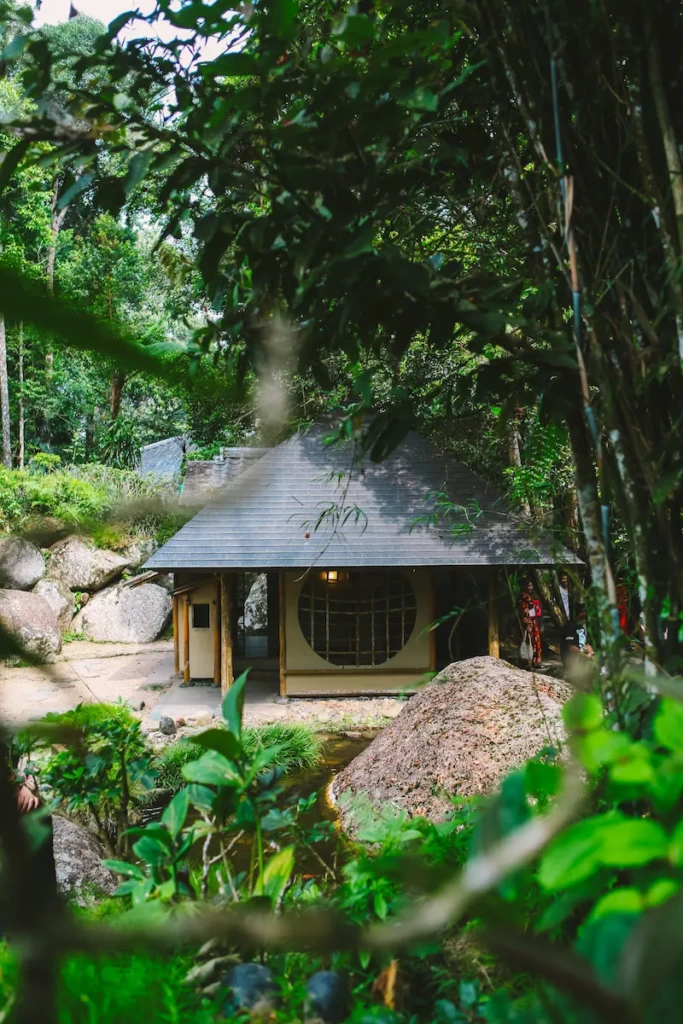 By Car
Driving to Colmar Tropicale and to the Japanese Garden is one of the most convenient options, especially if you prefer flexibility and independence. The journey takes about 1h, depending on traffic conditions. There are plenty of parking there.
Join a tour group
For peace of mind solution, join a tour group. You will have the chance to combine Batu Caves, Colmar Tropicale & Japanese Garden visits within a day. Get Your Guide offers great tours, check it out here.
Book a private tour
If you are a small group of people and you don't have a car, it could make sense to book a private tour. Viator offers great options at an affordable price for that. Check it out here.
By Shuttle Service
For visitors without a car, a shuttle service runs daily from Berjaya Times Square in Kuala Lumpur to Colmar Tropicale. The shuttle leaves four times during the day.
The same service is available for a return journey. At Berjaya Hills, there is a further complimentary shuttle service by an open-air coach that runs between Colmar Tropicale and Japanese Village. More info here
---
WHAT TO SEE AT THE JAPANESE GARDEN?
1. Zen and Serenity: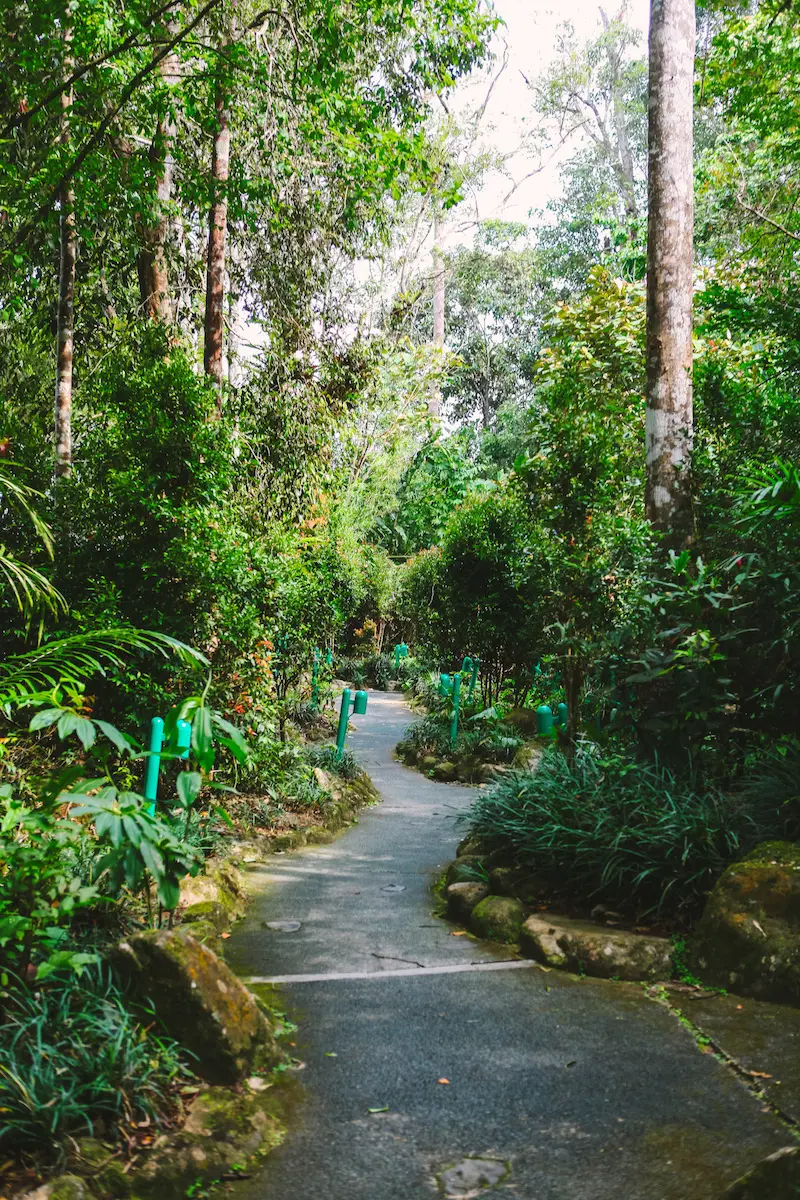 One of the main attractions of the Japanese Garden is its focus on Zen philosophy.
As you meander along the winding paths, you'll find strategically placed benches inviting you to sit and meditate amidst the soothing sounds of trickling water and gentle rustling leaves.
The Garden's layout encourages a slow and contemplative stroll, allowing visitors to escape the hustle and bustle of everyday life and find inner peace.
---
2. Japanese Teahouse
The garden houses an authentic tea house.
Perhaps it was used to serve tea in the past, unfortunately, when we went it was transformed to a kimono rental shop… That's a pity, it must have been super nice to enjoy a cup of Japanese tea in the garden…
It's still a nice house though, great to take photos. Besides, it's the first Japanese Teahouse built in a rainforest... at least that's what the sign says at the entrance.
---
3. Tatami Spa
At the center of the garden, you will find a Spa! Unfortunately it was closed the day we visited. In fact, it seems to be closed at the moment…
Sadly, as based on the photos displayed outside the building, it looks like a really beautiful place!
---
4. Cultural Events and Workshops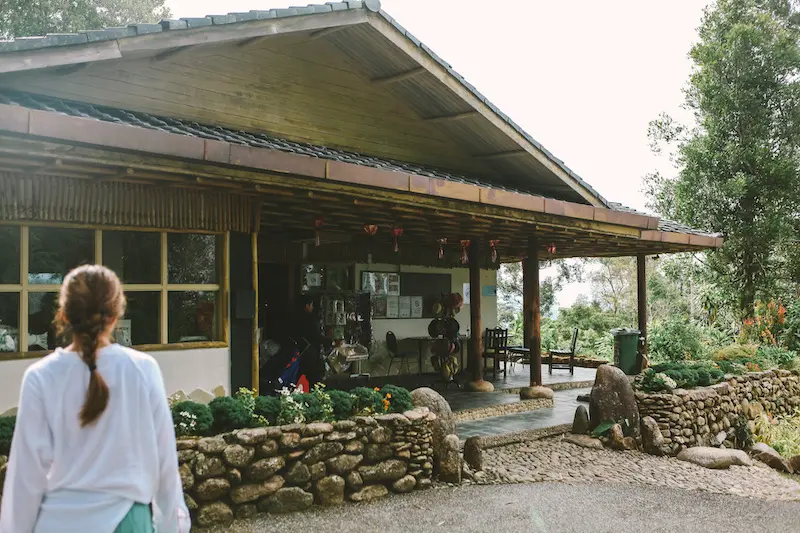 From time to time the Japanese Garden in Bukit Tinggi hosts various cultural events and workshops that offer an immersive understanding of Japanese traditions.
These events range from traditional dance performances and calligraphy demonstrations to Ikebana (flower arranging) workshops, providing visitors with an opportunity to engage with the culture on a deeper level.
---
5. Eat Japanese Food
If you are hungry during your visit you can eat at the only restaurant in the Garden: Ryo Zan Tei.
The serve some bento set with green tea.
The food is actually quite ok, although don't expect anything like "real" Japanese food.
---
IS A VISIT TO THE JAPANESE GARDEN IN BUKIT TINGGI WORTH IT?
To be honest, if we would have made the trip from Kuala Lumpur just in order to see the Japanese Garden, we would have been massively disappointed.
The garden is rather small, count less than 1 hour to visit everything.
However, we we combined the visit of the garden with Colmar Tropicale (READ: FULL GUIDE TO VISIT COLMAR TROPICALE), it was actually a nice constrast and a good addition to our day trip.
If you are anyway visiting Colmar Tropicale, the visit of the Japanese Garden doesn't cost anything extra, so why not adding it to your itinerary.
---
RELATED POSTS
GUIDE TO VISITING BATU CAVES NEAR KL
DISCOVER GENTING HIGHLANDS IN MALAYSIA
ALL YOU NEED TO KNOW ABOUT COLMAR TROPICALE
VISIT KLCC PARK, THE BEST PARK IN KUALA LUMPUR
DISCOVER THE BEAUTIFUL KL BIRD PARK
20 BEST THINGS TO SEE IN PENANG, MALAYSIA
AWESOME PLACES TO SEE IN LANGKAWI
BEST THINGS TO DO ON TIOMAN ISLAND, MALAYSIA