WHAT TO SEE ON NAMI ISLAND? HOW TO GET TO NAMI ISLAND FROM SEOUL? WHY IS NAMI ISLAND FAMOUS? IS NAMI WORTH VISITING?
Visiting Nami Island is one of the best things to do in South Korea! It is the perfect romantic gateway from Seoul. We highly recommend a visit to the small and peaceful island of Nami if you are in Korea.
Nami Island, the most romantic gateway from Seoul
The island is beautiful in every season. We went there in Autumn and Summer and truly loved both of our visits. Nami Island can be very crowded with tourists over the weekend, hence if you can, we recommend a visit during weekdays.
Here is our full guide about Nami Island.
"Nami" is an island in the North Han River with a total area of ​​about 462,000 square meters. Originally, the island was just a small hill, but it became a real island with the construction of the Cheongpyeong Dam.
Here is a small glimpse of what to expect during a visit to Nami Island:
---
Why is Nami Island so famous?
Nami island is famous for its forest road with white birch path, pine path, sequoia path, and entertainment areas with various Korean restaurants. In addition, it was a filming location for the famous Korean Drama: Winter Sonata. It is one of the best places to visit near Seoul.
---
About Nami Island…
In 1965, the island was bought by a tourism developer, Kyeongchun Tourism Development, Inc., which has since become Nami Island, Inc. The company wanted to make it a place of art and culture.
They worked with very respectful partners in the field of education, such as the YMCA or Unicef, and it set in motion a whole series of educational programs around Nami Island.
It sets up dozens of cultural spaces on the island: museums, galleries, a children's library.
In 2001, KBS decided to shoot Winter Sonata, a Korean Drama on the island. The series is also broadcast in Japan, where it becomes a social phenomenon. The Japanese are so addicted that they rush to the filming locations.
According to Wikipedia, "an estimated 500,000 tourists came to visit Korea following the drama"…
Since then the island has become one of the most famous places to visit near Seoul. So how to get there? What are the main things to see? Here is our full guide.
---
How to get to Nami Island?
Nami Island is located in Gapyeong. There are different ways to reach it:
---
Getting to Nami Island by train:
The ITX Cheongchun train (Cheongryangri to Chuncheon) is one of the best ways to get to Nami. It takes less than an hour to get to Gapyeong station. You can take the ITX Cheongchun train from Yongsan, Wangshimni and Cheongryangri stations. We recommend purchasing tickets online for the round trip before your departure. BUY YOUR TICKET HERE.
Once you reach Gapyeong by train, take a bus (# 33-5, 33-36) or a taxi to the island pier. The price of the bus is about 1,000 KRW and the price of the taxi is about 5,000 KRW.
---
Getting to Nami Island by bus:
You can join different tour groups, which is actually super convenient! This is often the best way to visit places in Korea if you do not have a car. The advantage is that everything is included in the price (bus, entrance ticket) and sometimes it is linked with other attractions nearby. Here are different options for you:
Nami Island + Petite France / Garden of Morning Glory for less than KRW 40,000: BOOK HERE
Gangchon Rail Bike + Nami Island for less than KRW 70,000: BOOK HERE
Nami Island + Alpaca Pasture: BOOK HERE
READ: ALPACA WORLD IN KOREA – ALL YOU NEED TO KNOW
---
Getting to Nami Island by car:
If you have a car, going to Nami Island will take you about 1.5h from Seoul. There are many parking nearby. However, be aware of the traffic if you go there during weekends…
---
Best things to do on Nami Island
1. Take the Ferry once you arrive at Nami pier
Nami being a small island, it must be reached by boat. It's a ferry with a departure every 10-20 minutes at peak times that will bring you there. The trip only takes 5~10 minutes.
The price is 13,000 KRW / person including the entrance to Nami and ferry (round trip). No need to book in advance, just get your ticket at the counter once you reach the pier.

You can also reach Nami by zipline, also departing from Gapyeong Pier. You will reach the island in less than a minute, and you can admire it from the sky, which is a nice option.
The price is a bit more than the ferry, which is 44,000 KRW. But the return ferry ride is included. MORE INFO HERE ABOUT THE ZIPLINE
One of the tourist attractions is obviously going through customs. And yes, Nami Island has declared itself the Republic of Naminara. A totally imaginary republic, of course, but that adds to the folklore.
And for those who live in Korea or are planning to live there, I would point out that it is possible to apply for a passport! It will give you a "permanent" entry fee to Fairy Tale Land (45,000 won for 1 year). Of course, it's all for fun only!
---
2. Visit Mapple Lane, one of the best things to see on Nami Island
It goes without saying that in the autumn the colors are magnificent. It's our favorite time in South Korea. The maples are usually in a deep red or flashy orange color.
In Nami head to Maples Lan. The path runs alongside the maple garden, called Baekpungmilwon. The colors are beautiful, and everything is so charming.
---
3. Walk around the Nami River course
The riverside is really scenic. You can walk all around the island right by the river. The trees, the colors, and the view of the river all around make it such a unique place.
A little further on, you will reach an adventure park (Forest Adventure Treego), with paid activities: a course in the trees, trampolines, swings, zipline etc.
---
4. Metasequoias Alley, another beautiful thing to see on Nami Island
In the middle of Nami Island, enter the Metasequoia Alley. This place was so majestic that our eyes were wide open like a child in front of a chocolate fountain! We've seen metasequoias in our lives, but never so many, never so well aligned.
We don't have the words to say how beautiful it was. If we had to remember one thing from Nami, it's this magnificent mini forest of orange trees (in autumn only, because they are green the rest of the year – like the photo above which was taken in the summer).
It is in this area that you can find the statue of the two heroes of the drama Winter Sonata and other statues as well, by Korean artists.
---
5. The ginkgo alley, our favorite part of Nami Island
At the end of the metasequoia, turn right, to see one of the most Instagrammable places on Nami Island: the ginkgo alley. Unfortunately, as we went there in late November, all the leaves had already fallen!
---
6. Bungalow row riverside path
Then we reached the shore again, following the bungalow path.
It is possible to spend the night on Nami Island. All you have to do is book a night with Jeonggwanru Hotel. You can stay in the main building, a boutique hotel. But you can also rent a bungalow by the water. YOU CAN CHECK THE AVAILABILITY AND BOOK HERE.
In the hotel, there is also a pretty Korean pavilion (Namijangdae) which is used for banquets, a pond where you can admire the moon at night, and an aquatic playground open in summer.
---
7. Changgyeongdae platform for couples
The south side of the island is for lovers. Not that single people are excluded, but there is a little romantic side: you can access it by "the alley of the ginkgo lovers of the river", not far from there you can find a "forest of love" and the highlight, you can sit as a couple on a small bench ideally located in front of a magnificent panorama …
---
8. Central Pine Alley
On the way back we took the central alley full of Korean pine trees. This is not the only place on the island where you can see pine trees. But in this alley, the trees are decorated with white balloons.
This is a photo spot that you often see on Instagram. On the day we went they had some Halloween decorations.
---
9. Other activities on Nami Island
A good way to explore the island is by renting a bicycle (tandem also available for couple), a small buggy or take the little train which goes around the island. All options are super fun.
There are also plenty of restaurants (Korean and Western food) as well as cafes.
---
What is the best time to visit Nami Island?
Nami Island is beautiful during each season. Each time it looks completely different! However, the most popular time to visit Nami Island is during Autumn thanks to the foliage colors!
---
Other useful information about Nami Island
FOOD & DRINK: There are many restaurants on Nami Island. Hence, no worries about bringing your own food or water. You can purchase everything you need on the island.
FERRY TIMETABLE: the first ferry start between 8am and 9am depending on the season. The last ferry leaves at 9pm.
OFFICIAL WEBSITE OF NAMI: here
---
Other things to do near Nami Island
GARDEN OF THE MORNING CALM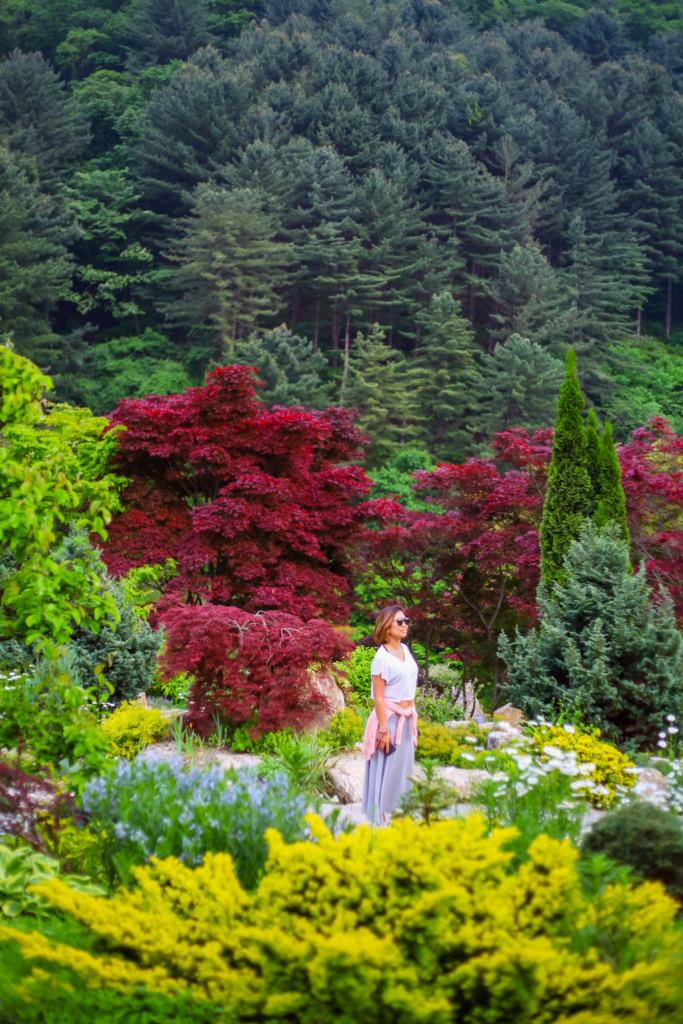 The Garden of the Morning Calm is a stunning 30,000㎡ flower garden, open year-round. It is a paradise for nature lovers. The scent of thousands of plants and pines creates an unforgettable aroma that will make you forget all your worries.
This is one of the best things to see in South Korea and it's near Nami Island! You can combine both visits in a day.
READ: FULL GUIDE FOR A VISIT TO NAMI ISLAND IN KOREA
---
ALPACA WORLD
The Alpaca World in Korea (알파카월드), is the largest alpaca ranch in Korea, covering an entire hill near Nami Island.
The park opened in 2017. The Alpaca World is more than just alpacas as you can also interact with many other animals, such as ostriches, Camel, Deers and various other farm animals.
We had so much fun during out visit of Alpaca World! Highly recommended.
READ: VISIT THE APLACA WORLD IN KOREA
---
LA PETITE FRANCE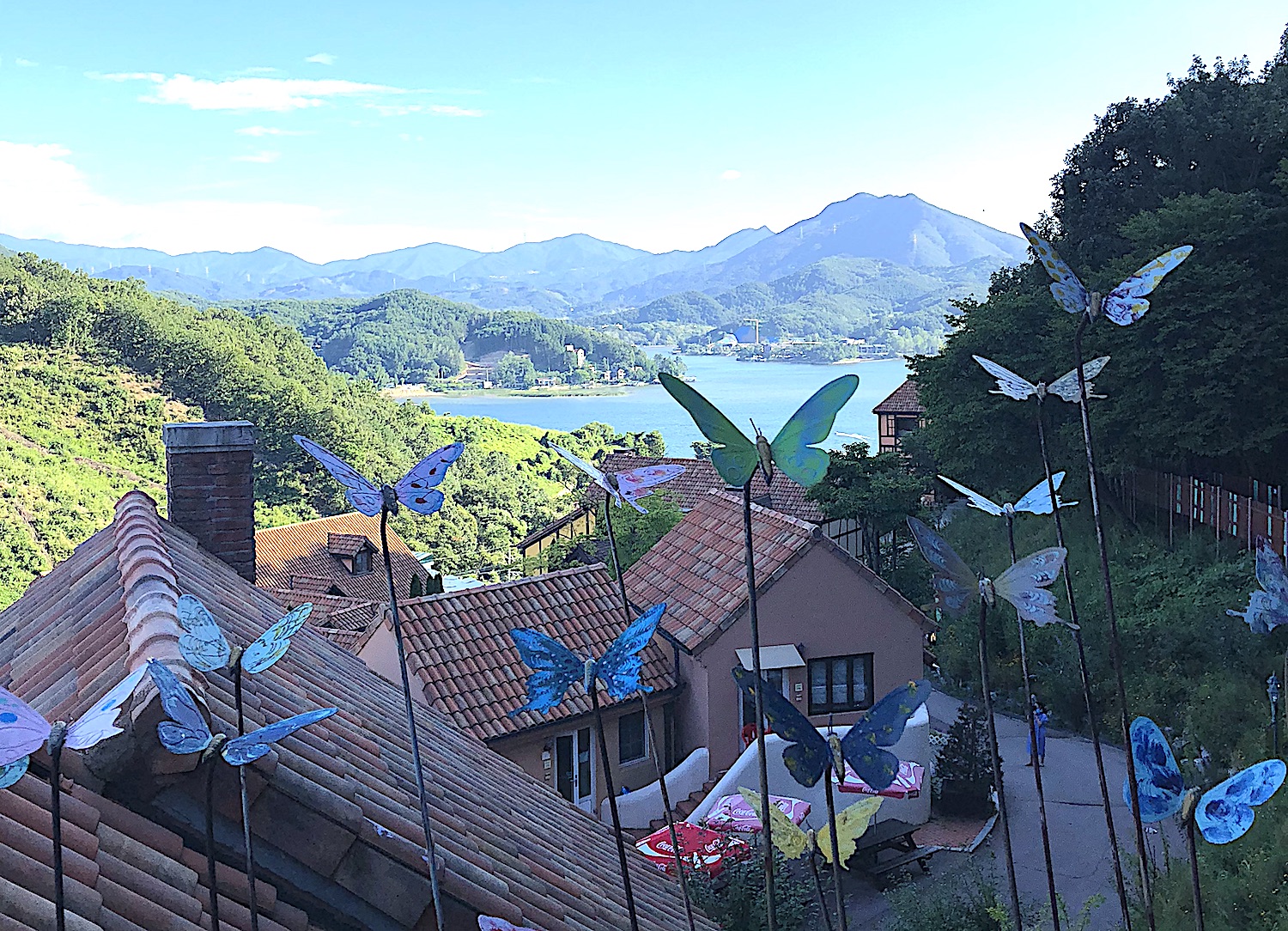 La Petite France is a park that was built in July 2008 in the province of Gyeonggi. It is made up of 16 buildings where visitors can stay and discover French culture and French cuisine. Not very Korean, we know! However, the village is really cute and nesled in the mountains facing the river. It's a beautiful sight in South Korea.
READ: 99 BEST THINGS TO SEE IN SOUTH KOREA
---
GANGCHON RAIL PARK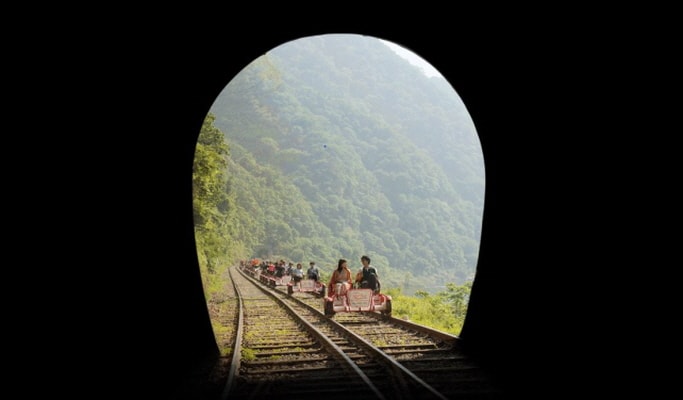 The Gangchon Rail Park is one of the most unique things to do in Korea. This place is located near Nami Island. At Gangchon Rail Park you can cycle on ancient rail deep the nature. It's absolutely stunning and a fun thing to do as a couple! CHECK IT OUT HERE
---
Final thoughts – Is Nami Island worth a visit?
On every trip, there is this perfect and most memorable day. For us Nami Island, is this perfect day that always comes to mind when thinking about South Korea. It was just stunning!
The colors, the romantic alleys, the beautiful surrounding nature, and the whole vibe were just perfect! For us, a trip to Nami Island is absolutely worth it!
Each season in Korea is so beautiful. And Nami is certainly the perfect place to admire the change of colors, temperature, and nature throughout the year.
---
Read Also
21 AWESOME THINGS TO SEE IN SEOUL
30 INCREDIBLE THINGS TO SEE IN JEJU
DISCOVER GANGNEUNG ON THE EAST COAST