WHAT TO SEE AT COLMAR TROPICALE? IS COLMAR TROPICALE WORTH A VISIT? HOW TO GET TO COLMAR TROPICALE?
Colmar Tropicale is a replica of a French Village (from Alsace) built in the heart of the Malaysian Jungle.
This is a love story between the former Malaysian Prime Minister Mohamad Mahathir and the region of Alsace in France (where Guillaume is from by the way!)
"A French village in the heart of the Malaysian Jungle"
After a visit to France in the early 2000s, he had the surprising idea of creating an almost identical replica of Colmar and the Haut-Koenigsbourg castle in the jungle of his country.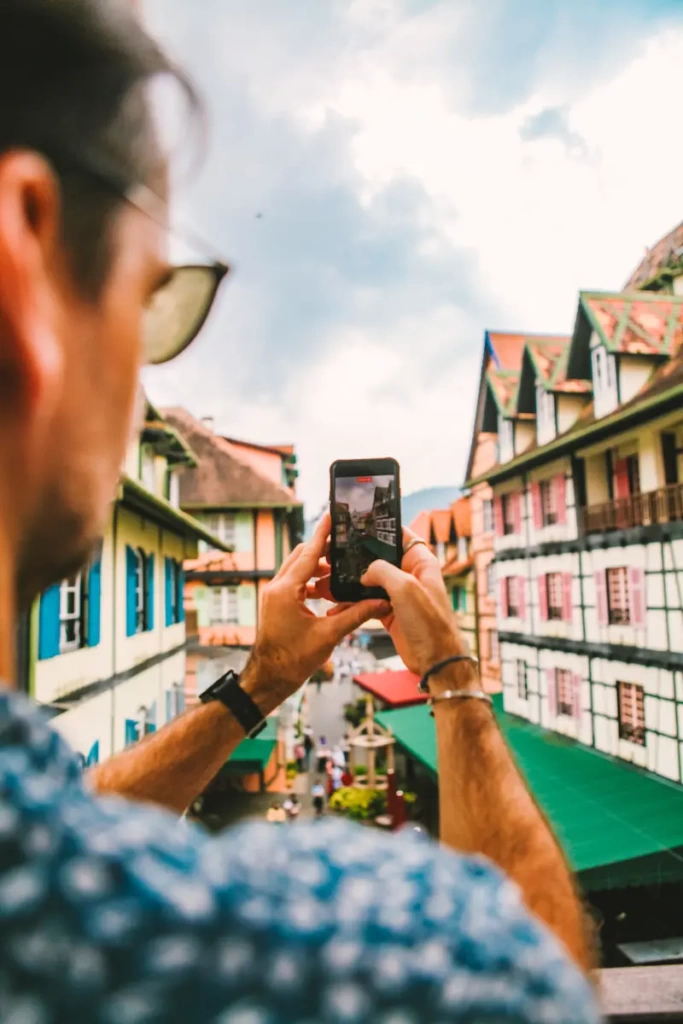 Colmar Tropicale is one of the best day trips from Kuala Lumpur. Here you can enjoy the cooler temperature compared to the city (around 25~26C degrees).
You can also combine your visit with other nearby activities such as the Japanese Garden, Horse Riding, Rabbit Garden and the adventure park!
Some areial impressions of Colmar Tropicale:
---
INTRODUCTION OF COLMAR TROPICALE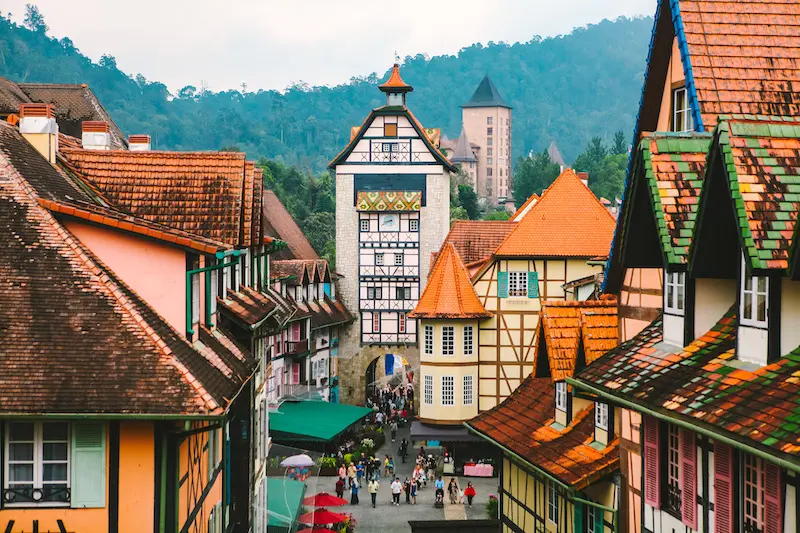 Colmar Tropicale was built at an altitude of 1,500 meters and about 70 km from the capital Kuala Lumpur.
A colossal project for which the equivalent of 30 million euros has been invested. More than twenty years later, the "almost" Alsatian city continues to attract tourists.
Surrounded by tropical palm trees, the replica of the Haut-Koenigsbourg castle has become a luxury hotel. Not far away, in this vast complex called "the city of the mountains" (Bukit Tinggi) is the replica of the city of Colmar and its timbered houses, cobbled streets, leaning roofs, and clock tower.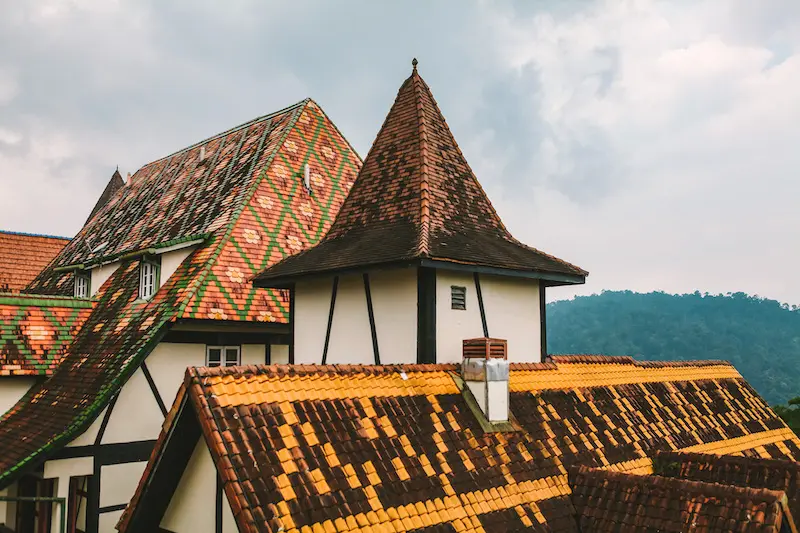 The tiles and cobblestones were also imported from France, as were the Alsace wines served on site
There, hundreds of apartments/hotel rooms are rented out. There are also many restaurants on-site, some of which serve traditional food from Alsace in France.
In addition, Colmar Tropicale is regularly found in commercials and music videos, thanks to its Western feel.
The replica of the 12th-century Alsatian castle is used for the organization of prestigious weddings, France being often associated with love and romance for Malaysian…
---
WHAT TO SEE AT COLMAR TROPICALE
1. Admire the architecture in this traditional French Village
Colmar Tropicals is a remarkable architectural feat that captures the essence of a French village.
As you arrive at the resort, you are greeted by cobblestone streets, timbered buildings, and colorful facades reminiscent of those found in Colmar.
The attention to detail is awe-inspiring, making it feel as if you've stepped into a fairy tale land. The sight of blooming flower boxes, elegant fountains, and street lamps further enhances the European ambiance.
---
2. Enjoy a traditional meal from Alsace
Food enthusiasts will not be disappointed during their visit to Colmar Tropical.
The resort's restaurants offer a range of dining options. You can enjoy a "revisited" version of the flammkuchen (Tarte Flambee), a sort of flat pizza with creme fraiche, onions and normally served with bacon, which is here replaced by beef stripes.
Savoring delectable dishes amidst the charming European setting is an experience in itself.
---
3. Enjoy the view from the top of the observation tower
Towards the end of the village, you can climb up the few floors of the lookout tower for a fantastic view (here) of the town and the surrounding jungle and mountain.
No worries, you won't be sweaty as you climb up the few stairs. The temperature at Colmar Tropicale is much cooler than in Kuala Lumpur, around 25C degrees (like in Genting which is another attraction nearby).
---
4. Enjoy one of the many activities onsite
Beyond its architectural marvels, Colmar Tropical offers a wide array of activities.
For culture enthusiasts, the resort's museums provide insight into the history of Colmar and its European influences. For those who like Art, you will appreciate the art galleries showcasing various exhibits.
At Colmar Tropical you will also find many souvenir shops.
Nature lovers will find tranquility in the meticulously landscaped gardens and the surrounding rainforest.
For kids, Colmar Tropicale offers many fun games as well as VR activities.
---
5. Check out the Castle "Chateau"
The Chateau de Colmar is an exquisite medieval castle replica (from the Haut-Koenigsbourg) that stands majestically in the heart of the resort.
It serves as a hotel, and staying here allows guests to immerse themselves fully in the European experience.
---
6. Spend the night at Colmar Tropicale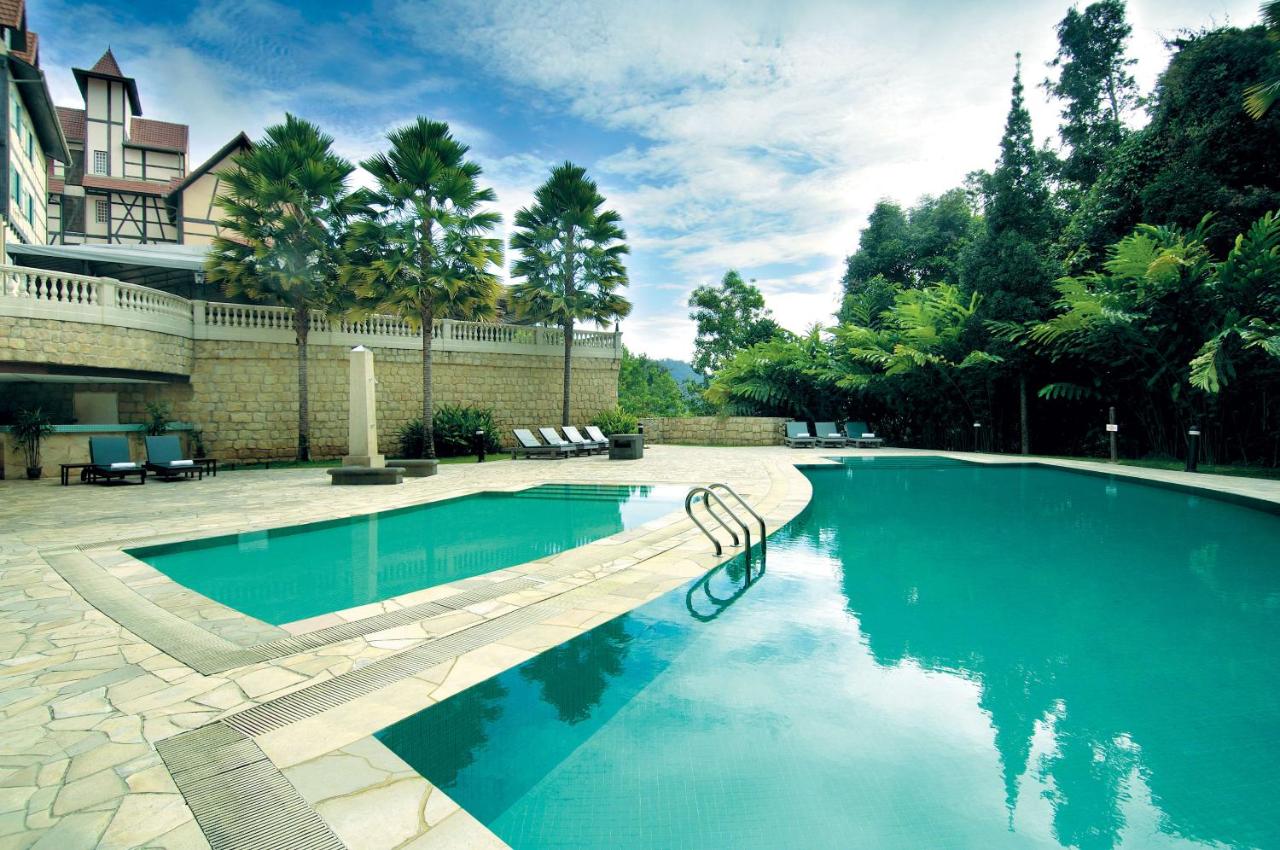 Colmar Tropical is the perfect place to escape the hustle and bustle of city life and unwind in a serene environment.
The cool climate of the Berjaya Hills, combined with the calming ambiance of the resort, provides the ideal setting for relaxation and rejuvenation.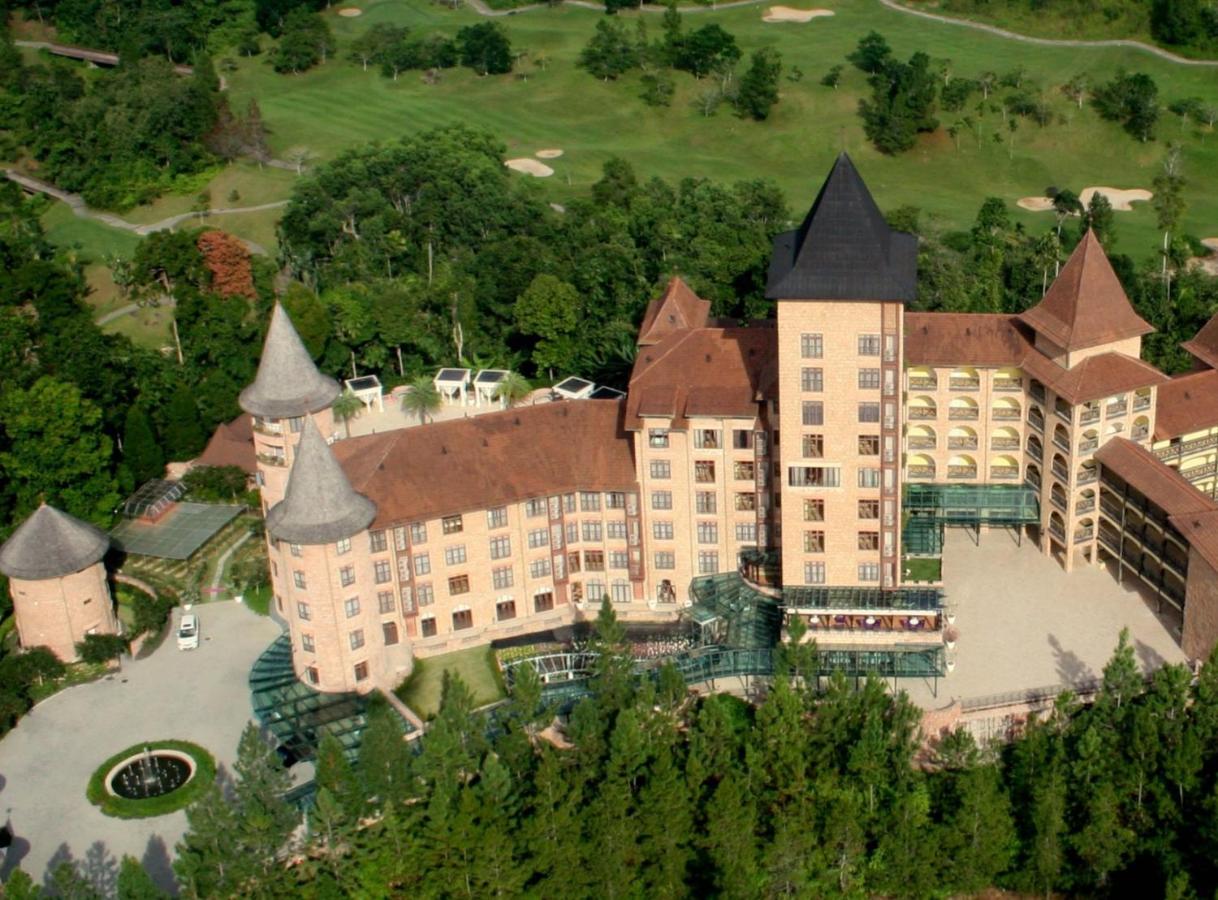 Whether you're seeking a romantic getaway or a peaceful retreat, Colmar Tropical offers it all.
You can choose between Colmar Tropicale Berjaya Resort (MORE INFO HERE) or The Chateau Spa & Wellness Resort (MORE INFO HERE)
---
OTHER GREAT ACTIVITIES NEAR COLMAR TROPICALE
Colmar Tropical is the perfect place to escape the hustle and bustle of city life and unwind in a serene environment.
The cool climate of the Berjaya Hills, combined with the calming ambiance of the mountain provides the ideal setting for relaxation and rejuvenation.
1. Visit the beautiful Japanese Garden
Less than a 5min drive from Colmar Tropicale, you can combine your visit with the beautiful Japanese Garden.
This enchanting garden is a testament to the artistry of Japanese landscape design and offers a peaceful retreat amidst the natural beauty of the Berjaya Hills.
The garden's design embodies the Japanese philosophy of seeking harmony with nature, creating an atmosphere of tranquility and contemplation.
You can admire a Koi Ponds and small waterfalls, a zen rock garden, bridges and pathway and especially a beautiful Japanese Tea House. You can also rent a Japanese Kimono onsite to take great shots inside in the garden.
The Garden is not very big though, count 1 hour to visit everything.
Location: here
Note: the Japanese Garden is also accessible by shuttle.
READ: FULL GUIDE TO DISCOVER THE JAPANESE GARDEN IN BUKIT TINGGI
---
2. Get your adrenaline pumping at the adventure park
The Adventure Park right next to Colmar Tropicale, provides an adrenaline-pumping experience with activities such as zip-lining and wall climbing.
There's also an Animal Park where visitors can encounter a variety of animals, making it an enjoyable destination for families.
Location: here
---
3. Check out the Rabbit Farm
If you are visiting Colmar Tropicale with kids, consider making a stop at Rabbit Farm. Children can pet & feed rabbits & deer at this small and simple farm which also offers donkey rides.
Location: here
---
4. Go horse riding
If you ever wanted to try riding a horse, this is an excellent place to do so. The horses are very well taken care of, the place is well maintained and the staff is super friendly, knowledgeable, and attentive.
Location: here
---
5. Play golf at Berjaya Hills Golf & Country Club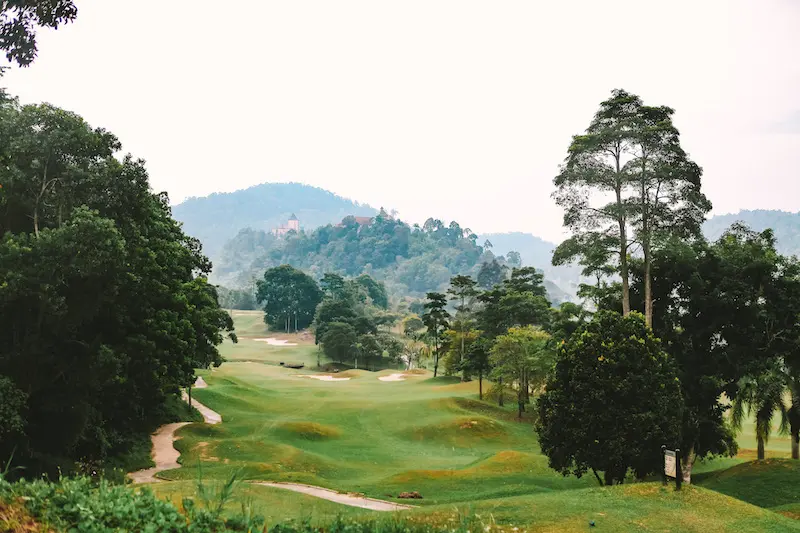 If you enjoy playing golf, then we recommend this beautiful golf course, nestled in the middle of the mountain at Berjaya Hills.
From the golf course, you can even see Colmar Tropicale.
Overall, the golf is great value for money for places around Kuala Lumpur. Besides you can enjoy the cool breeze of the mountain while playing, which is a big plus.
---
6. Visit the famous Genting Highlands!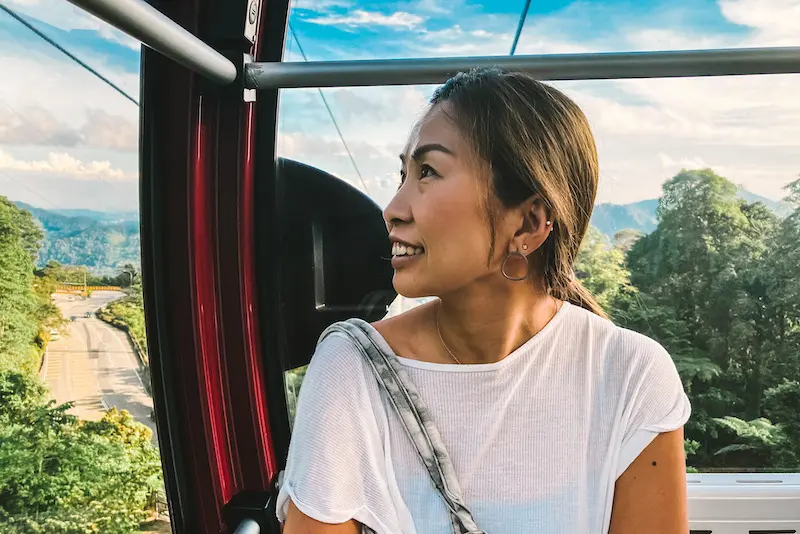 Genting Highlands stands as a picturesque hill resort located just an hour from Colmar Tropicale.
Genting Highlands is known as Malaysia's Las Vegas. Indeed, one of the major attractions in Genting Highlands is its casino! Attracting thousands of people every year.
With an elevation of almost 2,000 m and a temperature averaging 24°, the weather is perfect all year round and the nights are cool. If you need some fresh air after Kuala Lumpur, Genting Highlands is a great place to spend a day or a weekend!
READ: FULL GUIDE FOR A VISIT TO GENTING HIGHLANDS IN MALAYSIA
---
7. Eat some of the best Durians in Malaysia at Bentong
Bentong, located near Colmar Tropicale in Malaysia is known for its having some of the best durians. The fertile soil and favorable climate of Pahang contribute to the growth of high-quality durians with rich flavors and creamy textures.
Bentong has gained a reputation for producing the popular "Musang King" durian variety (also known as "Mao Shan Wang" or "D197"). Musang King durians are highly sought after for their intense aroma, distinct taste, and smooth, buttery flesh. It is often considered one of the best and most premium durian varieties in Malaysia and across the world.
There are many Durian stalls by the street serving Durian
Location of Bentong: here
---
8. Go Hiking at Berjaya Hills
If you're staying at Colmar Tropicale and want to explore nearby hiking opportunities, you're in luck!
The Berjaya Hills, where Colmar Tropicale is located, offers several hiking trails and nature walks that allow you to immerse yourself in the beautiful Malaysian rainforest.
The Bukit Tinggi Forest Reserve is a vast area of pristine rainforest with numerous trails suitable for hikers of different levels. The jungle trekking experience here is enchanting, with towering trees, lush vegetation, and the chance to spot various wildlife species. The trail options range from easy walks to more challenging hikes that lead to scenic viewpoints.
---
HOW TO GET TO COLMAR TROPICAL FROM KUALA LUMPUR
Getting to Colmar Tropicale from Kuala Lumpur is relatively straightforward, and several transportation options are available. Colmar Tropicale is located in Bukit Tinggi, which is approximately 60 kilometers away from Kuala Lumpur.
Location: here
Getting to Colmar Tropicale by Car
Driving to Colmar Tropicale is one of the most convenient options, especially if you prefer flexibility and independence. The journey takes about 1h, depending on traffic conditions. There are plenty of parking there.
Join a tour group
For peace of mind solution, join a tour group. You will have the chance to combine Batu Caves and Colmar Tropicale visits within a day. Get Your Guide offers great tours, check it out here.
Book a private tour
If you are a small group of people and you don't have a car, it could make sense to book a private tour. Viator offers great options at an affordable price for that. Check it out here.
By Shuttle Service
For visitors without a car, a shuttle service runs daily from Berjaya Times Square in Kuala Lumpur to Colmar Tropicale. The shuttle leaves four times during the day.
The same service is available for a return journey. At Berjaya Hills, there is a further complimentary shuttle service by an open-air coach that runs between Colmar Tropicale and Japanese Village.
---
IS COLMAR TROPICALE WORTH A VISIT?
Whether Colmar Tropicale is worth a visit depends on your interests and expectations. If you appreciate European-inspired settings, enjoy exploring themed attractions, and want to experience a taste of Europe in Malaysia, then Colmar Tropicale could be a delightful destination for you.
If you've never traveled to Europe, we have to say that Colmar Tropicale is really close to what a traditional French town in Alsace would look like.
Another good reason to visit Comar Tropicale is to enjoy the cooler weather. Up the mountain, the temperature drops to 25C degrees during the day and even lower at night. If like us, you live in Kuala Lumpur, this is pure joy!
---
RELATED POSTS
DISCOVER THE JAPANESE GARDEN IN BUKIT TINGGI
DISCOVER GENTING HIGHLANDS IN MALAYSIA
VISIT KLCC PARK, THE BEST PARK IN KUALA LUMPUR
DISCOVER THE BEAUTIFUL KL BIRD PARK
GUIDE TO VISITING BATU CAVES NEAR KL
20 BEST THINGS TO SEE IN PENANG, MALAYSIA
AWESOME PLACES TO SEE IN LANGKAWI
BEST THINGS TO DO ON TIOMAN ISLAND, MALAYSIA