Why visiting Lanzarote? This island is actually one of the most popular travel destinations for Europeans tourists! Lanzarote has a lot to offer: from incredible volcanoes, amazing beaches, to delicious wines and food and so much more. In this post we describe the top 10 reasons why you should visit Lanzarote at least once in your lifetime.
You are wondering what's all this fuss about Lanzarote? Why people think this is a unique island? Or simply wondering to which of the Canary Islands you should travel to. In this post we list 10 reasons why you should visit Lanzarote.
So are you curious to know which are the top 10 reasons to visit Lanzarote? Here we go:
---
1. LANZAROTE FEELS LIKE ANOTHER PLANET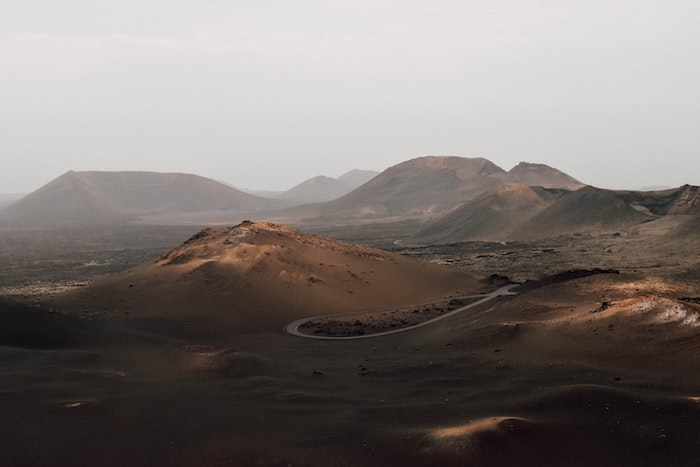 Indeed, this is the first think you may say while landing in Lanzarote. Here more than anywhere else in the Canary Islands or even in Spain, the landscape is something we've never seen before. How to describe it? Imagine planet Earth, Mars and Moon all mixed together. Then you probably have something similar to Lanzarote.
Stellar… This is the word that first comes to mind. And even NASA comes to train there. Lunar lands, incredible lakes like El Lago Verde, stunning mountains, desert spaces and of course thousands of volcanoes… Lanzarote is truly science fiction.
The best place to experience this unique landscape is at Timanfaya National Park. The park is also called Las Montañas del Fuego, the mountains of fire. These lunar landscapes, somewhat surreal, are those that we see everywhere when we prospect for a trip to Lanzarote (postcards, flyers, documentaries, youtube videos…). The beauty of the landscape is striking and the volcanic area stretches for miles, reflecting a wide spectrum of colors depending on the time of day or the weather.
Full guide about Timanfaya National Park here.
---
2. LANZAROTE HAS AMAZING BEACHES
​​Lanzarote is one of the most beautiful islands in Spain, and in particular the Canary Islands. Mostly known for its volcanic land, Lanzarote also features spectacular beaches.
From the gorgeous areas of Playa Blanca to the soft blue waters of playa de Papagayo, there are many stunning beaches in Lanzarote. And the very good news is that all of them are accessible most of the year, with waters which generally never drops below 20°C.
We compiled a list of the 10 most amazing beaches in Lanzarote here
---
3. LANZAROTE IS WARM EVEN IN WINTER!
The climate in Lanzarote is ideal. Well, let's even say close to perfect with it's 20 degrees on average all year round. It's never too hot and never too cold. In Lanzarote, there is no heat wave in the summer like in Madrid for example. Winter? Well it's actually one of the warmest place in Europe. We traveled there for almost a month in January and we couldn't hope for a better weather anywhere else in Europe. You are perhaps wondering, if it's warm enough to swim in the sea. The answer is a clear: YES!
If you want to escape the harsh winter in Europe, then take a break in Lanzarote. You won't regret it. That's already one of the ultimate reasons why you should visit Lanzarote! Isn't it?!
You are already convinced by now. Well, time to book a hotel then. We listed the 5 best areas to stay in Lanzarote with great hotel recommendation. For that, head here.
---
4. LANZAROTE IS A PERFECT FUSION BETWEEN ART AND NATURE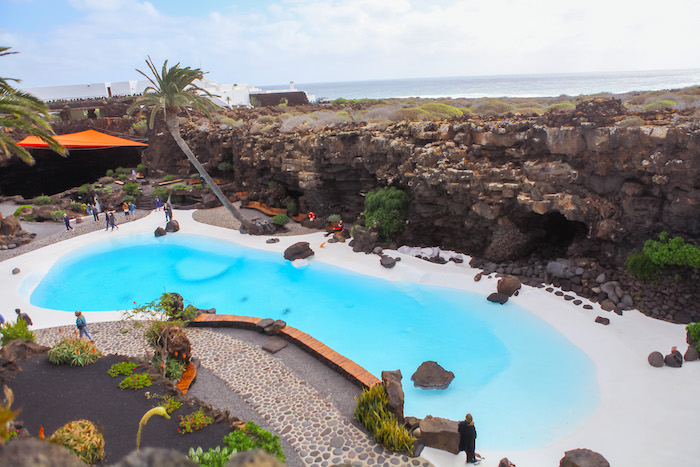 If you travel to other Canary Islands which we did during our world trip, you will realize that Lanzarote is the most unique one in the Canaries. And not only because of its landscapes, but thanks to a genius… You may have heard of him before, if not let us introduce you to the legendary César Manrique.
If a character is attached to Lanzarote, it's him. He shaped the island, he preserved the island and made this island what it is today. A trip to Lanzarote without discovering his work is actually impossible. Most of the main sites have been designed by César Manrique in Lanzarote.
A somewhat visionary artist who took advantage of his installation on the island to let all his creativity express itself. Always concerned with respecting nature, Manrique built amazing houses but also created spaces that are very popular today, such as the Cactus Garden, Jameos del Agua, the Mirador del Rio and much more.
If you want to know more about Manrique, we invite you to read this post.
---
5. LANZAROTE HAS GREAT WINE AND FOOD IS EXCELLENT
In this volcanic and desert land, you might think that nothing grow, but think again! You will see in the middle of the volcanoes a multitude of vineyards which offer a striking contrast between the green of the plant and the black of the soil. Small rounded stone walls surround the vineyards to protect them from the strong winds of the island.
A very beautiful road connecting the villages of Yaiza and Teguise makes you discover the vineyard of Geria, the most important of Lanzarote. For photo enthusiasts, the landscapes are incredibly beautiful and conducive to amazing shots.
You can also join a wine tasting experience in Lanzarote. You can book your experience here. Along this road you will see many wine producers. You can stop and visit their vineyards as well as try their wines. We recommend a stop at El Grifo Winery as they also have a museum and offer tour guides which will explain you more about the techniques to grow wines in the region.
In terms of food, Lanzarote has many fabulous local dishes such as grilled octopus, limpets, salted potatoes accompanied by red and green Mojo and, for dessert, a small portion de gofio, a toasted flour cake. Bon appetit!
We listed more of the local dish at the end of this post.
---
6. LANZAROTE IS A GREAT PLACE IF YOU LIKE SPORT
Thanks to its wonderful climate, Lanzarote has become a popular sport destination in Europe.
You like surfing, well, Lanzarote counts many surf spots all around the island. The most famous one? Famara. Famara is a small village located on the northwest coast of Lanzarote. This charming and quiet village attracts surfers from around the world. To check out more about this place, here is our full post. Famara is also a great place for kitesurfers.
You are not a water baby? Don't worry, Lanzarote has a lot more to offer. The island is very famous for cycling or runners. Many races are organized in Lanzarote especially in winter when it's very cold elsewhere in Europe. If you like hiking, climb a few volcanoes to check out some incredible vistas of the island.
---
7. LANZAROTE IS AN IDEAL DESTINATION FOR EVERYONE
You are looking for a romantic gateway, or a break with the whole family. Search no longer, Lanzarote is perfect for that. Thanks to its diverse landscape, you can combine a few days at the beach, a few days exploring the island, and some great activities such as a catamaran trip, dolphin watching, or even diving.
If you are wondering where to stay, we also listed the best places here for families or couple.
---
8. LANZAROTE IS ONLY AT 3-4 HOURS FLIGHT FROM MAINLAND EUROPE
Lanzarote is located not far from the african coast in the Atlantic. The best part, is that this paradise can be reached in just 3 to 4 hours flight from most capitals in Europe. So what are you waiting for? Hop on a flight and head to Lanzarote now 🙂
To book your flights at the cheapest rate, check it out here.
---
9. LANZAROTE HAS A LITTLE SECRET…
Lanzarote is actually hiding an even wilder and more paradisiac island… You don't believe us? Well, this place is called La Graciosa.
The island of La Graciosa is a bit like Lanzarote in miniature, with volcanoes, no vegetation, the impression of being alone in the world in a desert environment. It is not very big, barely 27 km² in area, but it does not lack beauties and interest. The advantage is that you can walk around it in a day and you will go through a whole range of colors and atmospheres that you would not expect to find on such a small island.
La Graciosa also features some of the best beaches in Lanzarote.
To get there, hop on a ferry from Orzola in the north of Lanzarote (which you can book directly here). You can also join a day trip and sail around the island. Check out this amazing tour here.
If you don't have time to spend a day in La Graciosa, you can also admire this hidden gem at the Mirador de Rio. See photo above.
---
10. LANZAROTE IS ONE OF THE BEST DIVING DESTINATION IN EUROPE
Lanzarote dives are accessible to all levels of divers. The excellent visibility and the topology of the seabed allow any type of diving. The centers usually offer 2 dives in the morning, which leaves time in the afternoon to visit the island. Many dives are done from the shore with a departure from Playa Chica in Puerto del Carmen or Playa Blanca in the south.
---
WHERE TO STAY IN LANZAROTE?
In the west of the island there are constant winds which make surfers happy all year round. In the north of Lanzarote you have magnificent views, the vegetation is more beautiful but the atmosphere is much quieter. To the South (Playa Blanca to be precise), which we recommend the most, you have beautiful beaches, better weather and good options for accommodations. In the South-East this is where most of the tourist resorts are located, which combine beaches, bars and restaurants. We have a full post about the best places to stay in Lanzarote here.
However, we like to recommend Playa Blanca, which is our favorite area to stay in Lanzarote.
Hotel The Volcan Lanzarote
If your budget allows, then we highly recommend Hotel The Volcan in Playa Blanca. This hotel is located right by Marina Rubicon with many restaurants and bars around. The beach is just a few minutes walk. This hotel has a very large swimming pool and offer excellent breakfast. You can check it out here.
Iberostar
This hotel has a breathtaking view, directly facing the ocean. Iberostar has 3 large swimming pool, including 1 dedicated for kids only. The beach is located just a few minutes walk from the hotel. In front of the hotel, you have the famous Playa Blanca promenade with restaurants and bars along the way. We absolutely love this place. You can book here.
Ona Las Casita
If you are a little bit more on a budget, then we recommend Ona Las Casita. This lovely bungalow is perfectly located near the beach and the main promenade at Playa Blanca. The bungalow has a kitchen, so you can cook at home to save a bit of money. The place was super clean when we stayed there and we ate pretty much every day on the outdoor terrace. We love this place which has the perfect value for money. Book it here.
When staying in Lanzarote, people would normally choose location near the sea, such as Playa Blanca, our favorite place to stay on the island (more info here).
---
Our opinion about Lanzarote
We hope that this post about the top 10 reasons why to visit Lanzarote convinced you to make the trip to this gorgeous island. We explored many places in the world, but Lanzarote is truly unique. Almost impossible not to fall in love with it.
We highly recommend to explore more of Lanzarote than just staying at the beach. If you do not wish to rent a car, this tour would be a great option.
For more information on Lanzarote, you can check out this post here.
All our posts about the Canary Islands can be found here.
---
Related Posts
TIMANFAYA NATIONAL PARK, the unmissable things to see in Lanzarote: here
10 BEST BEACHES in Lanzarote: here
LANZAROTE, 25 best things to see: here
PLAYA BLANCA, the best place to stay in Lanzarote: here
PAPAGAYO BEACH, the most beautiful beach in Lanzarote: here
CÉSAR MANRIQUE: his heritage in the Canary Islands: here
FAMARA, a charming village and surf paradise: here
TEGUISE, the ancient capital of Lanzarote: here
BEST AREAS to stay in Lanzarote: here
JAMEOS DEL AGUA, our favorite sight in Lanzarote: here
CACTUS GARDEN in Lanzarote: here