The beaches of Tenerife are one of the main tourist attractions on the island. And for good reason! The island offers a variety of more than 40 beaches on a coastline of almost 400 km.
There are many types of beaches in Tenerife, from golden sand to black volcanic sand to stone beaches. The southern part, in particular, is very popular for its beautiful beaches overlooking the deep blue Atlantic Ocean. Every year, thousands of locals and tourists take advantage of the sunny weather of the Canary Islands to sunbath and to take a dip in the sea.
Here are the best beaches in Tenerife that you can visit during your trip:
(FOR MORE INFORMATION ABOUT TENERIFE READ THIS POST: 25 BEST THINGS TO DO AND SEE IN TENERIFE)
---
1. Playa de Las Teresita
Playa de Las Teresitas is one of the largest beaches in Tenerife, and certainly one of the best beaches on the island. The white sand, the palm trees, the turquoise water and the huge cliffs in the background, makes it a true "postcard" beach.
Las Teresitas is protected by three breakwaters as well as a stone barrier that keep strong currents and big waves away for safe swimming.
This marvelous beach is located 7km north of Santa Cruz, the capital of Tenerife. The beach extends for about 1500 meters, it begins at the port of San Andres and ends at the foot of the Anaga mountains.
Location: here
READ: BEST TIME TO VISIT TENERIFE
---
2. Playa del Duque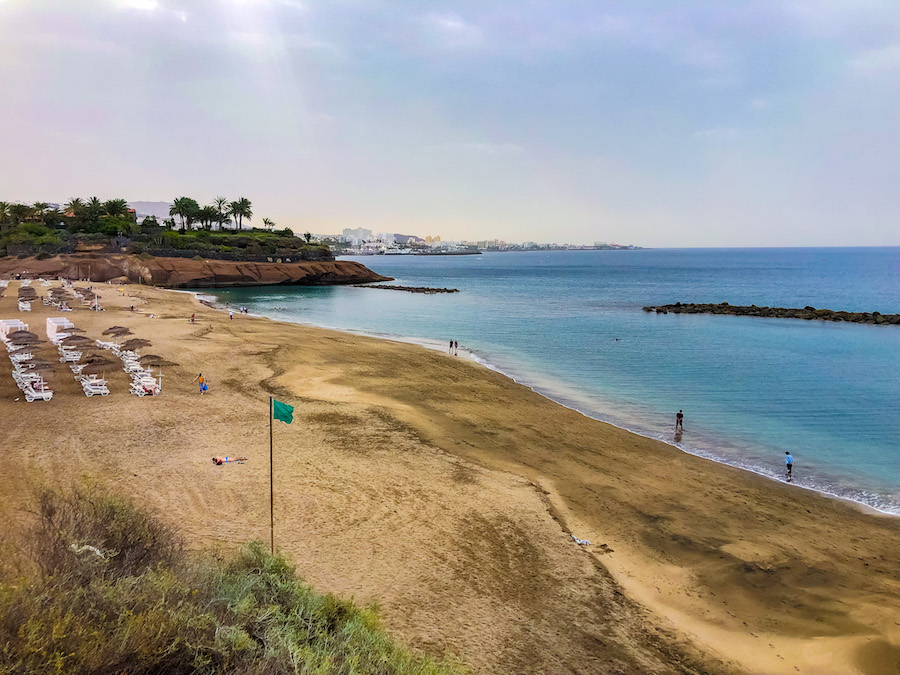 Playa del Duque is located in the southwest of Tenerife in the famous tourist resort of Costa Adeje. The beach offers an experience of total well-being: here you will find everything that makes a comfortable beach in a tasteful atmosphere. The beach is very clean and well maintained. A stylish beach bar is also located directly above the beach.
Playa del Duque is one of the cleanest beaches on the island.
Location: here
READ: 12 AWESOME THINGS TO DO IN COSTA ADEJE
---
3. Playa Diego Hernandez
You won't find this beach in most guide book. Indeed a few years ago only locals knew about this place. Playa Diego Hernandez is located near the hidden gem called La Caleta (we talk more about La Caleta in this post). La Caleta is located right next Costa Adeje.
To get to the beach, you will need to hike a bit. Count 20 to 30 min from La Caleta on a rocky path. You will then see this stunning place, surrounded by nature and not a single building in sight! We absolutely love this place. If today if we think about Tenerife, this beach is one of the first thing that comes to mind.
In the recent years Playa Diego Hernandez has been repeatedly voted one of the most beautiful beaches in Tenerife.
Location: here
---
4. Playa Benijo
Playa de Benijo is one of the most secluded beaches in Tenerife and one of the "secret" destinations, due to its difficult access.
The only way to access Benijo is through narrow and winding mountain roads, which is certainly not for everyone. If you are brave enough to drive, you will be rewarded with stunningly beautiful panoramic scenery of Anaga and a stunning black sand beach fringed by crystal clear waters.
Undeniably Playa de Benijo is one of the best beaches in Tenerife.
Location: here
---
5. Playa Abama
Abama Beach is located near the town of Playa San Juan. It has crystal clear waters and is protected from big waves. Some natural pools also formed nearby, so there is plenty to explore and discover.
To get to the beach, you have to go through the luxury Ritz Carlton hotel (more info here), but the beach is public, like all beaches in Spain.
From the car park you will have to walk about 1km to the beach. A pleasant 15 minute walk where you can take the small tram that helps visitors cross the huge hotel grounds. To go down to Abama beach, you can take the path or the hotel elevator.
The beach offers a breathtaking view during sunset and is quite unique in Tenerife.
Location: here
---
6. Tejita beach
Tejita beach is located in the south, halfway between Los Abrigos and El Medano. It is the largest natural sand beach in Tenerife. At the western end is Montaña Roja dominating the landscape and creating a very special atmosphere.
Except for a small beach bar, there are no buildings, restaurants or other amenities on this vast black sand beach, which has been completely left to nature. If you like secluded places you will also appreciate this place, which is absolutely one of the best beaches in Tenerife.
Location: here
---
7. Bollullo beach
Bollullo beach is of great beauty. Its clean waters, its fine black volcanic sand, and its relative ease of access, make this beach one of the best beaches in Tenerife.
The beach of El Bollullo, is formed by a main beach of about 160 meters long, and by a cove to its right of about 60 meters, both of black sand.
The landscape of the area is impressive, once you are on the beach you can enjoy nature, sea and sand in its purest form, leaving everyday life behind. You could say it is a magical enclave.
Location: here
---
8. Los Guios beach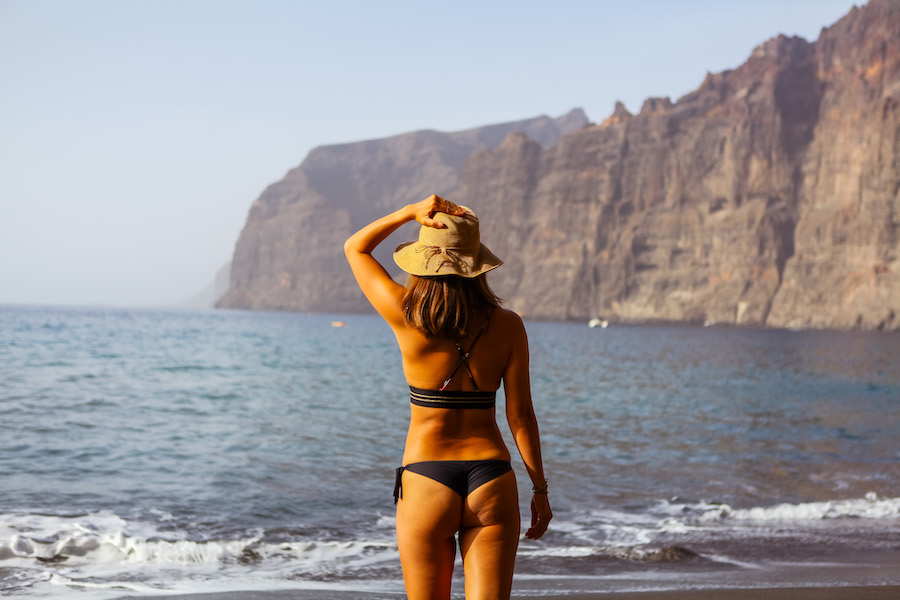 Los Guios beach is located in the famous Los Gigantes (more info here about Los Gigantes).
The most impressive thing about Los Guios beach is, without a doubt, the fantastic view of the majestic cliffs.
It is worth spending some time on the beach to really get the time to admire those incredible cliffs.
The sea in this area of ​​the island is generally calmer and less windy than other part of the island In addition, the beach is partly protected by the fishing port of Los Gigantes and by the cliffs themselves.
Make sure to check out this beach if you visit Tenerife, it's absolutely worth it.
Location: here
READ: 10 BEST THINGS TO SEE IN LOS GIGANTES.
---
9. Playa Jardín
Playa Jardín is located in the gorgeous town of Puerto de la Cruz, in the north of Tenerife (more info about Puerto de la Cruz). It is one of the most famous beaches in the region, and was designed in the 1990s by the famous Canarian artist César Manrique.
The simple fact of arriving at the beach, through gardens filled with local plants and paths that lead you between stone walls and waterfalls, is the best way to start a day of complete relaxation on a beach that offers all the necessary services and an incredible view of Mount Teide (full guide to visit Teide National Park here).
Location: here
READ: 25 AWESOME THINGS TO DO IN PUERTO DE LA CRUZ
---
10. Camisón beach
Last but not least in our list of best beaches in Tenerife is Playa Camisón located in the tourist resorts of Las Américas. Camisón is a golden sand beach sheltered from the waves thanks to two breakwaters. The beach is 350 meters long and 40 meters wide. It is the ideal place for families.
There you can easily rent sunbeds and umbrellas and you will have access to showers, toilets, etc. There are also many activites by the beach such as jetski, stand-up paddle, kayaks etc.
Location: here
---
In conclusion about the best beaches in Tenerife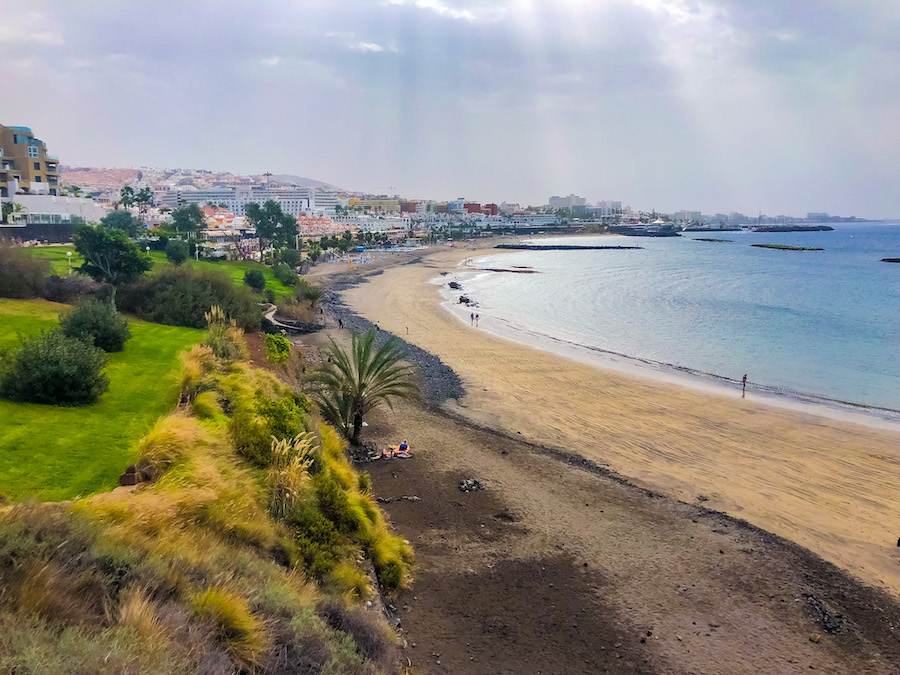 Tenerife is an ideal destination to come and enjoy the beach in all seasons. With its continuous spring, the weather is always good for sunbathing. That said, the Canary Islands are surrounded by the ocean so the water temperature is never really high. This is undoubtedly one of the disadvantages of the beaches of Tenerife.
There are plenty of equally beautiful beaches around the world. However, the beaches of Tenerife have a little something exotic, which makes you want to discover their charm again and again.
For more information on the best things to do and see in Tenerife, check out this post: 25 AWESOME THINGS TO DO AND SEE IN TENERIFE
Tenerife is a great destination to travel to. No wonder, why it is one of the most popular islands in the Canary!
If you have any question about Tenerife, feel free to leave a comment below.
All our posts about the Canary Islands can be found here.
HAPPY TRAVELS!
---
Related Posts
BEST THINGS to see in Tenerife: here
MOUNT TEIDE, your full guide: here
MASCA, the most remote village in Tenerife: here
PUERTO DE LA CRUZ, a must-see in Tenerife: here
LA LAGUNA in Tenerife, best things to see: here
LOS GIGANTES, most impressive landscapes in Tenerife: here
12 BEST THINGS TO SEE in Costa Adeje: here
GARACHICO, one of the prettiest town in Tenerife: here
BEST TIME to visit Tenerife: here
TOP 8 REASONS why you should visit Tenerife: here
BEST PLACES TO STAY in Tenerife: here
25 BEST THINGS to see in Lanzarote: here
25 BEST THINGS TO DO in Fuerteventura: here
BEST THINGS TO DO in Gran Canaria: here
10 BEST BEACHES in the Canary Islands: here