WHAT TO SEE IN FAMARA IN LANZAROTE? WHAT IS FAMARA FAMOUS FOR? WHERE TO STAY IN FAMARA? BEST RESTAURANTS IN FAMARA?
Famara is a small village located on the northwest coast of Lanzarote. This charming and quiet village attracts surfers from around the world.
Famara is also worth a visit if you are traveling to Lanzarote. Here you can enjoy a laidback atmosphere in a traditional village, a stunning beach, and impressive cliffs!
The village is located near Teguise, the ancient capital of Lanzarote (READ: ALL YOU NEED TO KNOW ABOUT TEGUISE ANCIENT CAPITAL). You can easily combine a visit of Teguise with Famara.
Even César Manrique, one of the most influential person in Lanzarote, spoke of Famara with joy:
"My greatest happiness is to remember a happy childhood, five months of summer holidays in Famara beach, with its six kilometers of clean and fine sand, framed by cliffs more than four hundred meters high that are reflected on the beach as in a mirror. This image has been engraved in my soul as an extraordinary beauty that I will never forget." (Caesar Manrique).
A PERFECT PLACE FOR THE PRACTICE OF SURF AND KITESURF
Famara is also one of the best surf spots in the Canary Islands and famous for the practice of Kitesurfing as well. So you like the adventure, Famara is the best to be!
All and all make sure to add this place in your itinerary during your visit to Lanzarote.
HERE IS A GLIMPSE OF WHAT TO EXPECT DURING A TRIP TO FAMARA:
In this post you will find all you need to know to prepare your visit of Famara in Lanzarote:
---
DISCOVER FAMARA, A CHARMING VILLAGE AND SURF PARADISE IN LANZAROTE
The road to get to Famara is absolutely stunning, as you see the long beach with the spectacular cliffs in the background, called El Risco de Famara. This impressive wall is 22 km long and up to 500 meters in heights. It offers a great scenery around Famara. From the top of the cliff, you can reach Mirador Del Rio (another must-see in Lanzarote) and admire the island of La Graciosa.
Famara is divided into two areas: the bungalows area built in the 1990s and offering a magnificent view of the Risco and the "Playa de Famara". On the other side of the beach you can find the traditional Spanish fishing village, called la Caleta de Famara (Caleta can be translated as a cove).
The bungalows area is a complex which includes a gorgeous restaurant which we highly recommend (DUNAS DE FAMARA), a communal swimming pool and even a yoga centre. This area has been developed to provide luxury holidays in Famara. Bungalows are popular and their value has increased significantly in recent years: they are no longer just vacation homes, but also residences.
The village itself in La Caleta de Famara is full of sandy little streets. It has a laid back and relaxed atmosphere. Here it looks like the time has stopped many years ago. There are no banks or shops, only a few surf schools, tapas bars, restaurants and small grocery stores. That's exactly why we love it!
Location of the bungalows area: here
Location of the village: here
---
CHECK OUT LA CALETA DE FAMARA
Park your car at the center of the village and start wandering in the sandy streets of La Caleta de Famara.
Indeed, there is no proper road on the streets, but only sand. Stop by El Chiringuito for a beer and tapas (location: here). This restaurants is one of the main attraction of the village and one of the best places to eat.
There are no hotels in Famara, but plenty of apartments are available (more on the best places to stay later in this post).
There are also other restaurants where you can enjoy a delicious meal of fresh fish in a local setting. Here is our recommendation of best restaurants in Famara: Restaurante Costa Famara, Restaurante Sol, Pizzeria La Bartola and Beach Bar Surfer Food.
Caleta de Famara is located in a beautiful natural area and its atmosphere is very different from that of large resorts such as Puerto del Carmen, Costa Teguise or Playa Blanca.
The village is full of surf shops and yoga places. Many places offer surf & yoga retreat. The beach is located right besides the village.
---
PLAYA DE FAMARA, ONE OF THE BEST BEACHES IN LANZAROTE
Playa de Famara is a fabulous beach that stretches for 6 km from La Caleta and under the majestic cliffs of El Risco.
The winds can be strong and the weather changeable, so find yourself a sheltered spot. There is plenty of space on this beach as it never gets too crowded.
If you like surfing, this place is one of the most famous spots in Lanzarote and also a very well known spot to surf in Europe. It hosts a number of international surfing competitions each year.
It is also possible to Kitesurf and Windsurf as it often gets windy. The best spot to catch the wind is at the end of the beach near the Bungalows area.
This beach is not ideal for those who just want to sit in the sun all day, as the wind blows constantly and you will get "slapped" with sand, which is not pleasant. There are shelters on the beach which protects from the wind, but it is not ideal for sunbathing.
READ: BEST SURF SPOTS IN THE CANARY ISLANDS
---
EL RISCO AND HARÍA MIRADOR
From the top of El Risco (location: here) and Mirador de Haría (location: here), you will see the beauty of the Famara region. There is a spectacular walk along the cliffs of El Risco, the path starts from behind the bungalows.
It is not an easy hike, but it offers stunning views of Famara and the island of La Graciosa.
---
ADMIRE A MAJESTIC SUNSET IN FAMARA
Located on the west coast, Famara offers a magnificent sunset from the beach. In general, the beach is usually deserted at this time, because most tourists from other resorts have left and the majority of surfers as well.
With the Risco de Famara cliffs in the background, watching the sunset over the beach is an unforgettable experience in Lanzarote.
---
LA SANTA FISHING VILLAGE NEAR FAMARA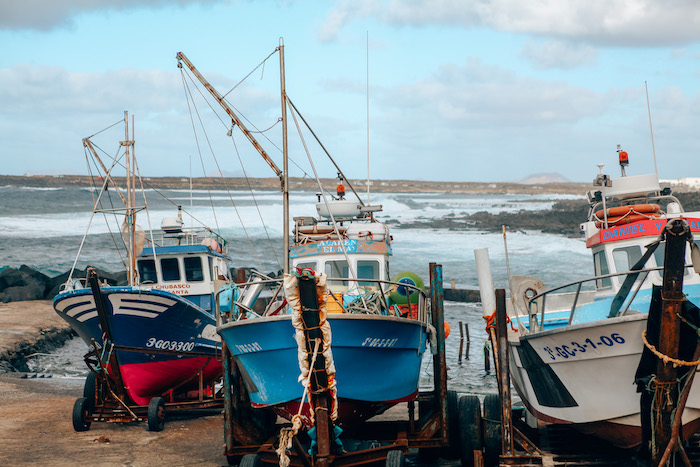 Another cute fishing village where you can make a quick stop near Famara and Teguise is La Santa. There is a nice promenade along the coast with local restaurants and tapas bar. We really liked the atmosphere.
It is also possible to surf at La Santa. It is a well known surf spot in Lanzarote. The day we visited La Santa, the waves were pretty big, easily reaching 4 to 5 meters in heights.
Location: here
---
WHERE TO STAY IN FAMARA?
There aren't many hotels in this area, but there are plenty of cute apartments to rent. We've selected a few our favorite places here.
CASA JABLE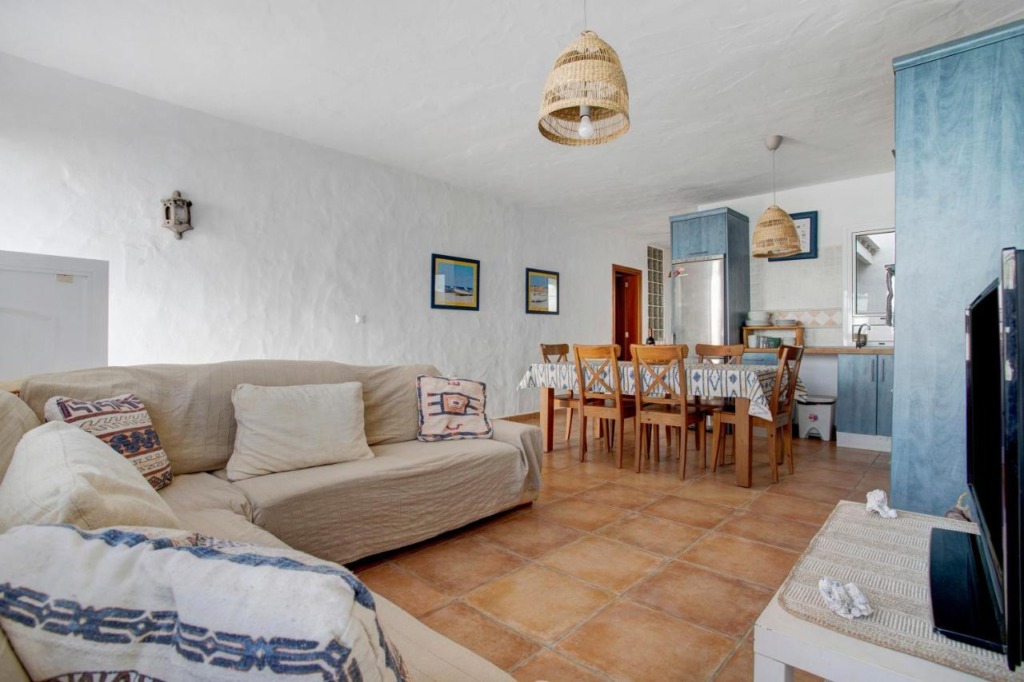 Located right in the middle of the village, this apartment offers all you need for a perfect stay. This beautiful beach house can host up to 6 guests. Check it out here.
EL RINCÒN DE FAMARA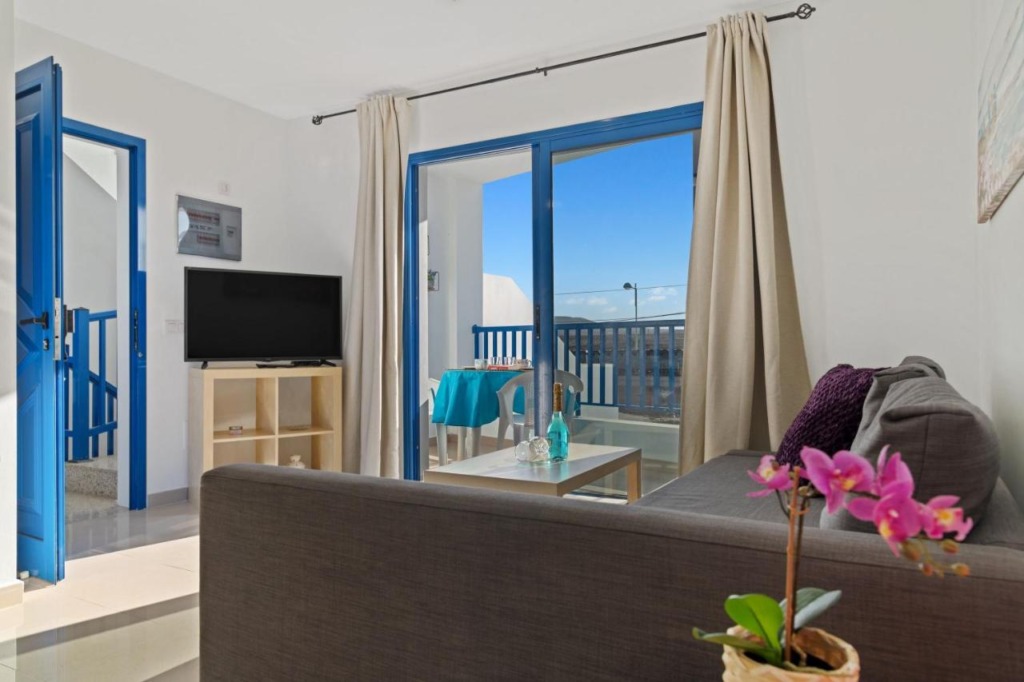 This beautiful apartment is located right in the middle of the village and features incredible views of its surroundings. This place can host up to 5 people. Check it out here.
SURF AND BEACH APARTMENT IN LANZAROTE
If you are staying in Famara for surfing, search no longer. We found the perfect place for you here. This newly decorated apartment is right by the beach. It's basically a "surf-in / surf-out" apartment. Click here to book.
For other areas to stay in Lanzarote check out this post. We listed the best places to stay on the island.
---
FINAL THOUGHTS
We hope that this post has convinced you to add Famara in your list of things to do in Lanzarote. We had a pleasant time staying in this more quiet part of Lanzarote.
If you are a surfer, you won't be disappointed, as you are pretty much guarantee to have some swell every day. However there is something for everyone here and you should make time to enjoy this place.
Hence, we highly recommend to add Famara in your list of things to do in Lanzarote
For more information on Lanzarote, you can check out this post here.
All our posts about the Canary Islands can be found here.
---
Related Posts
BEST SURF SPOTS in the Canary Islands: here
TIMANFAYA NATIONAL PARK, the unmissable things to see in Lanzarote: here
BEST AREAS to stay in Lanzarote: here
TOP 10 BEACHES in Lanzarote: here
CACTUS GARDEN a must see in Lanzarote: here
LANZAROTE, 25 best things to see: here
PLAYA BLANCA, the best place to stay in Lanzarote: here
PAPAGAYO BEACH, the most beautiful beach in Lanzarote: here
TEGUISE, the ancient capital of Lanzarote: here
CÉSAR MANRIQUE: his heritage in the Canary Islands: here
BEST TIME OF THE YEAR to visit Lanzarote: here
JAMEOS DEL AGUA, our favorite sight in Lanzarote: here