WHAT TO SEE IN LANZAROTE? IS IT BETTER TO RENT A CAR TO VISIT LANZAROTE? BEST THINGS TO DO AS A FAMILY IN LANZAROTE? WHERE TO STAY IN LANZAROTE?
Lanzarote, often called the Island of a thousand volcanoes, is a small Canary Island, located in the northeast of the archipelago, near Fuerteventura (more on Fuerteventura here).
"Lanzarote, the island of thousand volcanoes"
These Spanish islands lie in the heart of the Atlantic Ocean, directly opposite Morocco and are known for their pleasant climate throughout the year.
Ideal in winter as in summer, the island of Lanzarote attracts all types of travelers for its lunar landscapes, its sandy beaches and its exotic atmosphere. Although small in size, with its 845 km², it is full of things to discover.
As for us, we fell in love with this island. We share all we know about the best things to see in Lanzarote in this post!
Some of the highlights of Lanzarote are Timanfaya National Park and its lunar landscape. The famous playa Papagayo in its wild environment. And the amazing work of Cesar Manrique such as the Jameos del Agua caves.
The island takes its name from Lanzerotto Malocello, a trader and explorer considered to be the discoverer of the Canaries.
Here is a glimpse of what to expect during a trip to Lanzarote:
Do you want to know what to do in Lanzarote? Here is the list of 25 essential things to visit in Lanzarote without missing a beat! We also cover the best areas to stay in Lanzarote and other important information.
Enjoy your travel!
---
BEST THINGS TO DO IN LANZAROTE
1. Playa Papagayo, the most beautiful beach in Lanzarote
Papagayo beach is considered the most beautiful beach in Lanzarote. Named after the region, this beautiful beach is located in a wild area of Lanzarote fully protected. There used to be a village called El Papagayo above this beach, but it has been deserted for over ten years now.
The half-round shape of the picturesque bay leaning against the large black wall of rocks is very typical of the region. This beach is often used as an image for postcards.
The fine white sand and clear turquoise water are the reasons why this beach is so popular and often very crowded. There is a restaurant and parking nearby.
We absolutely loved this place. It is simply amazing. There are actually 4 different beaches which you can choose from: Playa Mujeres (the largest one and partially for nudists), Playa Papagayo, Playa del Pozo (our favorite one with Playa Mujeres) and Playa de la Cera
How to get there?
The beaches of Papagayo are located on the southern tip of Lanzarote. You will find many signs pointing to Papagayo Beach from the resort of Playa Blanca. The road is rocky and rough and it will take around 15 minutes by car to get to the first beach. There are different options to get to the beaches:
On foot:
The beaches are about a twenty to forty-minute walk from the resort of Playa Blanca. The path leads from the end of the resort beach promenade along the coast. It's a great way to take your time and admire the beautiful coast. However, not ideal with kids and as the path is not very easy.
By bus:
El Papagayo can also be reached by bus number 30 from Playa Blanca. You have to get off at the last stop. From there the beaches of Papagayo are about a 20-minute walk on a small path.
By bicycle: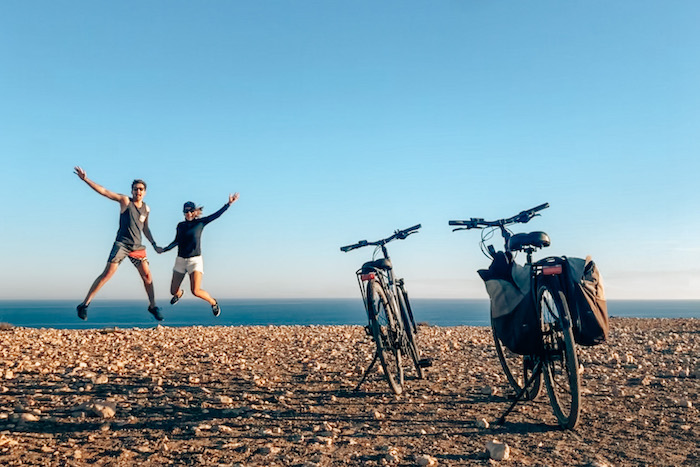 Another option to come to the beaches of Papagayo is by bicycle, following the same path as the car road. It's a bit dusty when cars pass by, but it's a nice way to discover the area.
Bikes can easily be hired in Playa Blanca for around € 12 per bike a day (and you skip the € 3 entry fee to the park). We actually opted for the electric bicycle, which brought us there in no time. We recommend this option.
By car:
Those with a car will have to go through a dirt road 5km long. This road starts at the roundabout on the LZ-705 between Playa Blanca and Femés and ends just above the beaches.
Despite the unpaved roads, some car rental companies do not object to their cars going to the beaches of Papagayo. It would be better to check with the rental company though. The entrance to the dirt road is marked by a small hut and a gate. An entry fee of € 3 per person is required.
Location: here
READ: FULL GUIDE FOR A VISIT TO PLAYA PAPAGAYO
---
2. Timanfaya National Park, the most impressive thing to see in Lanzarote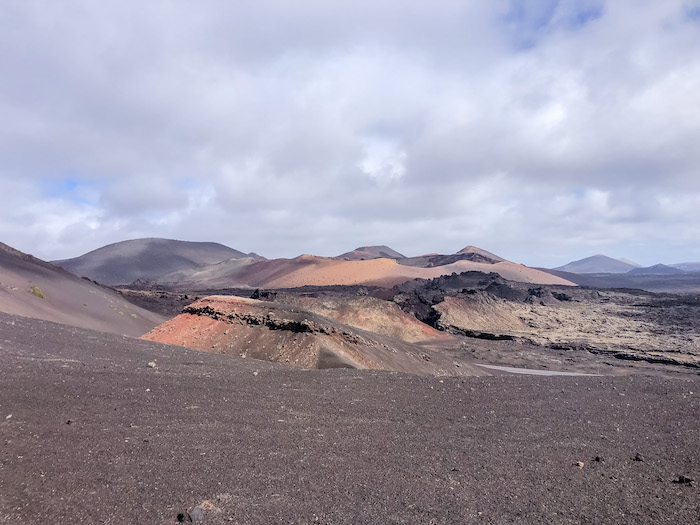 If there was only one must-see in Lanzarote, it would be Timanfaya National Park.
Magical, Breathtaking, Impressive, this is how we could describe this place. At Timanfaya National Park, you are in the land of volcanoes in a real lunar landscape. The park is the consequence of eruptions from 1730 to 1736 and then in 1824.
You can see the remains of lava flows which extend over several kilometers.
The volcanic landscape varies according to the age of the different eruptions. Here craters mix in extraordinary colors of black, brown, yellow and red, but no green as nothing grows on this lava soil.
How to visit Timanfaya National Park (official website)?
By car
You can drive to the entrance of the park. It will cost €12 per adult and €6 per child. However, from there, you have to take a bus as it is not allowed to drive in the entire park by yourself. Once you pay the entry cost, you can join the bus tour for free.
The bus tour lasts about 45 minutes with explanations of the park in Spanish, English, and German.
However, be aware that this place can be very crowded. You may need to wait 30min to enter the park with your car unless you come early morning (which we did). When we left we saw the huge line of cars waiting to enter the park at around 11 am.
Location: here
By tour bus
In hindsight, we think this is the best option. With the tour bus, you do not need to wait in line at the entrance, as they have the priority. The bus also takes you directly through the visit to the park, which makes it very convenient.
There are many tour operators that organize full-day trips. See here.
READ: COMPLETE GUIDE TO VISIT TIMANFAYA NATIONAL PARK
---
3. El Diable Restaurant, the most unique restaurant in Lanzarote
El Diable restaurant is actually inside the Timanfaya National Park. Here the barbecue is not electric, nor gas but rather the heat of the volcano!! The restaurant has a stunning view of the park. We highly recommend stopping there for lunch if the timing works for you.
Right in front of the restaurant, you can also see the demonstration from the tour guide with the powerful geyser. This is the perfect way to finish your visit to Timanfaya National Park.
Location: here
Website: here
---
4. Camel Ride, one of the best things to do in Lanzarote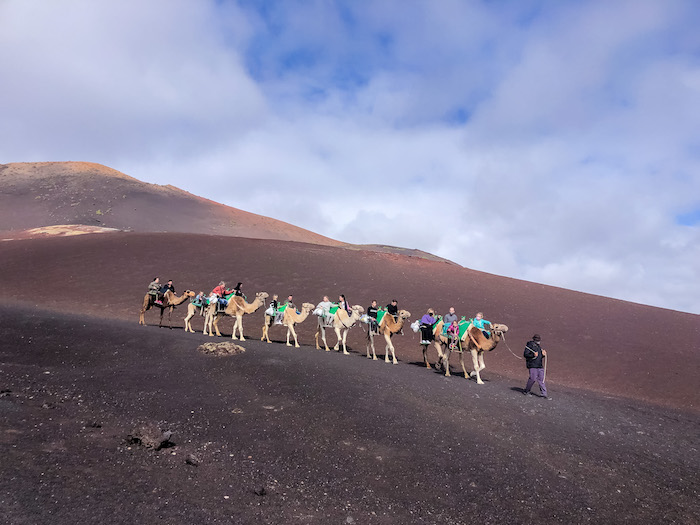 One of Lanzarote's most popular tourist attractions is the camel ride along Timanfaya National Park.
This park is wonderful and what is most unusual is seeing the moonscape. The camel ride costs 12 euros and last for about 20min. There is no need to book for this tour. Simply show up at the starting point at any time between 9:00 and 16:00.
If you've never been on a camel, go for it. It's a once-in-a-lifetime experience. It may feel a bit scary when the camel stands up or lay down on his knees. But it's fun and safe.
The starting point of the Camel Ride is just a few minutes away from the Timanfaya National Park entrance.
Location: here
---
5. Teguise, the old capital of Lanzarote
Teguise in Lanzarote is considered the oldest town in the Canary Islands, dating back to the 13th century. This small town was the capital of Lanzarote for over 450 years, until 1852 when Arrecife became the new capital.
During the 1980s a strong campaign was launched to rehabilitate and restore Teguise. This resulted in the town being declared an architectural historic site.
Teguise is a very quiet town, where you can experience the true spirit of Lanzarote. There are several buildings and places you should visit and explore if you want to know more about the history of Lanzarote and its former capital.
As you walk through the narrow streets of Teguise in Lanzarote, you'll see plenty of the island's ancient architecture and buildings of great historical significance. A must-see if you are visiting Lanzarote.
Location: here
READ: BEST THINGS TO SEE IN TEGUISE
---
6. César Manrique Foundation, one of the most extraordinary visits to Lanzarote
If you don't know yet who is César Manrique, you will quickly discover that he was key in making Lanzarote what it is today. Throughout your trip to Lanzarote, you will learn a lot about what we think is a genius.
The influence of César Manrique, the universal creator and pioneer of environmentalism, does not go unnoticed on the island. His work, and in particular his extraordinary vision of the relationship between nature and humans, can be seen everywhere in Lanzarote.
He also influences the way of thinking of the inhabitants of the island and of all Canarians in general.
Therefore, visiting his foundation is a must.
The foundation aims to encourage and publicize artistic, cultural and environmental activities. It is in his own and spectacular house that this foundation is installed on a surface of 1800 m² of living space, to which must be added 1200 m² of terraces and gardens.
Built on one of the most beautiful lava flows in Lanzarote, the foundation comprises five large natural volcanic bubbles. The contrast between the black of the lava and the white of the house is striking.
This house/foundation is a real marvel from an architectural point of view.

A fascinating visit is guaranteed!
To find out more about the artist, we wrote a full post about César Manrique's heritage in the Canary Islands here.
Location: here
Opening Hours: 10AM–6PM
Admission: 8€ Adult / 1€ Child (0-12)
Website: here
---
7. Mirador del Rio, the best viewpoint in Lanzarote
On the northern part of the island, you can visit the gorgeous Mirador del Rio with an extraordinary view of La Graciosa and the Corona volcano which culminates at 640 meters. Mirador del Rio was designed by Cesar Manrique.
It is fully integrated into the natural elements which allows you to discover one of the most beautiful views of the island.
You enter this site via a corridor with bright white walls with scattered plants and niches in which beautiful ceramics are displayed. At the end of this corridor, you discover this superb bright room with huge windows that give you one of the most spectacular views on the island of La Graciosa.
Near the fireplace, a beautiful staircase takes you to the souvenir shop and then to a panoramic terrace, the highest peak on the site. Simply STUNNING!
Location: here
Opening Hours: 10AM–5PM
Admission: 5€ Adult / 2.5€ Child (0-12)
---
8. Jardín de Cactus, another beautiful thing to see in Lanzarote by Cesar Manrique
Another superb creation by the artist César Manrique that is really worth the visit: Jardin de Cactus.
When you arrive at the car park, you wouldn't suspect this immense garden built in an old quarry. The garden is incredibly well integrated into the landscape that surrounds it.
As soon as you enter, you are captivated by this decor between the black of the soil made up of volcanic pebbles and the green of the cactus.
There, you see thousands of Cactus of all shapes and sizes from all over the world, from Madagascar to Peru via Mexico and Kenya… Impressive!
To discover them, walk along the many stone paths and stairs that teem in this circular garden. In the center, a water fountain with goldfish and a small stone bridge to rest during the visit.
READ: FULL GUIDE FOR A VISIT TO THE CACTUS GARDEN IN LANZAROTE
Location: here
Opening Hours: 10AM–5PM
Admission: 6.5€ Adult / 3.25€ Child (0-12)
Website: here
---
9. El Lago Verde, a magical place in Lanzarote
Located in El Golfo, a small fishing village of 150 inhabitants surrounded by lava and volcanic rocks, El Lago Verde is an extraordinary natural site. A small path of a few meters very easy to access takes you to discover this natural sight.
This small lake of 150 meters long with a green color due to the presence of seaweed, seagrass, and sulfur is breathtaking. Another specificity of this lagoon is its salinity which is denser than the Dead Sea.
We are speechless in front of this landscape and this contrast of colors between the blue of the sea, the black of the beach and the green of the lagoon.
El Lago Verde is one of the most exceptional sites not to be missed during your trip to Lanzarote.
The village of el Golfo is known for El Lago Verde but also for its fish restaurants which are located at the center of the village facing the sea.
Do not hesitate to take a short lunch break there. To digest, you can stroll on the coastal walk, which starts just a few meters from the restaurants.
Location: here
Entrance: free
---
10. Caleta de Famara, one of the best spots to surf in Lanzarote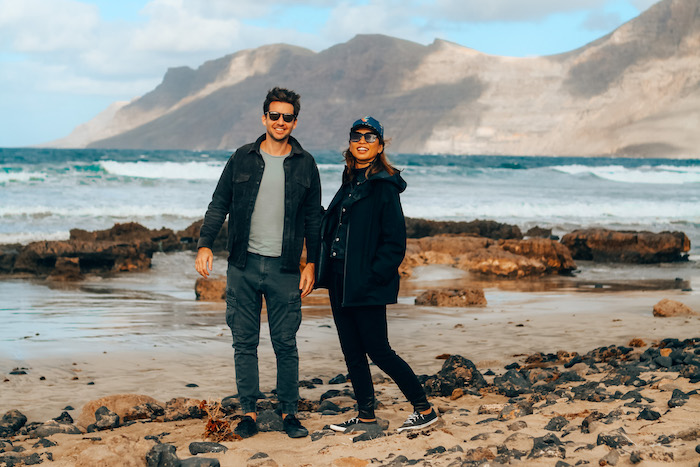 Another thing to see in Lanzarote is the gorgeous Caleta de Famara. This small fishing village is famous for its huge beach and its dunes swept by frequent winds which attract surfers from all over the world.
The beach is covered with volcanic pebbles. Some were used to build semi-circular shelters which protect from the wind, very frequent in this part of the island.
You can also walk around the traditional village of Famara whose streets are covered in sands. The atmosphere is relaxed in a magical landscape. We wrote a full post about Famara here. Check it out to find out more about this charming village and surfer's paradise.
Location: here
READ: 12 BEST SURF SPOTS IN THE CANARY ISLANDS
---
11. Casa-Museo César Manrique, an emotional visit in Lanzarote
This is the last residence of the artist César Manrique located in Haria on the northeast of the island. It is a beautiful traditional house in the middle of a small palm grove with its workshop at the end of the garden.
You enter the house through a small interior courtyard paved with volcanic stones and you will quickly discover the intimate universe of the artist: his bedroom with his personal effects, his pajamas on the bed, his outdoor bathroom protected by a veranda…
You expect to see the artist reappear at any moment.
The rest of the house is also furnished with familiar objects. An outdoor area with a swimming pool, and garden furniture invites you to relax. And at the end of the garden, the studio which has been reconstructed as if the artist had just left the room: unfinished canvases, pigments, and tables covered with drawings.
This was a very emotional visit, as throughout our trip to Lanzarote we learned more and more about Manrique's life. We felt Manrique's presence at every corner of the house. Unfortunately, it is not allowed to take photos inside the house…
We recommend adding this to your list of things to visit in Lanzarote. You can also combine this visit with a stroll through the traditional village of Haria where Manrique's house is located. It's a very traditional and quiet village.
Location: here
Opening Hours: 10:30AM–6PM
Admission: 10€ Adult / 3.€ Child
READ: THE HERITAGE OF CESAR MANRIQUE FOR LANZAORTE
---
12. La Cueva de los Verdes, a unique place in Lanzarote
La Cueva de los Verdes is a vast lava tunnel following the various eruptions of the Corona volcano which connects the heart of the volcano to the ocean over 6 kilometers. A 1 km long route without too much difficulty will allow you to discover this extraordinary natural phenomenon.
The cave can reach heights of up to 50 meters in a multitude of colors between black, brown, green, yellow and red due to the oxidation of the iron content of the basalts.
The temperature is quite mild inside at around 19°C.
The only downside is that the visit is not done alone but in groups of about fifty people with a guide for explanations in Spanish and English. Groups are formed as visitors arrive, with a waiting time of up to 20 minutes.
Location: here
Opening Hours: 10AM–4PM
Admission: Adult: 10€ / Children 7-12: 5€ / Children 0-6: free
Website: here
---
13. Jameos del Agua, our favorite attraction in Lanzarote!
Jameos del Agua belongs to the system of caves and underground galleries resulting from volcanic eruptions that took place more than 3000 years ago, including the previously presented Cueva de los Verdes. T
he term Jameos is the Spanish name that determines the volcanic galleries that start from La Cueva de los Verdes and go to the sea.
César Manrique, the famous painter, sculptor, and architect from Lanzarote took advantage of this incredible natural phenomenon to adapt it and make it a place to visit.
First, you will climb a winding staircase to the first volcanic bubble called Jameo Grande which is almost 100 meters high and 30 meters wide.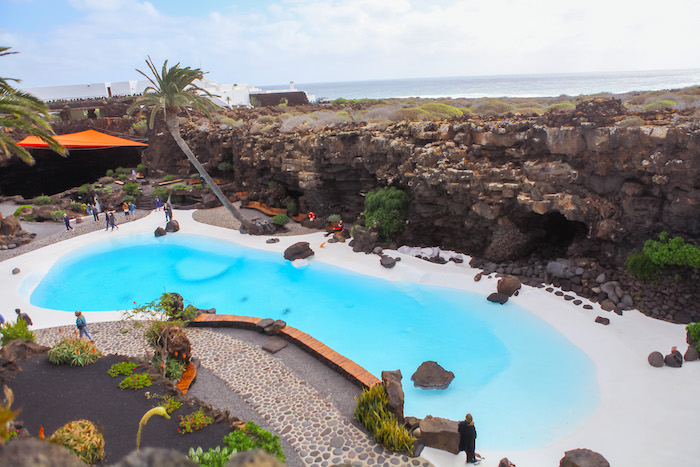 Pass the interior lake and you will reach an exotic garden with a large and stunning swimming pool. Continue your visit in the huge auditorium where concerts are held from time to time.
This place is breathtaking. There are no words to describe its beauty. Jameos del Agua is in our top 5 places to see in Lanzarote.
Location: here
Opening Hours: 10AM–5:15PM
Admission: Adult: 10€ / Children 7-12: 5€ / Children 0-6: free
READ: FULL GUIDE FOR A VISIT OF JAMEOS DEL AGUA IN LANZAROTE
---
14. Villa Lagomar, a dream home in Lanzarote
Villa Lagomar is our dream house. This beautiful villa was designed by César Manrique, again 😉
Lagomar is built directly on the rock, in a volcanic stone quarry. This house is really impressive by its volumes and its very luxuriant exteriors.
According to legend, Omar Sharif bought the house a few years after its construction (but only for a few days…). According to rumors, he would have lost his acquisition by betting it in a Bridge game.
This site is a cultural reference on Lanzarote, its lush gardens, incredible caves, water games, and labyrinths are worth a visit for nature lovers. We can't recommend enough a visit to Villa Lagomar, another must-see in Lanzarote. You will also find a restaurant and a bar inside the villa.
Location: here
Opening Hours: 10AM–6PM
Admission: Adult: 6€ / Children 2€
---
15. Los Hervideros, the wild coast of Lanzarote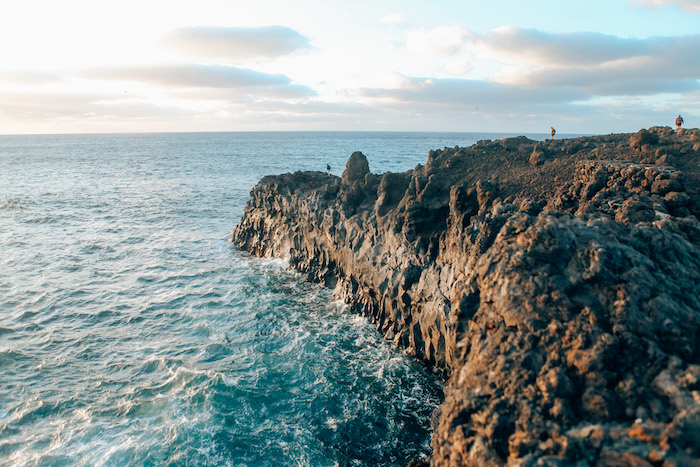 Not far from El Golfo and El Lago Verde, about 5km, you can visit Los Hervideros. There you will find impressive cliffs and huge waves crashing onto it. The ocean is engulfed in huge volcanic caves.
Los Hervideros has magnificent landscapes with small volcanoes in the background.
It is easy to access, free, and with a large car park. Small paths allow you to discover this exceptional site. A staircase giving access to a small balcony allows you to approach a little closer to admire the show of the ocean. Not to be missed during your stay in Lanzarote.
Location: here
---
16. Casa Museo del Campesino, a must-see in Lanzarote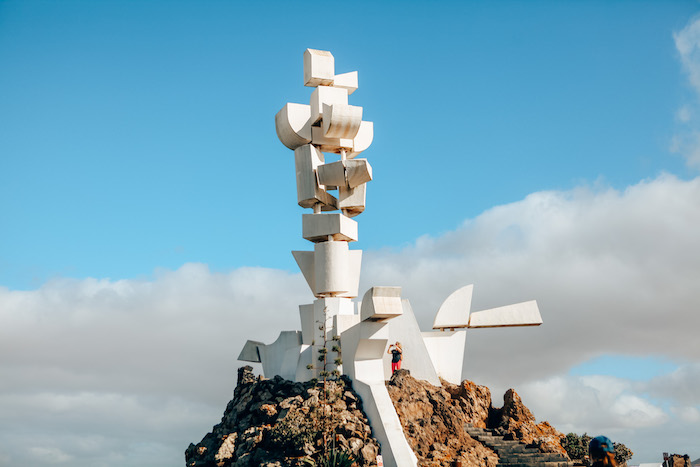 Built in the geographical center of the island, this monument, built by César Manrique, is a monument in honor of the farmers of the island. 15 meters high, the structure representing a farmer and his dromedary, was built from old metal tanks that were used to transport water.
Right next to the monument you can visit a house museum where you can discover crafts, rural life, and local culture as well as a restaurant; everything has also been designed by Manrique.
Admission: free
Location: here
Website: here
---
17. The wine road in Lanzarote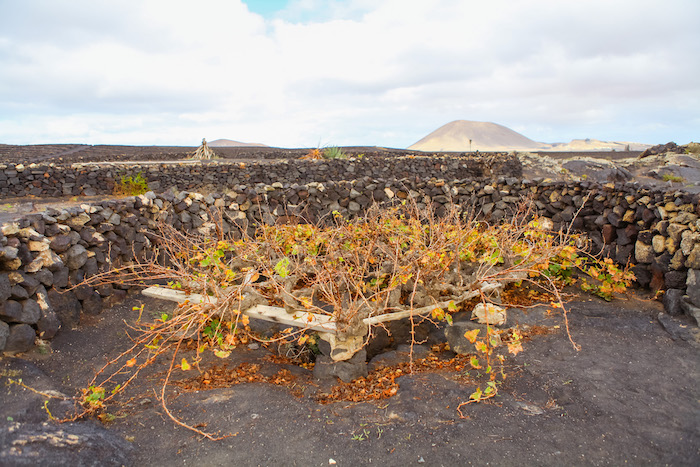 In this volcanic and desert land, you might think that nothing grows, but think again! You will see in the middle of the volcanoes a multitude of vineyards that offer a striking contrast between the green of the plant and the black of the soil.
Small rounded stone walls surround the foot to protect it from the strong winds of the island.
A very beautiful road connecting the villages of Yaiza and Teguise makes you discover the vineyard of Geria, the most important of Lanzarote.
For photo enthusiasts, the landscapes are incredibly beautiful and conducive to very beautiful shots.
---
18. Wine tasting in Lanzarote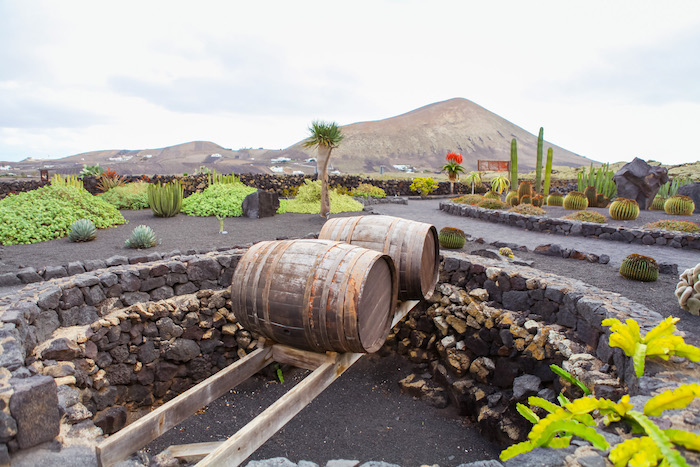 Along this road, you will see many wine producers. You can stop and visit their vineyards as well as try their wines.
We recommend a stop at El Grifo Winery as they also have a museum and offer tour guides which will explain you more about the techniques to grow wines in the region. Check their website for more information on the guided visit here.
There are other smaller wineries to visit such as El Tablero, which is more a boutique winery or Bodegas Rubicon, which is another very famous wine producer in Lanzarote.
Location: here
Website: here
---
19. Playa Blanca and Marina Rubicon, one of the best places to stay in Lanzarote
Playa Blanca in Lanzarote was once a peaceful fishing village and within a decade it has transformed into a tourist area with a stunning coastline, sandy beaches, and a beautiful marina. This place is located on the southern tip of Lanzarote.
This area has become one of the main resorts on the island with many hotels, restaurants, bars and shops. Most of them can be found along the promenade as well as in parallel streets.
In the center of the resort, there is the main beach of Playa Blanca. If you head east you will find Playa Dorada. If you go west, Playa Flamingo awaits. These two sandy paradises are very popular in Lanzarote.
One of the best things to do in Playa Blanca is to walk and enjoy the scenery, the good weather, and the pleasant temperatures. Marina Rubicon is just 15-20 minutes from the city center and is where all the boat trips depart from, either for diving trips or to go to the Papagayo beaches. It is also from Playa Blanca that you can take a ferry to Fuerteventura.
You'll find some good cafes and restaurants. We really like this area.
We wrote a full post about Playa Blanca, you can check it out here.
To book you ferry to Fuerteventura, we recommend using Direct Ferry, which compares the prices of all ferry companies and gives you the better price. Check it out here.
Location: here
---
20. Underwater Museum, Museo Atlántico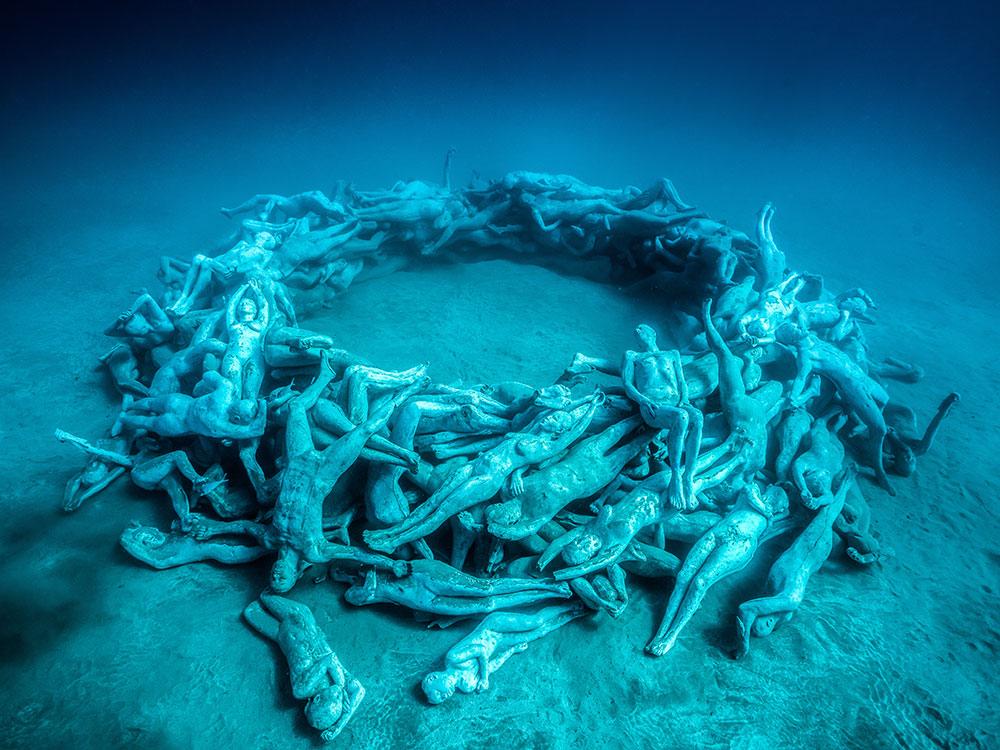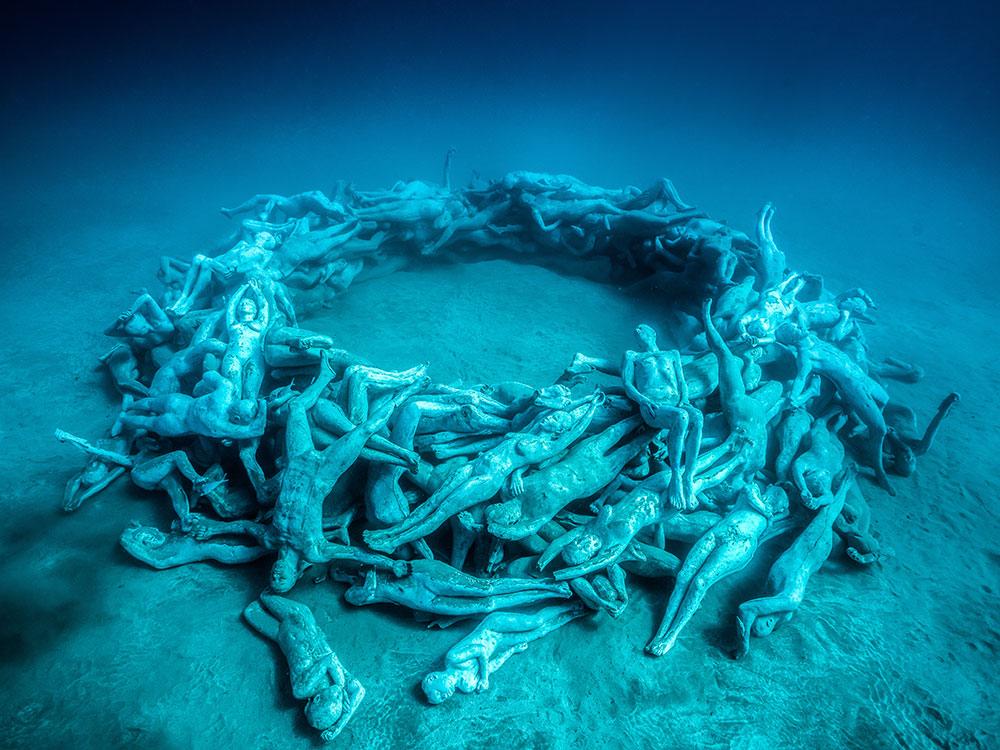 Museo Atlántico is the first underwater museum in Europe. It might not be for everyone, but Museo Atlántico is an underwater attraction unique in Europe and located just off the coast of Playa Blanca.
You can go underwater to see the beautiful statues, which have started to attract marine life and in doing so have revived the ecosystem around this part of the island of Lanzarote. If you love scuba diving, don't miss this great experience in Playa Blanca!
Location: here
Website: here
Opening hours: 9AM–6PM (closed on Sunday)
---
21. Salinas de Janubio

Las Salinas de Janubio is a salt flat located at Caleta de Janubio on the southwest of Lanzarote. Resembling a giant patchwork with rectangles filled with water, others dry and others covered with a layer of salt, all with the sea in the background, they offer one of the most beautiful postcard images from Lanzarote.
This large cove was formed between the years 1730 and 1736 after volcanic eruptions which isolated it from the sea by a sandbar and thus created an interior water area.
It is this area which is fed by seawater that today allows the production of salt, the most important of all in the Canary Islands.
The salt flats were built in 1895. Before that, products such as wheat, corn, or rye were grown there.
We didn't visit the area, but we stopped at the lookout area for a photo. It was a quick stop on our way back to our hotel.
Location: here
Entrance: free
---
22. Go on a day trip to la Graciosa
La Graciosa is often called the eighth island of the Canaries. And with only 600 inhabitants, no paved roads, and some truly impressive beaches, visiting La Graciosa is certainly an ideal destination for day-trippers and holidaymakers alike.
When you think of unspoiled paradises where you can get away from it all, the picture you painted in your head might look like La Graciosa.
The island is a gem that has been hidden from mass tourism and protected from development even during the last real estate boom, mainly because it was declared a natural park.
Its arid volcanic landscapes and spectacular pristine beaches are unspoiled by huge holiday resorts that grace the rest of the Canary Islands.
So be sure to visit La Graciosa.
The ferry from Lanzarote takes 30min. You will need to book in advance here. You can opt for a day trip around the island which include lunch and water activities. This is one of the best activities in Lanzarote. More info here.
At La Graciosa make sure to visit Playa de las Conchas and Playa Francesca, the 2 most beautiful beaches on the island. You can also eat some great seafood at Caleta del Sebo.
Location: here
---
23. Visit Arrieta, a charming village in Lanzarote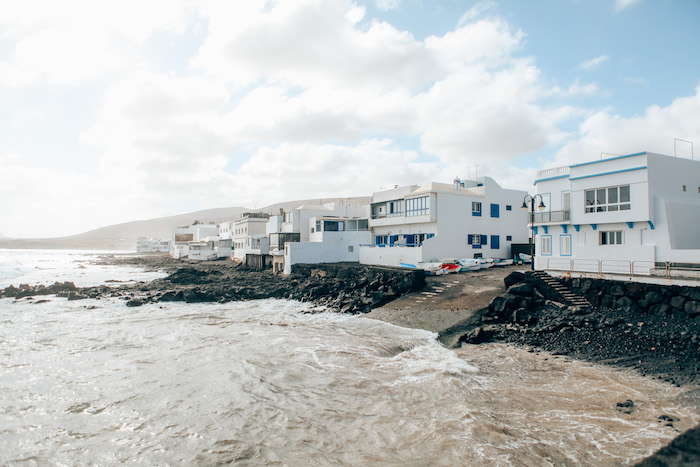 Located in the northeast of Lanzarote, Arrieta clearly stands out from the other seaside resorts in the south of the island. Stuck in a fishing village with many small restaurants, you can enjoy fresh fish with a view of the sea. Its calmness and authenticity will charm you.
It is also famous for surfing with great surf spots in this area. We just made a stop there after our visit to Jameos del Agua and ate delicious fresh seafood.
Don't miss the Blue house here, called Casa Juanita. This curious building is situated along the coast in the Northern village of Arrieta, it stands out from the small white typical buildings with its painted red and blue bricks and a garden complete with grass.
You can find this property next to the old fishing harbor and a small beach with a sea pool.
The house was built by Don Juan de Leon Perdomo in 1916. He was a local from Arrieta before he emigrated to Argentina in the early 20th century. He made his fortune there selling wheat and met and married Juana Alemán. The couple had a daughter in 1904, and they named her after her mother.
Location: here
---
24. Visit Puerto Calero, a chic place in Lanzarote!
Puerto Calero is a charming little marina, as well as many equally charming shops. Bars and restaurants are on the waterfront while designer clothing shops are found in the charming "fashion street" at the back.
If you like to walk, climb the stairs to join the seafront promenade, which leads you (west) to the superb Hesperia hotel. The marina has a ship repair shed and can accommodate around 450 boats, up to 75 meters in length.
Location: here
---
25. Puerto del Carmen is a great place to visit as a family!
The town of Puerto del Carmen is located on the southeast coast of Lanzarote, in the Canary Islands. It is one of the main tourist centers of the island, ten minutes from the airport.
This seaside resort is visited every year by many tourists looking for the ideal place for their holidays on the island of Lanzarote. Its geographical position, in the center of the island, is a wonderful starting point for your day trips.
The seaside resort of Puerto del Carmen lacks nothing: water sports, beautiful beaches, many shops, hiking trails, lots of apartments, cycling paths, bars and restaurants, a zoo…
The range of activities offered in this town is one of the most complete on the island, especially if you plan to travel to Lanzarote with your family.
Location: here
---
Best Activities on Lanzarote Island
1. Scuba Diving
Start your vacation in Lanzarote with a scuba diving session. This is an opportunity to discover the island's marine world. The island offers a great diversity of underwater species. To discover the best diving spots, leave from Playa Blanca or Puerto del Carmen.
If you've never scuba-dived before, a guide will explain the right steps to take to swim underwater. Conversely, if you are already an expert and have your PADI, you will be able to rent equipment to explore the depths of the Atlantic.
To book, click here
---
2. Surfing
Another outdoor activity in Lanzarote, and always on the sea; is surfing. For all surf lovers, the Canary Islands are a real treasure. Lanzarote is nicknamed "Hawaii of Europe" because of the variety of beaches for surfers, whether beginners or professionals.
Although every month of the year are ideal for surfing, winter is particularly recommended for the most experienced. Indeed, during this period, the waves are more intense.
Among the best spots for surfing in Lanzarote are El Quemao, La Santa, and Caleta Caballo.
---
3. Windsurf / Kitesurf
As with surfing, Lanzarote offers exceptional conditions for windsurfing or kitesurfing. To take full advantage of it, stay away from the most touristy places. Off the beaten track, the waves and the wind are perfect for windsurfing.
In addition to exceptional conditions, the island offers breathtaking landscapes. If you want to discover the best spots to practice this outdoor activity in Lanzarote, we recommend Las Cucharas de Costa Teguise. This place is suitable for both beginners and experts.
---
4. Hiking
With its lunar landscape, the island offers exceptional trails for hikers.
Among the best treks to do in Lanzarote, here is our selection:
Caldera Blanca: for three to four hours, you explore one of the smallest volcanoes in the Parque Nacional de Timanfaya. This hike is ideal for less sporty people with an ascent of medium difficulty
Guatiza: in this region, you can go for a hike of more than 27 kilometers. The path offers you magnificent landscapes to admire from the Mirador which is in the direction of Haria.
---
5. Boat tour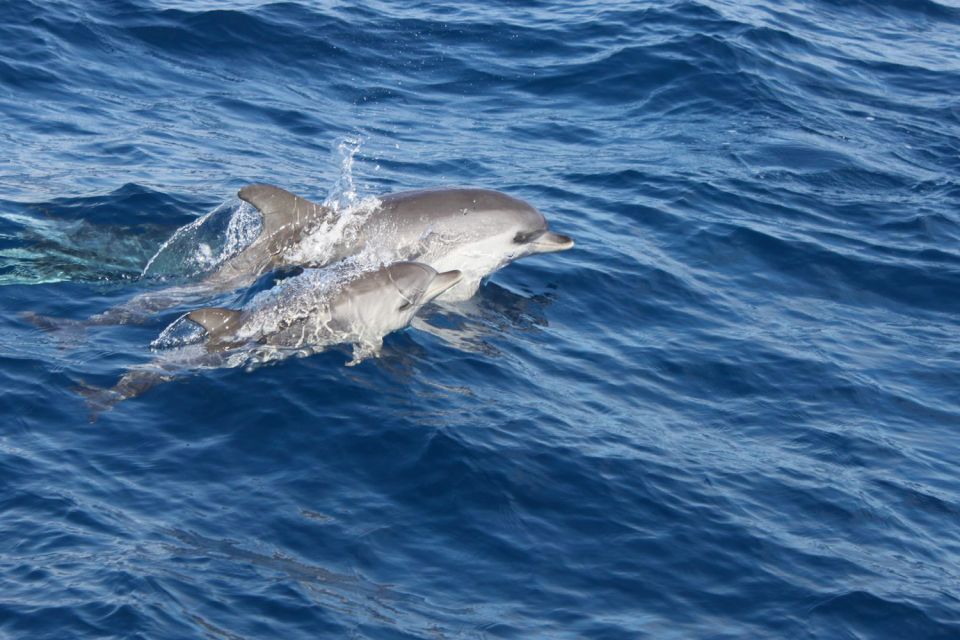 If you want to relax a full day on a boat with plenty of activities such as snorkeling and SUP, go on a boat trip from Lanzarote. If you are lucky you will even see dolphins. There are many companies offering boat tours from Playa Blanca or other parts of the island. You can also sail around La Graciosa which is an amazing experience.
Check it out here.
---
Where to stay in Lanzarote?
In the west of the island, there are constant winds that make surfers happy all year round. In the north of Lanzarote, you have magnificent views, the vegetation is more beautiful but the atmosphere is much quieter.
To the South (Playa Blanca to be precise), which we recommend the most, you have beautiful beaches, better weather, and good options for accommodations. In the South-East this is where most of the tourist resorts are located, which combine beaches, bars, and restaurants.
We wrote a full post here about the best places to stay in Lanzarote. However, we like to recommend Playa Banca the most. So here we will focus on Playa Blanca, which is our favorite area to stay in Lanzarote.
---
Hotel The Volcan Lanzarote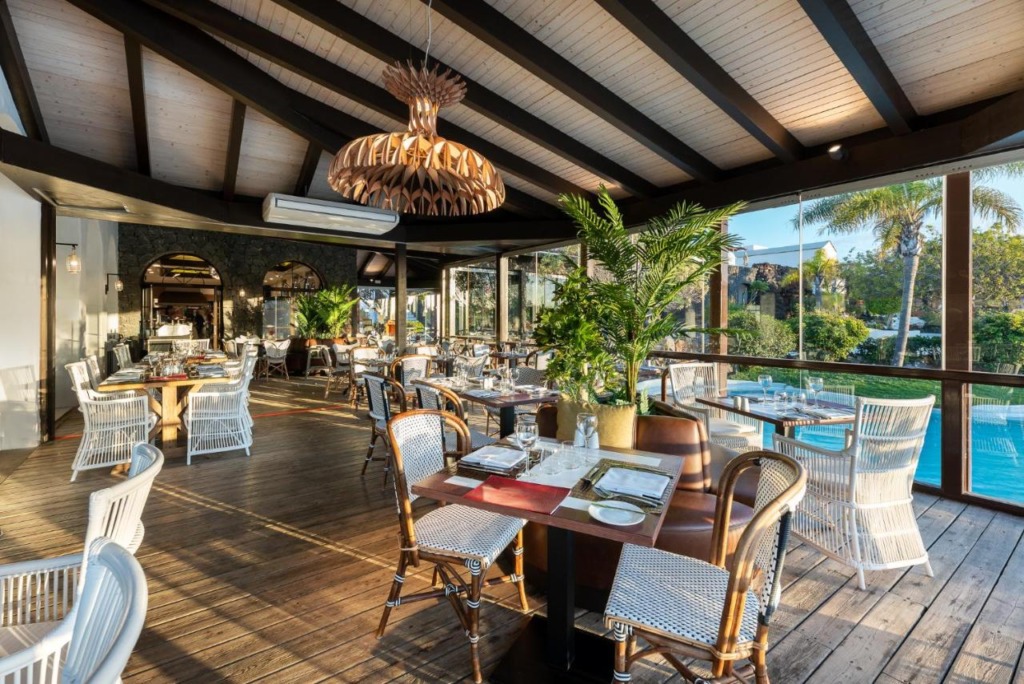 If your budget allows, then we highly recommend Hotel The Volcan in Playa Blanca. This hotel is located right by Marina Rubicon with many restaurants and bars around. The beach is just a few minutes walk.
This hotel has a very large swimming pool and offers excellent breakfast. You can check it out here.
---
Iberostar
This hotel has a breathtaking view, directly facing the ocean. Iberostar has 3 large swimming pool, including 1 dedicated for kids only. The beach is located just a few minutes walk from the hotel. In front of the hotel, you have the famous Playa Blanca promenade with restaurants and bars along the way.
We absolutely love this place. You can book here.
---
Ona Las Casita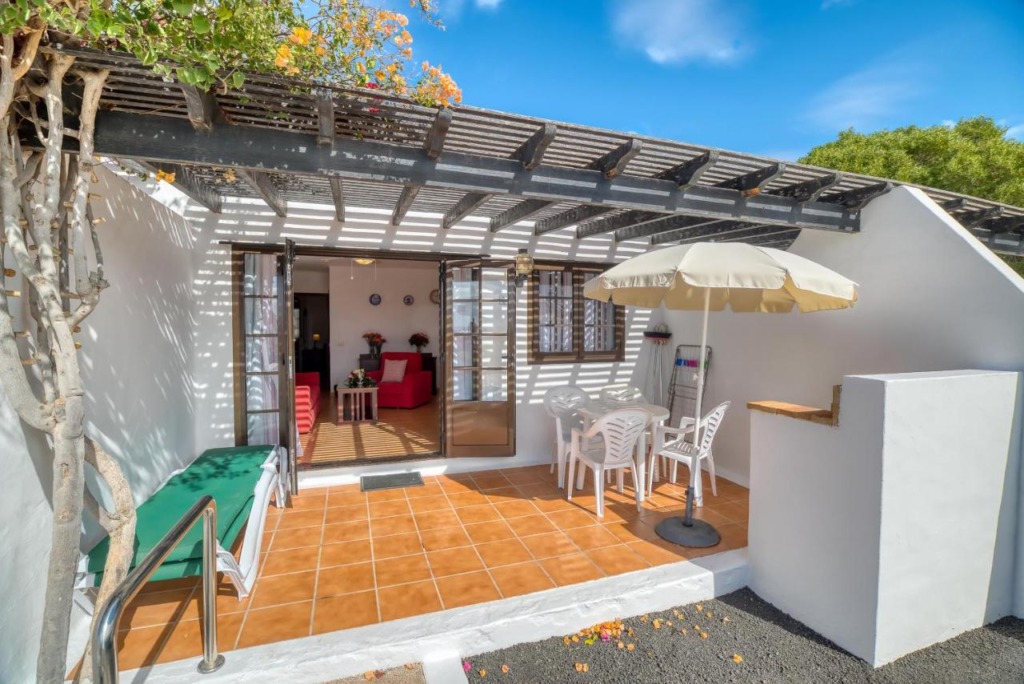 If you are a little bit more on a budget, then we recommend Ona Las Casita. This lovely bungalow is perfectly located near the beach and the main promenade at Playa Blanca.
The bungalow has a kitchen, so you can cook at home to save a bit of money. The place was super clean when we stayed there and we ate pretty much every day on the outdoor terrace. We love this place which has the perfect value for money. Book it here.
---
How to get around in Lanzarote?
To maximize the things to see on the islands, we highly recommend renting a car in Lanzarote. It is very easy to drive on the island, and if you have a GPS then you do not have to worry about direction.
If you stay in Playa Blanca, taking a taxi will already cost you around 45 to 50 euros. Then a round trip is already 100 euros. During our stay in Lanzarote, we were able to rent a car for 30 euros per day if you choose a Fiat 500 for example.
Once you reach the Canary Islands, it is highly recommended to rent a car. To get the cheaper rate we used Rentalcars.com. Check it out here for the best deals.
If you do not wish to drive in Lanzarote, you have the option to hire a private driver for a day here or to join a tour group here.
All our posts about the Canary Islands can be found here.
---
Best time to visit Lanzarote?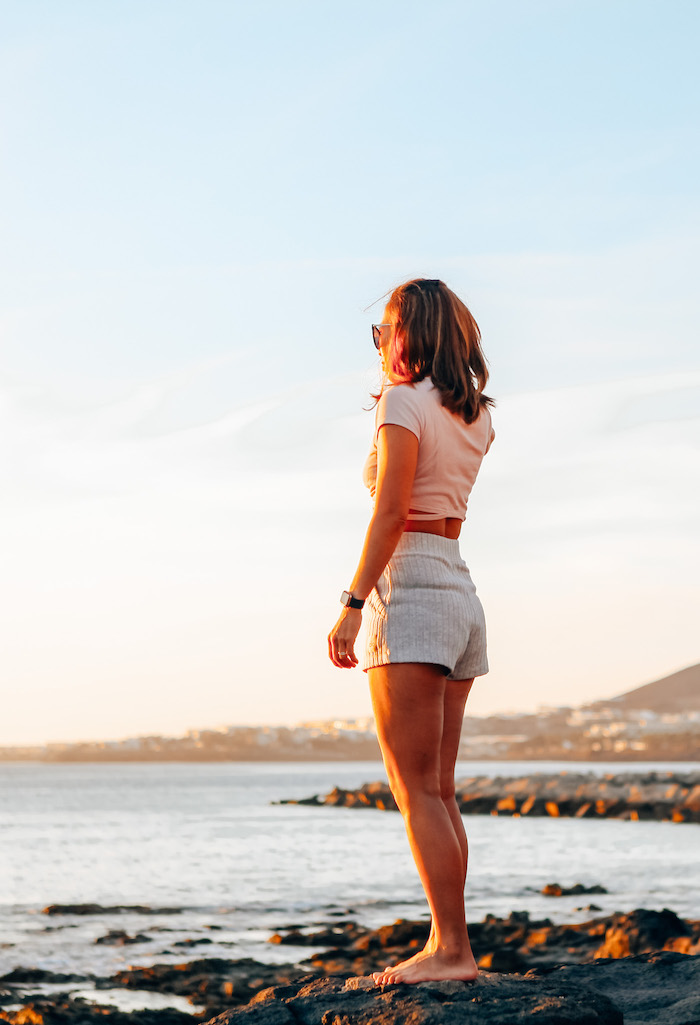 You can visit Lanzarote all year round as the temperature are mild even in Winter. However, the best time to travel to Lanzarote is from July to November. Over the year, the average temperature varies moderately. It is always around 21°C.
Temperatures are lowest in February, with lows around 18°C. With an average maximum temperature of 25°C, it is in August that the temperatures are the highest.
There are usually 11 days of rainfall each year in Lanzarote. June is the least rainy month with almost no rain and December the rainiest with up to 18 mm and 2 days of precipitation.
READ: BEST TIME TO VISIT THE CANARY ISLANDS
---
What to eat in Lanzarote?
Taste the many delights that the island of Lanzarote has to offer. Gastronomy in Lanzarote, and throughout the Canary Islands, has some of its roots in Spanish cuisine and is also influenced by recipes from Africa and Latin America. In addition, there are traditions inherited from the natives of the island.
Tapas
Let's start with the Spanish tapas influences. These small portions are served all over Lanzarote and vary depending on where you eat. Some traditional tapas dishes include Padrón peppers, which are small green peppers cooked in sea salt and olive oil. They are often on the menu with entrees. Other dishes often served are meatballs (Albóndigas) in tomato sauce and a tortilla (Spanish omelet). There are dozens of different tapas recipes.
Meat
Canarians are good with stew, they put a lot of love and care into making an appetizing dish of meat and spiced vegetables. Taste the rabbit stew (conejo), a local specialty. You will rarely see cattle on Lanzarote, mainly due to the landscape, so most meat is imported from South America and other islands in the archipelago. Of course, choice cuts of meat are on the menu of any decent restaurant. Cabrito (kid meat) is a big favorite and is sometimes called baifo in the Canary Islands.
Fish
If you like fish, you will love Lanzarote. Being an island, the fish and seafood supplies are limitless. It's the biggest business in the Canaries with trawling boats heading out to sea every day to meet the demand for tasty fish. Tuna (atún), sea bass (de lubina), hake (merluza), swordfish (pez espada), crab (cangrejo), lobster (langosta), mussels (mejillones)… you name it!
Vegetables and fruits
Lanzarote is blessed with an exceptional climate all year round, which helps farmers grow fruit in abundance. You will see farmers' markets all over the island. These are vibrant and colorful places ideal for buying locally grown fruits and vegetables.
A real Canarian experience is tasting papas arrugadas, potatoes that are boiled in salted water with their skins on. They will often be served with mojos (sauces), to dip the potatoes in and have more flavor… delicious! In general, they are served with two types of sauces: mojo picón, a red sauce that is hot and made with chili and mojo verde, a green sauce that is mild and made with herbs.
Cheese
If you go to Lanzarote you have to try the local goat cheese. It is sold in supermarkets and will appear on most menus. It is often fried or served with an accompaniment such as olives or a savory honey sauce.
Gofio
Another great Canarian specialty is called gofio, a type of flour made from roasted corn, wheat and barley. It is an important part of the local diet and is added to various foods such as ice cream, a kind of bread that is similar to polenta, and milk for children as well as soups and thick sauces. Gofio was used during the time of the Guanches (1st known inhabitants of the Canary Islands) and was thought to be one of the staple foods in their diet.
The traditional preparation of gofio has been passed down for centuries from generation to generation, making it the second most consumed food product in the whole archipelago, coming just after bananas!
Drinks
The wine produced from grapes grown on the volcanic plains is one of the best surprises the island has to offer when it comes to complementing a good meal. The most appreciated is the Malvasias, a generally strong wine. Wine is also used for very popular local drinks like tinto de verano (literally "red summer wine" consisting of red wine mixed with lemonade) and sangria.
---
In conclusion about the best things to see in Lanzarote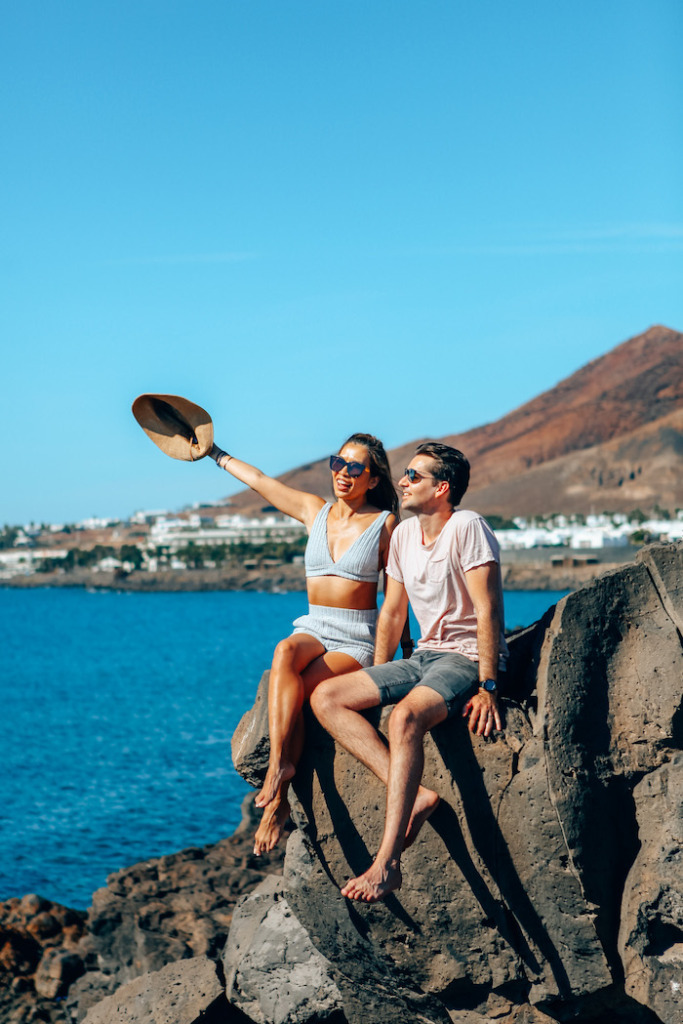 Lanzarote is one of the most surprising islands in the Canaries and probably the most unique one. Its lunar landscape, amazing beaches, beautiful sights thanks to the work of Manrique, and its many activities makes it one of the best place to visit in Europe.
If you are still not convinced, you can click here to check the 10 best reasons why you should visit Lanzarote.
We absolutely fell in love with this magical island. We would even consider moving here some days. Why not?! It's warm all year round, we can surf, do plenty of yoga, go hiking. It's perfect for our lifestyle.
If you are traveling to Lanzarote for the first time, we recommend at least 1 week. There is so much to see, that it's really hard to squeeze everything in just a few days…
If you have any questions to prepare for your trip to Lanzarote, feel free to leave a comment below, we usually respond very quickly.
Here are all our articles about the Canary Islands.
HAPPY TRAVELS!
---
Related Posts
VISIT TIMANFAYA NATIONAL PARK IN LANZAROTE
DISCOVER PLAYA BLANCA IN LANZAROTE
GUIDE FOR PAPAGAYO BEACH IN LANZAROTE
LEARN ABOUT CÉSAR MANRIQUE'S HERITAGE IN THE CANARY ISLANDS
VISIT THE CACTUS GARDEN IN LANZAROTE
FAMARA, A CHARMING VILLAGE AND SURF PARADISE
BEST PLACES TO STAY IN LANZAROTE
BEST TIME OF THE YEAR TO VISIT LANZAROTE