HOW TO GET TO PAPAGAYO BEACH? DO I NEED TO PAY TO GET TO PAPAGAYO BEACH? BEST HOTELS NEAR PAPAGAYO BEACH IN LANZAROTE?
Papagayo Beach in Lanzarote is considered one of the most beautiful beaches in Lanzarote (READ: top 10 beaches in Lanzarote). And we can't agree more with that! It is located in a wild area on the southern tip of Lanzarote. There you will find stretches of golden sand and turquoise water. A Dream!
If you are visiting Lanzarote, then spending a day in Papagayo Beach is a must.
You may also be interested to read the top 25 things to do in Lanzarote here.
In this guide about Papagayo Beach, we explain all you need to know to prepare for your trip.
El Papagayo is the name of the region where Las Playas de Papagayo (The Papagayo Beaches) are located. Indeed, there are more than 1 beach in the area.
Separated by lava rocks and cliffs, the Papagayo beaches lie side by side along the coast. Papagayo beaches are known as the best beaches in Lanzarote, perhaps the best beaches in the Canary Islands (READ: TOP 10 BEACHES IN THE CANARY ISLANDS).
This is due to the crystal clear turquoise waters and white sand amid idyllic rocky bays.
Most of the time there is hardly any wind here and thanks to the sheltered location there are no dangerous currents. This makes Papagayo beaches ideal for families, as young children can have fun in the clear, shallow water.
The area of ​​the Papagayo beaches is in a protected area known as the Monumento Natural de Ajaches (Natural Monument of the Ajaches).
Here is a glimpse of what Papagayo Beach in Lanzarote looks like:
---
How to get to Papagayo Beaches?
Papagayo beaches are located on the southern tip of Lanzarote. You will find many signs to Papagayo Beach from the resort of Playa Blanca. The road is rocky and rough and it will take about 15 minutes by car to reach the first beach from Playa Blanca.
There are different options to get to Papagayo beaches:
On foot
The beaches are about a twenty to forty minutes walk from the resort of Playa Blanca, depending on which beach you want to go to. It is a very nice way to discover the beautiful coastline of Lanzarote. Leave in the morning, pack some sandwiches and water, and enjoy a gorgeous day at Papagayo Beaches.
By bus
It is also possible to reach El Papagayo with bus number 30 from Playa Blanca. You have to get off at the last stop and from there the Papagayo beaches are about a 20 minutes walk down a small path. It will still take quite some time to reach the beach. Hence, we don't really recommend this option…
By bicycle
This is our favorite option. The one we chose when visiting Papagayo for the first time. But not a normal bicycle, we actually rented an electric bike. It made the ride so much more effortless. As you need to get there from the same road as the cars, it gets a bit dusty. Well this gives you another good reason to jump into the water when you arrive at the first beach. Bicycles can easily be hired in Playa Blanca for around €12 per bike a day.
By car
If you rented a car in Lanzarote, then getting to Papagayo beaches will be very easy. Although you need to drive through a 5km long dirt road, it is not that bad. This road starts at the roundabout on the LZ-705 between Playa Blanca and Femés and ends just above the beaches.
The entrance to the dirt road is marked by a small cabin and a gate. An entrance fee of €3 per person is required. Once you reach the beach, there will be plenty of parking spaces. Easy-Peasy!
---
Papagayo beaches in Lanzarote
Papagayo beaches are the perfect escape from the main tourist areas and 1 of the best day trip destinations in Lanzarote.
The Papagayo beaches are a series of seven stretches of sand. The largest is Playa Mujeres. However, we will focus on the 4 main ones, which are easily accessible.
Playa de Papagayo:
Papagayo beach is considered the most beautiful beach in Lanzarote. There used to be a village called El Papagayo above this beach, but it's been deserted for over ten years now. The half-round shape of the picturesque bay leaning against the large black wall of rocks is very typical of the region. This beach is often used as an image for postcards of Lanzarote.
The fine white sand and clear turquoise water are the reasons why this beach is so popular. There is a restaurant and parking nearby.
Playa Mujeres
A length of 400 meters and a width of about 90 meters make Playa Mujeres beach the largest of El Papagayo beaches. This beach is the most popular of the beaches due to its good location and size.
However, it is rarely overcrowded as visitors are spread over the entire area. One of the two car parks is located in the immediate vicinity of Playa Mujeres. This is actually our favorite beach as it is never as crowed as Papagayo Beach…
Playa de Pozo
Playa de Pozo is right beside Playa Papagayo. This is our 2nd favorite beaches in the area. It looks very similar to Playa Papagayo, but somehow people prefer the "true" playa Papagayo…
Playa de la Cera
When you continue south from the Playa de Mujeres you will find yourself in a large parking lot where you can park for free. When you walk towards the beach, you will see the beautiful Playa de la Cera on your right.
During low tide you can walk from Playa de la Cera to the other beaches on the north side. After Playa de la Cera you will find small intimate coves between the cliffs and large beaches such as Playa de las Ahogaderas and Playa de las Coloradas.
---
Activities in Papagayo Beach
El Papagayo is a protected area of ​​Lanzarote with very minimal facilities. However that doesn't mean you'll struggle to find things to do in this natural playground. You can perfect your tan and read a book while relaxing on one of Papagayo's beaches, or swim and snorkel in the crystal clear waters.
Swimming and snorkeling
There is no better place in Lanzarote to swim or snorkel than at one of the beautiful beaches of El Papagayo. The waters in small beaches like Playa del Papagayo and Playa del Pozo are calm as they are sheltered from the wind thanks to the rocks that surround them. BOOK YOUR SNORKELING AND KAYAKING TRIP IN PAPAGAYO HERE
Camping
A spacious camping area is located just behind Puerto Muelas beach. The pleasant beach and calm, turquoise waters are often dotted with small boats brought in by enthusiastic campers, as a means of daily activities and fishing.
There are a few small stalls selling drinks and snacks. But this campsite is still pretty basic, so bring your gear and daily basic supplies like food and other necessities.
Hiking/Mountain Biking:
The raw landscapes and breathtaking beaches of El Papagayo make the area ideal for walking, hiking and mountain biking. Be sure to bring enough water and sunscreen as there are not many facilities available in this protected area. Bike rentals must be arranged in Playa Blanca
Catamaran
For those who wish to explore the beautiful coast of El Papagayo in a different way, there are catamaran trips offering departures from Puerto Calero or Playa Blanca. Puerto Calero is located along the same coast north of El Papagayo and is only 5 km from the resort of Puerto del Carmen.
Most excursions include drinks and meals on board as well as snorkeling in the crystal clear waters of El Papagayo. You can book you catamaran trip here.
Restaurant
There are 2 restaurants located between Papagayo beach and Playa del Pozo. They have an outdoor location with fantastic ocean views. Given the lack of competition and facilities around the area, the prices are quite high.
Cold drinks and ice creams can be purchased at the entrance of the restaurant. Usually there is a waiting time to enter the restaurant. Hence, if you visit Papagayo we recommend to bring your own food and drinks.
---
Where to stay near Papagayo Beach?
As often recommended for our tips to visit Lanzarote, we believe that Playa Blanca is the best place to stay on the island. You will be near the main attractions in Lanzarote, and just a few minutes walk to Papagayo Beach. Besides Playa Blanca is located in the southern area of the Lanzarote, and therefore gets more sun and less rain than the rest of the island. We wrote a full post about Playa Blanca here for more information.
Here are 3 hotels we highly recommend:
Hotel The Volcan Lanzarote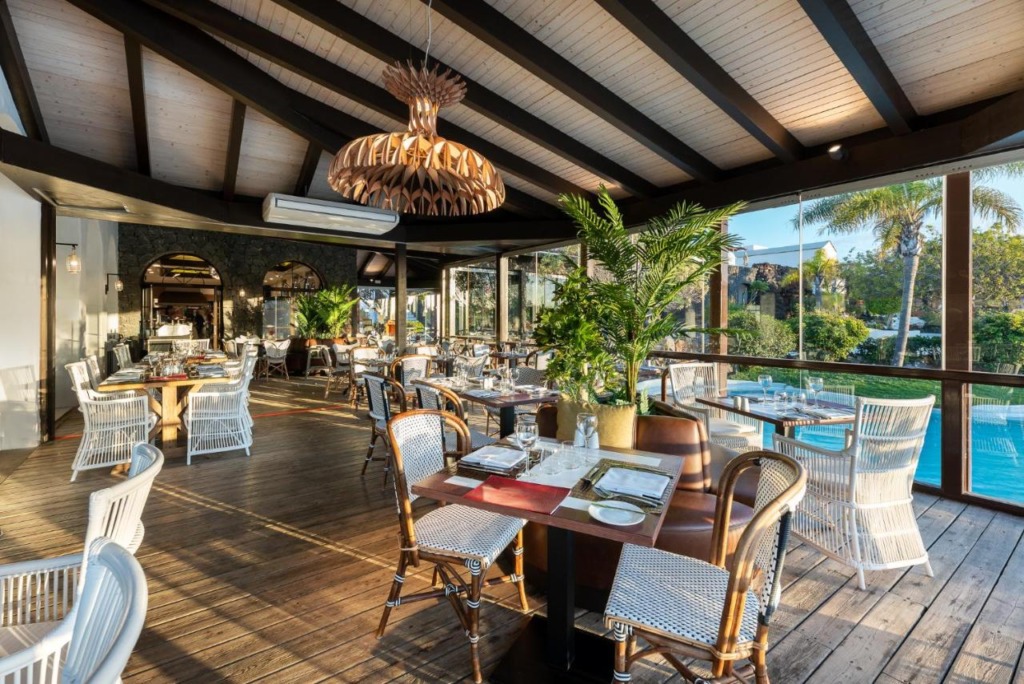 If your budget allows, then we highly recommend Hotel The Volcan in Playa Blanca. This hotel is located right by Marina Rubicon with many restaurants and bars around. The beach is just a few minutes walk. This hotel has a very large swimming pool and offer excellent breakfast. You can check it out here.
---
Iberostar
This hotel has a breathtaking view, directly facing the ocean. Iberostar has 3 large swimming pool, including 1 dedicated for kids only. The beach is located just a few minutes walk from the hotel. In front of the hotel, you have the famous Playa Blanca promenade with restaurants and bars along the way. We absolutely love this place. You can book here.
---
Ona Las Casita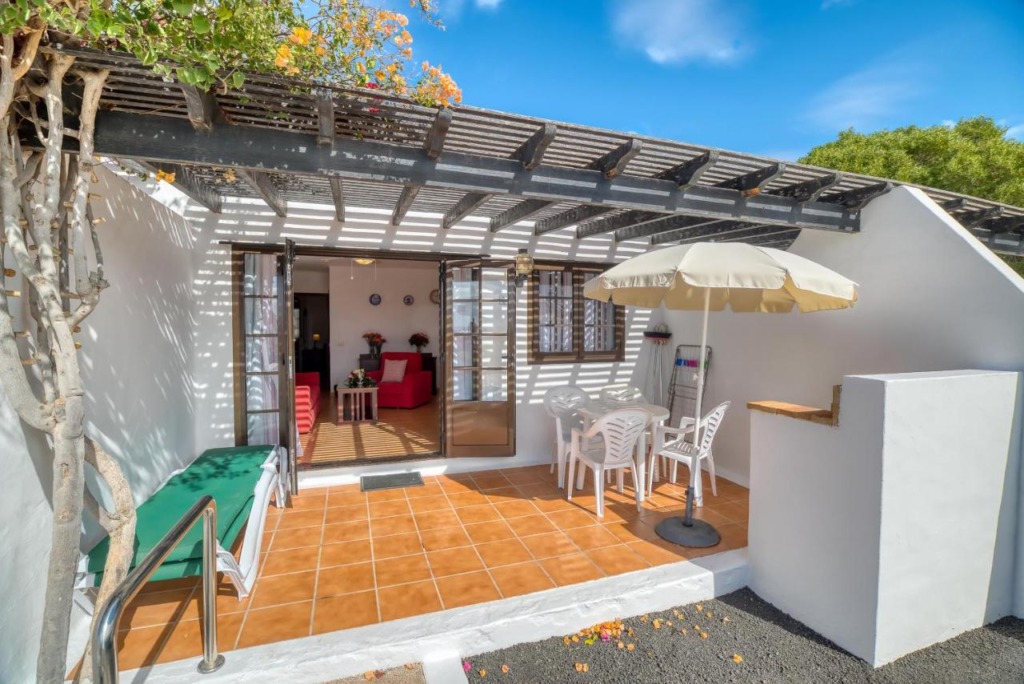 If you are a little bit more on a budget, then we recommend Ona Las Casita. This lovely bungalow is perfectly located near the beach and the main promenade at Playa Blanca. The bungalow has a kitchen, so you can cook at home to save a bit of money. The place was super clean when we stayed there and we ate pretty much every day on the outdoor terrace. We love this place which has the perfect value for money. Book it here.
For other areas to stay in Lanzarote check out this post. We list the top places to stay on the island.
---
Our opinion about Papagayo Beach
Lanzarote is a spectacular and unique island. We really fell in love with the place right away. However, it doesn't as many beaches, in comparison to its sister island Fuerteventura or other islands in the Canaries. However, Lanzarote has Papagayo beaches, which are amongst the most beautiful in the Canary Islands.
Visiting Papagayo beaches is a must if you are in Lanzarote. Even if you do not like to stay on the beach the whole day, just hiking or cycling in this part of Lanzarote is already so beautiful.
For more information on Lanzarote, you can check out this post here. We also compiled the top 10 beaches in Lanzarote here.
All our posts about the Canary Islands can be found here.
---
Related Posts
TIMANFAYA NATIONAL PARK, the unmissable things to see in Lanzarote: here
LANZAROTE, 25 best things to see: here
PLAYA BLANCA, the best place to stay in Lanzarote: here
TEGUISE, the most charming town in Lanzarote: here
CÉSAR MANRIQUE: his heritage in the Canary Islands: here
FAMARA, a charming village and surf paradise: here
TOP 10 BEACHES in Lanzarote: here
BEST AREAS to stay in Lanzarote: here
BEST TIME of the year to visit Lanzarote: here
10 REASONS why you should visit Lanzarote: here