WHAT TO DO IN PLAYA BANCA? BEST ACTIVITIES IN PLAYA BLANCA? IS PLAYA BLANCA THE BEST PLACE TO STAY IN LANZAROTE?
Playa Blanca is located in the southern part of Lanzarote on the Canary Islands.
Although a quiet and peaceful fishing village not too long ago, Playa Blanca changed a lot over the years and became one of the main tourists area in Lanzarote.
Indeed, in ten years only this region has experienced a big rise for tourism. This growth can be explained by the proximity of Playa Blanca to a sublime coastline, its sunny sandy beaches and its idyllic setting.
At the seafront there are many bars, luxury hotels, restaurants and shops. A real gem in Lanzarote!
Playa Blanca is located at about 30km from Lanzarote airport. One of the city's latest addition is the Marina Rubicon. This area is found on the outskirts of the town not far from great restaurants and clothing shops. This area is luxurious and very pleasant with a state of the art Marina.
In this post we will let you know about what to do in Playa Blanca, the best places to stay and our overall opinion about Playa Blanca.
Here is a glimpse of the what Playa Blanca in Lanzarote looks like:
If you want to know more about Lanzarote, you can also check out the 25 best things to do on the island here. We also compiled the list of the top 10 beaches in Lanzarote here.
---
1. Start your visit by checking out the beach of Playa Blanca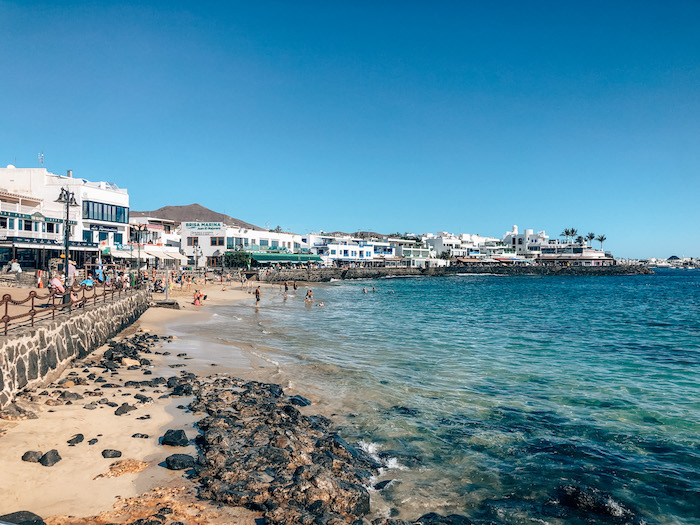 The name of Playa Blanca comes from the fact that in the middle of the city there is the main beach called Playa Blanca (located here).
The beach is very beautiful with fine sands and quiet water. It's the perfect spot to spend the day with the family.
However this is not our favorite beach in Playa Blanca. It is much smaller than the other ones in Playa Blanca. So we recommend 2 other beaches in Playa Blanca, check out the rest of the post to know more about it.
---
2. Playa Flamingo, our favorite beach in Playa Blanca in Lanzarote
Playa Flamingo is our favorite beach in Playa Blanca.
It is much bigger than Playa Blanca and protected by breakwater. There are a few restaurants and shops right behind the beach, but it's relatively quieter that Playa Blanca.
We recommend this beach if you are in Playa Blanca. This is one of the best beaches in Lanzarote.
Location: here
---
3. Playa Dorada, another beautiful beach in Playa Blanca
The last beach located in the center of Playa Blanca is called Playa Dorada. This beach is equally beautiful as Playa Flamingo.
The great popularity of this beach is due to its locations near many hotels and because of the beautiful Caribbean-like water. An absolute pleasure for the eyes.
Location: here
---
4. Marina Rubicon, a must-see in Playa Blanca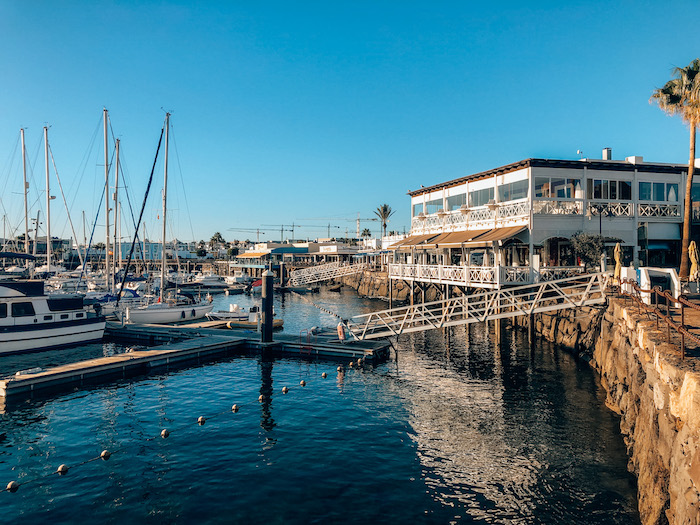 Marina Rubicón is one of the most complete marinas in Lanzarote. Set between Papagayo beach and Playa Blanca, Marina Rubicón is well protected from the strong winds. There are many really nice restaurants and bars facing the marina.
It's a great place to go in the evening.
There is also a market which takes place every Wednesday and Saturday with handicrafts items.
This place is a must-see if you travel to Lanzarote.
Location: here
Website: here
---
5. The underwater Museum, unique in Europe!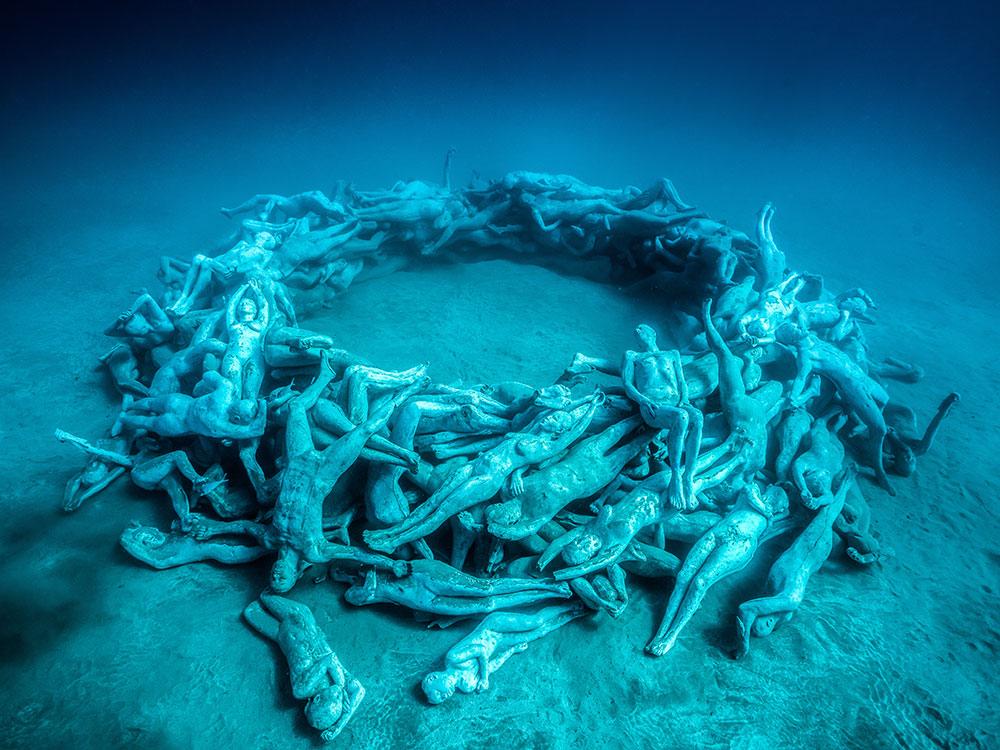 Museo Atlántico is the first underwater museum in Europe. It might not be for everyone, but Museo Atlántico is an underwater attraction unique in Europe and located just off the coast of Playa Blanca.
You can go underwater to see the beautiful statues, which have started to attract marine life and in doing so have revived the ecosystem around this part of the island of Lanzarote. If you love scuba diving, don't miss this great experience in Playa Blanca!
Location: here
Website: here
---
6. Stroll along the waterfront promenade
Our favorite activity in Playa Blanca is to take long walks along the seafront promenade. You can actually walk for hours if you decide to go all the way to the west coast.
There you will reach the Lighthouse called Faro de Punta Pechiguera Antiguo (location: here)
We love having lunch or dinner in one of the fish restaurants facing the sea. Order a paella or the fresh fish of the day, you won't be disappointed.
Our favorite area is behind beach Playa Blanca here. If you go one street parallel, you can also find many shops.
---
7. Have fun at Aqualava Waterpark
This is an attraction that will delight the little ones. So if you are staying in Playa Blanca and you are looking for an activity to do with the family, Aqualava Waterpark would be a great choice. This water park has all you need for a full day of joy.
Location: here
Opening Hours: 10AM–5PM
Website: here
Admission: buy your ticket at cheaper price here.
Photo from Aqualava website.
---
8. Los Charcones, natural pools at Playa Blanca
Los Charcones are natural swimming pools formed into the rocks. You can also swim in those pools or go snorkelling.
Be careful during your visit because the landscape of the site is covered with pebbles. This could be dangerous for children. However the area is really beautiful.
To get there you will need a car or to rent a bicycle. Hiking there from Playa Blanca is feasible, but it is not the nicest area to hike in Lanzarote.
Location: here
---
9. Los Hervideros, one of the best things to see in Lanzarote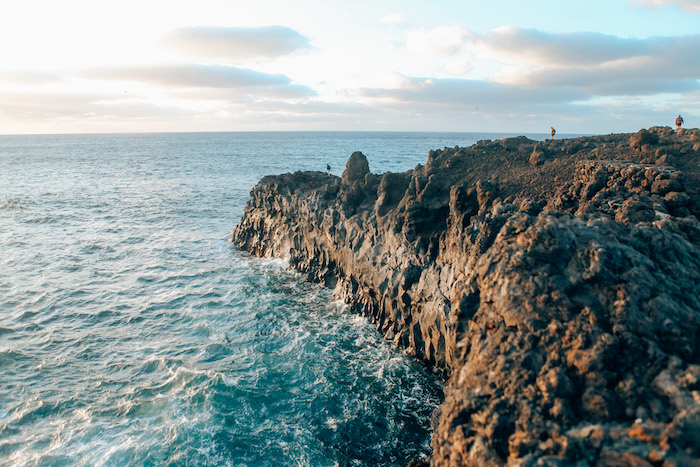 This site is one of the most beautiful places to visit in Lanzarote. You can see huge waves crashing onto the cliffs. To get there you will need a car, as it relatively far away from Playa Blanca. It is also a fantastic spot to watch sunset.
Location: here
Entrance: free
---
10. Visit Playa Papagayo, the main attraction near Playa Blanca
Papagayo is considered one of the most beautiful beaches on the island.
It is located in a wild area on the southern tip, where you can find stretches of golden sand and turquoise water. To enjoy the wild beaches of Papagayo, you can access by car on a dirt road, by bicycle, on foot or by boat.
The term Papagayo beach is often used to describe the whole area. But the actual Papagayo beach is the last beach in the area which is a nice cove that seems to close in, creating a protected area (which is great when it's windy). However there are other beautiful beaches in the area. You can discover them all in one day.
Our trip to Papagayo beach was one of the highlight during our stay in Lanzarote.
READ: FULL GUIDE FOR VISITING PLAYA PAPAGAYO IN LANZAROTE!
---
11. Take a boat trip from Playa Blanca
There are many boat tour starting from Playa Blanca. Some will sail around Playa Papagayo and stay there for a few hours. They provide lunch and many other equipments such as snorkels, kayaks or Stand-up Paddle boards.
You can check it out here.
---
12. Take a day trip to Fuerteventura
Fuerteventura is the sister island of Lanzarote. It is only located 30min away from Lanzarote. There are many things to do in Fuerteventura which is more wild than Lanzarote.
Fuerteventura, with the red color of its land, its beaches as far as the eye can see, its blue and green waters, big waves, its arid landscape, is nicknamed "the African island".
With the ferry (which you can book here) you will arrive in Corralejo, the second city of the island which was originally a small fishing village. Today, it is a tourist hotspot of Fuerteventura, where the famous dunes of the Natural Park of Corralejo – El parque natural de Corralejo – are located.
This site offers a paradisiacal arid landscape made up of the erosion of shells and other marine organisms: a small Sahara where you can find wide open spaces and tranquility. The dunes are bordered by sublime beaches of fine white sand. It's a favorite ground for lovers of windsurfing, surfing, kitesurfing and also nudists.
Strolling there on foot along the ten kilometers of beaches and dunes is one of the essentials when visiting Fuerteventura.
The ferry leaves from Lanzarote every 30min or 1h. You can catch the ferry here. There are 3 different companies to choose from, you can book your ticket online here.
Here we listed the 25 best things to see in Fuerteventura, check it out.
---
13. Best activities in Playa Blanca
1. Scuba Diving
Start your vacation in Lanzarote with a scuba diving session. This is an opportunity to discover the island's marine world. The island offers a great diversity of underwater species. To discover the best diving spots, leave from Playa Blanca or Puerto del Carmen.
If you've never scuba-dived before, a guide will explain the right steps to take to swim underwater. If you are already an expert and have your PADI, you will be able to rent equipment to explore the depths of the Atlantic.
To book, click here
2. Jetski
If you have never tried Jetski before, Lanzarote is a good place to try. You can rent a Jetski directly on the beach of Playa Dorada or you can also book here.
3. Dolphins watching tour
There are many dolphins around the Canary Islands. You can join a mini cruise to see them. Check it out here.
4. Kayak and Snorkelling trip
If you want to explore the sea in a complete different way, join a kayak tour which also offer snorkelling opportunity around Papagayo beach. You can find out more about it here.
---
Where to stay in Playa Blanca, Lanzarote?
Hotel The Volcan Lanzarote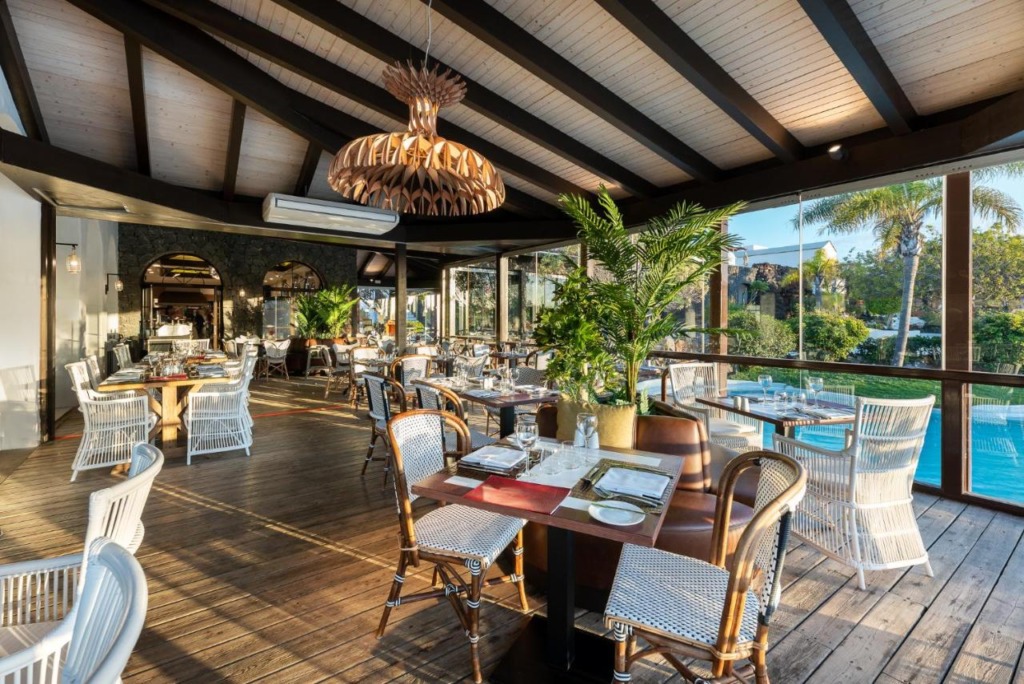 If your budget allows, then we highly recommend Hotel The Volcan in Playa Blanca. This hotel is located right by Marina Rubicon with many restaurants and bars around.
The beach is just a few minutes walk. This hotel has a very large swimming pool and offer excellent breakfast. You can check it out here.
---
Iberostar
This hotel has a breathtaking view, directly facing the ocean. Iberostar has 3 large swimming pool, including 1 dedicated for kids only. The beach is located just a few minutes walk from the hotel. In front of the hotel, you have the famous Playa Blanca promenade with restaurants and bars along the way. We absolutely love this place.
You can book here.
---
Ona Las Casita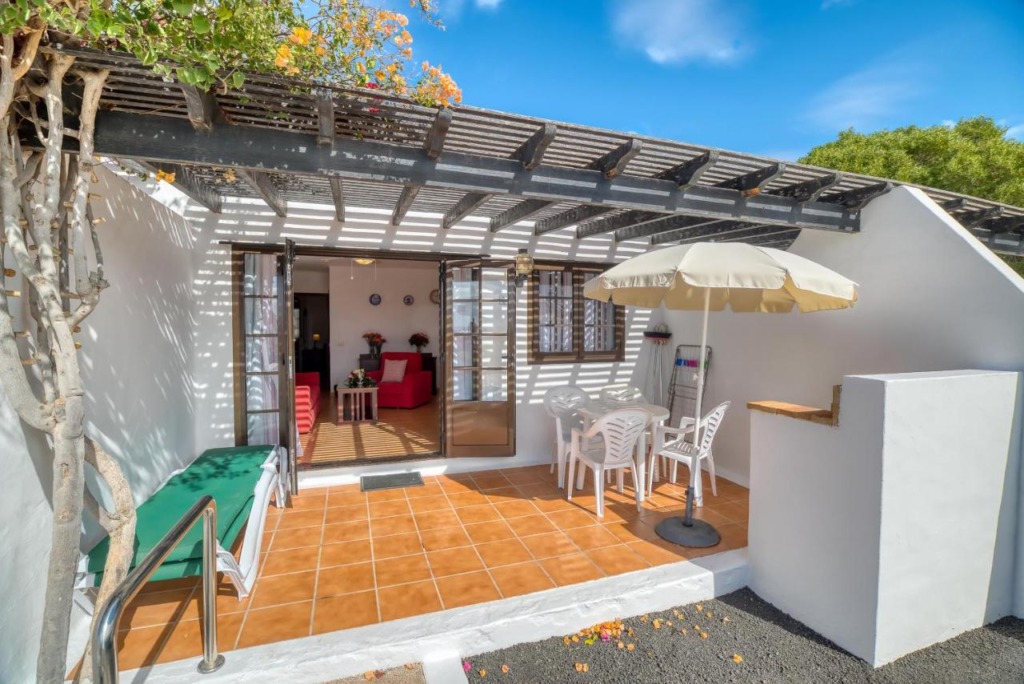 If you are a little bit more on a budget, then we recommend Ona Las Casita. This lovely bungalow is perfectly located near the beach and the main promenade at Playa Blanca. The bungalow has a kitchen, so you can cook at home to save a bit of money.
The place was super clean when we stayed there and we ate pretty much every day on the outdoor terrace. We love this place which has the perfect value for money.
For other areas to stay in Lanzarote check out this post. We list the top places to stay on the island.
---
Our favorite restaurants in Playa Blanca
Casa Joaquín: right behind Playa Flamingo, you can find Casa Joaquín, a great spanish restaurant with amazing paella on the menu. This restaurant is directly facing the beach in a very nice setting. During lunch time they offer lighter meal such as Tuna Salad or a variety of sandwiches. Location: here
Restaurante Playa Blanca: for the best Sangria in Playa Blanca, head to Restaurante Playa Blanca here. We tried their tapas with 1L of Sangria. We absolutely loved it although we could barely walk home after all that Sangria…
Playa Dorada Lanzarote: for the perfect sunset drink, head to Playa Dorada Bar and Restaurant right behind Playa Dorada. It's the go-to spot to watch sunset. Location: here
---
Our opinion about Playa Blanca
If you are wondering where to stay in Lanzarote, we highly recommend Playa Blanca. For us it the best spot on the island. Although it is touristic, Playa Blanca kept a certain charm. The hotels are relatively small and blend nicely with the rest of Lanzarote. The coast is also beautiful with a fabulous seafront promenade.
In addition Playa Blanca is located near some of the main attractions such as Timanfaya National Park, the wine road, El Golfo, Playa Papagayo etc.. It is also the starting point to check out Fuerteventura and an awesome diving spot.
Stay in Playa Blanca or at least come and visit during your stay in Lanzarote, you won't regret it.
For more information on Lanzarote, you can check out this post here.
All our posts about the Canary Islands can be found here.
---
Related Posts
TIMANFAYA NATIONAL PARK, the unmissable things to see in Lanzarote: here
LANZAROTE, 25 best things to see: here
PAPAGAYO, the most beautiful beach in Lanzarote: here
TEGUISE, the most charming town in Lanzarote: here
CÉSAR MANRIQUE: his heritage in the Canary Islands: here
TOP 10 BEACHES in Lanzarote: here
FAMARA, a charming village and surf paradise: here
BEST AREAS to stay in Lanzarote: here
CACTUS GARDEN a must see in Lanzarote: here
BEST TIME of the year to visit Lanzarote: here
10 REASONS why you should visit Lanzarote: here
JAMEOS DEL AGUA, our favorite sight in Lanzarote: here