WHAT TO SEE AT TEGUISE OLD TOWN? WHEN IS THE MARKET AT TEGUISE? IS TEGUISE WORTH A VISIT DURING A TRIP TO LANZAROTE?
Teguise is a small town in Lanzarote which is worth a visit. This post, explains all you need to know about Teguise and what to see in this charming town.
Teguise was the former capital of Lanzarote until 1852. The town lost its statue to Arrecife the current capital of Lanzarote. Today, Teguise has 10,000 inhabitants. The town was founded in the 14th century by Bethencourt, a Frenchman from Normandy, who named it after his wife, Teguise.
"Teguise, the former capital of Lanzarote"
The city is peaceful and welcoming. Its pretty alleys make you want to explore every little corners of this town. At least, for us, we completely fell in love with Teguise. It is one of the best things to see in Lanzarote.
READ: 25 AMAZING THINGS TO SEE IN LANZAROTE
During the 1980s a strong campaign was launched to rehabilitate and restore Teguise and resulted in the town being declared an architectural historic site; recognizing Teguise as one of the oldest towns in the Canary Islands where the most famous events in the history of Lanzarote were written.
So make sure to add Teguise on your list of things to do in Lanzarote. We stopped there during lunch time, and it was the perfect place to enjoy one of the canarian traditional meal.
Here is a glimpse of what to expect during a visit of Teguise in Lanzarote:
---
BEST THINGS TO DO IN TEGUISE?
1. MERCADILLO, ONE OF THE MOST POPULAR MARKETS IN LANZAROTE
In the heart of the historic center of Teguise, a large market takes place every Sunday, from 9 a.m. to 2 p.m. It has become one of the most popular markets in the Canary Islands and offers all kinds of products: crafts, organic and traditional products, souvenirs… But also food trucks surrounded by benches and tables where you can eat.
Most of the market takes place on the main square but also in all the streets of the city center, so it is impossible to miss it. Coming to Teguise on a Sunday is definitely a unique experience due to the market.
However, do not worry, if you can't come on a Sunday, Teguise has plenty of other things to offer.
Location of the market: here
---
2. PLAZA DE LA CONSTITUCIÓN, ONE OF THE BEST THINGS TO SEE IN TEGUISE OLD TOWN
This is the main square and the heart of Teguise. It's a nice area to hang-out and look at all the main sights around the square which we will describe in this post below. At the square you also have plenty of great restaurants and nice boutiques. We loved it!
Location: here
---
3. PALACIO SPINOLA, A GREAT PLACE TO VISIT IN TEGUISE OLD TOWN
Right in front of Plaza de la Constitucion you will see a beautiful building called Palacio Spinola. It now houses the Timple Museum, as well as sometimes hosts concerts and exhibitions. The Timple is a typical musical instrument of Lanzarote. It is a kind of guitar with four or five strings which was introduced to the island by the Spaniards.
Location: here
Opening hours: 9AM–3PM
Website: here
---
4. NUESTRA SENORA DE GUADALUPE, ONE OF THE OLDEST CHURCHES IN LANZAROTE
The Nuestra Señora de Guadalupe is one of the largest church in Lanzarote. It is in neogothic style. The church dates from the 15th century and has been the subject of multiple extensions. Its bell tower gives it a remarkable profile.
It is a construction of three naves with several altarpieces executed in plaster. Several fires affected the church. The last took place in 1909.
Location: here
---
5. CHECK OUT CALLE LA SANGRE
In the 16th century, Lanzarote suffered regular attacks from Berber (Arab) pirates, such as those of Mourad Raïs who in 1569 killed, pillaged and destroyed the towns of Arrecife and Teguise.
If you made it out alive, you became a slave! Today, Calle El Sangre (The Blood) recalls this tragedy.
Location: here
---
6. MONASTERY OF SAN FRANCISCO DE MIRAFLORE
At this location once stood the former monastery of San Francisco de Miraflore, founded in the 16th century. After the fire of 1618, only the church remained. It now houses the Museum of Sacred Art, which can be visited if you are in Teguise.
The Museum is a faithful reflection of an artistic past that incorporates current Andalusian trends and influences of the New Continent alike by means of a unique collection of paintings, sculptures and jewellery.
As for a bit of history, the Fransiscan monks whom had settled in Famara (a highly vulnerable piracy area) in the beginning of the XV century decided to move to Teguise to custody the monastery until 1835.
Location: here
---
7. CASA FRANCISCO TORRES, A BEAUTIFUL TRADITIONAL HOUSE IN TEGUISE OLD TOWN
The Francisco Torres house is located at 10 Calle Leon y Castillo. It is an old building with the typical architecture of the island of Lanzarote. Worth a little detour in one of the small alley of Teguise.
Location: here
---
8. PALACIO DEL MARQUES, THE OLDEST BUILDING IN LANZAROTE!
Palacio Del Marques now called Casa Herrera y Rojas is the oldest building still standing in Lanzarote, completed in the year 1455. It is considered that the Herrera y Rojas family contributed to making the town an important social and cultural center in the Canary Islands.
Today this place was transformed into a restaurant. We went to eat a delicious Canarian meal inside the courtyard. We highly recommend this place for lunch.
Location: here
---
9. CASTILLO DE SANTA BARBARA
This fortress was built in the 15th century on top of the Guanapay volcano. From the castle you will have a lovely view, very high up, over Teguise and Lanzarote. Today, the castle of Santa Barbara houses a small museum which presents the history of pirates.
If at the level of the LZ10, the barrier that gives access to the castle road is down, it means that the castle is closed. The road leading to the fortress is good but a little steep, partly built on a ridge, and without barriers. A small car park is located at the top.
Location: here
---
10. ERMITA DE SAN RAFAEL
This hermitage is well isolated from the town but offers a great view of Lanzarote. There is a path to access it by car on a dirt road but you can also leave your car at the end of the paved road and finish on foot. Inside, if it's open, you can see a Portuguese-style painting of Christ.
Location: here
---
WHERE TO STAY IN TEGUISE OLD TOWN?
When staying in Lanzarote, people would normally choose location near the sea, such as Playa Blanca, our favorite place to stay on the island (more info here).
However, for a more authentic and local experience in Lanzarote, a stay in Teguise could be a fantastic option. We listed some of the best places to stay in Teguise here.
---
Eco Dome Experience Teguise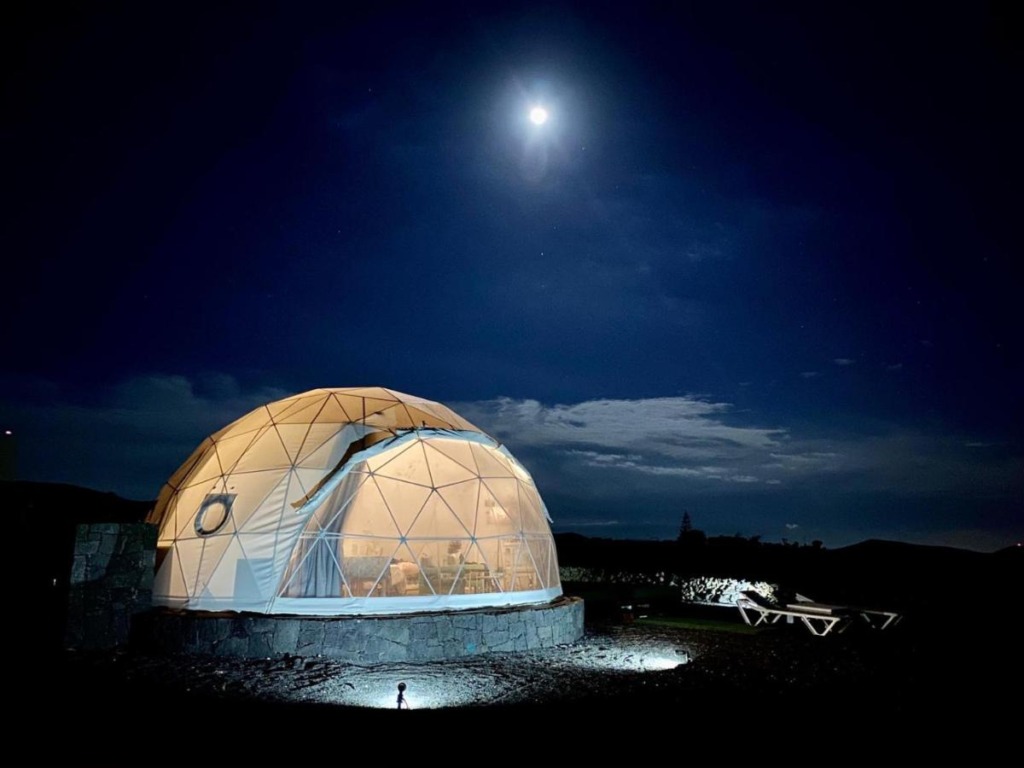 For the most unique experience in Lanzarote, we invite you to check out the dome experience. There you can admire the fantastic clear sky of the Canary Islands and see millions of stars right above your head at night.
This is a unique experience in Lanzarote. And do not worry, it is not a simple tent for camping, it's a rather luxurious a stay. More info here.
---
Luxury Villas Anjomacar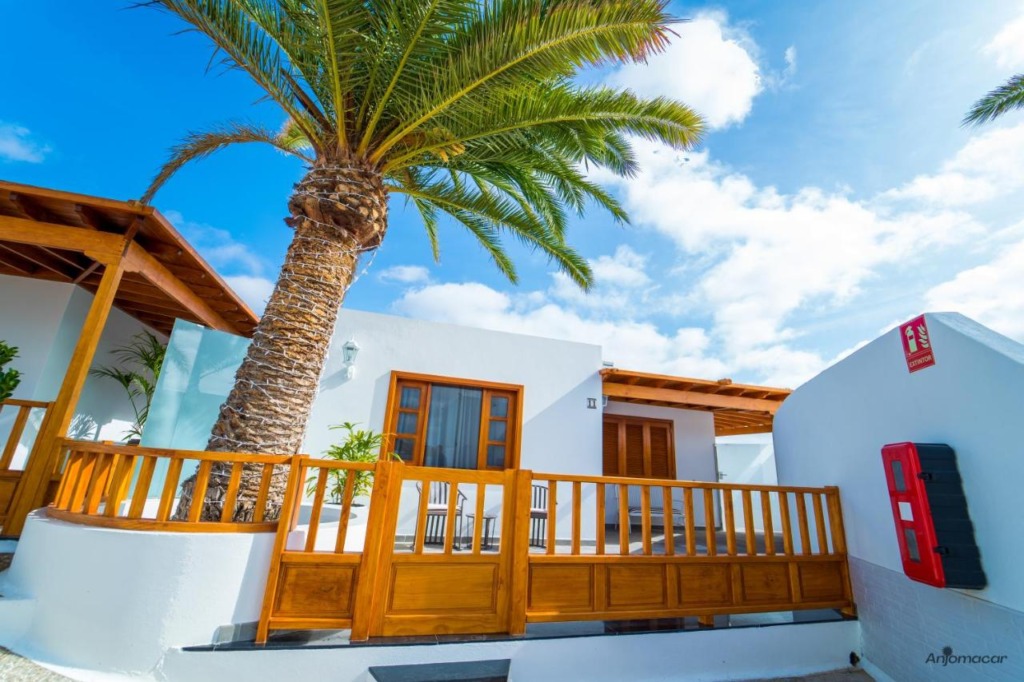 For a luxurious experience in the country side of Lanzarote, opt for this villa. It's beautifully decorated and charming villa, has its own swimming pool, a great view of the island, and is fully equipped to enjoy your stay in Teguise. To book it, you can click here.
---
El Patio de Franky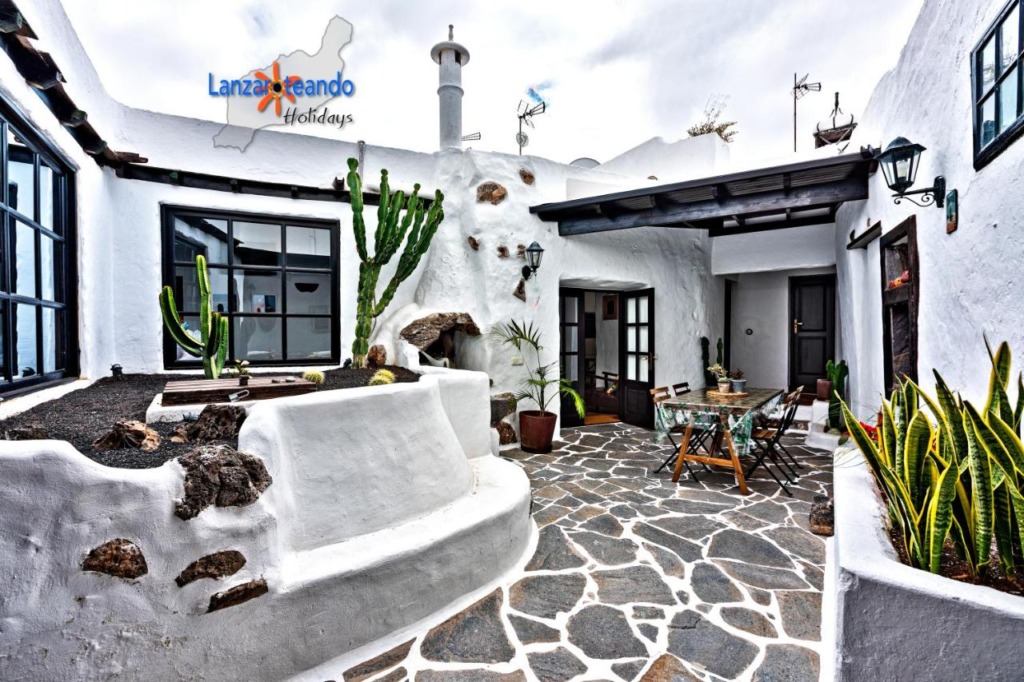 We kept the best for last: El Patio de Franky. This place is located very near the heart of Teguise. This traditional Lanzarote house, has been completely renovated and offers a perfect stay in Teguise. If this place is still available and you want to stay in Teguise for a few days, don't hesitate you can book directly here.
For other areas to stay in Lanzarote check out this post. We list the top places to stay on the island.
---
FINAL THOUGHTS – IS TEGUISE WORTH VISITING IN LANZAROTE?
Teguise is not only the oldest town in Lanzarote and the Canary Islands, it is certainly the most charming town in Lanzarote. Spending a few hours wandering through the town is really pleasant.
We combined the visit of Teguise after visiting the Timanfaya National Park. As it was lunch time we found many cute restaurants around the town with a pleasant atmosphere and friendly locals.
Hence, we highly recommend to add Teguise in your list of things to do in Lanzarote
For more information on Lanzarote, you can check out this post here.
All our posts about the Canary Islands can be found here.
---
Related Posts
25 BEST THINGS TO SEE IN LANZAROTE
VISIT TIMANFAYA NATIONAL PARK IN LANZAROTE
DISCOVER PLAYA BLANCA IN LANZAROTE
GUIDE FOR PAPAGAYO BEACH IN LANZAROTE
LEARN ABOUT CÉSAR MANRIQUE'S HERITAGE IN THE CANARY ISLANDS
VISIT THE CACTUS GARDEN IN LANZAROTE
FAMARA, A CHARMING VILLAGE AND SURF PARADISE
BEST PLACES TO STAY IN LANZAROTE
BEST TIME OF THE YEAR TO VISIT LANZAROTE